Black sesame sourdough buns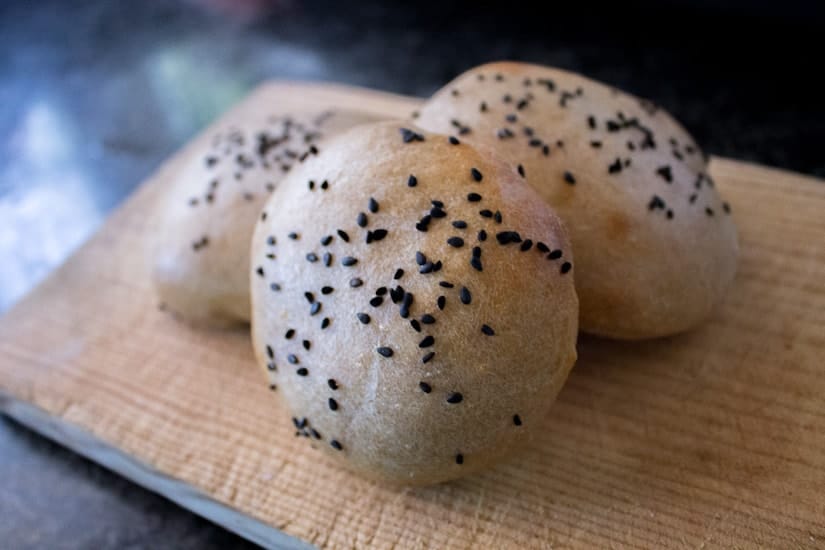 Author:
Donna M from http://www.food.com/recipe/sourdough-burger-buns-135870
2 cups sourdough starter, proofed and active
3 tablespoons margarine or butter
½ cup almond, soy, or regular milk, lukewarm
2 eggs, beaten
2 teaspoons salt
2 tablespoons sugar
1.5 cups all-purpose flour
1.5 cups whole grain flour
For baking: egg wash (1 egg mixed with a bit of water), for brushing
regular or black sesame, for sprinkling
Beat eggs lightly in a small bowl. In a large bowl, stir together starter, margarine, nut milk, beaten eggs, salt and sugar.
Add flour, mixing until it comes together enough to be turned out and kneaded.
Flour surface lightly and pour out the mixture. Knead until dough is smooth and satiny, working in batches and taking breaks (knead for 3 minutes, let rest for 10. Knead for another 3 minutes, let rest for 10. Repeat again, until dough is smooth and easy to work with).
At this point dough may be refrigerated up to 24 hours for a more flavourful bread, or bring dough back to room temperature before continuing with shaping.
Let dough rest for 15 or 20 minutes and then roll it out to ½" thick. Cut with a 4" round cutter, or with a large glass.
Cover a baking sheet with parchment paper, and oil it. Arrange dough circles on the sheet with a space between them. Cover with a towel and let rise in a warm, draft-free place until doubled in bulk (this took us four hours, but could be more or less in your case, depending on the strength of your starter and the temperature of your kitchen).
Uncover dough and brush with egg wash, sprinkle with sesame. Bake at 350°F for 15 to 18 minutes.
Cool on wire rack. Spread with margarine or salted butter, and dig in.
Recipe by
At the Immigrant's Table
at http://immigrantstable.com/2014/06/10/black-sesame-sourdough-buns/