Quick-pickled jalapeno peppers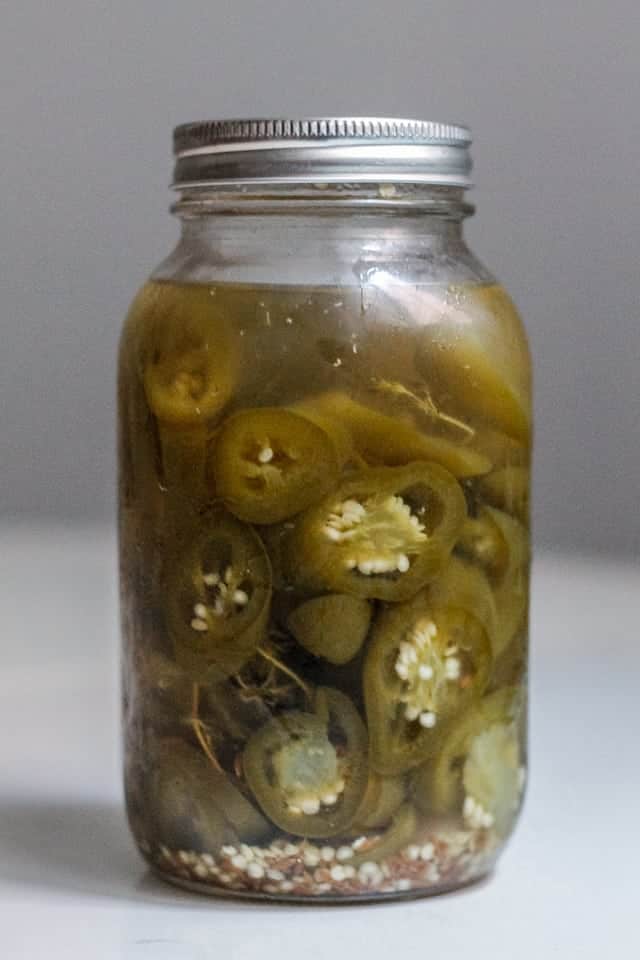 1 lb fresh jalapenos, whole
2 cloves of garlic
2 cups vinegar
1 cup water
¼ cup sugar
2 Tbs coarse salt
a few strands of fresh thyme or oregano
1 Tb cumin seeds
Wearing gloves, wash jalapenos and slice them into rings (be careful not to touch your eye or any other sensitive parts during this process!). Pack jalapenos into one quart-sized jar.
Combine all other ingredients in a medium saucepan and bring them to a boil. As soon as mixture is boiling, which won't take long, remove from heat and pour into jars and onto jalapenos. Let cool before tasting and placing in the fridge. For full flavour, let the jalapeno rings marinate for a minimum of 30 minutes to 24 hours. They will keep in the fridge for months.
Use with nachos, in salads, wraps, or with soups.
Recipe by
At the Immigrant's Table
at http://immigrantstable.com/2014/10/03/quick-pickled-jalapeno-peppers/