Colombian aguapanela is a sugar cane drink. Spiked with lime, cinnamon and ginger, this traditional drink recipe is refreshing hot or cold.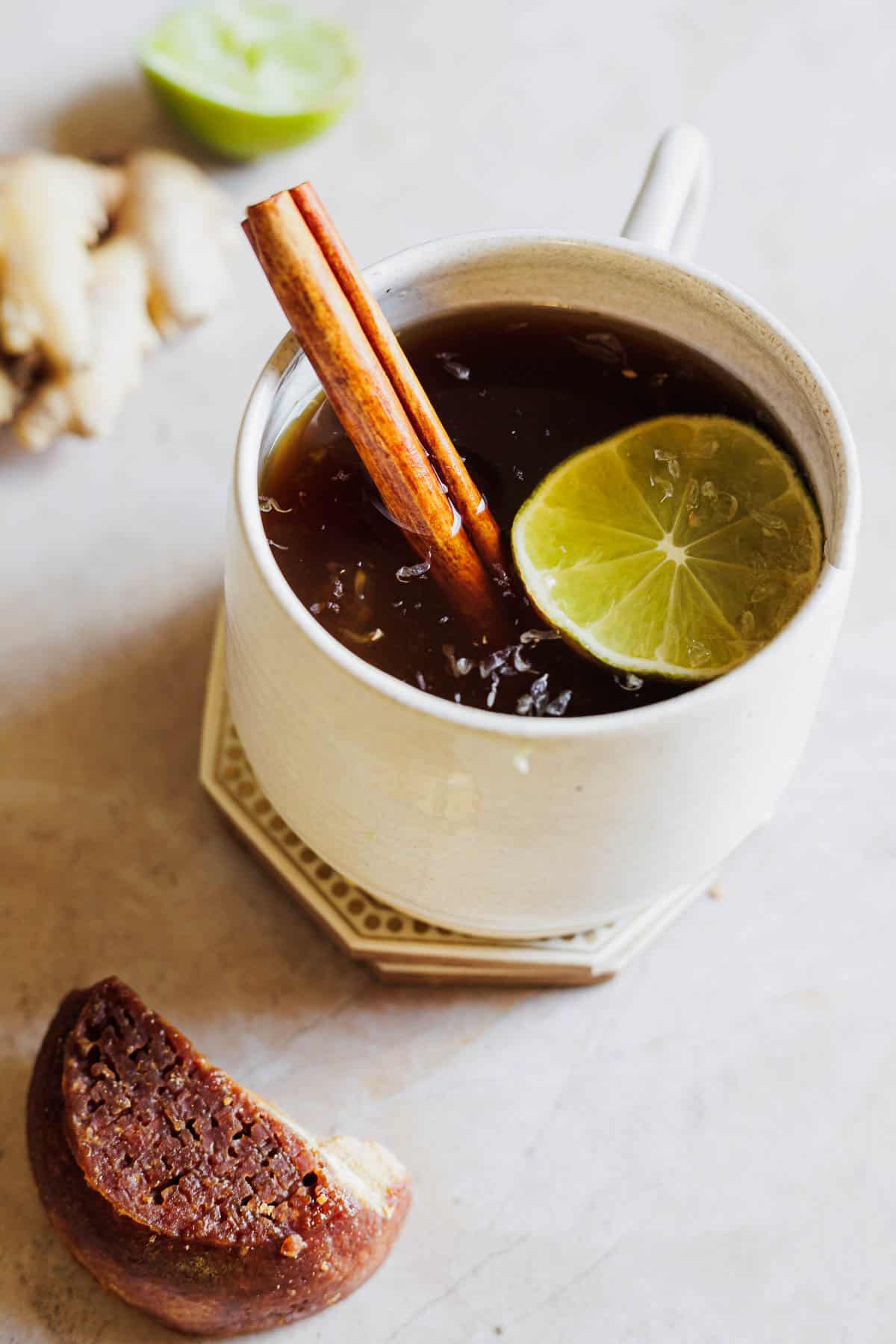 Introduction
Sitting in a cozy, dimly lit bar in Bogota, I sipped on aguapanela as the sounds of the merengue swept me away to the Caribbean shore.
Spiked with just a drop of aguardiente, this is a sweet drink made from panela — Colombian sugarcane that's been boiled and melted in water. It is then heavily seasoned with ginger, a cinnamon stick, and just enough lime juice to stand up to the sweetness of the panela water.
Sweet and tangy, this concoction made me feel like being enveloped in an exotic hug. Much like the man sitting next to me, it was spicy, tangy and just the right kind of special.
Colombian cuisine is rich in traditional beverages that are deeply rooted in the country's culture and history. Among them, Aguapanela stands out as a beloved and comforting drink.
This delightful concoction, made with panela, offers a unique blend of sweetness and warmth. In this article, we will explore the essence of Aguapanela, spotlight its key ingredient, panela, and address whether it can be made with alcohol for those seeking a spirited twist.
What is Aguapanela?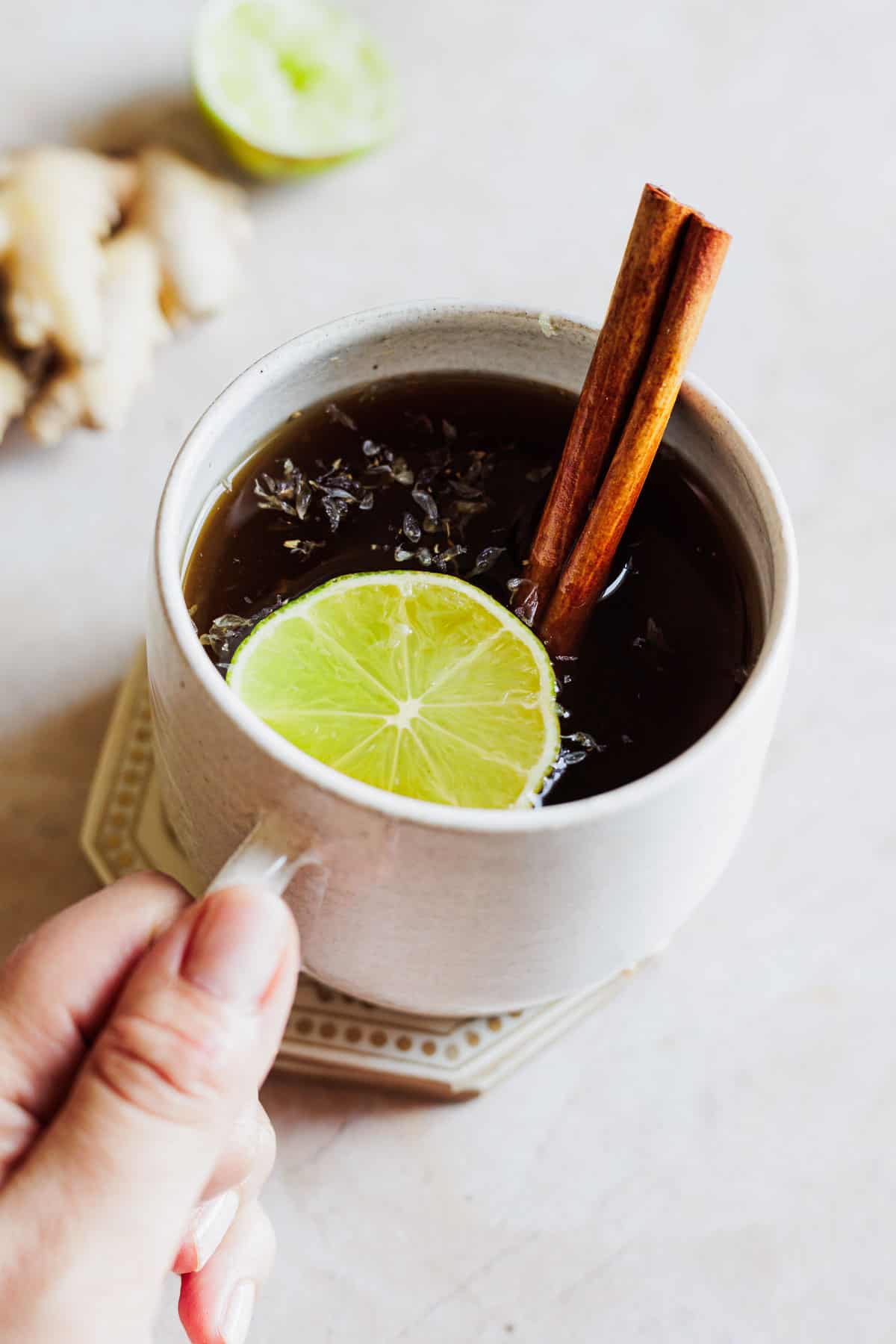 Aguapanela is a traditional Colombian drink that has been enjoyed for generations. It is a sweetened water-based drink made with panela, a form of unrefined cane sugar. "Agua" means water, while "panela" is a type of sugar.
Aguapanela is cherished in Colombia for its simplicity and comforting qualities, making it a popular choice to serve hot or cold, to warm up during cold weather, or as a refreshing drink on hot days.
During my meal in Leo Cocina y Cava, one of Latin America's top 100 restaurants, I discovered cold aguapanela—another way of sipping this beverage on a hot summer day.
What is Panela?
Panela is the key ingredient in Aguapanela, giving it its distinct flavor and sweetness. It is a type of unrefined cane sugar commonly used in Latin American cuisine.
Panela is produced by boiling sugar cane juice until it thickens and solidifies into blocks or cones. It retains the natural molasses and minerals in the cane juice, giving it a rich caramel-like flavor and a deep brown color.
Panela is known for its complex taste, which combines sweetness with subtle hints of molasses and a slight earthiness. While it looks like a hard rock of brown sugar, it is a natural and less processed alternative to refined sugars, offering a more wholesome option for sweetening beverages and dishes.
Vegetable Slicer
My favorite Colombian panela brand is Del Tropico Oro. It is affordable, sweet but also nuanced in its flavor, and I love that it comes divided into cup-sized portions. Each one is perfect for making a pot of aguapanela!
Can you make Aguapanela with alcohol?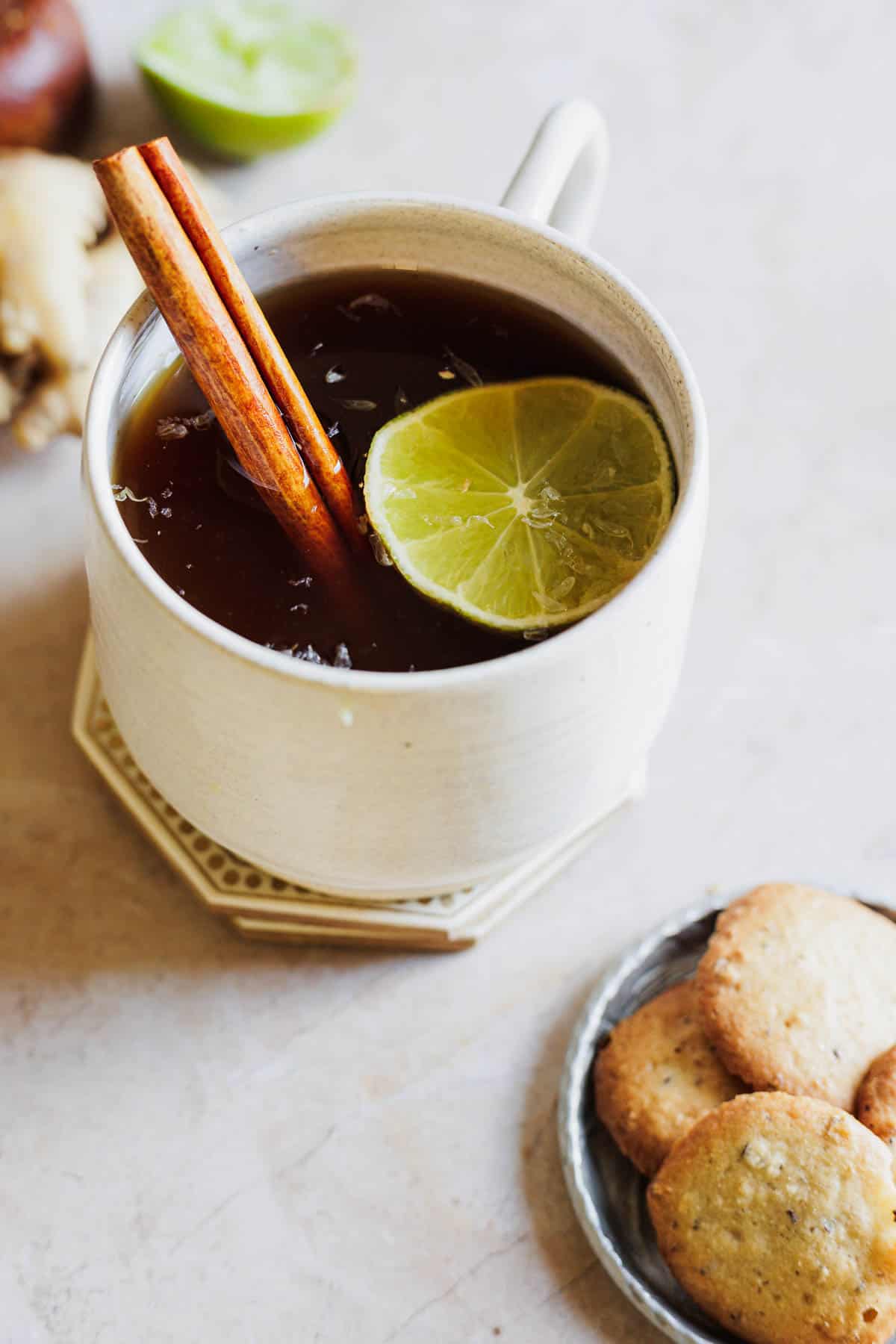 While Aguapanela is traditionally enjoyed as a non-alcoholic beverage, it can be transformed into a spirited concoction by incorporating alcohol into this sugarcane juice.
The traditional alcohol to mix into aguapanela is aguardiente, a type of distilled alcoholic spirit that has a faint scent of licorice and can be made from various foods, the Colombian equivalent of vodka.
For a more Western twist, adding a dash of rum, whisky, or even a flavored liqueur can elevate the flavors of Aguapanela and create a unique cocktail experience.
When served cold, you can use aguapanela instead of tamarind juice in this tamarind cocktail, making it into a cold aguapanela cocktail for a hot day.
Adding alcohol to aguapanela can add depth and complexity, providing an exciting twist to this beloved Colombian drink. Experimenting with different spirits allows you to customize the drink according to your preferences and taste.
Ingredients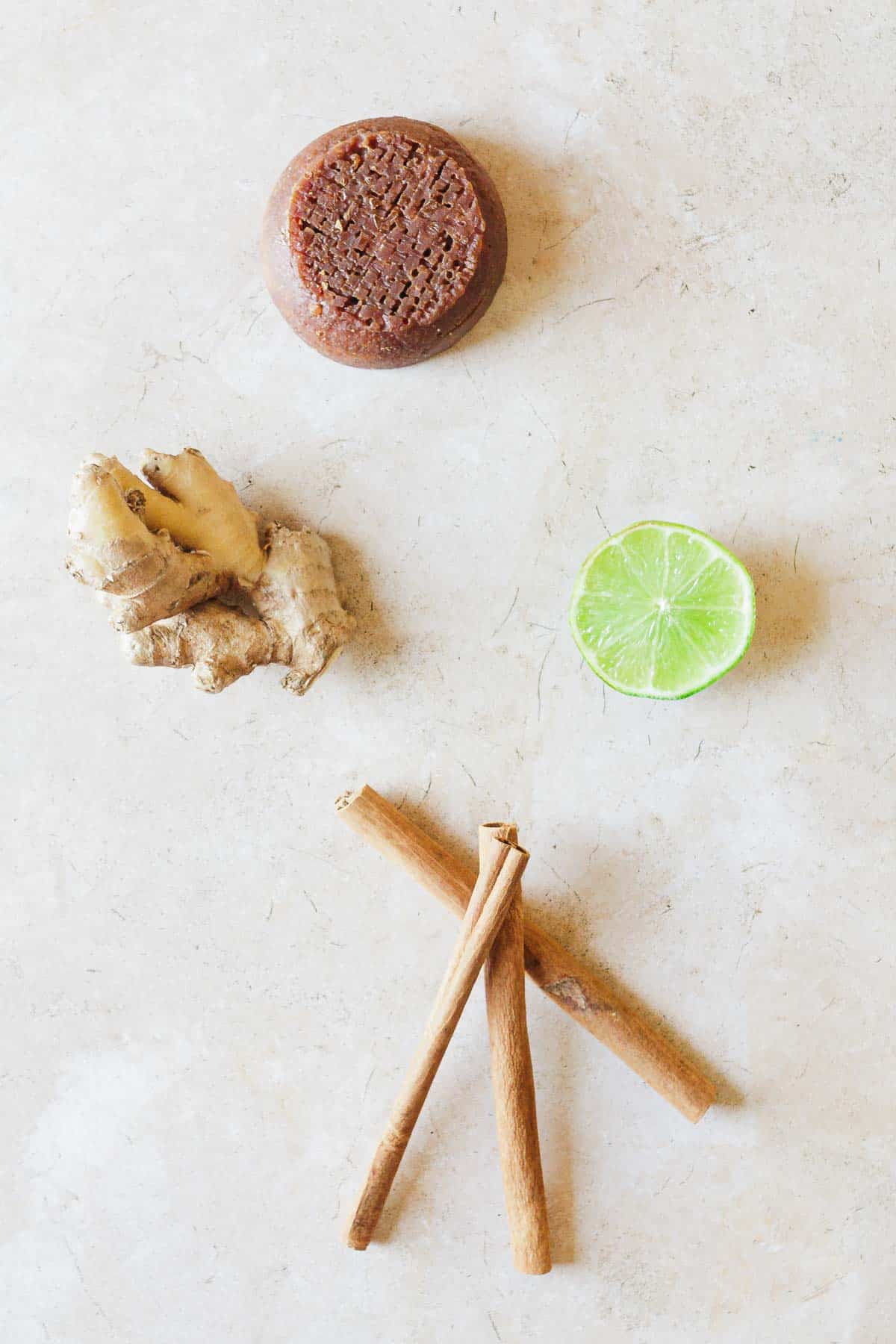 Panela block - the building block of this drink, panela is used in this recipe as a sweetener, adding a unique flavor to the agua de panela. If panela block is not available, it can be substituted with brown sugar or honey - but then, it wouldn't really be aguapanela.
Fresh ginger - adds a spicy kick and depth of flavor to the drink. If fresh ginger is not available, it can be substituted with ground ginger.
Lime juice - provides the acidic base for the drink, offsetting the sweetness of the sugar. If lime juice is not available, lemon juice can be used instead.
Cinnamon stick - adds a warm and aromatic flavor to the drink. If a cinnamon stick is not available, ground cinnamon can be used instead.
Directions How to Make Aguapanela
Boil the panela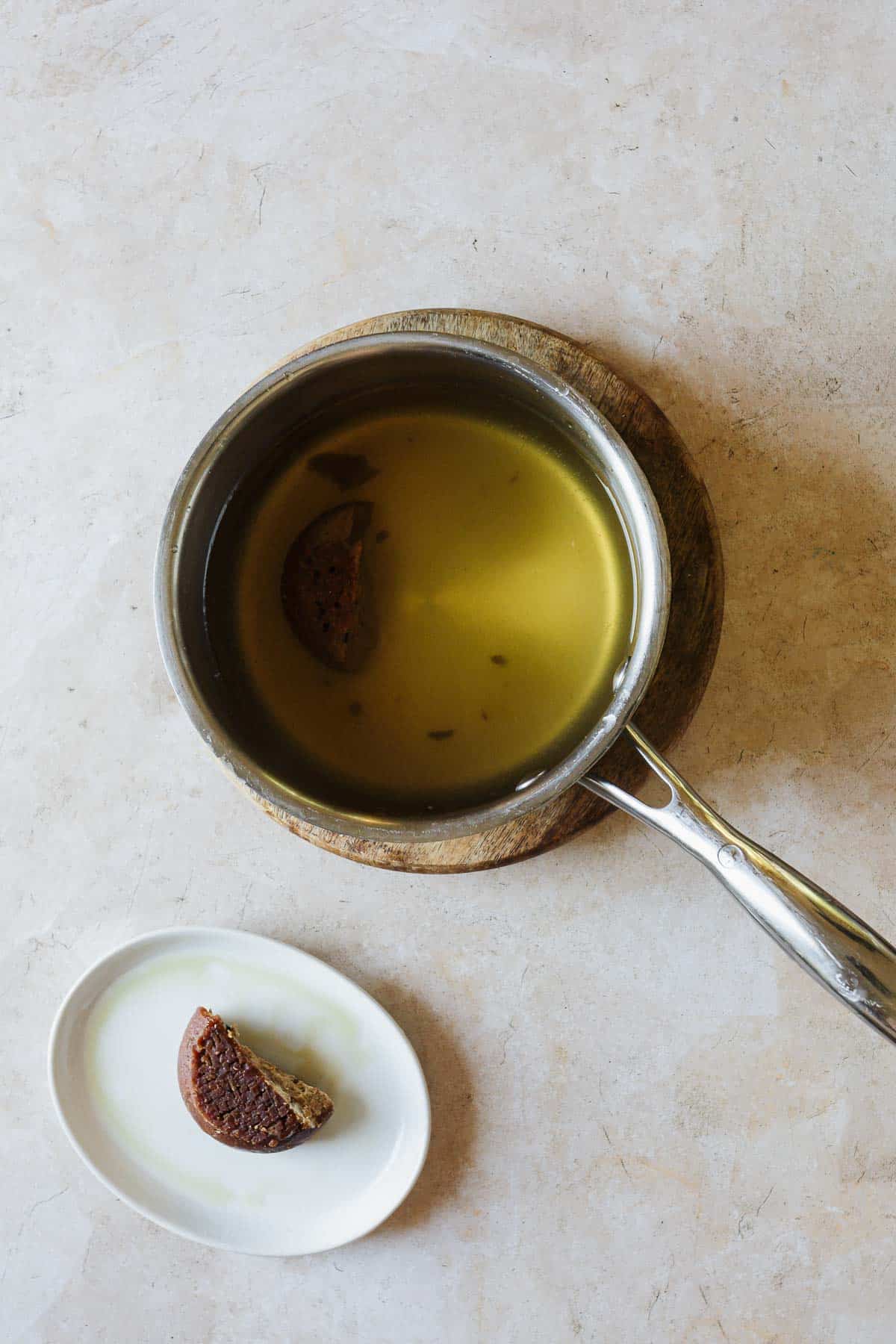 To make agua panela, start by combining water and panela in a saucepan, using a ratio of approximately 1 cup of panela for every 4 cups of water.
Place the saucepan over medium heat and stir until the panela is completely dissolved.
Add flavor
Add cinnamon sticks and grated ginger to the mixture. Bring the mixture to a gentle boil, then reduce the heat and let it simmer for about 5 minutes, allowing the flavors to meld. Remove the saucepan from heat and let it cool for a few minutes. Strain the liquid to remove any impurities or residue.
Serve Aguapanela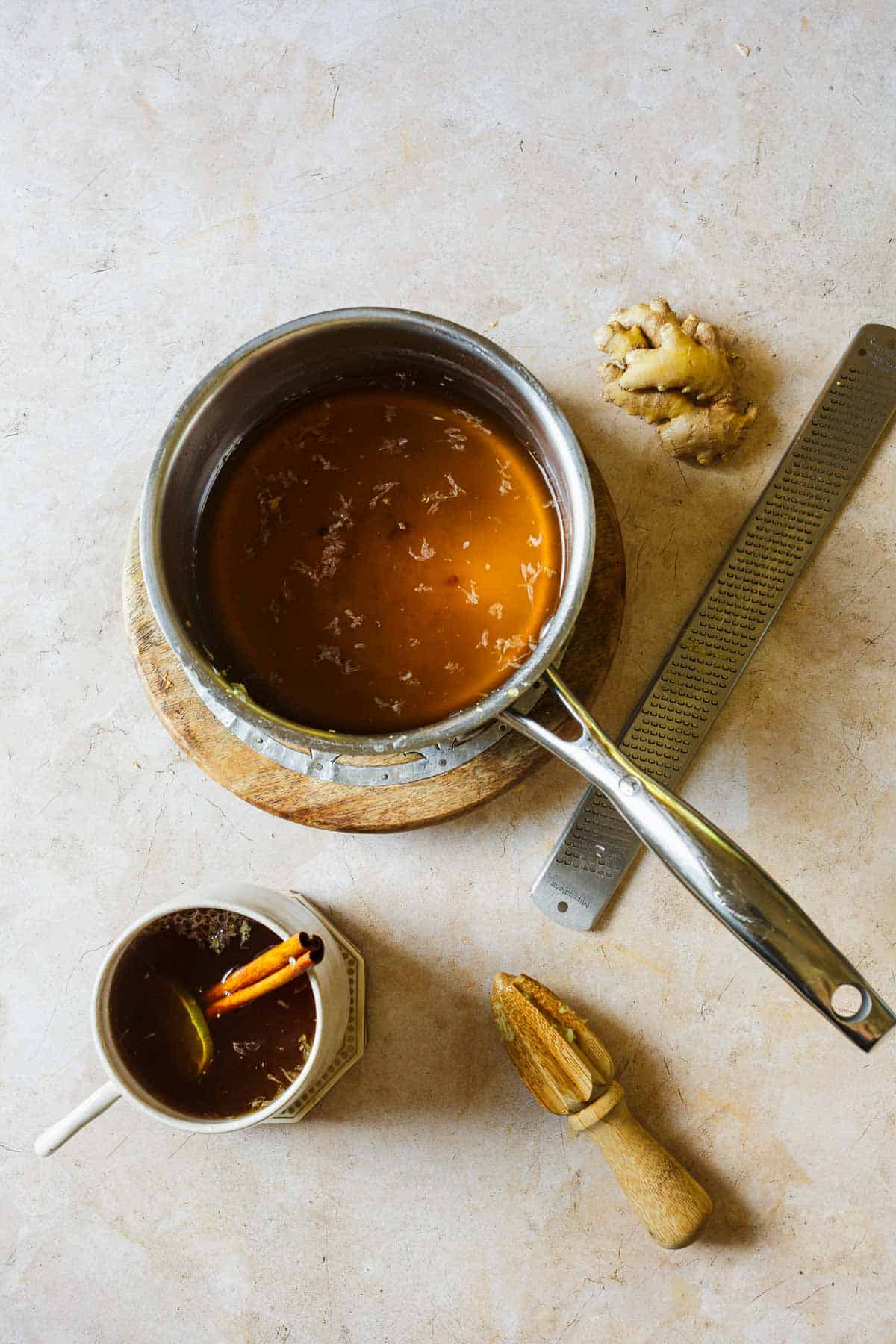 Pour the aguapanela into individual mugs or glasses. Serve it hot as a comforting beverage, or refrigerate it to enjoy it chilled on warmer days. Garnish it with a slice of lime and a cinnamon stick.
This traditional Colombian drink is perfect for any occasion and can be enjoyed all year round.
Variations
Here are alternative ways to doctor up your agua panela:
Aguapanela with Citrus Twist: Add a squeeze of fresh lemon or lime juice to each serving for a bright and refreshing flavor.
Spiced Aguapanela: Infuse the drink with warm spices such as cinnamon, cloves, or nutmeg for a cozy and aromatic twist.
Aguapanela Latte: Combine Aguapanela with your favorite milk or dairy alternative for a creamy and comforting beverage reminiscent of a latte.
Accompanying dishes
For a true Colombian feast, we recommend serving aguapanela with an array of traditional dishes.
Start with some delicious cheese arepas, a popular Colombian snack made from cornmeal and cheese. These are perfect to dip into the warm and comforting aguapanela.
Next, serve some mouthwatering empanadas, filled with a variety of savory fillings such as beef, chicken, or cheese. The crispy golden crust pairs perfectly with the sweetness of the aguapanela.
For a touch of sweetness, include some baked plantains with cheese and guava paste, which are ripe and delicious.
To add some crunch to the feast, serve plantain chips with pico de gallo, a flavorful salsa made from tomatoes, onions, and cilantro. And to add a spicy kick to your Colombian feast, don't forget aji picante, a hot sauce made from chili peppers.
With this incredible combination of flavors, you'll truly experience the taste of Colombia.
Tried and loved this recipe? Please leave a 5-star review below! Your reviews mean a lot to me, so if you've got any questions, please let me know in a comment.
FAQs
Is panela better for you than sugar?

Panela, a traditional sweetener popular in Latin America, is often touted as a healthier alternative to refined sugar. Made from raw sugarcane juice evaporated and solidified, panela retains some of the natural minerals and vitamins in sugarcane. It provides a slower release of energy compared to processed sugar, which can help maintain stable blood sugar levels. Additionally, panela contains small amounts of iron, calcium, and potassium. So yes, aguapanela is better for you than sugar!
Is aguapanela healthy?
Similarly, aguapanela, a beverage made from diluting panela in water, is considered a healthy choice due to its natural ingredients and minerals. However, it is important to note that both panela and aguapanela still contain high amounts of calories and should be consumed in moderation as part of a balanced diet.
Can you freeze aguapanela?
Yes, absolutely you can freeze aguapanela. Freezing aguapanela can be a great method of preservation, especially if you've made a large batch and want to store it for future use. You can pour the aguapanela into ice cube trays or freezer-safe containers and freeze them. The frozen cubes or portions can then be used as and when required. Also, if you're planning to serve aguapanela as a refreshing cold drink on a hot day, popping a couple of aguapanela cubes in the glass would cool the drink down just right.
Recipe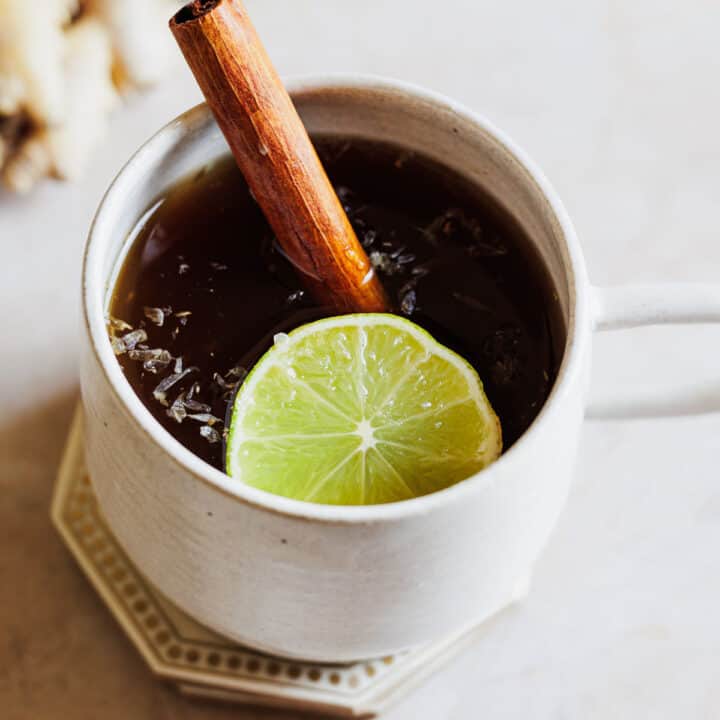 Traditional Colombian Aguapanela (Sugar Cane Drink)
Aguapanela holds a special place in Colombian culture as a comforting and nostalgic drink. With its main ingredient, panela, lending a unique sweetness and flavor profile, this beverage offers a delightful experience for the taste buds. Whether enjoyed hot or cold, Aguapanela provides a moment of warmth and relaxation. And for those seeking a spirited twist, adding alcohol can create an exciting Aguapanela cocktail variation. So, embrace the tradition and savor the sweetness of Colombian Aguapanela, a true taste of Colombian heritage.
Ingredients
1

cup

panela

4

cups

water

1

tablespoon

grated ginger from 1-inch piece of fresh ginger
Instructions
Combine the panela and water in a saucepan over medium heat.

Stir until the panela is completely dissolved.

Add the cinnamon stick and grated ginger. Whisk to combine

Bring the mixture to a gentle boil, then reduce the heat and let it simmer for 5 minutes.

Remove the saucepan from heat and let it cool.

Strain the liquid to remove any impurities.

Pour the aguapanela into mugs or glasses. Serve hot or cold, garnished with a slice of lime and a cinnamon stick.
Notes
Notes: Aguapanela can be served hot or cold. Leftover aguapanela can be stored in an airtight jar in the fridge for 4-5 days. Add 1 ounce of aguardiente or rum for an alcoholic version.
Nutrition
Serving:
1
g
Calories:
859
kcal
Carbohydrates:
207
g
Protein:
0.3
g
Fat:
0.1
g
Saturated Fat:
0.02
g
Polyunsaturated Fat:
0.01
g
Monounsaturated Fat:
0.02
g
Sodium:
49
mg
Potassium:
44
mg
Fiber:
2
g
Sugar:
203
g
Vitamin A:
10
IU
Vitamin C:
0.5
mg
Calcium:
132
mg
Iron:
2
mg
Tried this recipe?
Comment + Rate Below!
Connect on Instagram!
Find us @immigrantstable