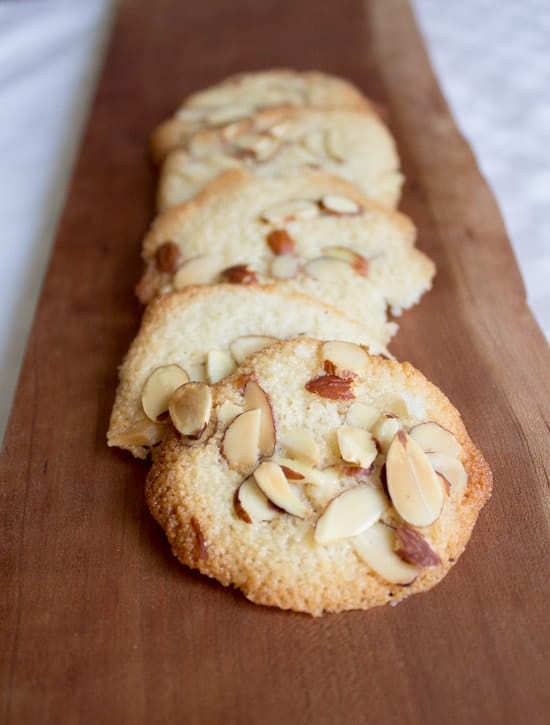 I enter a classroom where the tables have been arranged along the walls. There is a narrow space between the tables and the wall where the chairs will fit. Several children have already squeezed their bodies into this narrow passageway, talking amongst themselves. Platters full of dry fruits and nuts are on some of the tables, while other students are bringing in more disposable plates, cutlery, cups. Soda is being poured, the sound of the bubbles rushing out of their plastic confines audible above the growing chatter.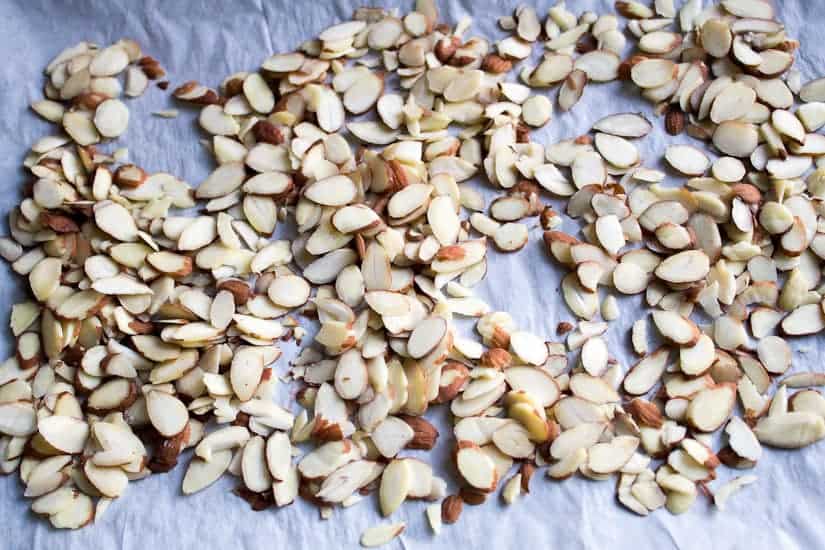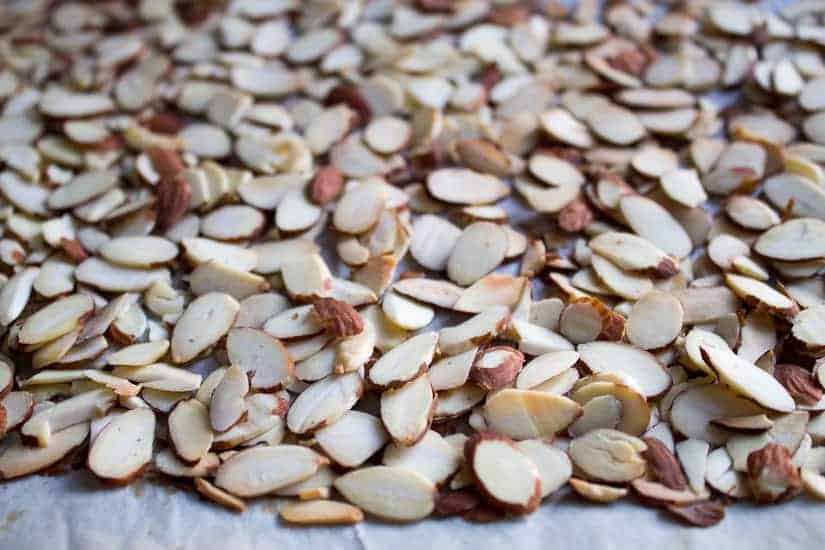 I remember this scene well from my own childhood. I remember wearing a white, starched shirt and well-worn blue jeans, sitting excitedly with my friends while the classroom around me was being transformed for a holiday feast. I remember practising the unfamiliar words of the holiday songs, trying to move my tongue and teeth in new and unexpected ways, extracting guttural sounds from my throat. The memories are still raw and vivid, sweet and intoxicating. I remember the fear and excitement in the pit of my stomach. So on this day, as I am to be the responsible adult presiding over these children in their own celebration, I find myself lost. Unable to move, I stand at the entryway to the busy classroom, letting children and other adults maneuver their way around me. It is only the high-pitched voice of a favourite student and her arms around my waist that bring me out of my reverie, remind me of my duty, call me back to the present day.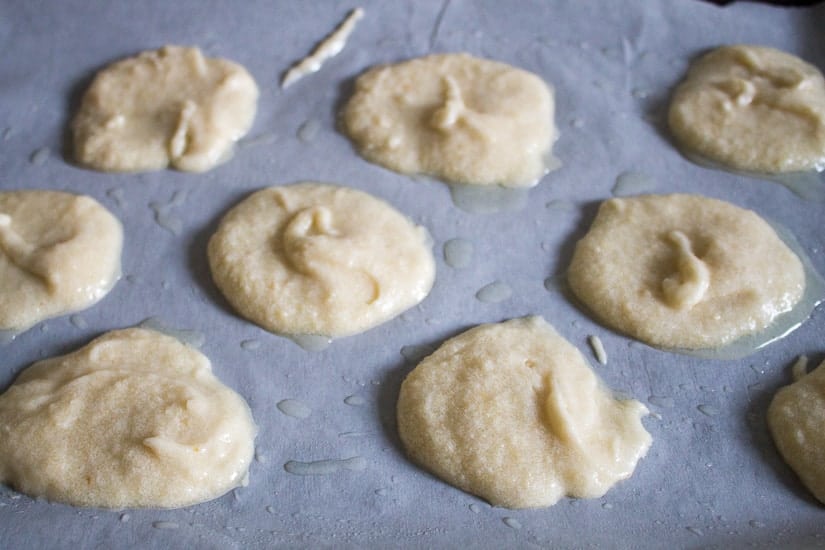 I am a social guide at a kibbutz elementary school, though I am myself barely past childhood. At 18, I think I know the world, but I am discovering there is much that still shocks me. A sullen child whose mother left his backpack in the car overnight, while they slept over at her new boyfriend's house, and who now arrives in school without any of the appropriate books or homework. A sweet kid who has experienced horrible things who slowly breaks out of his shell, crying on my shoulder when a day has gone especially bad. A red-haired firecracker who won't stop talking, who vies for adult attention at various ways that oscillate between the pleasant and the annoying. They are all new and unexpected, revelations locked within tiny bodies, their worlds and personalities only just beginning to form. On this day of Shavuot, the anniversary of the day God gave the Torah to the nation of Israel, as they all gather in a room to celebrate the bounty of the earth, they are united; on other days, they are like cats and dogs, going at each other's throats at the slightest provocation.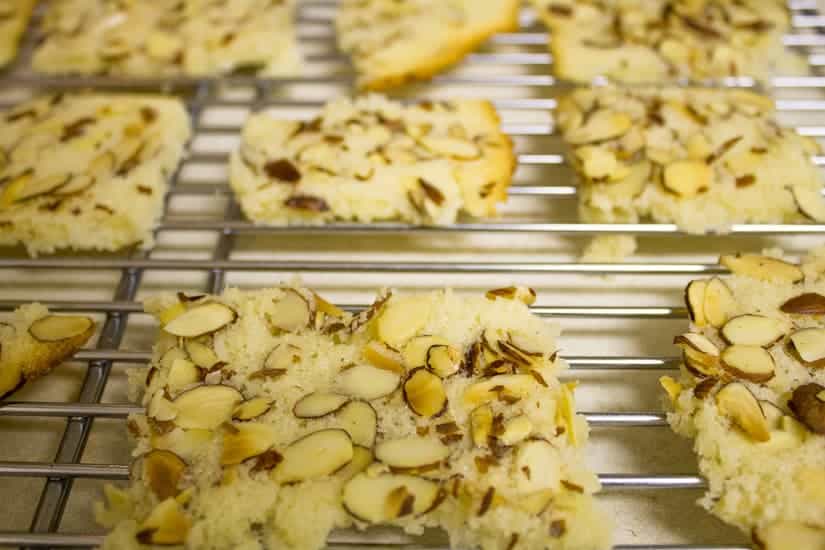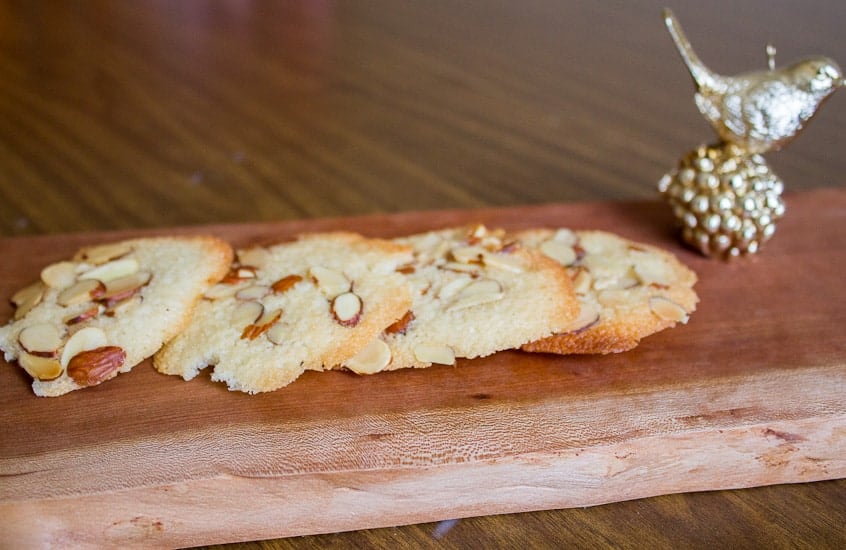 Jews celebrate three Pilgrimage Festivals (shloshet haregalim) with particular pomp and circumstance: Sukot, on which it is customary to spend seven days in a special booth or tabernacle outdoors; Passover, when leavened bread is forbidden and the exodus from Egypt is remembered; and Shavuot, which this year will be celebrated on June 3, and on which most Jewish children will be stuffing themselves with fresh fruit and cheese and wearing flower crowns. This is the celebration taking place on this day in my little classroom. It is this holiday I often return to in my mind when thinking of Israel.
Shavuot allows us to reflect on all the gifts that the earth has given us - vegetables and fruit, milk and honey, grains and nuts. It is a day that allows us to hanker back to simpler times, to enjoy clear, undiluted flavours the way they're meant to be had. And this is one of the only days on which I enjoy eating almonds.
I have been dreaming about these almond tuile cookies for several months now, but could not remember their name, nor did I have the perfect recipe in mind. My best friend Einav makes very similar ones, a simple mix of sliced almonds, egg whites and sugar. These are a slightly fancified version, taken from the webpages of Epicurious.com. But they are no less perfect - airy, chewy and nutty, fragrant with orange zest and vanilla extract. And they're the perfect fortification for when you'll be facing a classroom of excited children - or if you're just needing a sugar fix after a long day at work.
Tried and loved this recipe? Please leave a 5-star review below! Your reviews mean a lot to me, so if you've got any questions, please let me know in a comment.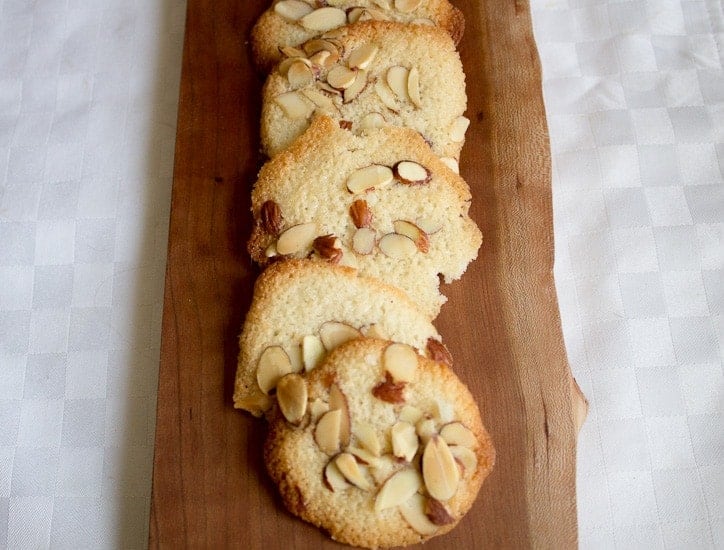 Pin for Later!
Recipe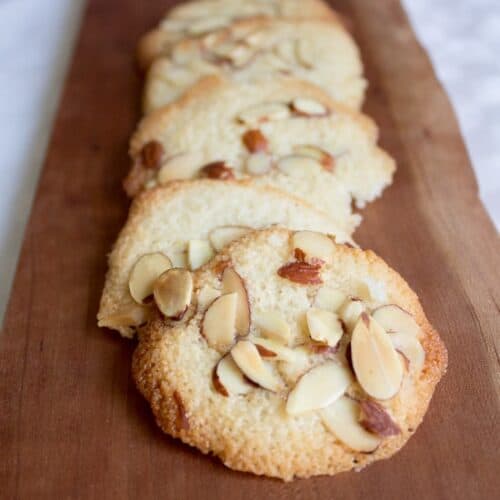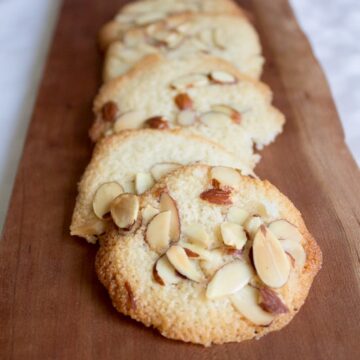 Almond tuile cookies
Airy, chewy and nutty, fragrant with orange zest and vanilla extract, these gluten-free and dairy-free cookies are a lovely afternoon treat.
Ingredients
vegetable-oil cooking spray or parchment paper

½

cup

almonds

ground finely

¼

cup

potato starch

or if not keeping gf, regular flour

½

cup

sugar

¼

teaspoon

salt

2

large egg whites

5

tablespoons

unsalted butter or margarine

melted

¼

teaspoon

vanilla extract

¼

teaspoon

orange or lemon zest

about ⅔ cup sliced blanched almonds

toasted
Instructions
Preheat oven to 325°F. Coat a heavy baking sheet well with cooking spray or line with parchment paper.

In a bowl whisk together ground almonds, potato starch, sugar, and salt and whisk in whites, butter, zest, and vanilla extract until combined well. Drop rounded teaspoons batter about 4 inches apart onto baking sheet and with back of a spoon spread into 3 ½-inch rounds. Try to keep these distances - if you' let your cookies get too close, they'll morph into one giant cookie slab. This is fine too, but it won't look as nice when cut into squares. Sprinkle each cookie with about ½ tablespoon sliced almonds and bake in middle of oven 8 minutes, or until golden. If your oven cooks unevenly, take the pan out and turn it halfway through.

Working quickly, remove cookies, 1 at a time, from baking sheet with a thin spatula and rest on a cooling rack (the original recipe recommends curling these. I usually pass on this detail, as it makes the cookies harder to stack). Cool cookies completely and transfer to an airtight container.

Make more cookies with remaining batter in same manner, spraying or lining baking sheet for each batch. Tuiles may be made 2 days ahead and kept in an airtight container at room temperature.
Tried this recipe?
Comment + Rate Below!
Connect on Instagram!
Find us @immigrantstable