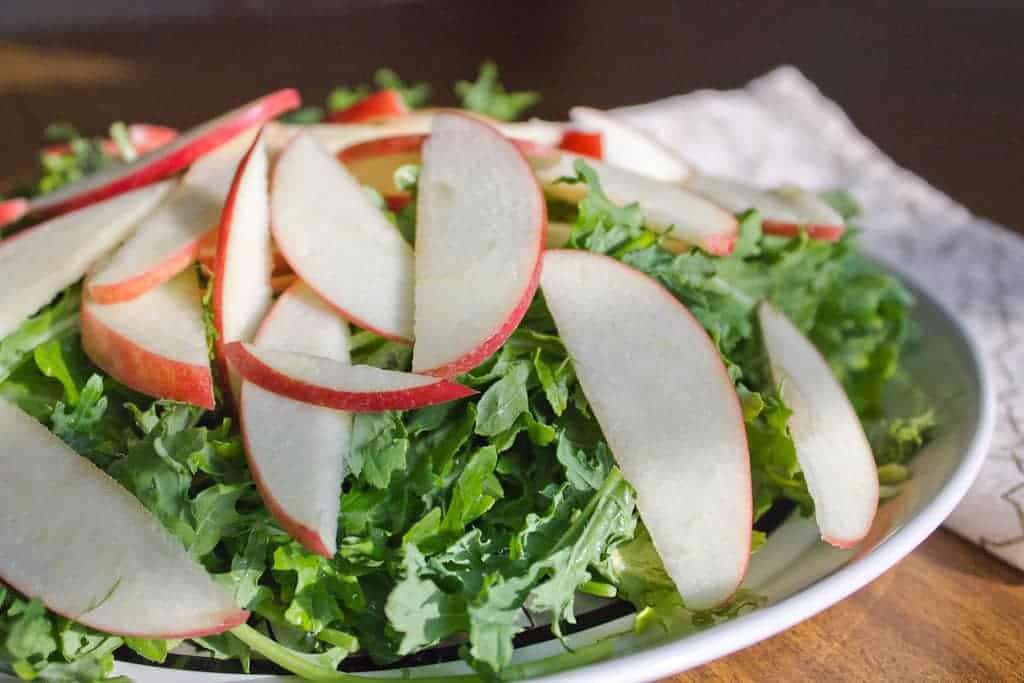 The first salad I made was a disaster.
As a kid, one of the only ways in which I would eat vegetables was in a tomato and pickle salad. Finely diced tomatoes, joined by salty pickles (absolutely, under no circumstances, would I ever accept regular ol' cucumbers), and smothered in a thick glob of mayonnaise was what my mother would serve me nearly every evening, alongside some bread with cheese. That was what she knew how to make, and what I would agree to eat. This concoction looked unappetizing, smelled acrid, but tasted divine to this 6-year-old palette. Sadly, I'll admit it's still one of my favourite salads to date (and you can all feel free to question my palette).
Buoyed by my love affair with zesty salads, I decided to make my parents a big bowl of vegetables after a long day of work. I was about 11, and this was around the time that I was first discovering the kitchen and the joys of playing around in it. After opening the doors to our small fridge, I was met with an open can of Israeli pickles in brine, tomatoes and carrots. Eggs were nestled in a ceramic bowl. Mayonnaise rested in its rightful place on the side of the fridge, glistening with the promise of flavour. Big, round apples sat in a fruit bowl on the table. My eyes took it all in, my mind started racing, and my mouth began salivating. I decided I would make them an omelette, one of the first things my mother taught me how to cook, and a delicious salad.
So into a bowl went finely chopped pickles, sloppily cut tomatoes, half of a badly grated carrot (I nicked myself on the grater and gave up halfway through), and nice, big, rosy chunks of apple. I think I even threw in the seeds. The whole thing was crowned with a big tablespoon of mayo, and a little bit of dill. I knew I abhorred the salad, but I saw no reason why my parents would disagree. I burnt the omelette.
Sadly, they felt otherwise. My father silently ate his portion, divulging no comments about the quality of the meal. My mother took one look at the salad and adamantly refused to even taste it. No amount of crying and complaining would convince her; "Ksenia, there is a limit," she said, and tossed the whole sorry mess into the garbage. The omelette was inhaled, despite the visible char. And then they helped themselves to some bread with cheese and butter, thanking for my efforts but saying I should think a bit before putting apples and mayonnaise together in a bowl for others to eat.
I avoided salads for a long time after that.
But then, in high school, I started going with a group of friends to a cheap local restaurant for lunch. Between the five of us, we would always order an extra-large salad with fried pita, extra dressing on the side. We would scarf the whole thing down, and have room for cheesecake for dessert. Then we started skipping classes, using the time not to drink or smoke like other kids our age, but to make a pot of freshly squeezed lemonade and a big salad as a group (recipe coming, I promise). And I discovered salad making wasn't actually such a big deal.
Since then, I have made salads of all shapes and colours. Some of them were posted on this blog. Others are thrown together late at night, when I need a good, fresh pick-me-up. In summer, salads make up my lunches and dinner. My parents eat a big bowl of Vinaigrette or Greek salad for breakfast every morning. Even more are prepped at home, in my parents' kitchen in Israel, where the local produce is abundant and beautiful. Give me any ingredients, and the first thing I'll want to make with them is probably salad. But I've avoided putting apples in them as long as I could.
And then last Saturday, my partner's parents were coming over for dinner. We had already cooked and assembled all the main dishes, but I knew I wanted a salad to cut through all the fat. After opening the doors to our medium-sized fridge, I was met with bright, fresh vegetables and cheeses. Avocados and tomatoes were laying in a ceramic bowl by the windowsill. Eggs were nestled in a cardboard box. Mayonnaise rested in its rightful place on the side of the fridge, glistening with the promise of flavour. Big, round apples sat in a fruit bowl on the table. Sadly, Israeli pickles in brine were nowhere to be found. My eyes took it all in, my mind started racing, and my mouth began salivating. But this time, what I came up with was actually not half bad.
The apples were sliced thinly and nestled on a bed of fresh, curly, crispy baby kale. Slivers of purple onions intermingled amongst the greens. A simple vinaigrette of Dijon mustard, honey, and white wine vinegar crowned the whole affair. The mayonnaise stayed in the fridge, none the wiser to the snub. The apple and greens salad was gone within 30 minutes, with seconds and even third helpings all around. And no one at the table threw their portion away.
That day, I learned a valuable salad: apples do belong in salads. It's mayonnaise that should probably stay in the fridge.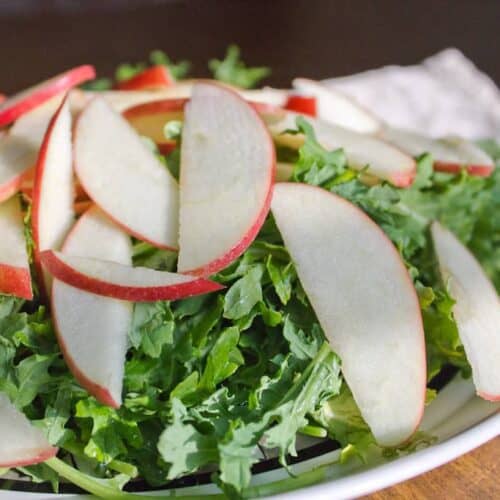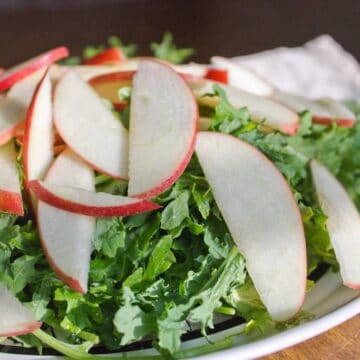 Apple and bitter greens salad
This is a bright, seasonal salad full of fresh flavours. Use this as a roadmap to build your own: if you're out of baby kale, use other bitter greens, or even spinach, in its place. Use any type of apples or pears you have; in summer, firm nectarines will do the trick. Almonds, which I didn't have at the time of shooting these photos, would also make a great topping. Go nuts - just keep the mayonnaise away.
Print
Pin
Rate
Ingredients
3-4

cups

of baby kale

arugula, or other small leafy greens, preferably with a bite

1

large

firm apple, pear, or 2 firm nectarines, according to season

½

a medium-sized purple onion

you don't want too much

¼

cup

of slivered almonds

optional

a handful of fresh dill

a handful of chives

⅓

cup

of extra olive oil

¼

cup

of white wine vinegar or regular vinegar

1

Tb

Dijon mustard

1

Tb

maple syrup

or honey, if non vegan

Salt & pepper

to taste
Instructions
Wash and thoroughly dry your greens and fruit. Arrange the greens on a large plate.

Core and thinly slice the apple (or other fruit that you're using). Thinly slice the onion. Place sliced onions and apples on top of the greens.

Chop dill and chives finely. Sprinkle on top of the vegetables.

If using almonds, toast them in a pan for 5 minutes, until they are fragrant and golden.

In a small jar, mix all the rest of the ingredients. Pour vinaigrette on salad at the very last minute.

Bring out the salad to your guests, and toss it at the table, allowing them to take in all the colours. Dig in, and forget about that mayo already.