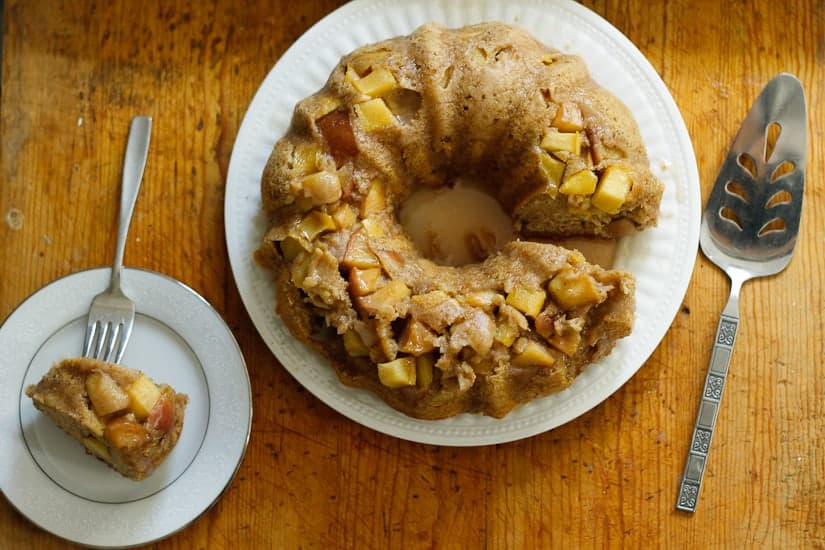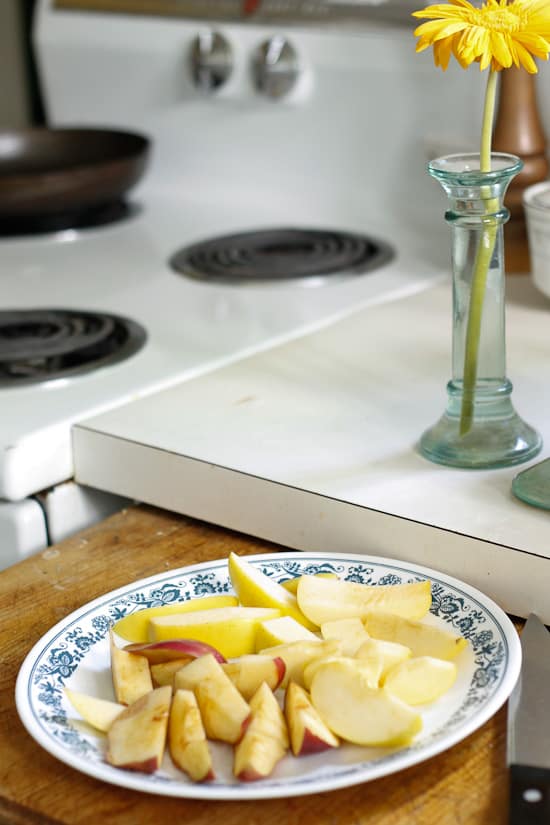 As you walk into the front yard of Terry and Darlene's home, you are confronted by nature in all of its glory. Wildflowers and native Manitoba grasses dot this seemingly-ordinary plot of Winnipeg land along a quiet River Heights street, while stone gargoyles tower over enormous slabs of rock. A narrow path so interspersed with ivy and moss, it looks as though it came out of an Irish reverie leads you to the front door, an olden oak beauty with a brass knocker. The warm glow of table lamps glistens through the windows, inviting you inside.
The hallway is strewn with mirrors and scarves, and a vintage coat hanger stands in the corner, an artful braiding of steel and untreated wood. Artwork lines the walls, covers every available surface - paintings, prints, sculptures, ceramic works of all kinds are assembled haphazardly on the mantle and the many side tables that are located wherever you look. As you come in, slippers are immediately offered, along with apologies about delays with dinner. But if this was my home, I wouldn't be able to stop reading long enough to cook. Books are everywhere - on the seating bench, the dining room table, the charmingly old-fashioned fireplace. They run the gamut from the arcane and mysterious, to haunting Swedish thrillers, esoteric Canadian history, and glossy fashion coffee-table books. This is the home of true book lovers, and their passion looks back at you from every corner, unabashed.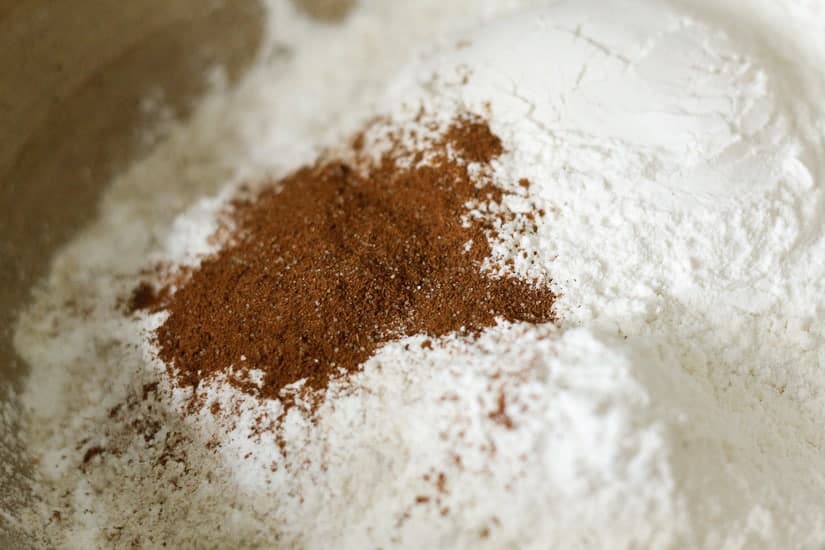 From the moment I first walked through these doors, a shy girlfriend about to leave the country for four months, I fell in love not only with the boy who brought me there, but with his parents. Kind, nervous, immensely educated and cultured, they welcomed me with open arms and the generosity one usually expects only from close relatives. Their home, in all of its resplendent glory and array of wonders, became for me an ever-evolving treasure trove of secrets and discoveries, a place you can always count on to comfort and sustain you on cold winter nights and hot summer days. It reminds me of my grandparents' home, yet it is so much more; in many ways, it represents the life my parents have always wanted, the home full of antiques, history, and spirit that my migrant Jewish ancestors have never been able to establish.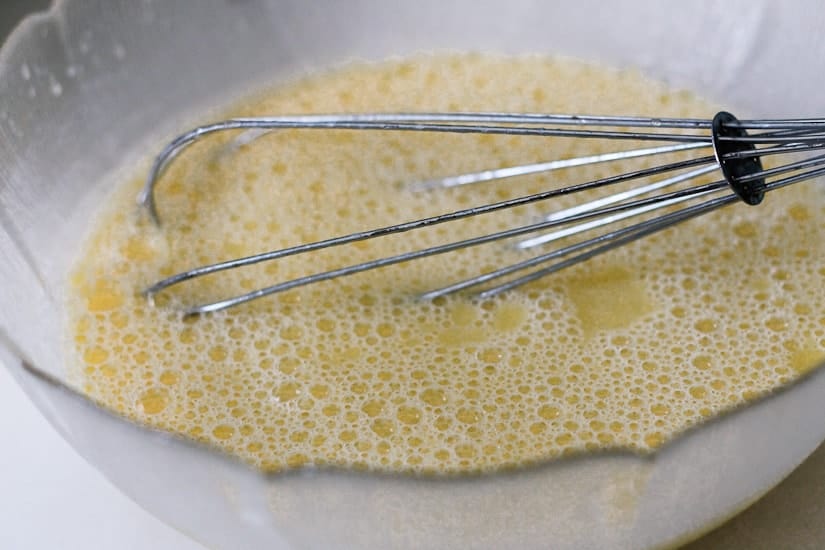 And now, in the days leading to our departure from Winnipeg, I get to wake up in this home every day. I curl with my cat on an antique, pre-loved couch, and drink my tea from perfectly chipped china cups. I read books for hours, gulping down every word, unable to tear myself away from the enchanting world of memories and stories into which I am plunged with each look around. I boil water in an electric kettle that seems so charmingly out of place, but I whip my cream with a whisk. I bake cakes in a turn-of-the-century oven with a permanently-placed thermometer and an always-open door, because the temperature inside fluctuates and shoots up so sporadically, it could ruin even the simplest creation. And yet everything I have made here has turned out perfectly, undoubtedly nurtured by all the love and magic around it. I am truly content.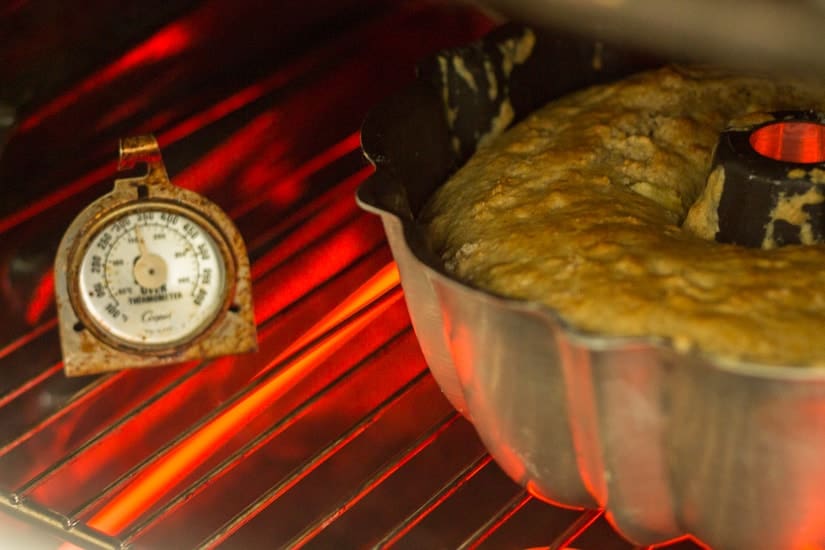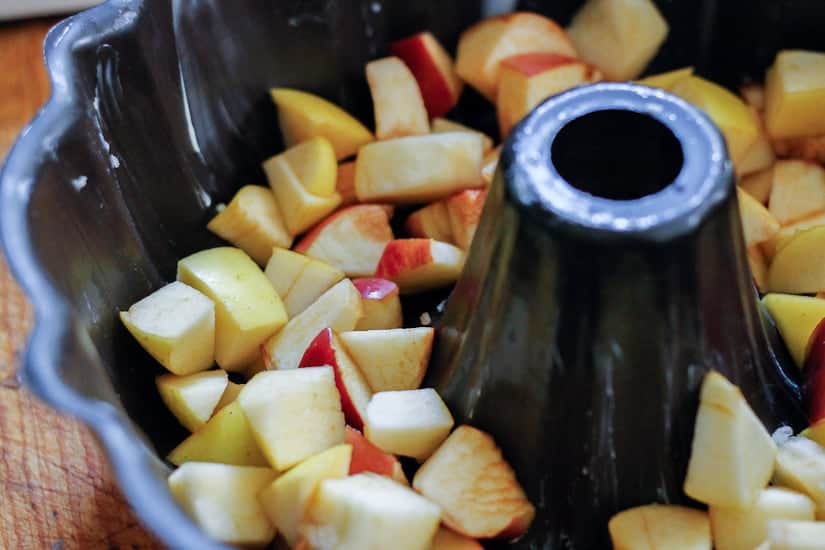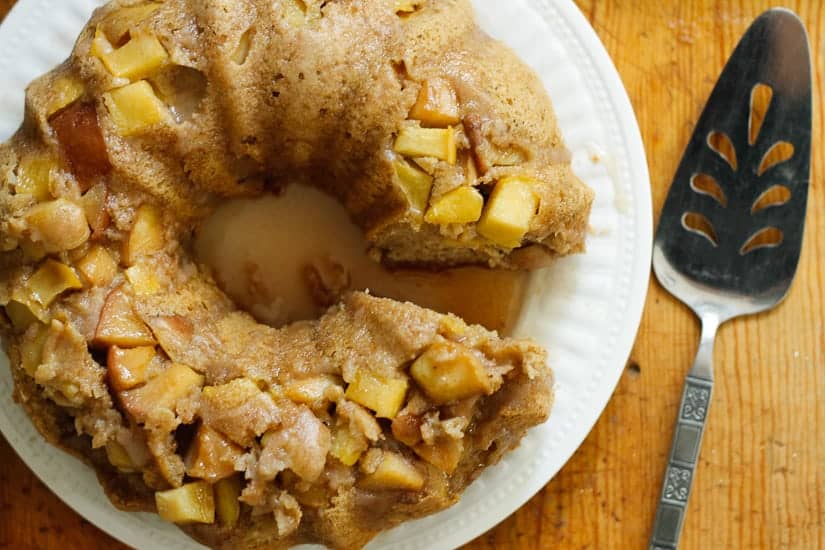 Yet I almost didn't share this apple and olive oil cake with you. First of all, it seems like all I've posted lately has been baking. Second, I felt like another post centered around the calming abilities of baking would be too much, a sure-fire abuse of your patience. Third, I also felt like posting a non-vegan, non-gluten free cake that, albeit seemingly Russian, probably harkens back to traditional American cooking, would be a betrayal to the purpose of this blog. But then I realized that if I listened to all those hesitations, I'd be keeping this beauty of a cake away from you. And judging by how quickly it was eaten around these parts, that would be almost criminal.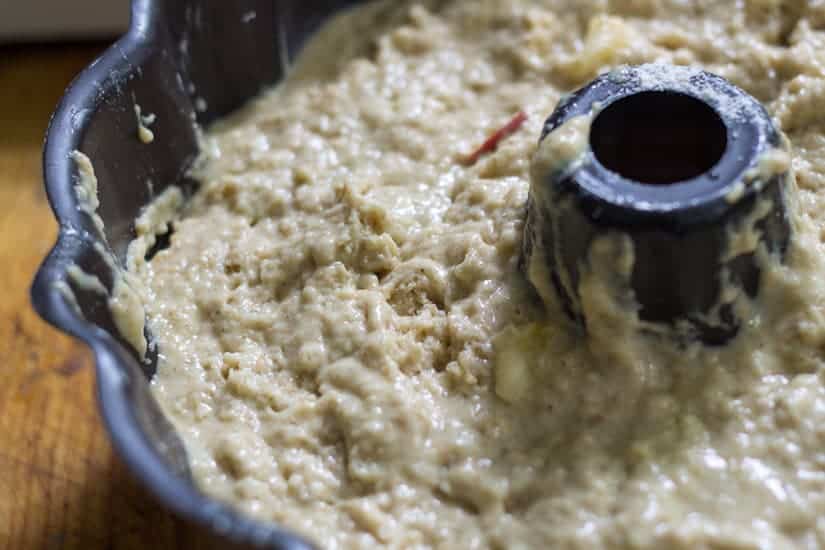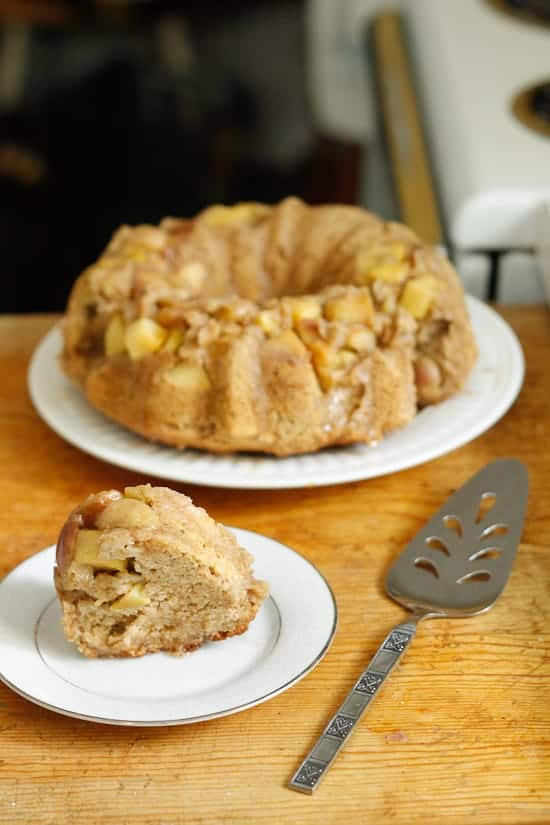 With a perfect crumb and a moist exterior, the faint whisper of ginger and the aroma of fruity olives, this apple olive oil cake is worthy of a quiet afternoon in a library, or on your favourite antique couch. Adapted slightly from a fantastic recipe by the lovely Beth Kirby over at Local Milk, It's a cake worthy of houseguests, tweed jackets, warm slippers and a breathing, purring, happily napping cat curled up by your side. And I hope that it's a cake worthy of some of the best people I've ever met, who welcomed me into their home as though I truly was family. To them go my thanks, and this cake.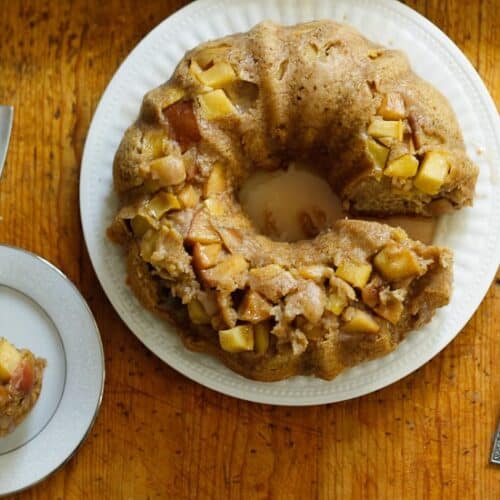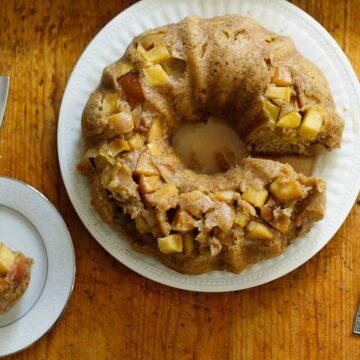 Apple olive oil cake
With a perfect crumb and a moist exterior, the faint whisper of ginger and the aroma of fruity olives, this apple olive oil cake calls for a quiet afternoon with a good book.
Print
Pin
Rate
Ingredients
2-3

apples

2

cups

unbleached all purpose flour

1

cup

spelt flour

1.5

teaspoons

baking powder

½

teaspoon

baking soda

1.5

teaspoon

sea salt

1

cup

sugar

½

cup

apple cider

½

cup

apple sauce

½

cup

good olive oil

2

Tbs

freshly grated ginger

or more - 2 Tbs did not give the cake a pronounced ginger flavour

1

Tb

cinnamon

1

cup

buttermilk

or almond milk with the juice of half a lemon squeezed into it

3

eggs

for glaze:

1

cup

powdered sugar + more to thicken if needed

2

tablespoons

apple cider

a dash of cinnamon
Instructions
Preheat oven to 350°f. Very thoroughly grease your cake tin - you may lose apple chunks if you don't!

Dice apples into chunks (not too fine, but not too large either).

In a large mixing bowl, whisk together the flour, baking powder, baking soda, cinnamon, salt and sugar.

In a separate bowl, adding each ingredient one at a time and slowly, whisk together the apple cider, apple sauce, olive oil, buttermilk, freshly grated ginger and eggs. Whisk thoroughly until large bubbles appear.

Very slowly and gently, pour the wet ingredients into the dry and gently stir with a spoon to just combine, making sure to scrape the bottom (don't overmix - this cake should stay light, and a vigorous mixing will get in the way of that).

Pour the apples into the bottom of your greased pan. Pour the batter on top (do not fill the pan, as this cake will rise), and bake at 350°f for 30 minutes to an hour (depending on size of cakes). Cake should be a deep golden brown and a cake tester should come out clean when inserted. a few crumbs are fine; it just shouldn't be wet or goopy.

Make the glaze: in a separate bowl, whisk the apple cider and cinnamon into the powdered sugar. Add more sugar if you want to thicken the glaze.

Allow cake to cool in the tin for about 10 minutes. Turn out onto a cooking rack to cool completely before icing. Spoon the glaze over the cake, and enjoy! This cake stays moist when covered in room temperature for a couple of days.