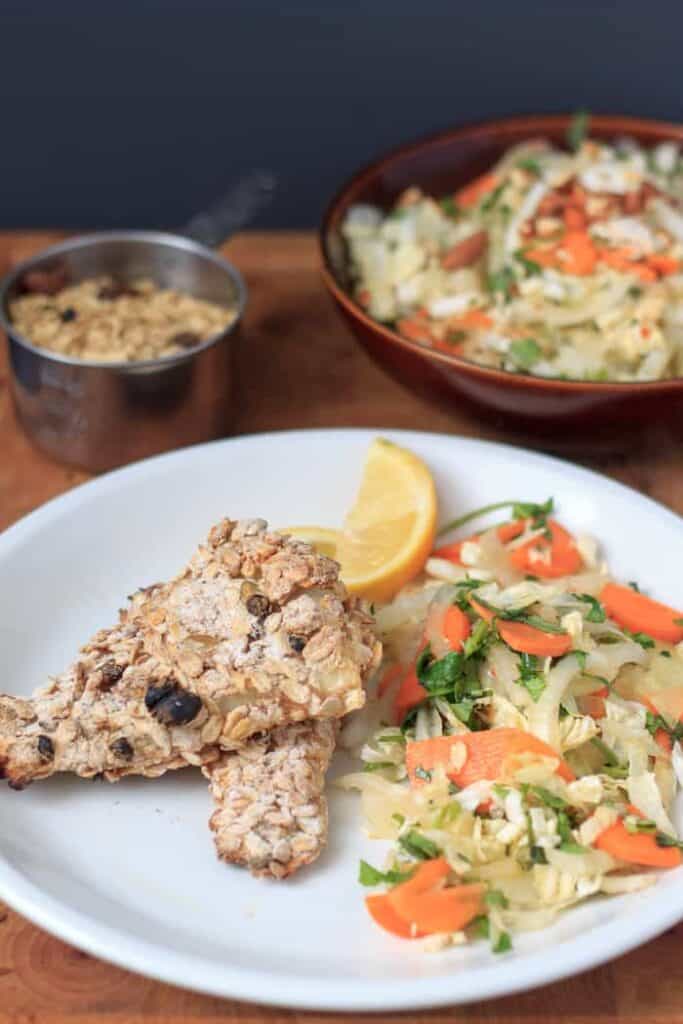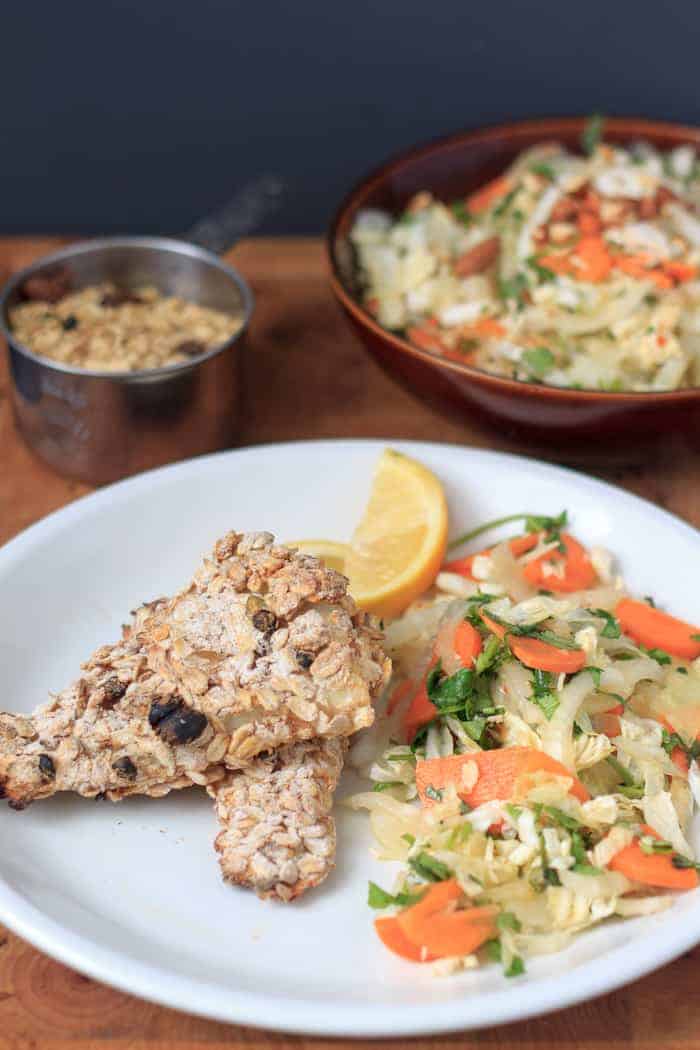 I have been vegetarian for more than fifteen years, since shortly before I turned 13. For all these years, I have shunned meat and even, for some periods of my life, any meat industry by-products like the plague. Vegetarianism has served as my identity, a shield I put up at events and in unfamiliar social settings. It has been a source of debate and argument on more than one occasion, but also a fertile ground on which to find commonalities and build bridges. Which is all why, in May of this year, it was so hard for me to finally abandon the official title of vegetarian and embrace pescetarianism; but I honestly couldn't be happier that I did - and in large part, I have healthy dishes like these baked oat-crusted cod fillets to thank for making this an easy transformation.
First, I'd like to state that my switch to eating fish has been brought on by changes in my lifestyle, and not a change in ideology or ethics. I still believe that vegetarianism (and even veganism, if to be honest) is the most healthy, sustainable and harm-free way to live our lives in modern society. But I also believe that we each need to learn to be in tune with our bodies, listen to them and give them what they need. And when my body was telling me it needed more protein, I am glad I listened.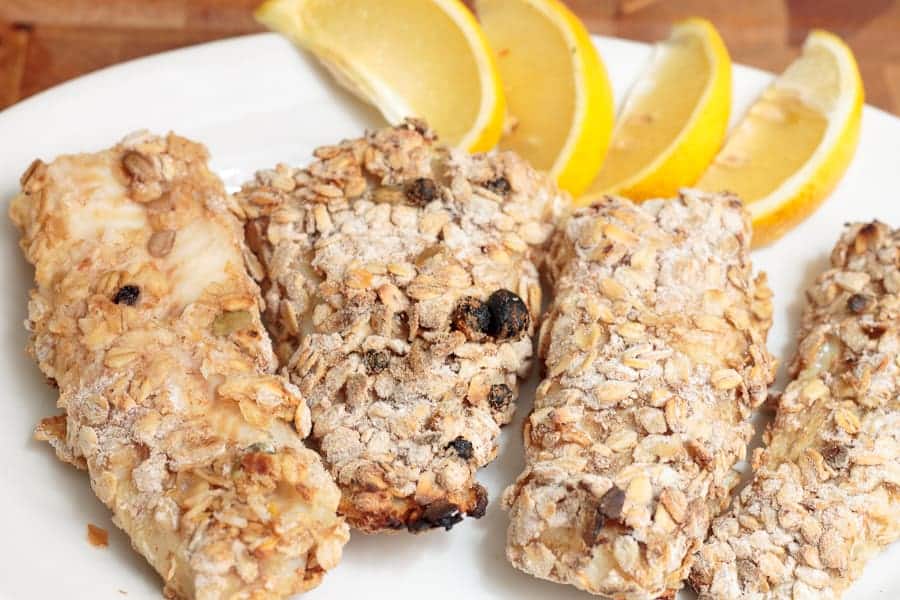 I was slow to embrace the change. It all started when I established a daily yoga practice, mostly going to a mysore or a hot yoga class, sweating my butt off and throwing my entire body and soul into the practice. Pretty quickly, I had started to feel hungry all the time; though I was more energetic and breathing better, I found my eating habits deteriorating. Pretty soon, I was stuffing my face with quinoa and brown rice every day, trying to fill what felt like a gaping hole in my stomach.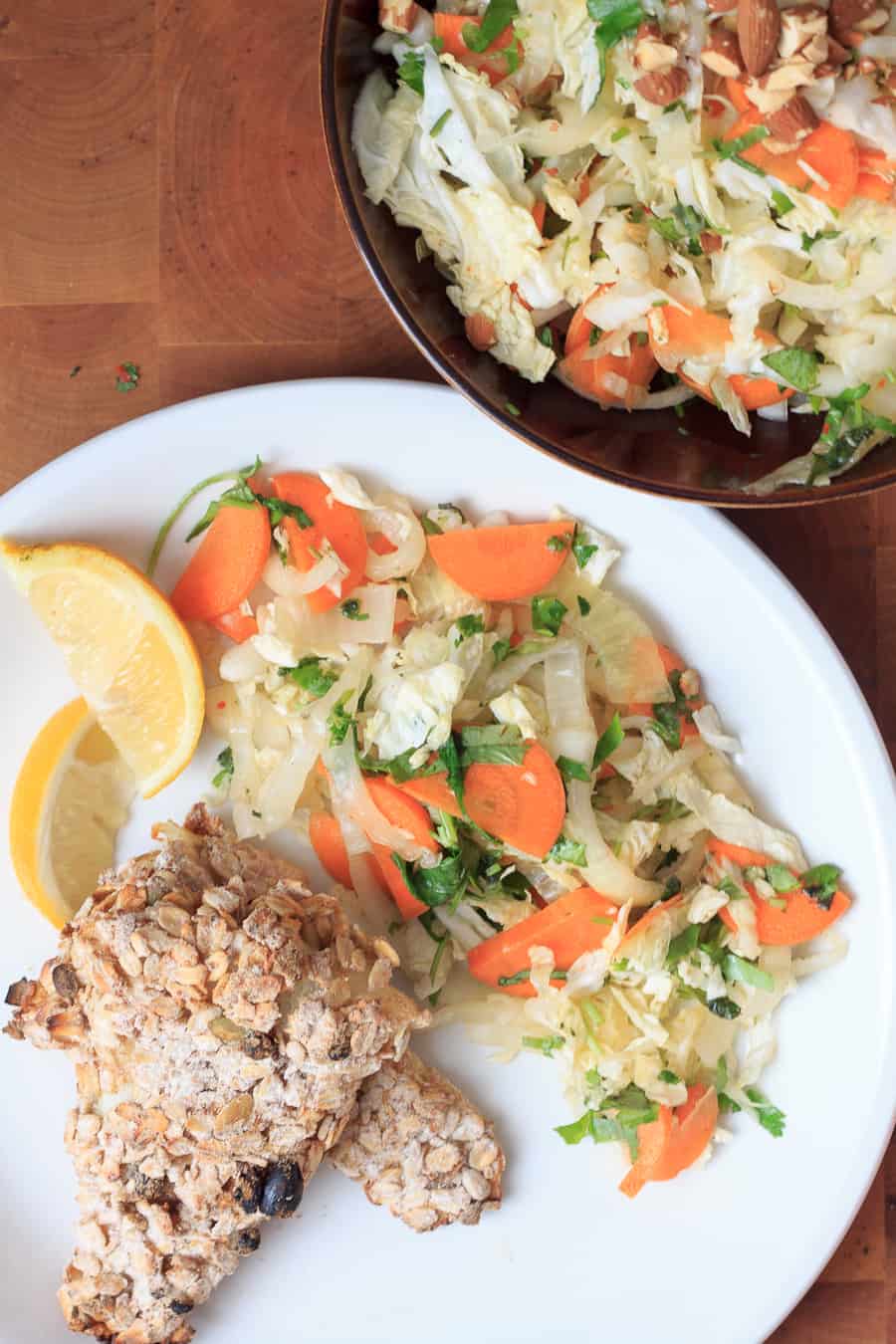 You should know that I have gone through many ups and downs in my diet, sometimes overcompensating with carbohydrates, and other times sticking to an almost-militant carb-free diet. My weight has fluctuated throughout most of my adult life, ranging anywhere between 100lbs at my thinnest, to 143 at my heaviest. I would say that my ideal weight was probably somewhere in the middle, around 120-125lbs (I am definitely on the curvy side). At the time of my daily yoga practice, I was probably weighing around 135 (though a lot of it was muscle), and I wasn't happy. I felt and looked chubby.
I tried to increase my greens intake. I began a smoothie habit, switching breakfast and even lunch to a liquid diet. I was sprinkling hemp seeds and flax seeds on every salad I ate. I wasn't eating cheese, or desserts. And yet, my weight wasn't really going down; I felt bloated. And the funnies part is, I was always hungry - and always working out.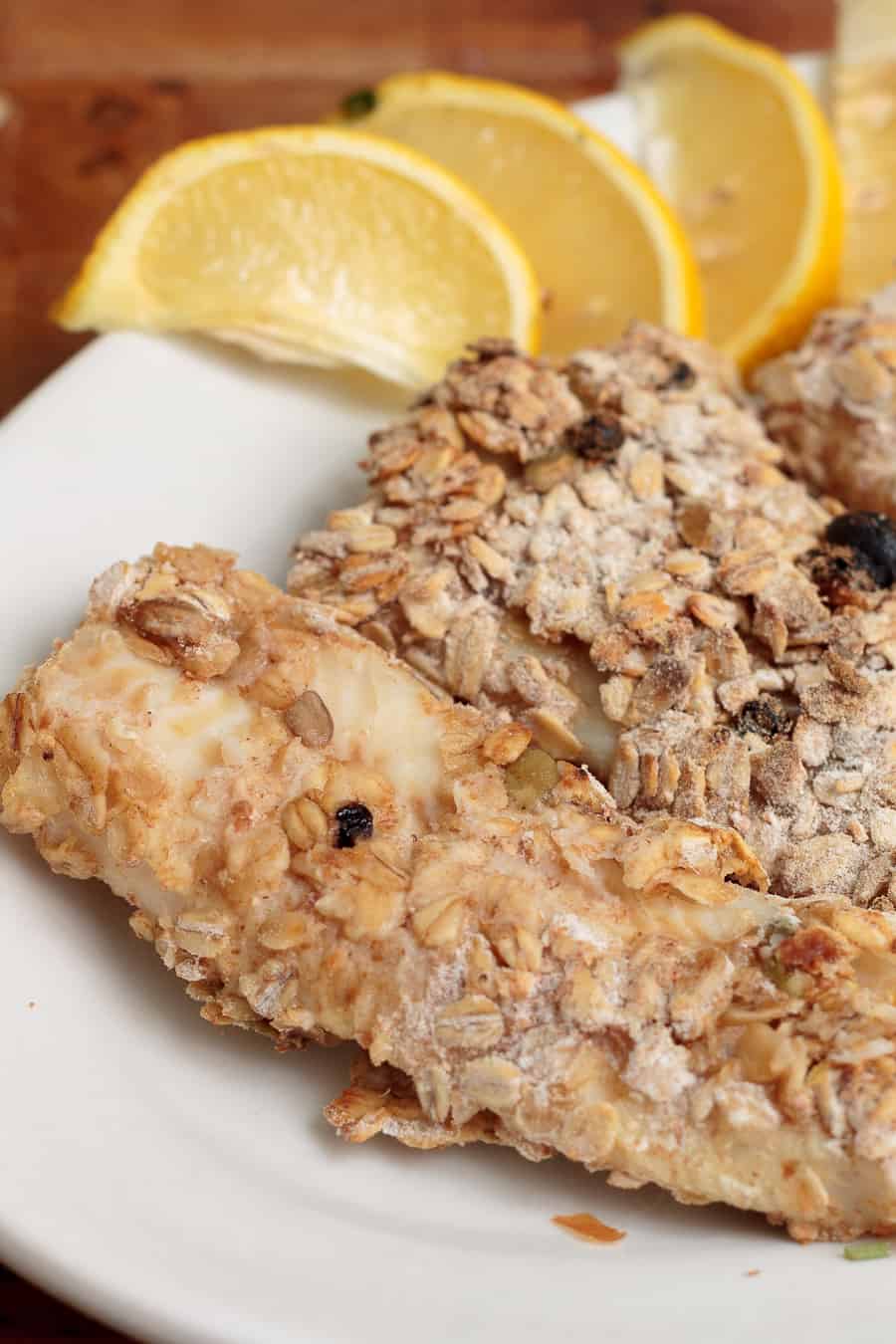 And then I went to Israel, and in a restaurant on the Mediterranean coast, I agreed to try a bite of my mother's grilled fish. The table sat and stared with bated breath as I tasted my first piece of fish in, well, ever. As soon as I felt the seared flesh hit my mouth, I knew it - that was magic. I immediately loved everything about fish.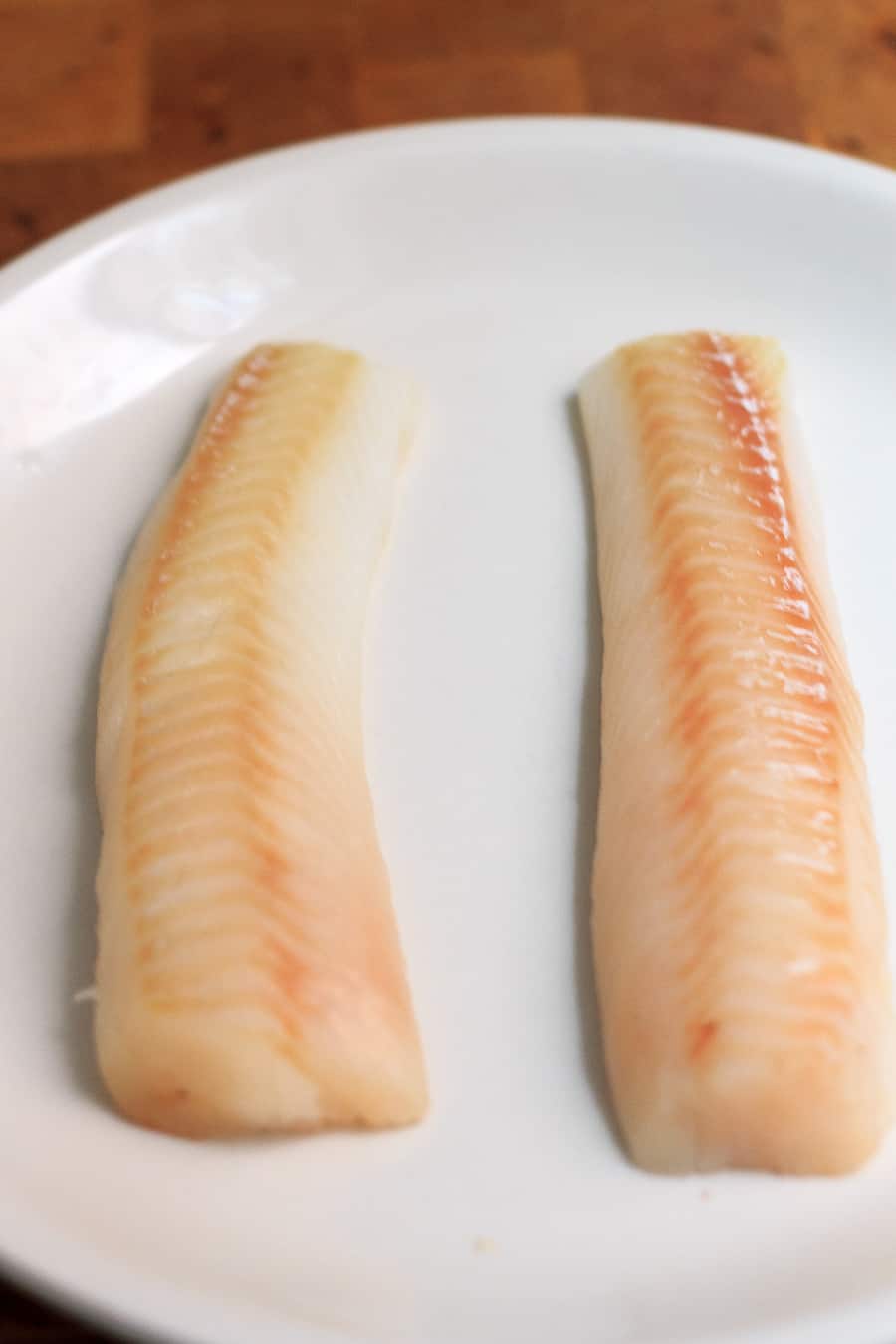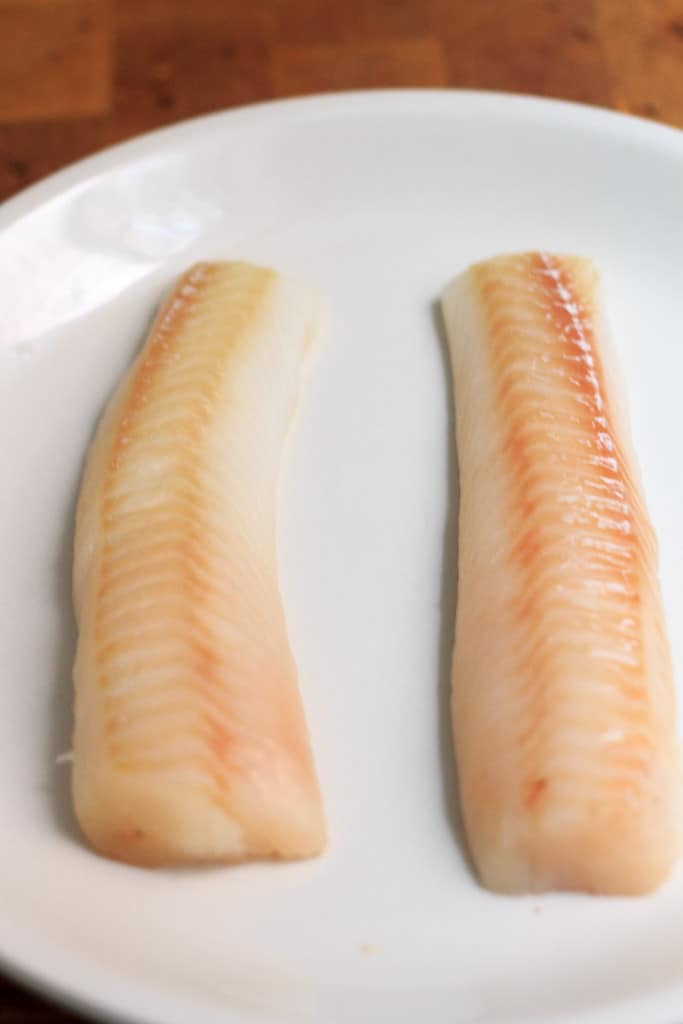 Since then, I have begun to incorporate some fish products into my regular diet. As part of my month of paleo, I have grown accustomed to eating simple lettuce wraps with wild canned salmon. When I am out reviewing restaurants for The Main, the fish option is often the best way to taste what the restaurant has to offer without offending anyone, or compromising my ethics. For dinner one night, G and I even made a seafood stew of various bits of seafood of dubious origin, and I can't say I loved it quite as much.There is trial and error in my fish journey, but I am extremely thrilled to be exploring this entirely new facet of the food world.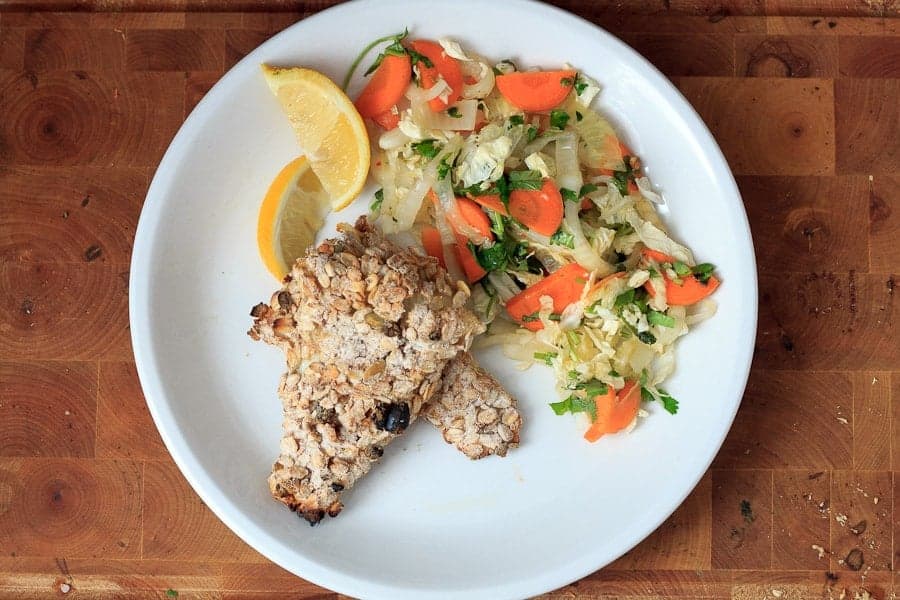 And so, when NaturSource approached me with the request to develop a few heart-healthy recipes with their granola, I just knew I had to do something with fish. Oats themselves are a powerhouse of omega 3 fatty acids, folate, potassium, and beta glucans, which reduce cholesterol and help boost our defenses against against bacteria, viruses, fungi, and parasites. Pairing them with cod, one of the sea's best sources of omega 3 and potassium, not to mention vitamin B12, B6 and D, seemed like a no brainer - and a sure recipe for promoting our cardiovascular health and lowering our risk of diabetic heart disease and heart attacks.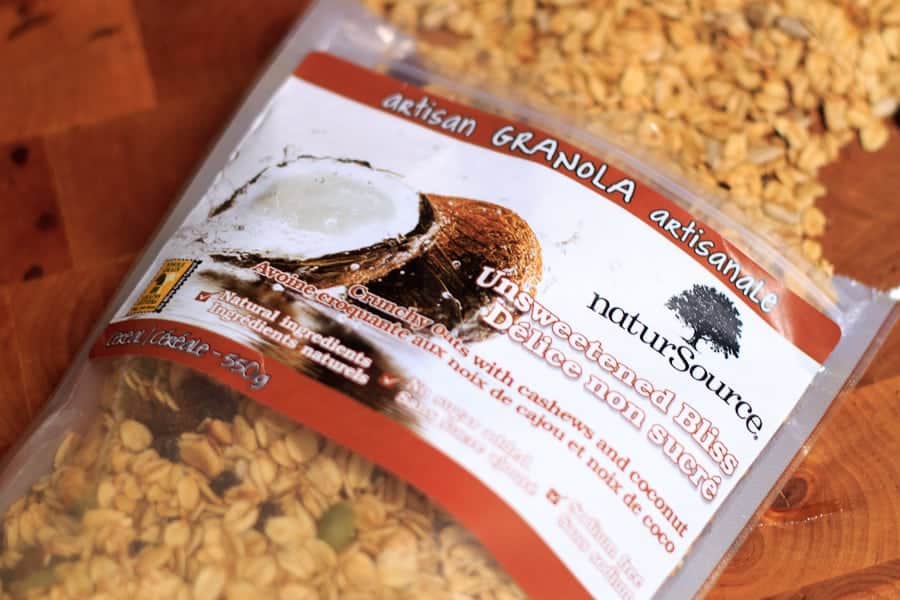 The granola I chose to use for these baked oat-crusted cod fillets is the unsweetened bliss granola, my favourite flavour in NaturSource's artisan granola line. Mixed in with cashews, raisins, sunflower seeds, coconut, pumpkin seeds, wheat bran and coconut oil, NaturSource's heart-healthy oats are taken to a new level of nutrition and versatility in this lovely, mild blend. Unsweetened bliss granola has a delicate, faint taste of coconut that allows it to pair beautifully with savoury and sweet foods alike. The result is granola that is free of sodium and added sugar, low in saturated fats but high in fibre and whole grains.
To make these baked oat-crusted cod fillets, I prepared a mix of unsweetened bliss granola, whole-wheat flour, lemon, and salt. I patted the fillets in a little bit of egg and almond milk (for added heart health!), and then rolled them in the oat mixture. The fillets were then baked in an extra hot oven to give them a crispy exterior without drying out the delicate fish. I served my Baked oat-crusted cod fillets with a zesty Asian napa cabbage salad, cut on this borrowed Swissmar Borner mandoline
, and which I will post very soon. It was a lovely, light dinner - and the only taste of grains I've had in this entire month! (ah, the things we do for recipe development ;))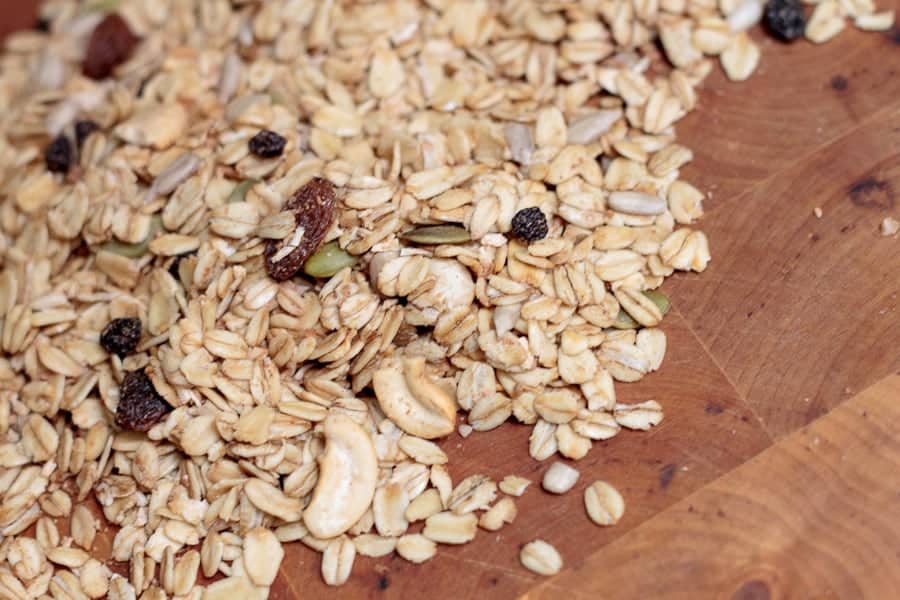 Throughout my life, food has been a constant source of both solace and stress. It has gotten me through good times and bad. But in the last year since I've been blogging, food has become a true source of inspiration. Blogging has pushed me to explore new foods, new diets, and new cooking techniques. And for that, I couldn't be more grateful.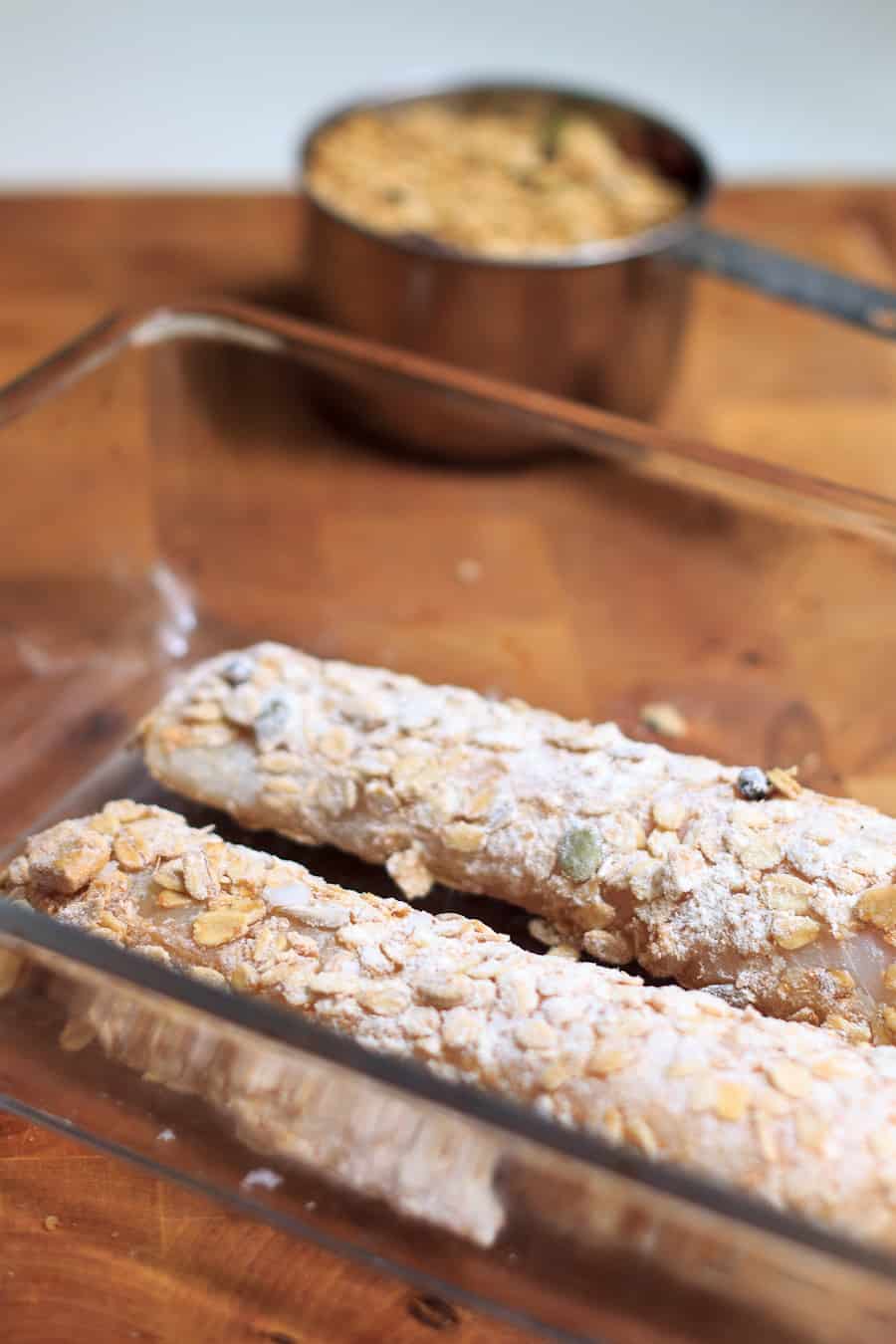 And in your case you're wondering? I haven't weighed myself, but I'm fairly happy with how I look and feel towards the end of my paleo month. More on that soon!
Accompanying dishes
I like to pair this fish with a cabbage salad or a fennel salad. For a more substantial side, try my lemon potatoes.
I like to serve a light dessert, like a banana bread without baking soda or dairy free chocolate nut energy balls.
P.S. – This is a sponsored post, but all opinions expressed here are my own. I am proud to support a local, family-owned business whose product I truly appreciate, and I thank you for supporting my sponsors.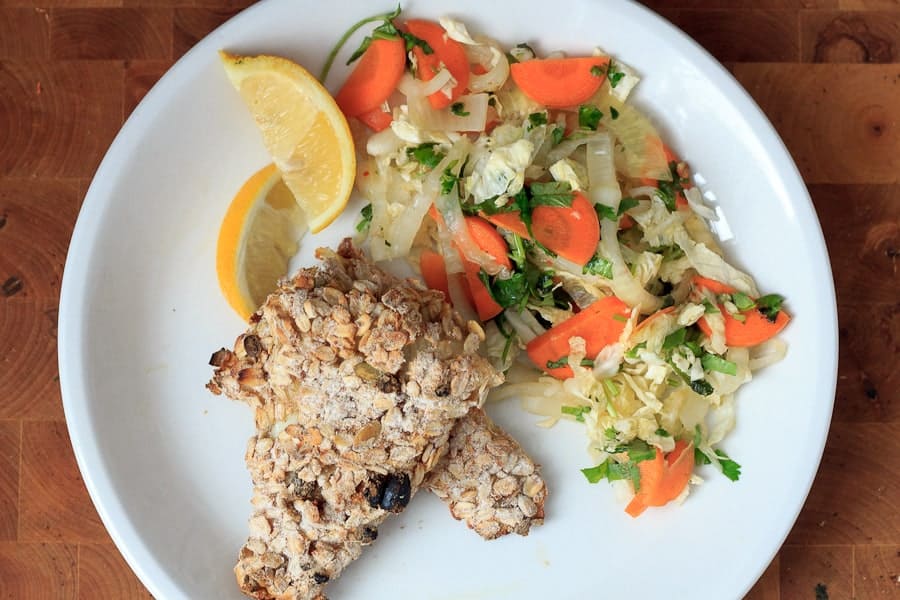 Pin for Later!
P.S. – This is a sponsored post, but all opinions expressed here are my own. I am proud to support a local, family-owned business whose product I truly appreciate, and I thank you for supporting my sponsors.
Liked this post? Share it with your friends! For more At the Immigrant's Table, follow me on Facebook, Instagram, Pinterest, Bloglovin', or Twitter, subscribe to my mailing list, or contact me about advertising and becoming a sponsor. If you make one of my recipes, don't forget to tag it #immigrantstable @immigrantstable!
Tried and loved this recipe? Please leave a 5-star review below! Your reviews mean a lot to me, so if you've got any questions, please let me know in a comment.
Recipe
Baked oat-crusted cod fillets
These Baked oat-crusted cod fillets are a powerhouse of Omega 3 fatty acids, potassium, vitamin B12 and heart-healthy power. Pair it up with salad for a delicious and light meal that won't weigh you down!
Ingredients
4

whole cod fillets

1

egg

beaten + 2 TBs almond milk - get those heart-healthy ingredients in however you can!

OR 2 TBs plain yogurt or mayonnaise - I haven't tried it this time

but I believe that using yogurt or mayo in place of the egg and almond milk mixture might make the fish even moister. I'll let you know next time I make it, or I encourage you to try yourselves!

2

tablespoons

wholewheat flour for coating

1

cup

unsweetened bliss granola

Zest of ½ a lemon

1

teaspoon

lemon juice

salt and pepper to taste

Lemon wedges

for serving
Instructions
Defrost cod fillets overnight. When ready to cook, pat try with paper towels.

Preheat oven to 450, with racks in top and bottom thirds of the oven. Line a baking sheet with aluminum foil; do not grease.

Mix egg and almond milk (or yogurt/ mayo) in a bowl wide enough to hold a fillet. In another bowl, combine granola, flour, lemon zest, lemon juice, salt and pepper. Dip cod into egg mixture (or yogurt), then roll it in the granola mixture, patting the fish and pressing the mixture in place to adhere. Arrange on the baking sheet.

Bake fish at the lower part of the oven for 7 minutes, then in the higher third for another 7. Remove from oven, and let rest for a couple of minutes until it is easier to remove from the foil (this may be a little challenging, and the coating may threaten to come off in parts; don't yank - just be gentle and persistent, and it should pay off).

Serve immediately with a fresh salad, a very generous lemon wedge, and more salt to taste.
Tried this recipe?
Comment + Rate Below!
Connect on Instagram!
Find us @immigrantstable