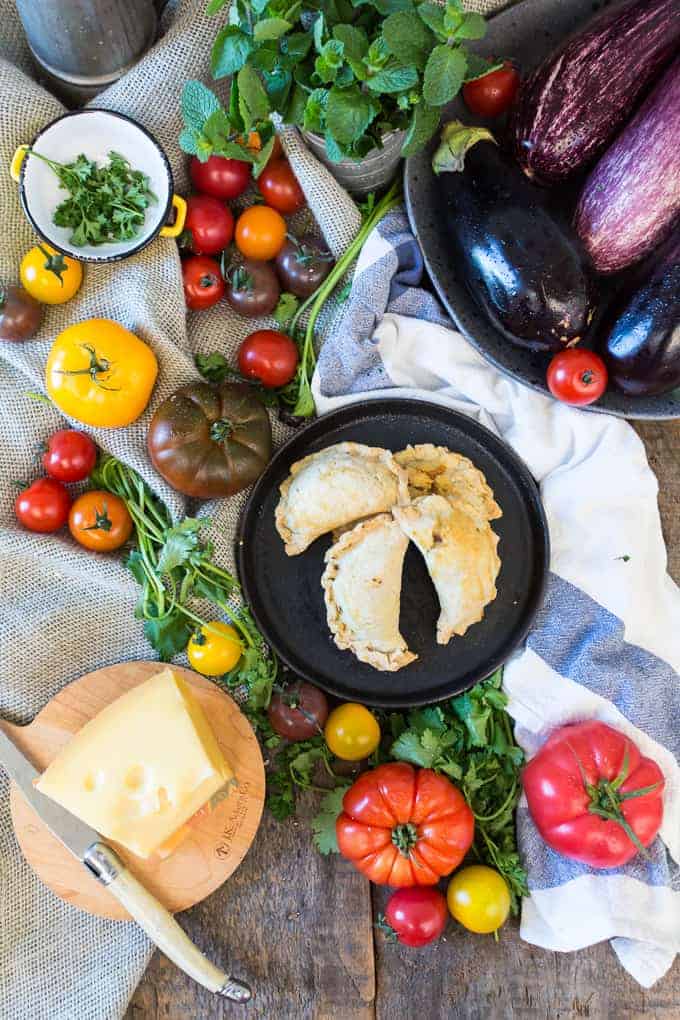 Crispy on the inside and brimming with gooey goodness on the inside, cheesy Balkan bourekas are little pockets of flaky homemade dough. They are filled to bursting with luscious eggplant, cooked in aromatic cumin-laced tomato sauce and paired with gooey Jarlsberg cheese. A Middle Eastern take on calzone! This post was sponsored by Jarlsberg cheese.
What are bourekas?
Bourekas are one of Israel's most popular foods. Cheap and versatile, they serve as:
They are an essential part of Israel, brought in by Sephardic Jews from their Spanish and Turkish-speaking Balkan countries of origins. Sadly, today their commercial versions are much maligned for being a symbol of fattening, high-caloric foods.
But not so with homemade bourekas.
The secret of good bourekas
Today, everyday bourekas are available from cheap corner stands. In contrast, artisanal bourekas are offered on the menus of some of Israel's top restaurants.
The discerning among us dream about the best ones, planning entire meals around their favourite bourekas.
There are Turkish Börek and adaptations of the Tunisian sandwich in bourekas form. They come in a variety of filling - cheese, potato, and even the unique Bosnian version of squash and apple.
Bourekas are the food of the masses, taken to the next level with very little financial investment.
The secret to good homemade bourekas is simple. All you need for a good, artisanal and authentic bourekas are:
good ingredients,
some time; and
a willingness to roll up your sleeve and make some dough.
Balkan Bourekas: The king of cheesy bourekas
My absolute favourites are Balkan bourekas. First off, they are filled with a mixture of eggplant and cheese. Then, these bourekas are made from a different dough: a buttery dough that is more akin to a calzone than the phyllo dough of traditional bourekas.
Nothing in this world can compare to the smell, crunch and flakiness of a freshly baked homemade cheesy Balkan bourekas.
Coming hot out of the oven and bursting into a million pieces with the first bite. And that bite is a glorious rhapsody of molten, cheesy lava and stewed eggplant-tomato filling. What could be better?
The cheesy secret of a good Balkan bourekas
As I mentioned, the basis for authentic artisanal cheesy Balkan bourekas are good ingredients.
Now, when the farmer's markets are bursting with fresh local produce, go to your favourite vendor and pick the glossiest eggplant you can find.
Match it with some firm tomatoes - heirloom is best, though the colour really doesn't matter.
Pick some fresh herbs, a mix of parsley and cilantro, if you're into that sort of thing.
Finally, sprinkle it all with a generous amount of briny feta and a mound of Jarlsberg cheese.
The nutty taste of this otherwise mild, golden cheese is the perfect compliment to the cumin-laced, earthy stewed tomatoes and eggplant filling. Its natural muskiness plays well with the sharp tang of feta, the second cheese in our bourekas.
Finally, Jarlsberg"s beautiful melting qualities mean that when you break apart that freshly baked Balkan bourekas, you'll witness the pull of several strands of gooey, melting cheese.
Most importantly though, what the taste? It's an unforgettable union of flavours that perfectly represents the Balkans, the Middle East, and every exotic country's you've always wanted to visit.
Therefore, make time on a weekend morning to make your dough, and roll out these little pockets of cheesy goodness.
I received product and monetary compensation in exchange for this post. However, I am proud to only work with those companies whose products I truly love. And as always, all opinions expressed here are my own; you can always expect me to be honest with you guys!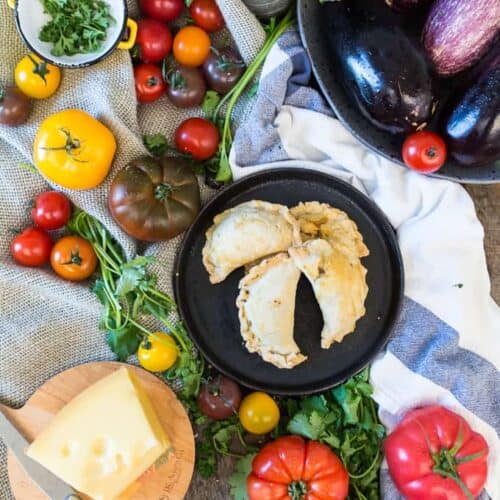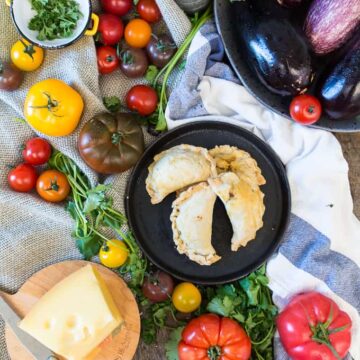 Homemade Balkan bourekas with eggplant, tomatoes, Jarlsberg and feta cheese
Crispy on the inside and brimming with gooey goodness on the inside, Balkan bourekas are little pockets of flaky homemade dough that are filled to bursting with luscious eggplant, cooked in aromatic cumin-laced tomato sauce and paired with gooey Jarlsberg cheese. A Middle Eastern take on calzone!


Print
Pin
Rate
Ingredients
For the dough:

½

kg

3 cups flour

100

grams

½ cup butter

cubed

100

ml

½ cup minus a tablespoon olive oil

120

mL

½ cup water

5

g

½ TB baking powder

1

teaspoon

salt

flat

For filling:

1

large eggplant

cut into small squares

¼

cup

olive oil

1

tomato

chopped

1

teaspoon

cumin

ground

1

handful parsley, chopped finely

1

handful cilantro, chopped finely

optional

100

g

feta

crumbled

150

g

Jarlsberg cheese

grated

2

teaspoon

salt

1

teaspoon

pepper
Instructions
To prepare dough:
In a large bowl, mix flour, butter, oil, water, baking powder and salt into a uniform dough. Work with your hands until dough is soft and pliable, about 5 minutes.
To prepare filling:
Preheat pan to medium-high heat. Start by adding 2 TBs of olive oil. Add cubed eggplant and cook, stirring often and adding oil as necessary, until browned on all sides. Be liberal and ensure to use the total ¼ cup of oil - eggplant loves oil! This should take about 15 minutes.

Add tomatoes and cook until their raw flavour passes and tomatoes break down into sauce, about 10 minutes. Add herbs, cumin, salt and pepper and cook an additional 5 minutes. Add feta and 120g of Jarlsberg, reserving 30 grams. Taste and correct seasonings as needed.

Preheat oven to 360Arrange a baking sheet with parchment paper.

To assemble Balkan bourekas: Roll dough into balls, each weighing about 35 grams. Roll each ball with a rolling pin. Place a teaspoon of filling in the center of each dough circle. Distribute remaining Jarlsberg cheese, sprinkling it on top of each bourekas. Close each bourekas into a crescent shape. Press on the edges of the dough with a fork or pinch them with your fingers to ensure proper sealing.

Transfer Balkan bourekas to baking sheet. In a small bowl, scramble egg with a drop of water. Brush the top of each bourekas with egg wash, and sprinkle with sesame.

Bake in a 360F oven for 25 minutes, until Balkan bourekas are golden. Remove, let cool for a minute and eat immediately for that fresh-out-of-the-oven taste and maximum cheesy goodness.