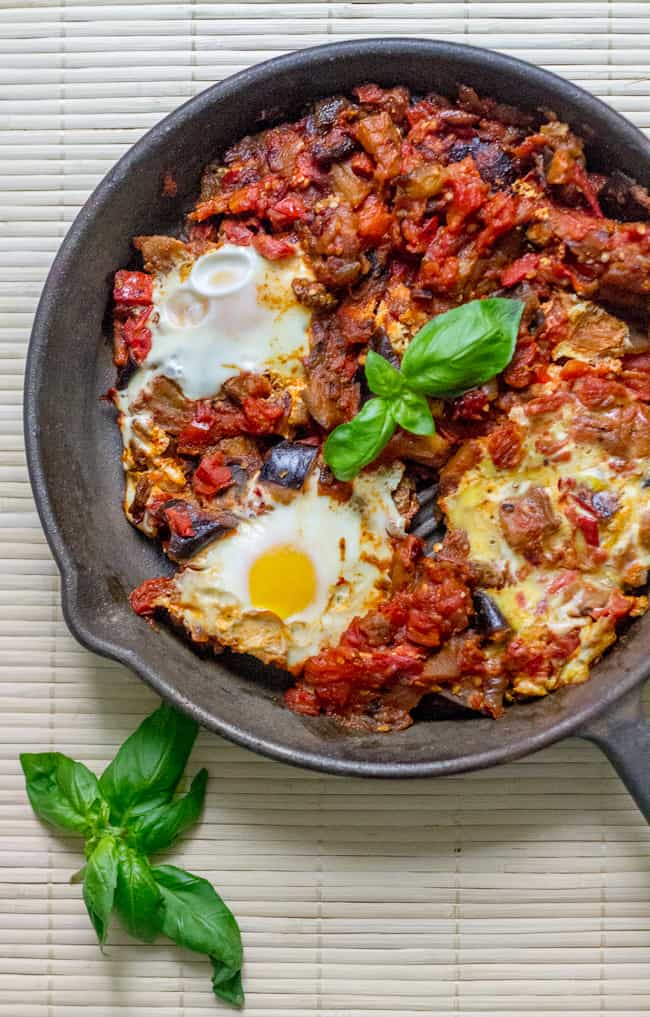 In this traditional Middle Eastern eggplant shakshuka, a thick, chunky tomato and eggplant sauce serves as a bed for perfectly-cooked eggs. The perfect centrepiece for your next Middle Eastern brunch! This post contains affiliate links that help make this blog possible.
To see my video on how to make this eggplant shakshuka, scroll below or click here. For another favourite shakshuka, check out my green shakshuka.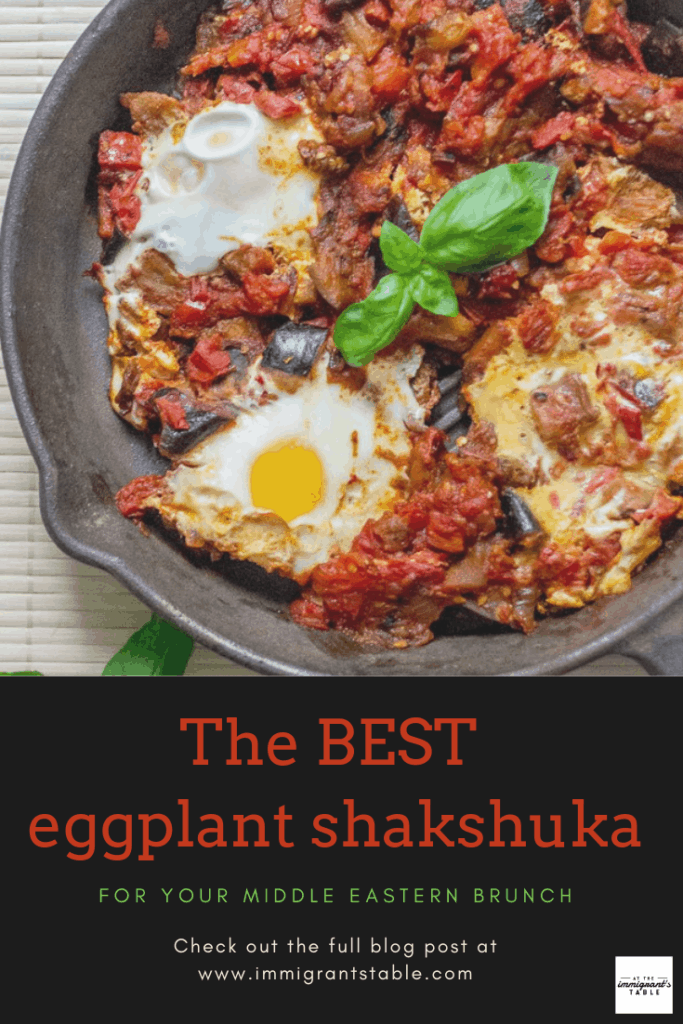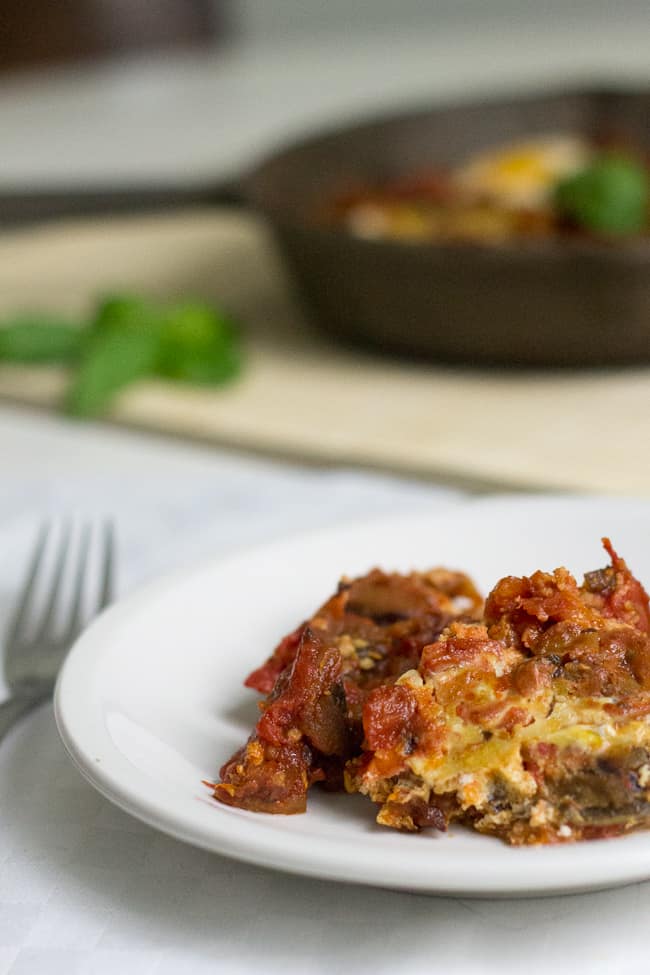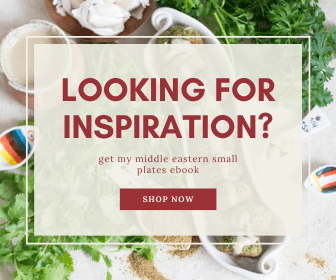 A pan so hot that it sizzles at the first drop of oil. A finely minced onion turned golden from the heat.
A glossy, purple eggplant, its skin so dark it is almost black.
Juicy tomatoes so bursting with life, they start to fall apart at the merest application of pressure.
Vibrant, green herbs, and the heat of a few chillies. And finally, luscious, brightly-hued eggs that are poured into little nests of sauce.
Those are the basic ingredients of a perfect eggplant shakshuka, and the easiest way to make people think you're a god in the kitchen.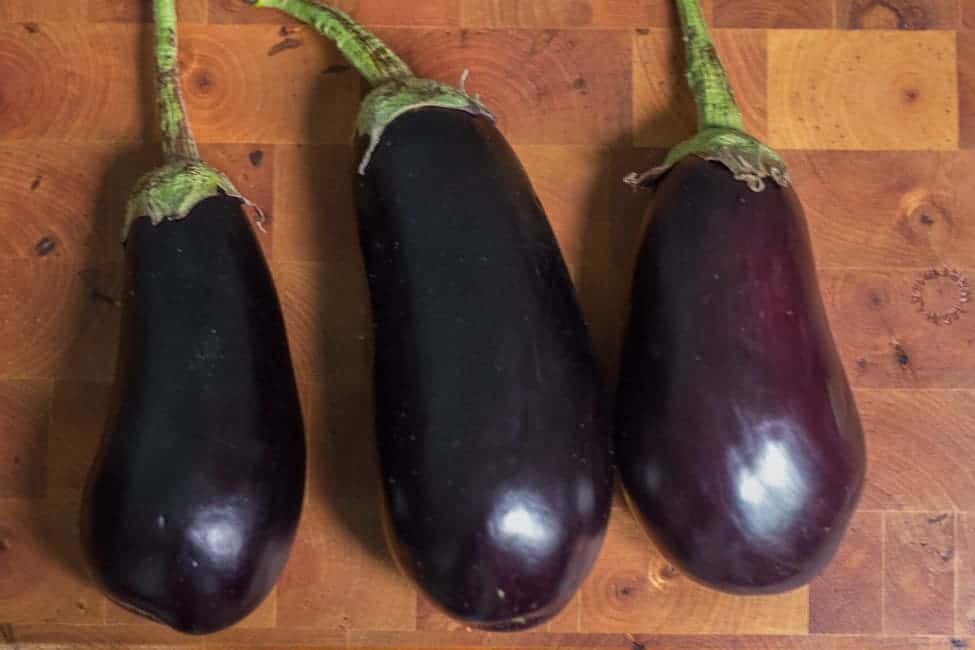 Winning friends with eggplant shakshuka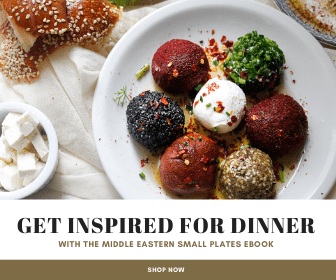 The first time I made eggplant shakshuka for others was at a music festival, the first one I attended in Canada. I had gone with a group of friends from the student newspaper in which I worked, and has ended up sharing a tent with two university friends. Without my boyfriend, and surrounded by many people whom I had just met, I felt alone and guarded.
It was early morning on a Saturday, and people were still asleep after a long night of drum circles, guitars, and wandering. Despite the hour, I was already up and about, one of the only campers who abstained from too much imbibing the night before; and so, I had decided it was high time to introduce my friends to Israeli shakshuka.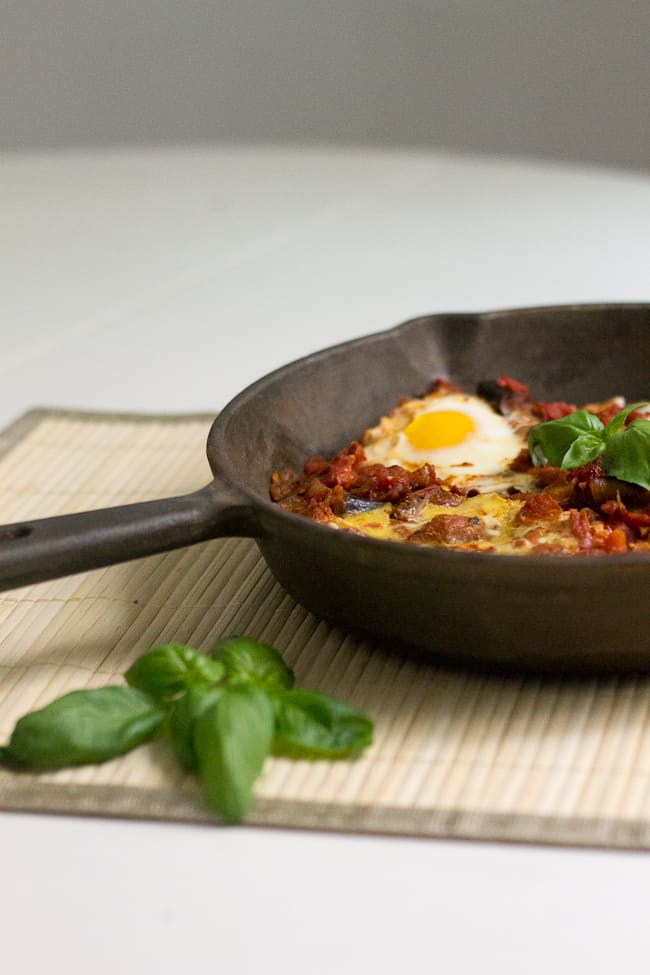 I set up a little cutting board and a makeshift cooking station, a Coleman Gas Stove
haphazardly perched on a the corner of a picnic table, and set to work. As my hunting knife slid through the eggplant and tomatoes, their guts spilled onward onto the board, splashing the table with their red juices.
The sharp sting of the onion hurt my eyes, drawing forth unwanted tears. A small eggplant was cut into cubes, and dropped onto the already-smoking pan. Eggs were broken into a bowl; some scrambled, others kept whole, their golden yolks eyeing me reproachfully.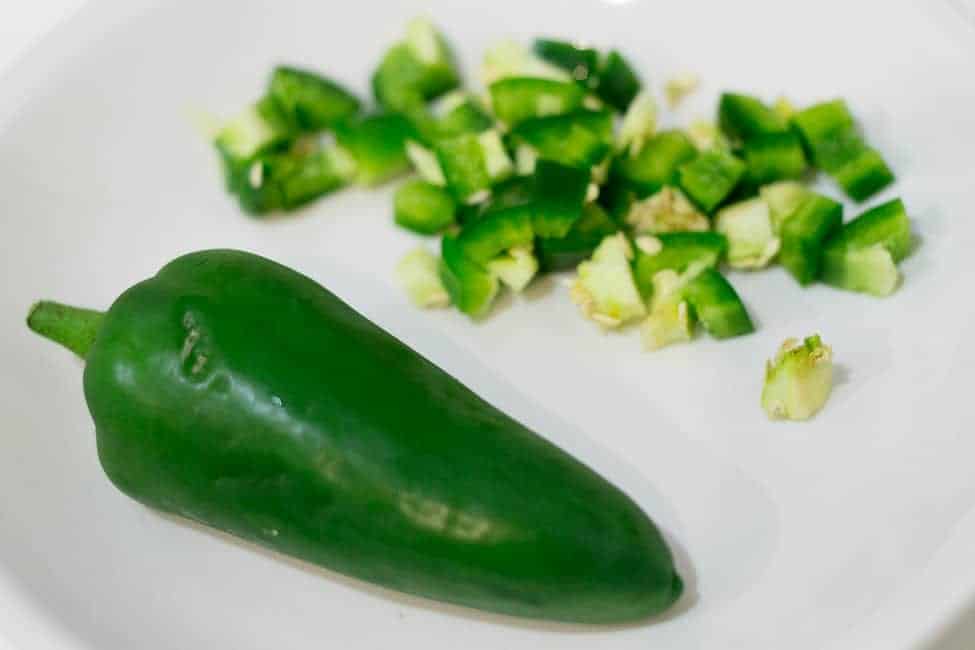 As the smell of the caramelizing onion permeated the air, people began to stir and wake. One by one, my friends were coming out of their tents, rubbing their bloodshot eyes. Some sought out water; others, the hair of the dog. As the tomato-eggplant sauce thickened in the pan, the campground came to life with hushed morning conversation.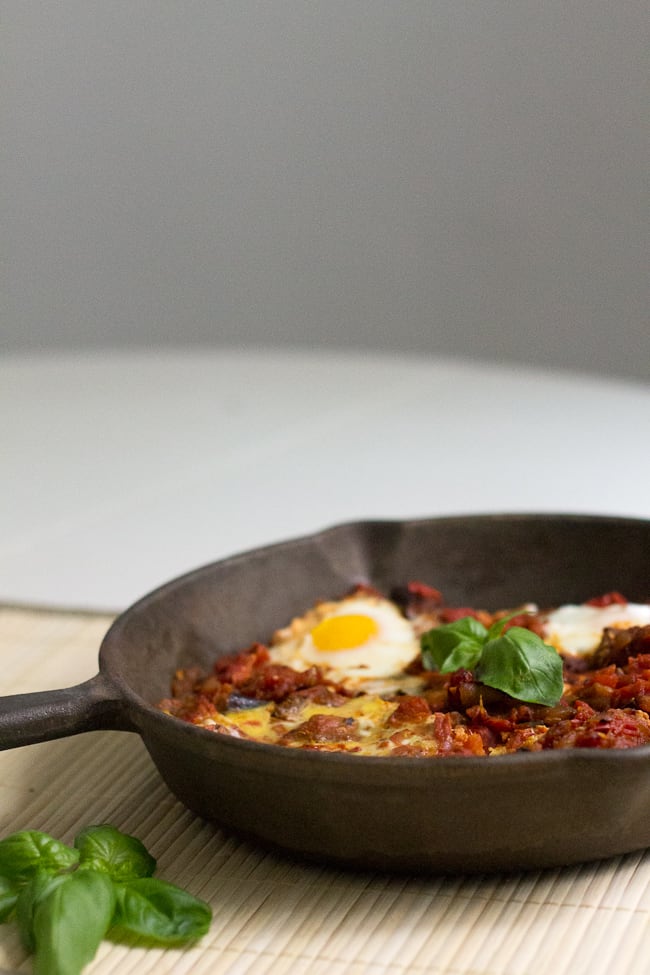 Someone started to boil water for coffee, and soon, steaming mugs were passed around. Another friend cut up bread and set up plates. A party was forming around our site.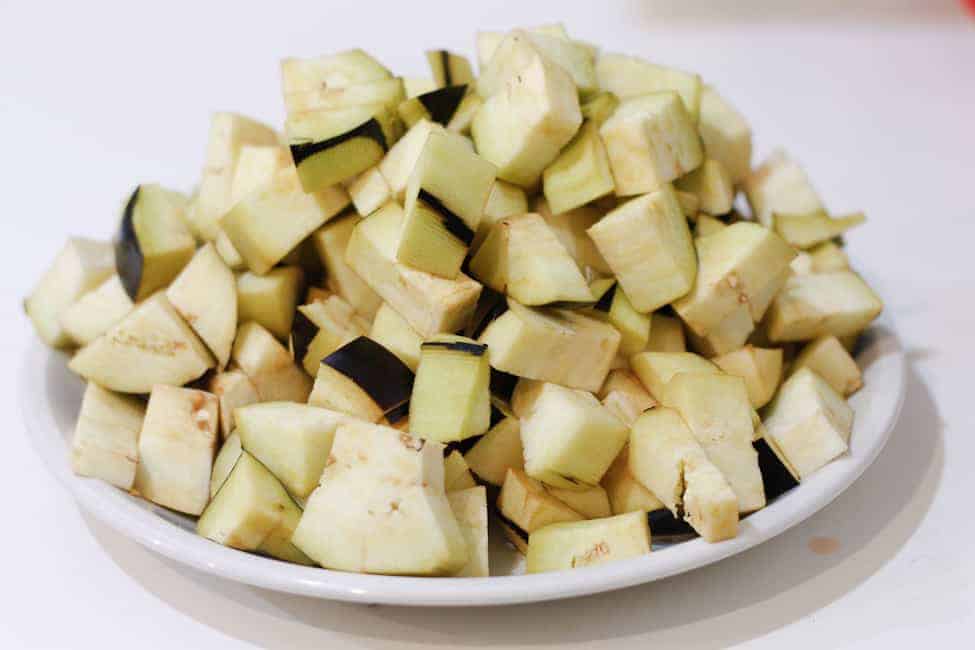 Meanwhile, I created little nests in the sauce, dropping eggs one by one into their burrows. I stirred the sauce slowly, sipping my coffee, shielding my eyes from the rising sun. Sweat beads were starting to form at the nape of my neck, but I knew I still had work to do.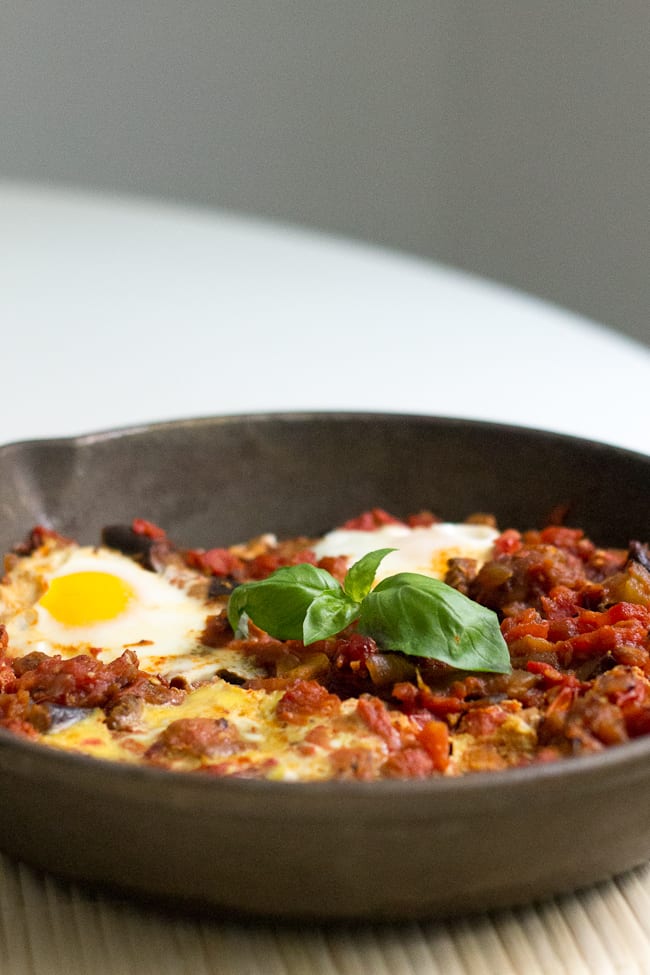 A labour of love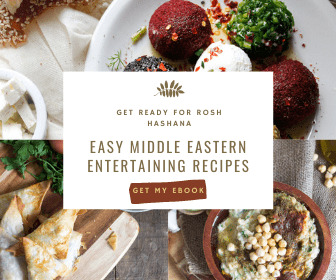 Eggplant shakshuka is a labour of love, a slow dish that is not to be rushed; it takes time and patience, letting its smell be a clear invitation to work up an appetite. And it is best made on an open flame, with the call of birds and the smell of pine needles all around you.
But when it is ready, it happens all at once; the yolks are still quivering in their encasement, their centres still a little runny. It works on its own time, demanding respect but waiting for no one, this eggplant shakshuka.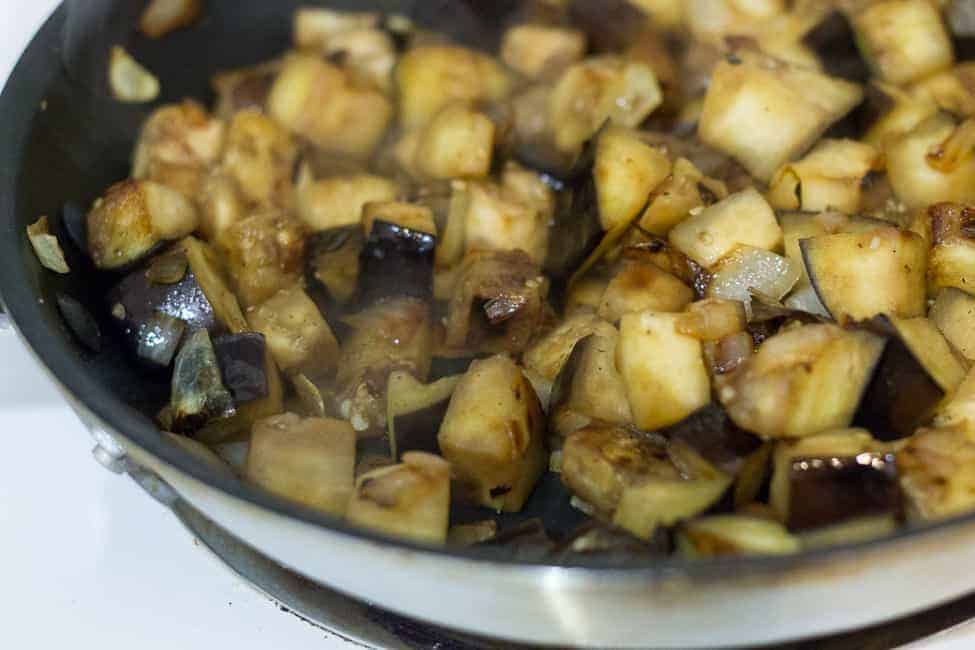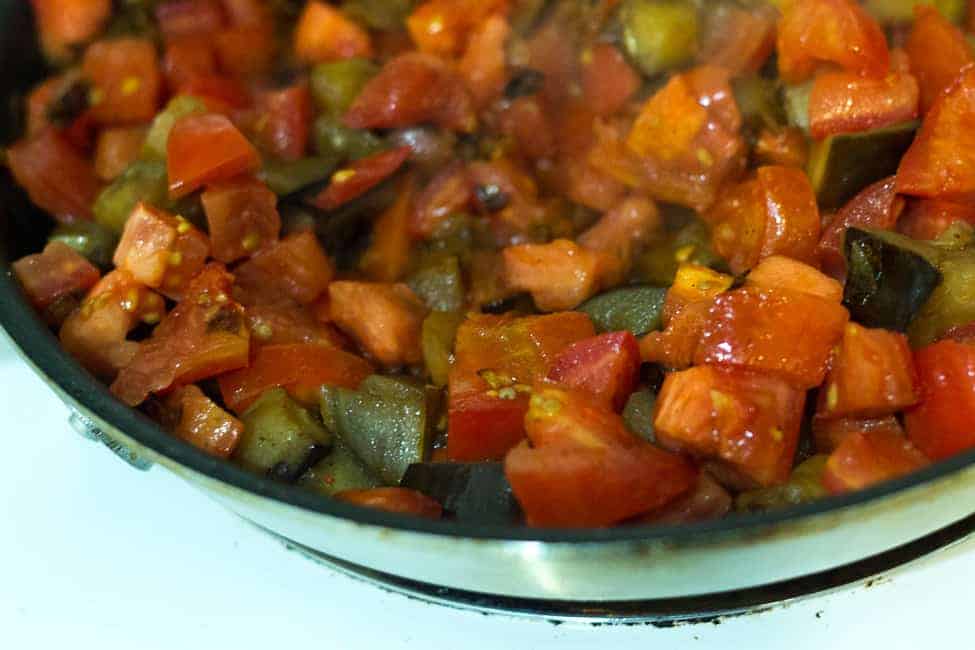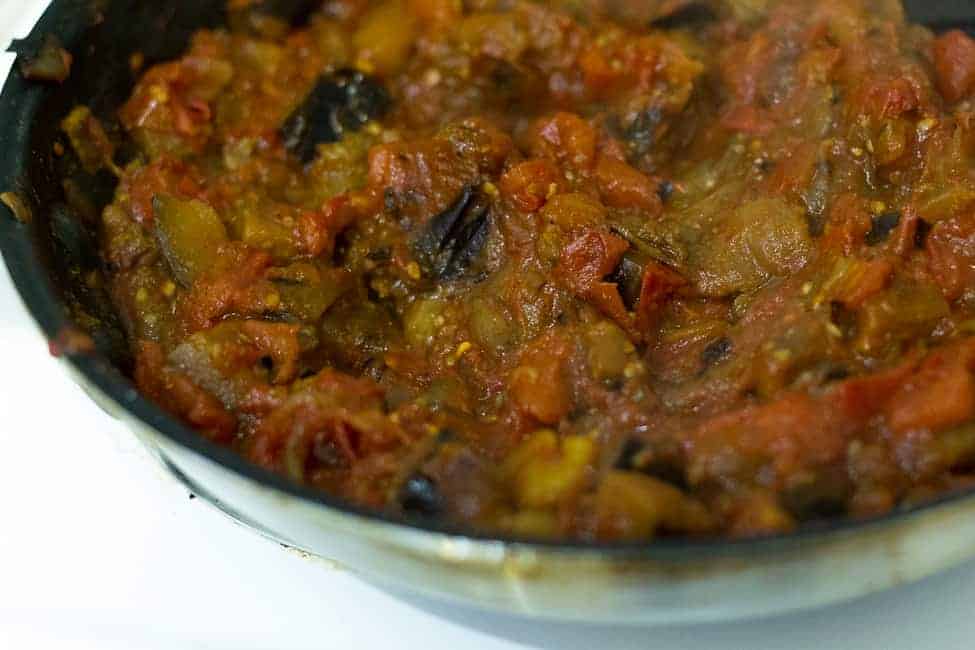 And so it was. When the yolks had barely set, I spooned mounds of thick, chunky tomato and eggplant sauce onto plates. Inside them, eggs were nestled precariously, threatening to prematurely spill their centres with one wrong move.
When the eggplant shakshuka hit the table, the only sounds became the scraping of forks against metal camping plates, the slurping of more coffee, and the eternal singing of birds. Thick-crusted bread was used to sop up the leftover juices; the more juices, the better.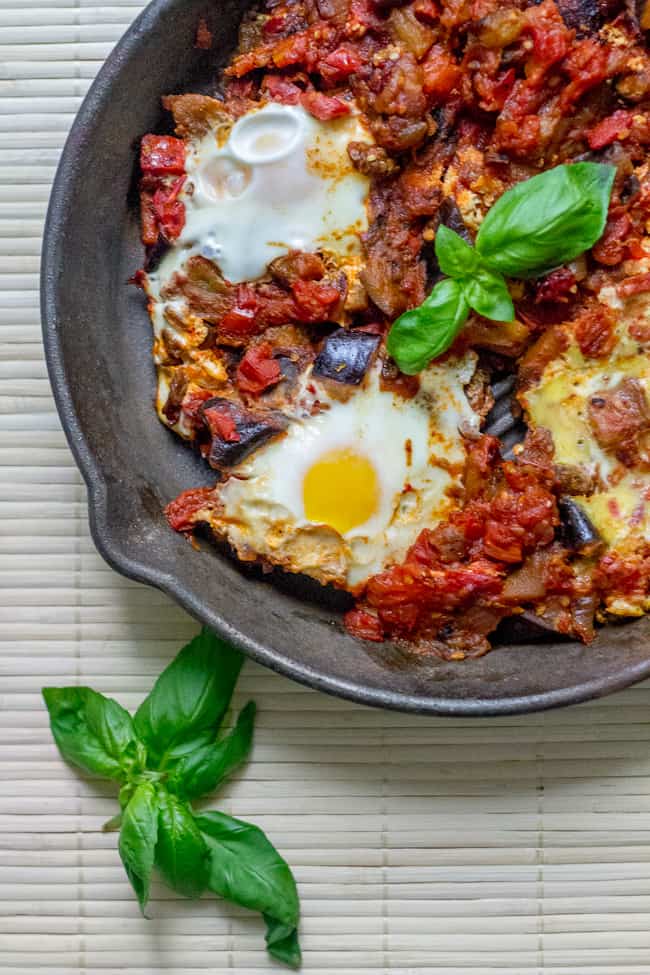 Learn to make this eggplant shakshuka with my animated story
Catch the step-by-step action of how to make Israeli eggplant shakshuka with my web story!
The reaction
Buoyed by the food and cups of milky coffee, my friends raised their voices. Someone told a joke and laughter spilled forth from the group, unguarded. Another told high tales of last night's shenanigans.
And as I mopped up the last of the sauce, accepting compliments on the food, I understood that there was another basic ingredient in any good eggplant shakshuka: camaraderie. And thanks to the binding power of food, I had managed to create just that.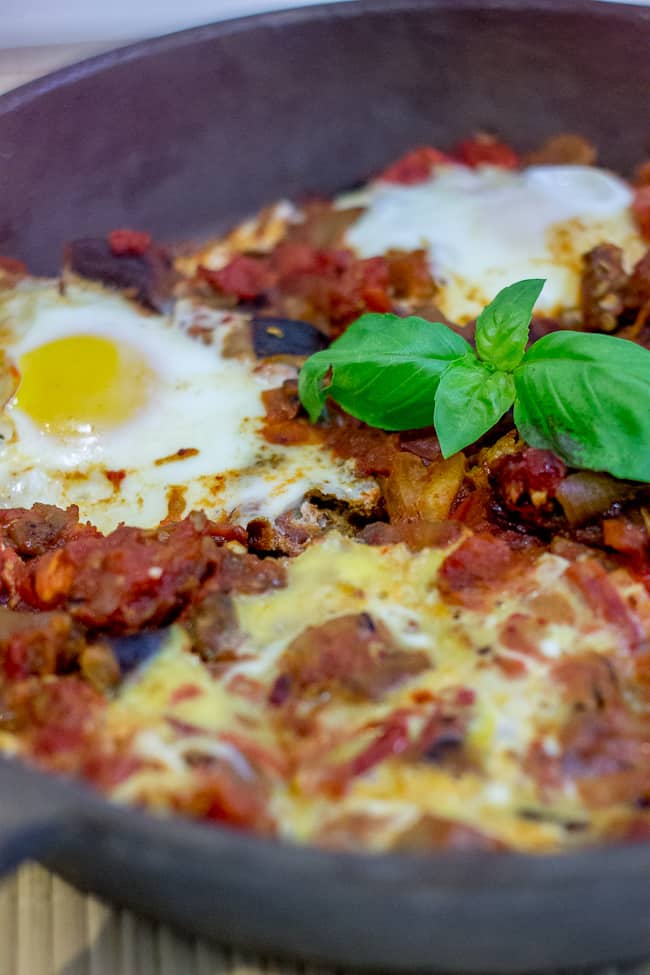 You do not need to wait until a camping trip or a music festival to make this dish. You don't even have to make it for breakfast - in Israeli, shakshuka often serves as lunch or dinner.
You can omit the eggplant, and make shakshuka on a budget with one can of tomatoes (buying them in bulk is even cheaper). It can also be easily scaled up and down, feeding two or a crowd.
I made it twice last month, once for my whole family, and then again on a quiet Sunday morning for G and I. Both times, the sauce thickened just so, though I overcooked the eggs. And yet, the magic of shakshuka was so strong that it did not matter.
Paired with sharp cheeses, tangy yogurt, and crusty bread, eggplant shakshuka was enough to make everyone feel a little bit better, and just a bit closer to each other.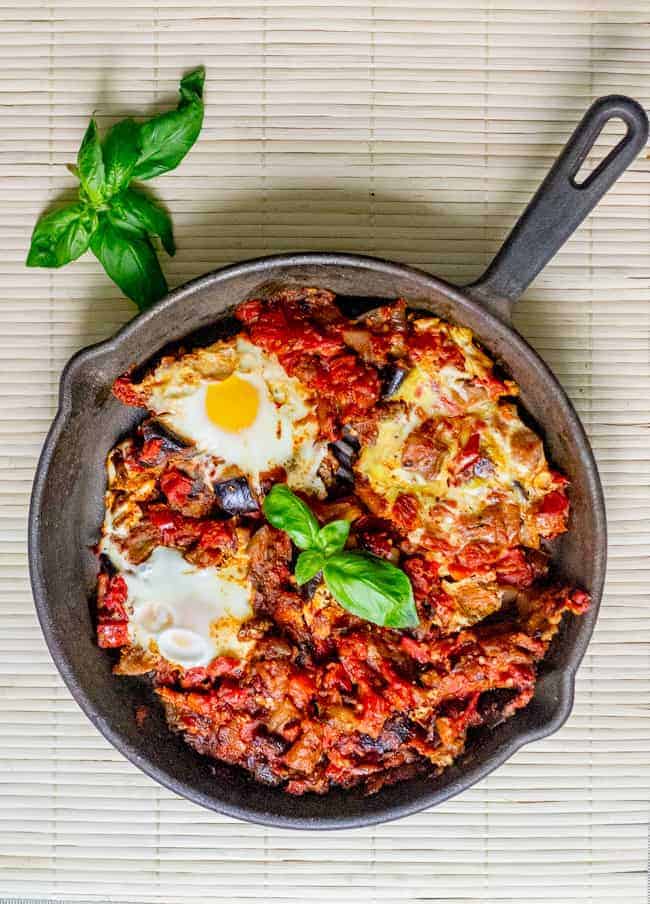 Want to see a step-by-step video for making eggplant shakshuka? Well, I've got you covered there, too.
The best eggplant shakshuka
In this traditional Middle Eastern dish, a thick, chunky tomato and eggplant sauce serves as a bed for perfectly-cooked eggs. In winter, you can omit the eggplant, and make shakshuka on a budget with one can of tomatoes. The quantities mentioned here will make shakshuka out of four eggs, with plenty of sauce to mop up. The sauce can be scaled up by half to make 6-7 eggs - all you need is just a large enough pan. Double the sauce, and you can easily make 10 eggs in a very large pan.
Print
Pin
Rate
Ingredients
1

large onion

1

medium eggplant

4

TBs

oil

4

large tomatoes

or a can of canned tomatoes

3

cloves

of garlic

1

tsp

of salt

or more, to taste

1

TB

paprika

½

TB

cumin

1

tsp

chili flakes

or ½ of a fresh jalapeno - this would depend on your spice tolerance level

½

tsp

sugar

Juice of ½ a lemon

a handful of parsley

to taste

4

eggs
Instructions
Chop onions finely. Dice eggplant and tomatoes into ½ inch cubes. Place eggplant in a colander, and salt it to draw liquids out. Mince garlic finely. If using a fresh jalapeno pepper, chop ½ a pepper finely.

Heat a large pan to medium heat - the pan would preferably be either non-stick, or enamel-coated (trust me, you want something that you're not going to have to scrape eggs and sauce from). When pan is hot, add one TB of vegetable oil, and onion. Saute onion on medium heat for 5 minutes, then lower heat to medium-low and cook for another 5.

When onions have turned golden, add 2 TBs of oil and eggplant cubes - but do not crowd them! It's better that you use less eggplant than crowding it, because it won't result in an even browning. Let eggplant brown for a few minutes, then when the eggplant has soaked up all the oil, add another TB of oil, and toss eggplant to coat. Continue browning eggplant for 10 minutes, turning pieces occasionally to ensure equal coverage, until all have coloured evenly.

Add tomatoes to pan. Let tomatoes draw water on medium heat, stirring occasionally, until they all break down into a chunky sauce (this can take anywhere between 15 and 25 minutes). Add chopped garlic cloves and spices.

Crack eggs into a bowl. Traditionally, eggs are simply poured into the shakshuka sauce, one egg per hole; but some people, myself included, prefer the eggs scrambled separately, and then mixed with a bit of sauce in their little nests. If you're unsure what you will prefer, try both methods.

With a wooden spoon, create holes in the sauce for the eggs. Pour eggs into holes, one egg per nest (or a bit of egg scramble per nest, if going the scrambled route). On medium heat, cover pan (this is important!), and let eggs cook between 8 to 10 minutes, testing for doneness after eight (you want the whites of the eggs to set and change from translucent, while the yolk should still be a little jiggly). Squeeze the juice of half a lemon on the shakshuka.

Sprinkle with chopped parsley, and serve immediately with a little bit of yogurt and crusty bread, to taste. Don't forget to sop up the sauce when you're done.
Video
Nutrition
Calories:
525
kcal
|
Carbohydrates:
35
g
|
Protein:
17
g
|
Fat:
38
g
|
Saturated Fat:
5
g
|
Cholesterol:
327
mg
|
Sodium:
1327
mg
|
Potassium:
1411
mg
|
Fiber:
12
g
|
Sugar:
19
g
|
Vitamin A:
3019
IU
|
Vitamin C:
64
mg
|
Calcium:
136
mg
|
Iron:
4
mg