As this is my third (and probably not last) post about spring, can you tell I'm just a wee bit excited about the changing of the seasons? To ease our body into spring, G and I are eating a variety of in-between dishes - light soups intermingled with vibrant salads, baked fish and eggs. This fennel and mango salad is a perfect in-between dish, with its balance of fall and summer produce and strong, fresh and piquant flavour.
My mother would always look back on her life in Russia with a certain degree of sorrow. Though she missed her friends and childhood hangouts, her sadness did not stem from having left the country; instead, she was remorseful she had lived there for as long as she did. And the main reason for that was her Seasonal Affect Disorder.
Though she was never officially diagnosed, my mom could perfectly describe the symptoms of her malady. If any of your friends or relatives suffer from depression, seasonal or otherwise, you'll know the drill: as soon as the last rain clouds made their way for snow and dreary days, my mother's mood would drop precipitously. A normally energetic and happy girl, in winter she found it hard to get out of bed, to leave the house on the most routine errands. School was a struggle, and her social activities narrowed to zero. She was angry and abrupt with all around her.
Yet her moods lifted as soon as the first podsnejniki came out from their snowy hideouts. My mother went back to her usual self, and forgot all about the depression of winter.
Until next year.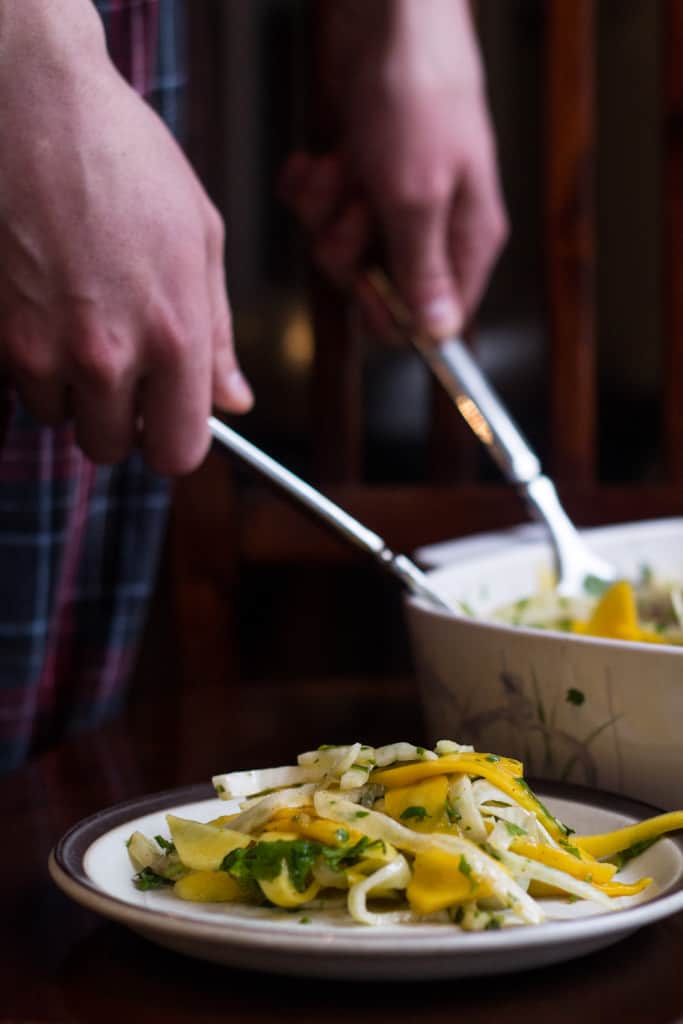 This routine continued until the year we left Russia. I don't remember my mother much before the age of six, and I know that a part of that was owed to her winter depressions and inability to cope with everything that was already on her plate.
Her winter moods reflected on all of us, leaving their marks like the tentacles of ink on a paper blot.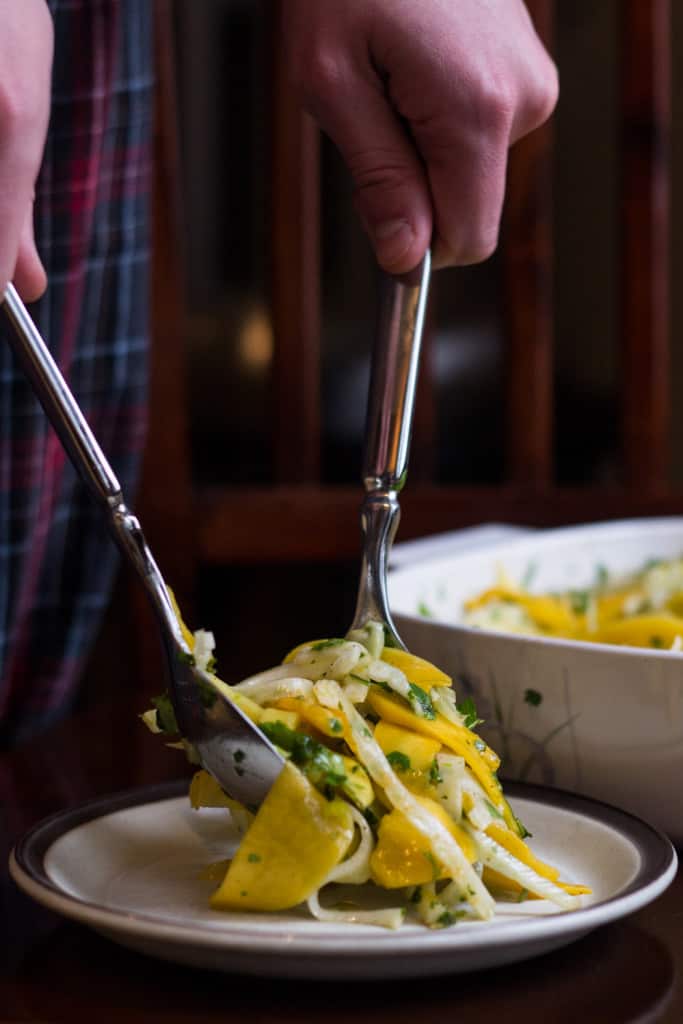 But when we moved to Israel, everything changed. The sun remained in the sky throughout winter; though it drizzled and at times, even dipped below 15C, there were no precipitous weather drops, no mood swings. It was only then that my mother diagnosed herself with SAD, and vowed to never move to a cold country ever again.
Fast forward 15 years later, and I followed the opposite trajectory by moving from the country of eternal sunshine to the cold vistas of Manitoba, Canada. And though winter never hit me quite as bad as it did my mother, I am now growing to realize what an effect it actually had on me - and still does.
This winter was a particularly hard one. Living in a new place, separated from both our families, juggling work and other commitments, G and I found ourselves struggling to carry on, to do everything to the best of our abilities. There were entire weekends when I could barely find the strength to get out of bed, let alone work on this space in the way that it deserved. Every weekend became the site of a personal battle, a Sisyphean struggle against my need for rest, my inability to cope. And with each week, I grew angrier with myself.
From talking to others and from reading blogs, I know that I wasn't the only one in this boat. How have you fared through this winter? Was it as hard on you as it seemed to have been for me? Let me know - I'd love to commiserate together!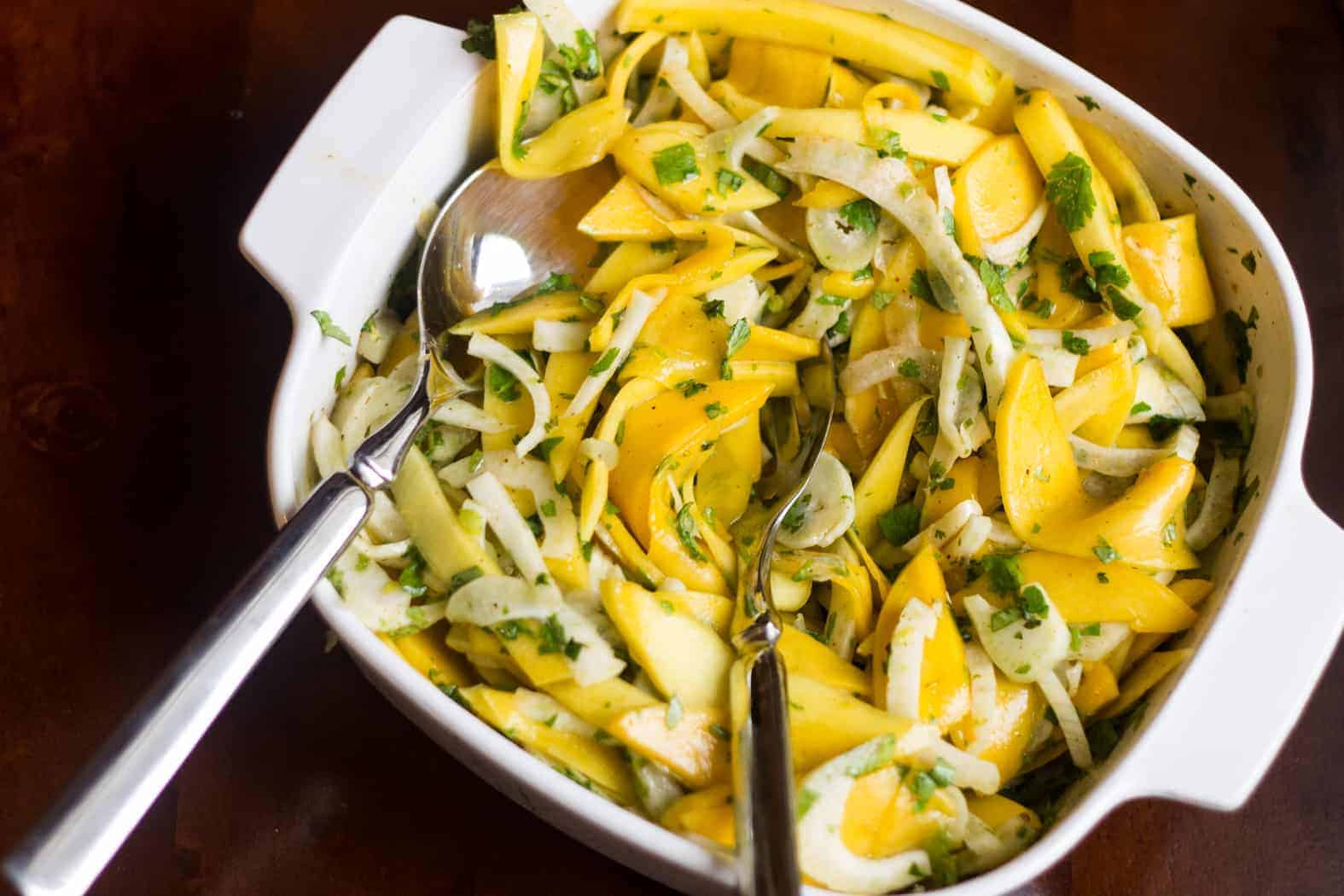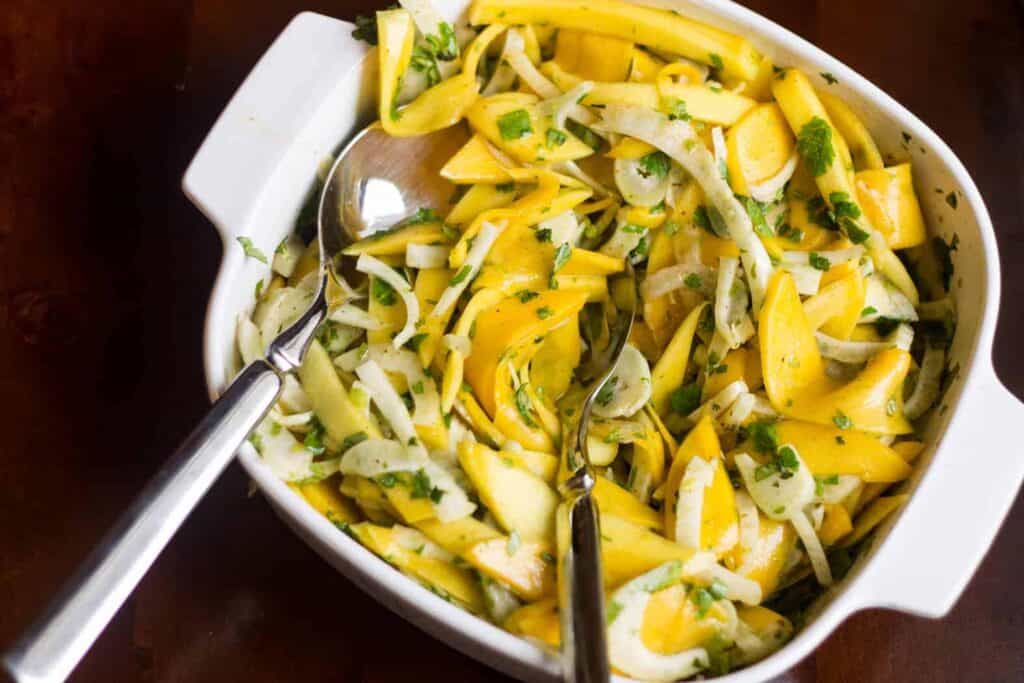 The good news is that in April, everything started changing. The Jewish Food Project instilled with my renewed confidence in myself and my abilities. It gave me a renewed passion for food, and for creating with it. Coming back to the blog reminded me of how much I love words, how desperately I need this venue of expression.
I now have a renewed sense of purpose when it comes to this space. And as usual, this means you guys will be the beneficiaries! I am working on exciting new recipes, fruitful partnerships, and a few more giveaways. I am pouring my heart and soul into advancing this space and making it as close to what it can be, to what I want it to be.
This spring will be the season of possibilities for me and At the Immigrant's Table. And like the buds of flowers all around me, I look at this fennel and mango slaw and see its potential to grace any spring or summer table: with its bright, bold flavour and crunchy texture, the bursts of lime and (optional) chilli, it's as exciting bite of food as any plateful of salad will ever be. The facts that it takes less than 15 minutes to put together and requires only 5 ingredients don't hurt either.
And in it, I encapsulate all of this season's potential, for me and for you.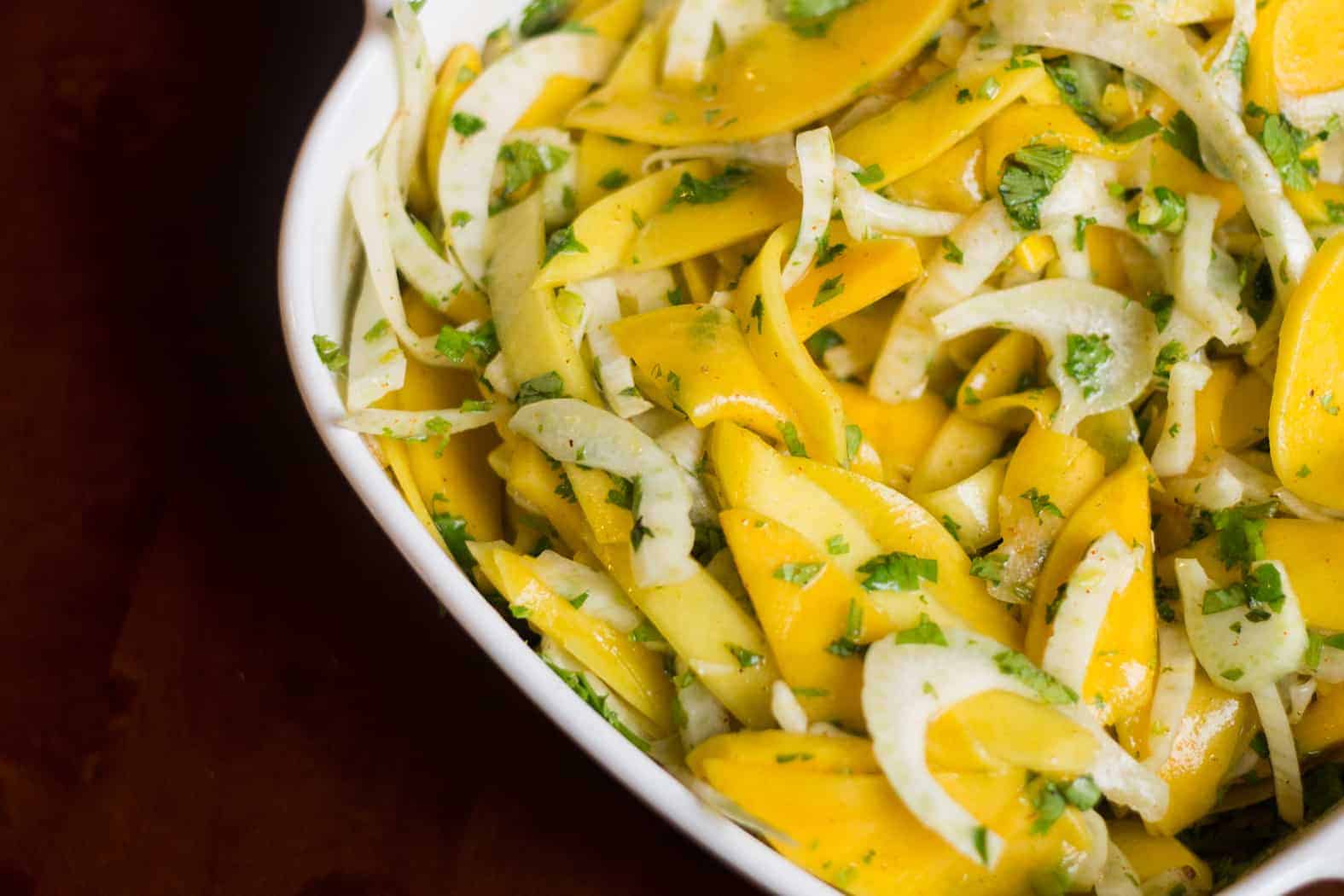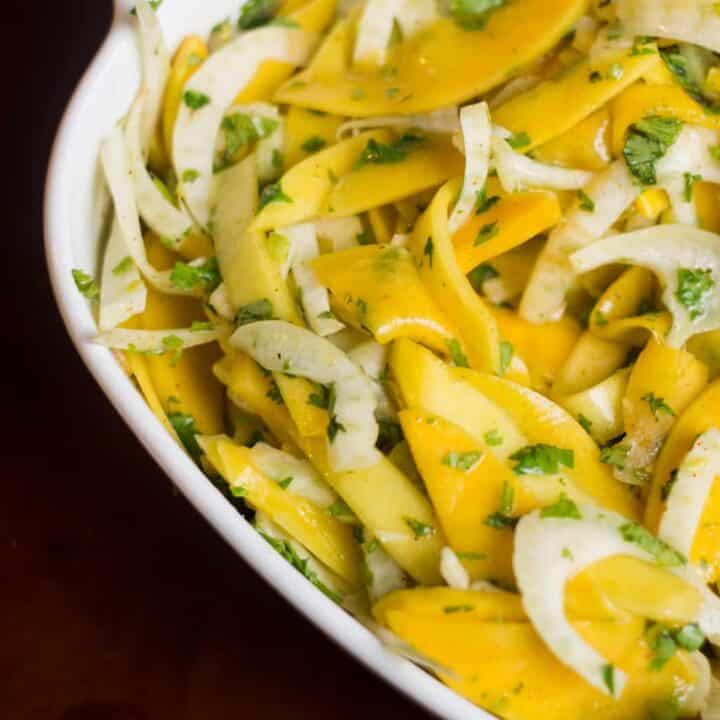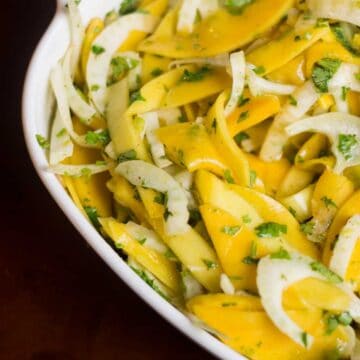 Fennel and mango slaw
With its bright, bold flavour and crunchy texture, the bursts of lime and (optional) chilli, this fennel and mango slaw is as exciting bite of food as any plateful of salad will ever be. The facts that it takes less than 15 minutes to put together and requires only 5 ingredients don't hurt either. Make sure all of your ingredients are at their peak; as this is such a simple salad, every ingredient counts.
Print
Pin
Ingredients
1

large head of fennel

or 2 small ones

3

mangoes

preferably the yellow ones

Juice of 1 lime

1

bunch of cilantro

1

small jalapeno or 1 teaspoon chilli flakes

optional

Salt & pepper

to taste
Instructions
Slice fennel thinly. Peel mango, remove pit and slice into pieces of the same size as the fennel. Cut cilantro leaves from the stems (reserve stems for broth), and mince them finely. If using fresh jalapeno, remove the membrane and seeds and chop the pepper very finely.

Mix all ingredients in a large bowl, dress with lime, olive oil, salt and pepper. Taste, and correct seasonings as needed (you may want more lime juice).