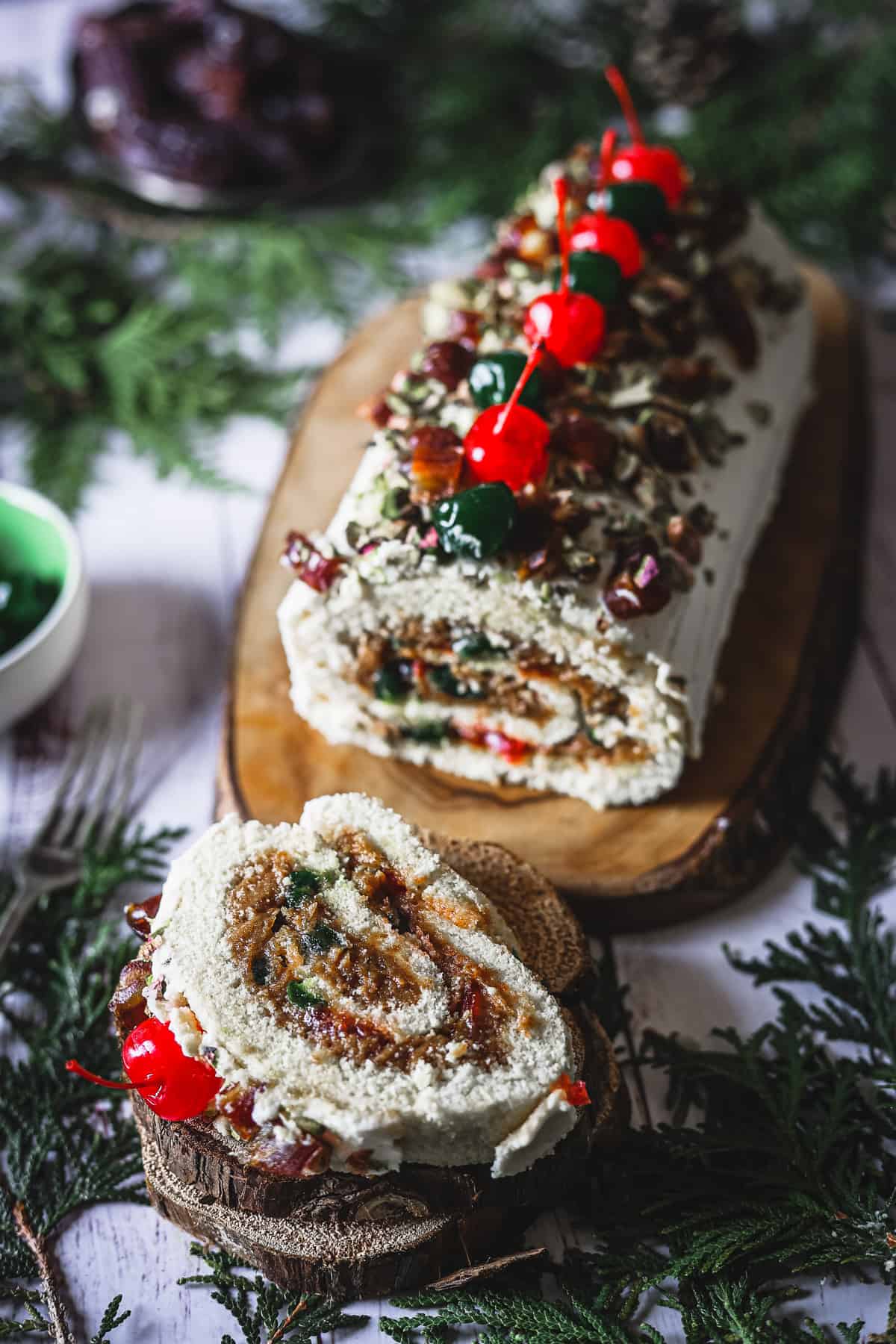 A gluten free date yule log filled with date paste, and chopped red and green maraschino cherries. With a coating of mascarpone cream and a topping of diced cherries, dates and pistachios, this is a perfect gluten free Christmas dessert!
This post is a partnership with Natural Delights. Thank you for supporting the brands that make this blog possible; I am proud to only work with companies that I truly believe in.
Jump to: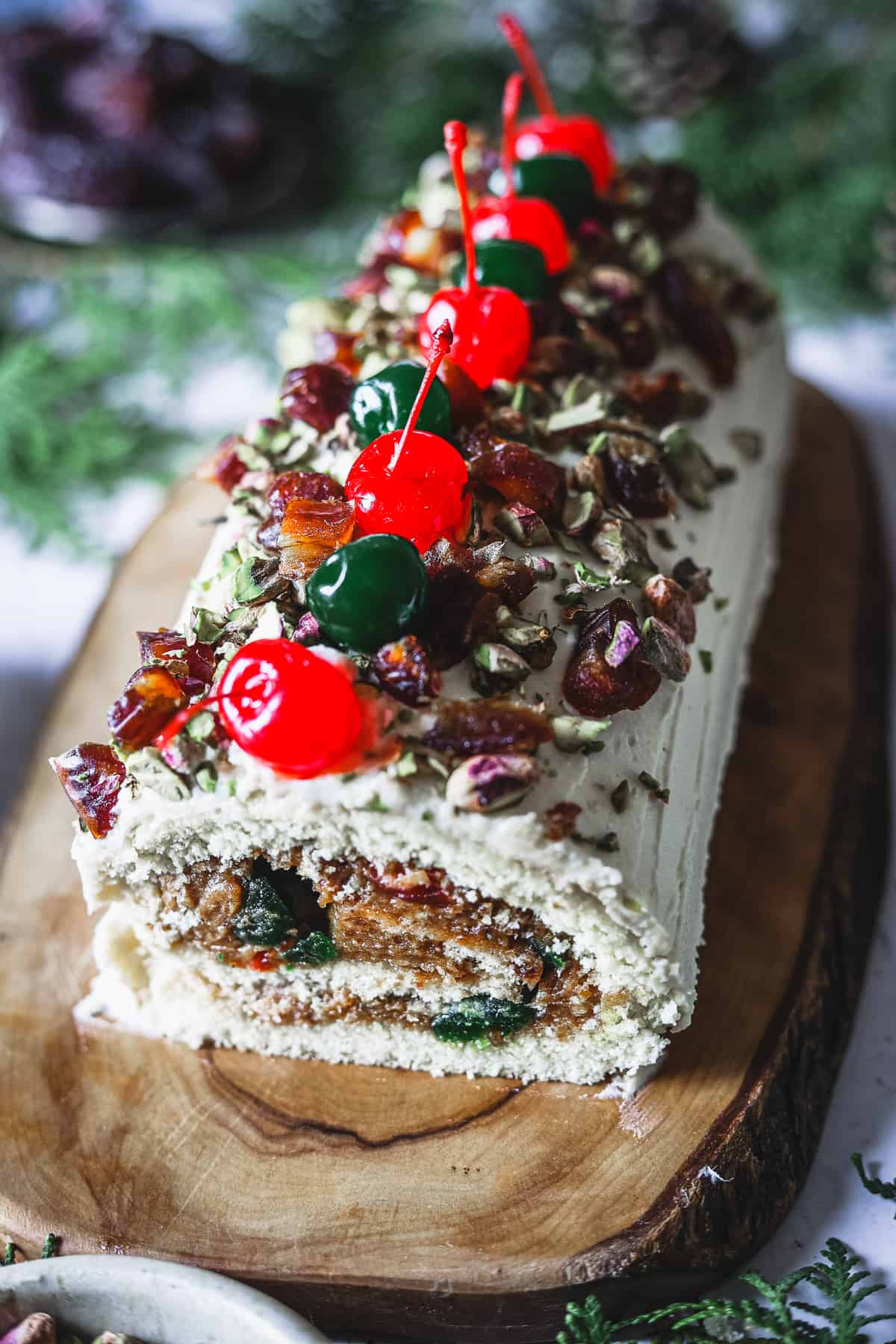 A fusion of international Christmas cake traditions
This gluten-free yule log (gluten-free Bûche de Noël) is a variation on a French Christmas cake with delicious Medjool dates, maraschino cherries and coated in a mascarpone cream.
Our yule log is then topped with more chopped Medjools, cherries and pistachios to bring it to that next-level yumminess.
This Medjool date yule log recipe is a delicious and decadent way to celebrate the Christmas season with family and friends without the gluten.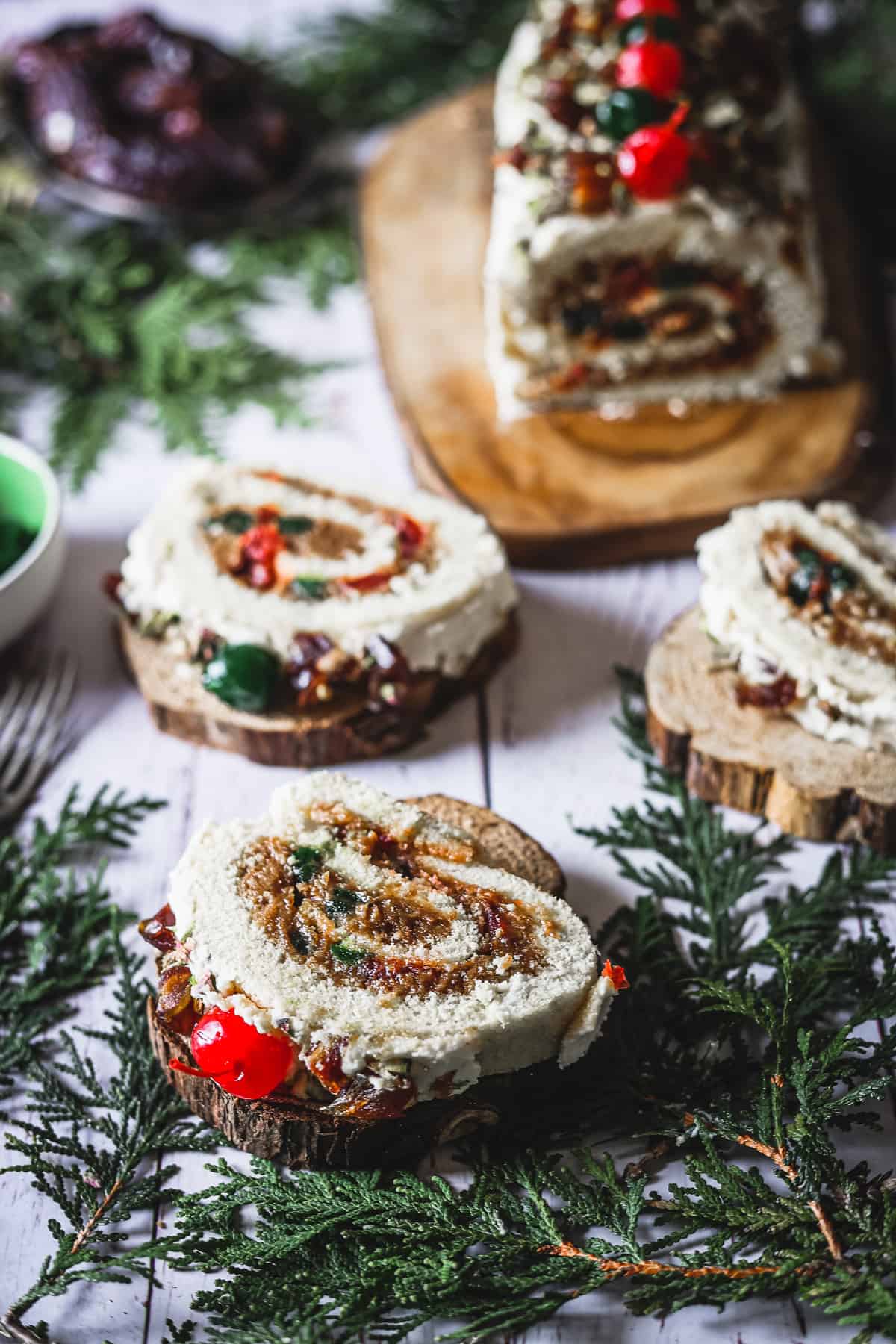 What's a Christmas Yule Log?
There is nothing more satisfying to serve on Christmas than a Christmas Yule log.
In Quebec, Canada's French speaking province, we refer to it as a "Bûche de Noël" which literally translates into Yule Log. It was a tradition that was brought in from the French colonies.
In our household, not unlike many other households in Quebec, we rarely celebrate Christmas without a gluten-free Bûche de Noël.
Traditionally, a gluten-free bûche de Noël is composed of a rolled-up sponge cake that is stuffed with buttercream then covered in a chocolate icing so it resembles a bark of sorts (hence the log reference in the name).
A Gluten-free Christmas Cake Variation
This flourless Yule Log is my version of a gluten-free Christmas Cake.
It is a variation on the traditional French-Canadian recipe since it uses more traditional Christmas cake ingredients. Medjool dates and maraschino cherries are key ingredients in a date Christmas cake.
However, it is a welcome change from the traditional Christmas Cake recipe, which can be stodgy and heavy.
What makes this a Gluten-free Yule Log
This flourless cake relies on a mix of gluten-free flours. You can use any gluten-free flour mix you like and have experience with before!
However, to make this date yule log truly pliable, I also add cornstarch to my cake mix. In this, I follow my grandmother's winning recipe for the easiest gluten-free roulade cake I ever tried.
ingredient spotlight: Medjool Dates
Natural Delights Medjool dates are one of my favourite fruits to use in Christmas baking. They have a sugar concentration similar to dried fruit.
However, unlike their dried fruit counterparts, Medjool dates are fresh, moist and can add a lot of flavor and texture into your gluten-free baking.
Medjool dates are known as nature's candy, due to their natural sweetness. They add a unique flavourful aroma to anything you're making and are often used to replace sugar. I like them for many of my Christmas recipes like this Christmas date cookies recipe, as Medjool dates pair really well with Christmas spices.
What's more, Medjool dates have a high concentration of essential vitamins and minerals that are essential for our bodies (this is also why they are used to break fast during the Muslim celebration of Ramadan!).
They are also versatile enough to use in many savory dishes, like this Ottolenghi Chicken Marbella variation with dates. Traditionally, Middle Eastern savory dishes are often sweetened with dates, which will add a beautiful aroma to your dish.
For more recipes using Medjool dates:
Ingredients
These are the ingredients that you will need to make this Date Yule Log recipe:
For Gluten-free Yule Log:
Eggs
Sugar
GF flour mix
Cornstarch
Vanilla extract
For Medjool date paste:
For mascarpone cream:
Mascarpone
Heavy whipping cream
Sugar
For toppings and filling:
Green maraschino cherries
Red maraschino cherries
Natural Delights Medjool Dates
Pistachios
See recipe card for quantities.
Equipment
Whisk, hand-held mixer or a stand mixer
Mixing bowls
9x13 baking sheet
Instructions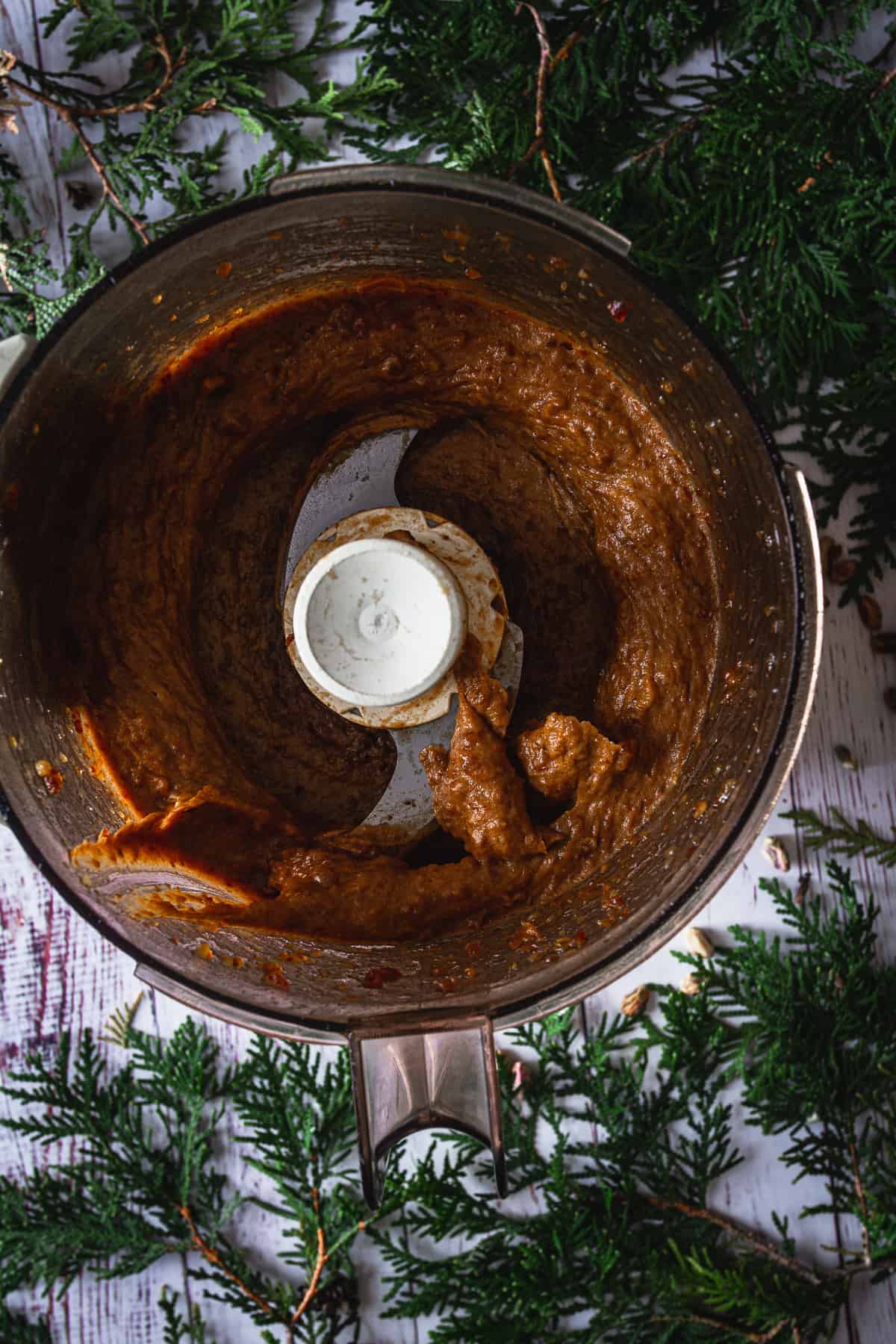 Make Paste
The first step in making this French-Canadian version of a date Christmas Cake is to make the date paste. To do that, simply combine Natural Delights Medjool dates and water into a food processor and process until smooth (3-5 minutes).
Make the Sponge Cake
The two most important things that my grand-mother taught me when making her a sponge cake was to build up those egg white peaks and to not overmix your batter!
You'll notice that this cake has no baking powder or baking soda in it. So how do you get a fluffy log then? In this recipe, all the air gets built up from creating those peaks with the egg whites. So, the key is really in building up those peaks and so you don't lose your rise, fold in the remaining ingredients.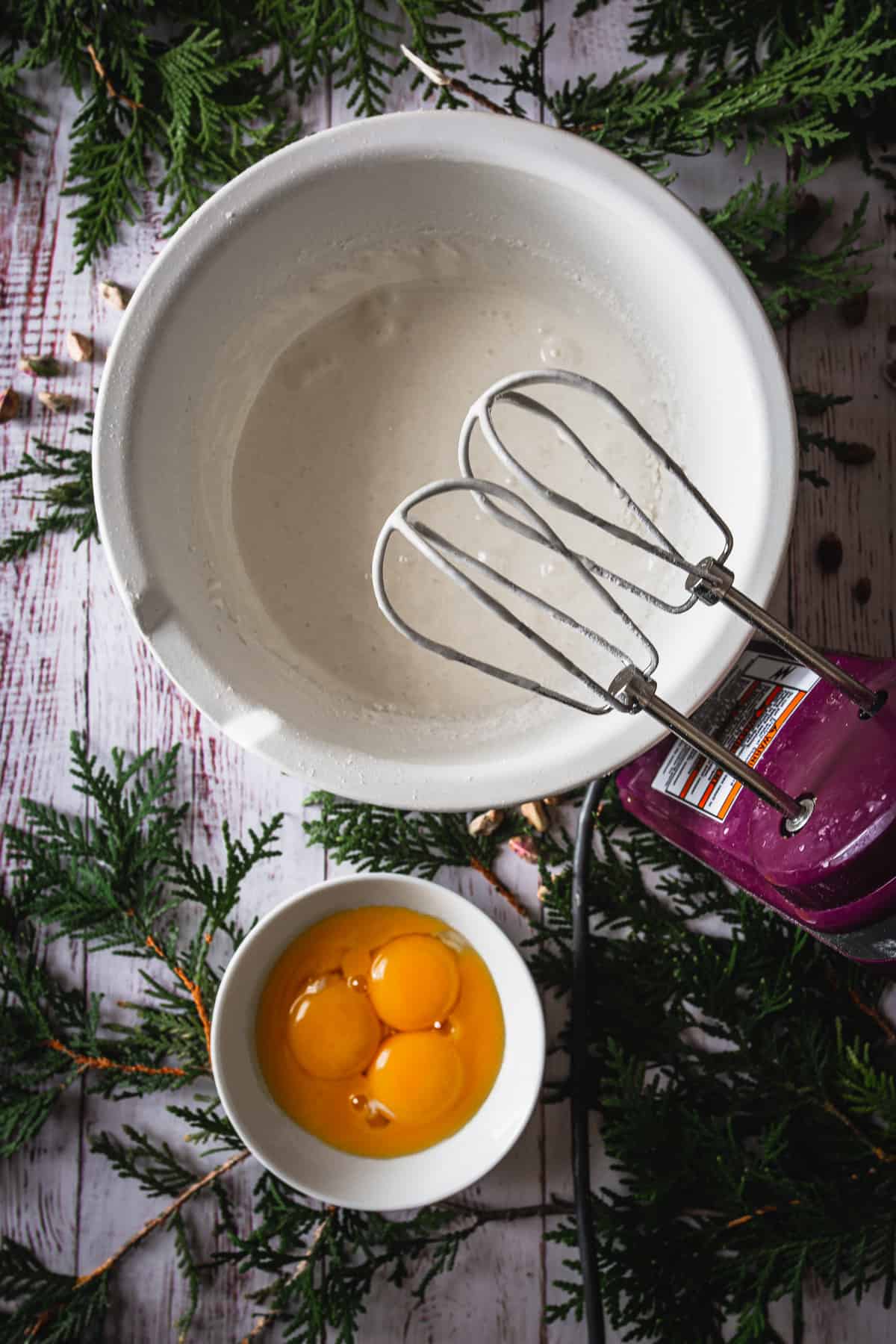 Separate the eggs
Start by separating the egg whites from your yolks by using the shell. Keep your yolks close by because you will be using them shortly.
Start whipping up the egg whites in medium-sized bowl with either a stand mixer, egg beater or whisk until you have light fluffy peaks.
Then, gradually fold in the sugar a ¼ cup at a time. I would caution to not add everything too quickly or over mix the batter, you could cause it to collapse and end up with a flat sponge cake.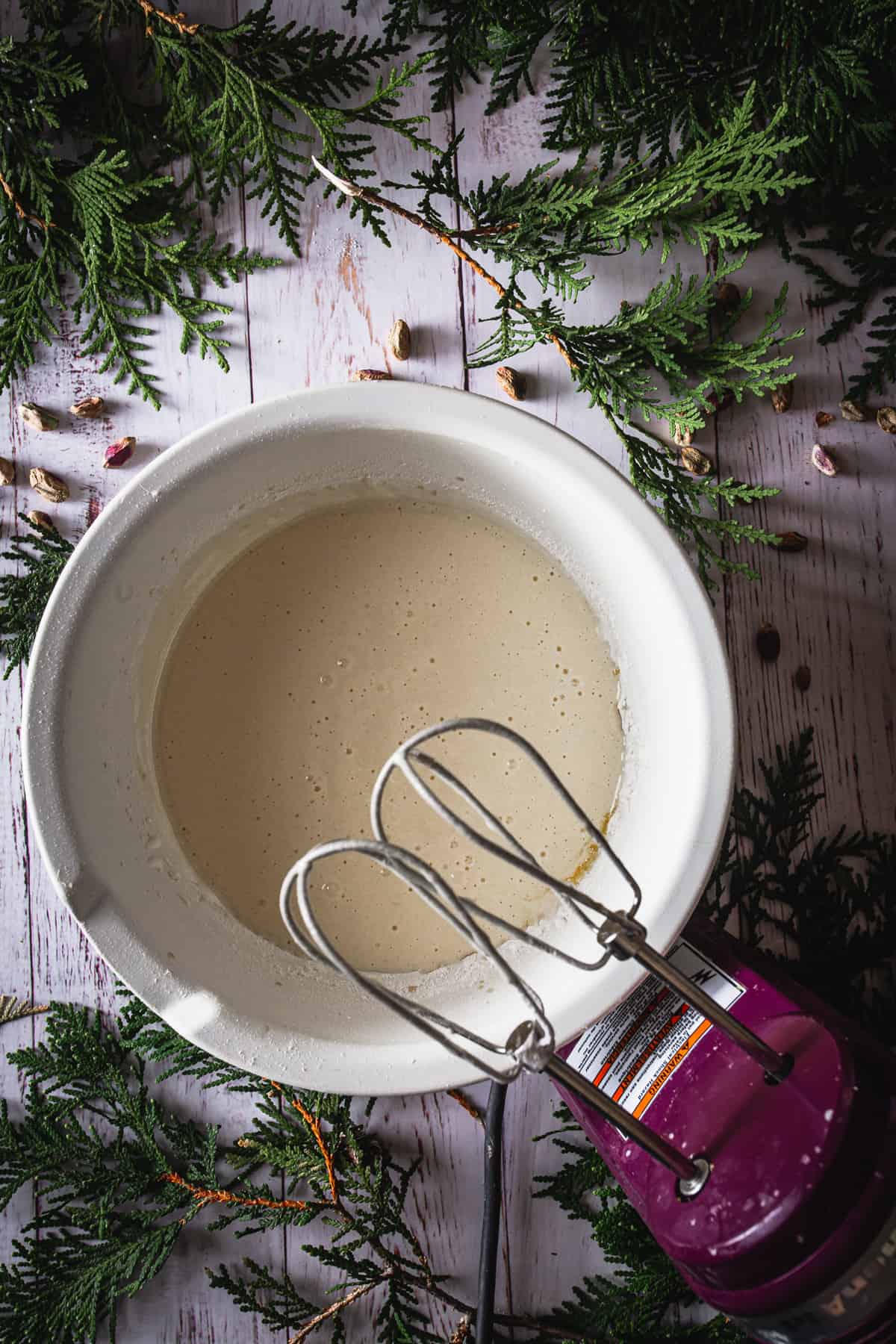 Mix dry ingredients
In a separate bowl, mix in the dry ingredients. Again, ¼ cup at a time, fold in the dry ingredients into the batter until the flour is well incorporated. Then do the same for the remaining ingredients including the yolks until they are well combined.
Bake flourless sponge cake
Preheat the oven to 400˚F (200˚C) and line a baking sheet with parchment paper and oil then dust with some flour. Pour in the batter and bake for 8-10 minutes or until the sponge cake is cooked all the way through (use a toothpick to see if it comes out clean).
Preparing the Log
Once the cake is cooked all the way through, immediately remove it from the baking sheet and onto a cutting board. Roll it up using the parchment paper and a towel to avoid burning your fingers.
This process is important to do straight out of the oven so that the sponge cake doesn't crack or break when rolling it.
Keep the cake in a roll, and let it cool for about an hour.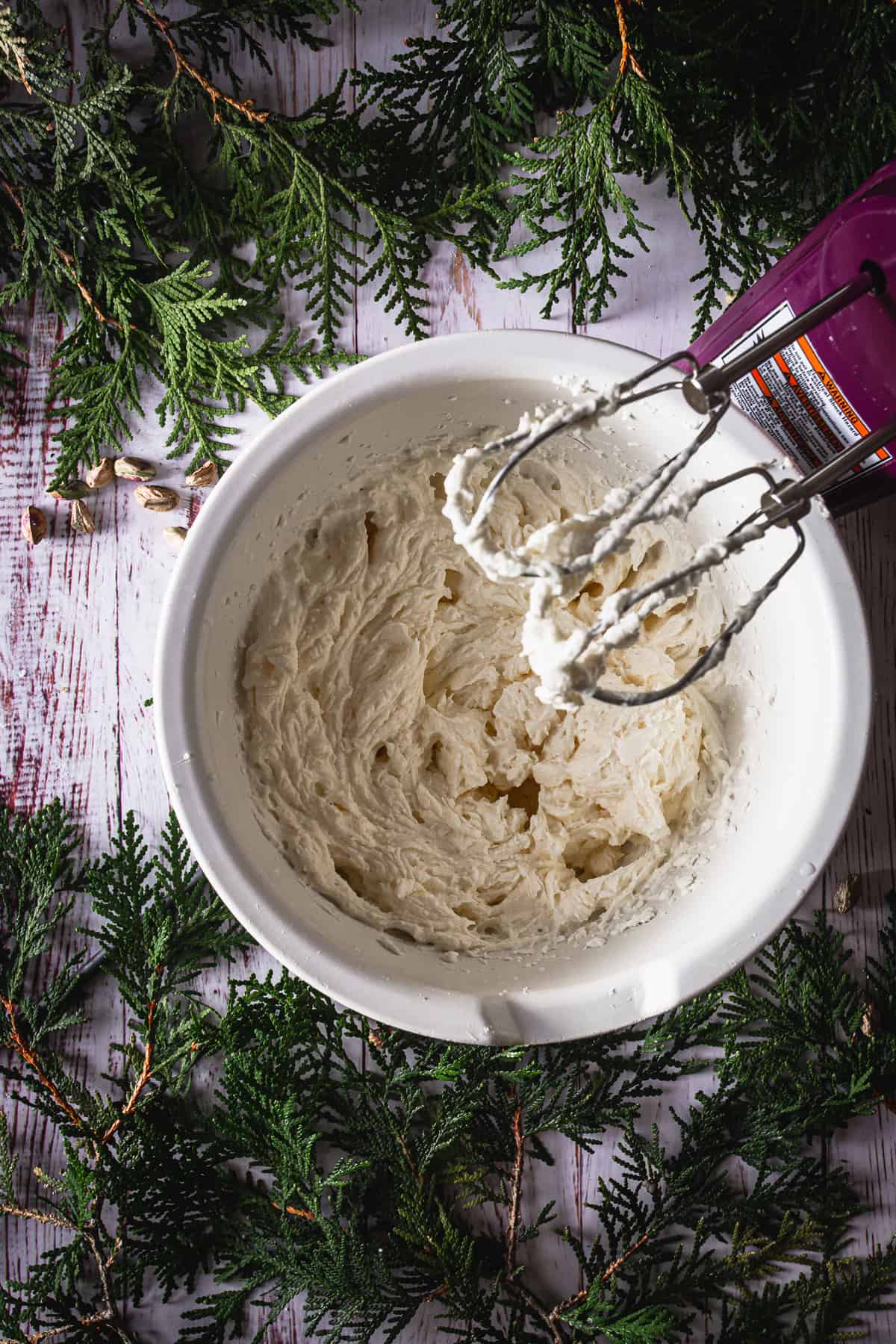 Mascarpone Cheese Filling
While your log roll is cooling, prepare the mascarpone cheese filling. To do this, take out your egg beater or stand mixer and whip all of your mascarpone cheese filling ingredients until you get stiff peaks.
Yule Log Assembly
Carefully unroll the log and remove the parchment paper. Spread the date paste on the inside. Top with the diced maraschino cherries for the filling, and roll it up once more into a tight roll.
It is quite possible that there might be tears in the sponge cake at this point, but don't worry - this is normal and the date paste will act as a binding agent to keep everything together.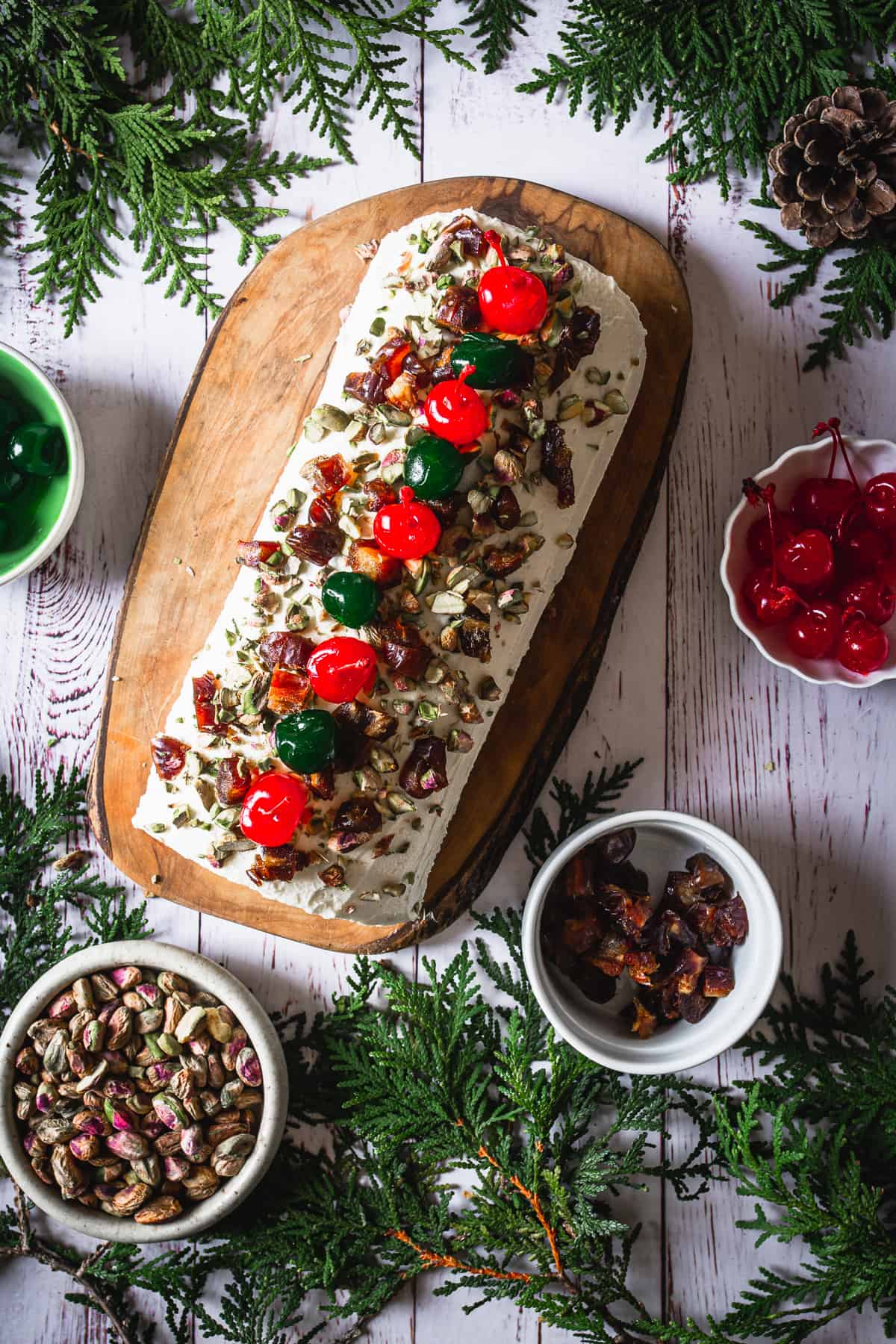 Decorate Medjool Date Yule Log
Carefully transfer the log onto your desired serving plate then cover the log with the mascarpone cheese frosting.
Garnish with alternating red and green maraschino cherries, chopped Natural Delights Medjool Dates and pistachios.
Refrigerate for a few hours before serving.
Substitutions
This recipe is for gluten-free Christmas Yule Log. If you're not concerned about gluten, you can also use all-purpose flour in the recipe. Do not skip the starch, however! It's important in an all-purpose flour yule log as well.
You can use arrowroot powder or tapioca starch in place of the cornstarch.
Nut-free
If you're looking to make nut-free Medjool date Yule Log, skip the pistachios.
Vegan
To make this into a Vegan Yule Log, use coconut cream in the coating. You can also try this cashew buttercream.
Variations
All-Purpose Medjool date Yule Log - substitute gluten-free flour for all purpose flour for a great tasting, non-gluten free date roll.
Date Yule Log with Walnuts - substitute the pistachios for walnuts or another nut of your choice.
For other Christmas desserts, check out this Russian honey cake and this gluten-free honey cake.
Storage and Making in Advance
The Medjool date paste and mascarpone cream for this Medjool date cake can be made in advance and stored in airtight containers.
I recommend making the gluten free dough the day you're going to assemble the cake. Do not forget to roll the crust the moment it comes out of the oven, and keep it in a spiral.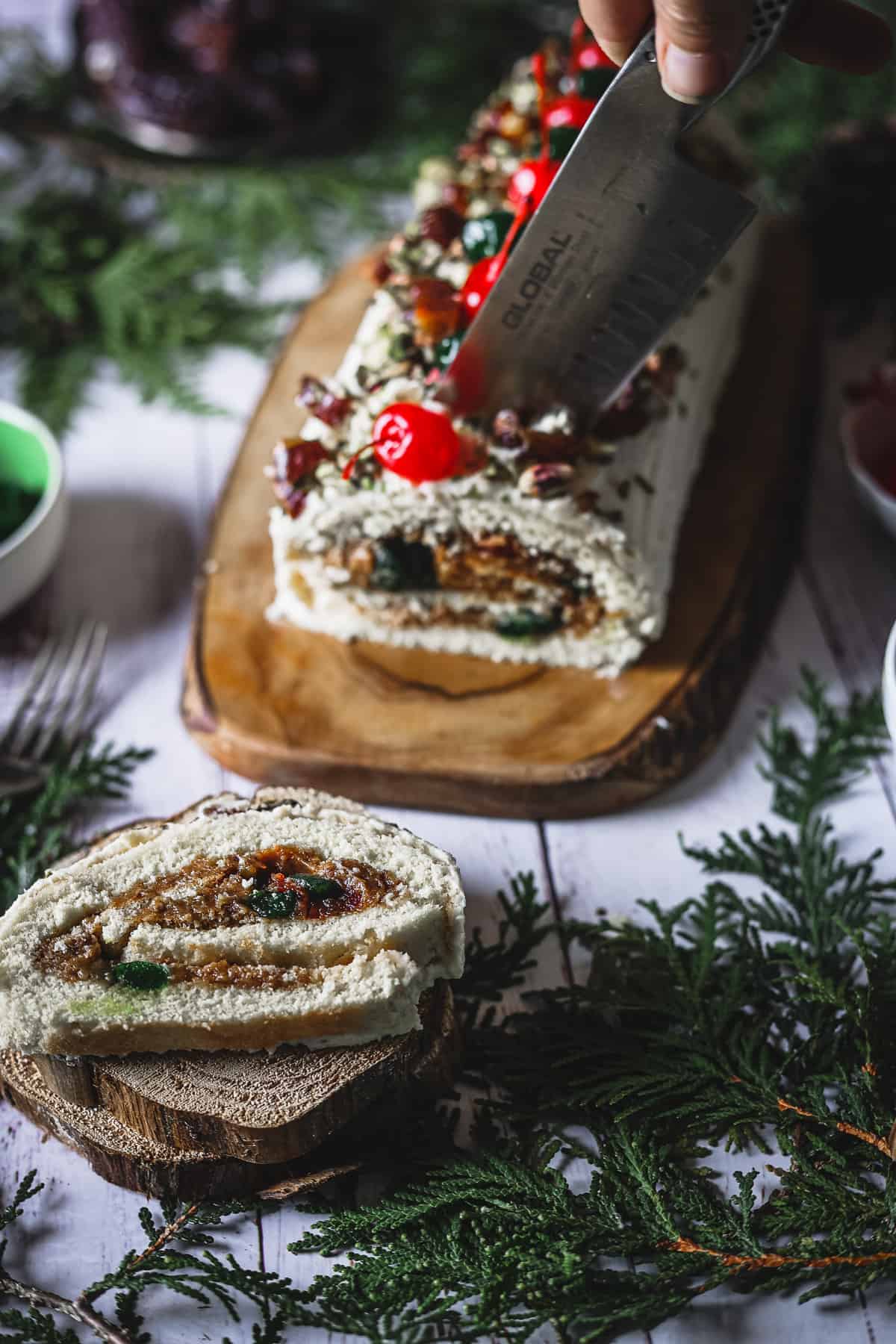 Top Tips
This cake can be made over a couple of days; there is no sense in exhausting yourself trying to do it all in one day!
Use a kitchen towel to roll the cake once it comes out of the oven. This will help protect your fingers from burning.
Use green and red maraschino cherries for true Christmas colors. However, if you can't find green maraschino cherries, red ones will do just fine.
Use fresh Natural Delights Medjool Dates for best results with this date yule cake. They will have the nicest texture, flavor and natural sweetness that will make this cake stand apart.
Accompanying Dishes
For more Christmas recipes, check out these delectable dishes:
Tried and loved this recipe? Please leave a 5-star review below! Your reviews mean a lot to me, so if you've got any questions, please let me know in a comment.
Recipe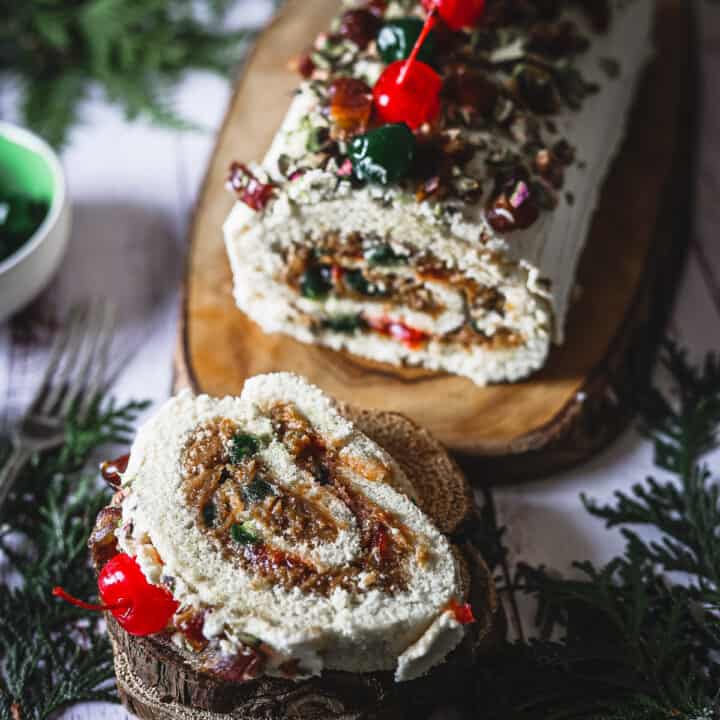 Gluten Free Yule Log with Medjool Dates, Mascarpone Cream, Maraschino Cherries and Pistachios
A gluten free date yule log filled with date paste, and chopped red and green maraschino cherries. With a coating of mascarpone cream and a topping of diced cherries, dates and pistachios, this is a perfect gluten free Christmas dessert!
Ingredients
For Gluten-free Yule Log:
4

eggs

separated

1

cup

sugar

¾

cup

GF flour mix

¼

cup

cornstarch

sub with arrowroot or tapioca if desired

1

teaspoon

vanilla extract
For date paste:
2

cups

Natural Delights Medjool Dates

pitted

2

teaspoons

of water
For mascarpone cream:
1 ½

cups

mascarpone

½

cup

heavy whipping cream

2

tablespoons

sugar
For toppings and filling:
½

cup

green maraschino cherries

½

cup

red maraschino cherries

½

cup

Natural Delights Medjool Dates

pitted and chopped

¼

cup

Pistachios
Instructions
To make date paste, combine 2 cups Natural Delights Medjool Dates and water in a food processor. Process until a smooth paste is achieved, about 3-5 minutes.

Make gluten-free Yule Log: Using a whisk or an electric mixer, beat 4 egg whites, gradually adding the sugar. In a separate bowl, combine flour and cornstarch. Gradually add dry ingredients to the egg white mixture. Add vanilla extract and the remaining 4 egg yolks, and fold gently with a wooden spoon.

Preheat the oven to 400F. Cover a baking sheet with parchment paper, oil and dust with flour. Pour the cake mixture into the pan. Bake for about 8-10 minutes.

Remove from the oven and, using the parchment paper and a kitchen towel to help yourself, quickly roll the dough into a tight roll. Let rest in a roll for about an hour, until cool enough to handle. Remove parchment paper.

Combine all the ingredients for mascarpone cream. Whip together with a hand-held mixer, whisk or stand mixture until the mascarpone cream holds stiff peaks.

Unroll the cake gluten free log again - do not worry if it breaks or cracks, that's normal. Spread with Medjool date paste. Top with diced maraschino cherries.

Roll cake into a tight roll once again, smoothing over any cracks or tears. Cover with mascarpone cream. Top cake with alternating red and green maraschino cherries, chopped Medjool dates and pistachios. Transfer cake to fridge to rest for a few hours. Leftover cake will keep in an airtight container for 4-5 days, though its white color will yellow a bit from air exposure.
Nutrition
Calories:
422
kcal
Carbohydrates:
59
g
Protein:
6
g
Fat:
19
g
Saturated Fat:
11
g
Polyunsaturated Fat:
1
g
Monounsaturated Fat:
2
g
Trans Fat:
1
g
Cholesterol:
96
mg
Sodium:
42
mg
Potassium:
272
mg
Fiber:
4
g
Sugar:
47
g
Vitamin A:
684
IU
Vitamin C:
1
mg
Calcium:
92
mg
Iron:
1
mg
Tried this recipe?
Comment + Rate Below!
Connect on Instagram!
Find us @immigrantstable