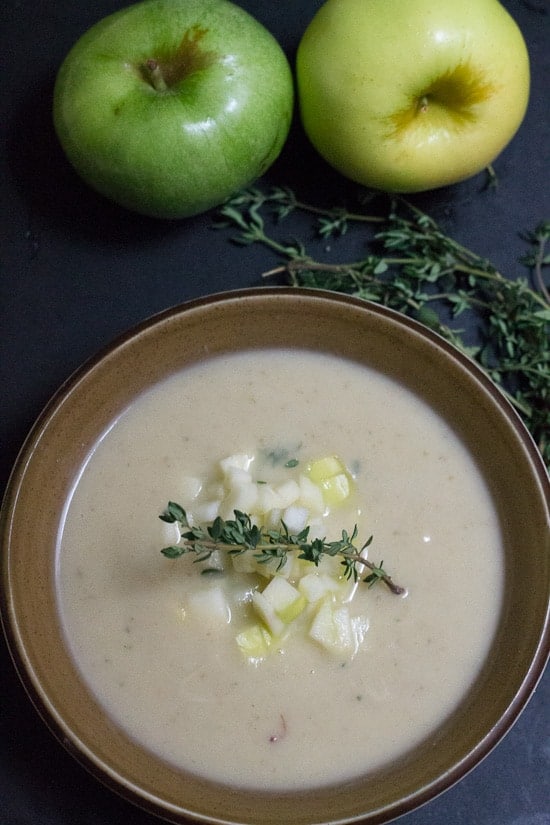 Cooked slowly with leeks and tart Granny Smiths, earthy bay leaves fragrant and thyme, Jerusalem artichoke and apple soup is a creamy, bright soup that is also vegan and gluten-free. A perfect soup for Rosh Hashana!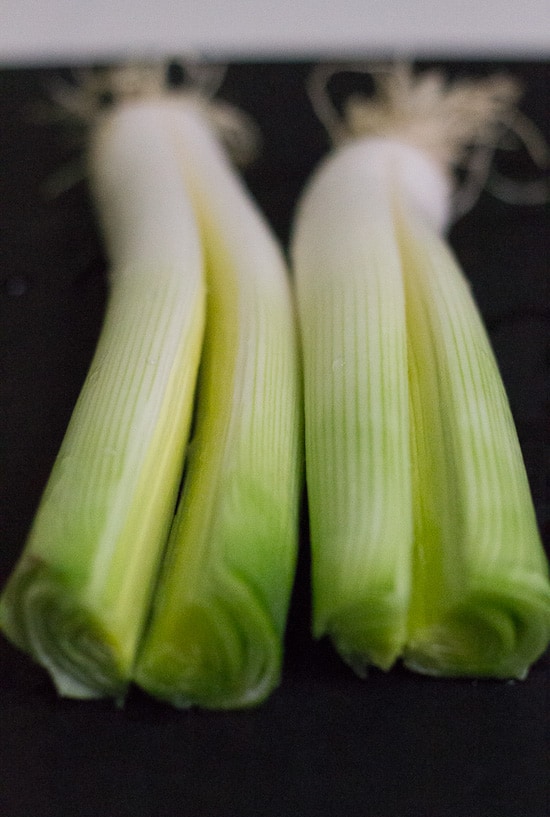 The bitter: My worst Rosh Hashana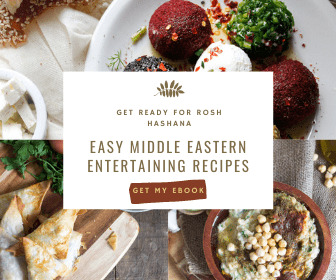 Most years, I am not one to make a fuss about Rosh Hashanah, the Jewish New Year's celebration. But this year, at the start of a new life chapter in Montreal, Quebec, I wanted to welcome it in the right way: with a week's worth of apple recipes. First up is this creamy, vegan Jerusalem artichoke soup with apples and thyme, and a story of how bitter and sweet intertwined.
Whenever I think of Rosh Hashanah, it is not usually honey and apples that come to mind. Instead, Rosh Hashanah speaks to me of disappointment. And never was it more acute than in 2010.
It was September, and Winnipeg was at the tail-end of a hot, sticky summer. I was staying in a beautiful condo on the river that overlooked the busy streets of Osborne Village. Its walls were covered with paintings and souvenirs from the owner's travels across the globe. Earthenware plates in deep maroon and teal lined the kitchen's open shelving. At night, I would sit on the porch with friends, sipping wine, smoking nargila, and marvelling at the beauty of my city.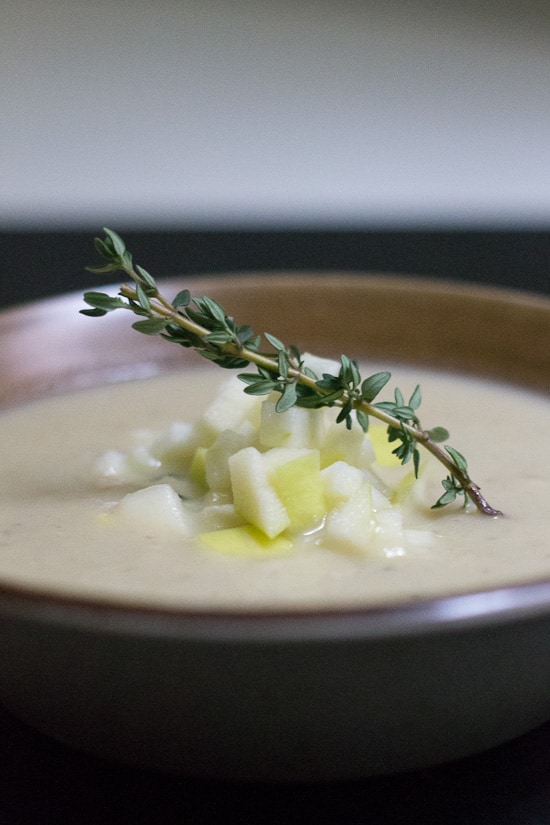 But this place was not to be home for much longer. At the end of that month, I was due to leave for Israel, to begin my master's degree in a place as far away from here as possible. I dreaded that day, my heart growing colder each time I looked at the waning moon, the changing days on the calendar. When I had applied for school, I was desperate for an escape. But then, things changed; as these stories go, I met a boy.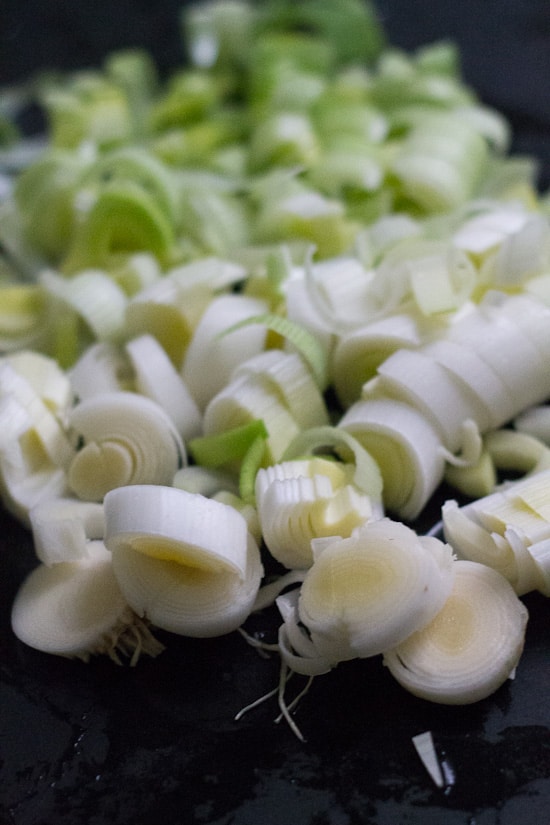 A tale of love and woe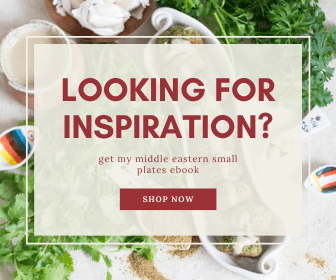 He was older than me, but not by much. When we kissed, I had to stand on my tip-toes. Together, we forgot to eat, to watch television, to breathe, weaving webs of whispered promises. He made me dizzy with happiness and hunger. And as the days went by, each time I thought of my eminent departure, I could feel the metallic taste of blood in my mouth.
On Rosh Hashanah, we were to go to a concert. All of our friends would be there. It was to be the event of the summer, and I longed to hang on his arm, to broadcast my dizzying joy to the world. But then, things got complicated. We found out his ex would be there, the one person before whom we were not ready to appear. And so, whether by his call or mine, our night's plan got cancelled.
Instead, we spent Rosh Hashanah back in the apartment. We dipped apples in honey, watched True Blood, and listened to my upstairs neighbours having loud sex in what seemed like their kitchen. Everything tasted off, smelled sour, seemed frail. He went to sleep in his home that night, claiming weariness, and I didn't even argue. The shine began to wear off, and reality started seeping through the cracks.
But as these stories continue, I couldn't see it yet; instead, I swallowed a bite of my honeyed apple, and felt it getting stuck in my throat. I choked back tears and drank chilled, bitter red wine diluted with coke, listening to crooning jazz and watching the street lamps cast their light on the travel souvenirs of a stranger. I thought of the end, and how beginnings should not be like this.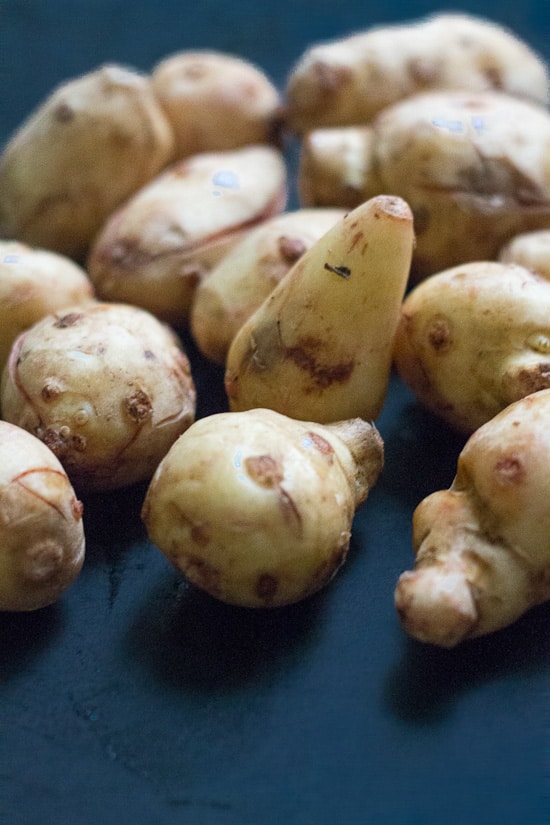 The Sweet: How I need this Rosh Hashana to go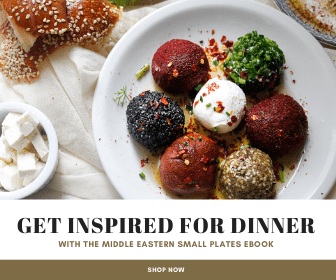 Rosh Hashanah was not always as bad as that year. But it was never anything special, just an opportunity to dip apples in honey and imagine what the upcoming year would bring.
Except this year, I do want it to be special.
I need this day to speak to the the places I've been, and the place I am now. I want it to join bitterness and sweetness in one fell swoop. I want it to blend the tanginess of Israeli cuisine with the earthiness of Russian food, the richness of the Prairies and the diversity of Montreal. We have invited friends both old and new to our place, and I am putting together a feast. There will be wine, flickering lights and merriment.
And for all that, I need soup.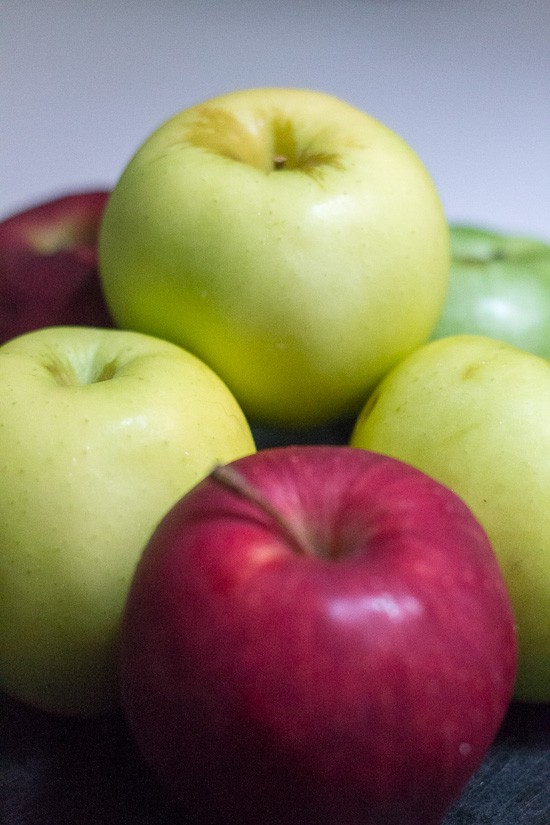 Jerusalem Artichoke soup with apples, or how to turn everything right side up
This soup is just the right dose of magic. Jerusalem artichokes, or sunchokes as they are also known, are often described as a cross between a potato and an apple.
They are a Quebec-native plant, a strange, crooked root that looks like the shrivelled witch who lured Hansel and Gretel to their doom.
Cooked slowly with leeks and tart Granny Smiths, and joined by the earthiness of bay leaves and thyme, they become the perfect canvas for a creamy, bright Jerusalem Artichoke soup.
They bring together bitter and sweet, and I think they'll help me, finally, to have a good Rosh Hashanah celebration.
Looking for more Rosh Hashana Recipes and Inspiration?
Here are a few of my favourites:
Tried and loved this recipe? Please leave a 5-star review below! Your reviews mean a lot to me, so if you've got any questions, please let me know in a comment.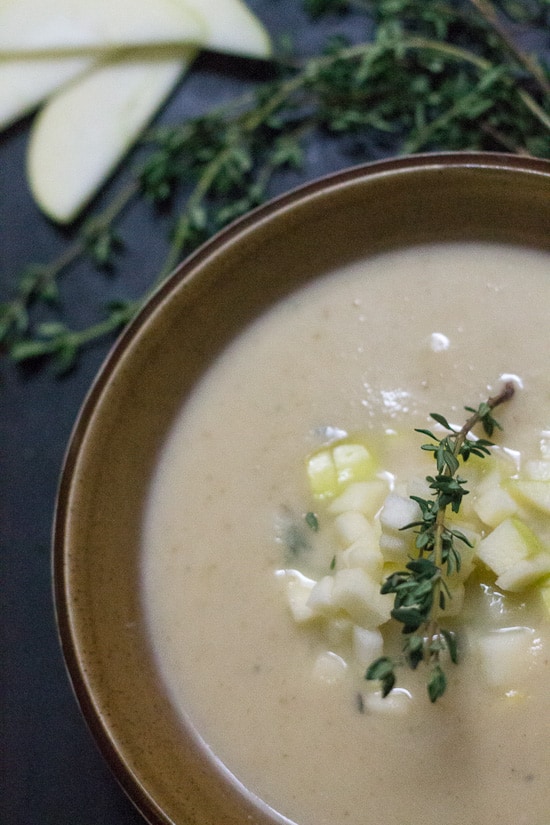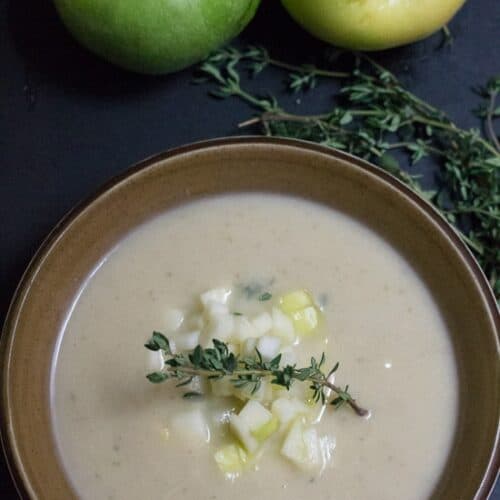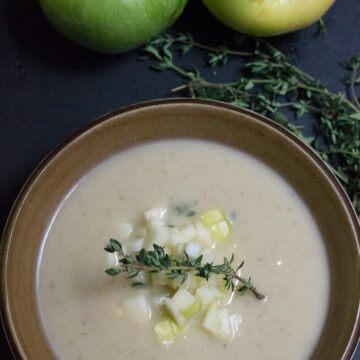 Creamy, vegan Jerusalem artichoke and apple soup
Cooked slowly with leeks and tart Granny Smiths, earthy bay leaves fragrant and thyme, Jerusalem artichoke and apple soup is a creamy, bright soup that is also vegan and gluten-free.
Ingredients
1

tablespoon

olive oil

2

leeks

1

lb

Jerusalem artichokes

also known as sunchokes or topinambour

2

Granny Smith apples

6

cups

water

1

tablespoon

salt

1

bay leaf

a few sprigs of fresh thyme

juice of ¼ of a lemon

Vegan yogurt

vegan sour cream, or lactose-free cream (optional - this makes the soup feel a bit more decadent, but it's hardly necessary. If using vegan yogurt or sour cream, hold the lemon until after you've added the cream, and then only add as much lemon juice as you need - you may not feel like you need any)
Instructions
Preheat a heavy-bottomed soup pot. Thoroughly clean and chop leeks. Peel and chop artichoke hearts, but don't worry about making this too fine.

When pot has heated, add olive oil and leeks. Saute for 10 minutes on low-medium heat, stirring occasionally, until leeks have softened completely.

Add Jerusalem artichoke, cover pot and let cook low-medium heat for five minutes. Add 6 cups of water, one sprig of thyme and one bay leaf, and raise heat to medium-hight. Chop one Granny Smith apple to a similar size as the Jerusalem artichokes. Once pot has reached boiling, add apples, cover, and let simmer for about 25 minutes.

When Jerusalem artichoke have cooked thoroughly and are easily pierced with a fork, turn off heat and remove bay leaf and thyme. Transfer contents of pot to a blender, add the leaves of two more sprigs of thyme, and blend everything thoroughly, taking care to cover the top with a towel to ensure the contents of the blender don't explode. Once soup is silky smooth, if desired, add vegan yogurt, sour cream or lactose-free cream. Taste, and add lemon juice as needed. Stir thoroughly to combine.

To serve, ladle soup into bowls. Chop one Granny Smith apple finely, and top each bowl with a tablespoon of apple cubes and a sprig of thyme.
Tried this recipe?
Comment + Rate Below!
Connect on Instagram!
Find us @immigrantstable