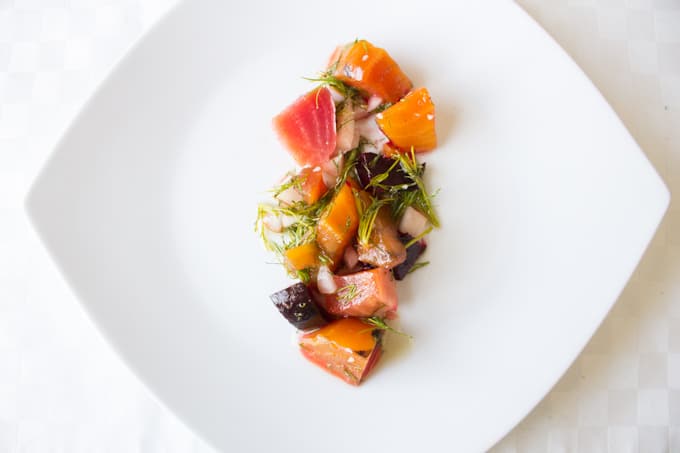 It was April during my first year in Canada. We were coming out of an easy winter, the sun was shining brightly, and the snow was melting everywhere you looked, leaving the streets a dirty, muddled grey. I was only just beginning to feel cautiously optimistic about my new home. We were still embroiled in a saga with our roommates, experienced a recent break-in, and my partner still didn't have a permanent job. But my grades from first year in university were good, I was looking forward to finally being able to work off campus, and there was a light in the end of the tunnel. I really felt the need to celebrate, and
Passover
, the holiday celebrating the Jewish exodus from Egypt, seemed like the perfect opportunity.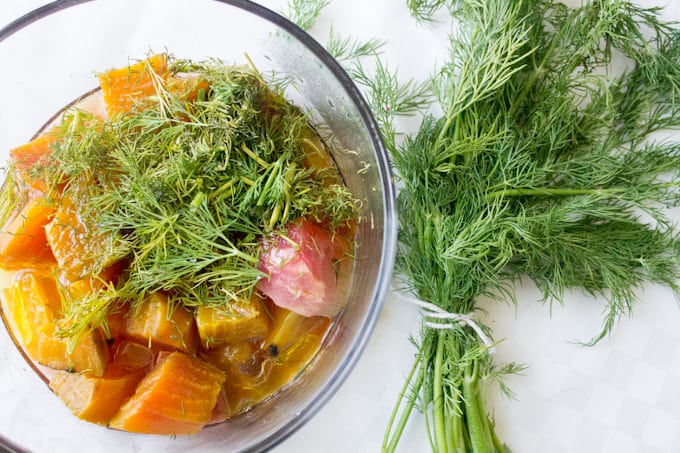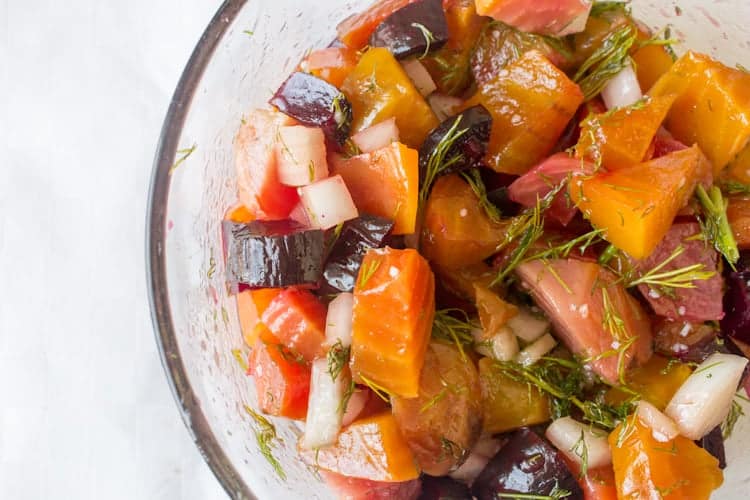 Then the time came to plan a holiday dinner. I knew it would only have two people, as I felt like my partner's Lutheran family may not be up for the festivity. I was vegetarian, so that added another perimeter. But the rest was unknown. I checked my favourite
Israeli recipe
forums, looking for inspiration. Hours of fervent bookmarking and printing ensued. A few things eventually fell into place - a potato gratin, maybe a crustless
cheesecake
for dessert. But the one idea that really captured me was
marinated beet
salad. I had never, until that point, been a huge fan of this root vegetable. In fact, I could hardly remember even eating it on its own, rather than as a member in the ubiquitous Russian
Vinaigrette salad
. But I was open to trying it out. Intrigued by the vegetable's straightforward pedigree and proud place in most
Russian and Jewish recipe
arsenals, I wanted to honour its traditional roots and not overwhelm it with flavour. I found a few simple recipes, and I cobbled something together the weekend before our dinner. The salad enjoyed a couple of days in the fridge, and we were happy to try it out during the festive dinner.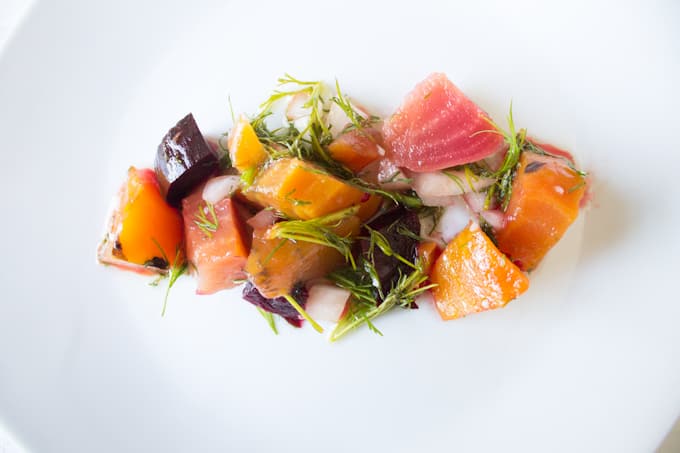 I was quite surprised by how delicious this marinated beet salad turned out. The beets benefited from a simple vinegary marinade, and their marriage with their Russian cousin dill weed was perfect, mellowing out that herb's customary pungency and the beets' earthy flavour. The holy trinity of Jewish cooking was complete with the introudction of sharp, sweet onions, which took on a strong magenta colour from the beets and brought a sweet zesty punch to the dish. If to be honest, there is little I remember from that
first Passover
night in my new land, except the beets (and a disastrous but informative battle with matzo balls, which I imagine I'll recap in the future). And they became a loyal friend ever since. Those who know me can attest that I am usually a fairly adventurous cook. Outside of the rare weeknight staple, I rarely make the same dish twice. I love mixing cuisines and cultures, trying out new ingredients and new spices. I look forward to the day when I will have enough time to dabble in spice blends, and I believe that the much maligned fusion cooking actually has some merits (but only if done right. I'm not a fan of mixing brussel sprouts with grapefruit, cream, and lemongrass just for the sake of experimentation). And yet, it seems like holidays bring out the traditionalist in me.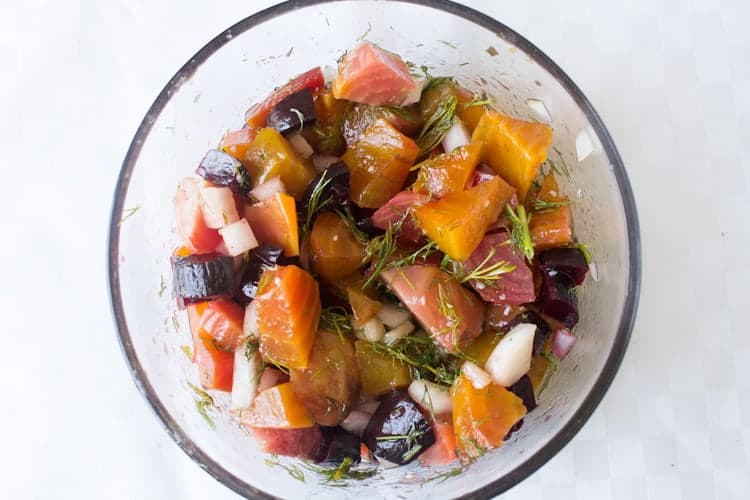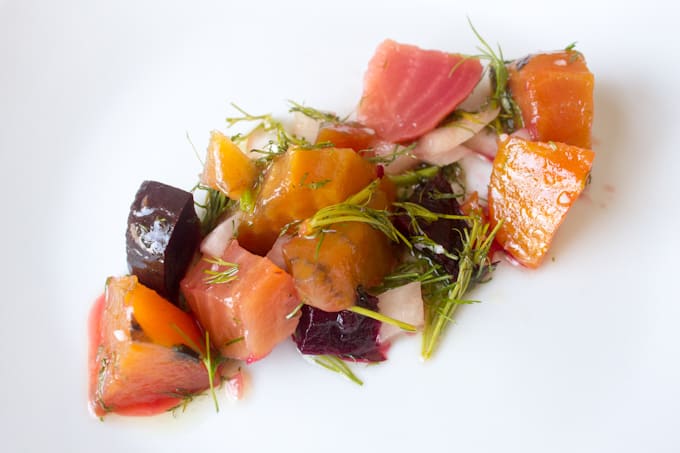 Once these beets made their first appearance on that fateful holiday table, I have been bringing them out every
Passover holiday
. Sometimes, they make an appearance on
Rosh Hashanah
, or the Jewish New Year. And sometimes, like this weekend, they're just something I put together to herald in positive change. Because if there's one thing I learned it's that there's nothing better with which to bring in new adventures than a good, old, familiar tradition.
Looking for more Rosh Hashana Recipes and Inspiration?
Here are a few of my favourites: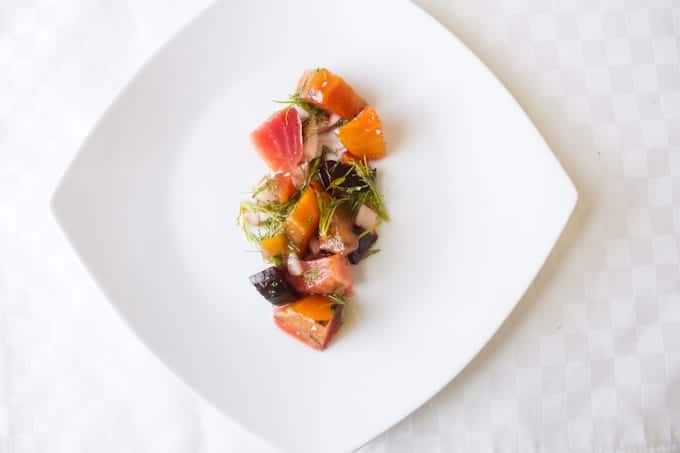 Recipe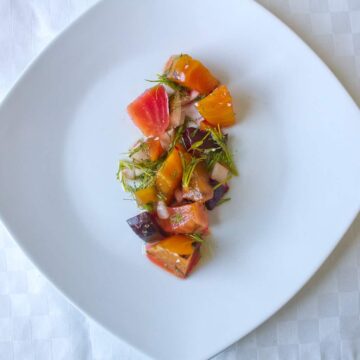 Marinated beets and dill salad
This salad brings together the holy trinity of Eastern-European Jewish cooking: beets, dill, and sweet onion, binding them with a perfect, simple vinegary marinade. The recipe can easily be scaled up to feed more for a big dinner.
Ingredients
Instructions
Cook beets per your liking - roast them in the oven, each 3 drizzled with olive oil and wrapped in tin foil for about an hour, or boil them, unpeeled, for about 40 minutes to an hour (depending on size of beets), until they are easily poked through with a fork. Roasting preserves more nutrients, but I do find it's a bit more of a hassle. Let cool inside a closed plastic bag (to allow beets to sweat), and peel. You may need to help them with a paring knife.

Chop beets to medium-sized, or small chunks. If using multi-coloured beets, keep the purple ones separate until the very last minute to preserve colour.

Chop onion to small pieces and add to beets.

Chop dill finely.

Mix all other ingredients in a jar, shaking it to allow the ingredients to emulsify. Dress beets with marinade, and add the dill. Mix well to blend.

Allow to rest in the fridge overnight, or even a couple of days. The beets will only get better with time (but no more than a week).
Tried this recipe?
Comment + Rate Below!
Connect on Instagram!
Find us @immigrantstable