As is the case for most of you, work lunches remain the bane of my existence. On most days I oscillate between lackluster salads with tinned tuna, or the urge to spend my hard-earned money on overcooked salmon with rice. So the appearance of mujadara for one in my life, easily prepared in the microwave or in an oven, has really saved the day - and helped up the ante on those work lunches.
Despite being one of the first blog posts I ever published on here, Mujadara remains one of the most frequently visited, shared and pinned recipes on this site. Which means that many of you have fallen in love with the magical combination of rice, lentils, caramelized onions and Middle Eastern spices, the warmth they bring to your body, and the incredible smell that wafts through the house the moment you pull that baby out of the pot. The only problem was that making mujadara usually led to days of leftovers and I don't know about you, but I am just not the biggest fan of reheated rice.
Enter mujadara for one. Since I received a Corningware Meal Mug in my goodie bag at FBC 2016, the Food Bloggers of Canada conference I took part in in October, I have been dreaming up ways to use to actually prepare my work lunches at work. Not reheat, you guys - but cook them, fresh, using my office microwave or toaster oven. Because the Meal Mug is made of a durable stoneware material and doesn't absorb food, odours, flavours or stains, I knew that it was the perfect vehicle for getting over my microwave aversion - and actually enjoy a freshly prepared meal for a work lunch. How cool would that be?
The ideas I came up with were as follows:
Homemade pho soup in a jar a-la Food52
Tuna melt casserole (yeah, this is as gross as it sounds)
Mujadara for one!!
The moment I thought of that last one, I knew I had a winner. The very same night, I soaked my lentils and rice, sauteed some onions, and proceeded to bring the layered ingredients to work in my Meal Mug. Nothing leaked, everything stayed beautifully arranged, and the Meal Mug went straight into the microwave. Just 15 minutes later, I took a steaming Meal Mug of freshly cooked mujadara for one out, topped it with my caramelized onions and fresh cilantro, and went to town. Only five minutes later, I was in work lunch heaven. And the next day, I repeated the same trick with the oven - and that worked just as well (though it took longer - so for those extra hangry days, I have to say I am a fan of cooking your mujadara for one in the microwave!).
You can get your own Meal Mug on Amazon.ca (or .com) or Walmart. In Canada, Loblaws, Home Outfitters, London Drugs and www.shopworldkitchen.com all carry the Corningware Meal Mug, and some will even ship it straight to your home. And then, you too will be only 15 minutes (and some soaking time) away from eating your own mujadara for one, at work or otherwise.
I received product and monetary compensation in exchange for this post. However, I am proud to only work with those companies whose products I truly love. And as always, all opinions expressed here are my own; you can always expect me to be honest with you guys!
Tried and loved this recipe? Please leave a 5-star review below! Your reviews mean a lot to me, so if you've got any questions, please let me know in a comment.
Recipe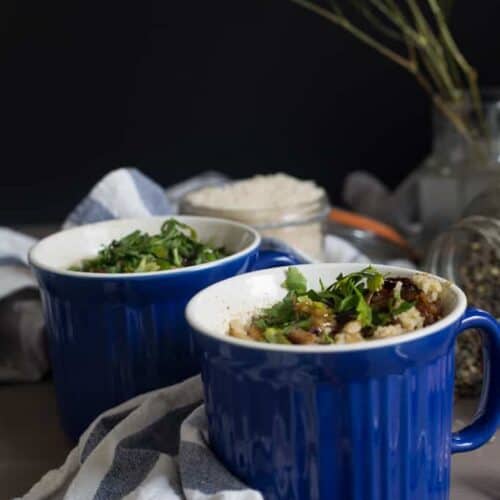 Corningware Meal Mug Mujadara for one
Mujadara for one brings the magical combination of freshly cooked rice, lentils, caramelized onions and Middle Eastern spices to a work lunch near you. This recipe is cooked in a Corningware Meal Mug, and I list both microwave and oven (or toaser oven) cooking instructions.
Ingredients
Instructions
ut onion into half moons. Preheat a pan on low-medium heat, and add oil. Sautee onions until they begin to turn transluscent, 10 mins. Once the colour starts to change, lower heat to low and let onions continue cooking for an additional 20 mins, stirring only occassionally, until all onions have caramelized. Set aside.

When packing your lunch, arrange lentils, spices and olive oil at the bottom of your Meal Mug. Top with rice. Keep onions and coriander separate.

For microwave preparation:

When ready to cook your lunch, add water. Microwave on high heat, uncovered, for 10 minutes, until holes of steam have been created in the rice. Cover with lid and microwave for an additional 5 minutes. Fluff with fork and let rest with the lid on for an additional five minutes.

For oven or toaster oven preparation:

When ready to cook your lunch, boil water. Add boiling water to Meal Mug, and cook, uncovered, for 20-25 minutes, until water has evaporated and rice is cooked. Fluff with fork and let rest with a lid on for an additional five minutes.

Top with caramelized onions and coriander, and serve immediately.
Tried this recipe?
Comment + Rate Below!
Connect on Instagram!
Find us @immigrantstable