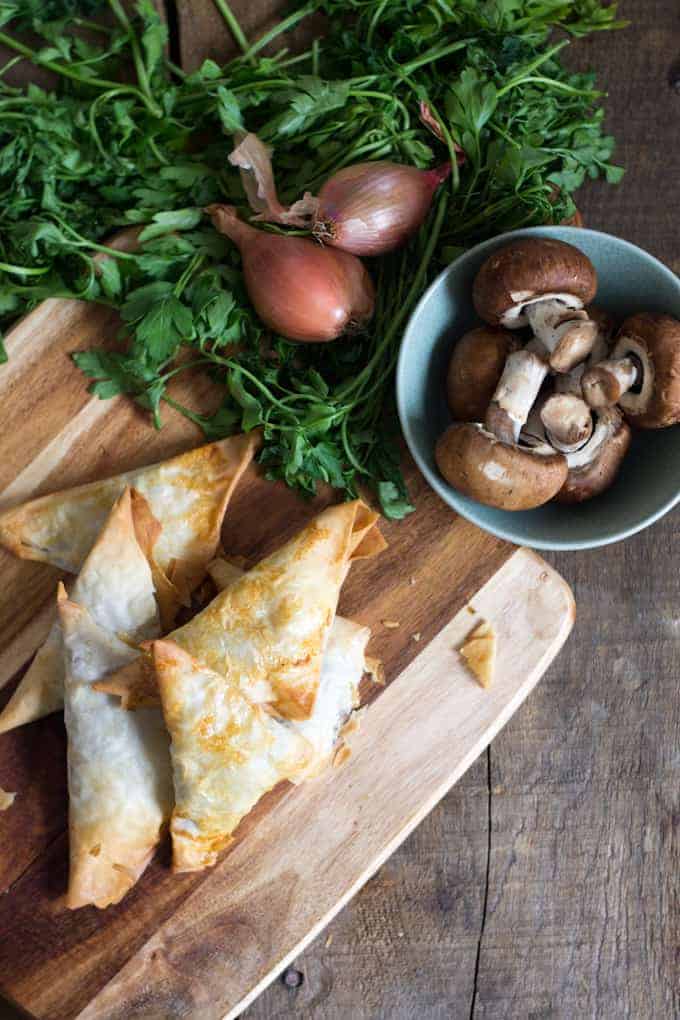 There is a small corner bakery in the city I grew up in, where everyone goes after a night of drinking. On any night but Friday (the evening of the holy day of rest, when all religious or kosher establishments must close), men and women of all ages can be seen lounging and laughing around haphazardly spread tables under an outdoors canopy, sharing greasy, carb-heavy treats of flaky dough. As the smells of baked dough, fragrant sautéing onions, and sweet honey fill the night air, passersby stop in their tracks and approach the glowing counters of Hapina HaChama, or The Sweet Corner, trying to decide what delicacy their alcohol-filled stomachs crave most.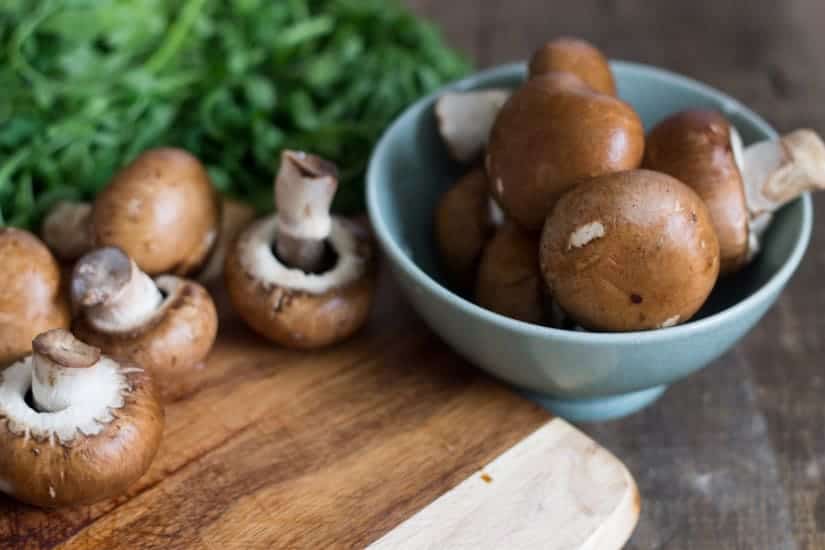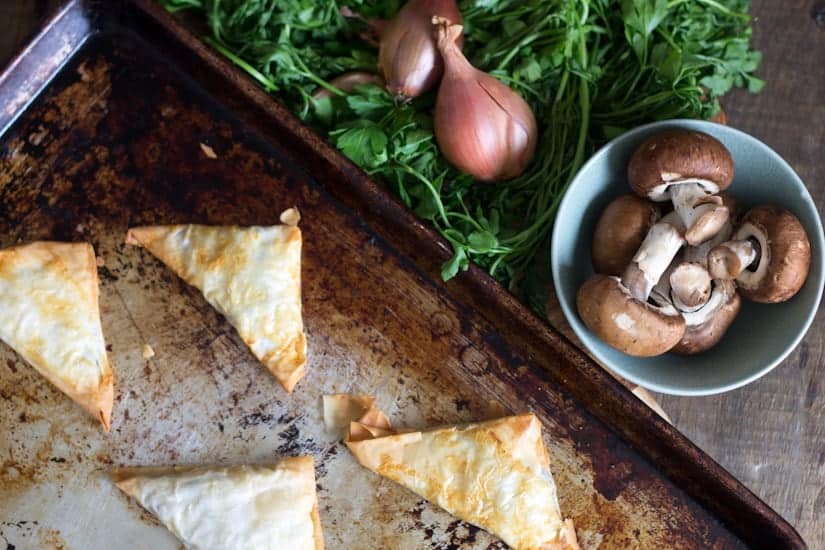 What most people eat at this bakery is the Mediterranean delicacy of bourekas – little pockets of dough, usually phyllo or puff pastry, filled with a variety of flavours. Bourekas is not limited to the Middle East, and its larger cousin the Börek makes frequent appearances on Bosnian, Serb and even Armenian tables, where meat varieties often make up a light lunch. In Israel, the most popular ones are cheese or potato, though at Hapina HaChama, many go for the combination of eggplant and hard-boiled egg, or my personal favourite, the mushroom bourekas.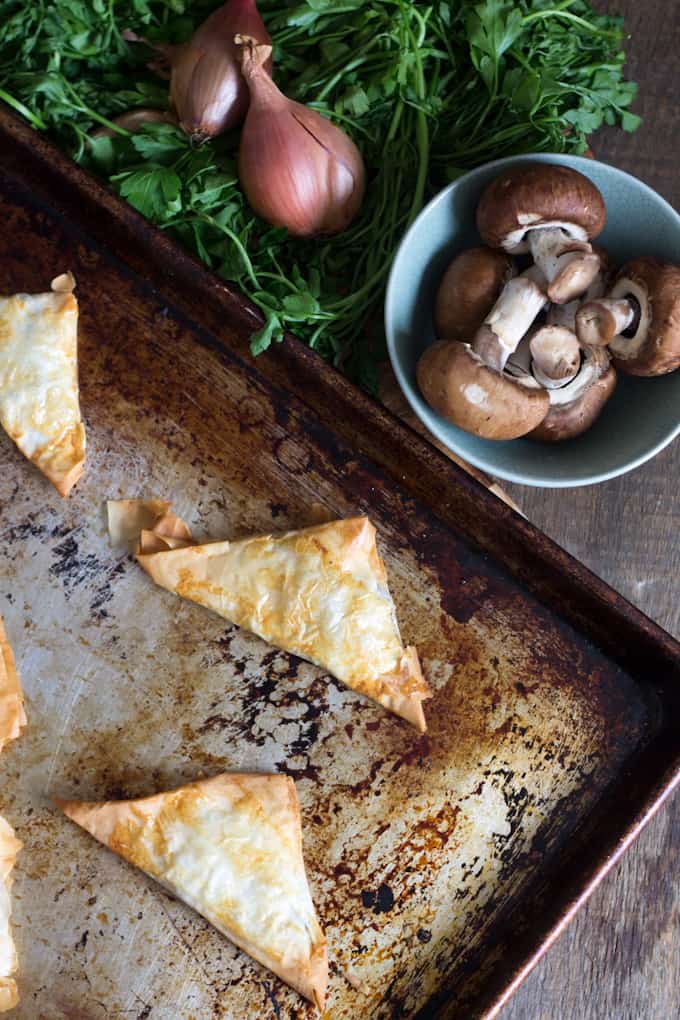 Though if to be honest, I rarely order a mushroom bourekas in Israel. Without lush forests or a particularly rainy climate, the mushroom industry in Israel has never quite developed. So most corner stores and bakeries fill their bourekas with canned mushrooms, which never quite lose the metallic taste of their former home. But in my own kitchen, equipped with store-bought phyllo pastry, nothing will stand between me and the salty, rich, and pleasantly chewy flavour of the mushroom bourekas. Clocking in at less than half an hour of active work, these treats are a cinch to make, and you don't even have to be drunk to enjoy them.
ED: This recipe was featured on foodgawker.com and tastespotting.com! Check out my galleries, or other recipes included in these beautiful recipe aggregators.
Mushroom bourekas
Flaky phyllo dough pockets, filled with a salty, sweet and earthy mixture of mushrooms and caramelized onions.
Print
Pin
Rate
Ingredients
½

a package of store-bought phyllo dough

2

pounds

mushrooms

2

red onions

or a combination of sweet and red onions

2

Tb

of margarine

or butter, if you're not vegan or lactose-intolerant

1

Tb

of olive oil

2

teaspoons

dry thyme

or 2 Tb fresh thyme (fresh is better)

½

teaspoon

salt

or more, to taste

Juice of ⅛ of a lemon

1

Tb

margarine

or butter, melted
Instructions
If working with frozen dough, defrost your phyllo dough overnight in the fridge, or leave on the counter for a few hours.

Preheat your oven to 350 degrees Farenheit.

Chop onions finely.

Preheat a pan over medium heat. Once pan is hot, add your margarine and oil and let it melt. Add onions to the pan and cook over medium heat for 5-10 minutes, until they are starting to turn translucent. Lower heat to low, and let onions reduce and caramelize for 20 minutes.

Slice mushrooms, taking care to not slice too thinly or too thickly. Chop the larger slices into smaller pieces. You want your mushrooms to retain their meatiness, but also be small enough to fit into phyllo triangles.

Add mushrooms to the pan with the onions, and raise heat to medium. Let cook until mushrooms brown, about 10-15, stirring occasionally.

Add herbs, salt, and lemon, tasting and correcting flavours as necessary. You want the filling to be rich, earthy, sweet and salty, but with a burst of bright acidity that cuts through the meatiness.

Prepare your phyllo dough. Cover your work surface with parchment paper. Line two cookie sheets with parchment paper, and oil them slightly. If you haven't done so yet, melt 1 tablespoon of margarine in a small bowl, and dilute it with 1 teaspoon of water.

Carefully spread out one phyllo sheet on your work surface, covering the rest with a towel so they don't dry out. With a pastry brush, lightly brush your sheet with the melted margarine and water mixture. Cover it in half lengthwise, and dab lightly with the margarine mixture.

To prepare the bourekas, spoon 1 tablespoon of the mushrooms and onion filling at the right end of the strip. Fold the end of the strip diagonally over the filling to form a neat triangle, pushing in the corners to ensure it's nice and snug around the filling. Continue folding the strip over on top of itself, keeping it in a neat triangle after each fold, until you reach the strip's end (take care to fold the triangles tightly around the filling, as phyllo dough without filling tends to dry out and crisp in the oven). If any errant dough remains at the end of your strip, cut it off. Brush your triangle with the margarine-water mixture, and lay out on the parchment paper-covered cookie sheet.

Repeat as necessary, until you run out of dough or filling. Any remaining filling will taste great piled on toast.

Bake the pastries for 15-20 minutes, until they are golden brown. Check periodically after 10 minutes to ensure the pastries are not burning.

Serve bourekas warm, or hot, or in room temperature, with a light salad or a simple brothy soup. They taste best when eaten fresh, and do not keep well. Reheat the bourekas only in the oven – the microwave will make it soggy.