An almond crust so brittle, it almost comes apart in your hands when you take an overzealous bite. Springy rhubarb spears, cut in matching shapes and nestling against one another in unison. The faint taste of vanilla beans and maple syrup. A drizzle of honey. These are the makings of my perfect paleo  rhubarb tart with honey, and the flavourings of our summer.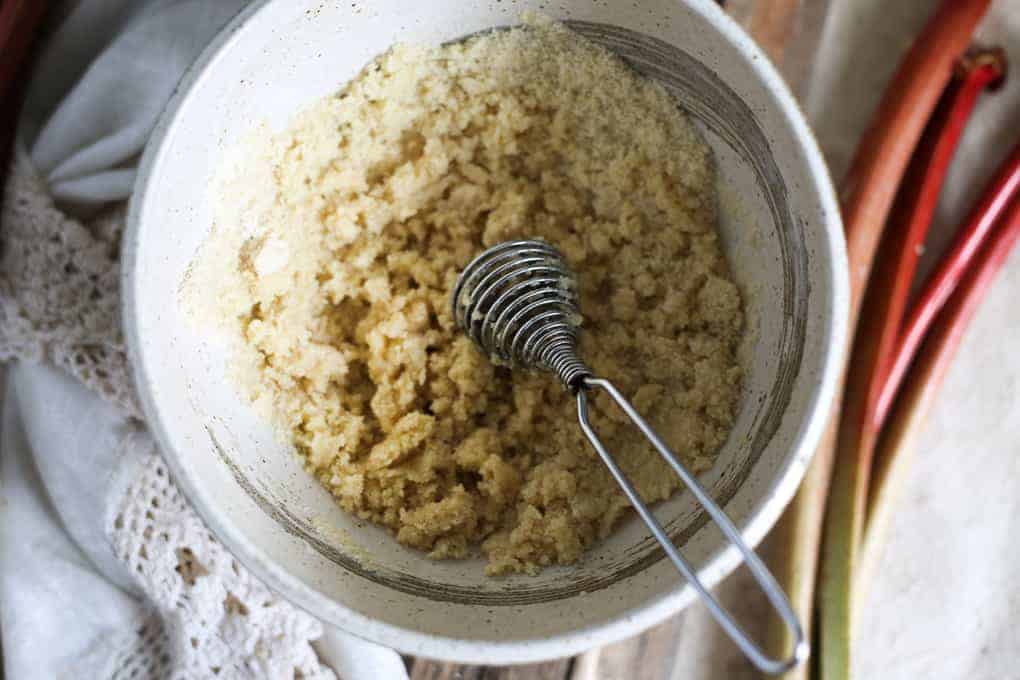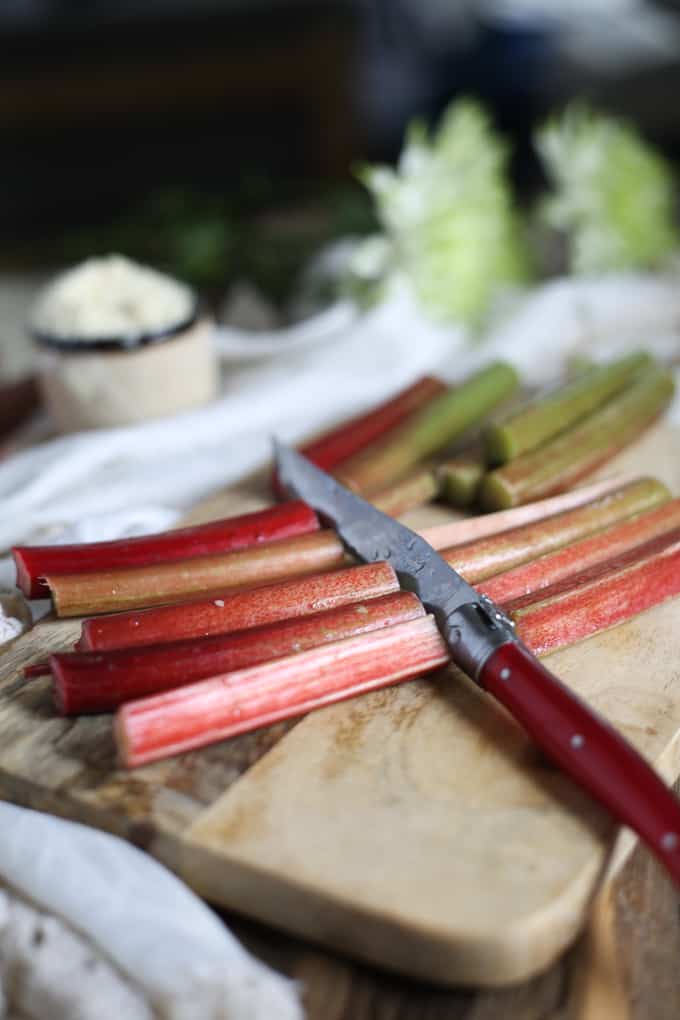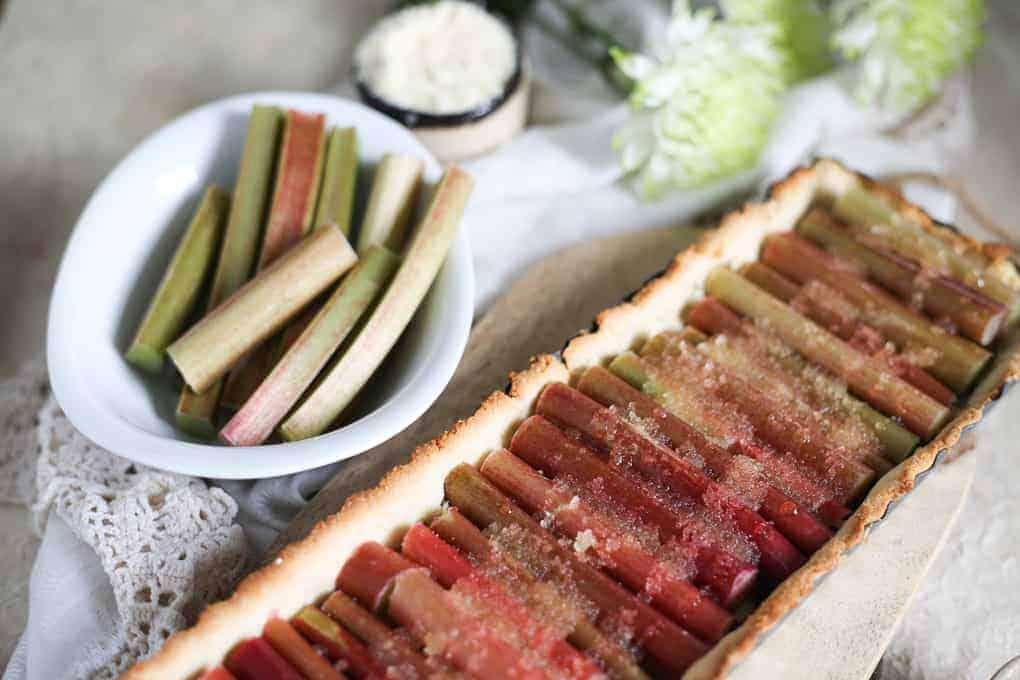 Last week, I waxed philosophical about paleo strawberry scones, and the gaping hole that is left in my heart by the absence of quality time in gluten-free bakeries. In continuation of this trend, this week I bring you another glorious paleo baked good that will make you forget about traditional pastries – a sour, sweet, and perfectly balanced paleo rhubarb tart with honey. And truth be told, this pastry represents the season a lot more in my eyes.
The summer of 2016 will forever be remembered in our house as the summer of the paleo rhubarb tart with honey. I must have made this dessert at least a dozen times in the last two months, going through several kilograms of fresh rhubarb straight from the farm. I have tried different variations on the crust, different ways of cutting the rhubarb, different baking techniques and temperatures. I emptied two CostCo-sized bags of almond flour.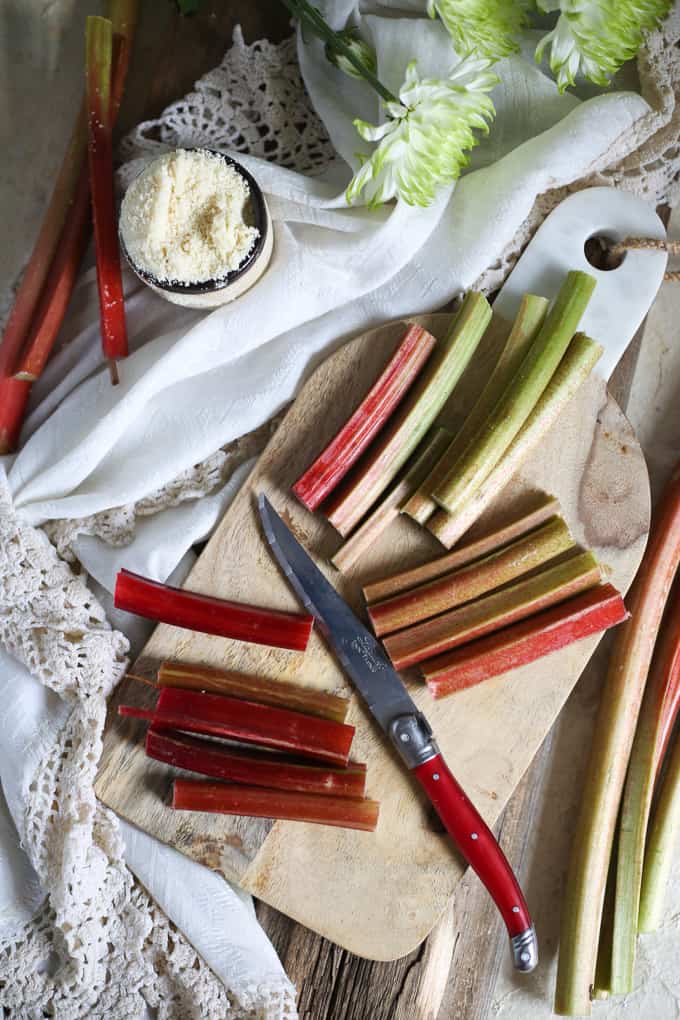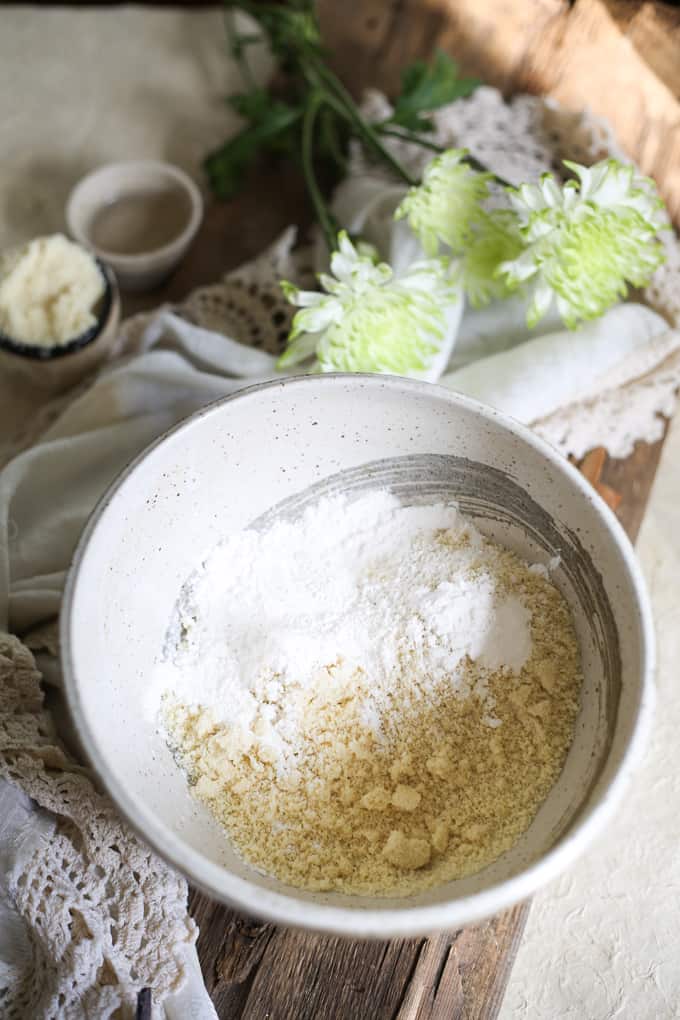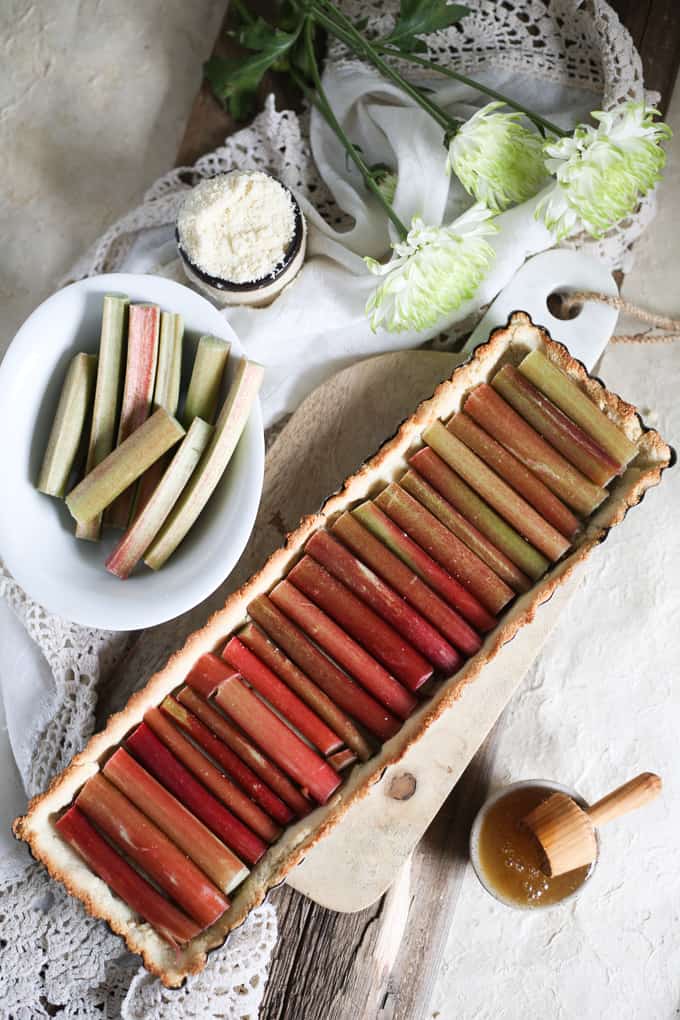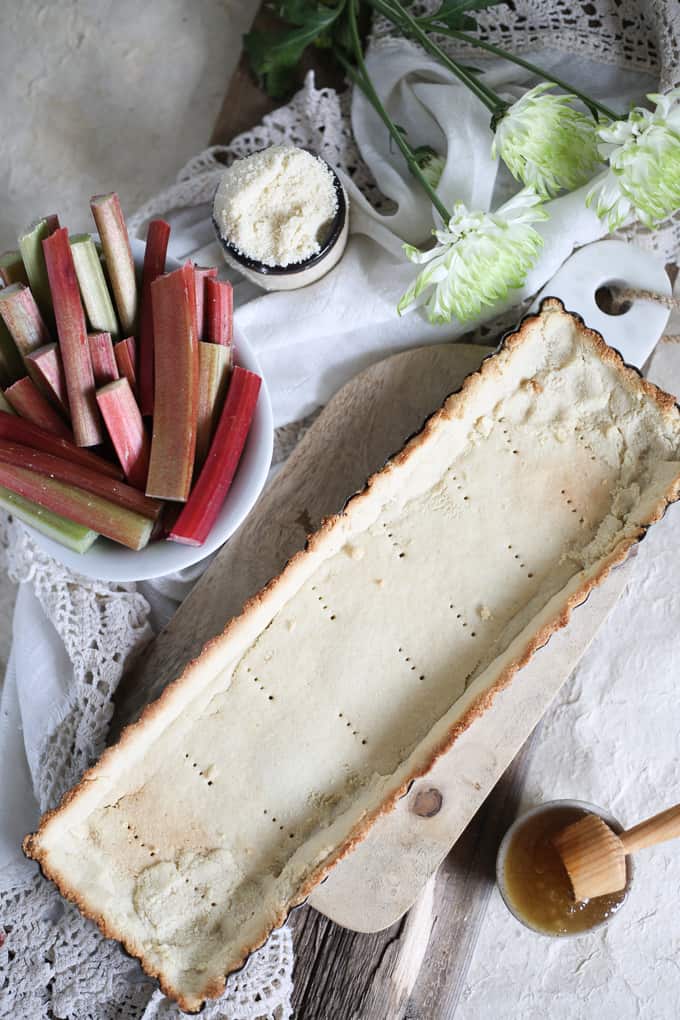 And yet, I can't stop craving paleo rhubarb tart with honey. Just the knowledge that there is another slice in the fridge haunts me; I cannot stop imagining the delicate crust, filled to the brim with delicate, pink spears of tart rhubarb. The spots where the rhubarb has let out its juice have become soft and malleable, like the best frangipane cream imaginable. The drizzle of honey on the top is the perfect touch of sweetness, a delicate kiss of sugar where before there was only tang.
Paleo rhubarb tart with honey is my crowning achievement: a simple, clean dessert that takes mere minutes to prep – and even less time to eat.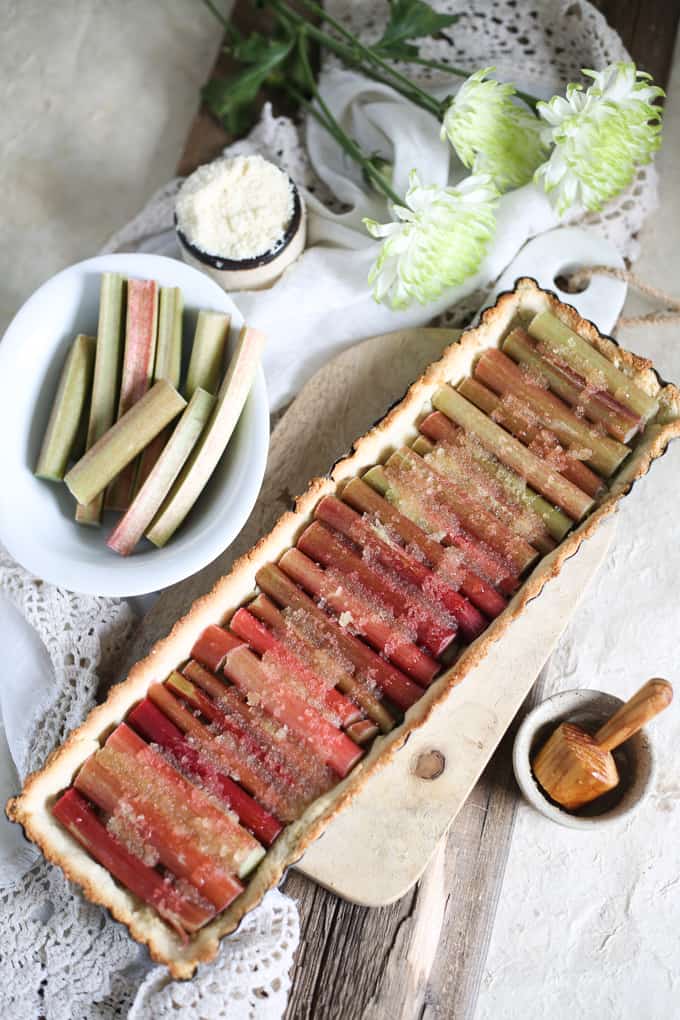 The bowl used in this photoshoot is a unique piece handmade by Montreal-based Orlin Stoyanov (who also happens to be Bulgarian!). To learn more of Orlin's work, to pick up some of his pieces or to inquire about ceramic classes in Montreal, check out his Facebook profile or WordPress blog. I received no monetary compensation for using his work in my post –  I am proud to support local producers and brands whose products I truly love.
To stay on top of what I'm eating and cooking these days, follow At the Immigrant's Table on Facebook, Instagram, Pinterest, Bloglovin', or Twitter, subscribe to my mailing list, or contact me about advertising and becoming a sponsor. If you make one of my recipes, don't forget to tag it #immigrantstable @immigrantstable!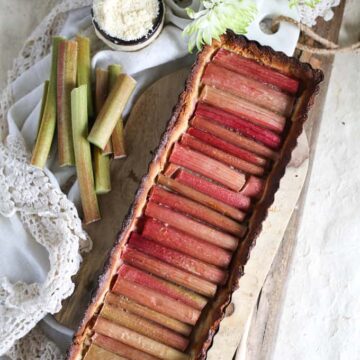 Ingredients
Tart crust (recipe from My Paleo Patisserie by Jenni Hulet):
1.5

cups

160 g almond flour

2

TBs

arrowroot flour

Pinch

of salt

3

TBs

maple syrup or honey

3

TBs

coconut oil

2

tsps

vanilla extract

1 9-

inch

crust round tart pan

or long rectangular one
Rhubarb filling:
1

bunch of rhubarb stalks

cut the width of your rectangular tart pan (if using), or the diameter of your round tart pan (if using)

2-3

TBs

honey

or maple, if making vegan

Zest of half a lemon
Instructions
Preheat oven to 325F.

In a large bowl, blend flours and salt. Add remaining ingredients and mix until a soft dough is formed. Shape into a ball and wrap in plastic wrap. Chill in fridge for about 15 minutes.

When dough has cooled enough to work, roll between two pieces of wax paper or plastic wrap into a thin shape to match the desired pan.

Place dough into tart pan. Arrange rhubarb stalks horizontally if using a rectangular pan, or going out like the spokes of a wheel if using a round tart pan. Drizzle with honey and lemon zest.

Bake for 25-30 minutes, until dough is golden and rhubarb has softened. Let cool in pan before removing.
pale