When I was about 12, my mother had a huge meltdown.
One of my mother's most identifiable features was always her thick, long, dark brown braid. She was like Rapunzel with that braid - it could be seen for miles, she could wrap it around just about anything, and it immediately signaled to anyone who met her that this young lady meant business. Or at least, that she could grow a mean head of hair. We loved her hair, and couldn't get enough of playing with it, combing it, braiding it, putting hairpins in it, arranging it a million different way. That is, until she chopped it off.
If to be honest, it didn't happen all at once. When we moved to Israel, my mother cut her long tresses into a more manageable, mid-back-length hairdo. Her hair was still long enough to put into a ponytail, luscious and curly, but she said it was less of a chore to wear in the Middle Eastern heat. She could also do things with it, other than just constantly keep it in a tight, very Jewish braid. Though we weren't happy, we understood and accepted her. She was still our long-haired mother, albeit with less of a braid. And now, I was the one growing out my hair, braiding it.
But this all changed one spring evening, when my sister and I were at home watching television. Our dad walked into the house, silent and ashen-faced. "Don't be scared when your mom walks in. Whatever you do, don't be alarmed," he said, immediately sending our 12 and 8-year-old hearts racing. Of course, we panicked. Would she be one legged? Has she been horribly disfigured by an unimaginable accident? What could be so bad that my dad would tell us not freak out?
The answer was platinum blond. When my mother sheepishly walked in through that apartment door, I am certain the neighbours three floors above us could hear the screams. She had once again chopped off her long brown traces, opting this time for a short, boxy cut that was adventurously dyed platinum blond on the ends. Frosted tips, I guess you could say. But on my 33-year-old mother, it just looked horrendous.
We cried and screamed, throwing ourselves at her feet, mumbling, "what have you done to yourself?" and the ever considerate "you don't even look like our mother!" My mother tried to keep it calm for all of 15 minutes, laughing our hysterics off, until she unsurprisingly broke down in a fit herself, slamming and locking the bedroom door to cry for what felt like forever. My father, who was visibly pissed off at her, took a while to try and follow her in, at which point he discovered she broke the handle and the door could no longer be opened. Further hysterics ensued.
Years into the future, I can no longer remember how the collective temper tantrum ended. But in the end, everyone compromised. My mother went and dyed her hair a more acceptable shade of blond a few days later, and she let it grow out over the next few months. She admitted it was a terrible idea. My dad apologized. My sister and I realized we loved our mother no matter how she looked, and we grew used to her edgier look. Neither one of us understood at the time that she was experiencing a real-life crisis, my dad (possibly) included. All I got out of that was that sometimes, living with other people required real compromise: about your hair colour, looks, hobbies, and even tastes in food.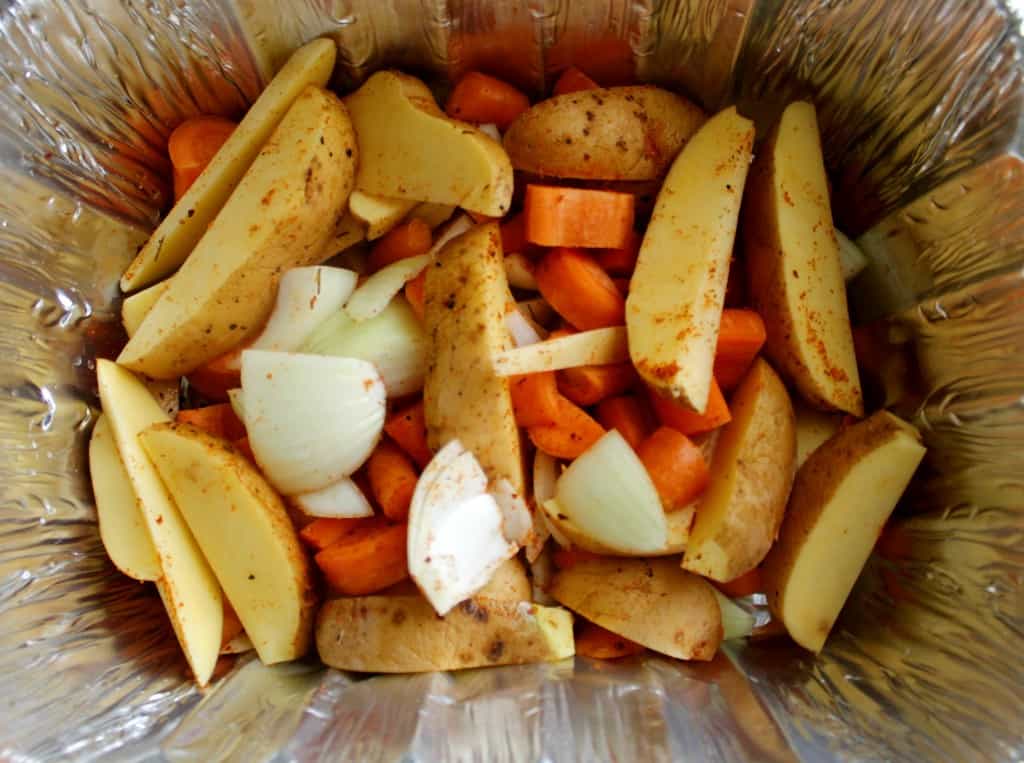 Years into the future, I am in my own relationship. Some days, it's got its ups, and other days there are downs. The downs can be disheartening. But I'm slowly learning to make some of those same compromises that came so naturally to my peace-loving mother. I bite my tongue when I want to tsk it. I ask for advice even when I think I know the answer. And some days, I order chicken through our local farmers co-op. And then I help my partner cook my grandmother's paprika chicken. Because love demands sacrifices.
Just don't expect me to change my hair.
I have already told you about my grandmother's paprika chicken. This is it, made years later by two sets of very different hands. I hope we did it justice (because the photography sure didn't. But then again, I blame it on the fact I've never shot an animal before, pun intended). It's an easy recipe, but one that I wanted to put down for posterity.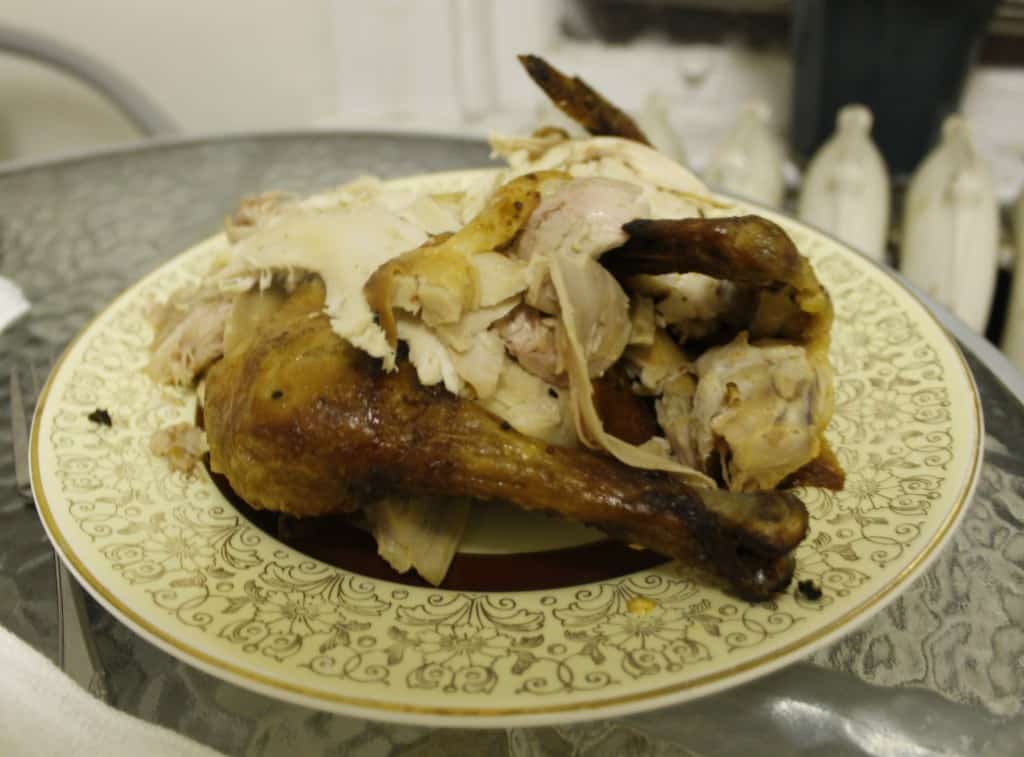 Paprika chicken, or the things we do for love
This was my first ever introduction to prepping a whole chicken, and I have to say it was pretty easy. This is a simple marinated paprika chicken, but the mayonnaise sets it apart from other common recipes (and makes it thoroughly Soviet). Please allow time for the chicken to marinade for a few hours, or overnight. With the roasting chicken's aroma wafting through the house, the place definitely smelled like the kitchen of my childhood. We did a lot of reading on how to roast a whole chicken, but I found the Kitchn's guide particularly useful: http://www.thekitchn.com/how-to-roast-a-chicken-home-ha-108002. And finally, one only preachy note: please, use a good, locally-raised, free-range organic chicken. I can't tell you if it'll taste better (though I have heard it does), but it will assuage my guilt over giving you a meat recipe.
Print
Pin
Rate
Ingredients
One 3-4 pound whole pasture-raised

organic chicken, defrosted

¼-1/2

cup

mayo

1

tablespoon

mustard

2

teaspoons

paprika

6

cloves

of garlic

Salt and pepper to taste

1

teaspoon

spice mixture - we used a San Moreno salt blend

but my grandmother leaves it pretty open. An Herbes de Provence mixture would be good, or a poultry seasoning blend

2

lemons

cut in half

2

sprigs of rosemary

3

potatoes

3

carrots

1

onion
Instructions
A few hours or the day before, slit the plastic wrap around your chicken, drain of any juices that were in the bag. If the innards are still there, remove them and use in stock making (our chicken was cleaned out by the farmers, so we didn't have to figure this part out). Place chicken in a large bowl.

Pat the chicken dry thoroughly with paper towels, taking care to blot behind the wings, legs, and inside the body cavity. This will help the skin crisp up in the oven.

In a small bowl, combine mayonnaise, mustard, paprika and other spices of your choosing, salt, and pepper. Finely mince two cloves of garlic and add to mixture. Mix well to combine. Start with ¼ cup of mayonnaise and if chicken is very dry, add more.

Ensure that there are no juices in the bowl with the chicken. Rub the chicken with this mixture, taking care to cover all spots inside and out.

Stuff lemons, rosemary sprigs and 4 cloves of garlic inside the chicken's cavity.

Cover chicken with plastic wrap, and place in the refrigerator for a few hours, or overnight.

When ready to roast, preheat oven to 500F. Wash and chop your potatoes, carrots and onion into wedges. Arrange them in an even layer on the bottom of a large roasting pan, in order to make a bed for the chicken. Sprinkle with the same herb mixture you used in the chicken's marinade: paprika, salt, pepper, and the spices of your choice.

Sprinkle the outside of the chicken generously with salt and pepper.

Set the chicken breast-side-up on the bed of vegetables (we got this part wrong and laid the chicken belly side-down. We then had to turn it over halfway through the roasting process. Don't make the same mistake). The chicken will be lifted an inch or two above the bottom of the pan by the vegetables.

Put the chicken in the oven and let cook at 500 for 15 minutes, allowing the skin to crisp. Lower temperature to 400°F, and continue roasting for about another hour. After an hour, check if the chicken is done by inserting an instant-read thermometer in the meatiest part of its thigh. The internal temperature should be at least 165° for the chicken to be done. If you're under, put it back in to cook for another 5 to 10 minutes and check it again.

Let the chicken rest for about 15 minutes before carving. Serve chicken alongside the roasted vegetables in the pan (which may need another 15 minutes on the grill setting at 500F to crisp up a bit more).

Eat a drumstick for me.