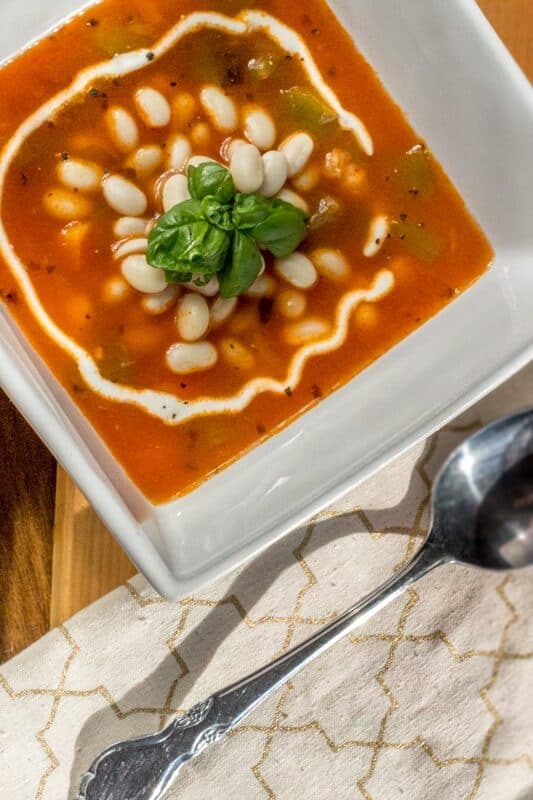 With a blend of tomatoes, paprika and creamy white beans, Pasulj is a Serbian white bean soup that is filling but light, peppery and sour.
NOTE: All soup photos in this post are by my talented friend Sarah Carson.
The first time I saw Mladen was in a second year philosophy class. He looked a lot like my high school sweetheart, so he immediately caught my eye. He sat in the back of the class, his long blond hair pulled back into a bun, and a big, ragged hoodie pulled over his head. He sat mostly quiet for the first few classes, his cheek pressed into his palm, his whole body contorted forward, listening intently to our teacher's haphazard monologues. After class, he would talk to another classmate in hushed tones, erupting in a big, unstoppable laugh once in a while. But he mostly kept quiet for a while. Then he started talking in class, and I knew we'd become fast friends.
It wasn't just the accent that marked him as a kindred spirit, though I definitely noticed that. It was his entire demeanour – his wild gesticulations, his impassioned speeches, the arguments that seemed to arise out of thin air. Mladen seemed to consider everything worth fighting for, every hill the one to die on. In many others, those traits would have seemed annoying. But Mladen had an uncanny ability to convince you of whatever he wanted, before you even realized you had an opinion to the contrary. For a homesick immigrant, he embodied the Slavic culture and mannerisms of my youth. I was intrigued, but did not know how to start up a friendship, let alone a conversation.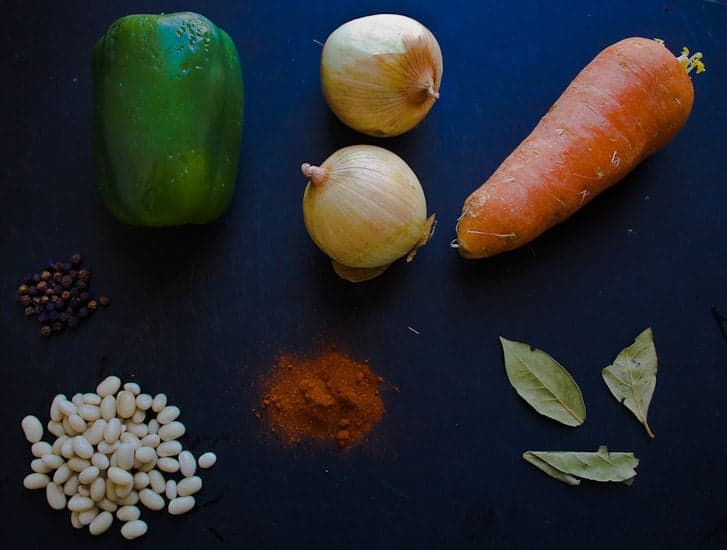 We started spending time together the following year, while collaborating on a project for another class. Our first project meeting turned into an intense eight-hour-long heartfelt discussion, where we both poured out our thoughts about living life as immigrants in a Western country, about love, about the difficulty of forming friendships with Canadians, and of course, about food and drinks.
The commonalities between us shone like well-lit highways on a dark night, the lifelines on a monitor. For me, they brought back a sense of home. When our personalities clashed, the fights were spectacular; but we also recognized when we were just showing off, arguing for the sake of being heard. Over the years, our friendship became a cultural exchange, and a testimony to the impact of upbringing on who we become.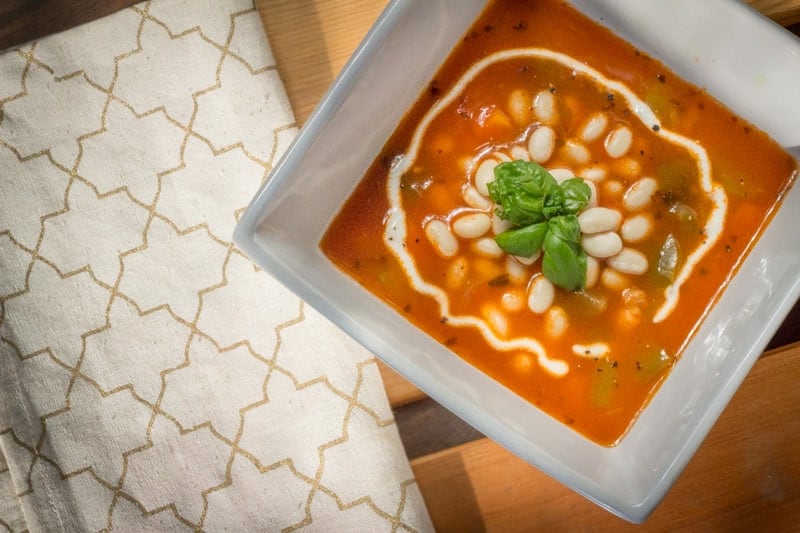 When I first made this Serbian Pasulj white bean soup at the youth cooking club I volunteer at, I immediately thought of Mladen. I remembered how we would eat big chunks of salty, white cheese with tomatoes over the sink at his parents' house. I thought of how he would dissect the flavours of Czech beer, which was similar to, and yet so different from, Serbian and Russian beers. I remembered we both didn't like the combination of salty and sweet when we first arrived in North America, thinking peanut butter and jam, or pretzels and chocolate were disgusting. And I realized just how much I missed my friend.
Making this Serbian Pasulj white bean soup takes me back to our lazy afternoons in the park, or driving to the beach, or arguing in a fluorescent-lit university class. The blend of tomato, paprika and creamy white beans feel familiar and comfortable all at once. This peppery and tangy soup is filling but light, exactly what you want on a lonely winter day, when you may or may not be missing a good friend.
Tried and loved this recipe? Please leave a 5-star review below! Your reviews mean a lot to me, so if you've got any questions, please let me know in a comment.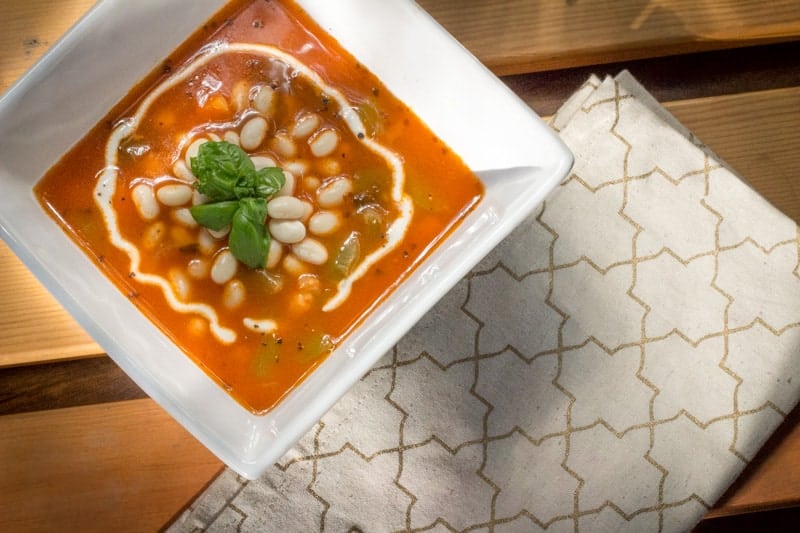 Recipe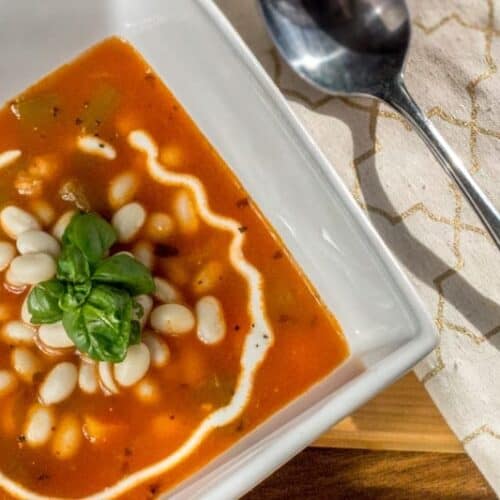 Pasulj Serbian white bean soup, or how a common culture can shine like a beacon
With a blend of tomatoes, paprika and creamy white beans, this peppery and tangy soup is filling but light, exactly what you want on a lonely winter's day.
Ingredients
2-3

cups

of white beans

2 cans, or use dried beans - dried beans typically need to be soaked and cooked for a much longer time, so allow time for soaking

2

onions

chopped

3

cloves

garlic

minced

3

bay leaves

2

tablespoons

of chopped cilantro or parsley

3

tablespoons

of tomato paste

1

large carrot

scraped and sliced

1

celery

chopped finely

1

green pepper

5 to 6

whole peppercorns

or crushed black pepper

½

tablespoon

of salt

2

tablespoon

of olive oil

2

teaspoons

of paprika

The juice of one lemon

Dill for decoration

optional

Vegan

or regular sour cream for serving (optional)
Instructions
If using dry beans, soak beans in water overnight (use 2 cups of water to each cup of beans). Drain and rinse beans.

Pour olive oil on the bottom of the soup pot. Add onion and sauté for five minutes until it is fragrant and starts to brown. Add garlic and sauté for another five.

If using dry beans, add the soaked, rinsed beans and enough water to cover the beans, plus cover another three inches. Bring the water to a boil then down to a simmer for 20-30 minutes, until the beans are cooked through. Add four more cups of water.

If using canned beans, add them and enough water to cover beans + three inches, bring to a boil and then lower to a simmer, cook for 10 minutes.

Add remaining ingredients and cook gently over a low heat until vegetables are at desired texture. (Approximately 30 minutes.)

If desired, add a dollop of sour cream and some chopped dill in each bowl before serving.
Tried this recipe?
Comment + Rate Below!
Connect on Instagram!
Find us @immigrantstable