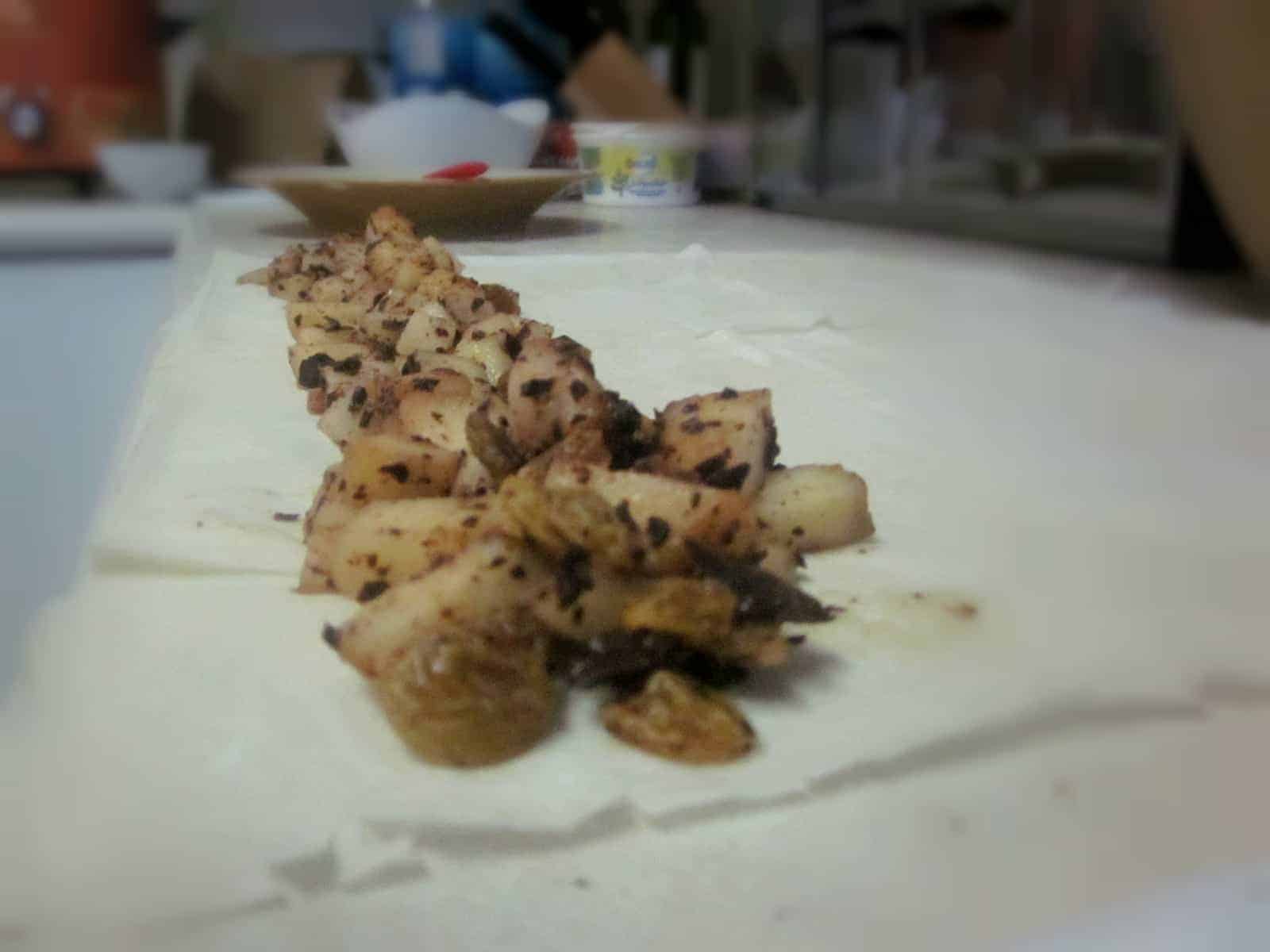 Every family needs, and likely has, a foolproof dessert. It's the cake that takes 10 minutes and one bowl to put together; the pudding that cooks while you're setting the table; the cupcakes that don't require refrigeration. You remember the recipe by heart, and the assembly comes naturally, even after a full day's work. This is the dessert that gets whipped out when company comes by unannounced, or when you realize you volunteered to bring a dessert to the office tomorrow, but totally forgot to prep for it.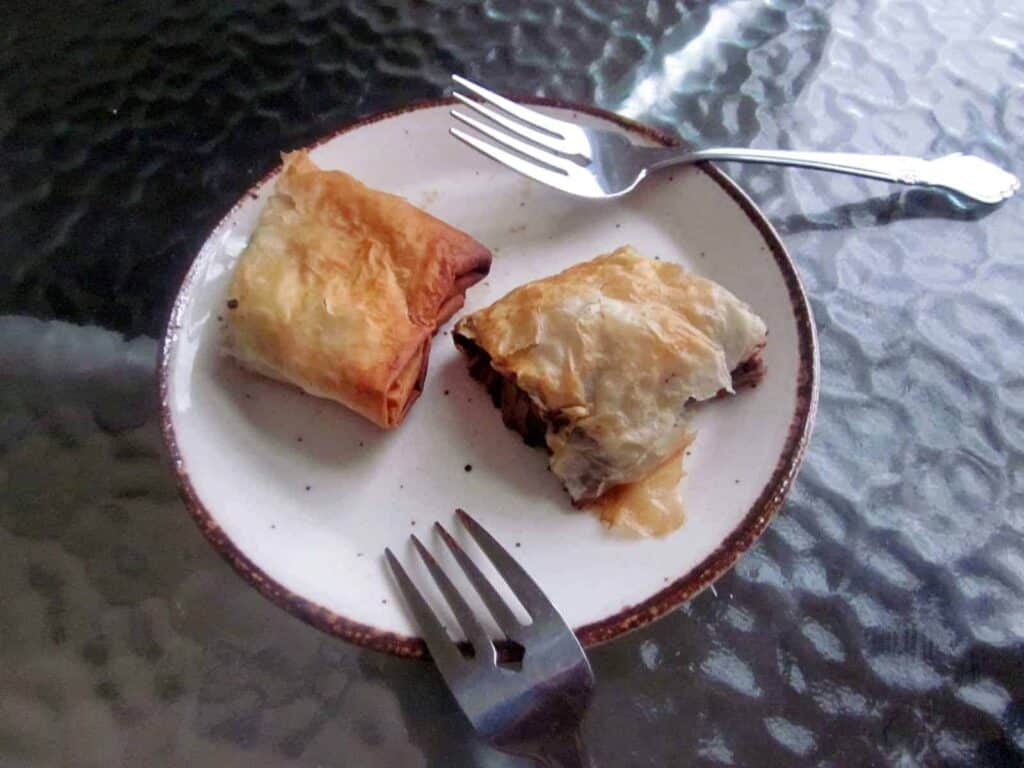 For my family, that recipe is the strudel. Borne out of my parents' attempt to cook together, craving for sweets, and no-sugar diet, my family's take on the humble strudel requires one bowl, one pan (maybe two if you make too much), and half a package of frozen phyllo dough. It's the dessert my mom places on the table when she wants to feel like she baked something. It was also the dessert I brought to an emotional visit with some children I used to teach. It's simple and light, reminiscent of fall, traditional flavours, and home. And it goes well with a cup of tea and a side of tears, if you're in for a particularly emotional talk.
Yet I also think it's incredibly boring. So when I volunteered to bring a vegan dessert to a work meeting, I wanted to come up with a way to keep the spirit of our family's strudel, but bring in a whole lot more flavor to the table. And then I came across this Amateur Gourmet riff on a famous Brooklyn cake, immortalized in the blogosphere by Deb Perelman of Smitten Kitchen (a search of her site would reveal she's quite taken with this flavour pairing). This pear-chocolate strudel was the result. Vegan, low in processed sugar but high in flavour, this strudel could become your family's foolproof dessert.
Except I don't think either one of my grandmothers would approve of the combination.
ED: This recipe was featured on Healthy Aperture.
Pear-chocolate strudel
An unusual flavour combination in this traditional flaky and vegan dessert.
Print
Pin
Rate
Ingredients
½

package of store-bought phyllo dough

7

pears

1

cup

raisins

3

Tbs

brandy

or rum

1

teaspoon

vanilla extract

Juice of ½ a lemon

zest optional

60

grams

of vegan chocolate

¾ cup

2

Tbs

of margarine
Instructions
Wash and sift through your raisins, especially if they come from the bulk bin or outdoors market.

In a large bowl, soak your raisins in brandy, vanilla extract and lemon juice (include optional lemon zest). Let raisins soak for at least 30 minutes while preparing the pears, or longer, if desired.

Wash the pears well. Peel, halve and remove the core and seeds. Cut the pears into small cubes, slightly larger than the raisins (don't fret about the size too much, they'll shrink when cooking). Add to the raisins only when ready to assembly the strudel.

Chop your vegan chocolate into small chunks, each about the size of a raisin, or even smaller.

Preheat your oven to 350 degrees Fahrenheit.

Melt the margarine in the microwave, about 30 seconds in short bursts. Add one tablespoon of water, and mix well.

Prepare your phyllo dough: cover your working space with parchment paper, and place one sheet of phyllo on it with the long edge towards you, keeping the remainder covered with a damp towel. Brush the sheet thoroughly with melted margarine-water combination, taking care to cover the whole surface, but not to soak it. Layer with two more phyllo sheets, brushing each gently with butter.

Add the chocolate to the bowl of pears and raisins. Mix well.

Taking care to leave about 2 inches of space along the edges of your sheet, spread about 2 tablespoons of filling along the long side (the side facing towards you). Fold in the short edges of the sheet. Then, starting at the edge with the filling, begin to roll up your strudel.

Place, seam side down, on a parchment-lined baking sheet. Brush the top with more melted margarine, taking care not to soak the strudel. Pre-cut your strudel into slices, but don't separate them.

Repeat until you run out of filling, or phyllo sheets.

Bake strudel rolls in the oven for 25-30 minutes.

If desired, dust top of strudel with a sugar-cinnamon combination (one tablespoon of sugar to 2 teaspoons of cinnamon).

Eat strudel warm, with or without lactose-free ice cream on the side, at room temperature, or even cold. If reheating, warm up the strudel in an oven (microwaving it will make it soggy). I have yet to find a way in which it doesn't taste good.