During my month of paleo, I found myself experiencing the weirdest cravings. The sugar craving was understandable; after all, we are all hooked on refined sugars through commercial sauces, frozen meals and even wine. But it was the cravings for cabbage, fresh vegetable noodles and, strangest of all, veggie burgers that really surprised me. Borne out of a bit of experimentation and necessity, this portobello mushroom burger with all the trimmings came to be - and even in its bunless, paleo form, it left me fully satisfied.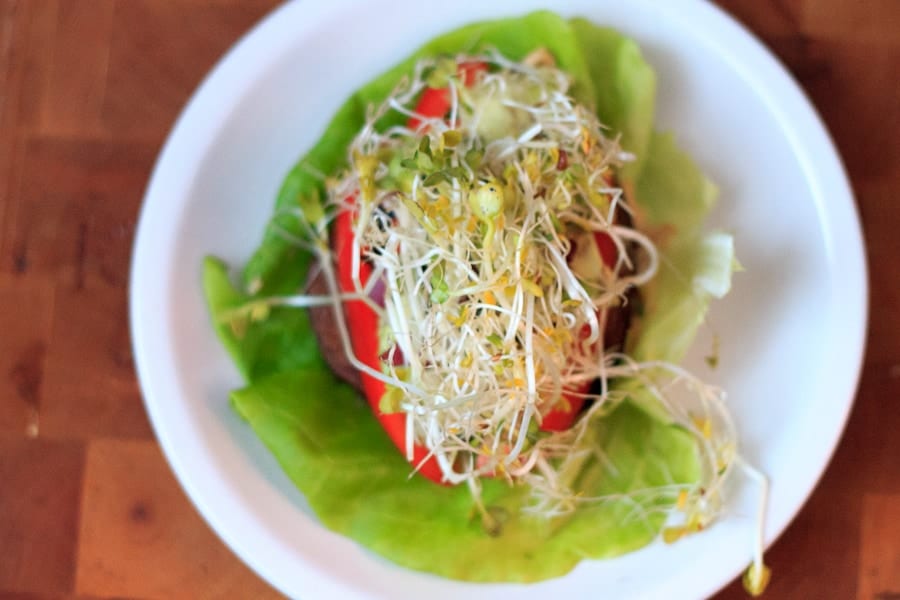 I usually make veggie burgers in the summer, when they make a simple and filling dinner with a side of salad. But this month I've been craving big, juicy veggie burgers to feel my stomach throughout the cold winter days... A tall order when one must abstain from beans, tofu, or cheese. But I'm happy to say that this baby does just the trick!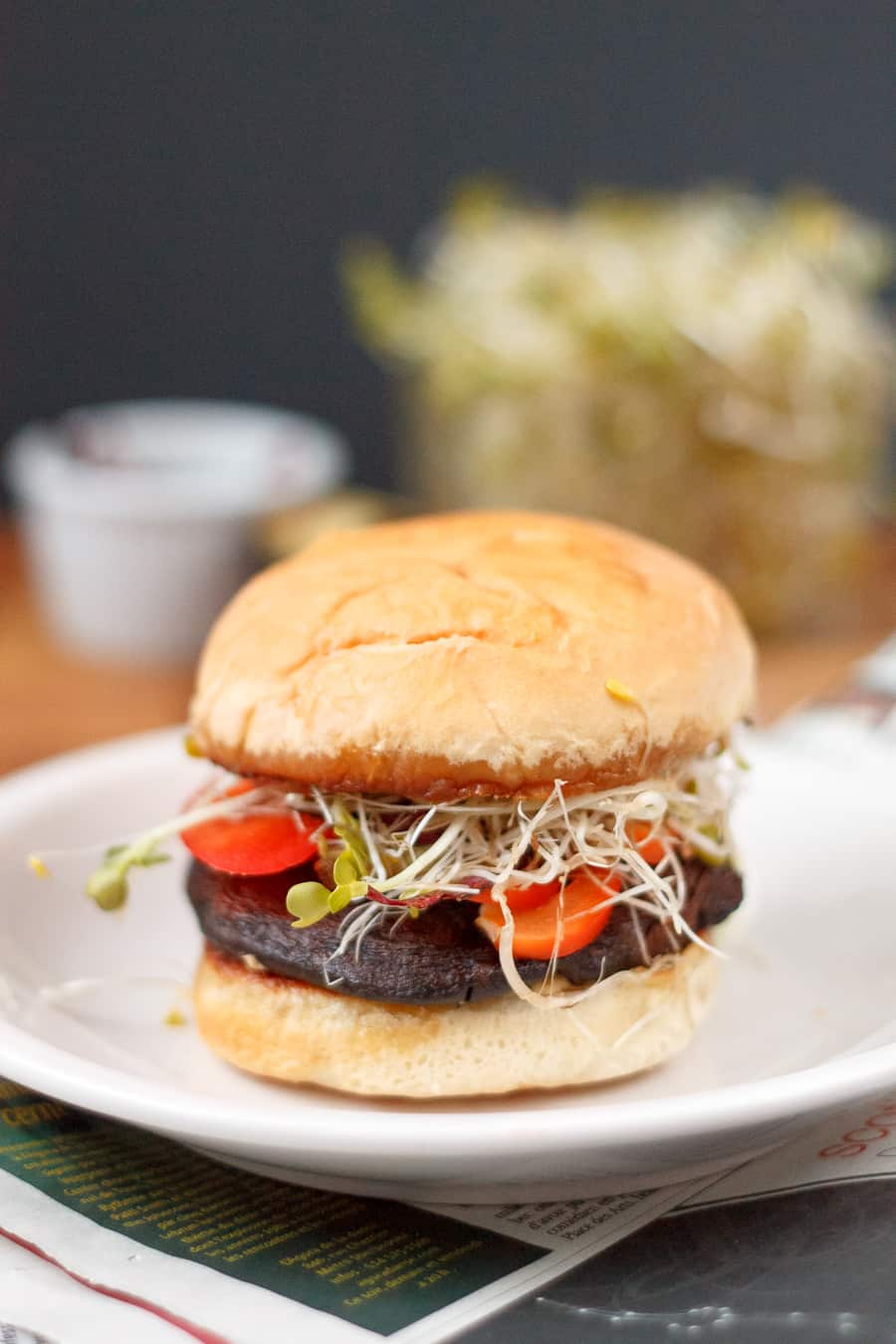 I will be the first to admit that there is nothing inherently special about this portobello mushroom burger. The only secret is to brush the mushroom with a simple tamari and paprika-laced marinade that highlights the mushroom's umami, its essential meatiness. You then pick the juiciest Iceberg lettuce leaves you've got (or two slices of grilled sourdough bread, or the best sourdough bun, if you're not worried about gluten), and pile on the:
- avocado, sauteed red onions & roasted red bell peppers
- hummus/ cashew spread/almond butter whirred in with ½ teaspoon of hot sauce, a pinch of salt and a squeeze of lemon, fresh red bell peppers and sprouts
- hummus/ cashew spread/ almond butter whirred in with ½ teaspoon of hot sauce, a pinch of salt and a squeeze of lemon and sundried tomatoes that have been plumped in warm water for a couple of minutes
- spinach, watercress, and a cilantro, mango and avocado salsa
- sauteed mushrooms, green bell peppers and sliced white mushrooms, for that double mushroom effect (serve them drizzled with cilantro pesto)
- goat cheese/ cashew spread and roasted red peppers (if you're not keeping paleo)
- or, for an amazing brunch, hummus, a fried egg and a drizzle of hot sauce on top.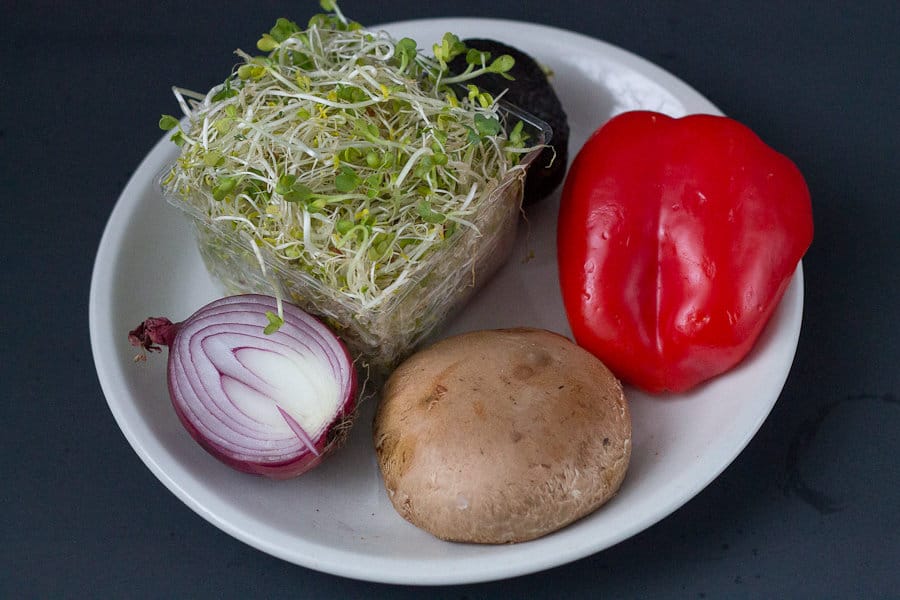 There used to be a time when I thought that portobello mushroom burgers were for wusses, people too lazy or unskilled to make REAL veggie burger. But now I have seen the error of my ways. Truly, a well prepared portobello mushroom burger is a fast, filling and delicious solution to one's veggie burger woes.
And it goes incredibly well with a lettuce wrap.
Liked this post? Share it with your friends! For more At the Immigrant's Table, follow me on Facebook, Instagram, Pinterest, Bloglovin', or Twitter, subscribe to my mailing list, or contact me about advertising and becoming a sponsor. If you make one of my recipes, don't forget to tag it #immigrantstable @immigrantstable!
Tried and loved this recipe? Please leave a 5-star review below! Your reviews mean a lot to me, so if you've got any questions, please let me know in a comment.
Recipe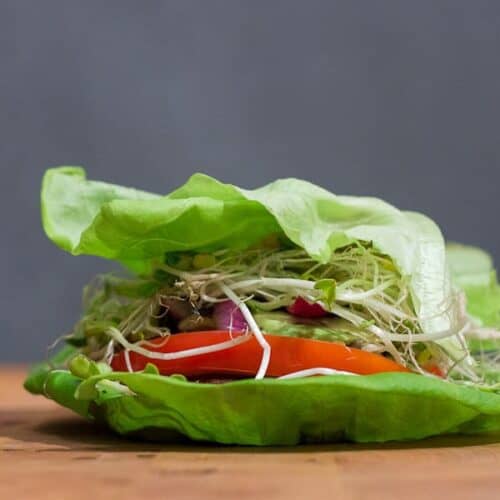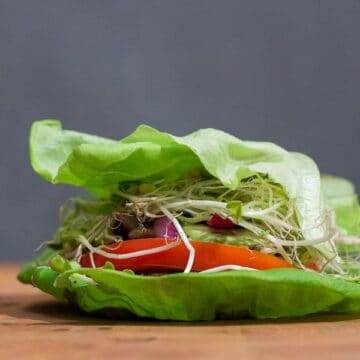 Portobello mushroom burger with all the trimmings (v, gf, paleo)
The secret to a perfectly juicy portobello mushroom burger is to brush the 'shroom with a spicy, smoky marinade. You then grill the burger to perfection, pile on the toppings, and enjoy! Feel free to use whatever toppings you'd like or have on hand.
Ingredients
1

portobello mushroom per person

or 2, if you want to go for that double-decker effect

For brush-on marinade:

juice from half a lemon

2

garlic cloves

crushed

⅛

teaspoon

hot smoked paprika

or ground cayenne powder

1

teaspoon

tamari sauce or apple cider vinegar

if keeping paleo

2

TBs

olive oil

Toppings:

2

TBs

hummus

cashew spread or almond butter whirred in with ½ teaspoon of hot sauce, a pinch of salt and a squeeze of lemon

½

a red onion

fresh or sauteed

½

red bell pepper

sliced into strips

½

avocado

Daikon radish sprouts

Lettuce leaves

for wrapping OR sourdough ciabatta OR sourdough bun
Instructions
Clean mushroom well with a moist paper towel, and remove stems (you can keep them for stock). Preheat a grill pan to medium-high heat, and add a tiny bit of oil.

Mix all marinade ingredients together. Using a pastry or a silicone brush, brush the mushroom with the marinade mixture well, ensuring you get in between the gills. Place mushroom gill side down on the pan, and cook for 3-4 minutes on one side, until the mushroom has shrunk and there is caramelization occurring. Turn the mushroom over, lower heat to medium, and cook for another three minutes, until the mushroom cap has browned. Remove from heat.

While mushroom is cooking, prepare your lettuce leaves or bun and all the toppings. Once mushroom has cooked, arrange the burger to your liking, and serve immediately - it tastes best when the mushroom is still sizzling hot!
Tried this recipe?
Comment + Rate Below!
Connect on Instagram!
Find us @immigrantstable