When I first started elementary school in Israel, my favourite class became Bible studies. For a child coming out of the very secular environment of the former Soviet Union, there was magic in the ancient scriptures, their grand words, the tales of love, sin and treachery, and the absolute sense of purpose and direction they lent to everything around me. I also fell in love with the holidays and ceremonies that permeated every month on the Jewish calendar, and I threw myself with fervour into learning scripture, understanding its lessons, and honouring the long-standing traditions that gave birth to my country (of course, at that point I was still oblivious to the wide chasm that has evolved between the meaning and roots of Judaism and the form that organized religion took in my new country, but that's neither here nor there).
One story I could never wrap my head around, however, was the tale of Esau and Jacob. According to legend, Esau sold his birthright to Jacob for a bowl of red lentil stew. After returning home from the fields one day, ravenously hungry, Esau smelled his younger twin brother's latest creation, a rich and earthy stew, and began asking for a bowl. The ever-ambitious Jacob agreed, but in exchange he demanded Esau's birthright, his role as the slightly older brother, and all the honours that accompanied it. For some reason, Esau unhesitatingly agreed. He later came to resent this exchange, believing that Jacob has tricked him, but that's another story altogether.
Many books, essays, and (probably) graduate theses have been written in attempt to explain why Esau would have cared so little for his birthright as to give it up for a bowl of lentil stew - a cheap gruel that was chosen for its semblance to Esau's red hair and reddish skin. I am no Biblical expert, and I will refrain from venturing into this area. But from my position as an older sister, I simply couldn't understand why any older sibling would agree to this exchange.
When we were younger, my sister and I had a tense relationship. When she was first born, my favourite pastime involved swaddling her in a blanket and then rolling her from one side of the sofa to the other, singing songs. I treated her as a doll, and when I came to realize that she had a will and a mind of her own and that she wasn't just for me to dress up, I quickly lost interest. When she grew up and began to look up to me, I pushed her away, mocked her, and at times, even stooped as low as bullying her. One April Fools' Day, I served her tea with salt in it, and she burst into tears. Another year I locked her in the toilet and broke the handle, forcing her to stay there until my parents came home and took down the door, hours later. I was the adult, the responsible child, and I viewed her as just a whiny brat. There was no way I would have given up my birthright to her, no matter what she offered.
Unsurprisingly, after a while of this treatment, my sister began resenting me. Around the age of 12 she stopped speaking to me in any a tone other than a shout, and our relationship had all but dissipated. It was only then that I realized I was saddened by our distance and animosity. When I grew up, I softened, and began to wish for my sister again. But at that time, it was too late - I don't think she wanted the birthright, nor her older sister anymore.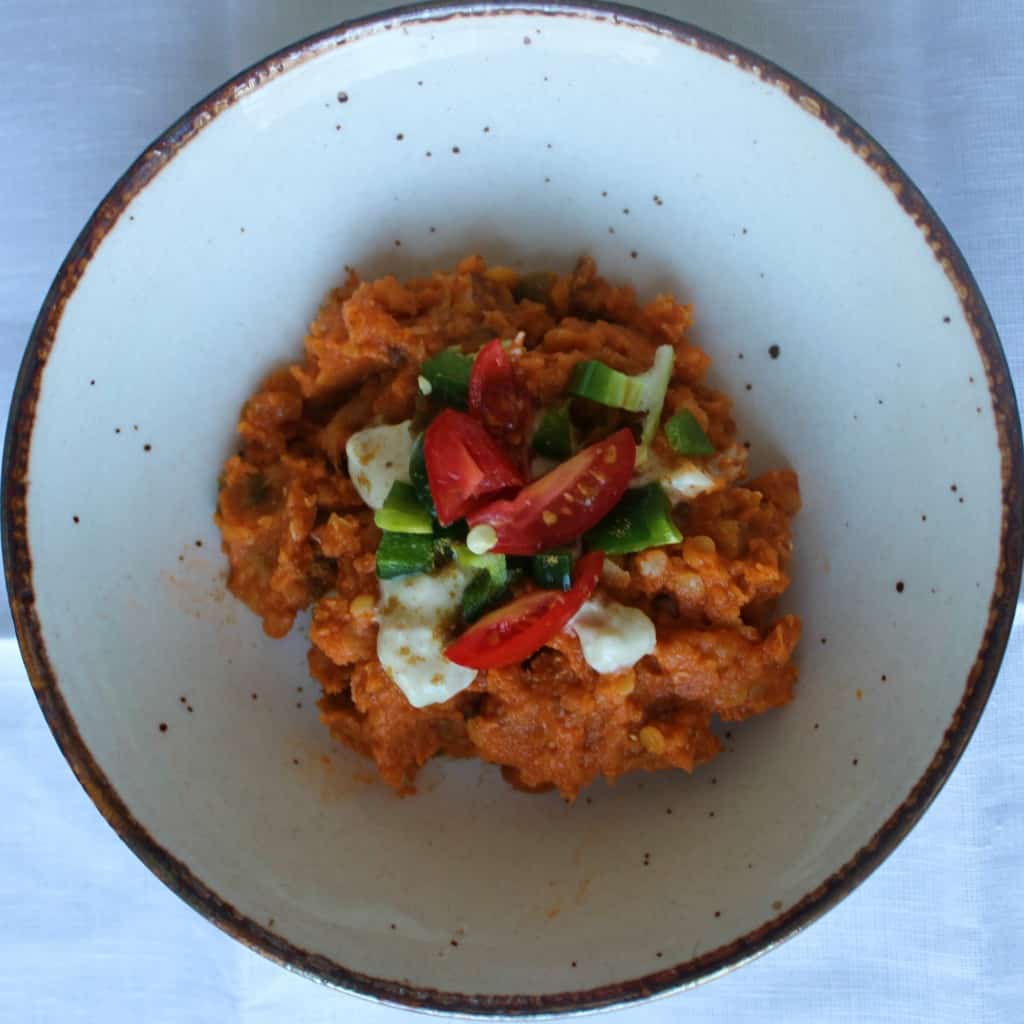 Fittingly for a cooking blog, we began rebuilding our relationship through food. At first, she started asking me for simple cooking advice - how do you make pasta sauce? How do you cook eggs? Then we may have made some things together while I was visiting (I forget now). I had begun living away from home at the time, so it got a bit easier to talk and not to fight. Then she fell in (and out) of love, and I started giving her some clumsy advice. Bit by bit, we began rebuilding our sisterly relationship. And I discovered there's a lot more to birthright than just the honour of being an older sister - there is also responsibility, tenderness, love and guilt. I began to appreciate Esau's actions; how easy it would be, to never have to be responsible for another living creature, and get a bowl of delicious stew to boot. The old stories began to make some sense.
Nowadays, my sister and I are actually friends. We still fight occasionally, and we don't talk nearly as often as either one of us would like (trans-Atlantic relationships will do that to you). I think about her often, and I am never ashamed to say I love her. We haven't cooked together in years, though recently I have heard that she has become quite the cook herself. I look forward to tasting her dishes one of these days. And I think of her each time I cook simple, Israeli dishes, because she has a strong dislike towards anything too 'Soviet'.
I still don't think I would give up my birthright. But I would give a lot for this simple, nourishing, hearty and fragrant red lentil stew, topped with languid, sweet caramelized onions, and a drizzle of tangy vegan cumin crema. However, as this (nearly) one-pot-meal takes about an hour to throw together and will keep you satisfied for hours, I don't think you have to give up much for the right to make it. And I don't think my sister would turn up her nose at it, either.
Tried and loved this recipe? Please leave a 5-star review below! Your reviews mean a lot to me, so if you've got any questions, please let me know in a comment.
Recipe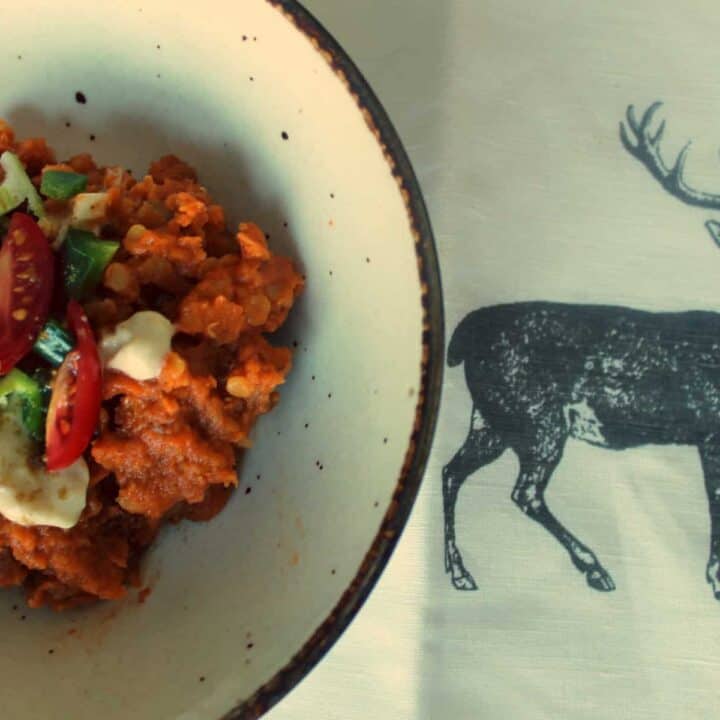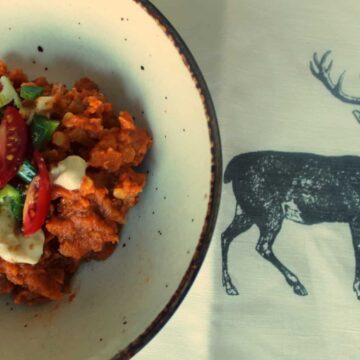 Red lentil stew with potatoes, caramelized onions and vegan cumin crema
A simple, nourishing, hearty and fragrant red lentil stew, topped with languid, sweet caramelized onions, and a drizzle of tangy vegan cumin crema.
Ingredients
1

Tb

of vegetable oil

1

Tb

of vegan margarine

2

onions

2

large carrots

or 3 medium ones

1 - 2

fresh jalapeno or banana peppers

depending on your spice preference

2

large potatoes

or 3 medium ones

3

Tbs

of vegetable oil

2

cups

of red lentils

4

whole cloves of garlic

1

Tb

cumin

½

Tb

coriander

2

teaspoons

cinnamon

1

bay leaf

3

teaspoons

salt

3

teaspoons

of sugar

½

cup

tomato paste

or one small 150ml can

Juice of half a lemon

3

Tbs

vegan sour cream

garlic clove

2

teaspoons

cumin

teaspoon

of soy or almond milk

½

a teaspoon of lemon juice
Instructions
Finely chop onions. Heat a medium-sized pan to medium heat. Add 1 tablespoon of oil and margarine. Add onions and sauté on medium heat for 5 mins, until onions soften slightly. Lower heat to medium-low and cook for 20 minutes, then add a pinch of salt. Continue cooking on low heat for another 10-20, until they have browned and caramelized. Add ½ Tb of sugar in the last 5 minutes, and raise heat to medium.

While onions are cooking, chop carrots, potatoes, and peppers finely. Bring a large pot to medium-high heat, add 3 tablespoons of oil and vegetables. Sauté until veggies heat slightly, stirring constantly, about 10 minutes. Cover with lid and lower heat to medium-low, let cook for another 15 minutes, stirring occasionally.

Add red lentils and enough water to cover the mixture, plus one inch. Let cook for 2 minutes. Cut garlic cloves in half. Add garlic, spices, and tomato paste. Cover and let cook on low-medium heat for 20 minutes, stirring occasionally.

Taste and adjust flavourings. Add the juice of ½ a lemon. Taste again. If lentils and vegetables are not cooked through, cover and cook on low heat for another 10-15 minutes.

Top stew with caramelized onions and vegan cumin crema.

To make cumin crema:

Mix 3 tablespoons of vegan sour cream with 1 finely chopped garlic clove, 2 teaspoon of cumin, one teaspoon of soy or almond milk, and ½ a teaspoon of lemon juice. Taste, and adjust seasonings as necessary, adding more lemon juice or a splash of more milk if mixture is too thick.
Tried this recipe?
Comment + Rate Below!
Connect on Instagram!
Find us @immigrantstable