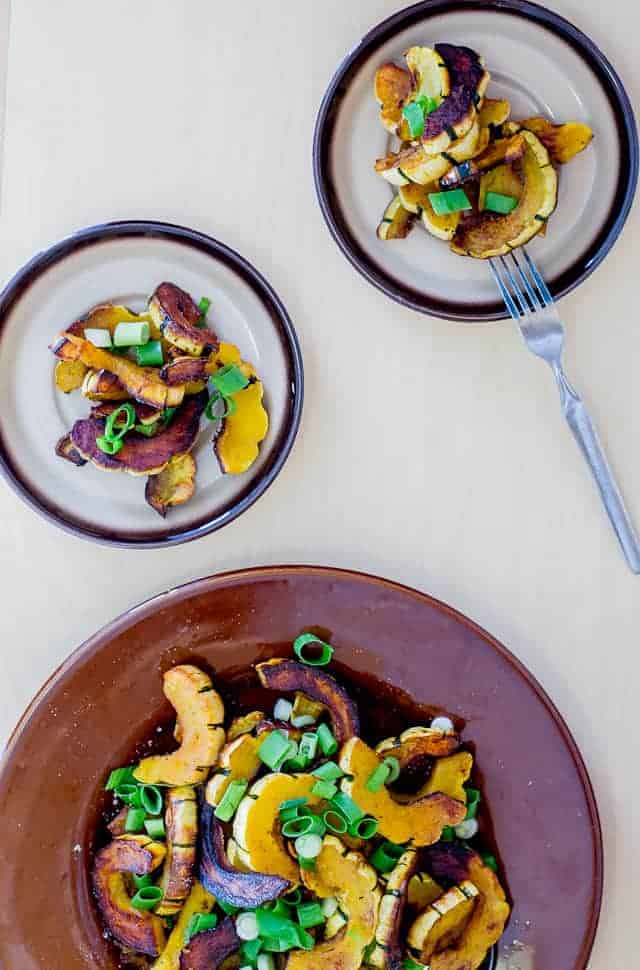 For Thanksgiving this year, G and I got up at 5:45am on a Saturday and took a five-hour bus ride down to Toronto, where his brother awaited to take us further to their home in Southern Ontario. When there, we were treated to a weekend packed full of baby snuggles, endless cups of tea and coffee, pumpkin picking, and of course, pie. But one of the weekend's biggest revelations, to me, was this simple side of roasted delicata squash - soft and faintly tropical from the coconut oil, this salad melts in your mouth with only a little bit of resistance, punctuated by the sharp taste of scallions and sprinkled with toasted pumpkin seeds. But before all that, there was family time.
The first time I met G's brother wasn't exactly smooth sailing. A few days into our visit, the three of us decided to go on a tour of a winery, as the Niagara Peninsula was so close to where they lived. After hours of wondering through dimly lit, cavernous halls, tasting several glasses of fermented grape juice, and some deep conversations about politics and philosophy (that I may have abstained from), we were all famished and looking for a place to eat. But on a Sunday afternoon, the little picturesque towns we drove through looked more like ghost-towns, the closed shutters on their store windows swinging back and forth in the afternoon breeze. So by the time we found a board game and health food cafe that was, miraculously, open, we were (and perhaps I speak only for myself here), not in the mood for idle chitchat.
Perhaps I should preface this by explaining I have a horrible case of hanger. That is, when I am hungry, all civilized behaviour goes out the window and is replaced by a raging little monster in the pit of my stomach, yelling at me to feed it. And so, I tend to be quite angry when waiting for food. So angry, in fact, that it is probably not a good idea to start playing competitive games while I wait for my food.
Yet that is exactly what we did. And somewhere in the midst of a riveting game of [amazon text=Amazon&asin=Carcassonne], G took a wrong move and cornered me in a way that I judged to have doomed my game (perhaps arguably). I proceeded to call him out on his actions, using some not child-friendly language, and may or may not have stormed out of the restaurant with everyone staring at me (G claims I turned the board over, sending all the pieces flying into the air. I vehemently deny this). I'm going to go out on a limb here and say his brother probably wasn't very impressed with me at that moment.
Eventually I came back, apologized, and proceeded to clumsily patch over my behaviour. Since then, I have spent many days with G's brother, his wife and now, their lovely baby, and I dare say that I *think* I made up for the "Carcassone incident of 2012". But each time I look at his brother, I can't help but feel a pang of shame. So as I'm wont to do, I try to make up for it with food.
This year for Thanksgiving, our table was laden with dishes, all of them vegetarian. Many of them were incredible, the result of a few hours of work by everyone in the household (except the baby. Children under 2 are useless sous-chefs, I tell you).
There was vegan hubbard squash pie (coming Wednesday), lentil meatloaf with vegetarian gravy, glazed carrots in soy sauce, and roasted baby potatoes. There was beet salad in mayonnaise, stuffing and cranberry sauce. There were Gimme Some Oven's vegan biscuits (make these now, I tell you! They're amazing) and sauteed beet greens. And most importantly, there was wine (though from a different winery than the one we visited two years ago. I'm not looking to bring back any bad memories). And then, there was this roasted delicata squash salad.
This side does not require a special occasion, or even an attempt to patch things up with your partner's family. Adapted from this recipe from Averie Cooks, this side is vegan and gluten-free, and is suitable for a paleo or plant-based diet, or for those abstaining from processed fats. It is best served hot, straight out of the oven, and it's rich and filling while also being high in beta-carotene and other antioxidants. It requires very little work, and the bottom line is - you should probably make this now. Just don't wait until you're very hungry, or they may be some unfortunate incidents involved.
Roasted delicata squash salad
Soft and faintly tropical from the coconut oil, this roasted delicata squash salad melts in your mouth, punctuated by the sharp taste of scallions & seeds.
Print
Pin
Rate
Ingredients
2

medium delicata squashes

trimmed to ¾-inch thick pieces

4

tablespoons

coconut oil

2

teaspoons

cinnamon

2

teaspoons

ground ginger

1

teaspoon

chili powder

salt

optional and to taste

2

scallions

¼

cup

pumpkin seeds

Zest and juice of half a lime
Instructions
Preheat oven to 425F. Line a baking sheet with aluminum foil and a tablespoon of coconut oil.

Carefully slice delicata squash in half lengthwise, remove fibrous middle and seeds and discard. Slice squash it into ½-inch thick crescents.

Arrange squash pieces on baking tray and spoon coconut oil on top. Sprinkle cinnamon, ginger, chili, and salt. Toss to distribute evenly, and arrange squash in an even flat layer.

Bake for 30-40 minutes, turning the pieces over in the middle to ensure equal browning.

Meanwhile, toast pumpkin seeds on a pan on low-medium heat for about five minutes, stirring often to prevent burning. Slice scallions finely.

Ladle squash onto big serving platter or bowl. Top with toasted pumpkin seeds and scallions, and the zest and juice of ½ a lime. Taste, and sprinkle with additional salt as needed. Serve immediately.