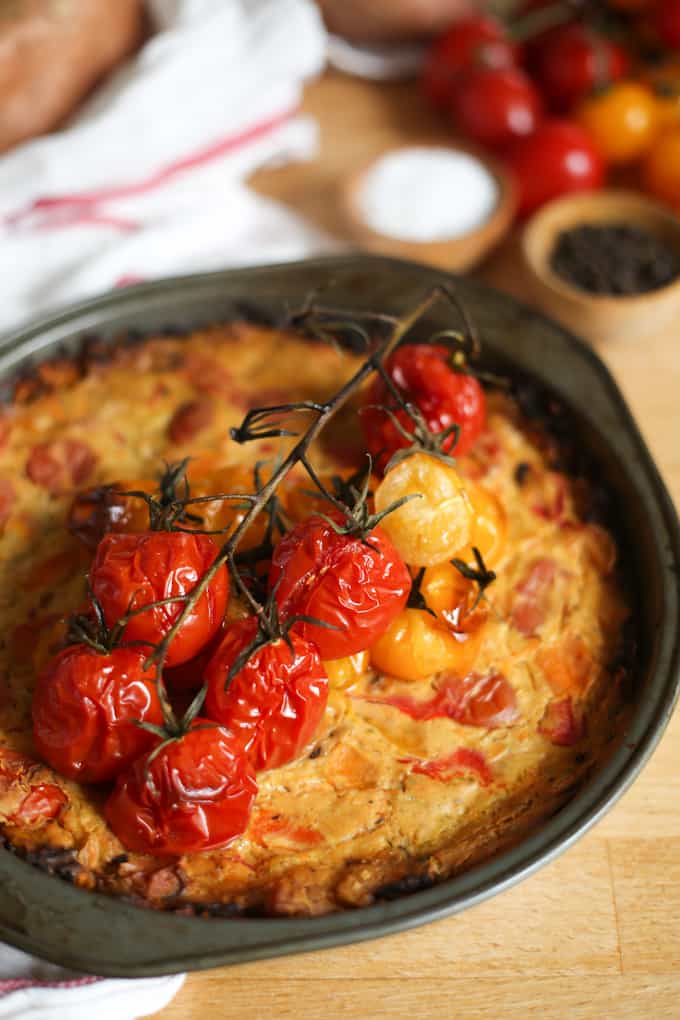 The secret to this vegan quiche is the perfect sweet potato crust, and the cheesy, earthy tofu filling with juicy cherry tomatoes and roasted peppers.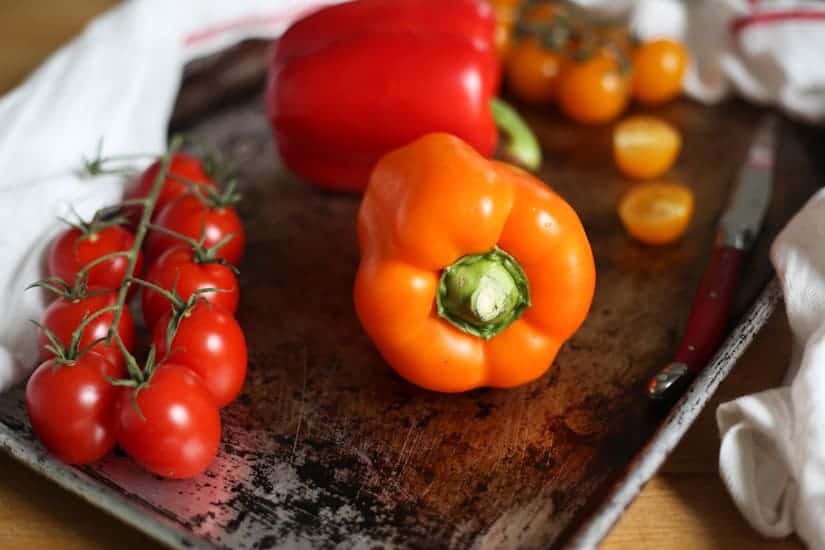 The moment that the door closed sent a ripple of joy through my body. Feelings of relief, excitement and freedom all began to course through my mind, telling my feet to move faster, my hands to fidget harder. This was finally it: the long-awaited moment that my parents went on vacation and left me home alone. And like every self-respecting teenager, I immediately proceeded to go and do one thing: make quiche (though it was not vegan quiche at the time).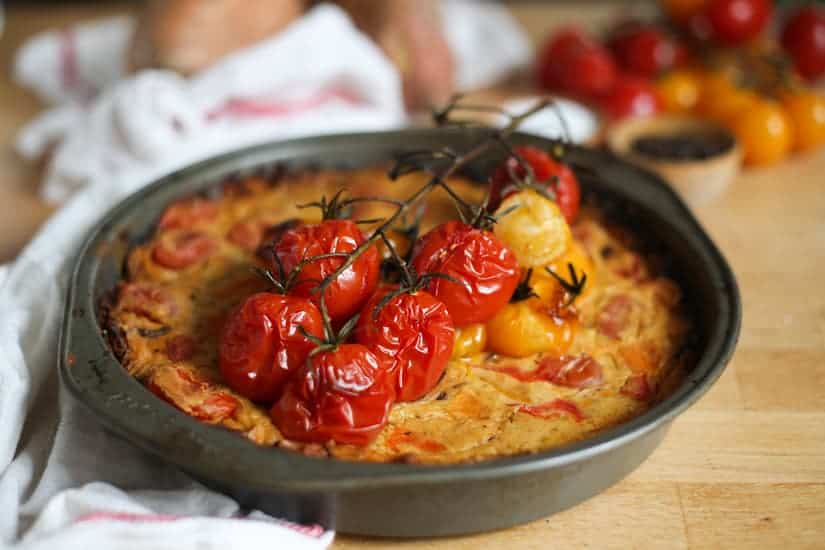 That day, I prepared an entire feast centered on quiches. Eggplant and tomato pie with feta; spanakopita; a simple mushroom and corn quiche. Accompanied by light salads and molten lava chocolate cakes for dessert, this was the Shavuot feast that I have been dreaming of that whole year. I invited all my friends, my boyfriend stayed over, and though of course wine was had, the overall sense of debauchery was certainly not what you would expect from a teeanger left to their own devices for a weekend.
But how could you act rotten when there's quiche on the table?
Quiche is a mainstay of Israeli cuisine. Though what Israelis refer to as quiche, or "pashtida", is far from the classic French standard; though the eggs, cheese and cream are usually there, their ratio varies dramatically, the presence of a crust is hardly mandatory, and the overall results can be as different from one another as organic heirloom tomatoes. There are dozens of options, and the final recipe is usually dependant on the home cook's fridge and cupboard supplies more than some sacred ratio or the coolness of the dough. Israeli quiche is diverse, quick and easy - and it's simply a different ballgame than its North American and European cousins.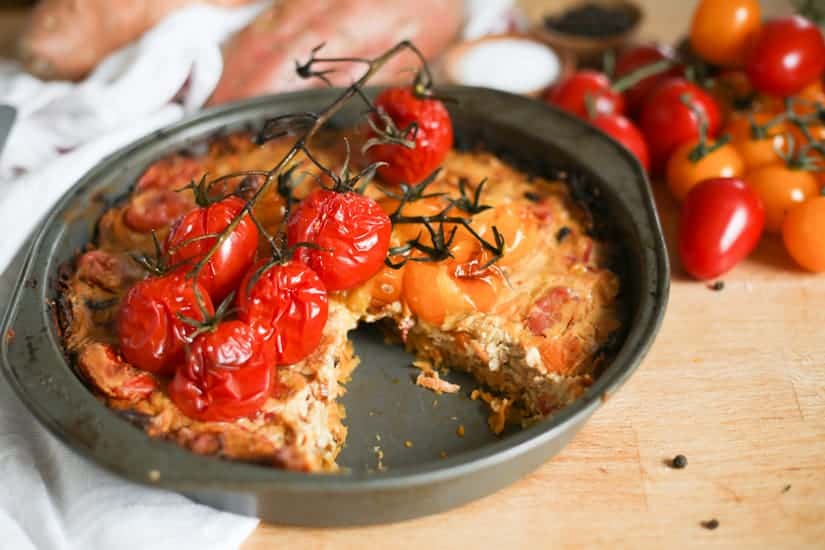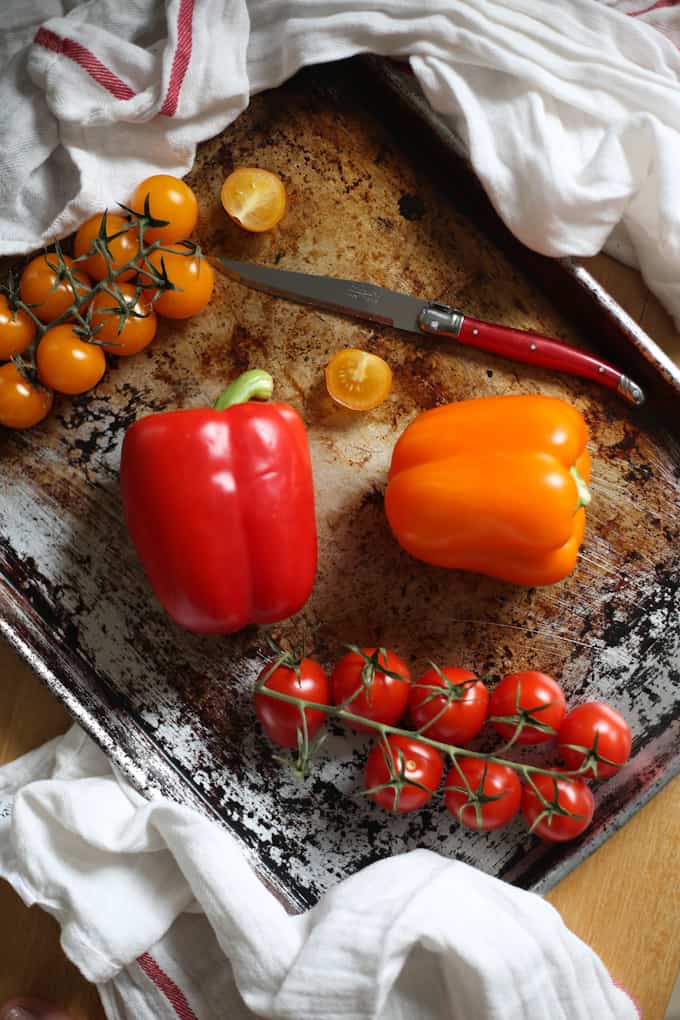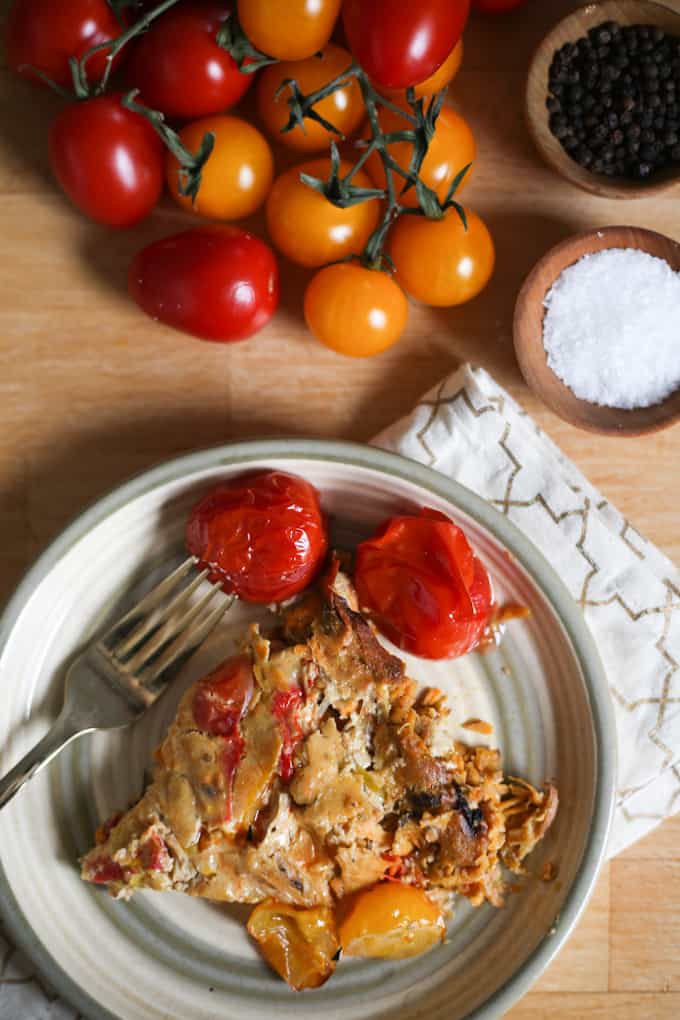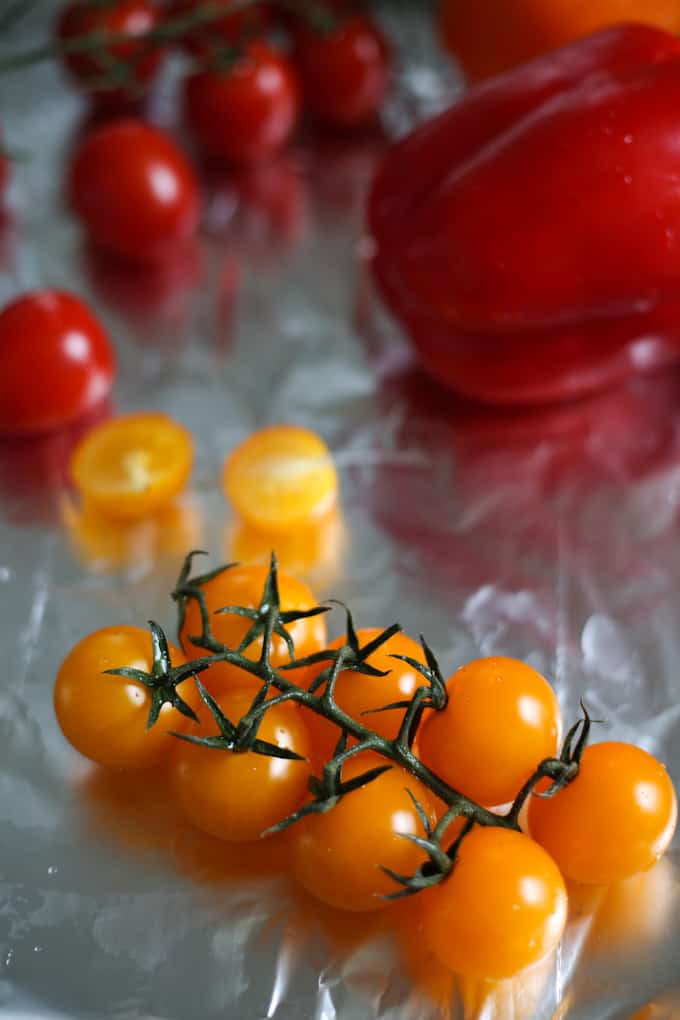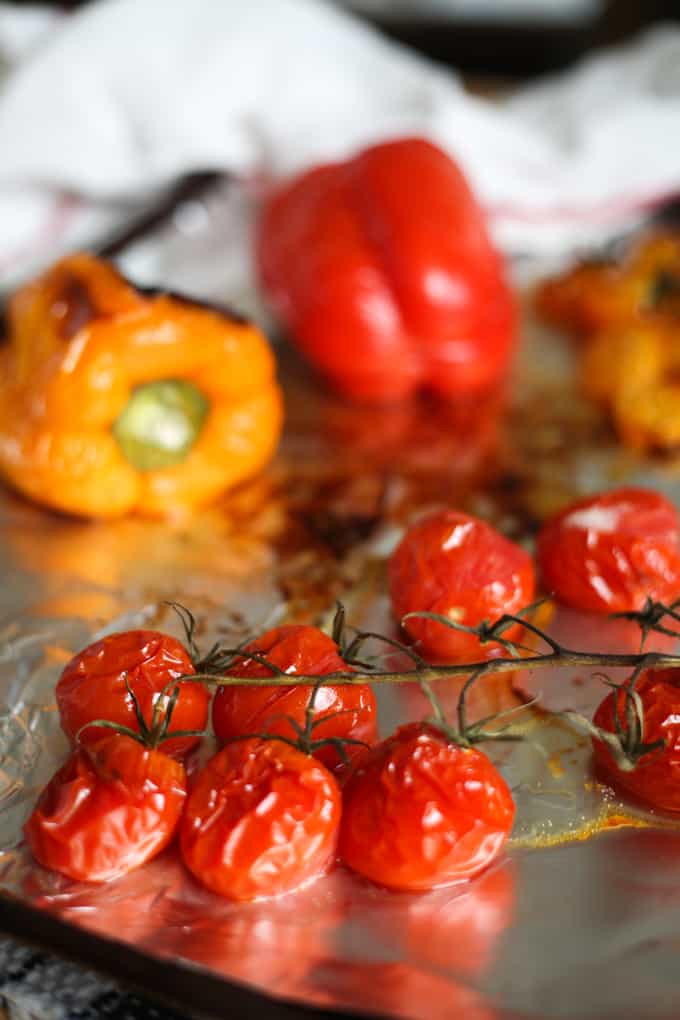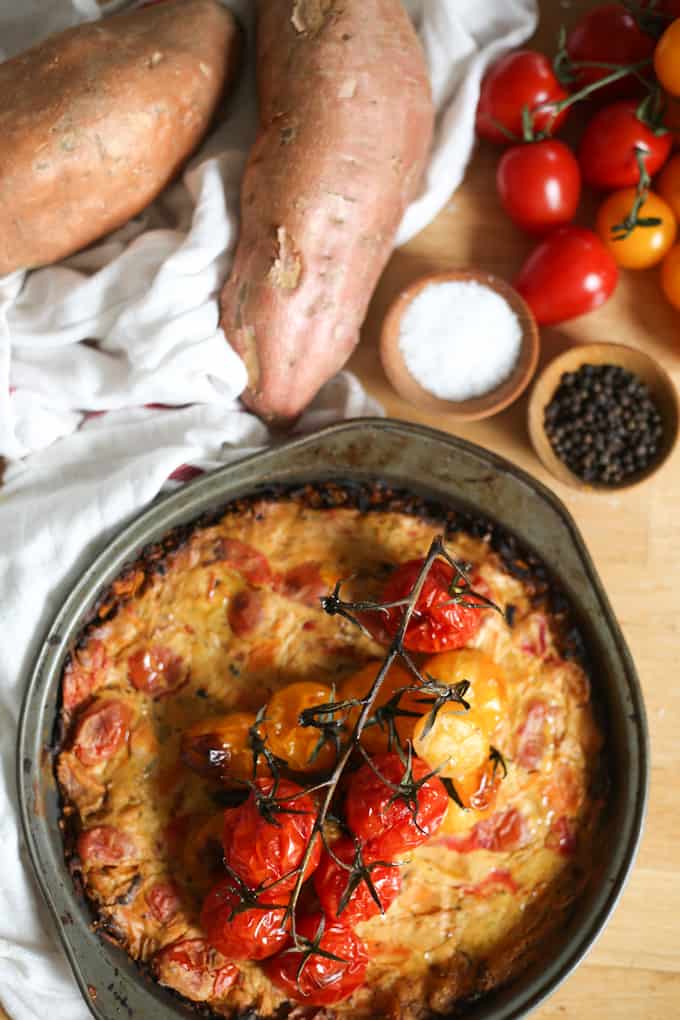 All that being said, this vegan quiche with roasted peppers and tomatoes is a compromise between what most of my readers will know as quiche and what I've come to expect from Israeli pasthida. I made it twice last month, for the two different seders I went to, each time with a different filling (the second filling I made was leek and mushrooms, which is my favourite quiche and kugel filling). And they were both delicious.
The secret of this vegan quiche is the perfect sweet potato crust, and the tangy, earthy filling that incorporates the flavours of hummus and nutritional yeast. The roasted tomatoes are bursting with juice, while the luscious roasted peppers lend the whole thing a silky feel. The end result is a dish that is surprisingly simple to make, but incredibly delicious to eat.
To those who are leery of vegan quiche - have no fear. If the stretch between this colourful vegan quiche and your traditional idea of the egg, cheese and cream-laden French concoction you've come to think of as quiche is just too great, throw aside the labels.
Just think of it as an Israeli pashtida, and you'll be fine.
Tried and loved this recipe? Please leave a 5-star review below! Your reviews mean a lot to me, so if you've got any questions, please let me know in a comment.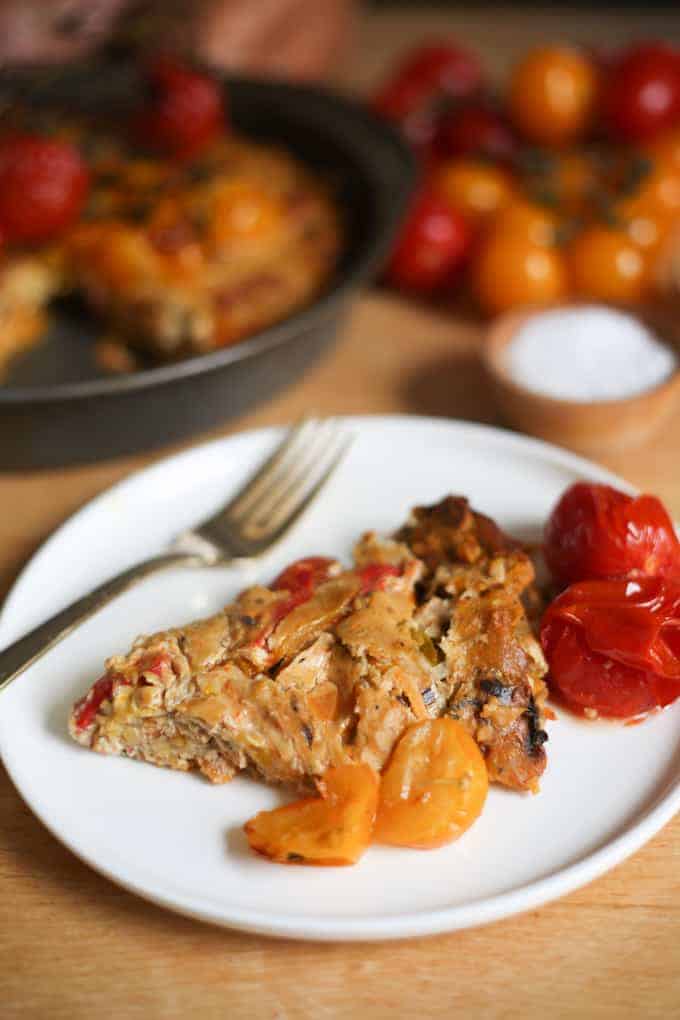 Recipe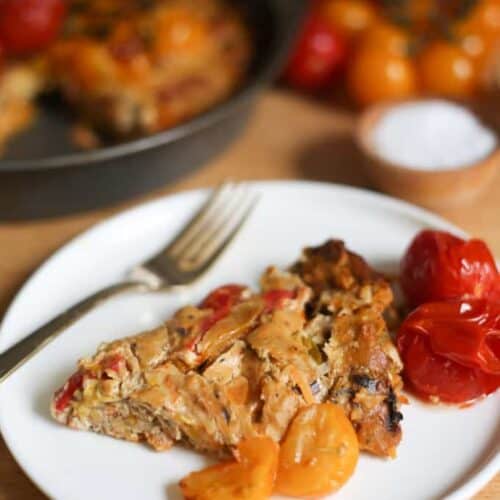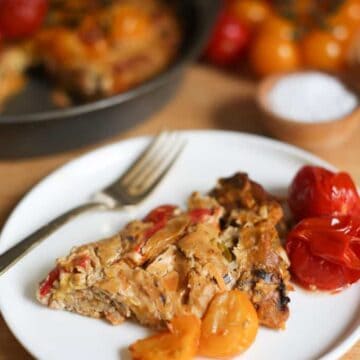 Roasted pepper and tomato vegan quiche with sweet potato crust
The secret to this vegan quiche is the perfect sweet potato crust, and the cheesy, earthy tofu filling with juicy cherry tomatoes and roasted peppers.
Ingredients
CRUST
2

medium sweet potatoes

3 cups grated

2

TB

melted vegan butter

or sub olive oil with varied results

¼

teaspoon

sea salt and pepper
Instructions
Grate sweet potatoes and squeeze until dry. In a large bowl, mix sweet potatoes with 2 TBs oil, salt and pepper. Oil a pie dish, and arrange sweet potatoes in the shape of a pie crust.

Arrange whole peppers and cherry potatoes on a baking sheet. Drizzle with oil and roast on high heat (450F) until the skin on the sweet potatoes begins to scorch in places, approximately 25 mins.

While crust is baking, coat a baking sheet with aluminum foil. Arrange tomatoes and whole bell peppers, drizzle with 2 tablespoon olive oil and a healthy pinch each salt and pepper and toss to coat. Place in the 450 degree oven with the crust. Continue baking after crust is done, turning bell peppers over to ensure all sides darken evenly. The crust is ready when the tomatoes have burst in parts and the bell peppers have blackened fairly evenly - about 30 minutes in total. Place bell peppers into a ziploc bag, seal and allow to sweat for about 10-15 minutes. Peel peppers and cut them into strips. (these two stages can be done in advance).

To prepare quiche filling, add drained tofu to a food processor with nutritional yeast, hummus, garlic cloves, cumin, sea salt and pepper and optional red pepper flakes. Process until smooth.

Add roasted peppers and tomatoes to a mixing bowl and top with the tofu mixture. Toss to coat. Fill quiche crust with mixture, spreading it into an even layer and smoothing the top.

Bake quiche at 375 degrees for a total of 30–40 minutes, until top appears golden brown and firm. If the crust browns too quickly, loosely cover the edges with foil.

Let cool briefly before serving. To reheat, place in a 350F-degree oven for 5-10 minutes, taking care not to burn the edges.
Tried this recipe?
Comment + Rate Below!
Connect on Instagram!
Find us @immigrantstable