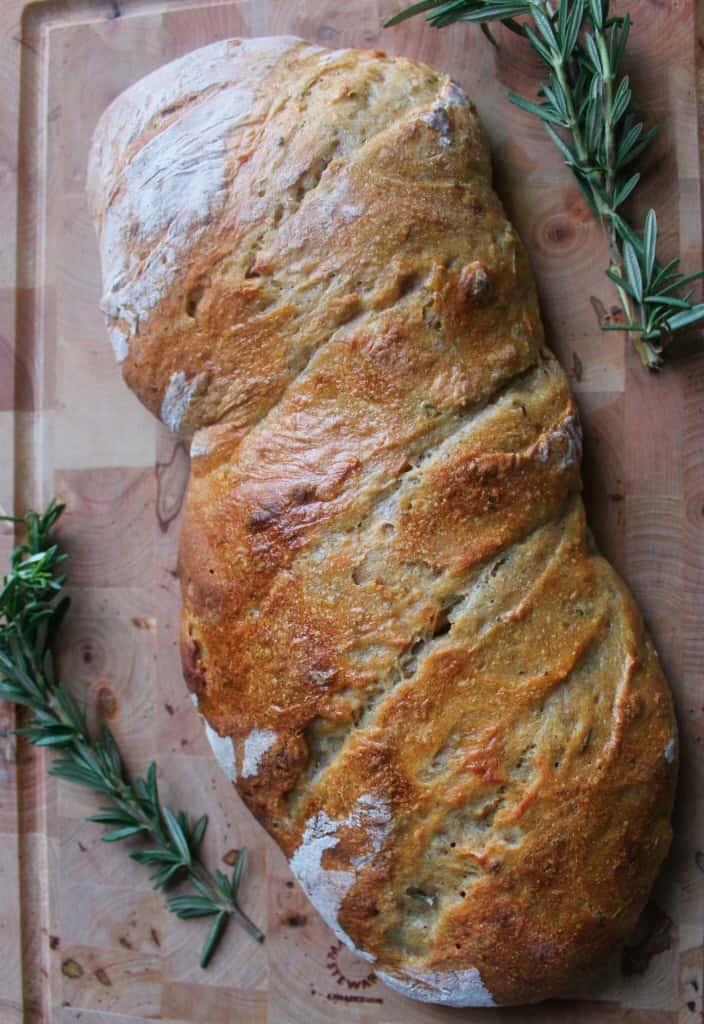 This crisp-crusted, golden rosemary sourdough bread is interspersed with hearty, fragrant herbs, and is great with a smear of butter, or a dab of jam. Adapted from Judith Fertig's wonderful 200 Fast and Easy Artisan Breads, a book every bread baker should have. This post contains affiliate links – thank you for supporting the brands that help make this blog possible.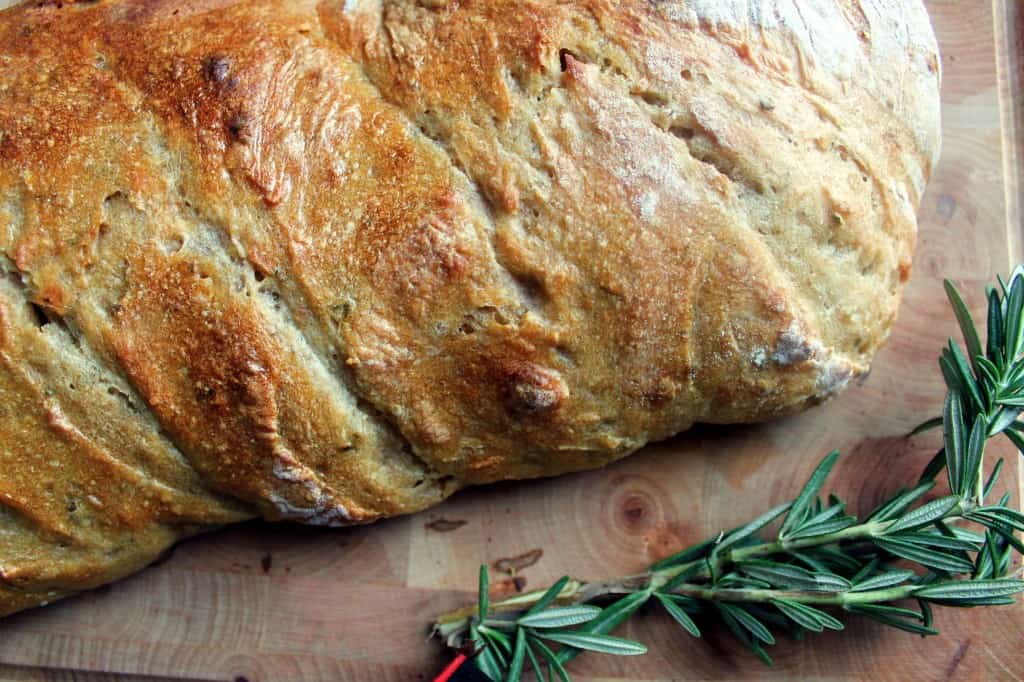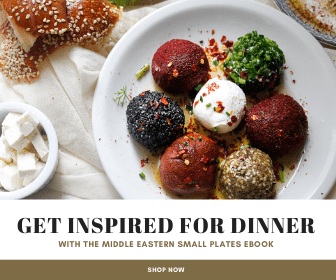 There is a reason we associate bread with comfort. The smell that wafts through our homes when fresh bread is laid on the table, the warmth of a working oven, the crackling of a well-crisped crust, and the bountiful shape of a loaf all speak to our senses, promising treasures and pleasures beyond the humble union of flour, water, and wild yeast.
Its ability to fill us, to satiate that deep hole in our bellies that has been worn by time, the demands of modern life, and bottled up emotions are incomparable.
As much as I love salads, rice, roasted vegetables, and even the humble potato, few things speak to my soul as much as freshly baked rosemary sourdough bread.
The art of sourdough bread baking
I love delving into sourdough bread making. It started with my journey to find the perfect starter (with help from Peter Reinhart and Tartine Bakery). Then continued to finding ways to shape, proof and score the perfect loaf. And finally, culminated with my attempts to orchestrate the perfect oven bread baking environment.
Though frustrating at times, all of it was a form of meditation.
I do not remember anyone in my family ever baking bread. Even my industrious grandmother Berta, who grew up on a semi-urban farm during war times and provided much of the family's food, has abandoned that pursuit when technology and money improved.
I can only assume my grandparents did not see the pleasures and benefits of bread-baking like I did.
To them, I imagine the pursuit of bread-baking seemed a wasteful drudgery, a labour from which even the Bolshevik revolution couldn't emancipate them quickly enough.
To me, it's a fanciful way of reconnecting to something earthen, pure, and of course, healthy.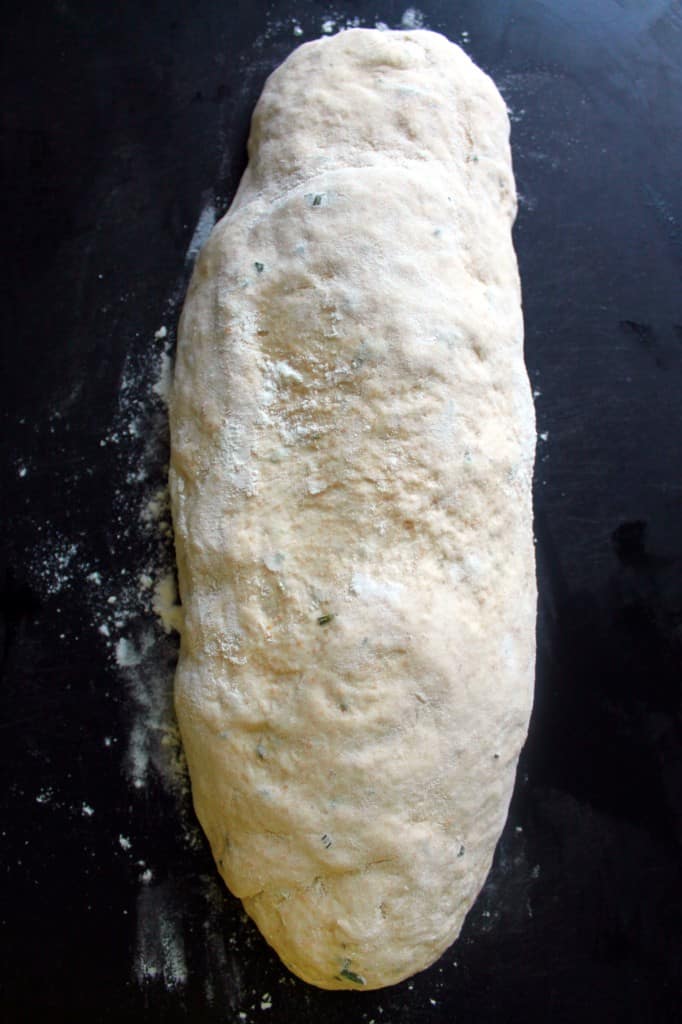 The meditative impact of bread baking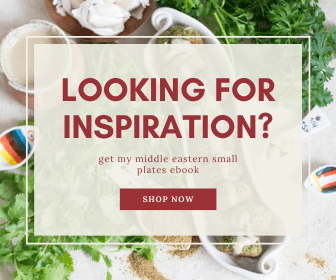 In these days of stress, I return to bread baking. When the demands of the world seem to multiply, while the temperatures continue to drop, and melancholy, exhaustion and a deep, deep hunger threaten to pummel me, I mix water, flour, and a bit of sourdough starter in order to create magic.
I give of myself to this mixture, shake it into a loaf of rosemary sourdough bread, and I hope it will be give back in sustenance and nutrients.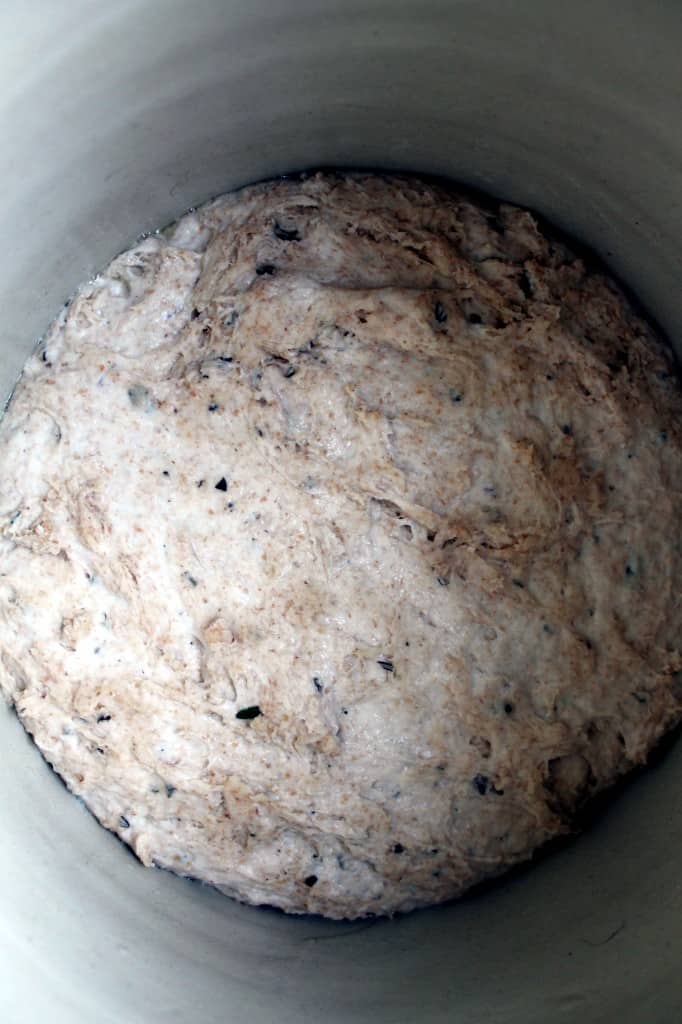 Falling in love with Italian rosemary sourdough bread
Having documented my initial experiments with sourdough, I have been feeling confident enough to try a different bread recipe. I turned to a seemingly simple book, Judith Fertig's 200 Fast and Easy Artisan Breads. And the results were truly more than the cover would have suggested, though I did have to tinker with it just a bit to produce a rosemary sourdough bread.
This crisp-crusted, golden rosemary sourdough loaf is interspersed with strands of hearty rosemary, one of the only herbs that seems as at home in the bleak landscape of Winnipeg's winter as it does in the desert heat of the Israeli summer.
It slices beautifully, serving as a resting pad for a smear of butter, a dab of jam, or a whole sandwich. And it comforts me.
And right now, that's the best part about it.
Note: for best results, bake this Italian rosemary sourdough bread on a pizza stone.
See the Italian Rosemary Sourdough Bread Web Story
To see our step-by-step animated web story about how to bake Italian Rosemary Sourdough Bread, check out this link.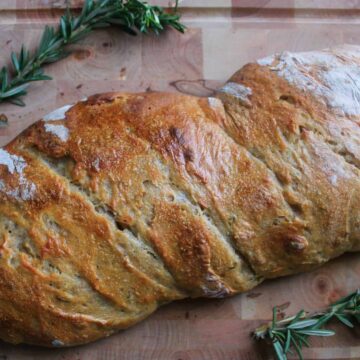 Golden Italian rosemary sourdough bread
This crisp-crusted, golden loaf is interspersed with hearty, fragrant rosemary. It slices beautifully and is great with a smear of butter, or a dab of jam. Note that the process of reviving your starter for bread baking takes about two additional days, while the bread needs between 12 to 24 hours to rise, so plan accordingly.
Print
Pin
Rate
Ingredients
2

cups

unbleached all-purpose or bread flour

plus more for dusting (if you're using non-Canadian flour, Fertig's recipe calls for an additional ¼ cup)

½

cup

whole-grain flour

½

tablespoon

fine kosher salt

1- 1.25

cups

room-temperature water

start with one cup and add up to another quarter depending on dryness of dough. You don't want a dough that is too dry

1

cup

prepared and fed sourdough starter

instructions on how to prepare your starter in recipe body

3

stalks of fresh rosemary

or about ⅛ of a cup

¼

cup

cornmeal or polenta

AP flour for dusting

a tablespoon of olive oil

2

cups

hot water for broiler pan
Instructions
Two nights before you're planning to bake your bread, revive your starter: remove starter from fridge and let come to room temperature. Stir the starter well to recombine any liquid that may have gathered on the top. Measure out 1 cup of starter.

Place 1 cup starter in a large jar, bowl, or container, add 1 cup of water and 1 ½ cups of flour and mix until combined. The mixture will be lumpy, like pancake batter. Cover loosely with plastic wrap and keep at room temperature (I keep my starter on top of the fridge) overnight.

Refresh it once more in the morning with 65 grams of water and 50 grams of flour, and once again that night. The starter will be ready to use at night, or the next morning, when it bubbles and smells yeasty.

You will need 1 cup of refreshed starter.

When ready to bake, chop rosemary finely. Dump the bread flour and whole-grain flour into a mixing bowl, and stir with a wooden spoon to combine well. Add salt and chopped rosemary, and stir to combine.

Pour in the water and starter and stir together until just moistened. Beat 40 strokes, scraping the bottom and the sides of the bowl, until the dough forms a thick, spongy mass.

Transfer dough to an oiled crockpot or an oiled large glass bowl. Cover the bowl with plastic wrap or a large plate and let ferment at room temperature 72°F (22 °C) for 12 to 24 hours, or until the dough is bubbly on the surface, has a sponge-like appearance and has either doubled or risen by half. I place my bowl, covered, in a oven that is turned off, or simply under the table in the kitchen.

Use right away or place the bowl, covered with plastic wrap, in the refrigerator for up to three days.

When dough is ready, place it on a generously floured surface and dust with more flour. Flour your hands. Using a dough scraper or floured hands, scrape the dough up and over itself, flouring and turning it as you go, for 12 to 15 turns, or until dough is soft and not sticky (this method is fantastic, and the dough is not overworked). Dust very lightly with flour.

With floured hands, work the dough as little as possible and form it into a wide 10-12 inch batard. Pinch the ends and all seams closed, and lightly flour sticky spots. The dough should be smooth and soft, and not sticky. If sticky, add a bit more flour.

Prepare a baking sheet or cutting board (the bottom must be flat). Line it with a clean kitchen cloth, or parchment paper, and dust it with flour. Without moving your batard too much, use a dough scraper (or well-floured hands) to slide your dough onto the floured surface.

Cover the dough with plastic wrap sprayed with oil, oily side down. Let rest at room temperature (again, I use a turned-off oven) for 5 to 8 hours.

About 30 minutes before baking, place a broiler pan on the bottom rack of the oven. Place your baking sheet on in the middle of the oven. Preheat oven to 450F.

Remove plastic wrap from batard. Using a sharp knife, make three to five crosshatch slashes diagonally across the top of the loaf.

Very carefully and wearing oven mitts, remove the hot baking sheet from the oven, and cover with parchment paper. Sprinkle the cornmeal on the paper. Using the dough scraper and well-floured hands, slide the bread from the pan onto the baking sheet, taking care to keep its shape. Place baking sheet back in the middle rack of the oven.

Pull lower rack of the oven halfway out, and pour 2 cups of hot water into the broiler pan. Spray batard with water, but take care not to drench it. Return rack into the oven, and close oven door immediately.

Bake for 27 to 30 minutes, lightly spraying the loaf with water three times during baking. The bread will be ready when crust is golden-brown. Remove baking sheet from the oven, and, wearing kitchen gloves, remove bread onto wire rack to cool.
Nutrition
Calories:
1488
kcal
|
Carbohydrates:
301
g
|
Protein:
48
g
|
Fat:
9
g
|
Saturated Fat:
1
g
|
Sodium:
3550
mg
|
Potassium:
596
mg
|
Fiber:
18
g
|
Sugar:
2
g
|
Calcium:
88
mg
|
Iron:
6
mg