The sabich sandwich is an amazing Israeli invention that marries fried eggplant, potatoes, hard-boiled egg and pickles! Add a few vegetables, slather on the tahini sauce and add some spice; you've got the perfect eggplant sandwich.
While waiting at the bustling central bus station in Israel, one can't help but notice the enticing aroma of fast food.
Israeli fast food offers a variety of delicious options such as falafel in pita bread, shawarma in a baguette, bourekas, and chocolate rugelach. Although high in calories, these delicacies serve as a quick pick-me-up for weary travelers.
Among these tasty treats, my personal favorite is the sabich sandwich. This unique creation combines fried eggplant, creamy tahini, starchy potatoes, hard-boiled egg, zesty pickles, and spicy harissa. While it traditionally includes a hard-boiled egg, it can easily be omitted to suit vegan diets and personal preferences. This flavorful sandwich can be easily made at home using the traditional pita or your favorite type of bread (or no bread for a gluten-free sabich salad!), making it a perfect option for satisfying any craving.
Inspiration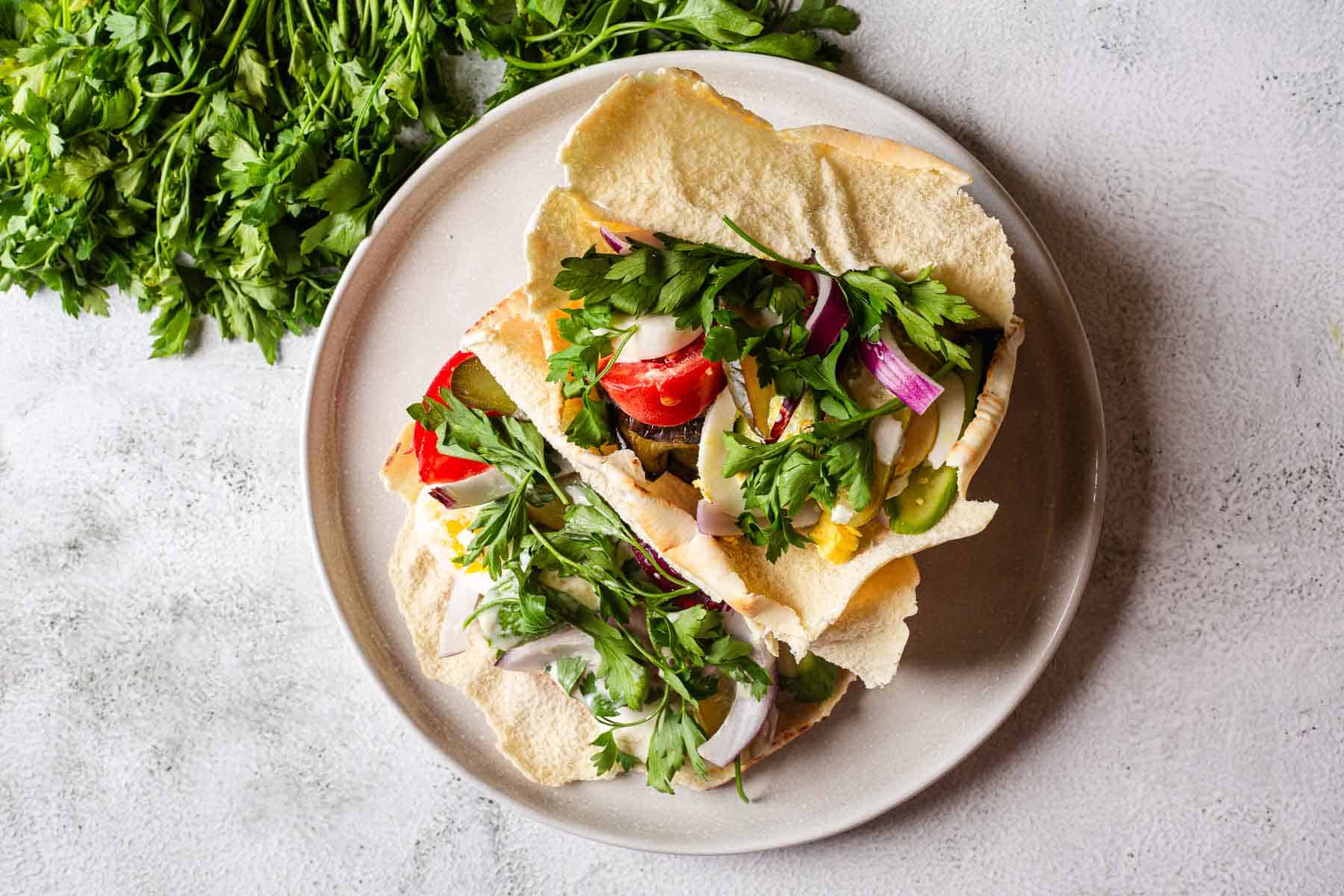 I find the Israeli Sabich sandwich's combination of flavors and textures to be truly inspiring. From the fried eggplant and boiled eggs to the creamy hummus and tangy tahini sauce, this sandwich showcases the best of Israeli cuisine. The fresh Israeli salad and zesty amba sauce add layers of taste to this unique dish. It's a testament to how food can bring cultures together.
But it's more than just a delicious meal; it reflects the diverse culinary influences in Israeli culture. Learning about this sandwich's various components and origins can deepen our appreciation for the rich history and traditions that have shaped this unique cuisine.
As we enjoy this scrumptious sandwich, let's remember the power of food to inspire curiosity, spark conversation, and connect people from all walks of life. Relish each bite and let the flavors awaken your senses. With every mouthful of this delightful creation, savor the inspiration behind this Israeli culinary creation.
What is a sabich sandwich?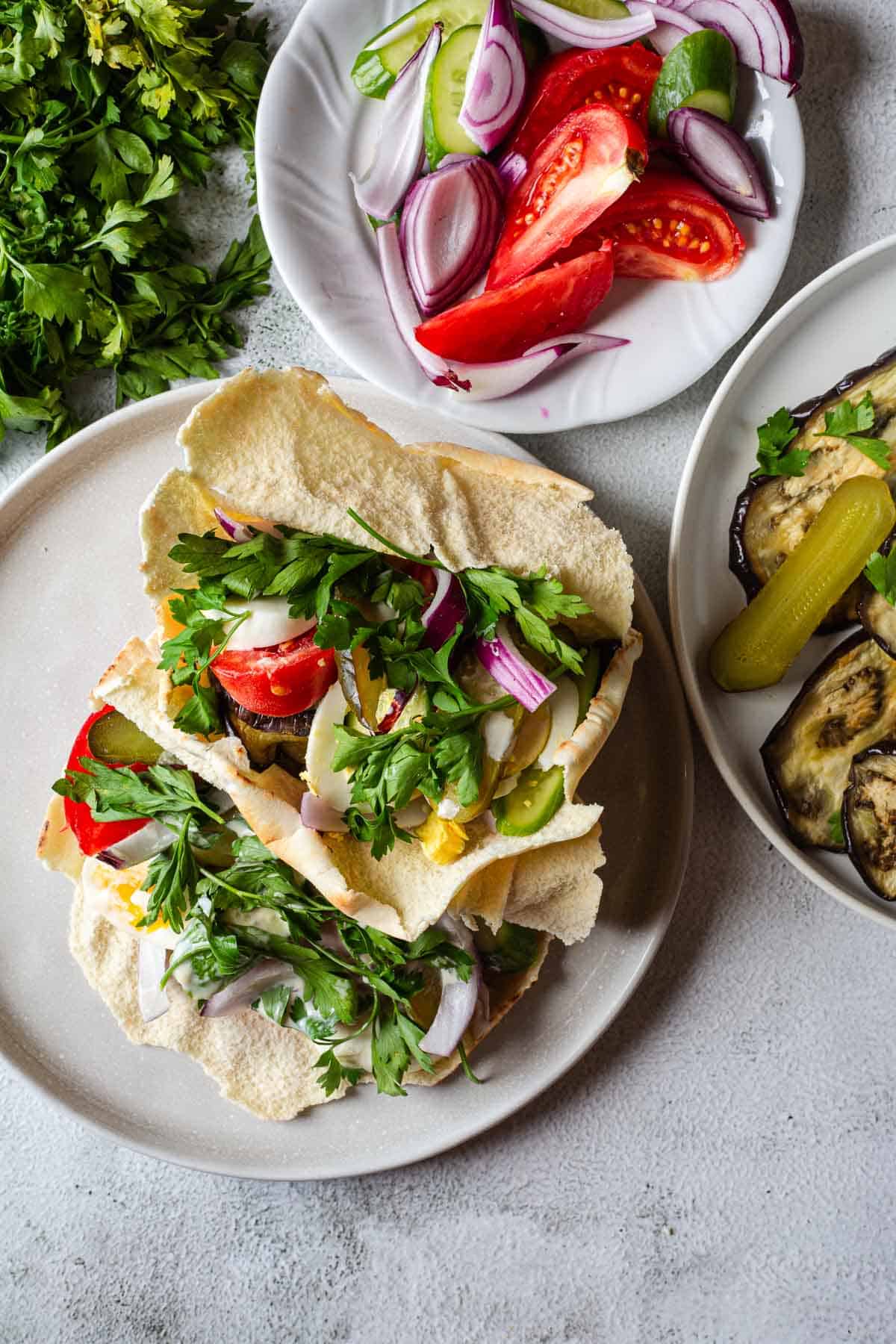 Sabich is a rich and filling sandwich with layers of fried eggplant, creamy tahini, starchy potatoes, zesty pickles, a sharp, spicy smear of harissa, and parsley. Originally, the harissa was replaced by amba, a spicy pickled mango sauce. It's a popular Middle Eastern dish, often enjoyed for lunch.
What is the origin or history of the sabich sandwich?
The sabich eggplant sandwich was first brought to Israel in the 1940s and 1950s by Iraqi Jews. The name "Sabich" is thought to come from the Arabic word for morning, and it was originally a typical Iraqi Jewish breakfast item. The sandwich is credited to Sabich Tsvi Halabi, a Jewish man born in Iraq who operated a small restaurant in Ramat Gan, Israel, and is known for originally serving this Israeli breakfast sandwich. Overtime, people started ordering it at all hours of the day, and the sabich made its way to lunch.
Ingredients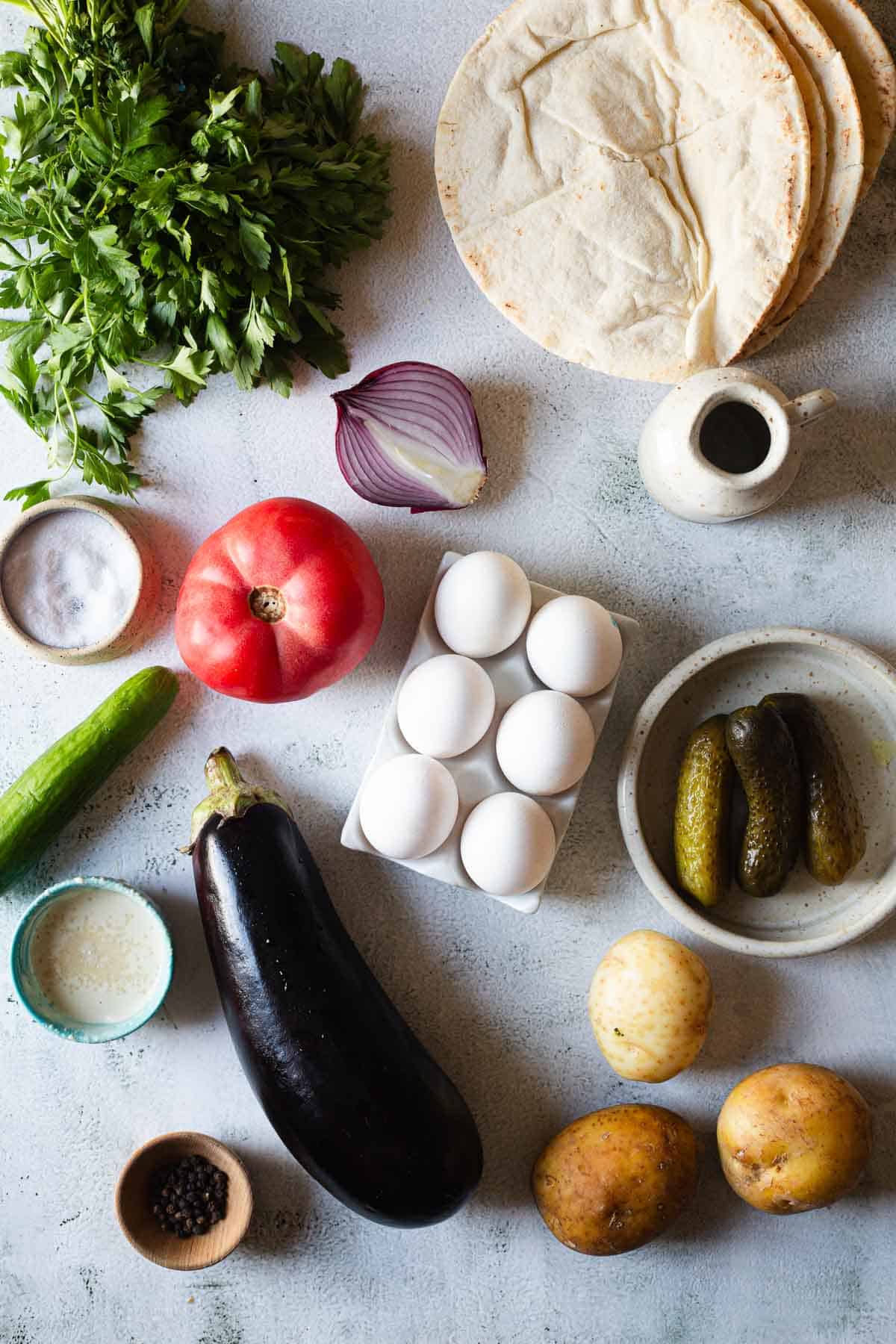 This popular Israeli street food is a wonderful combination of flavors and textures, which come together to create a satisfying and delicious meal. Here are the main ingredients you'll need for this tasty sandwich:
Eggplant: Fried eggplant is one of the key components of a Sabich sandwich. Choose a medium-sized Italian eggplant.
Eggs: Hard-boiled eggs provide protein and a rich taste to the sandwich. You'll need at least two large hard-boiled eggs.
Hummus: This creamy chickpea-based spread adds a savory flavor and helps bind the other ingredients together. You can use homemade hummus or your favorite store-bought brand.
Tahini Sauce: This sesame-based sauce provides a nutty and rich taste to the sandwich.
Pickles: Add a tangy and salty flavor to the sandwich. Israeli pickles are the norm, but you can use your favorite homemade pickles or store-bought pickles.
Cucumbers: add a refreshing crunch to the sandwich.
Tomatoes: add a juicy and sweet flavor to the sandwich. Can be subbed with an Israeli salad.
Purple onion: adds a sharp, acidic note to the sandwich. Can be ommitted.
Parsley: adds a fresh and herbaceous flavor to the sandwich. Not necessary but I love it!
Pita or Laffa: You'll need a soft and slightly chewy flatbread, such as pita or laffa, to hold all the delicious ingredients together.
Additional Ingredients: Some recipes also include amba sauce, Israeli salad and shredded cabbage for extra flavor and texture.
Now that you know the main ingredients needed for a Sabich sandwich, you can begin to prepare and assemble this delicious and satisfying dish.
Instructions
Prepare the eggplants:
Peel and slice 2 large eggplants. Arrange them on a baking sheet covered with parchment and drizzled generously with oil. Bake the eggplant in an oven preheated to 400 F for 20 minutes, turning them over halfway through the baking time.
Alternatively, you can also fry the eggplant slices in oil until golden brown. Set aside on a paper towel to absorb excess oil.
Hard-boil the eggs:
Boil 2 large eggs for about 12 minutes, then cool them under cold water or in an ice bath, peel, and slice them into rounds.
Assemble the sandwich: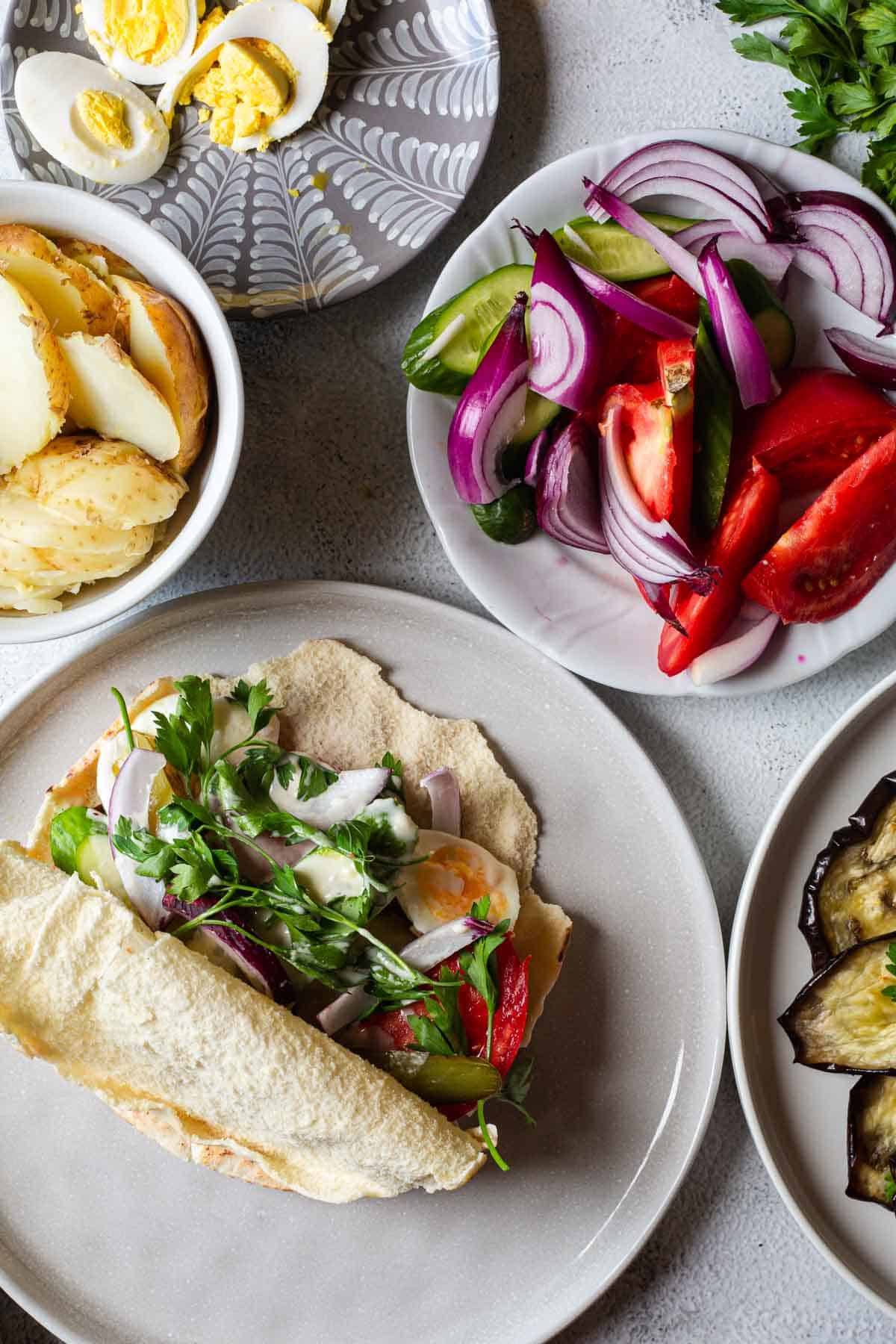 To make sabich, cut the pita in half to create two pita pockets or one large open pita. Spread ⅛ cup of hummus on one side of a halved large pita bread.
Layer the fried eggplant slices on top of the hummus. Add the potatoes. Add the sliced hard-boiled eggs. Top with tomato slices, cucumber slices and pickles.
Drizzle with tahini sauce over the veggies. Top with chopped parsley and a drizzle of amba sauce or your favorite hot sauce. Season with salt and freshly ground black pepper, to taste.
Now this vegetarian sandwich is ready to serve. Enjoy it as a delicious meal or snack, and feel free to experiment with additional fillings like olives or pickled cabbage for added flavor.
Storage and Heating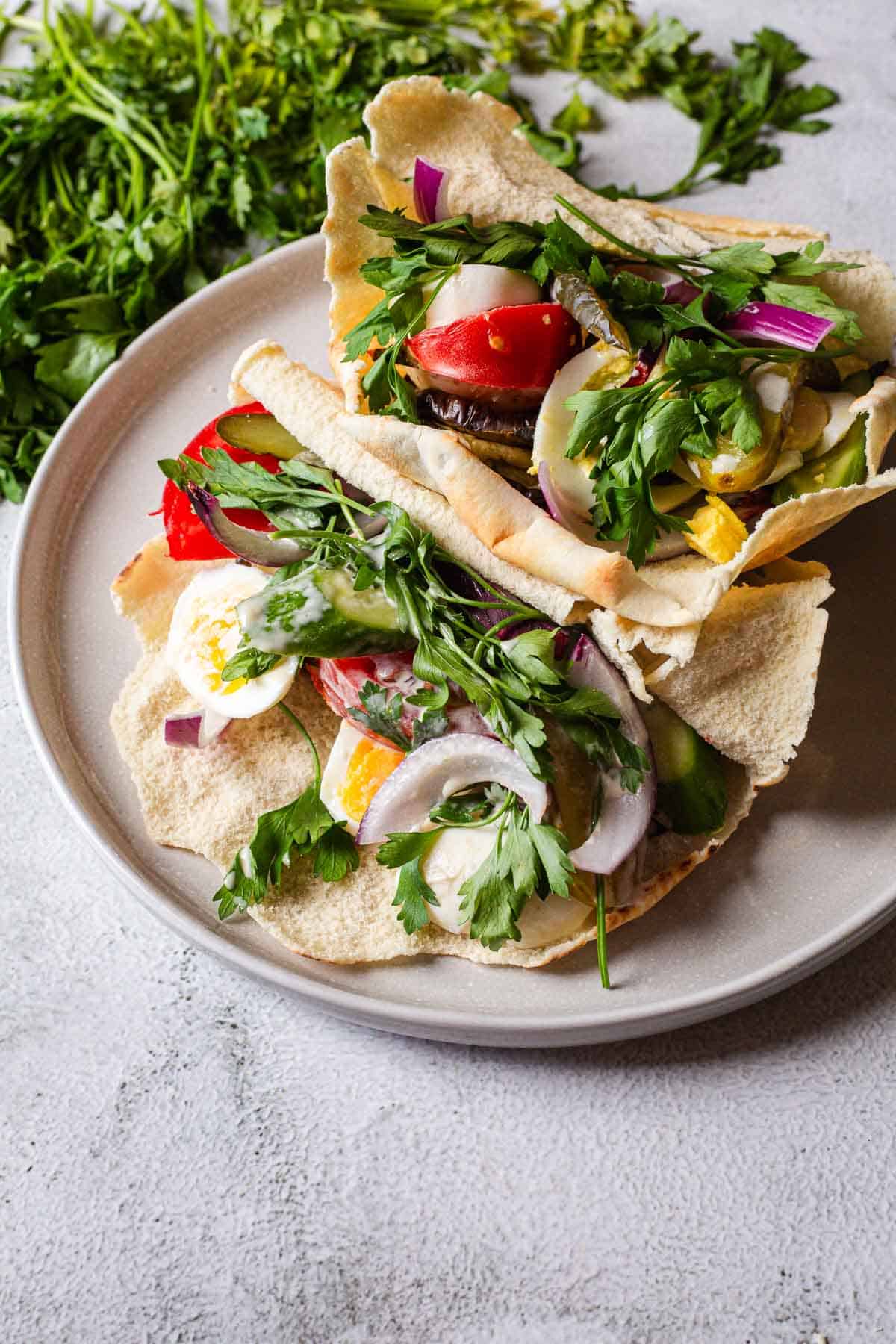 If you have any leftover sabich sandwiches, wrap them tightly in plastic or aluminum foil and place them in an airtight container. Store the sandwiches in the refrigerator for up to 2 days.
To store individual ingredients like fried eggplant, boiled eggs, or tahini sauce, place them in separate airtight containers, and refrigerate them for up to 3 days.
When ready to enjoy your leftover sabich sandwiches, I suggest preheating the oven to 350°F (180°C). Place the wrapped sandwiches on a baking sheet and heat them for 10-15 minutes, or until warmed. If the ingredients are stored separately, you can assemble the sandwich once heated.
Although microwaving isn't ideal for reheating a sabich sandwich to maintain its texture, you can still do it. Place the sandwich on a microwave-safe plate and heat it on medium power for about 1 minute. If necessary, increase the time by 15-second increments, keeping an eye on the sandwich to avoid overcooking.
Remember, reheating the sandwiches may alter their texture, especially the crispiness of the fried eggplant. So it is best to consume them fresh.
Variations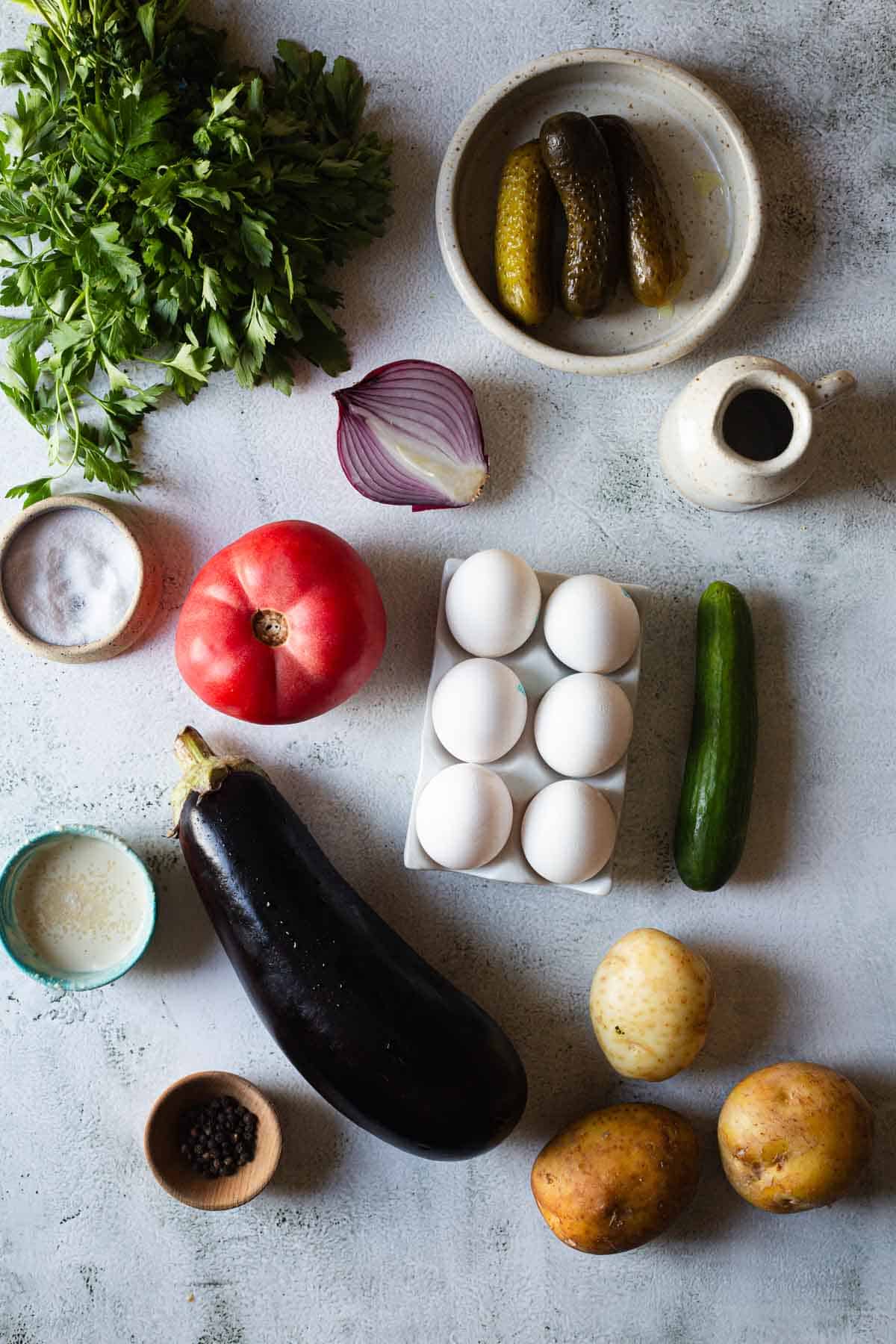 Over the years I've encountered different variations of the Sabich sandwich, each adding unique twists to the classic Israeli street food dish. Here are some popular adaptations to the traditional Sabich recipe:
Bread: While homemade sabich is usually stuffed into a pita pocket, some people opt for laffa, a larger flatbread that can hold more fillings.
Eggs: Soft-boiled or scrambled eggs can be used as a substitute for hard-boiled eggs, catering to personal preferences. You can also omit the eggs for a vegan sabich.
Israeli Salad: Add a simple chopped salad with cucumbers, tomatoes, herbs, and lemon juice to add a refreshing tanginess and crunch to the sandwich.
Salad: Turn the sabich sandwich into a fantastic gluten free sabich salad! Simply add some lettuce at the bottom to give it more volume.
Sauces: Apart from hummus and tahini, you can incorporate other sauces like hot sauce, garlic sauce, or yogurt-based tzatziki to add more layers of taste and complexity.
Top Tips
Here are some top tips for making this delicious Israeli street food sandwich:

Choose the right bread: Traditionally, sabich is made with pita or laffa bread, but you can also use flatbread. Just make sure to create a pocket or slit to stuff in the ingredients.
Fry the eggplant: To get that creamy texture, slice the eggplant into thin pieces and fry it until it's tender.
Prepare the fillings: Key fillings include boiled eggs, tahini sauce, hummus, and Israeli salad. Don't forget the tangy, pickled-mango sauce called amba, which adds an extra kick.
Pack the sandwich: To make your sabich sandwich truly authentic, layer your fillings inside the bread, starting with the eggplant slices and hard-boiled eggs.

By following these tips, I hope you can create a mouth-watering sabich sandwich. Enjoy!
Frequently Asked Questions
What are the main ingredients in a sabich sandwich?
A sabich sandwich typically consists of fried eggplant, hard-boiled eggs, hummus, tahini sauce, Israeli salad, and sometimes amba sauce, all served in a pita or laffa bread. Many variations include Israeli pickles and seasoned cabbage as well.
How do you pronounce 'sabich'?
'sabich' is pronounced as /səˈbiχ/ with the 'ch' sound similar to the 'ch' in the German word 'Bach' or the Scottish 'loch'.
Are there any vegan alternatives for a sabich sandwich?
You can easily make a vegan version of a sabich sandwich by replacing the hard-boiled eggs with a plant-based alternative like tofu scramble or simply omitting them altogether. The other ingredients, such as the fried eggplant, hummus, tahini sauce, and Israeli salad, are already vegan-friendly.
Is a sabich sandwich considered healthy?
A sabich sandwich can be a healthy option depending on the ingredients and preparation method used. With plenty of vegetables like eggplant, cucumbers, and tomatoes, it provides various nutrients. If you follow our recipe and bake the eggplant instead of frying, you can happily enjoy a healthier version of sabich!
What is the typical calorie count of a sabich sandwich?
The calorie count of a sabich sandwich can vary depending on the ingredients and their quantities. In general, a sabich sandwich can range from 400 to 600 calories. Keep in mind that adding extra sauces or larger portions will increase the calorie count.
Accompanying Dishes
When enjoying a Sabich pita sandwich, various dishes can complement its rich flavors and textures:
Tried and loved this recipe? Please leave a 5-star review below! Your reviews mean a lot to me, so if you've got any questions, please let me know in a comment.
Israeli Salad: This chopped Israeli salad with cucumbers, tomatoes, herbs, feta and lemon juice is a fresh, tangy accompaniment to the hearty Sabich.
Hummus: A side of extra hummus is always a good idea, allowing you to dip your sandwich or enjoy it with warm pita or fresh vegetables.
Falafel: Though not traditionally part of the Sabich sandwich, you can add falafel for an extra protein boost and satisfying crunch.
Vegan shawarma: Serve some vegan shawarma on the side to boost the street food feel!
French Fries: While not an authentic Israeli accompaniment, I find that a side of crispy, hot French fries pairs nicely with the savory flavors of the Sabich sandwich.
Pickled turnips: pink, briny and zesty pickled just like in Middle Eastern markets work great in this fried eggplant sandwich.
Recipe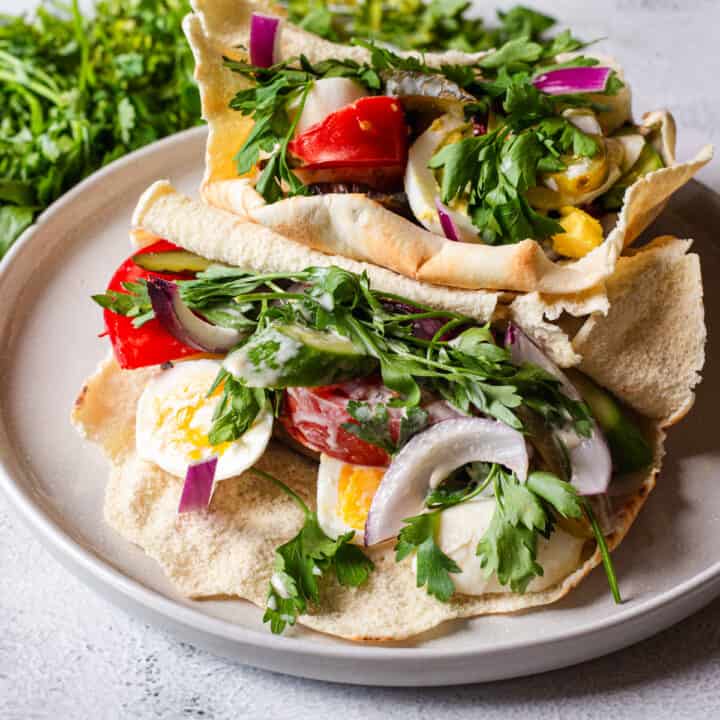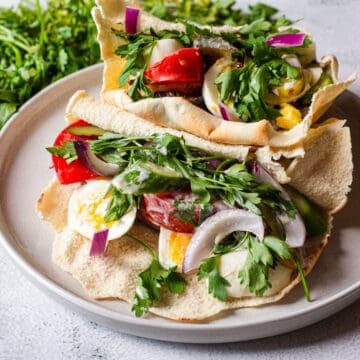 Sabich, or an eggplant sandwich with potato, eggs and pickles
A rich and filling sandwich made with fried eggplant, creamy tahini, starchy potatoes, hard-boiled eggs, zesty pickles, and fresh veggies and herbs. A smear of sharp, spicy amba or harissa takes this sandwich to a whole new level!
Ingredients
2

large pitas

1

Italian eggplant

Salt

Pepper

2

potatoes

2

eggs

¼

cup

Hummus

4

pickles

1

tomato

1

cucumber

½

purple onion

2

teaspoons

tahini sauce

or 2 teaspoons of tahini paste and 2 teaspoons of water

Harissa

or your favorite hot sauce, optional

Parsley
Instructions
Preheat oven to 400°F. Cover a baking sheet with tin foil and drizzle it lightly with olive oil.

Slice the eggplant into 1-inch-thick slices.

Arrange the eggplant slices neatly on the baking sheet, ensuring none are covered by other slices. Drizzle with olive oil and sprinkle with salt and pepper.

Roast eggplant in the oven for 15-20 minutes, until slices are golden and browned. After 10 minutes, turn the eggplant slices over, drizzle with more olive oil, and sprinkle a bit more salt. Return to the oven for another 5-10 minutes, and check for doneness; slices should be nice and browned.

While the eggplant is cooking, peel and cook the potatoes. You can use the microwave approach or cook them the old-fashioned way, in a pot of water. Slice boiled potatoes.

Boil the eggs for 12 minutes, peel them, and slice them into ½-inch slices.

Slice the pickles thinly. Slice the tomatoes, cucumbers and onion.

Mix the tahini paste with water in a small bowl, add a pinch of salt, and whisk together until creamy and blended together.

When ready to assemble the sandwiches, cut open the pita bread horizontally.

Spread a layer of hummus on one-half of the pita bread.

Add a layer of eggplant slices.

Spread the potato slices on the next level, sprinkle a pinch of salt, and drizzle olive oil over the potato layer.

Follow with a layer of alternating cucumber slices and tomato slices. Top with onion slices and pickle slices.

Add a layer of sliced boiled eggs.

Drizzle the tahini sauce on top of all the ingredients. If you like spice, spread harissa inside the last bread slice, or drizzle with your favorite hot sauce.

Garnish with parsley.

Close the pita by rolling and wrapping it in plastic wrap and allow the sandwich to rest overnight, cutting it into two halves (or four quarters) the next day. Or cut it in half and eat right away, wiping smears of tahini off your face.
Nutrition
Serving:
1
g
Calories:
574
kcal
Carbohydrates:
98
g
Protein:
23
g
Fat:
12
g
Saturated Fat:
3
g
Polyunsaturated Fat:
4
g
Monounsaturated Fat:
4
g
Trans Fat:
0.01
g
Cholesterol:
164
mg
Sodium:
1556
mg
Potassium:
2178
mg
Fiber:
18
g
Sugar:
16
g
Vitamin A:
1166
IU
Vitamin C:
65
mg
Calcium:
241
mg
Iron:
6
mg
Tried this recipe?
Comment + Rate Below!
Connect on Instagram!
Find us @immigrantstable