A pillowy sourdough focaccia of various flours makes a perfect bed for a topping of cherry tomatoes and crispy purple onion.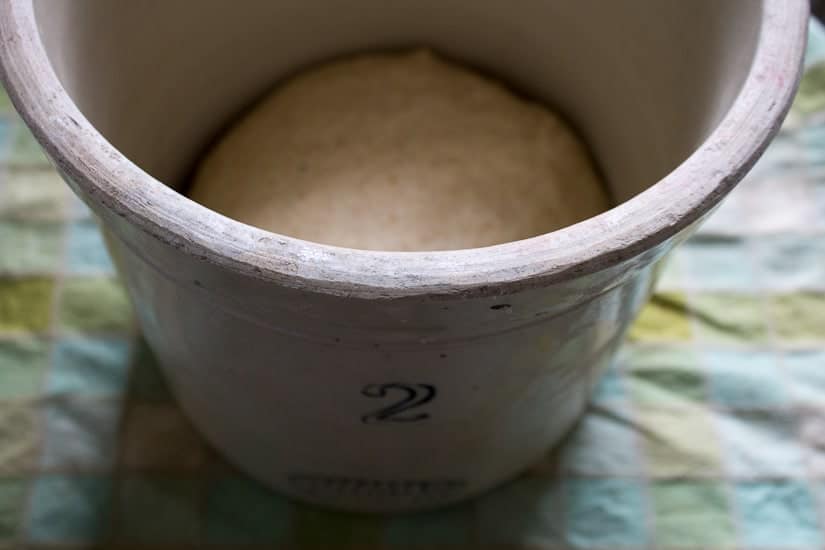 Last year, the night before our first trip to Israel as a couple, I told G I didn't want him to come with me anymore. Smack-dub in the middle of the holiday season, the day after Boxing Day, the trip came at the heels of a stress-filled period. I was worn out from the holidays, the reality of spending days on my best behaviour in the company of someone else's family, and it all came to a crashing halt on my last night. I ranted and raved, crying and shouting, finding reasons to get mad and blame it all on him. I believe some objects may have even gotten thrown around. We made up and all was well, but I certainly used up my cache of goodwill that night.
This year, as the time of my trip draws near, I am finding myself stressed to the limit once more. As I strive to clear out my fridge and pack my suitcases, I find myself waking up at 6am on weekends, compiling chore lists in my head, fretting about the day ahead. Each day wraps up with the feeling that there is just so much more left to do. And now, to top it all off, I also have a cold that has my eyes watering and my throat feeling like a cat's scratchpad. So suffice to say I have not felt at the top of my game.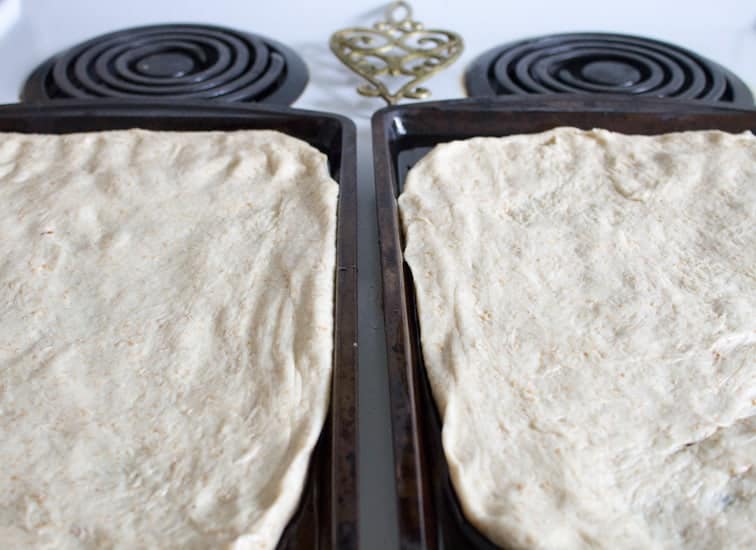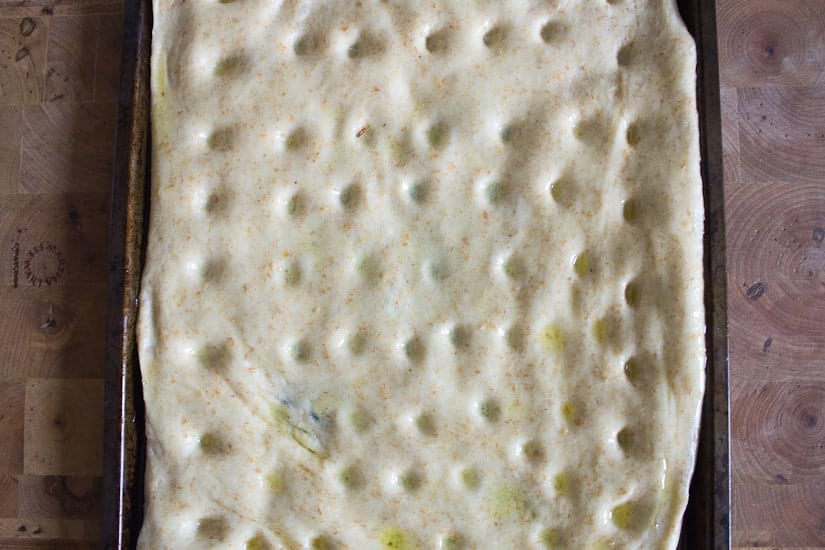 This weekend, as the minutes were running out before we were set to host G's parents over for Mother's Day brunch, I started picking fights over every little thing. At first, he forgot to stir the onions for the fritatta. Then, he wasn't helping me cook. After that it was the nap he took that upset me. Lastly, he forgot to put placemats on the table. On their own, all of these reasons seemed minuscule, no cause for a fight; but compounded by stress, they all morphed into the gravest affronts in my head. He held himself together for the most part, aware of my pre-flight mood, but eventually my behaviour broke down even his stoic barriers. Everything ended after a ten-minute squabble, but it left me feeling deflated, defeated and guilty.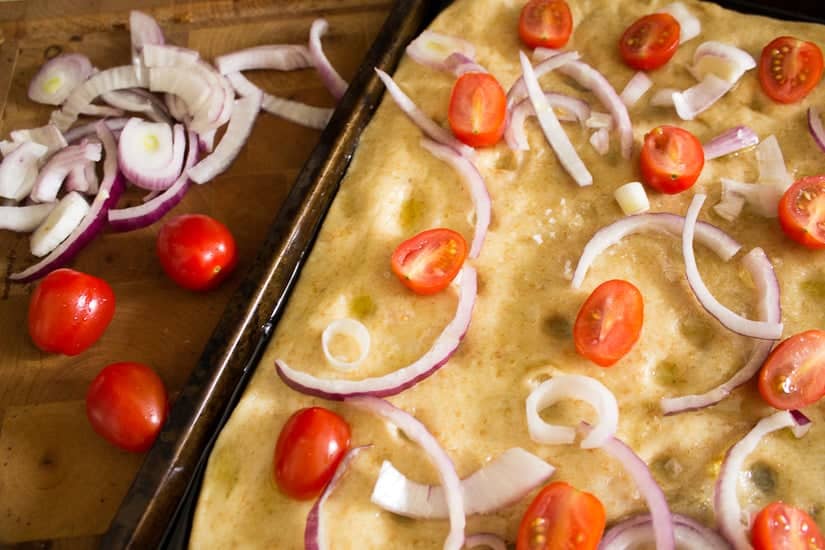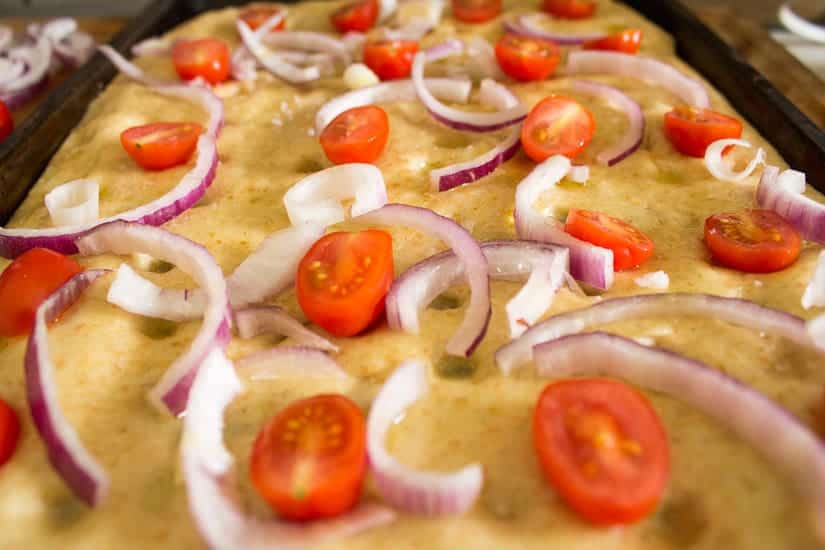 It was today, sitting on the couch, as I was getting mad at him for something to do with either health insurance or horseback riding, that I realized I was acting like my mother. In the days leading up to a big trip, she would be running around the house, frantically packing and unpacking, dissatisfied with the result. She was always on edge, ready to scream at everyone for the smallest misdemeanour. My dad eventually learned to stay away from her, anticipating her moods. But us kids weren't quite as wise. At some point in those dark days, one of us would always find a reason to get on her bad side... and all of her stress and anxiety would come barreling out of her at her chosen target. Now, I am discovering I am not much different.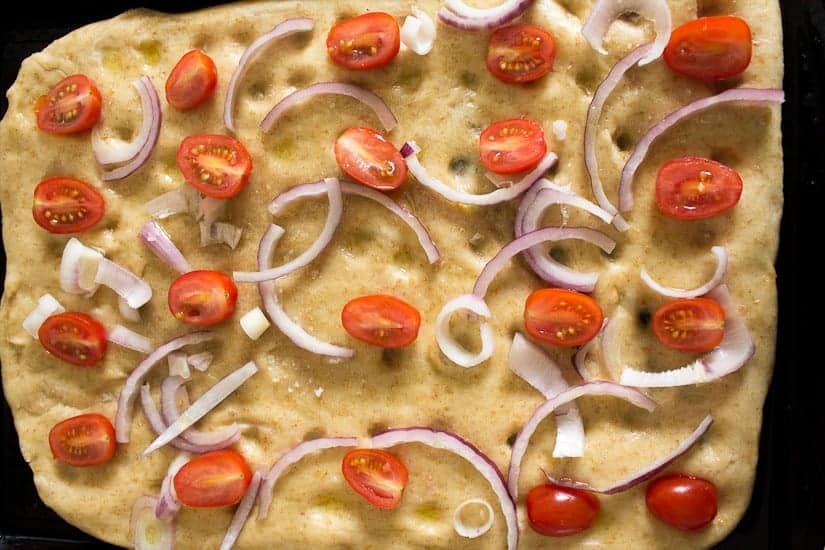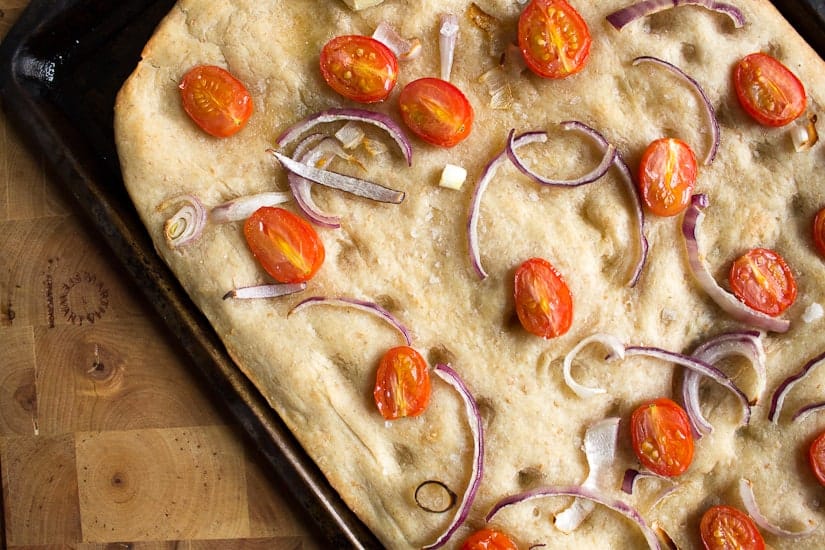 My bags are mostly packed, but I'm far from being ready to go. So today, as I woke up in the early hours of the morning, filled with dread and nerves, I decided to bake some bread, based on this arrestingly simple recipe from Flour on my Face. Standing in the kitchen, armed with a spatula and a scale, amidst bubbling levain and rising loaves, I felt anger releasing its hold on me. The methodical repetition of kneading and stretching dough into submission was working to tame my frayed nerves. The spreading of toppings on the freshly risen dough was a creative pursuit that I much preferred to cramming my belongings into suitcases. After a few hours went by, as I pulled a steaming tray of Italian sourdough focaccia out of the oven, I realized that anxiety can be put to much better use in the kitchen than outside of it.
Tried and loved this recipe? Please leave a 5-star review below! Your reviews mean a lot to me, so if you've got any questions, please let me know in a comment.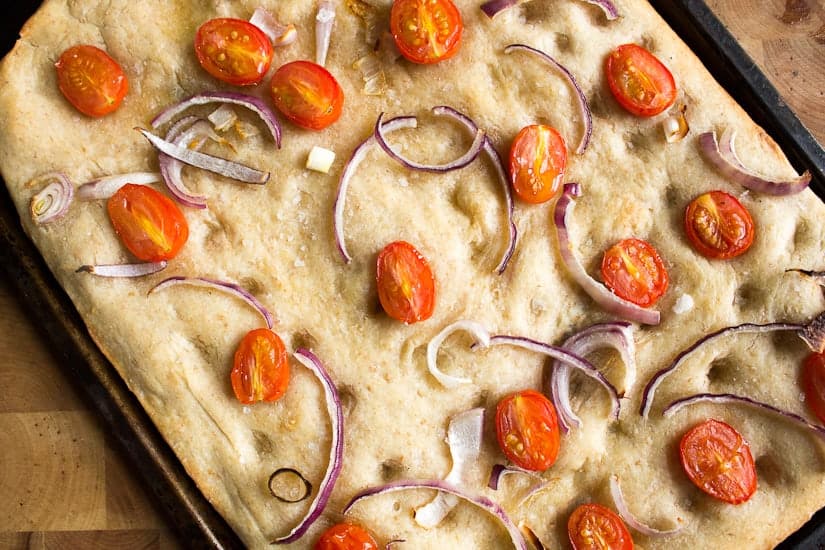 Recipe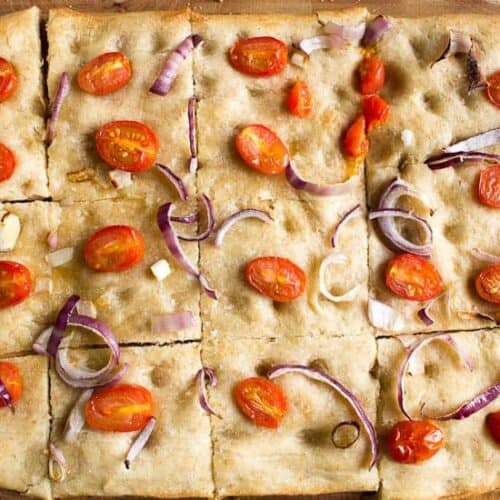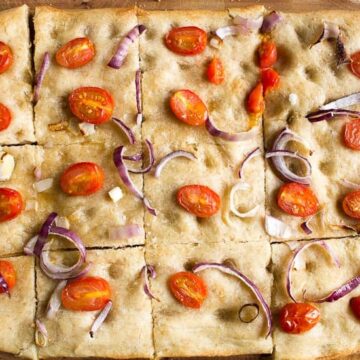 Sourdough focaccia with tomatoes and purple onions
A pillowy focaccia with the distinct taste of sourdough makes a perfect bed for a variety of toppings, in this iteration with cherry tomatoes and crispy purple onion. For detailed instructions, check out http://flouronmyface.com/2014/01/step-by-step-how-to-make-sourdough-focaccia.html.
Ingredients
1.5

cups

refreshed and fed sourdough starter

always feed your starter the day before you are going to bake and stir before measuring

1

cup

warm water

¼

cup

olive oil

1

tablespoon

honey or agave syrup

1

cup

all-purpose flour

½

cup

olive oil

½

cup

spelt flour

1.5

cup

durum flour

these two can be combined into another type of flour as well

1

cup

whole wheat flour

1

cup

all-purpose flour

2

teaspoons

fine sea salt

¼

purple onion

12-20

cherry tomatoes per tray

Flaky Maldon salt

or a variety of other toppings: olives

rosemary, basil, mushrooms, etc
Instructions
In a bowl, combine the first five ingredients and mix with a wooden spoon to form a sponge. Cover with loose plastic wrap and let ferment for about an hour to an hour-and-a-half, until bubbles of differing sizes are on top.

Add ½ cup olive oil, the remaining 4 cups of flour and 2 teaspoons fine sea salt to sponge, mix well with a wooden spoon to combine. Turn out the mix onto a floured board, kneading for 5-7 minutes. Depending on the hydration of your starter, you may end up adding more flour while kneading, from ¼ to 1 cup. Use regular AP flour if adding any. The dough should be be soft and slightly moist.

Form into a ball and place in an oiled bowl or crock. Cover loosely with plastic wrap and allow to rise until doubled, about 1.5 to 2 hours.

Cover two baking pans (or a large one) with aluminum foil and oil them well, about ¼ cup of oil. Once dough has risen, place your dough in the prepared pan.

With your fingers, press dough into the bottom and sides of the pan until it fills the pan, but do not stretch too much. If your dough is very elastic and pulling away, allow it to rest for about five minutes and then continue.

Cover with a kitchen towel and allow to rise until roughly doubled in size, about an hour. A longer rise won't hurt the dough, either (I have left it to rise overnight at times).

Preheat oven to 400 degrees Fahrenheit.

Once dough is ready, lightly press the dough with your fingers all over, leaving little impressions. If the dough is a little dry on top, brush on a bit more extra virgin olive oil.

Now add your toppings. Be creative or traditional - rosemary, thinly sliced red onions, halved grape tomatoes (cut side up), or a mixture of herbs and salt all make good options.

Bake focaccia for 20 minutes or until golden brown. Then, if you have toppings, switch to grill setting and bake for an additional five minutes.

Remove from oven and cut into squares. Serve straight away, or allow to cool to room temperature and serve with some warm marinara sauce or whipped feta sauce.
Tried this recipe?
Comment + Rate Below!
Connect on Instagram!
Find us @immigrantstable