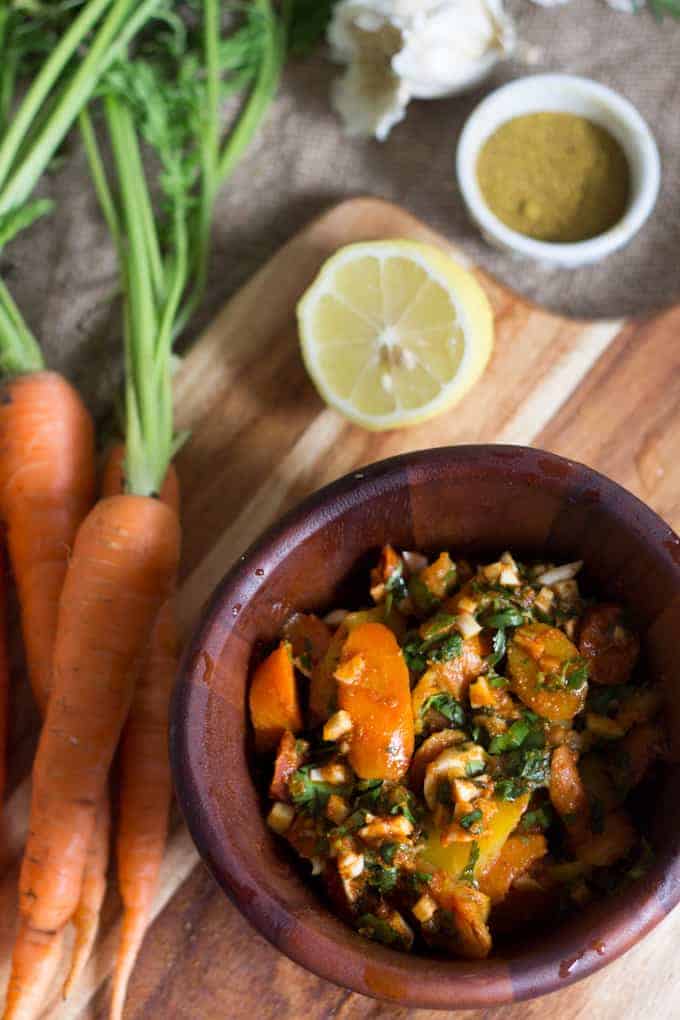 I spent the month of the Jewish Food Project festival cooking with some of the best chefs in Montreal. From haute cuisine to bagels and street food, we sampled the best of the best. There was not a dull moment in sight, and throughout it all, the highs and the lows, I felt like I was borne on the wings of angels. I felt like I had arrived.
And yet the only taste that remains imprinted in my mind now, months after the last Jewish Food Project workshop I organized, is the spicy Moroccan carrot salad we prepared during couscous night (and salade cuite, but more on that another time).
And today, I want to share that taste with you.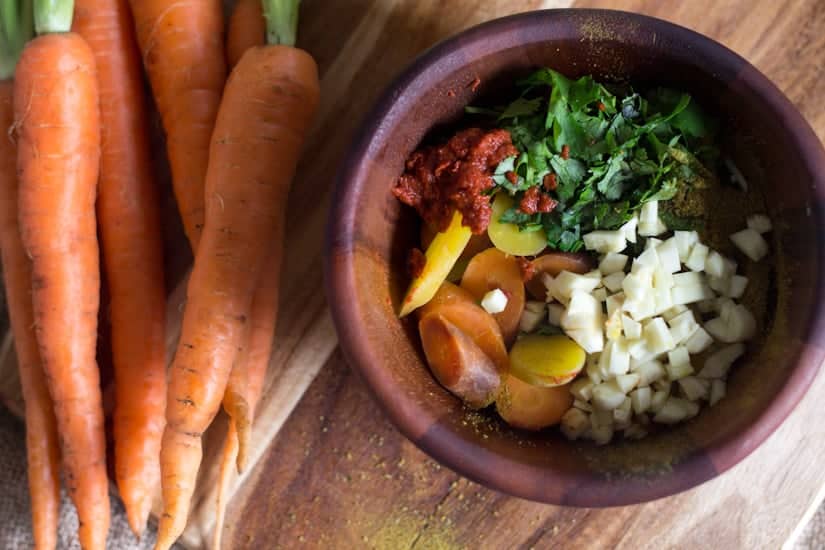 Imagine a salad that hits you right in the gut, where the flavours are so pungent and strong they make a statement all by themselves.
Imagine a salad whose colours are so vibrant, you just can't help but stare at the bowl.
Imagine a salad overladen with fresh garlic and cilantro and punchy, vibrant harissa.
Better yet, stop imagining and go and make this Moroccan carrot salad, because it might be the best salad you'll ever eat - but only if you dare to make it.
If you're new to Moroccan cooking, I suggest you tread lightly. This salad, full of raw garlic and spicy peppers, might be too advanced for the uninitiated. There are easier places to start - my roasted moroccan carrots with olives and goat cheese, for example, or my cumin-laced cauliflower soup, or even roasted eggplant zaaluk. There are dishes that are less strong, less in-your-face, but also - let's face it - less memorable.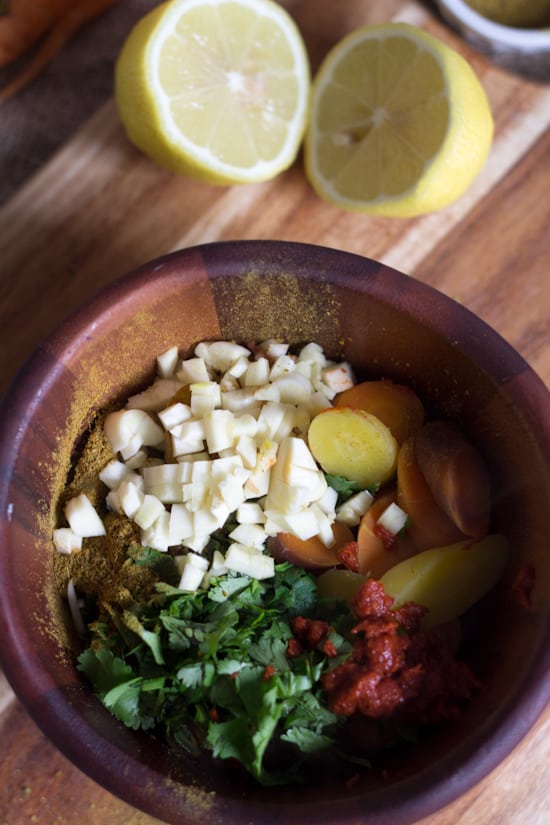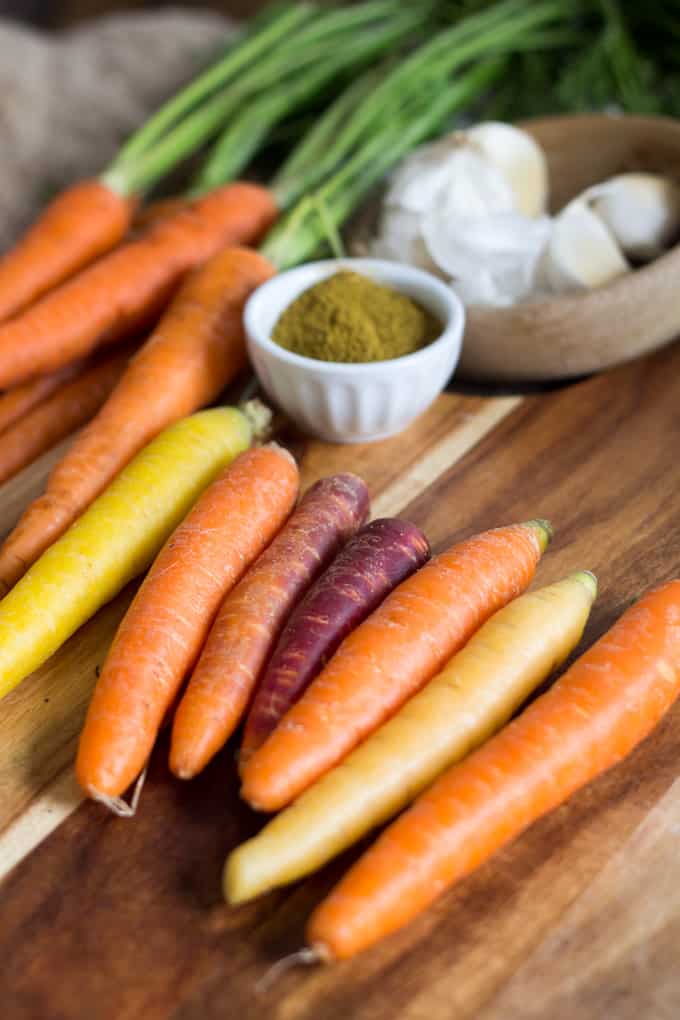 But not this spicy Moroccan carrot salad. This salad is bold, brash, and unforgettable. It lures you in with the colours, shocks you upon first taste with the perfectly cooked carrots, and then hits a home run with the accouterments - the spicy dressing and large pieces of fragrant garlic. You don't have to eat it with bread, but if you're not sure how you feel about spicy food, I suggest you have some crackers nearby.
My favourite way of eating this salad is atop a gluten-free lavash cracker, with a generous smear of whipped labaneh. And for that recipe, you guys are just going to have to come back next week.
But meanwhile, make this salad, and you'll see why, of all the dishes I ate during the Jewish Food Project, this is the one that still has me waking me up in the middle of the night with serious cravings. It really is that good.
Tried and loved this recipe? Please leave a 5-star review below! Your reviews mean a lot to me, so if you've got any questions, please let me know in a comment.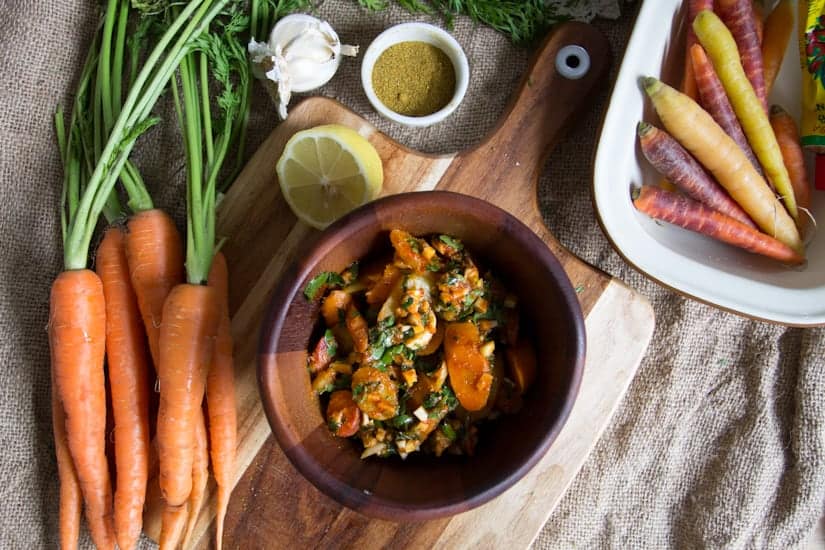 Recipe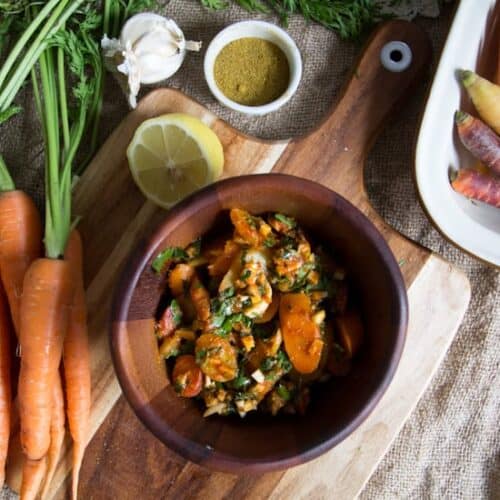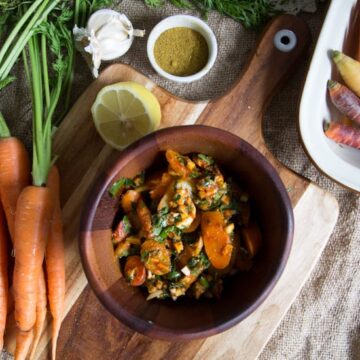 Spicy Moroccan carrot salad
This Moroccan carrot salad is pungent and brash, with a strong marinade made up of harissa, raw garlic and cilantro that is truly unforgettable! Allow at least 30 minutes for the flavours to meld, or make it the day before for the best results (the salad will keep in the fridge for a week).
Ingredients
5

medium carrots

peeled and sliced in ¼" rounds (I like to cut my carrots at an angle, so that each slice is a bit elongated and has more surface area to soak up the dressing)

5

cloves

garlic

peeled and finely chopped

½

cup

chopped fresh cilantro

2

tablespoon

Moroccan harissa

1

tablespoon

ground cumin

1

tablespoon

salt

Juice from one large lemon

3

tablespoon

vegetable oil
Instructions
Cook carrots in boiling water until fork tender (do not overcook!), then drain and let cool.Mix all remaining ingredients for the dressing in a bowl, pour over carrots and toss gently until they are covered.

Refrigerate for 20-30 minutes to blend flavours.
Tried this recipe?
Comment + Rate Below!
Connect on Instagram!
Find us @immigrantstable