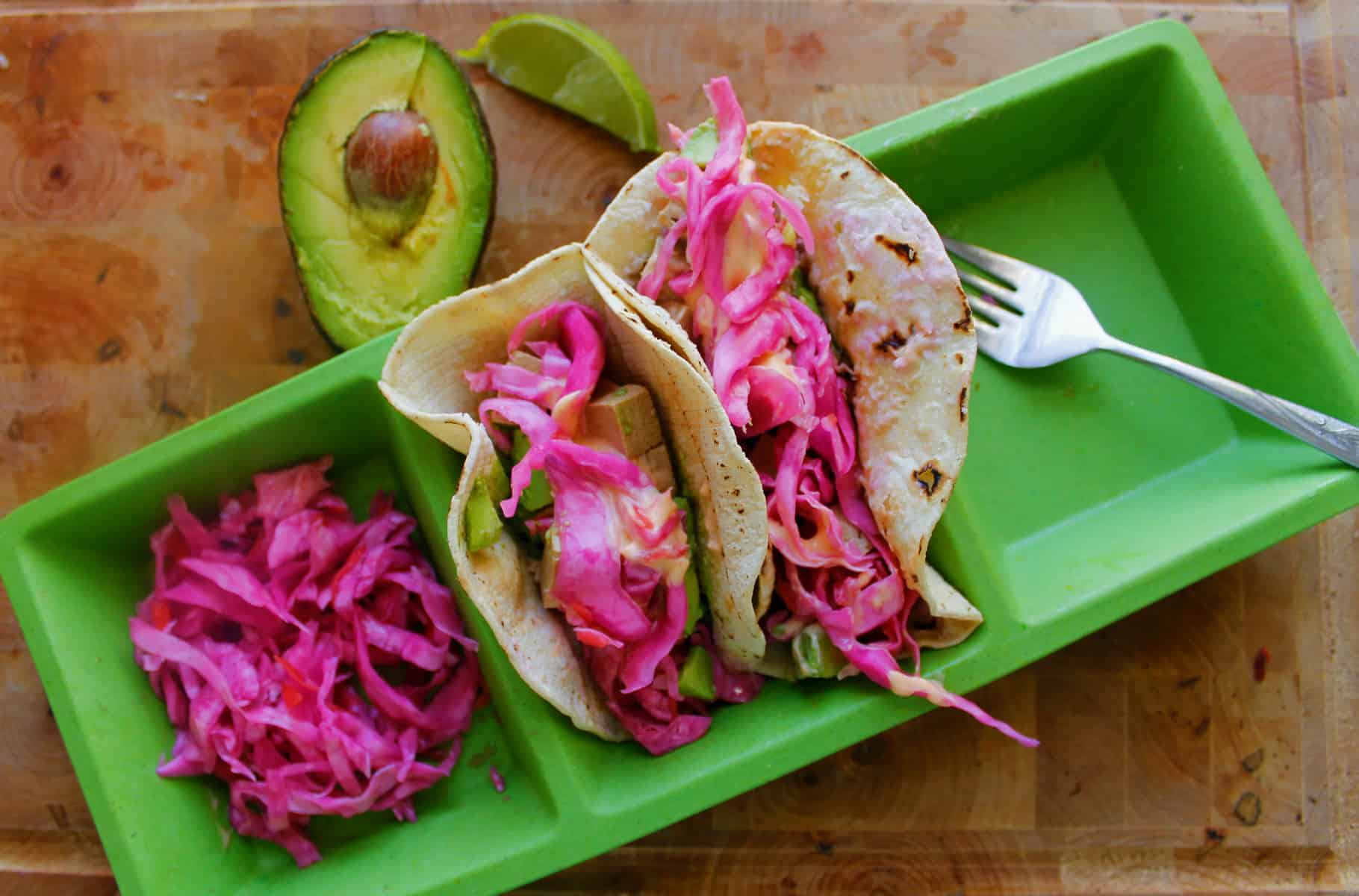 The last piece of meat I consciously ate was a hunk of Georgian sausage. It was white, and you could see pieces of blue and red matter peeking through its casing. At that point I was already contemplating ethics and vegetarianism, but I still had a soft spot for meat, done just right on a campfire. The night before, we ate fantastic shashliks, the same ones my mother made for every bonfire and music festival my father dragged us to. They were interspersed with onions, and grilled to well-done, juicy perfection. I was ecstatic to eat them, smothered in ketchup, and didn't think too much of vegetarianism. But that sausage was another matter altogether. Even browned on the fire, drops of fat glistening in the afternoon sun and its aroma filling my nostrils, I still found it somewhat revolting. And when a short while later, I proceeded, in a very unlady-like manner, to expunge its contents out of my body, I decided that even my mother shashlik wasn't worth it anymore. I would become a vegetarian.

The first time I had tofu, I thought it was the most vile, tasteless concoction. Its murky white colour reminded me of uncooked chicken. Its texture was spongy and odd, with a funky gelatinous feel. I had no idea what to do with it, and even sautéed on a pan, smothered in ketchup, it wasn't very appetizing. I decided that getting enough protein wasn't worth it. I would be a vegetarian, but one that abstains from tofu.

The first time I had to swallow a spoonful of iron supplement, I acted in a very unlady-like manner once again. It tasted metallic, reminding me of the flavour of blood when you bite on your tongue too hard. Its strange, viscuous flow made my throat clench, and the smell brought tears to my eyes. I decided that iron was over-rated. I would be a vegetarian that abstains from meat, fish and tofu, but I wouldn't drink iron supplements.

But this time, my mother wasn't having any of it. That day, she had brought me back from my first blood transfusion, necessitated after I passed out on a crowded street. As she hovered over me in the clinic, watching my pale, small body lying there on the white cot, struggling to keep my eyes open or even to breathe, she had choked down tears, and told me that we'll take care of things. The tests had shown that my hemoglobin levels were hovering slightly above 8 at the time; the norm for a healthy girl my age was 12 to 13. And while the low iron levels were the result of me losing inordinate amounts of blood due to other medical complications, and not owing to my neophyte, uneducated fling with vegetarianism, she knew that we had to get iron into my body somehow. And if I wasn't going to eat meat or fish, we'd just have to find other ways. Suddenly, tofu wasn't looking so bad.
More than 13 years later, I have had my share of experimentation with tofu. I am actually quite a fan of it now. And though I have never grown to like the watery taste or gelatinous, murky white feel of soft tofu, I have discovered that firm or extra firm tofu, marinated in a simple mixture of sauces and spices, is actually quite delicious. Now, I regularly soak my tofu in this quick marinade, ensuring I have a ready supply of protein. On days when my fridge is stocked with home-fermented sauerkraut, I combine the two in a Russian-Asian-Mexico bastardization of tacos. Because after all, you never know when you might feel faint.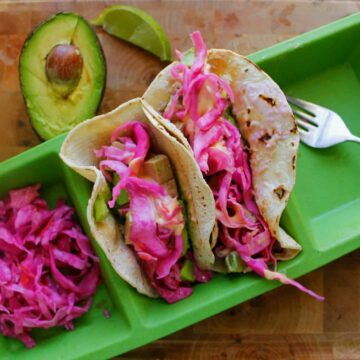 Spicy marinated tofu, avocado and sauerkraut tacos
A soak in a simple Asian marinade transforms tofu from a strange sponge to a delicious, juicy source of protein. Tucked inside corn taco shells and topped with avocado and zesty cabbage, it becomes a delicious, quick lunch.
Print
Pin
Rate
Ingredients
1

package of firm or extra-firm tofu

6

Tbs

of Bragg's amino acids

or soy sauce

3

Tbs

of rice wine vinegar

1

Tb

of Sriracha

or other hot sauce

¼

teaspoon

of Chinese five spice powder

3

Tbs

of water

½

cup

of homemade sauerkraut

or thinly shredded or sliced cabbage, mixed with one tablespoon of vinegar

1

avocado

⅛

of a lemon or a lime

3

corn taco shells

or 2 slices of sourdough bread

2

Tbs

vegan mayonnaise

A squirt of Sriracha

or other hot sauce
Instructions
Squeeze tofu slightly between your hands to extract fluids, and then chop into small cubes, each slightly smaller than 1-square inch.

In a square or rectangular bowl, mix marinade from soy, rice vinegar, hot sauce and water. Soak tofu cubes in marinade, covered with plastic wrap or lid, overnight (or at least a few hours; it can also stay in the marinade for a few days, soaking up flavour as it goes along, so don't hesitate to plan several meals from this tofu). Give the tofu pieces a stir every few hours, to ensure all are evenly coated with sauce.

When tofu has soaked thoroughly and you're ready to eat, heat up your shells (or slices of sourdough bread) on a medium-hot pan without any oil. When shells are ready, remove from heat and wrap tightly in a towel.

If homemade sauerkraut is unavailable, mix ½ a cup of thinly sliced cabbage with a tablespoon of vinegar.

Pit and roughly chop avocado. Drizzle with the juice of ⅛ of a lemon and a small pinch of salt.

Mix mayonnaise with a squirt of hot sauce in a small bowl.

Assemble your tacos (or sandwich): start with a layer of avocado, then a layer of tofu cubes, followed by homemade sauerkraut (or sliced cabbage), and a few drops (or a smear) of spicy mayonnaise. Tuck in, but ensure you have a plate nearby to catch all the delicious juices!