Beautiful roasted red Swiss chard is joined by the bright explosion of cherry tomatoes and drizzled with oil and chili, melding together into a flavourful sauce.
Jump to: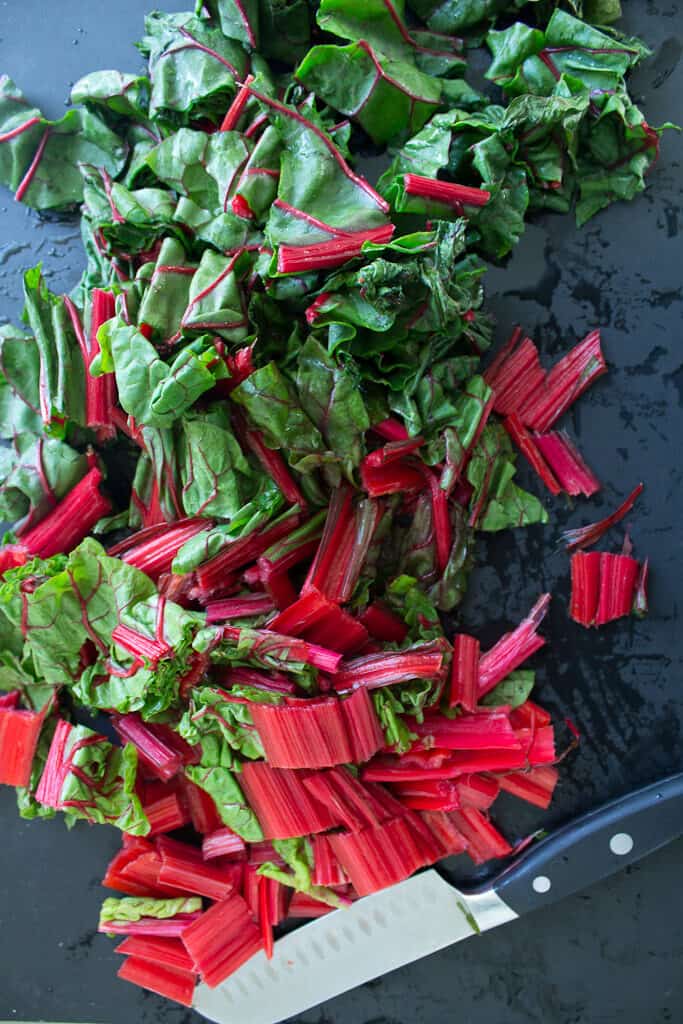 Easy roasted red Swiss chard and tomatoes recipe
When it is cold and gloomy outside, I turn to the oven and trays of glistening, oil-slicked roasted vegetables to liven the mood.
This roasted red Swiss chard and tomatoes recipe lives you tongue tingling from the touch of chilli, and your stomach satisfied from the heat of nourishing vegetables.
Even if fresh spring produce is still far, you can count on wintery leafy greens to provide you with the needed nutrients to brave through the cold weather.
I developed this recipe when playing around in my kitchen one day, fell in love with its deep, comforting flavor - and just knew I had to share it with you!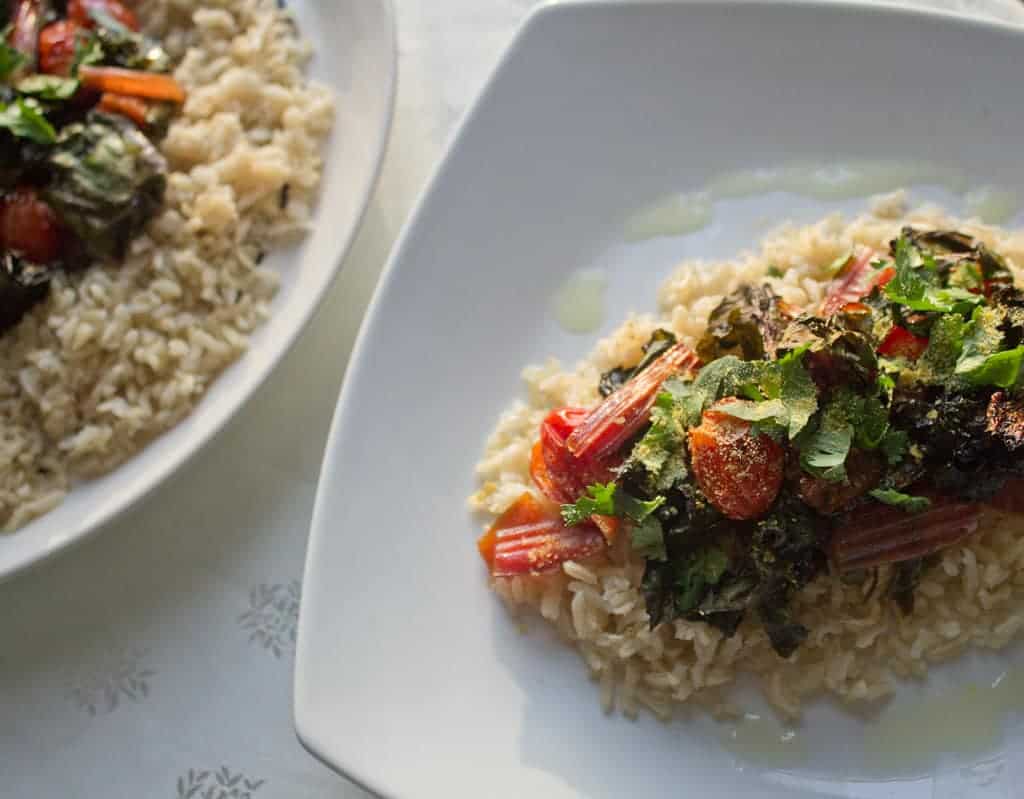 When to cook this roasted Swiss chard recipe
I turn to this roasted Swiss chard with tomatoes and chili recipe when the cold weather is in my bones, even though spring should be just around the corner.
As images of spring continue to pop up all over social media, I can't help but die inside just a little bit.
A quick glance at the coat rack reveals a dark winter parka hanging morosely, abandoned after "someone" just threw it there, not wanting to look at it for another second.
A bright mustard-coloured woolen scarf is tucked into the sleeve, its fringes trailing the still-wet floor around the rack.
A pair of camel winter boots is hidden under my desk, where they are slumping in on themselves in the middle of a small puddle.
Muddy tracks lead the way from the office door to my desk.
A look outside reveals the cause of this disorder. Snow is still piled along the sides of the road, the smallest piles reaching up to my waist. Icy streets glint menacingly in the dying winter sun, threatening to cause an uncomfortable slip, or even an injury.
As I was hurrying to the bus this morning, stealing furtive glances at my phone, I fell victim to this treachery, slipped and bruised my knee.
Nothing new there; the scar tissue already on my knee is enough to frighten small children.
But there's a bundle of bright red Swiss chard and glistening, hothouse-grown cherry tomatoes on my counter, and I feel just a bit more jovial.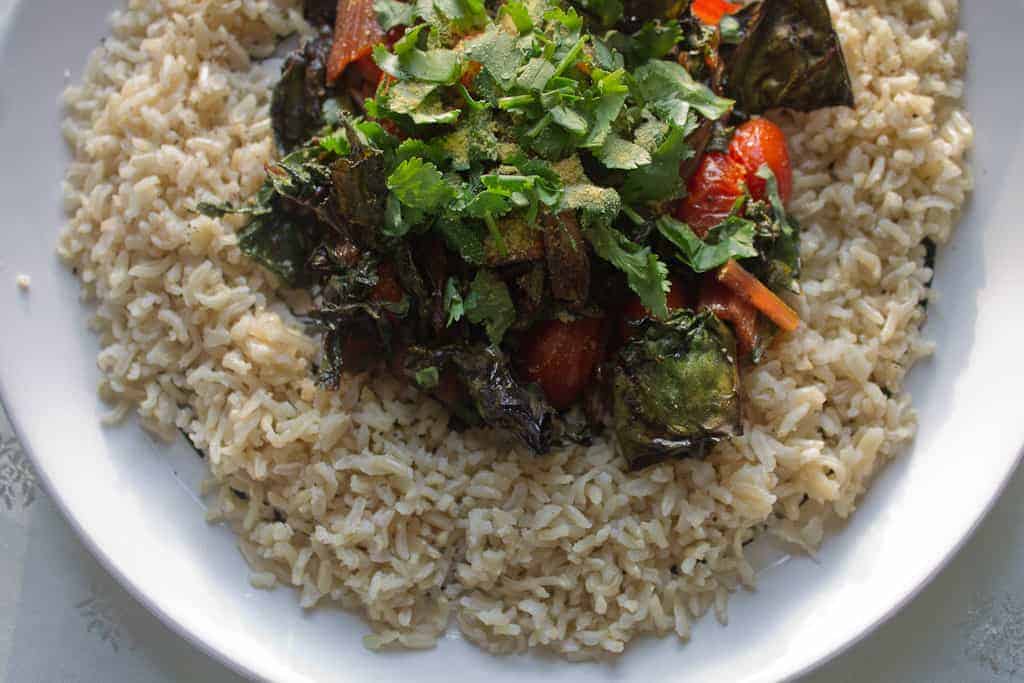 What is red Swiss Chard?
A large leafy green, Swiss Chard has a strong taste that is somewhat similar to spinach. Its look remind us of kale. The taste of chard is a tad bitter, which is why it goes well with assertive and acidic seasoning like garlic and lemon.
Ruby Swiss chard, also known as red Swiss chard, has the strongest flavor of the whole Swiss chard family. Its full of juice!
I also love Rainbow Chard, which comes in a variety of colors.
How to choose Swiss Chard?
Go for Swiss Chard with strong stems and ribs and large, bouncy leaves.
Can you eat Swiss chard stems and ribs?
You can eat the leaves, Swiss chard ribs, and Swiss chard stems.
Swiss chard ribs and chard stems require a bit more cooking. But in roasted Swiss chard, everything cooks together and the stems and ribs retain a bit more texture than the leaves.
How to cook Red Swiss Chard?
You can braise, saute, roast or make grilled Swiss chard. In this recipe, I go the route of roasting ruby Chard with tomatoes and chili.
What can you use as a red Swiss chard substitute?
If you don't have ruby Swiss chard, you can use:
Regular Swiss chard (green)
Lacinato kale (also known as dinosaur kale)
Bok Choy
For more Swiss Chard recipes and Winter Greens recipes:
Early spring is the time for easy roasted vegetables
But the mood, dear reader, the mood in these days of early spring! As the days get a little bit longer and the sun no longer sets by 5 p.m., I find myself strangely jubilant, even in the face of this weather.
There is hope in the air as people put on their rain boots. Two weeks ago, I even went to work in my fall coat (granted, I was freezing by the time I was walking home at 8 p.m., but still).
I have been eating salads and lightly fermented whey pickles, drinking smoothies and fooling myself into believing that spring really is just around the corner. I even bought the year's first bundle of lean, green asparagus, its spears standing buoyantly in the face of our still-freezing air.
Unfortunately, I am not always that happy, and the deception doesn't always work. Some days, the cold air seeps through the doors and windows of my bright and airy apartment.
As I pace the long hallway, blowing my nose into a tissue, the frost penetrates my bones and reminds me of its persistent existence.
After all, no matter what the calendar says, it's still -20 degrees celsius in Winnipeg today.
And I only have so many blankets at home.
Ingredients for roasted Swiss chard with tomatoes recipe
Red Swiss chard - you can use Ruby Swiss chard, Rainbow Swiss chard, or regular Swiss chard for this recipe
cherry tomatoes - even in winter, cherry tomatoes retain sweetness and firmness. When there are no good tomatoes around, I always turn to cherry tomatoes. Of course, you can also use regular tomatoes if making this in season
red onion - any onion will do, but I love the sweet flavor of red or purple onion
Olive oil - you can use any extra virgin olive oil
chili powder - I also like to use cumin in this recipe. You can use chili flakes, chili powder, or even cayenne
lemon juice - fresh or preserved lemon juice will work
Nutritional yeast - this is optional, and can be substituted with Parmesan cheese, or omitted. It gives the dish a nice, nutty and cheesy flavor
Cilantro - fresh cilantro helps brighten up this dish. You can also use parsley
See recipe card for exact quantities.
What to serve with roasted Swiss chard and tomatoes?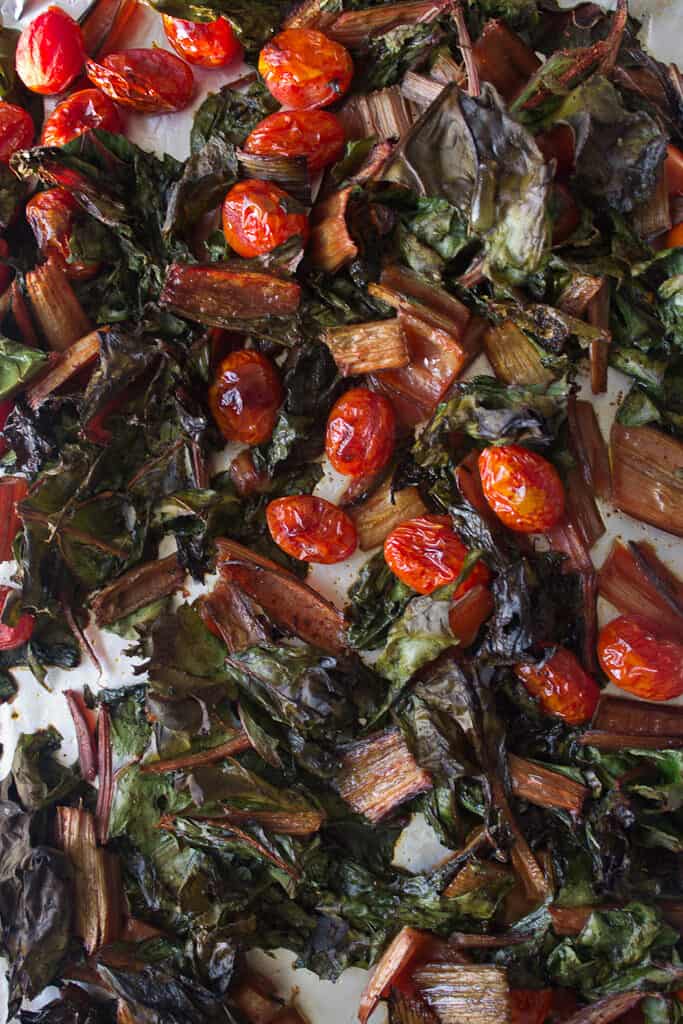 How to make this roasted red Swiss chard with tomatoes recipe
On days when the cold weather gets the best of us, I turn on the oven and roast a big sheet of green leafy vegetables.
The star of the show changes; on this day, it was beautiful organic red Swiss chard, its perky stems glistening in bright colours that are non-existent outside our window.
The accouterments also vary; I love the bright explosion of charred cherry tomatoes against the crispy leaves, but I am also partial to sweet onion and fragrant cloves of roasted garlic, roasted whole in their shells and then squeezed out onto the chard.
A light drizzle of oil thickens with the roasting, a few pinches of chili flakes grace the top, and as the vegetables succumb to the heat and release their juices, they all mingle together into a flavourful, spicy sauce.
Heaped on a bed of brown rice, it really is heaven in a bowl on a cold day, when the calendar tells you it should be spring, but the weather report begs to differ.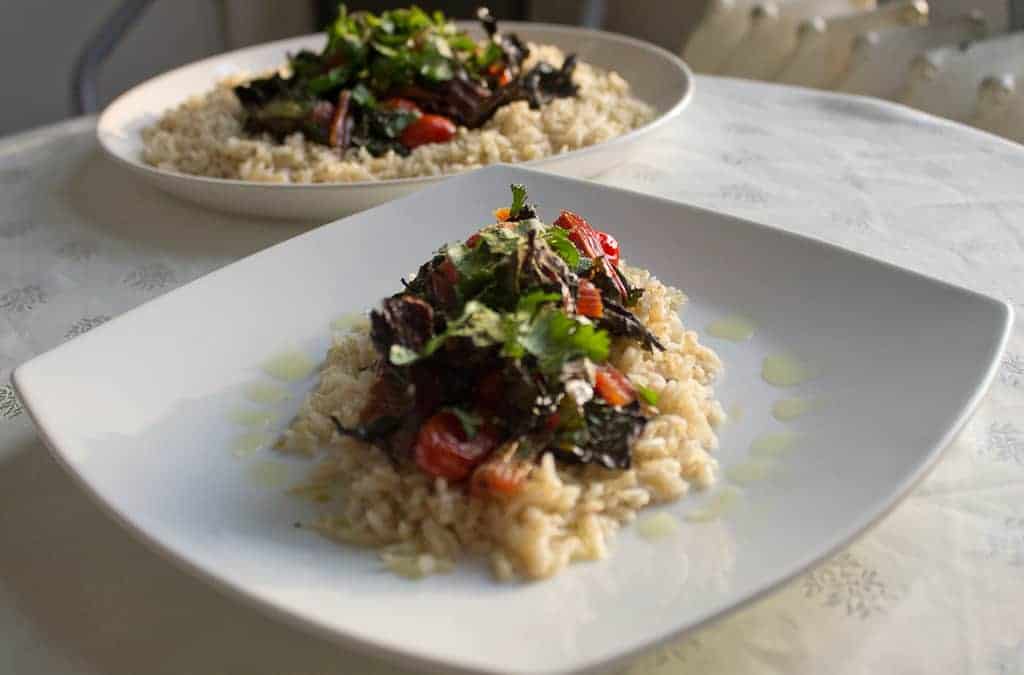 Storage and Making in Advance
You can store raw red Swiss Chard in fridge for up to 3 days. You can store this roasted Swiss chard recipe, cooked, in an airtight container in the fridge for up to 5 days.
Substitutions
This recipe for roasted red chard is vegan, gluten-free, paleo and Whoel30 appropriate.
To make it keto, omit the tomatoes - or if your diet allows for them, eat away.
Variations
Here are some variations for this basic roasted Swiss chard with tomatoes recipe:
Roasted kale with tomatoes - use kale, and ideally lacinato kale (also known as dinosaur kale) in place of the red Swiss chard in this recipe.
Roasted Indian Swiss chard - add 1 teaspoon of cumin and ½ teaspoon of coriander and ½ teaspoon of garam masala to this recipe for a more Indian flavor.
Roasted Red Swiss Chard with Tomatoes and Parmesan - Switch the nutritional yeast for Parmesan cheese.
Top Tips
Choose big, perky leaves of Swiss chard, with crunchy stems. If the stems are bendy, this Swiss chard is not great anymore.
Use any tomatoes you like in this recipe - just make sure they are ripe ones!
Products
The only "tool" you really need for this roasted Swiss chard recipe with tomatoes is a baking sheet.
I use regular commercial-grade half-size cookie trays like these ones:
Frequently Asked Questions About Roasted Red Swiss Chard with Tomatoes
Is Swiss chard good for you?
Swiss chard has Vitamin K, Vitamin A, Magnesium and Antioxidants. It's also low in calories, carbs and sugar, fat and sodium.
Is this Roasted Swiss Chard Recipe freezer friendly?
Yes! You can freeze this for up to 6 months.
What is the difference between red and Swiss chard?
Ruby, or red Swiss chard, has the strongest flavor in the entire Swiss chard family. It's a bit sweet, jucy and a tad less bitter than other Swiss chard varieties.
Can you use regular Swiss chard in this roasted red Swiss chard recipe?
Absolutely. The flavor will be just as good.
Can you use regular tomatoes in place of cherry tomatoes in this recipe?
Yes! Juicy, ripe tomatoes would work well.
What proteins go with this Roasted Swiss Chard recipe?
I love serving this red Swiss chard recipe as a side dish with many things. It is nice with:
Tried and loved this recipe? Please leave a 5-star review below! Your reviews mean a lot to me, so if you've got any questions, please let me know in a comment.
Pin for Later!
Recipe
Charred swiss chard and tomatoes
Beautiful organic Swiss chard is joined by the bright explosion of cherry tomatoes and drizzled with oil and chili, melding together into a flavourful sauce. The stalks of the chard soften, the leaves crisp up into chips, and the juice of the tomatoes brings everything together into a nice topping. Feel free to replace the tomatoes with other vegetables, like more onions, red peppers, or whole cloves of garlic that you will then squeeze onto the chard. Use kale or even beet greens instead of chard (the beet greens may roast more quickly).
Ingredients
1

bunch

Swiss chard

1

pint

cherry tomatoes

½

purple onion

optional

2

Tbs

Olive oil

Salt

½

teaspoon

chili powder

or cumin

¼

lemon

juice of

Nutritional yeast

to taste (optional, can be substituted with Parmesan, or omitted)

Cilantro

chopped, to taste

2

cups

prepared brown rice
Instructions
Prepare rice. This can be done the day before - I usually make 4 cups of brown rice and eat them with different toppings throughout the week).

Cover baking sheet with aluminum foil. Chop chard horizontally into strips. chop onion, if using, into chunks. Arrange all vegetables haphazardly on baking sheet. Drizzle with olive oil, Sprinkle with chili powder (or cumin) and a couple of pinches of salt. Place in oven and let bake on grill setting for 15 mins. Toss veggies and return for another 12 minutes.

Spread rice on a large platter. Top rice with vegetable topping. Finely chop cilantro, sprinkle on top of rice and vegetables, drizzle with the juice of ¼ of a lemon, and sprinkle with salt and pepper to taste. Top off with a sprinkling of nutritional yeast (or Parmesan, if using).
Notes
To make brown rice: combine

1 cup of uncooked rice, 2 cups of water, ½ teaspoon of salt, and 2 tablespoons of olive oil in a medium saucepan. Bring brown rice to a boil, lower to very low heat, cover and cook for 45-50 minutes. Turn off, leave cover on, and let rest for 10 mins before excluding rice gently with a fork.
Nutrition
Calories:
104
kcal
Carbohydrates:
9
g
Protein:
3
g
Fat:
7
g
Saturated Fat:
1
g
Polyunsaturated Fat:
1
g
Monounsaturated Fat:
5
g
Sodium:
178
mg
Potassium:
570
mg
Fiber:
2
g
Sugar:
4
g
Vitamin A:
5240
IU
Vitamin C:
52
mg
Calcium:
56
mg
Iron:
2
mg
Tried this recipe?
Comment + Rate Below!
Connect on Instagram!
Find us @immigrantstable