As images of spring continue to pop up all over social media, I can't help but die inside just a little bit. A quick glance at the coat rack reveals a dark winter parka hanging morosely, abandoned after "someone" just threw it there, not wanting to look at it for another second. A bright mustard-coloured woolen scarf is tucked into the sleeve, its fringes trailing the still-wet floor around the rack. A pair of camel winter boots is hidden under my desk, where they are slumping in on themselves in the middle of a small puddle. Muddy tracks lead the way from the office door to my desk.
A look outside reveals the cause of this disorder. Snow is still piled along the sides of the road, the smallest piles reaching up to my waist. Icy streets glint menacingly in the dying winter sun, threatening to cause an uncomfortable slip, or even an injury. As I was hurrying to the bus this morning, stealing furtive glances at my phone, I fell victim to this treachery, slipped and bruised my knee. Nothing new there; the scar tissue already on my knee is enough to frighten small children.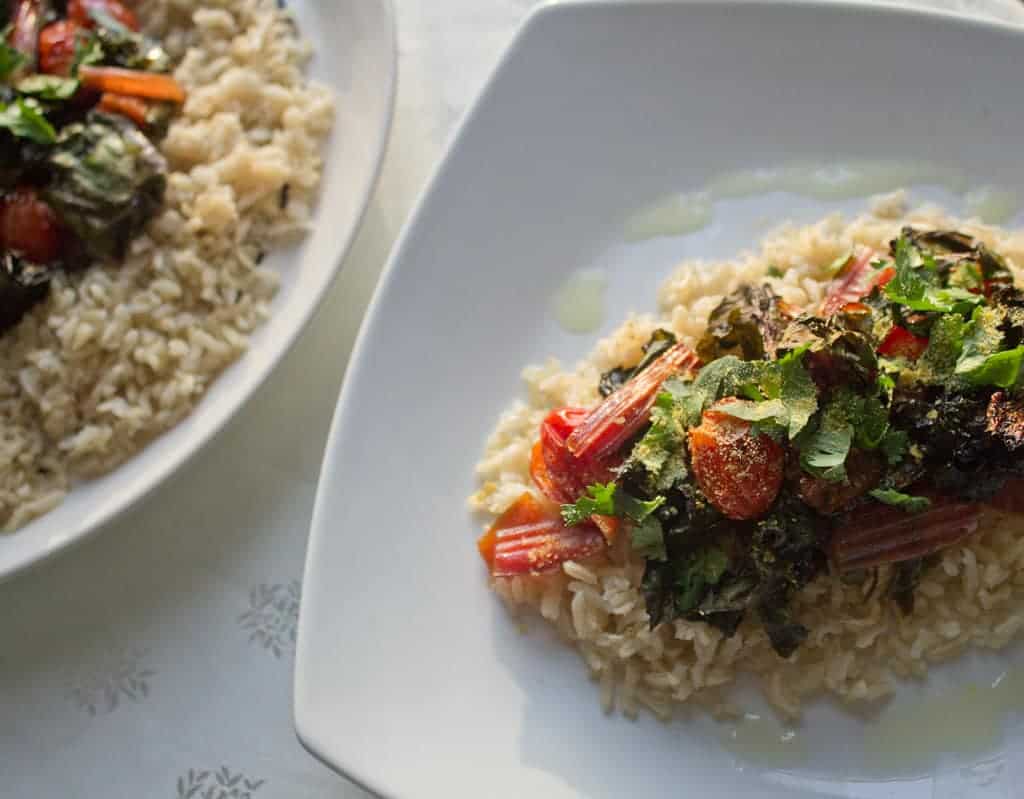 But the mood, dear reader, the mood! As the days get a little bit longer and the sun no longer sets by 5 p.m., I find myself strangely jubilant, even in the face of this weather. There is hope in the air as people put on their rain boots. Two weeks ago, I even went to work in my fall coat (granted, I was freezing by the time I was walking home at 8 p.m., but still). I have been eating salads and raw vegetables, drinking smoothies and fooling myself into believing that spring really is just around the corner. I even bought the year's first bundle of lean, green asparagus, its spears standing buoyantly in the face of our still-freezing air.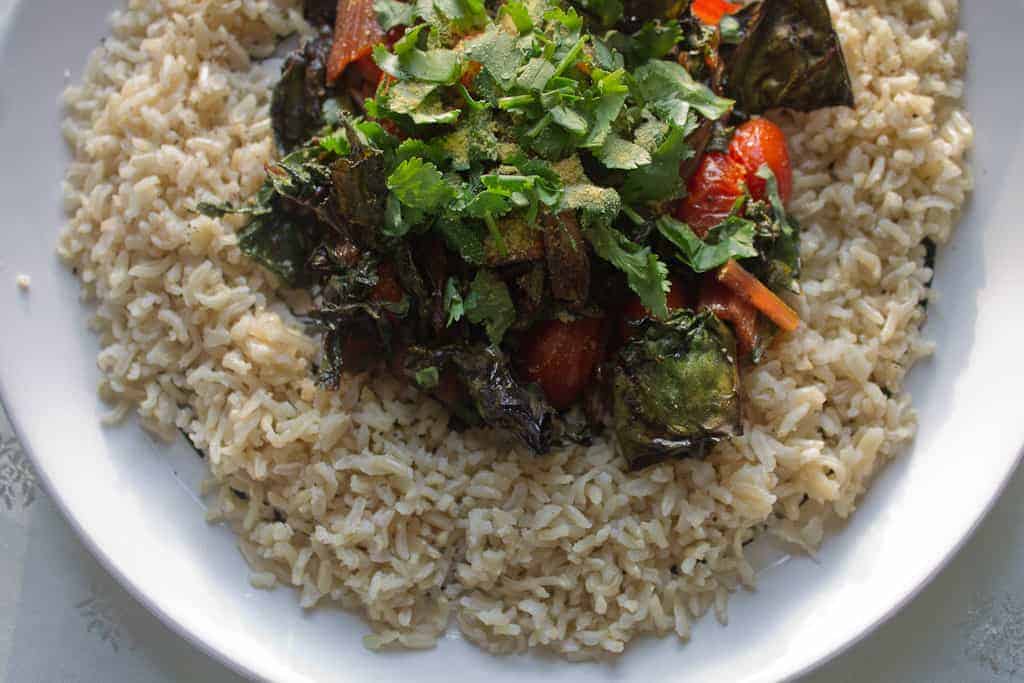 Unfortunately, I am not always that happy, and the deception doesn't always work. Some days, the cold air seeps through the doors and windows of our bright and airy apartment. As I pace the long hallway, blowing my nose into a tissue, the frost penetrates my bones and reminds me of its persistent existence. After all, no matter what the calendar says, it's still -20 degrees celsius in Winnipeg today. And I only have so many blankets at home.
So on days when the cold weather gets the best of us, I turn on the oven and roast a big sheet of green leafy vegetables. The star of the show changes; on this day, it was beautiful organic Swiss chard, its perky stems glistening in bright colours that are non-existent outside our window. The accouterments also vary; I love the bright explosion of charred cherry tomatoes against the crispy leaves, but I am also partial to sweet onion and fragrant cloves of garlic, roasted whole in their shells and then squeezed out onto the chard. A light drizzle of oil thickens with the roasting, a few pinches of chili flakes grace the top, and as the vegetables succumb to the heat and release their juices, they all mingle together into a flavourful, spicy sauce. Heaped on a bed of brown rice, it really is heaven in a bowl on a cold day, when the calendar tells you it should be spring, but the weather report begs to differ.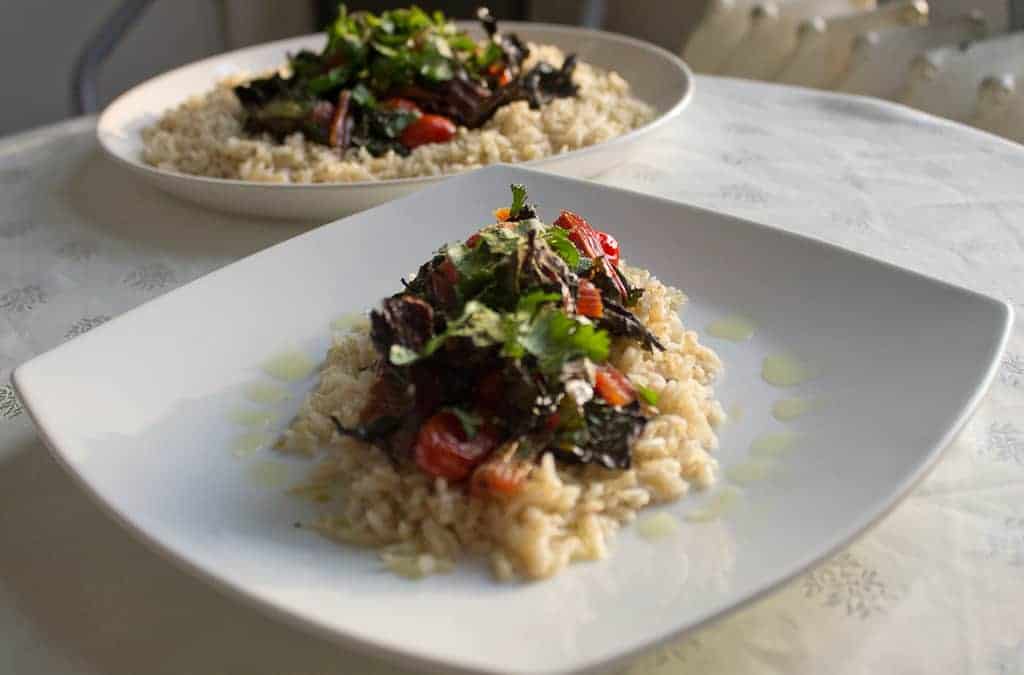 Charred swiss chard and tomatoes
Beautiful organic Swiss chard is joined by the bright explosion of cherry tomatoes and drizzled with oil and chili, melding together into a flavourful sauce. The stalks of the chard soften, the leaves crisp up into chips, and the juice of the tomatoes brings everything together into a nice topping. Feel free to replace the tomatoes with other vegetables, like more onions, red peppers, or whole cloves of garlic that you will then squeeze onto the chard. Use kale or even beet greens instead of chard (the beet greens may roast more quickly).
Print
Pin
Ingredients
1

bunch Swiss chard

1

package of cherry tomatoes

½

purple onion

optional

2

Tbs

Olive oil

Salt

½

teaspoon

chili powder

or cumin

The juice of ¼ of a lemon

Nutritional yeast

to taste (optional, can be substituted with Parmesan, or omitted)

Cilantro

chopped, to taste

2

cups

prepared brown rice

or 1 cup of uncooked rice, cooked w 2 cups of water, ½ teaspoon of salt, and 2 Tbs of olive oil: bring rice to a boil, lower to very low heat, cover and cook for 45-50 minutes. Turn off, leave cover on, and let rest for 10 mins before excluding rice gently with a fork
Instructions
Prepare rice. This can be done the day before - I usually make 4 cups of brown rice and eat them with different toppings throughout the week).

Preheat oven to 450F on the grill/ broil setting.

Cover baking sheet with aluminum foil. Chop chard horizontally into strips. chop onion, if using, into chunks. Arrange all vegetables haphazardly on baking sheet. Drizzle with olive oil, Sprinkle with chili powder (or cumin) and a couple of pinches of salt. Place in oven and let bake on grill setting for 15 mins. Toss veggies and return for another 12 minutes.

Spread rice on a large platter. Top rice with vegetable topping. Finely chop cilantro, sprinkle on top of rice and vegetables, drizzle with the juice of ¼ of a lemon, and sprinkle with salt and pepper to taste. Top off with a sprinkling of nutritional yeast (or Parmesan, if using).