Marinated tofu spring rolls are filled with crunchy Asian vegetables, sweet apples and aromatic herbs. Served with a spicy peanut dipping sauce, this is a no-cook treat for days when you don't feel like working!
Jump to: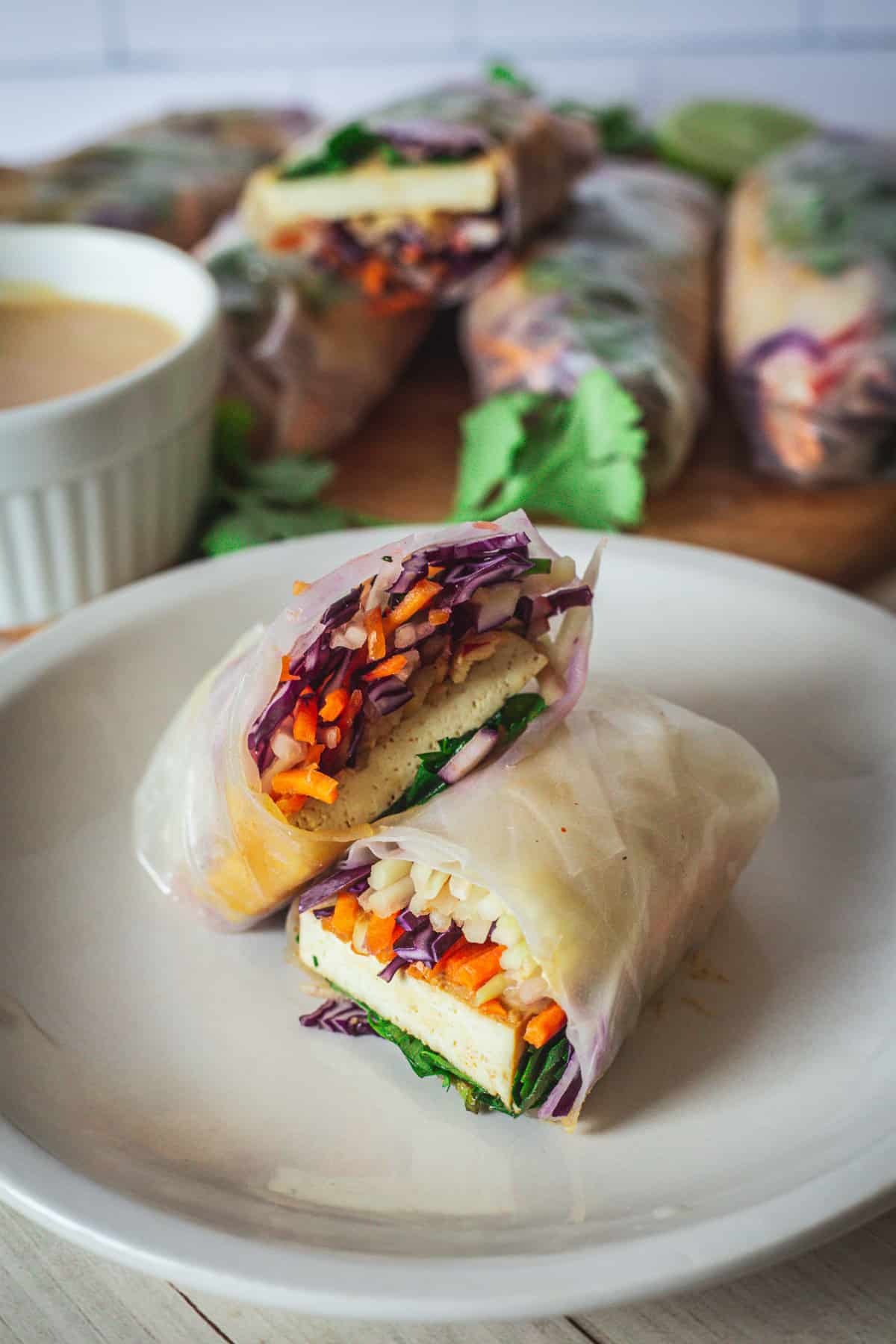 Discovering Vietnamese Fresh Spring Rolls
My first time trying fresh spring rolls was in a small Vietnamese restaurant in my neighbourhood in Winnipeg (shout out to Pho No. 1). I believe they were on the menu as "fresh rolls," or "rice paper rolls" - but my memory could be off on that point.
As an experimental diner, I was always up for trying new things. Coming from the Middle East and Russian cuisine, Asian cooking that ventured beyond Chinese of Japanese was completely new to me.
So on our regular sojourns to Pho No. 1, my partner and I made our way through the vegetarian items on the menu - trying moo shoo pancakes, vegetarian fried spring rolls, fried noodles, meatless pho soup, and of course - fresh spring rolls.
I have to admit that my first taste of these tofu rice paper rolls was underwhelming. Prepared in a place that prided itself on affordable, authentic meat-based recipes, their vegan spring rolls left a lot to be desired. They lacked a protein beside veggies, and there was no mention of fresh herbs. But I loved the creamy, peanut-y dipping sauce, and the fresh sensation of biting into an uncooked, refreshing roll. They tasted, truly, like spring.
After that, I began to seek out freshly prepared vegan spring rolls wherever I went. I became a dipping sauce connoisseur, priding myself on being able to tell if a sauce ventured beyond the usual peanut butter-sriracha formula. I especially loved those tofu fresh rolls that combined unique aromatics - shiso leaves, mint, Thai basil - or that included Asian pear or another sweet bite.
From there, it was a short journey to learning to make my own tofu spring rolls. And as soon as it came time to plan out my summer content, I knew I wanted to write up my favourite apple and marinated tofu spring rolls recipe for the Reducetarian Foundation.
Tofu spring rolls make an easy portable snack
The first time I really made tofu spring rolls at home was before a flight. I figured the simple, no cook vegan spring rolls would make a great, portable flight snack that required no reheating - and boy, was I right.
These spring rolls are:
EASY - assembled in mere minutes
No cook or bake - perfect for hot weather days (along with some cold Bulgarian soup)
Filling
Crunchy
Aromatic
Delicious
A mix of textures
Portable
Perfect for flights (or other situations without access to heat or cutlery)
Perfect finger food
Great for a snack or lunch
Gluten-free
Vegan
Vegetarian
My top tips for making easy vegan spring rolls
The secrets to the perfect vegan spring rolls, I learned, were:
Avoiding excessive moisture - avoiding liquid in your spring rolls is the key to rolling them well - and keeping them that way. Make sure all your cut vegetables are dry and that your marinated tofu has is not dripping with sauce, but has instead had plenty of time to soak up all the flavors.
Wrapping each spring rolls individually in plastic wrap - this may not be great from an environmental point of view, but it really helps separate the rolls, keep them from sticking to each other, and maintaining their freshness. You can also roll them in paper towels or beeswax wrappers if you are avoiding plastic.
Using room-temperature water to soak up your rice paper - avoid burning your fingers with boiling water. Room-temperature water is great for soaking up the rice paper, and it requires a lot less work or time to heat up.
Adding fresh herbs - fresh herbs really take the flavor of a good tofu spring roll and make it the BEST tofu spring roll. They elevate the entire experience, making each bite feel fresh and exciting. Whether you use cilantro, Thai basil, mint or the more exotic shiso or the traditional perilla leaves, you really can't go wrong. My vegan spring rolls recipe uses cilantro and mint because I find them easiest to locate.
Including a bite of sweetness - I love to include some matchstick-cut apples in my fresh spring rolls, but the traditional route is Asian pear. I have also had vegan spring rolls with unripened mango, and they were INCREDIBLE.
Making a homemade dipping sauce for your rolls - this can be as simple as mixing peanut butter or almond butter with Sriracha and a bit of water - or you can follow my recipe for my favourite spicy peanut dipping sauce. Any way you go, this is a CRUCIAL part to making these tofu fresh rolls taste refreshing and delicious.
For other Asian-inspired recipes:
Ingredients
Here's what you'll need for these easy vegan spring rolls:
For marinated tofu:
extra-firm tofu
sesame oil
peanut butter dipping sauce (recipe below)
Tamari or soy sauce
agave or maple syrup
Sriracha sauce
fresh ginger root, grated
garlic clove, minced
For spicy peanut dipping sauce:
unsweetened peanut butter
Tamari or soy sauce
agave or maple syrup
fresh lime juice
Sriracha sauce
Water (to thin the sauce)
For tofu spring rolls:
Lukewarm water
julienned vegetables (purple cabbage, carrots and daikon radish)
julienned apple (Granny Smith works really well, as does Honey Crisp or Cosmic Crisp)
fresh cilantro
fresh mint
spring roll rice papers
Equipment
large plate in which to soak the rice papers
Can I make this dipping sauce without a blender or magic bullet?
Absolutely! Just add all the ingredients to a jar, close the lid tightly and shake vigorously. You may have to whisk a bit with a fork as well if your peanut butter is really chunky.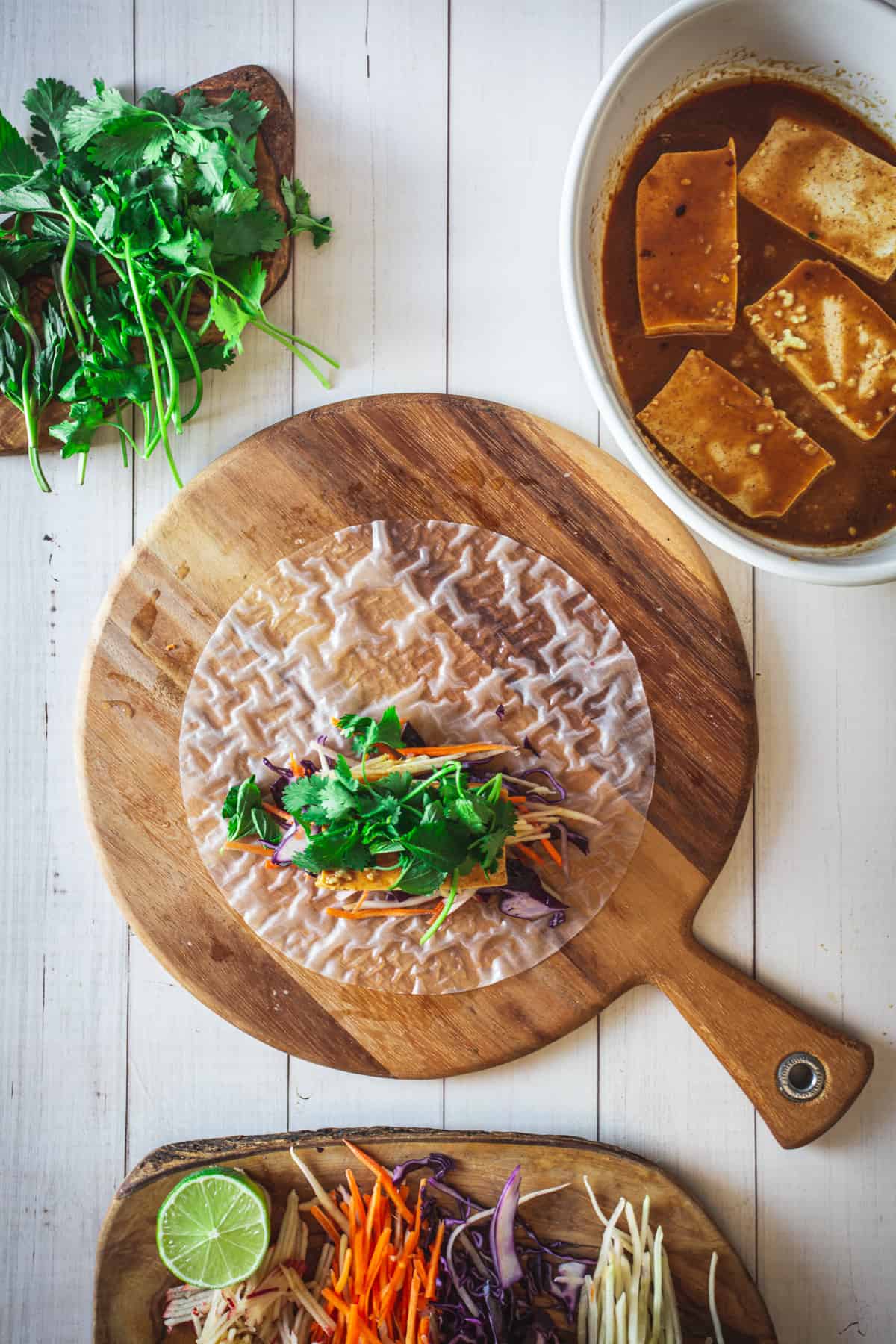 How to make tofu spring rolls:
For the full recipe and directions, check out my apple and marinated tofu spring rolls recipe for the Reducetarian Foundation.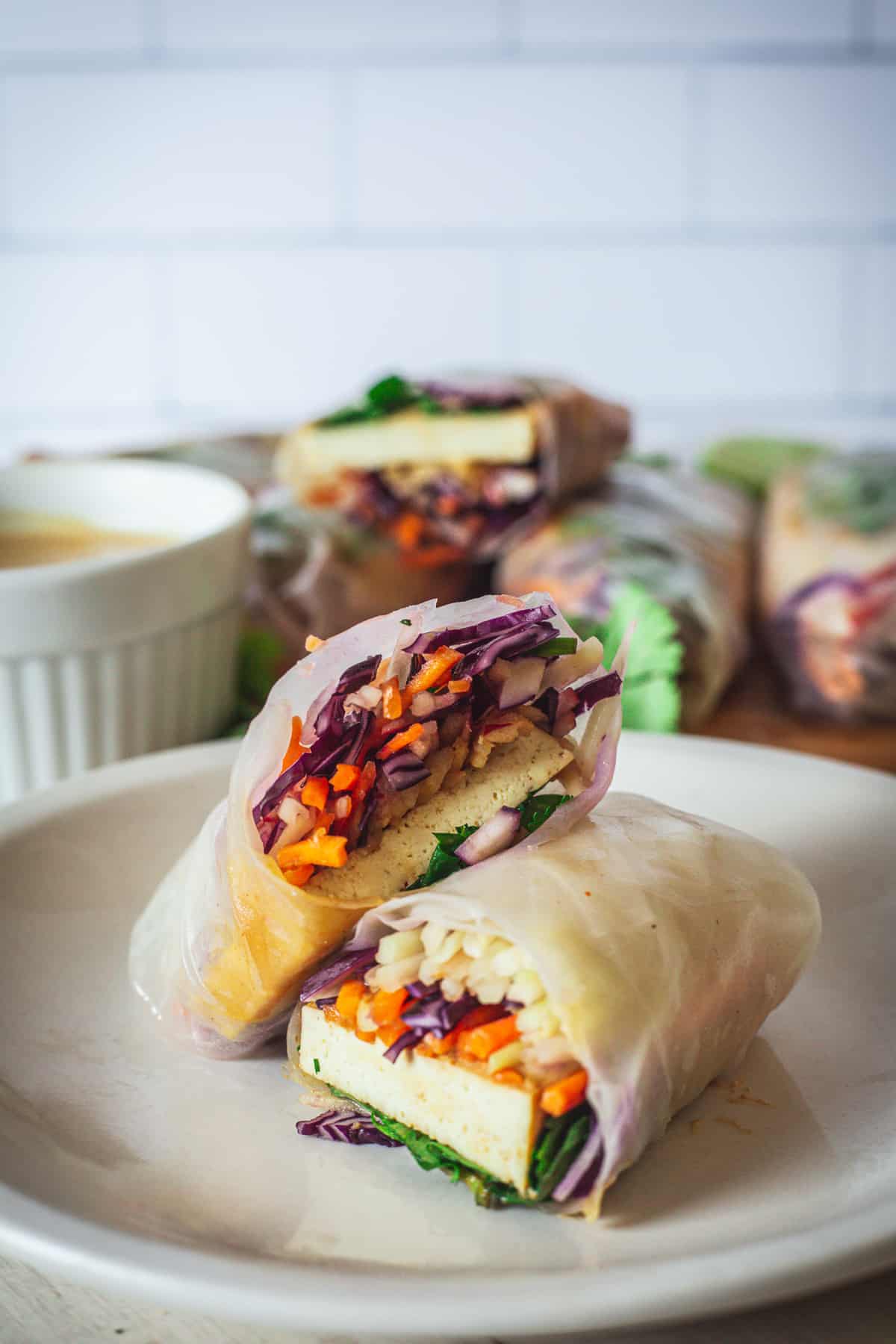 Storage
These vegan spring rolls will last for 4 days in an airtight container in the fridge, as long as they are individually wrapped. If you do not wrap these tofu spring rolls, they will only stay fresh for a day or two.
Scaling the recipe
This recipe makes 8-12 individual rolls, depending on the size of your spring roll rice paper wrappers. You can easily scale it up or down by using less or more marinated tofu.
The dipping sauce recipe will give you some leftovers, and I love drizzling it on salad or having it with a Seasoned chicken kofta kebab salad.
Adaptations
This easy vegan spring rolls recipe is gluten-free and vegan.
To make it Whole 30, keto and paleo, omit the marinated tofu and replace the peanuts in the sauce for almonds. You can use lettuce leaves for a large fresh roll, daikon slices for mini spring rolls, or use Folios cheese wraps if you are looking to make this more filling.
More Tofu Recipes:
What to pair with these tofu spring rolls
These tofu fresh rolls make an awesome portable meal, lunch or snack. If you are looking to pair them with something, try these vegan recipes:
Pin for Later!
If you make these vegan tofu spring rolls, we'd love for you to leave a comment and rating below! We also love to see your creations on Instagram – tag us at @immigrantstable so we can see what you've been cooking.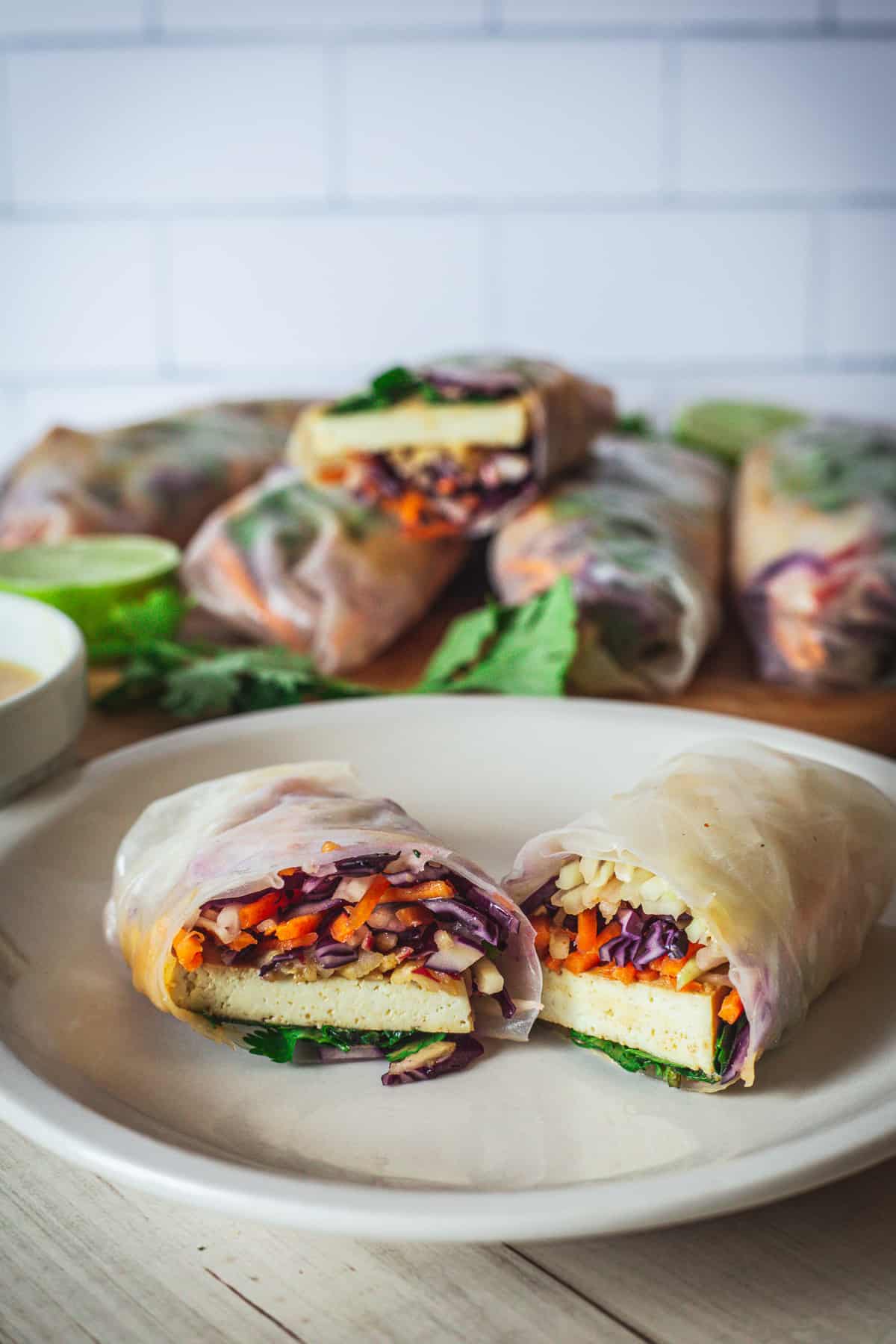 Get the Recipe
For the full recipe and directions, check out my apple and marinated tofu spring rolls recipe for the Reducetarian Foundation.
Tried and loved this recipe? Please leave a 5-star review below! Your reviews mean a lot to me, so if you've got any questions, please let me know in a comment.