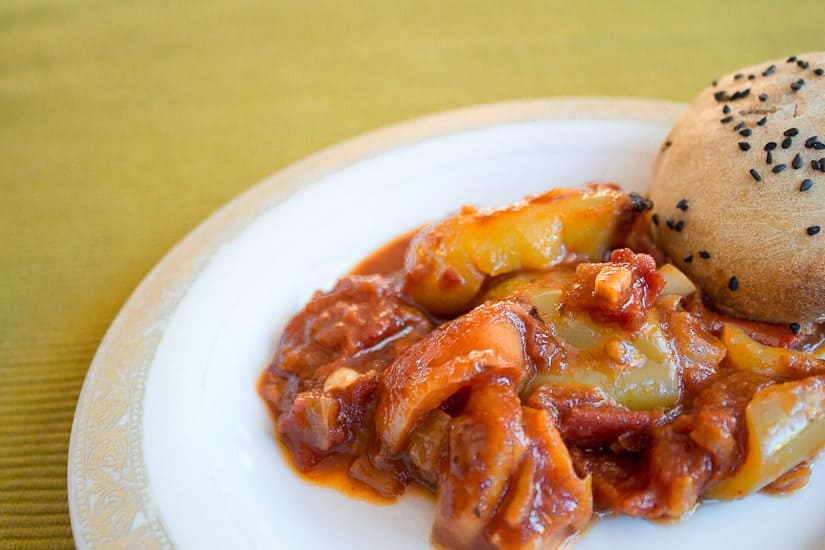 As I sit here on my Canadian living room couch, my bare legs brown and my hair golden from the Middle Eastern sun, I realize that what you likely want to see after my visit are photographs and recipes for silky hummus, fat roasted eggplant, and Israeli lemon-mint lemonade. And though those are all coming in the future, they are not where I want to start my reminiscing. Those are not the true homemade flavours of my parents' home, where hurried cabbage and a well-curated cheese platter are more likely to make an appearance on a weeknight than the real, smoky, seductive flavours of the Middle East. We buy our hummus in a plastic package, our eggplant in a jar, and our lemonade in a carton, and they're all delicious, made by expert hands in other homes and kitchens. My first foray into making those dishes myself came only after I moved, as I began to desperately look for ways to recreate the tastes and sounds of my home country. And my love for them remains unabated, though what I often think of when I think of my parents' Soviet table are dishes stewed in tomato sauce.
I do not know when the Slavic love affair with tomatoes developed. It is second only to our infatuation with mayonnaise, though luckily far healthier. Tomatoes make appearances in many Russian and Ukrainian dishes, perhaps influenced by the more Mediterranean kitchens of our Serbian, Croatian and Bosnian cousins. They are served stewed, in rich sauces; fresh, cut in salads and layered on thickly sliced breads; curled and sliced as decorations in inventive presentations; broiled in the oven atop of grilled cheese sandwiches (with mayonnaise and butter, naturally); and baked into in golden pastries. And aside from using them as a sauce for cabbage, my mother's favourite weeknight supper is cooking them with peppers into a silky and tangy lecho.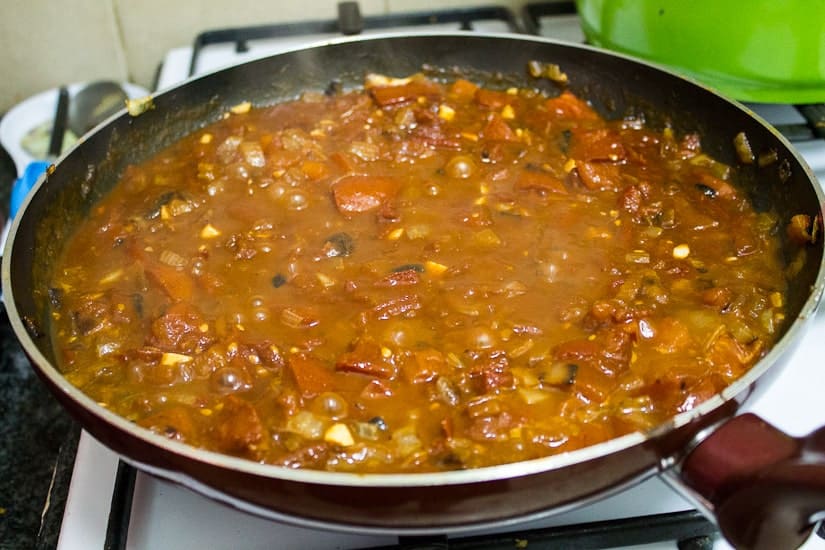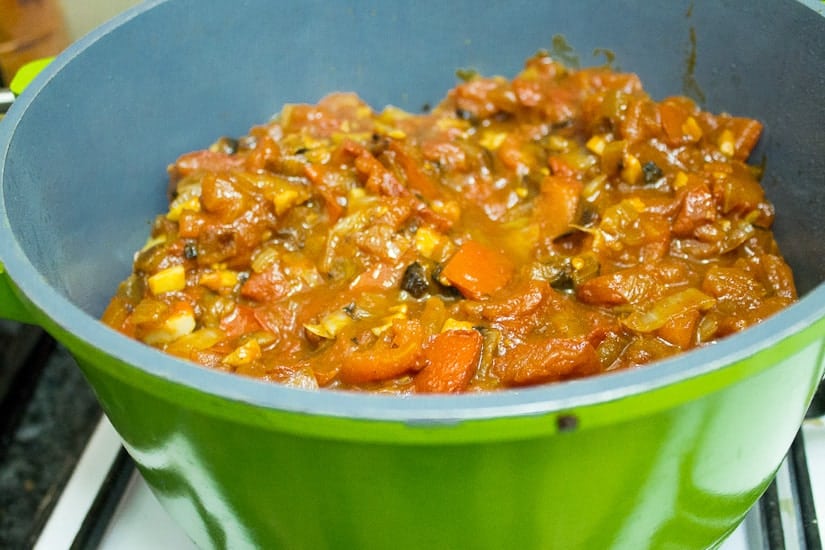 We ate Ukrainian bell pepper lecho twice on my last two-and-a-half-week visit to Israel. Some months, it is served to the table every week, an easy staple that can be pulled together quickly once the weather turns summery and tomatoes and peppers become abundant (or in Israel, basically year round - even less-than-perfect tomatoes will do for this dish, or can be substituted entirely for tomato paste). The recipe I bring to you today is an adaptation of my mother's recipe-less preparation, a collection of half-accurate measurements scribbled on a kitchen pad while getting splattered with tomato sauce. If to be honest, this Ukrainian pepper lecho is never the same dish twice, the ratio of spices and cooking times shifting as time, pantry, and patience permit. But the trick here is the technique of searing the peppers first while making the sauce separately, and then combining them all together in a perfect ratio of peppers to tomatoes.
As I stepped off the tarmac this morning, I realized with an acute sharpness just how much I miss Israel already. It is always like this; the memories of all the bureaucratic hassle, the honking and unstopping noise, the bad driving, people's impatience and rudeness, and the oppressive heat fade away at the first whiff of fresh Canadian air, making room for nostalgia and rose-hued glasses. And though I know this sentiment is misleading, an illusion that won't last until my next visit and won't hold to reality in that difficult, multi-faceted, loud and honest country, I can't help but feel like a large piece of my heart has been delicately cut out and left to stew in that lecho back home. And with each visit, I feel it more acutely, but also less painfully. And that in itself frightens me a great deal.
But enough with the moroseness. I promise you that making this lecho won't make you miss your parents' any more. But if it makes you miss mine, well - they are pretty awesome.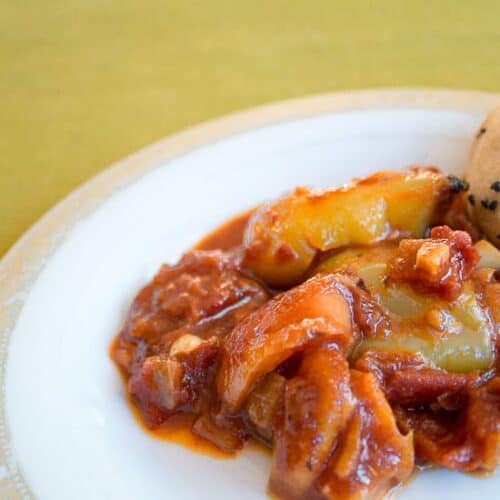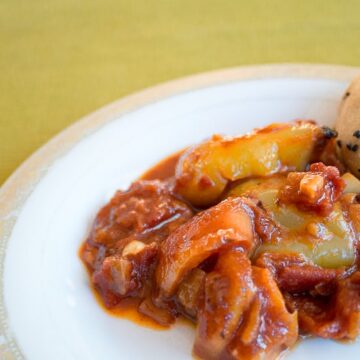 Ukrainian bell pepper lecho, or the tried and true
This tangy and rich-tasting Ukrainian stew of bell peppers in tomato sauce is a healthy, easy vegan staple that can be pulled together quickly from fresh or canned tomatoes.
Print
Pin
Rate
Ingredients
9

bell peppers of all colours - green

yellow, orange and red will all do for a delicious mix

6-9 to

matoes - if your tomatoes are beautiful

plump and juicy, go with all 9. But if what you have is a mix of watery winter tomatoes, then use six (canned tomatoes will do as well) and add a ½ cup of tomato paste to the pan once the tomatoes have reduced a little.

2

large onions

2

garlic cloves

optional

1

Tb

of paprika

1

teaspoon

of chilli flakes

optional OR 1 teaspoon of freshly ground black pepper

2

Tbs

of sugar

or omit to taste. I always add sugar to my tomato sauces, but if you're watching refined sugars, omitting this won't hurt

2 ½

Tbs

vegetable oil

1-2

teaspoon

of salt

or more, to taste
Instructions
Prepare two dishes: a deep pan for the tomato sauce, and a large, heavy-bottomed pot for the peppers.

Cut peppers into eights, or even quarters, depending on their size. You want your pieces to have texture and be noticeable, rather than breaking apart into a saucy mush. Add ½ a teaspoon of oil to the bottom of your large pot. Add peppers and cover the pot. On medium-high heat, sauté your peppers until they look seared and have softened, stirring them occasionally to ensure all sides come in contact with the heat, about 15 minutes. Turn off heat.

Meanwhile, coarsely chop your onions and tomatoes. You want a chunky sauce, so don't worry about a getting a fine mince. Preheat a large pan to medium heat and add 2 Tbs of vegetable oil. Add onions and let cook for 10 minutes, until their colour changes. Add chopped tomatoes (fresh or canned), and let reduce on medium heat, stirring occasionally, for 15 minutes. If using, add tomato paste. Let sauce cook for another 5-10, until it has thickened. Add all spices and taste, correcting flavours if needed.

Add sauce into the same large pot where your peppers have cooked. Stir well to combine, ensuring all peppers are coated. Cover the pot and let cook on low heat for another 10-15 minutes, testing the peppers for your desired level of doneness (my mother prefers them with a bit of a bite to them, and only cooks them for another five; I like my vegetables soft, and go for the whole 15).

Serve as is, with good bread, or on top of whole-grain rice. Eat cold, in room temperature, or warm.