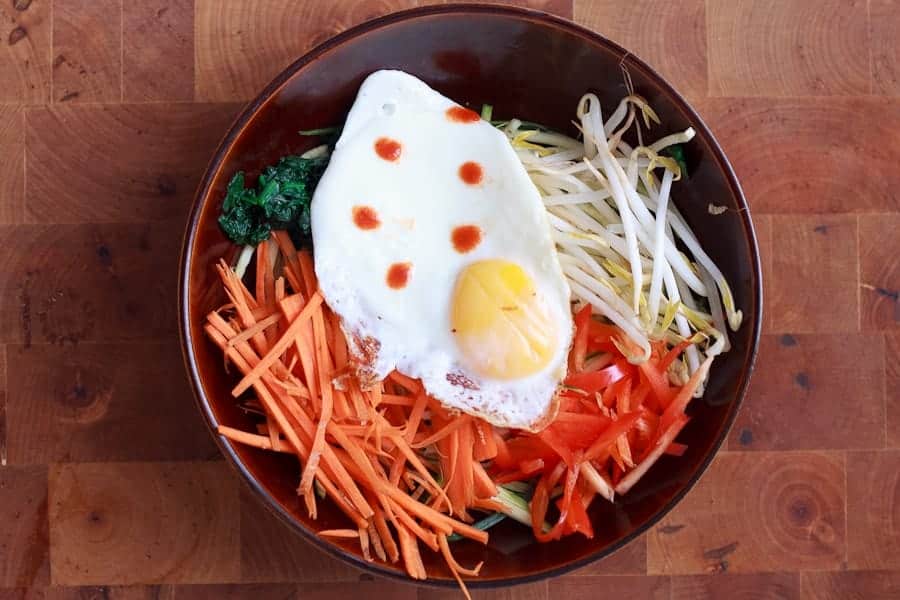 There was a little Korean restaurant not far from my old house in Winnipeg that I used to frequent. Tucked away in a quaint house on a quiet residential street, this little gem was modelled after a traditional Korean tea house, replete with beautiful tea sets and imported tea mixes. Walking in, one was greeted by the sound of wind chimes and waterfalls, which would continue ringing long after the hostess had walked you to your table, handing you menus sticky from the hands of former diners. The menu wasn't extensive, but everybody who came here knew what to get without even looking; here, it was all about the bibimbap bowl, and I just couldn't get enough of their spicy, salty and sizzling vegetarian version.
Sadly, my favourite Korean place has long since closed, likely bankrupted by the generosity of their portions and the not-very-profitable teahouse business. Even if it hadn't, I no longer live in Winnipeg, and a 2.5-hour flight just doesn't seem like a worthwhile price to pay for a bowl of vegetarian bibimbap, no matter how good. Not knowing where to go in Montreal for a good Korean food bowl, I have long since given up on the idea of tasting that explosion of flavours ever again.
And then a couple of weeks back, G and I went out on a date to a small local museum. After a couple of hours spent soaking up local history, we were famished, and decided to look around for a place tograb a bite to eat. I loaded up my trusted Urbanspoon app, and to my sheer delight, discovered there was a highly rated Korean eatery just around the corner from the museum!
But then our bus came, and we decided to hop on it and eat home instead (we were both a little bit worried that my vegetarian paleo diet would make it hard to find something to eat at a restaurant). But I just couldn't get Korean food off my mind; the whole ride back, I kept thinking about how I could satisfy my craving and make a worthy bowl of paleo vegetarian bibimbap that would make my old Korean restaurant owners proud.
As though it was fated, this recipe came together extremely easy, and we were ready to sink our chopsticks into a steaming bowl of paleo vegetarian bibimbap in under 30 minutes.
Zucchini, bell peppers and carrots were sliced into matchsticks, producing a beautiful bed of fresh vegetables for our proteins (I used this borrowed mandoline
to make light work of what normally would have been a Herculean task, and I was pretty pleased... But I found the round finger protector a little difficult to work with. Now I intend to test out this Benriner Japanese mandoline
). A small portion of blanched spinach provided the infusion of greens that every good vegetarian bibimbap bowl needs. As I am continuing to eat tofu on my paleo diet, I made a quick spicy marinade for triangles of firm bean curd, which were then sauteed on an extremely hot cast iron pan. A beautifully fried egg graced the top of this creation, along with a sprinkling of hemp seeds in place of the traditional sesame.
Served with the egg and tofu still sizzling, this paleo vegetarian bibimbap was the ultimate healthy comfort food that we had been craving after a long, cold winter day. And for a perfect paleo treat, you can omit the tofu - I promise you that no one will complain. Just don't skip that marinade!
Liked this post? Share it with your friends! For more At the Immigrant's Table, follow me on Facebook, Instagram, Pinterest, Bloglovin', or Twitter, subscribe to my mailing list, or contact me about advertising and becoming a sponsor.
Paleo vegetarian bibimbap (v, gf, paleo)
Served with the egg and tofu still sizzling, this paleo vegetarian bibimbap is the ultimate healthy comfort food you need on a cold winter day. And for a perfect paleo treat, omit the tofu - I promise you that no one will complain. Just don't skip that marinade!
Print
Pin
Rate
Ingredients
2

cups

of spinach

2

TBs

of tamari sauce

2

TBs

of white vinegar

1

TB

of your favourite Asian hot sauce

I used a homemade Thai chilli one, but any one would do

½

a package of tofu

optional

2

zucchinis

½

a large carrot

½

a red bell pepper

½

cup

sprouts

2

eggs

2

TBs

hemp hearts
Instructions
Bring salted water to a boil in a small saucepan. Slice spinach thinly, and add to boiling water. Blanch for 2 minutes, then remove. Set aside.

Mix a marinade of tamari sauce, hot sauce and vinegar.

If using tofu, slice it into ½-inch thick slices, then cut each slice in half into triangles. Arrange in the marinade, and let the tofu soak it up for at least five minutes.

Slice zucchini, carrots and bell peppers on the smallest setting of your mandoline (I find that the bell peppers need to be chopped by hand at the end, as the mandoline won't cut through the shallow flesh). Arrange zucchini at the bottom of two shallow bowls, then arrange the other vegetables on top of the zucchini in clumps (if you're serving this with rice, place the prepared, hot rice in the bowl first). Add blanched spinach to bowls.

If using, fry tofu on a hot and well-oiled cast iron pan. Salt and pepper the tofu triangles while they're cooking. Reserve the marinade.

When ready to serve, fry two sunny-side up eggs. Place in the heart of the bowl, nestled amongst all the vegetables. Add the tofu triangles to the side, if using. Top with a generous sprinkle of hemp hearts, and the marinade. Serve immediately.