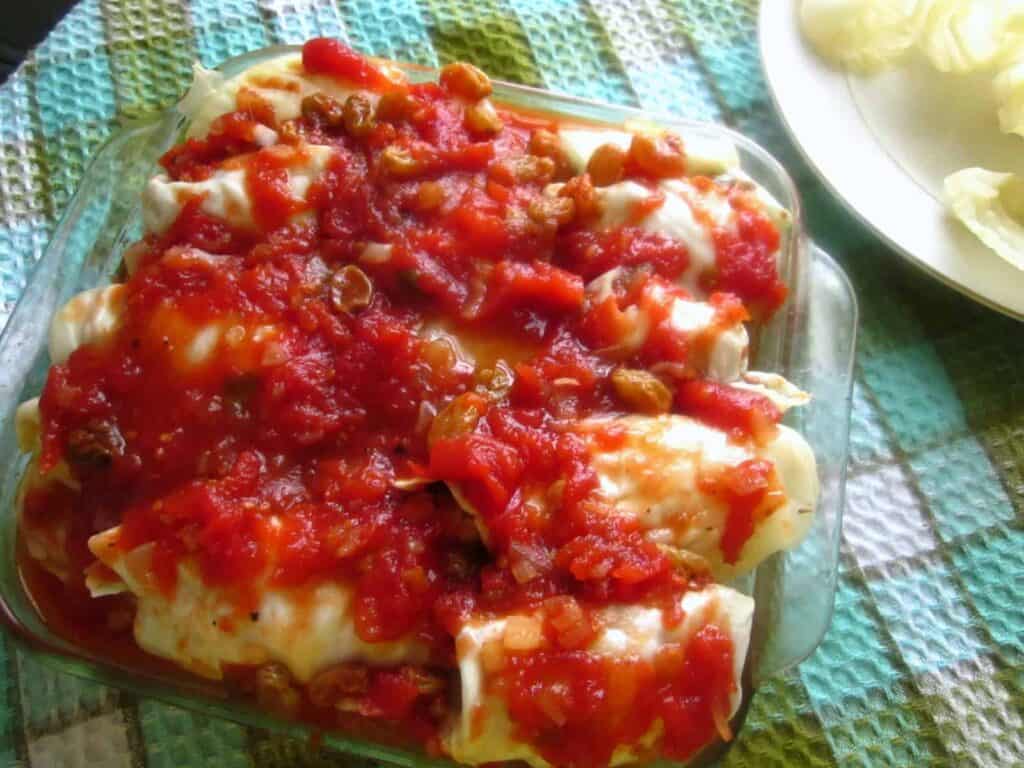 Traditions are a funny thing. The way we decorate the table, the greetings we use to wish each other a happy holiday, or the gifts we give to a particular relative can all become ingrained, a habit borne out of repetition. In our minds, the rhythm, accouterments and ceremonies of a holiday can take on a life of their own, until they are overshadowing the actual meaning of the celebration. We find as much comfort in these traditions as we do cause for anxiety; after all, everything has to be 'just so' in order to make the holiday come alive. At times, we cling on to the traditions long after their origin has been forgotten, or the creed has been replaced with questions.
The thing that is most funny about traditions is that at times, we fail to realize something actually is a tradition until we step away from it. For example, I never realized the way I wrap presents is a tradition until I came face-to-face with my partner's family's gift-wrapping method. Each gift goes into a box that is of a different size, sometimes getting encapsulated several times, until the recipient finds themselves caught in a maze of confusion and packaging. It's a lot of fun, but it's also very frustrating when you first try to adapt to this different tradition of packaging. It can even lead to fights, caused by the anxiety and pressure of trying to get a tradition just right.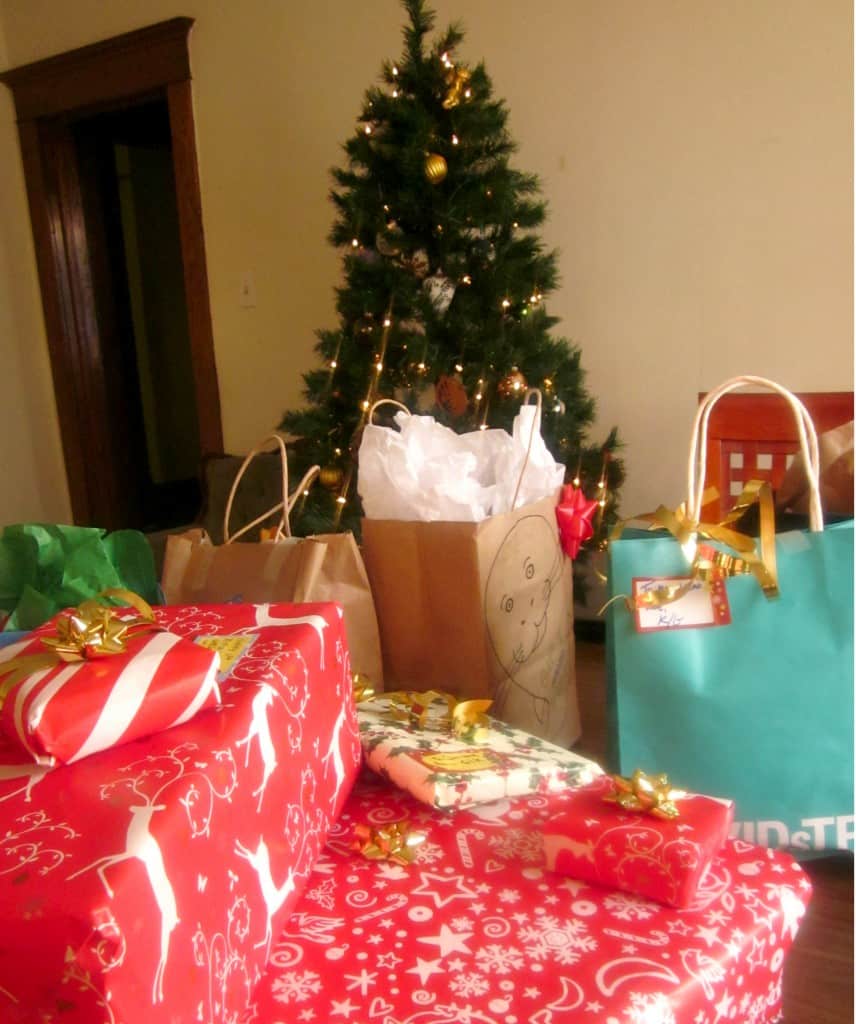 But the best part about traditions is when they organically change. In the end, as our gifts lay in a pile of mismatched packaging, neatly wrapped and tied ribbons alongside decorated oversized boxes, one looks at it and see that it really doesn't matter. After all, these wraps will come off, hours of arguing cast off in a flurry of excitement. And the whole ceremony of unwrapping gifts is its own, separate tradition.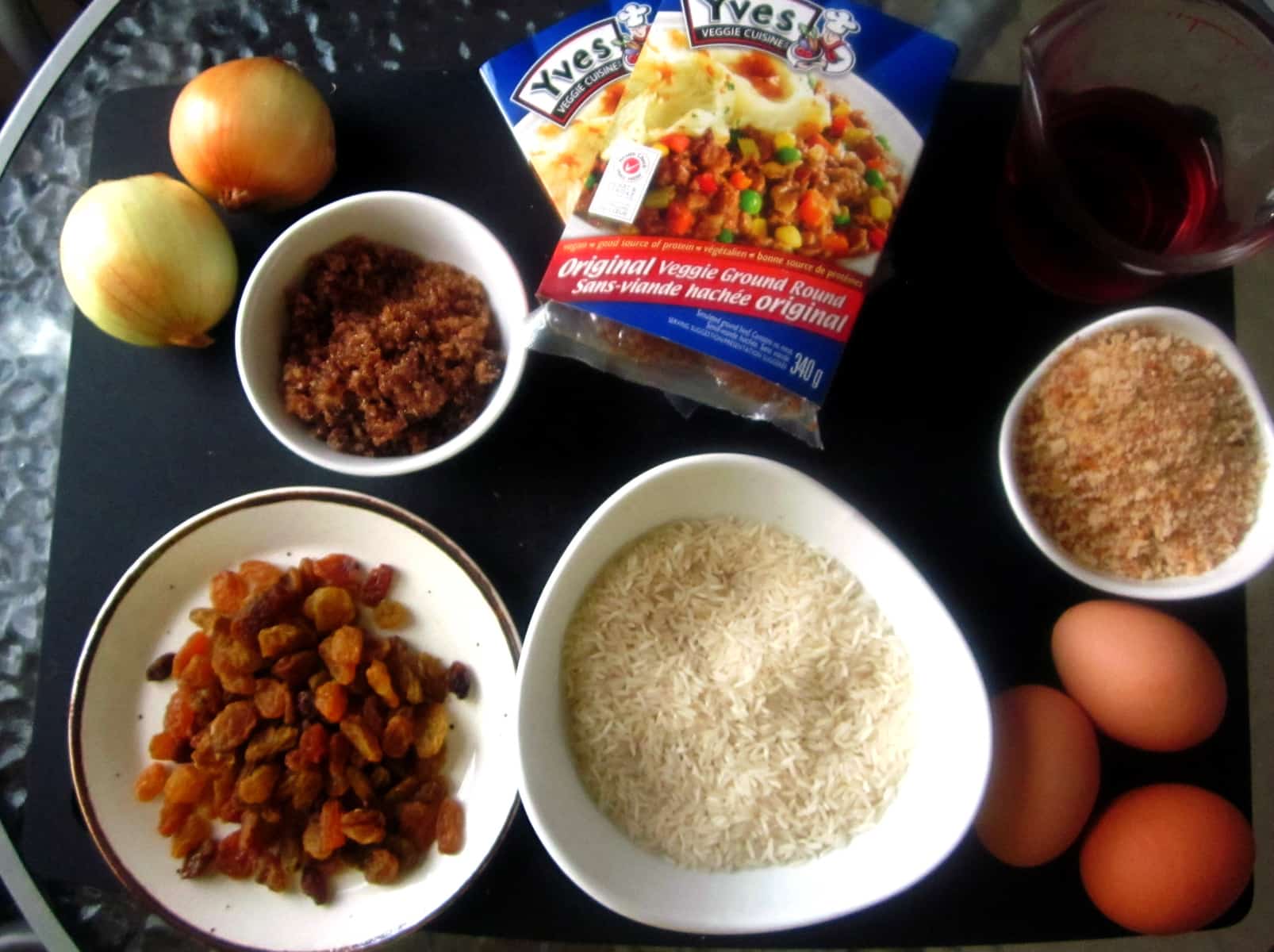 These cabbage rolls are no different. Each Soviet family has a different take on the filling, and a slightly different way of wrapping these morsels. Some do away with tradition and bake them into a lazy-man's cabbage roll casserole. My take, adapted slightly from a recipe by the Amateur Gourmet, which is based on a recipe by Ina Garten, is definitely different than the golubtsy my family used to make, and different than the Ukrainian holubtsi my partner's dad grew up eating on a Saskatchewan farm. They're a unique creation, a gift of rice and vegetable protein wrapped in a rich, raisin-studded, vinegar-laced tomato sauce. And as I now make them year after year, for both Christmas and Easter, I think they became their own little tradition. Not unlike the strange hybrid of wrapped gifts piled under my partner's family's Christmas tree.
Whether you're celebrating Christmas, New Year's, or nothing at all in these two weeks, I hope you will get the chance to make some new traditions of your own.
ED: This recipe was shared on Food Foto Gallery! If you're ever in a loss of what to cook for dinner tonight, this site has got you covered.
Tried and loved this recipe? Please leave a 5-star review below! Your reviews mean a lot to me, so if you've got any questions, please let me know in a comment.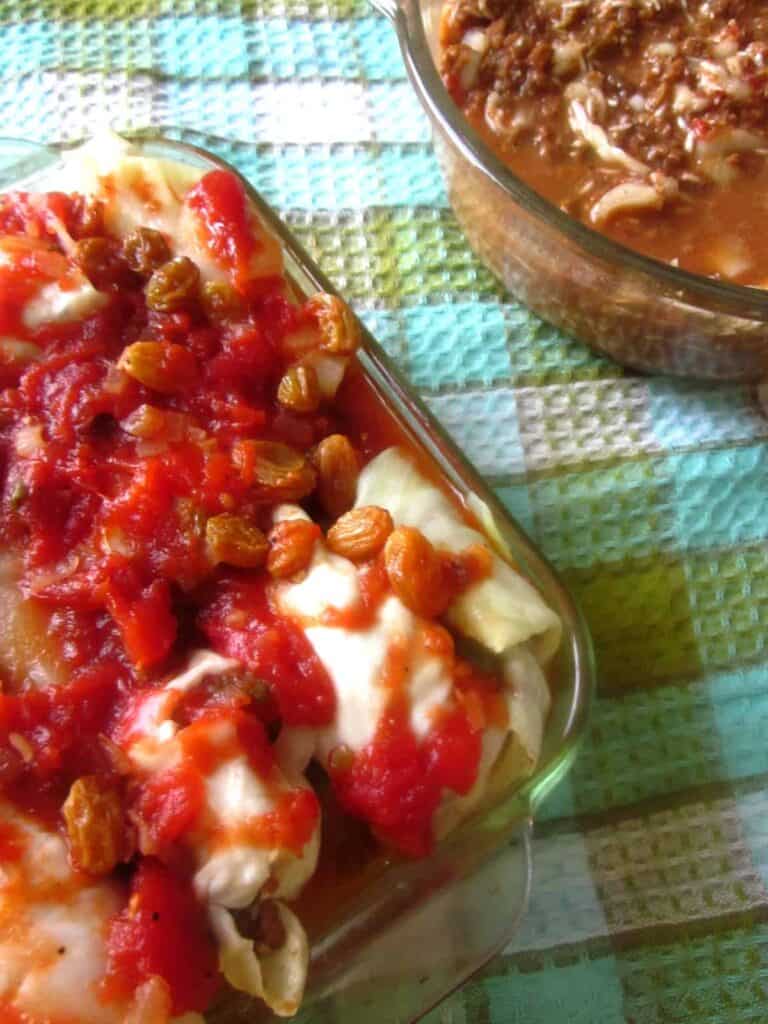 Recipe
Vegetarian cabbage rolls in a tomato-raisin sauce
Morsels of rice and vegetable protein wrapped in a rich, raisin-studded, vinegar-laced tomato sauce. Adapted very slightly from a recipe by the Amateur Gourmet http://www.amateurgourmet.com/2011/12/stuffed-cabbage.html and Inna Garten http://www.foodnetwork.com/recipes/ina-garten/stuffed-cabbage-recipe/index.html.
Ingredients
2

tablespoons

olive oil

1

cups

chopped yellow onion

2 28-

ounce

cans crushed tomatoes and their juice

¼

cup

red wine vinegar

½

cup

light brown sugar

lightly packed

½

cup

raisins

1

teaspoon

of red chili flakes

2

teaspoons

kosher salt

plus more, to taste

¾

teaspoon

freshly ground pepper

1

head green cabbage

including outer leaves (I prefer medium-sized cabbages as they tend to be sweeter. But a large one will be just fine - just make sure it fits in your pot!)

2

packages of veggie ground round

or any other simulated vegetable protein you like. I have even gone the route of rehydrating textured vegetable protein, and it works just fine, though makes for a less moist and fatty filling

3

large eggs

lightly beaten

1

finely chopped yellow onion

½

cup

plain dried breadcrumbs

or polenta, for a gluten free version

1

cup

uncooked white rice

2

teaspoons

cumin

1

teaspoon

coriander

1 ½

teaspoons

kosher salt

½

teaspoon

freshly ground black pepper

A large pot

big enough to fit your whole head of cabbage
Instructions
Remove the core of the cabbage with a paring knife. Place the cabbage in a pot, and fill pot with water, just enough to cover the cabbage. Remove cabbage from pot, and bring water to a boil.

Meanwhile, make the sauce by heating the olive oil in a sauce pan, add the onions and cook until they're translucent, about 10-15 minutes.

Add the tomatoes, vinegar, brown sugar, raisins, chili, salt and pepper. Bring that to a boil, lower to a simmer and cook uncovered for 30 minutes, stirring occasionally (and tasting for salt, vinegar, etc). Set aside.

When the pot of water is boiling, which should be halfway through the sauce making process, carefully add the cabbage to the water. Cook for a few minutes until the leaves start to soften. Then, with tongs, start removing the cabbage leaves as they soften - the first should be ready in about 10 minutes. Continue removing the leaves as they soften, placing them neatly on a large serving plate.

Make the filling with the chuck, eggs, onions, breadcrumbs, rice, cumin, coriander, salt, pepper PLUS one cup of that tomato sauce. Mix it all together lightly with a wooden spoon.

Preheat the oven to 350.

Place 1 cup of sauce in the bottom of a casserole dish or a Dutch oven. Lay your first leaf on the board, remove the hard triangular rib with a knife, and place a tablespoon or two of filling near the rib edge (the amount of filling will vary based on the size of each leaf. You do not want to overstuff your leaves). Then fold in the two cut sides over, and roll up toward the outer edge, continuing to tuck the sides in as you roll.

Place the rolled cabbage, seam side-down, in the casserole dish and continue stuffing until you've either used up all your cabbage leaves or your mixture.

(I usually end up having extra filling. I then chop up all the cabbage ribs that I removed earlier, along with the cabbage leaves that were too small to fill, and combine it with the filling to make a lazy man's cabbage casserole. I pour this creation into another casserole dish, and bake alongside my authentic cabbage rolls).

Pour the rest of the sauce on top of the cabbage rolls, cover with tin foil or a lid and bake for 45 hour until the cabbage is cooked. Remove lid and cook for another 15 minutes.

Serve hot, with some vegan or regular sour cream.
Tried this recipe?
Comment + Rate Below!
Connect on Instagram!
Find us @immigrantstable