Tomatoes, onions and cilantro - what could be simpler than that? Yet my time in Colombia taught me that authentic Colombian pico de gallo dazzles in its simple, sharp flavours and perky attitude. Check out my approach for making these simple ingredients shine!
The first time my love suggested we make pico de gallo, I corrected him to call it 'salsa'. For which he just looked at me for a few minutes, eyebrow raised.
Then I backtracked and allowed that perhaps, he knows how to call a dish in his native tongue better than I do.
The occasion was Christmas, when we hosted six of our friends for a true Colombian meal. Hearty ajiaco Bogotano, twice-fried patacones, pico de gallo, aji, baked plantains with bocadillo and cheese and perky mousse de maracuya for dessert - the menu of foreign sounds and flavours was calling out my name like a fervent siren, weaving a web of familiar ingredients presented in new and exciting forms. When you broke down each dish, it all made sense - chicken soup with potatoes, the contradictory combination of sweet jam and salty cheese, passion fruit mousse parfait intercepted with homemade cookies - these were familiar flavours to an experienced cook, especially one who immerses themselves into immigrant cuisines.
But a recipe for Colombian pico de gallo, the dish I formerly knew as salsa, that included no chilles, no spices, no wild and exotic flavour combinations? That just seemed plain old boring.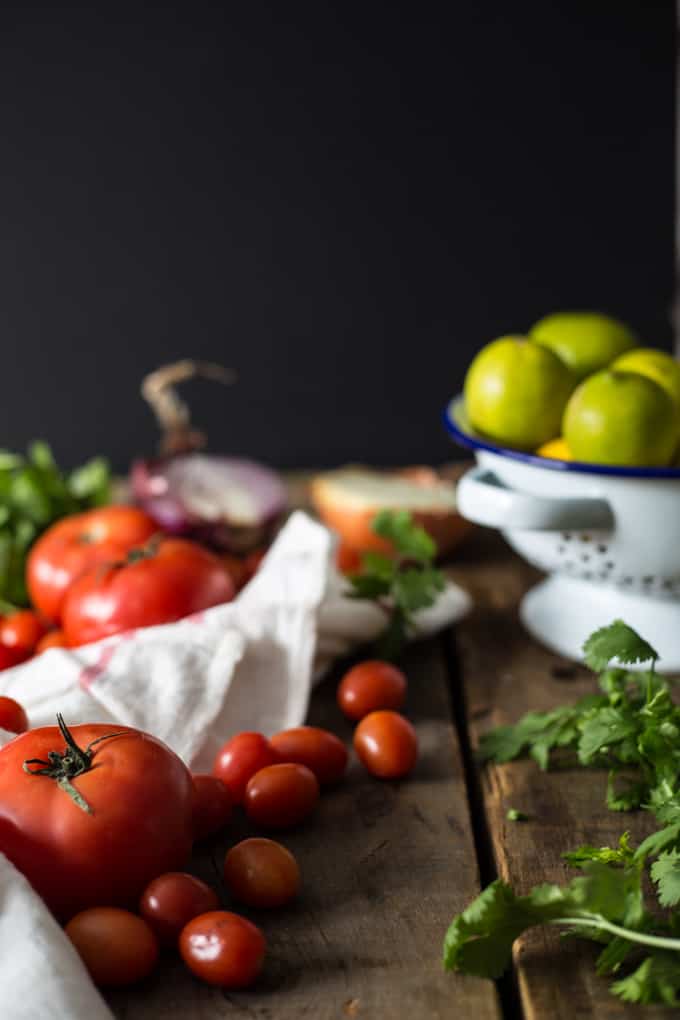 Still, I relented. I followed my partner's patient instructions for Colombian pico de gallo , reasoning with myself that after all, I did promise him a traditional Colombian meal. And traditional means no frills or exotic changes. No additions of cumin or harissa or whatever other Middle Eastern flavour was calling my name.
Five minutes later, with my tomatoes, onions and cilantro finely chopped and macerating in the juices of lemons and limes (I was allowed this one concession - the mixing of citrus), I told myself: well, even if boring, at least Colombian pico de gallo was fast to make.
And then, a few hours later, when I ladled our homemade Colombian pico de gallo on our patacones and took one big bite, my mouth filling with explosive, fresh and refreshing flavours, I thought - "How could you be so stupid?"
For there is nothing wrong with simple, clean recipes that demand few ingredients and moments of your time, like our Colombian pico de gallo. The only thing wrong is not giving traditional, authentic food a chance.
Looking for what to pair with Colombian Pico De Gallo?
Eat this simple scrumptious Pico De Gallo with:
Do you have a favourite take on pico de gallo? Have you made this one? Let me know what you think in the comments or on social media: Facebook, Instagram, or Twitter. Share the love on Pinterest, too!