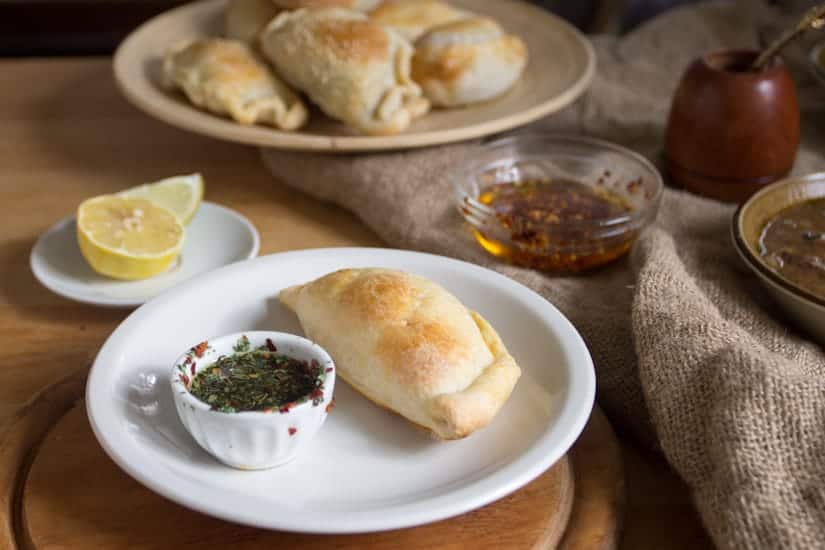 Authentic Argentinian vegetarian empanadas are little pockets of joy, in whichever one of my three customizable vegetarian fillings you choose. This post contains affiliate links – thank you for supporting the brands that help make this blog possible.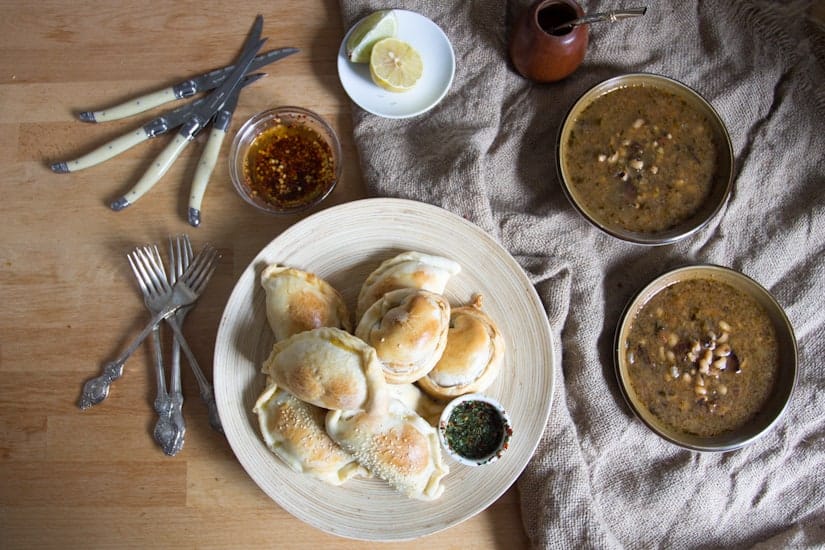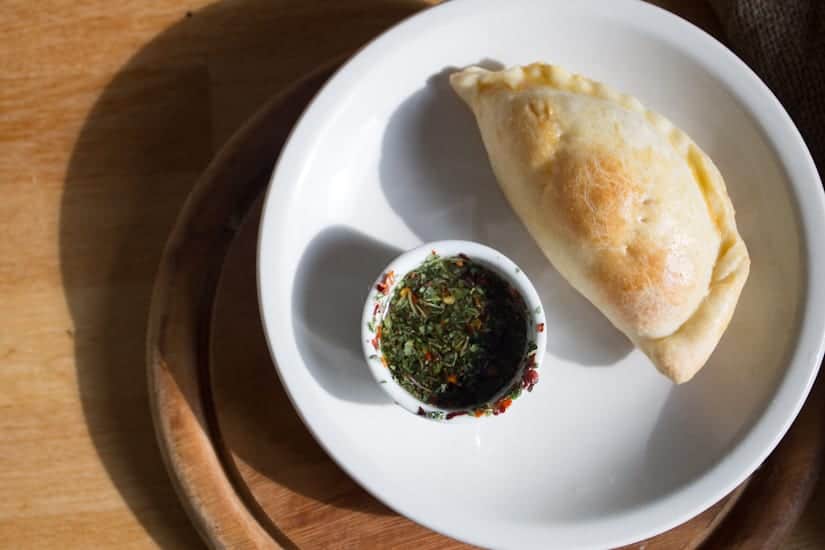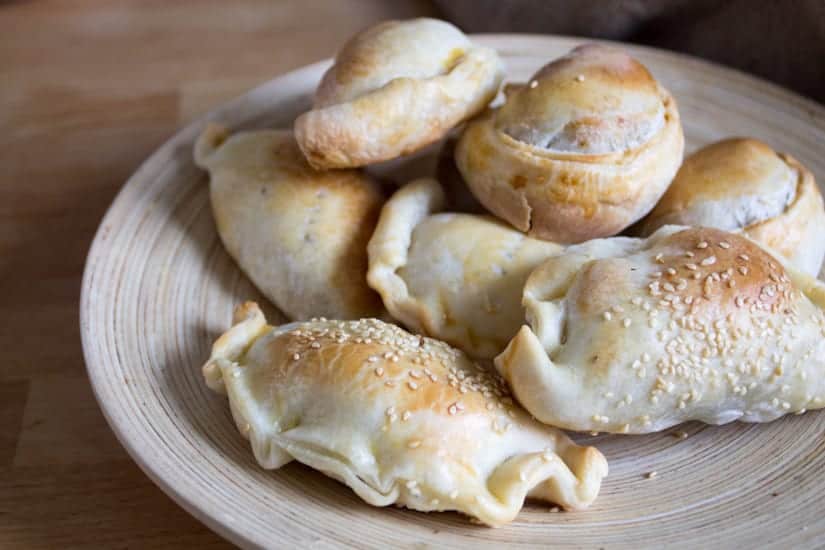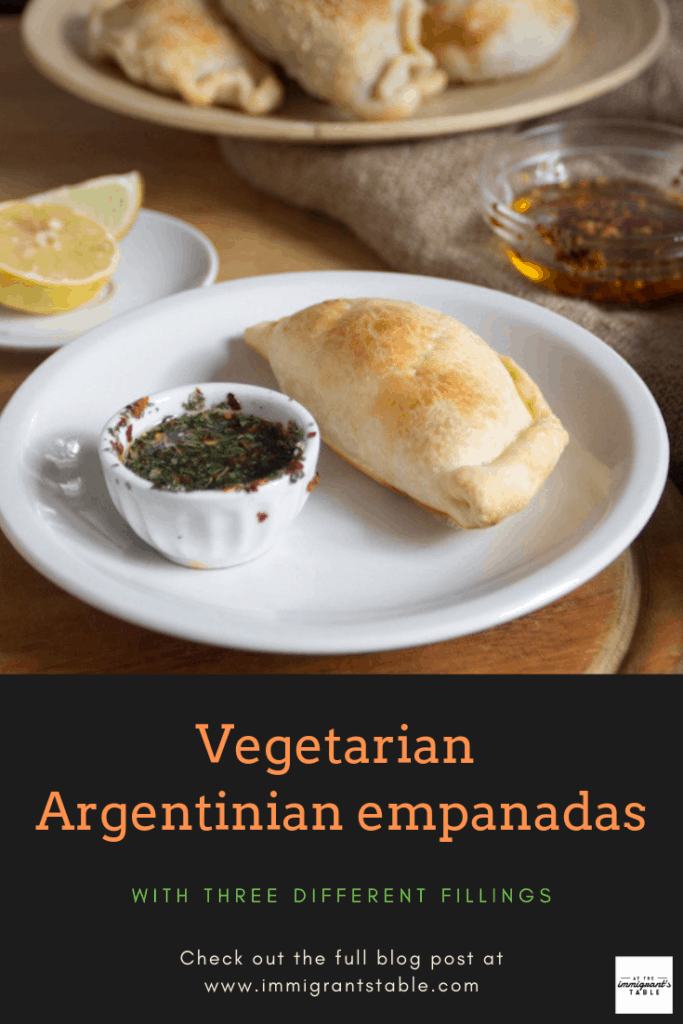 International friendships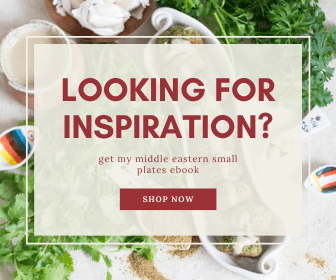 Last night I got one one of those Facebook reminders. "Ksenia and Mara have been friends for 2 years!" And for a moment, my heart skipped a bit because I realized I have been keeping this authentic Argentinian vegetarian empanadas recipe from you for over a year - and this morning, I just had to right that wrong.
I met Mara at a work meeting. She was a newly arrived immigrant from Argentina, having just recently moved to Montreal to be with her husband. I was a newly arrived transplant from Winnipeg, having just recently been hired to plan a Jewish cooking school for the local community. She was a classically trained pastry chef in need of work, I was a classically disillusioned former professional writer in need of rehabilitation. We both were doe-eyed and just a little bit lost, hopeful and scared. Naturally, we became colleagues - and friends.
The Jewish Food Project Experience
Mara worked on two ambitious events for the Jewish Food Project - an Argentinian cooking workshop, and an elaborate four-course dinner inspired by Yotam Ottolenghi's dishes. Both were a huge success, but what impressed me the most was her dedication, work ethic and perseverance. Here was a girl that could spent hours tempering chocolate, watching the beads coalesce on cooling cocoa while just barely holding her breath, taking care not to disturb a single molecule in the delicate chemical processes required to produce her creations. Her chocolate and sea salt tart still haunts my dreams.
Between Argentinian chimichurri and elaborate desserts, Mara and I struck a careful friendship. We spoke of what it's like to not know your place in your new home, to maintain a relationship across controls, to be an immigrant. We laughed and ate raw vegan food. We drank wine and commiserated. We bonded - and naturally, we cooked together.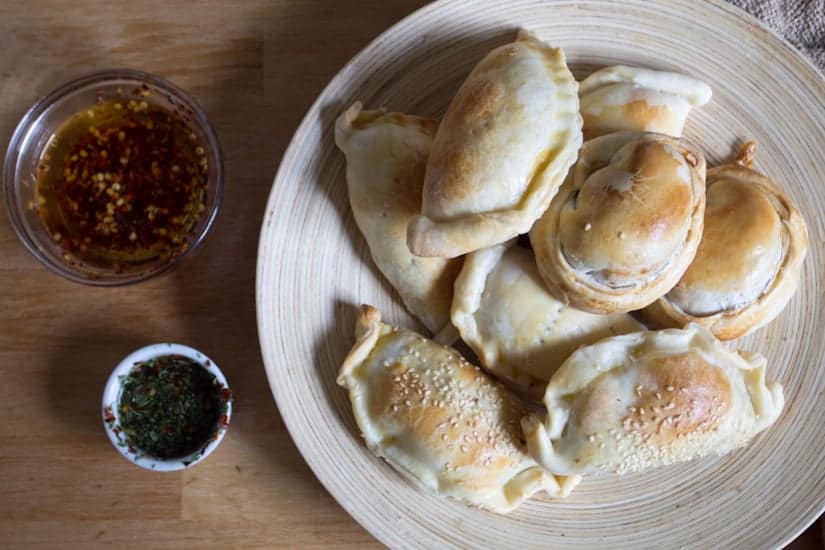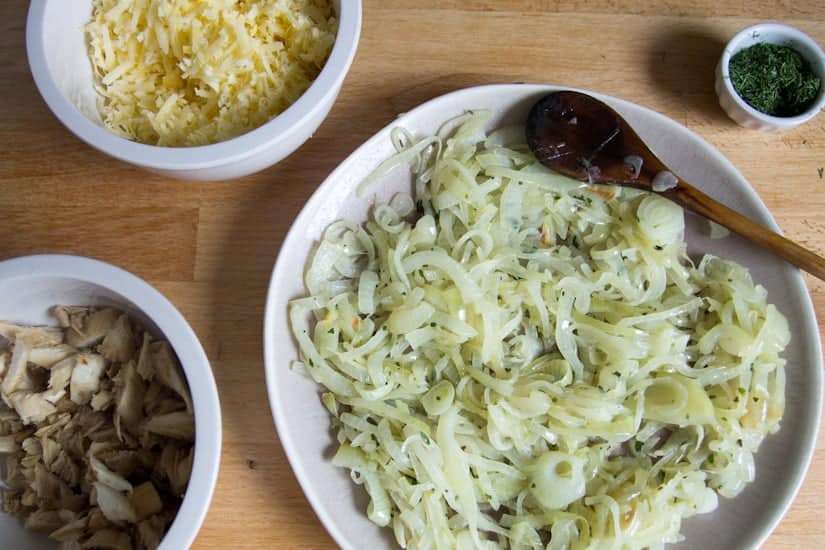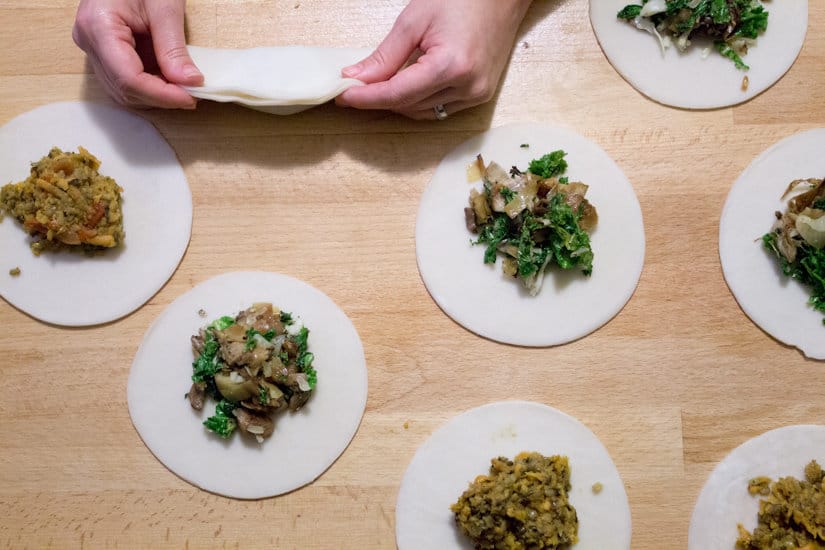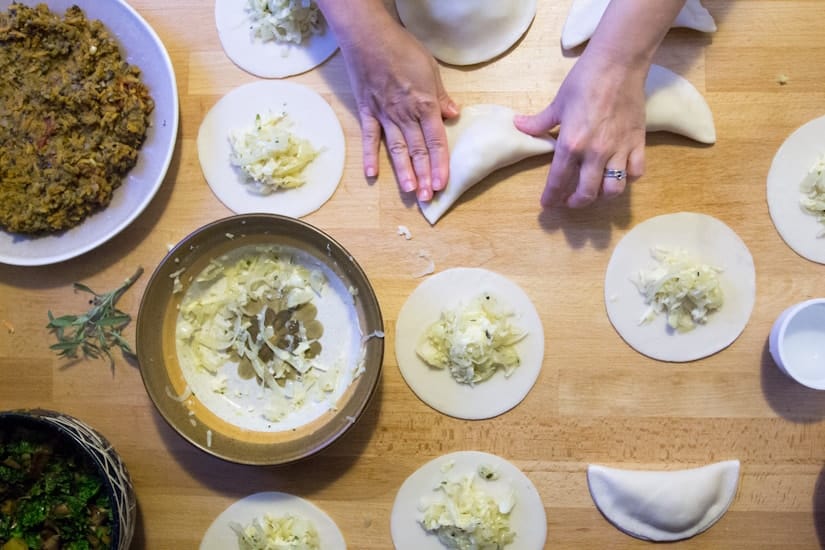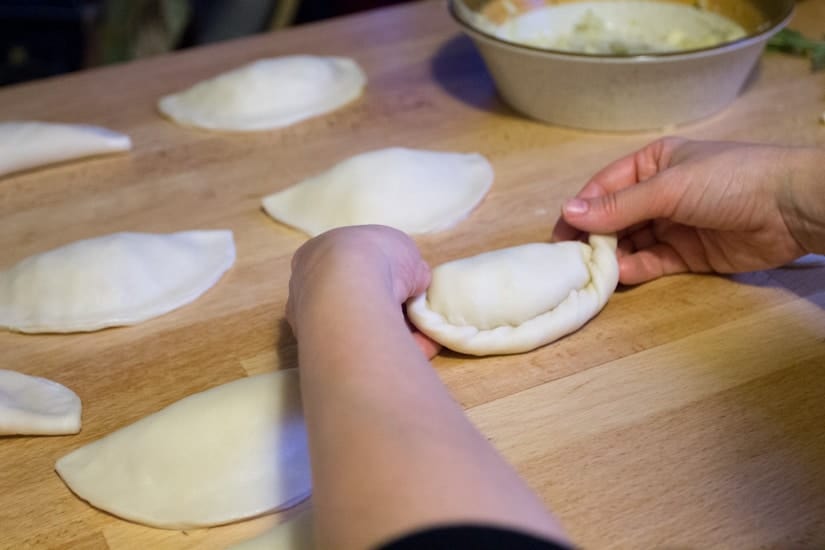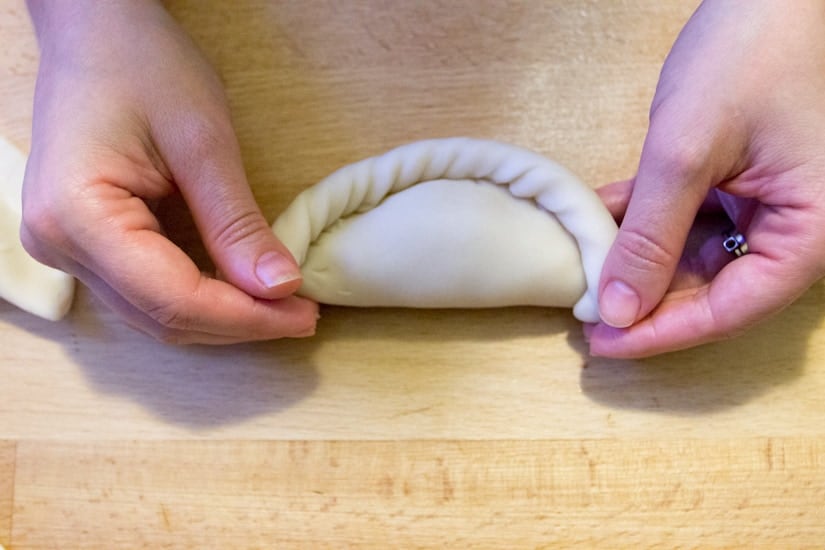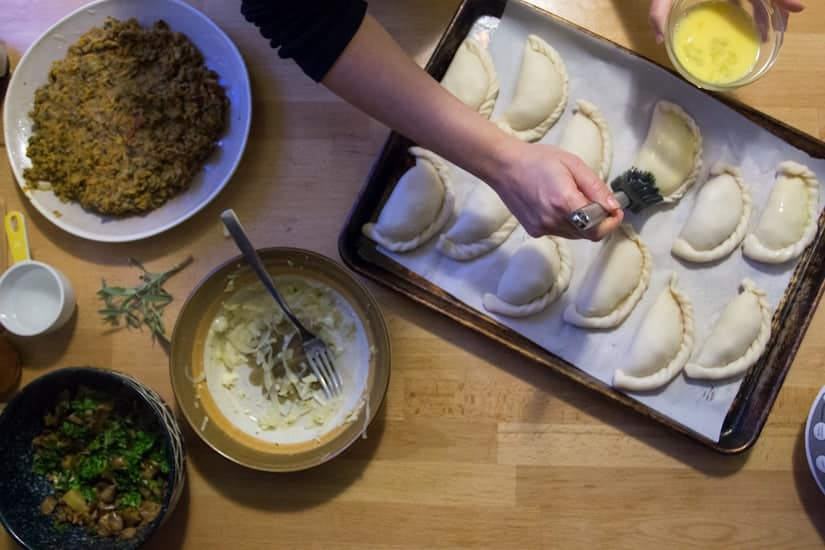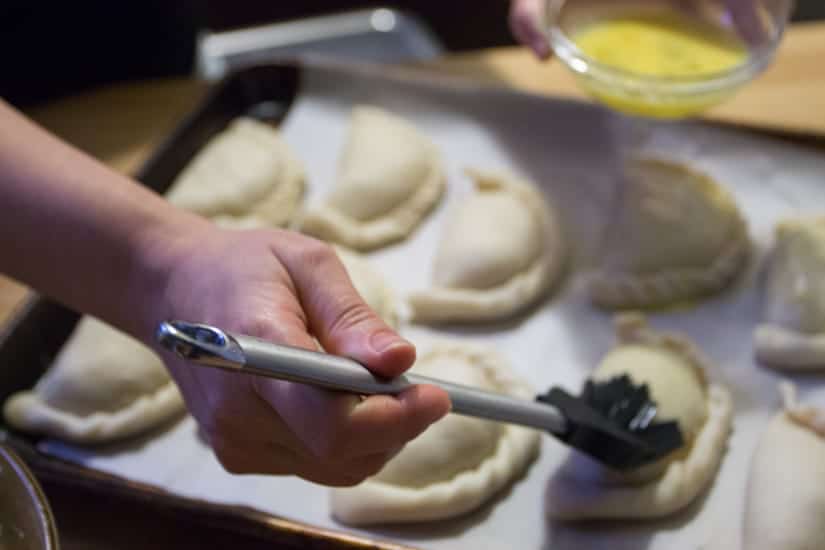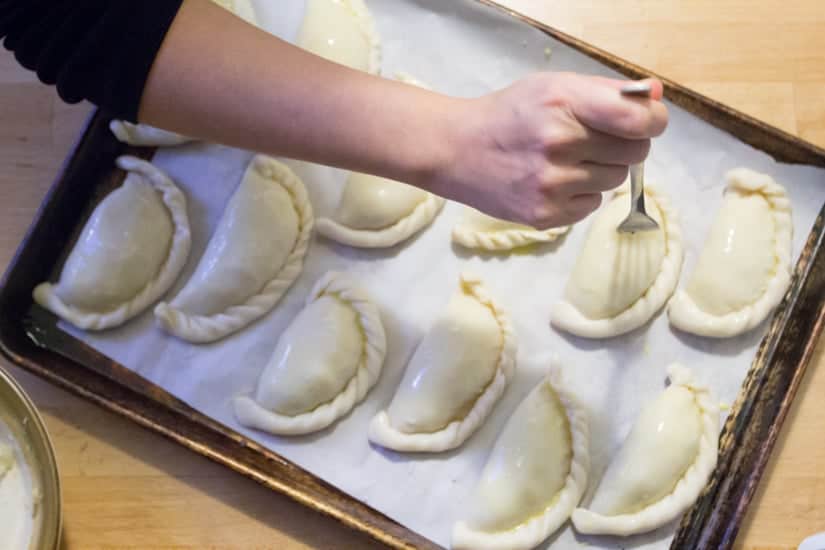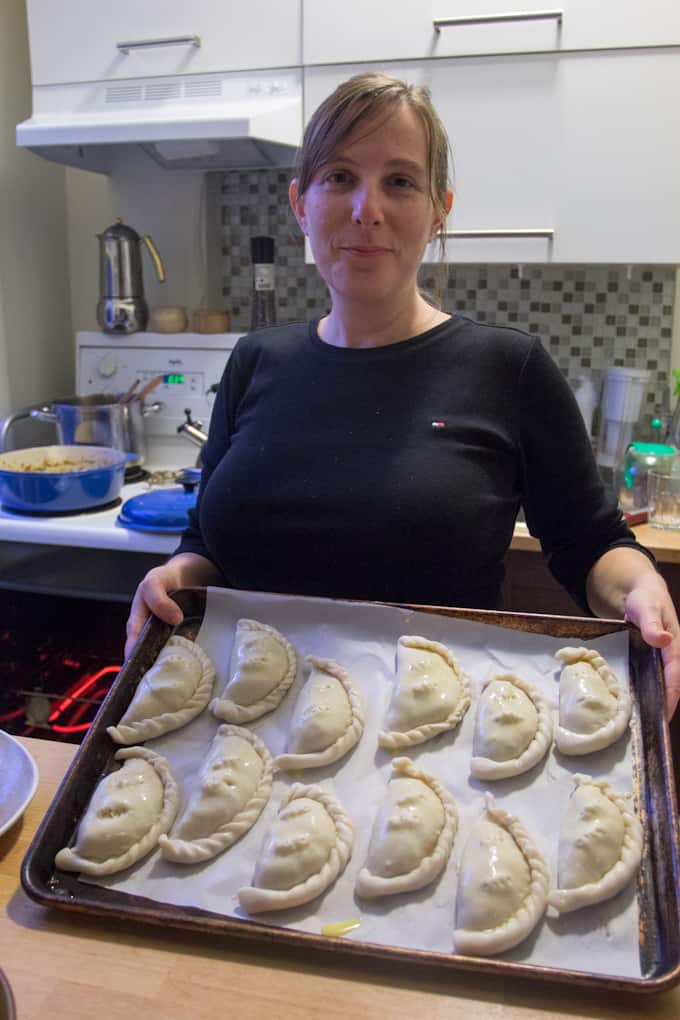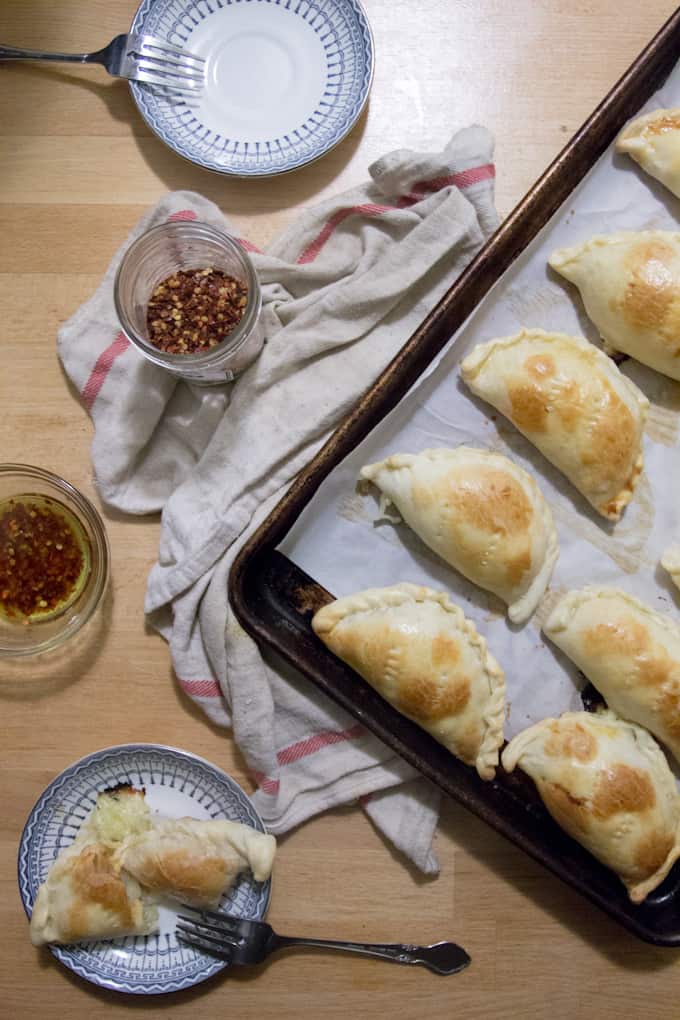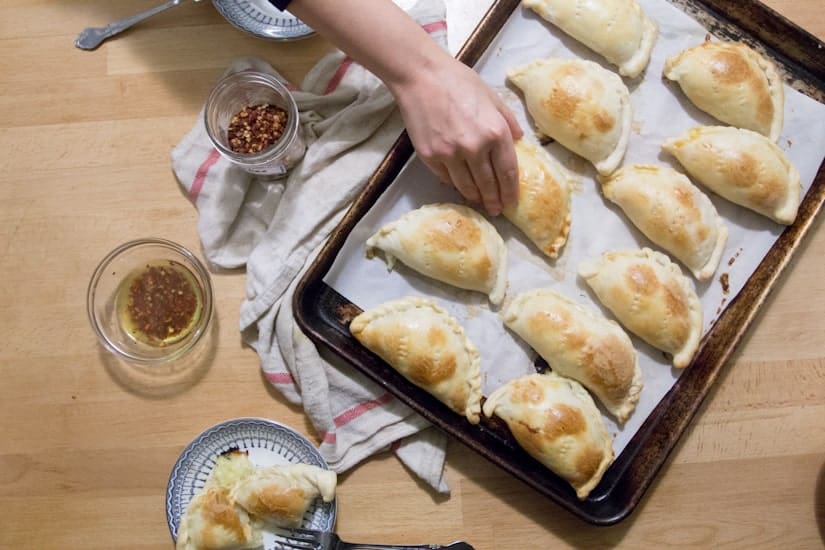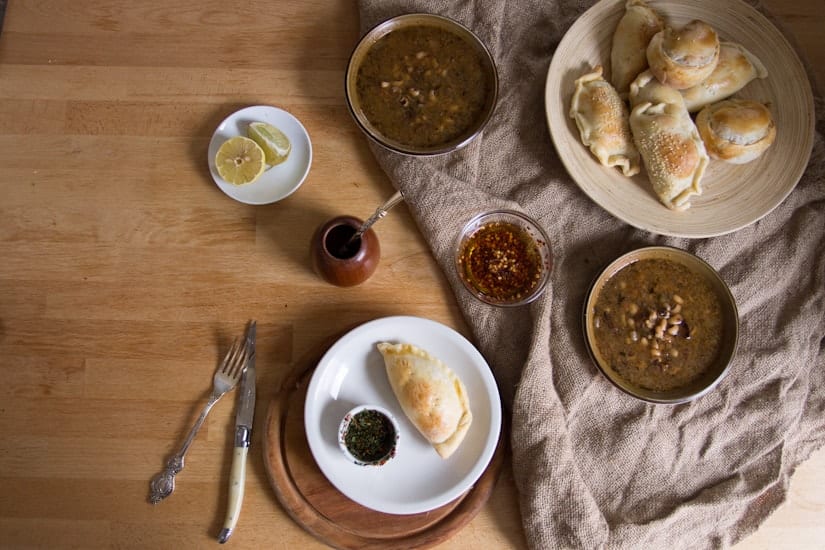 Vegetarian Empanadas: The glue that binds together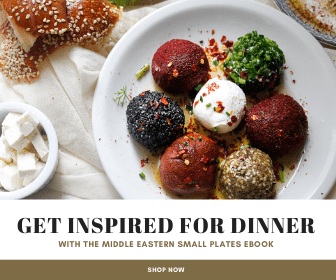 These Argentinian vegetarian empanadas were the product of one of those cooking nights. After Mara's Argentinian cooking workshop featured only meat empanadas, I began fantasizing about the vegetarian options she mentioned - and after sufficient nagging, Mara agreed to share a few of her favourite recipes with me. The dough we bought here was store-bought, perfectly calibrated for empanadas and cheap - but if you're looking to make your own dough, I've got Mara's recipe below for you. Also, we used our hands to pinch our empanadas, but if you make a lot of dumplings you may want to invest in a set of molds.
A lot of water has flowed in the St. Lawrence river since we made these Argentinian vegetarian empanadas. When cooking these, Mara was six-months pregnant. In December, we celebrated her son's Bruno's first birthday. Then she had another daughter.
Mara is currently wintering in Argentina with her family, enjoying sunny weather and blue skies and all the joy being with your mother and child together can bring.
And in case you are wondering - I am sure she is eating a great deal of vegetarian empanadas.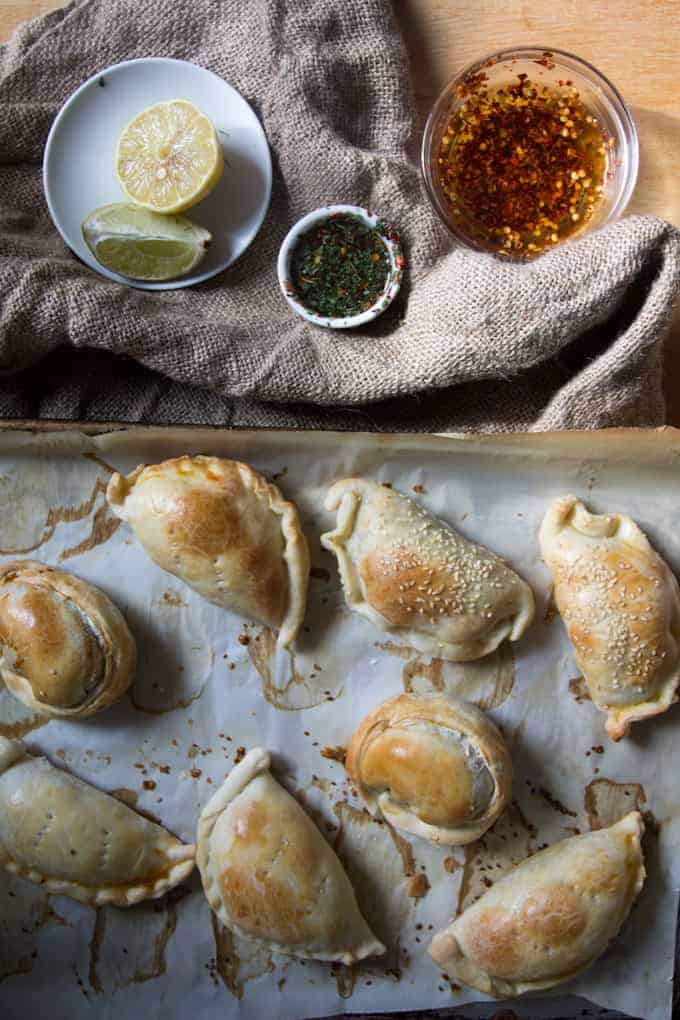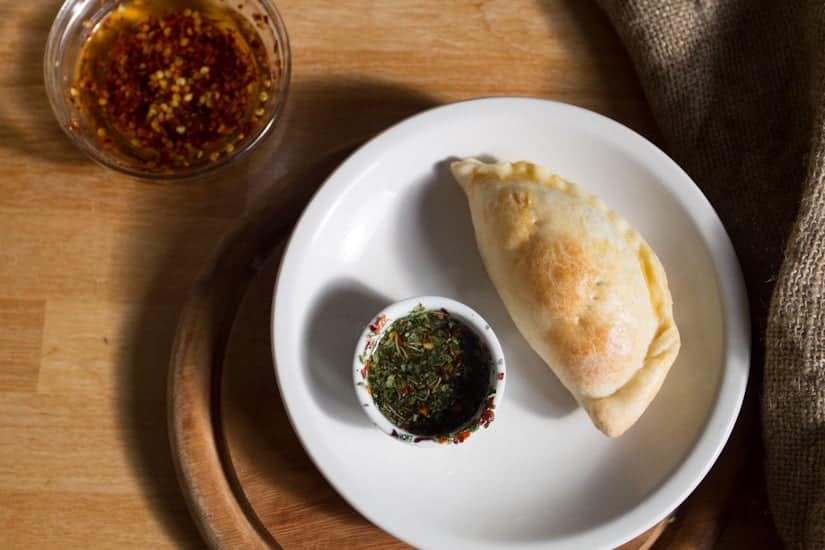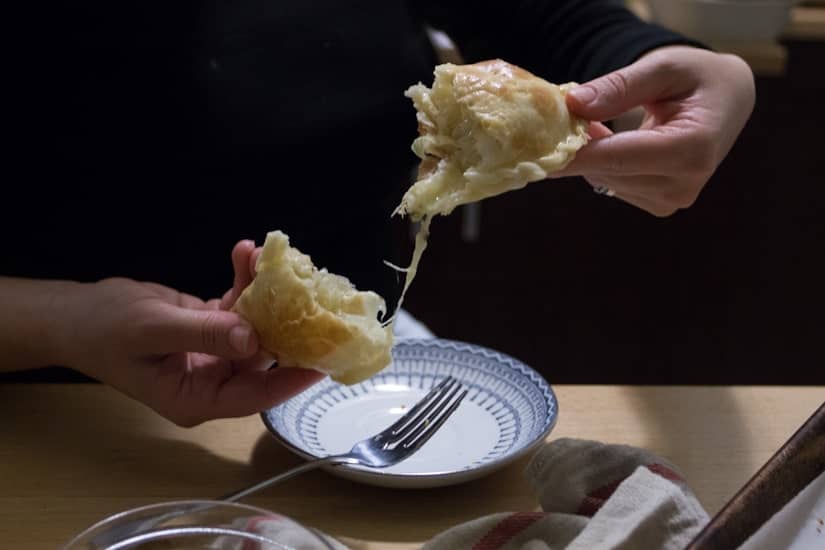 Authentic Argentinian vegetarian empanadas, three ways (V/Vegan)
Authentic Argentinian vegetarian empanadas are a joy to make, and an even bigger joy to eat - the just wait until you break one of these gorgeous babies in half! NOTE: Goya makes great empanada disks, but if you cannot find them or prefer fresh, you can make your own following the recipe below.
Ingredients
For dough:
3

cups

all-purpose flour

1

⁄2 teaspoons salt

¾

cup vegetable oil

½

cup cold water
For onion and cheese vegetarian empanadas:
2

onions

sliced into crescents

1

cup

Gouda cheese

shredded

1

tablespoon

oregano

Salt & pepper
For mushroom and kale vegetarian empanadas:
1

pound

mushrooms

sliced

2

cloves

garlic

minced

4

kale leaves

The juice of 1 lime

salt and pepper
For sweet potato & lentil vegetarian empanadas:
1

onion

chopped finely,

1

sweet potato

shredded

½

cup

lentils

cooked

1

teaspoon

cumin

1

teaspoon

smoked paprika

salt and pepper to taste

Egg wash

1 egg + 1 tsp of milk or non-dairy milk

Sesame seeds

optional
Instructions
Preheat oven to 400F.

To make dough: Combine the flour with the salt in a large bowl. Add the oil and the water and knead until dough forms. If the dough requires, add more water. Cover and refrigerate for 10 minutes.

For onion and cheese vegetarian empanadas: preheat a large pan to medium heat. Add 2 TBs grapeseed oil. Sautee onion until it turns golden, 10 minutes. Remove from heat and season with oregano, salt & pepper. Set aside. When making empanadas, layer 1 TB of onion mixture per empanada and top with a sprinkle of cheese. Seal empanada and set aside. Repeat with remaining filling and dough.

For mushroom and kale vegetarian empanadas: preheat a large pan to medium heat. Add 2 TBs grapeseed oil. Sautee mushrooms until they begin to brown, 10-15 minutes. Add kale and garlic, mix well to combine and sautee an additional 3 minutes. Remove from heat and season with lime, salt & pepper. Set aside. When making empanadas, layer 1 TB of mushroom & kale mixture. Seal empanada and set aside. Repeat with remaining filling and dough.

For sweet potato and lentil vegetarian empanadas: preheat a large pan to medium heat. Add 2 TBs grapeseed oil. Sautee onion until it turns golden, 10 minutes. Add sweet potatoes, lentils and seasonings. Cook until sweet potatoes cook fully, about 15 minutes. When making empanadas, layer 1 TB sweet potato and lentil mixture per empanada. Seal empanada and set aside. Repeat with remaining filling and dough.

When ready to bake, arrange empanadas on parchment-lined baking sheets. Brush tops with egg wash, and sprinkle sesame seeds (optional). Bake until golden brown, rotating sheets halfway through, 30 to 40 minutes