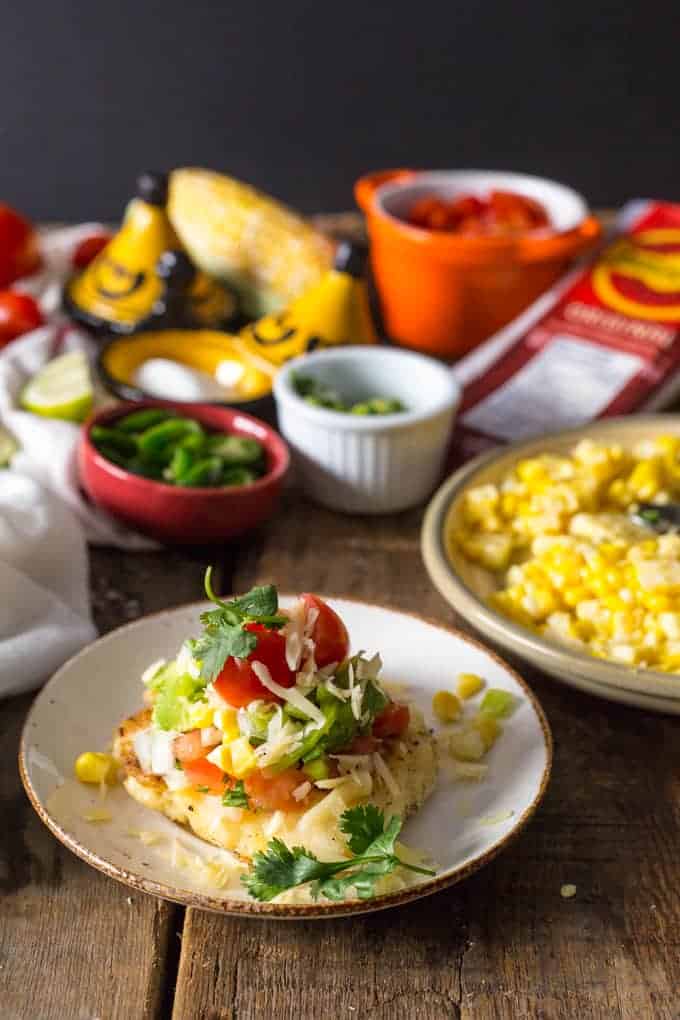 Naturally gluten-free, authentic Colombian cheese arepas are little golden pockets of corn flour and delicious Jarlsberg cheese that will melt in your mouth with each bite. Cook them on a griddle and top them up with your favourite South American fixings - avocado, tomato, onions, more corn and a couple of delicious salsas - and feel the deliciousness of gooey-on-the-inside, crispy-on-the-outside fried Colombian cheese arepas. This post is sponsored by Jarlsberg cheese, and contains affiliate links.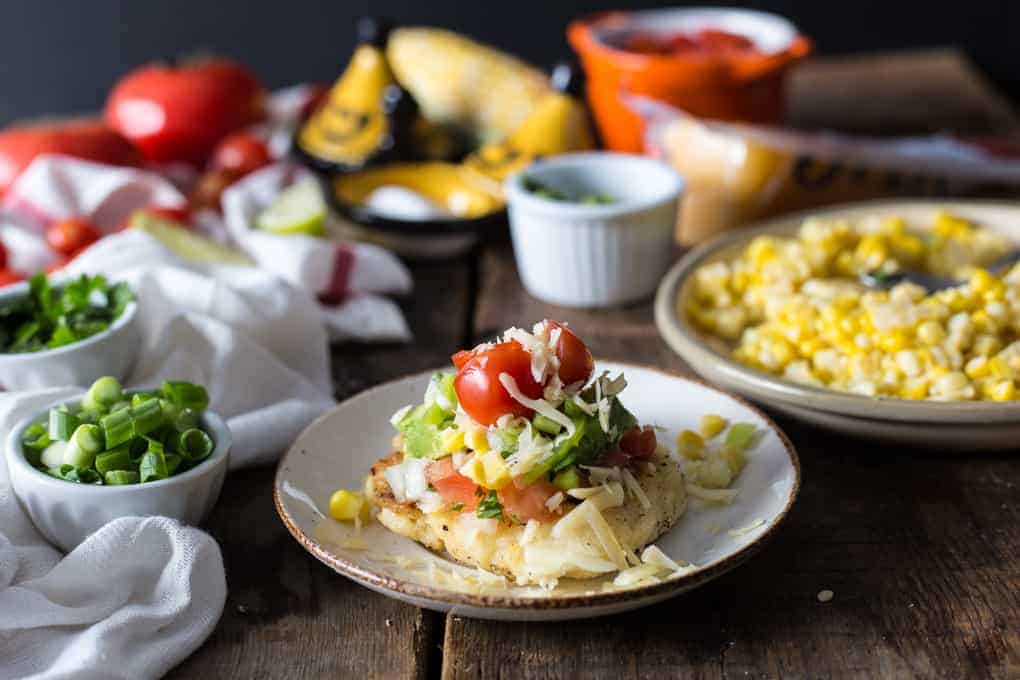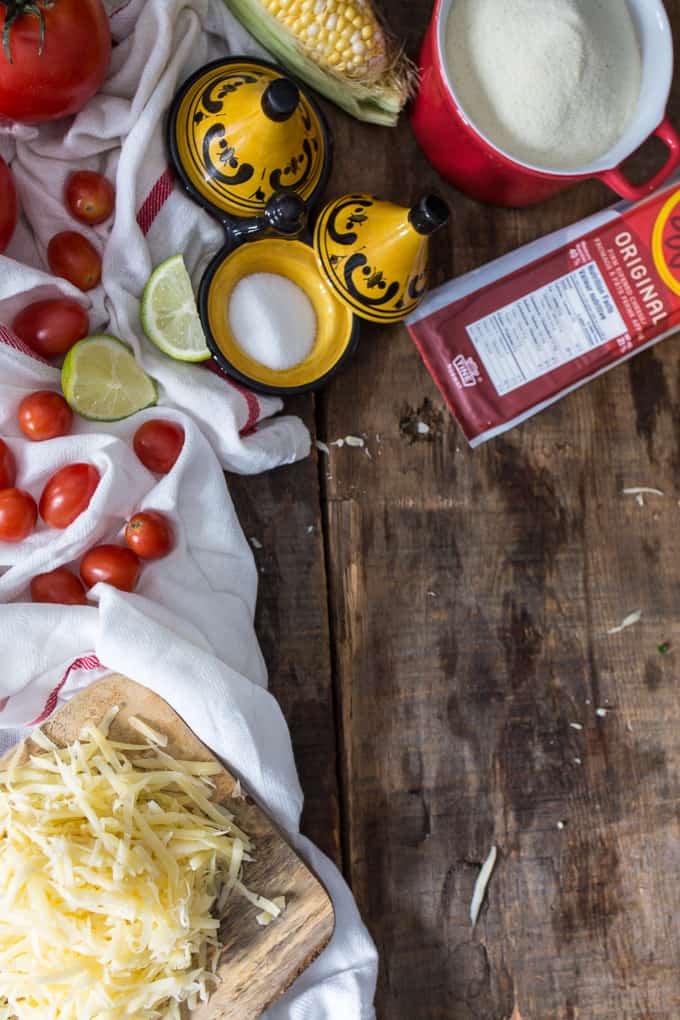 First experiences in Colombia
My first time arriving in Colombia also happened to be the first time I saw my normally gentle boyfriend truly lose his cool.
"What did I say, mom? What did I say?" he proceeded to yell into the hand-held phone, the cool night air entering the car through the barely open taxicab window, intermingled with the faint scent of rotting fruit and smog.
"I told you NOT to come to the airport, didn't I? And what did you do?" I let my fingers intertwine with his, trying to put all the certainty I wasn't even close to feeling into that one small gesture. The night-time streets of Bogota passed outside the window, all curves and gentle inclines, the street lamps blinking as though winking at us, conspiratorial.
"Now we have to sit outside and wait for you." SLAM, the phone went into the car seat. A few deep breaths were the only sound audible in the car, except the ticking of the driver's turning signal.
"I warned you, didn't I?" he looked at me, speaking in his usual, quiet voice, his eyes pleading with me not to judge, to understand, to contain his emotions, which suddenly seemed too big and strong for this tiny, rickety taxi barreling dangerously through the streets of Bogota.
"Estamos aquí, señor," the cab driver said in his brusque, clear Colombian Spanish, bringing us back to reality: the gated neighbourhood we arrived in, the youngsters playing soccer at 11PM, the tiny, makeshift bar on the corner, seemingly populated solely by the owner's best friends.
The Colombian cheese arepas glistening in the glass display cases, little golden rounds of fried corn dough holding within them melted treasures.
We lifted our suitcase from the trunk and walked to the entryway, never letting go of each other's hands.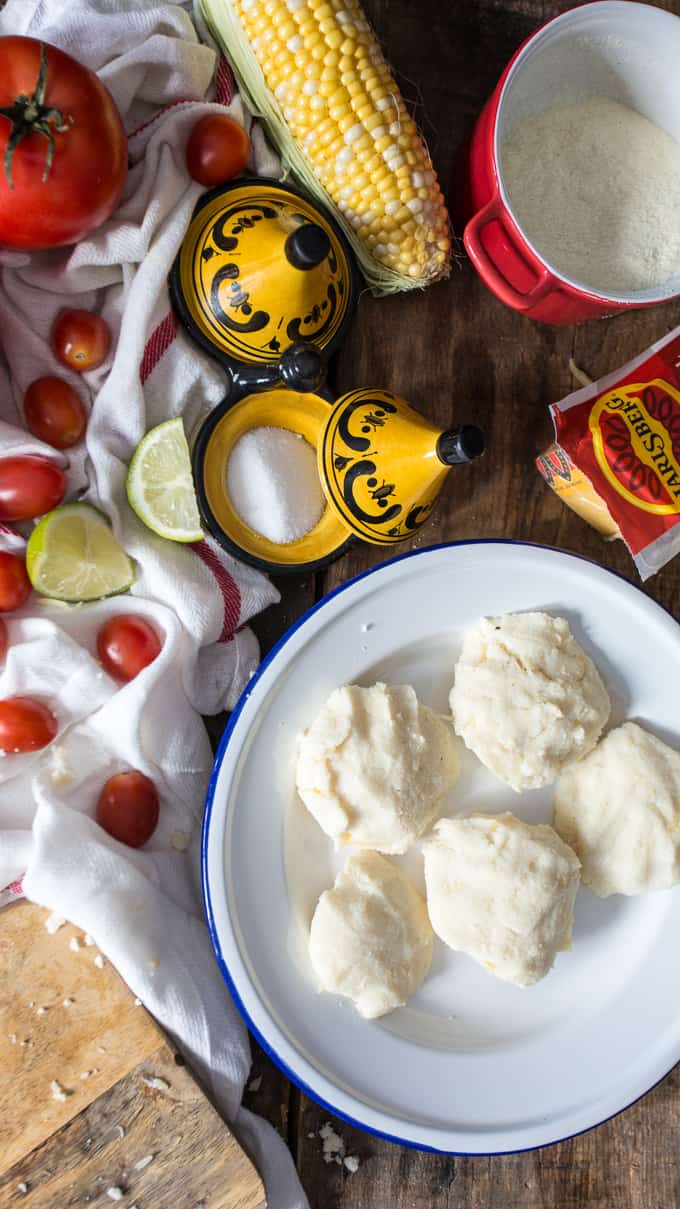 First time tasting Colombian cheese arepas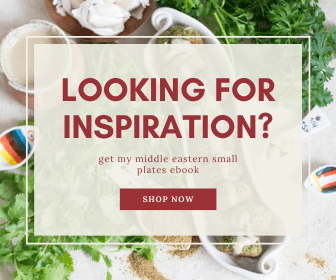 My first time tasting Colombian cheese arepas came the following morning, when, with the stresses of the previous night forgotten, my boyfriend's mom proceeded to heat us up a mountainous pile of arepas.
My first bite into these warm golden pockets was met with a squirt of melted cheese, a burning sensation that was totally worth it for the intoxicating taste of gooey, stringy cheese inside.
It was love at first cheesy bite.
After that, we proceeded to buy Colombian cheese arepas at various little vendors - for breakfast in the small, sleepy town of Villa de Leyva, alongside boiling-hot aromatica, the local tea made up of a random selection of herbs and plants that never seemed to repeat itself.
For a lunchtime snack in the market of Chiquinquira, bustling with vendors selling shelled peas, bushels of tamarillos (tomate de árbol, or tree tomatoes, a strange, mealy creation bearing no resemblance to its namesake fruit), and bags of freshly baked Boyaca-style cheese arepas that could barely contain the inviting fragrance of the corn-and-cheese patties inside.
Fueled by the taste of local chicha, a fermented corn brew that used to be made from regurgitated and spat-out corn grains, I even tried to buy Colombian cheese arepas on the street in one particularly memorable night (I wasn't successful).
The taste of those cheesy bites became the aftertaste of my time in Bogota. Drizzled with spicy aji or generously topped with homemade pico de gallo, Colombian cheese arepas were some of the best and brightest memories of our holiday. (You can also pair it with beautiful Colombian pear ceviche).
They made uncomfortable family conversations, conducted in a broken mix of Spanish and English (on my part), a little bit easier on the mouth.
They made grab-and-go gluten-free lunches so much easier on the pocket.
And they made walking through the streets of Bogota, never letting go of each other's hands, so much easier on the heart.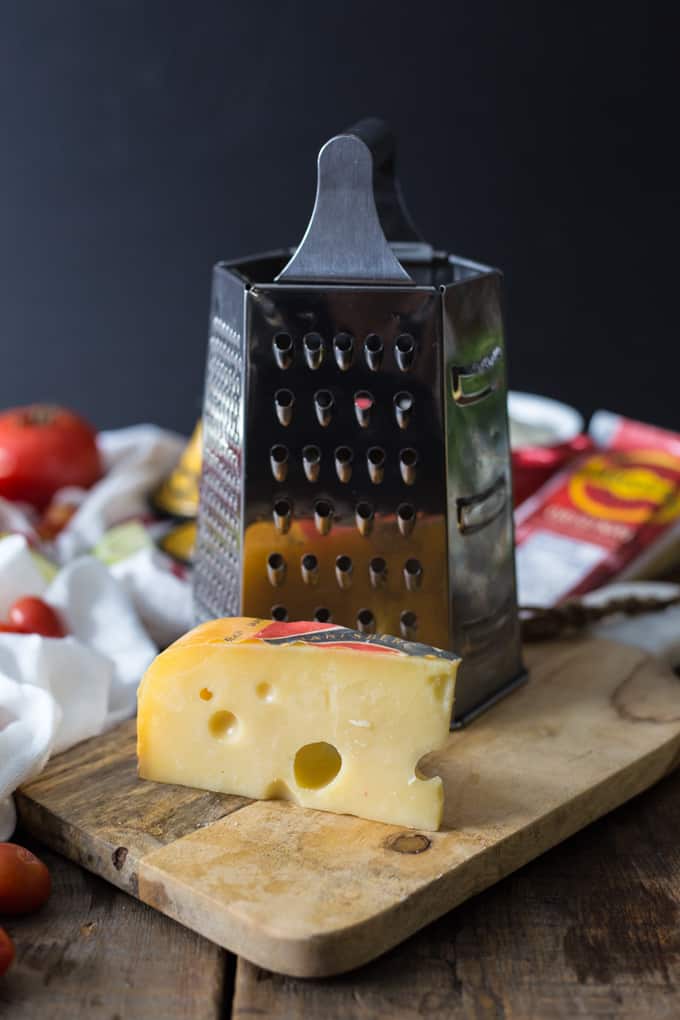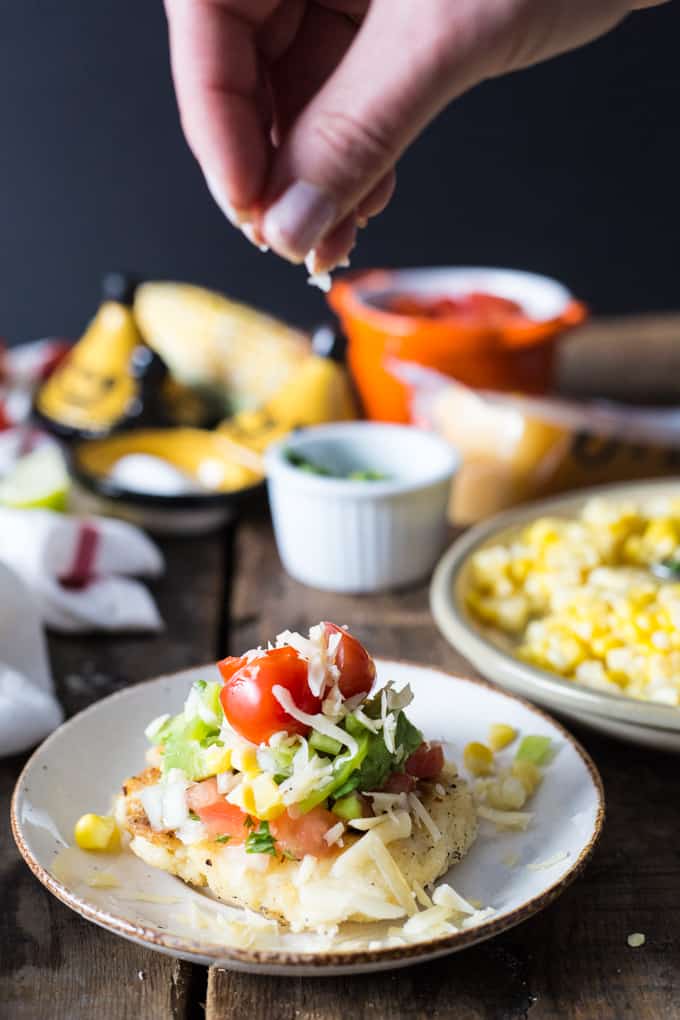 Recreating Colombian cheese arepas at home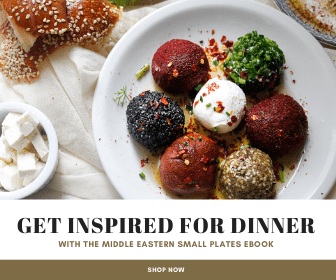 It's only natural that I sought to recreate these little tastes of goodness upon my return to cold, wintery Montreal in mid February.
After tries with a few different cheeses, we finally settled on the Norwegian Jarlsberg cheese as the perfect filling for our authentic Colombian cheese arepas. The nutty taste of this otherwise mild, golden cheese is a perfect accompaniment to the sweetness of the white corn meal. Its beautiful melting qualities made the experience of biting into one golden, fried disc a moment worthy of a celebration.
And the beautiful brown spots on the top of our Colombian cheese arepas? Those also came courtesy of Jarlsberg cheese, mixed into the dough and crisping upon contact with the hot griddle.
Making authentic Colombian cheese arepas at home is a surprisingly quick, simple affair that will allow you to explore the cuisine of that incredible country, with which I fell in love upon first bite.
What are some good arepas fillings?
Whether you put things inside your arepas, like a good Venezuelan, or on-top, like a Colombian, here are some of my favourite ideas for arepas fillings:
Looking for more Colombian recipes?
Check out our web story
To see the step-by-step story on how to make our delicious Colombian cheese arepas, check out this link!
I received product and monetary compensation in exchange for this post. However,  I am proud to only work with those companies whose products I truly love. And as always, all opinions expressed here are my own; you can always expect me to be honest with you guys!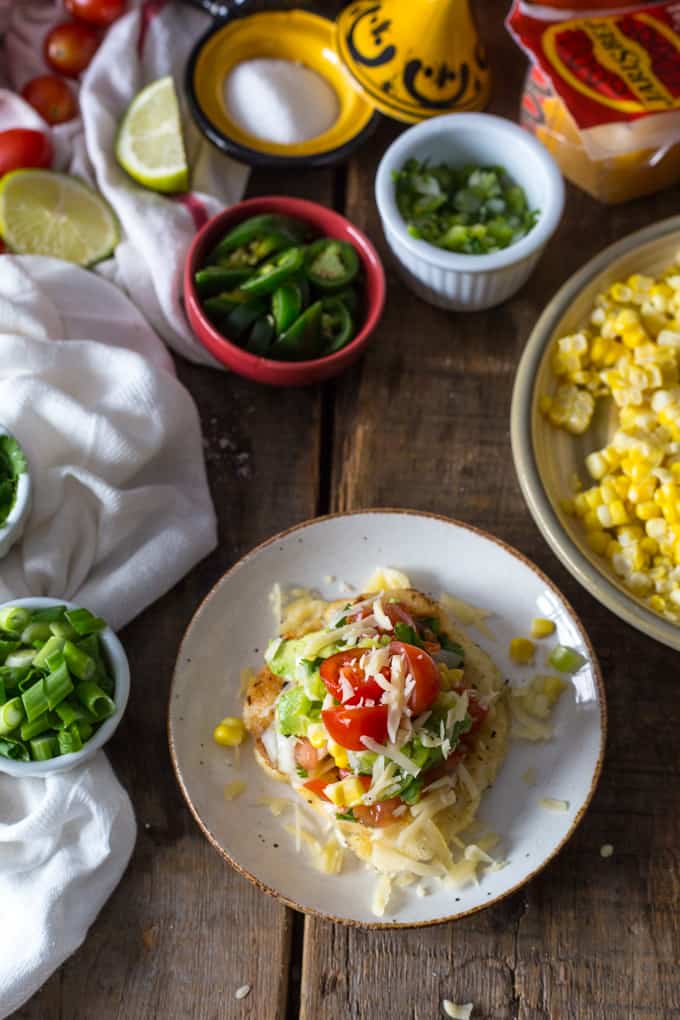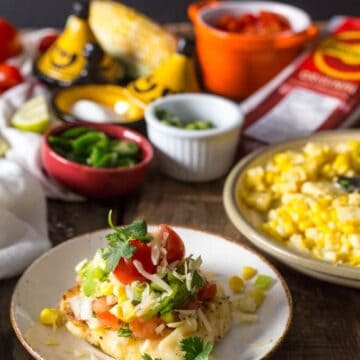 Authentic Colombian cheese arepas with all the fixings
Print
Pin
Rate
Ingredients
Colombian cheese arepas:
1

cup

warm water

1

cup

pre-cooked white or yellow arepa flour

also known as masarepa - Goya and P.A.N are common brands in North America

1

cup

Jarlsberg cheese

grated

1

tbsp

oil

Pinch

salt
Toppings:
¼

cup

Jarlsberg cheese

grated

1

ripe avocado

sliced

½

pint

of cherry tomatoes

cut in half

½

red onion

diced finely

Fresh cilantro

chopped finely

Green onion

sliced into thin circles

½

cup

of Colombian pico de gallo

(https://immigrantstable.com/2018/05/03/authentic-colombian-pico-de-gallo-v-gf-paleo/#.W1nU09JKhPY, or your favourite salsa)

⅛

cup

of Colombian aji

(https://immigrantstable.com/2018/05/18/spicy-colombian-aji-the-best-hot-sauce/, or your favourite hot sauce)
Instructions
To make arepas: Pour water into large bowl. Add arepa corn flour, salt, oil, ½ cup of Jarlsberg cheese, and mix thoroughly to combine. Cover with a towel and let dough rest for five minutes.

Working with moist hands, remove about 3 tbsps worth of dough and flatten them between your palms. Add 1 tbsp of cheese in the middle, and top with a handful more dough, gently pressing to seal the cheese inside and form a patty about ¼ inch thick. If you're after those perfectly shaped arepas, place each arepa ball between 2 sheets of wax paper or plastic wrap and flatten them to ¼ inch with a heavy cast iron pan. Repeat until you're out of dough and cheese, transferring prepared arepas to a large platter.

Preheat your budare (special arepas pan), griddle or cast iron pan to high heat. Season with oil or butter. Place the arepas in the pan and cook about 5 minutes on each side, until you achieve golden-brown colour and a beautiful char in spots.

To serve arepas, cut them in half and put your favourite toppings inside. Drizzle with Colombian pico de gallo and aji.