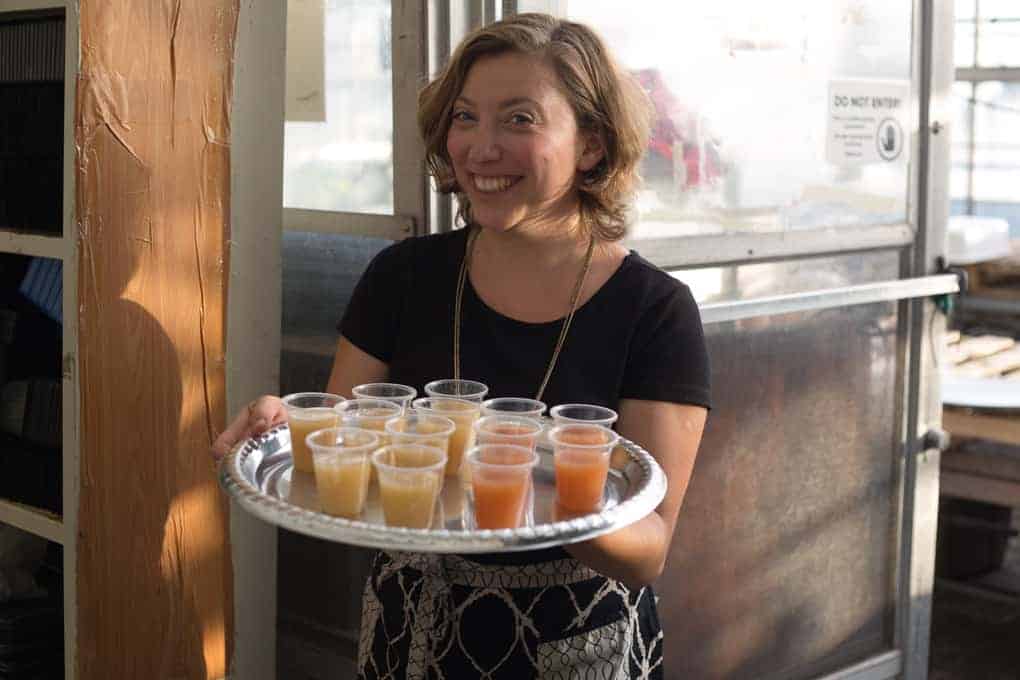 Personal FAQ
Tell me about yourself! Do you have a family?
Yes, I do! I have a husband who prefers to stay behind the scenes, and is only known as F here. He helps out with video shoots and other heavy lifting. We met in 2017, and got married in 2018. I am happy to report that in October 2019, we added a little bundle of joy named Leo to our package. Leo helps out by putting his sticky fingers all over my food and camera lenses.
How old are you? Where are you from?
I'm 34, and happily located in Montreal, Canada. I'm originally from Russian but grew up in Israel. You can read more about me on my about page, or in this post.
Are you vegetarian? Vegan? What are your dietary restrictions?
I was a complete vegetarian for many, many years - 15, to be exact. When I was 28, I added fish to my diet. When I moved in with my Colombian husband-then-boyfriend, and later on when I became pregnant, I incorporated free-range, organic chicken. These days I define myself as a local, farm-to-table cook first, flexitarian second. That means that I care more about the provenance and well-being of the things I eat, rather than their categorization.
I eat strictly gluten-free, and have been for about 5 years. I am not coeliac, but I have had many issues with gluten and yeast over the years. I find that it's better for my stomach, my skin and my mental health and energy to avoid gluten.
You will find gluten-free, vegan, fish, chicken recipes on this blog - but also everyday baking recipes using regular flour and dairy recipes.
Are you Jewish? Do you eat kosher?
Yes, I am Jewish. However, I am definitely more traditional than religious - that means that I celebrate the holidays and honour those traditions I find meaningful, rather than going for services. We are not a religious household by any means, and we do not keep kosher (though I personally do not eat pork).
Professional FAQ
Do you do freelance work?
I'm happy to help you with any freelance writing, photography or styling that you require. I love doing recipe development for clients, and you can contact me or see my media kit for further information.
Let's work together! What are your rates for sponsored posts and social media?
My rates for sponsored blog posts and social media posts can vary greatly, depending on the scope of the work. Please use this contact form or email me to discuss rates. Please include details about your project, including the platforms you're interested in publishing on, timeline, budget, and any other relevant details, and I'll get back to you with an answer and media kit if desired.
What kind of camera do you use?
I have a Canon 5D Mark iii, and use two lenses: the Nifty-Fifty and the Canon 17-40mm Super Wide Angle, in which I usually shoot on 35mm for wide angle photos. My dream lenses are the Canon 100mm Macro and the Canon 85mm.
Older pictures are shot with a Canon Rebel and really old ones with a Panasonic point and shoot.
For social media, I shoot with an iPhone 8 or occasionally use family and friends' phones. I would love to upgrade my phone one day!
How do you edit your pictures?
I edit through Adobe Lightroom, which I have through the Adobe Creative Suite. On my phone, I use the SnapSeed App and Adobe Lightroom Mobile.
What kinds of backgrounds and props do you use?
I have two homemade backgrounds. For a marble background, I bought contact paper from Dollarama and stuck it to a poster board. I also have a couple of old wooden planks. And finally, I have this rolled-up background.
For props, I have too many props to mention! I haunt thrift stores, especially the ones in small towns, for unique items. I also have a few pieces from local ceramists I love: Mie Ceramics and Maison Stoi. And finally, I have a few ceramic pieces I made myself.
Can we send you our product in exchange for review?
I don't write posts in exchange for product. If you're interested in a sponsored post, please email me and we can work something out. If you're looking for a social media collaboration, something can be worked out. Also, cookbooks and social action campaigns are different! I am happy to review cookbooks that I particularly love or whose authors I connect with, or to participate to support the causes that resonate with me.
Can I interview you?
Absolutely! Please use my contact form for media, press, or publication inquiries. Let me know what the interview will be about and where / when it will be published.
Can I use your photo or recipe?
All images and recipes on this website and on my social media are under copyright. Artistic licenses mean a lot to me, and to other creatives. I ask that you do not publish original recipes from the blog, in any shape or form, without prior consent. Please feel free to adapt my recipes, but always use proper accreditation. In terms of images, you may use 1-2 photos from a post with a link back to the original post with credit.
For any other types of use, please ask for prior permission. If you want to purchase an image or you're interested in publishing my work, please contact me for rates and availability.