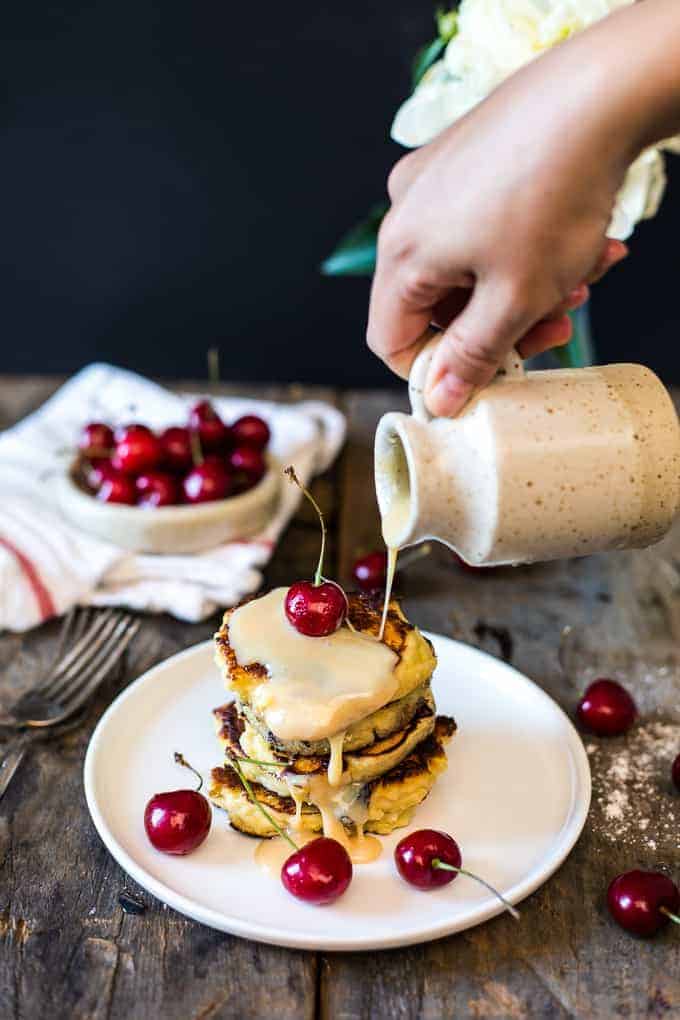 These golden, raisin-studded Russian syrniki are every child's favourite fritter. They're a decadent but light breakfast, made gluten-free. Serve them with condensed milk and cherries for the ultimate experience.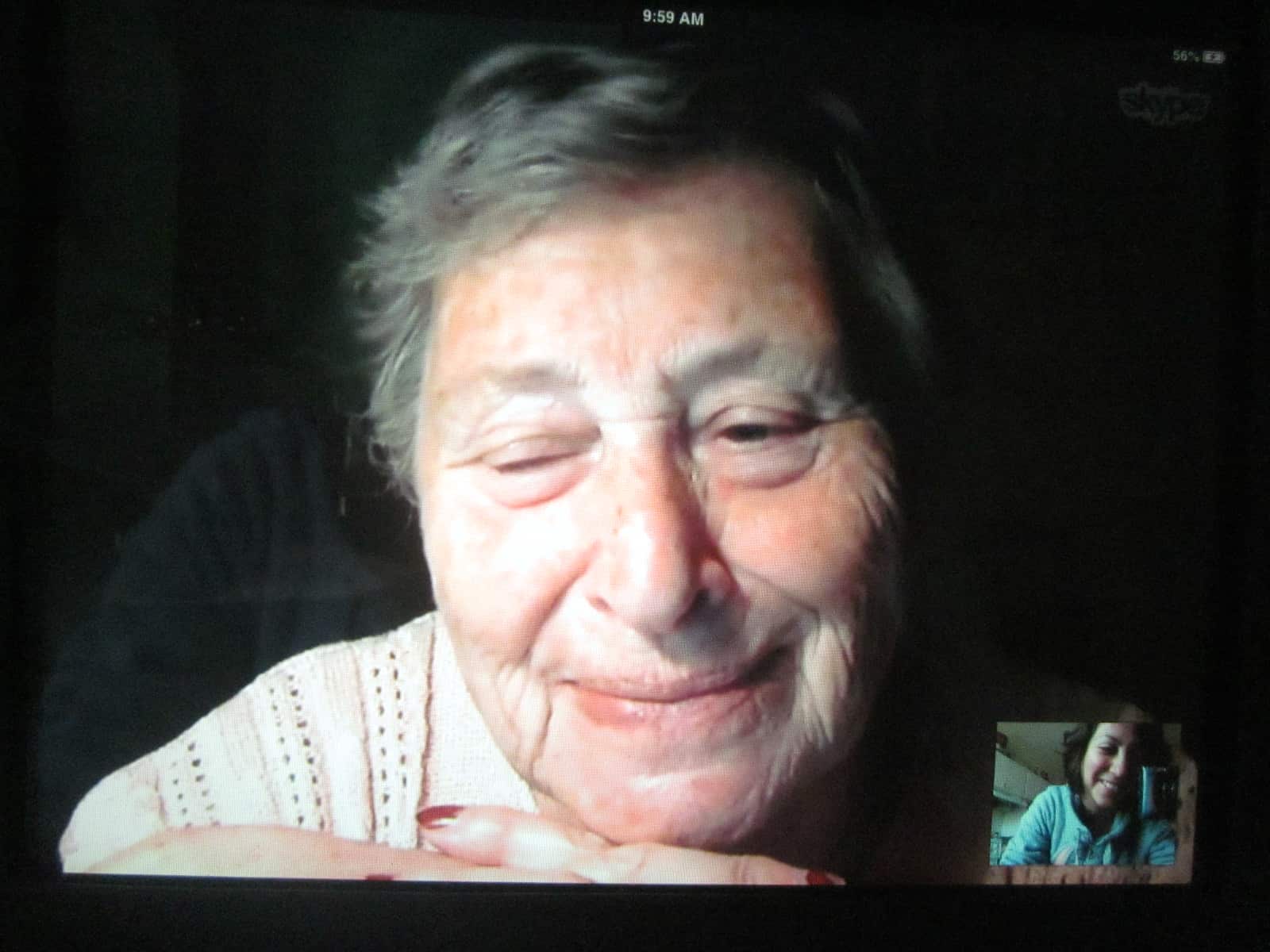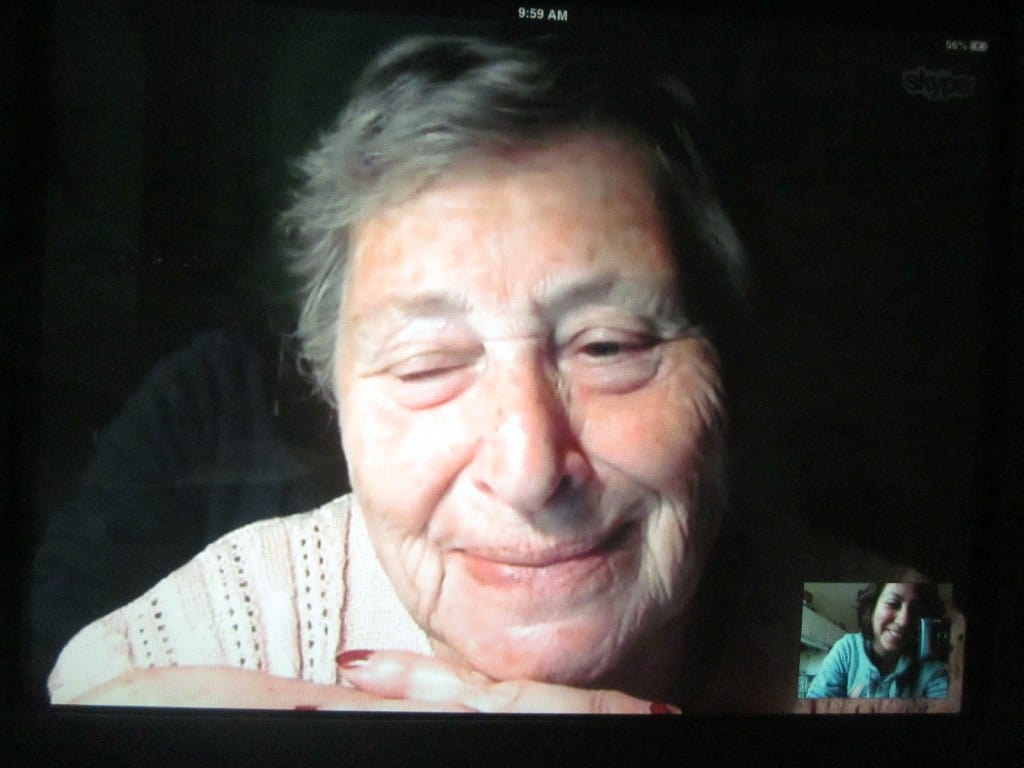 While my parents were undergoing their medical re-accreditation, they took all the shifts they could get in the hospital. That meant they worked long hours and were often gone during evenings and weekends.
When they were home, they were usually too exhausted to speak to each other, let alone spend time with their children. And while in a typical North American family that would mean that my sister and I were left to our own devices, that was not the case in my Russian household.
My parents' absence meant that Yana and I woke up, got dressed, did our homework, played, bathed, and generally grew up under the guidance of my paternal grandmother, who lived with us. But the thing we did most with her was eat.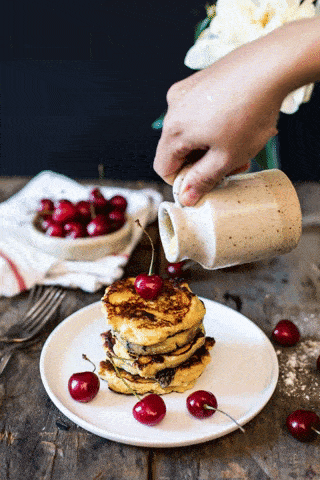 My grandmother Berta was, and remains, a fantastic cook. She's the one who introduced us to paprika and flavours beyond the mayonnaise-laden salads and pasta with butter that most Russians knew. She was inventive, hard-working and focused.
She was also remarkably stern, a former chemistry teacher and a single mother who had a no-nonsense approach to child-rearing. We did not get along, and would often get into spectacular shouting matches over the smallest things.
But there was one way to quiet me down, and she knew it. I adored her cooking, and though I was somewhat of a fussy eater, I found a lot of what she made exciting and appetizing.
And my favourite dish was undoubtedly syrniki, patties made out of drained tvorog, the Russian equivalent of Quark, or cottage cheese.
Serve with maple syrup for a more North American treat
On Saturday mornings, I would usually be the first one up, curling up in the living room under a big down blanket and watching the ends of early-morning/late-night horror films on the only cable movie channel we got.
When my grandmother would come into the kitchen a short while after, I was already wide awake, and hungry. I would peek at her through the small window between the living room and kitchen, watching her practised movements in the kitchen.
As she clattered pots and pans, taking out bowls, measuring wet ingredients and sifting the flour, my gaze never wavered from her, though she probably didn't even know it.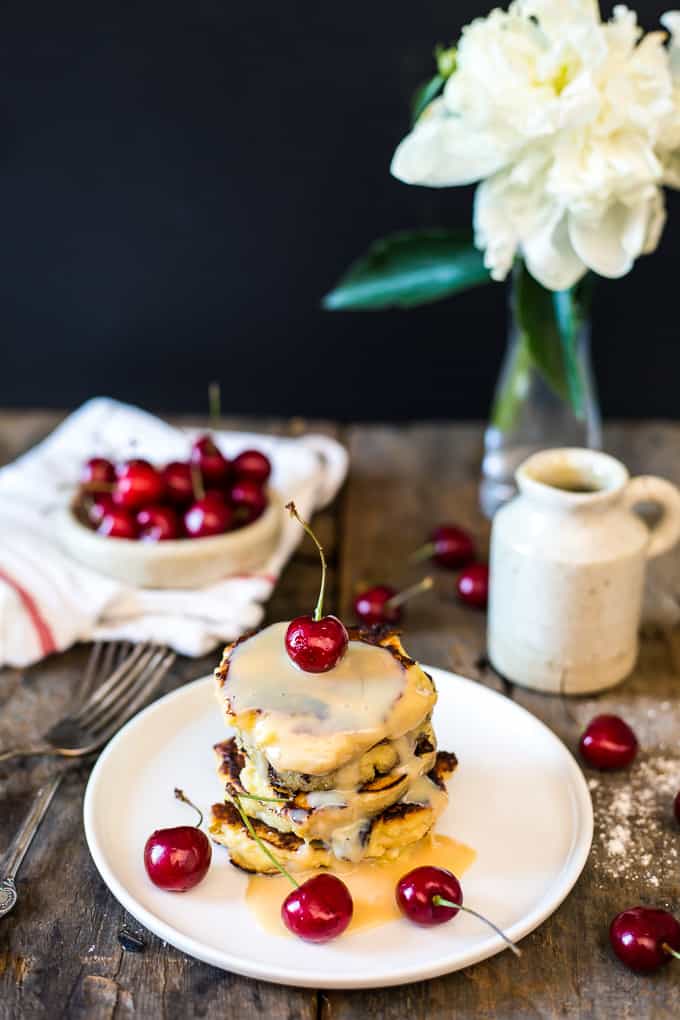 And when I smelled the sizzling oil in the frying pan and heard the familiar hissing of batter hitting the warm pan, I knew that the deep golden, raisin-studded sweet cheese fritters I loved so were not far from sight.
By the time my sister woke up, I was already seated at the table, clamouring for my favourite breakfast. The smells of warm, tangy cheese and of frying oil were everywhere, and the table was set with some strong local honey, homemade strawberry jam, and butter.
When we were both ready and waiting, our hands washed, hair pulled back into pig-tails, and glasses of steaming hot tea were already poured, my grandmother would lay a large plate full of syrniki, hot off the pan, on the table before our anxious eyes.
We wouldn't wait long to dig in.
And I suggest you shouldn't either. Make these Russian syrniki on the weekend, whether your parents are home or not. They're a decadent but light breakfast, a special treat for mornings when you don't have anywhere else to be.
Tried and loved this recipe? Please leave a 5-star review below! Your reviews mean a lot to me, so if you've got any questions, please let me know in a comment.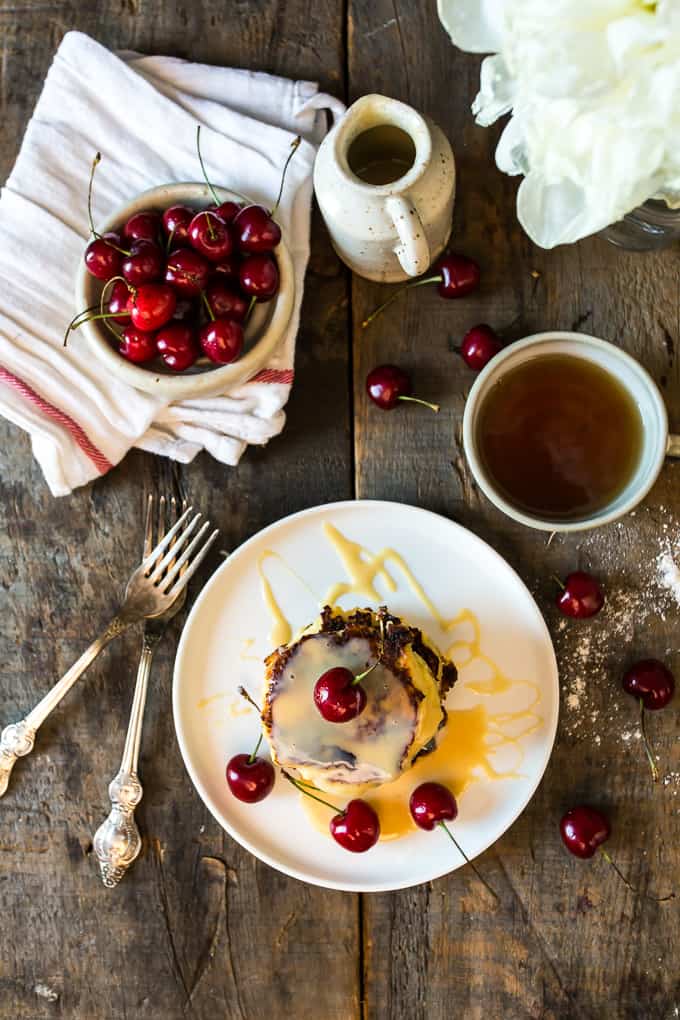 Recipe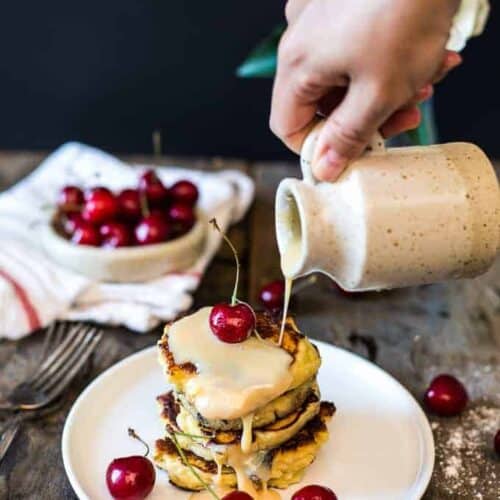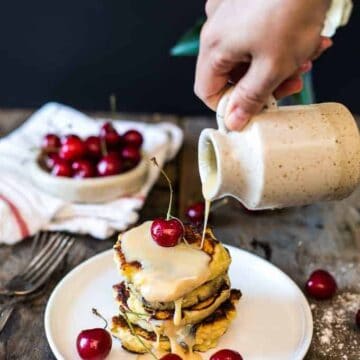 Raisin-studded syrniki
These golden, raisin-studded fritters are every Russian child's favourite treat. They're a decadent but light breakfast, a special treat for mornings when you don't have anywhere else to be. The batter is airy, and the trick is getting these patties to form without overloading them with flour. I made this version gluten-free and lactose-free, but you can go all the way and use regular ricotta or cottage cheese, and regular flour. They'll be even lighter. Leave the cheese to drain overnight in a colander lined with cheesecloth in the fridge, or give it at least a couple of hours and a good squeeze through a cheesecloth if you're short on time.
Ingredients
2

cups

well-drained homemade lactose-free ricotta

or commercial cottage cheese (traditionally, these are made with tvorog, which is similar to Quark cheese. But as that is impossible to find in North America, ricotta or cottage cheese can be used as substitutions – but they must be drained very well!)

2

eggs

2

Tb

sugar

or more, to taste

½

teaspoon

baking powder

1-2

cups

of your favourite gluten-free flour mix

or regular flour (Bob's Red Mill produces adequate results, but I find that the taste of the chickpea flour is quite strong)

½

cup

of raisins

2

Tbs

vegetable oil
Instructions
Mix the well-drained lactose-free ricotta with the eggs, sugar and baking powder, and see if mixture is runny.

Start adding ½ cup of gluten-free flour mix, or regular flour. Mix well. If the mixture is still runny and drips off the spoon, add more flour. Continue adding flour until you can pick up the mixture with clean hands and form it into patties, without it sticking too much.

Add raisins. Mix well, and once again, check for runiness.

Heat up a frying pan w 2-3 Tbs of oil. These fritters need a lot of it, so don't hold back.

Form the fritters in your hands. If batter sticks too much, add more flour. You should be able to move it from hand to hand with minimal stickiness.

Fry on medium heat until browned one on side, about 3 minutes. Turn fritters over with a clean spatula; if they're sticking too much, you should add more flour to the rest of the batter.

Lower heat to low-medium, and fry on the other side until both sides of the fritters are brown, and the fritters are easy to remove from the skillet.

Blot with a clean paper towel. Let cool for about 2 minutes, and dig into the syrniki with some buckwheat honey, maple syrup, or your favourite jam.
Tried this recipe?
Comment + Rate Below!
Connect on Instagram!
Find us @immigrantstable