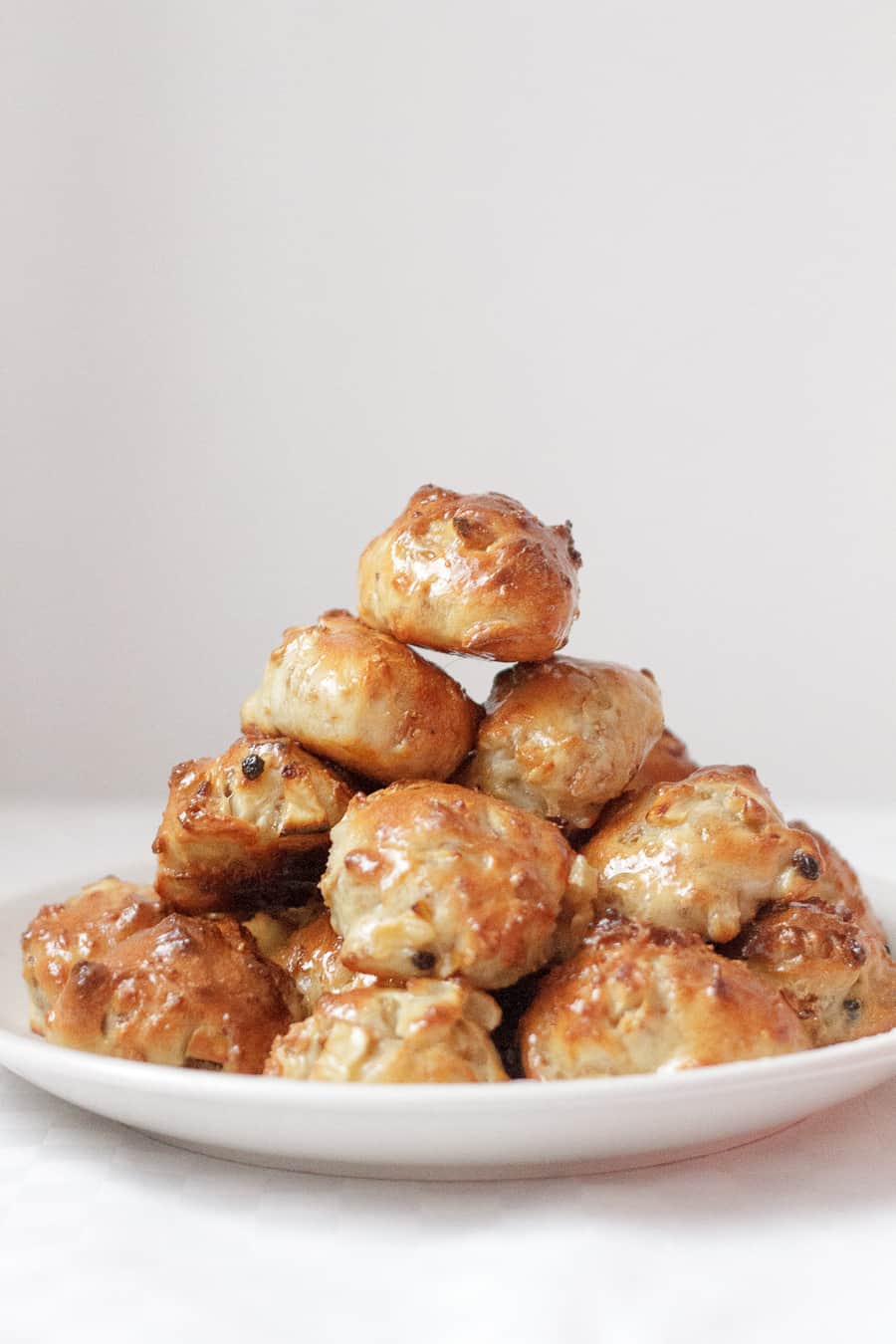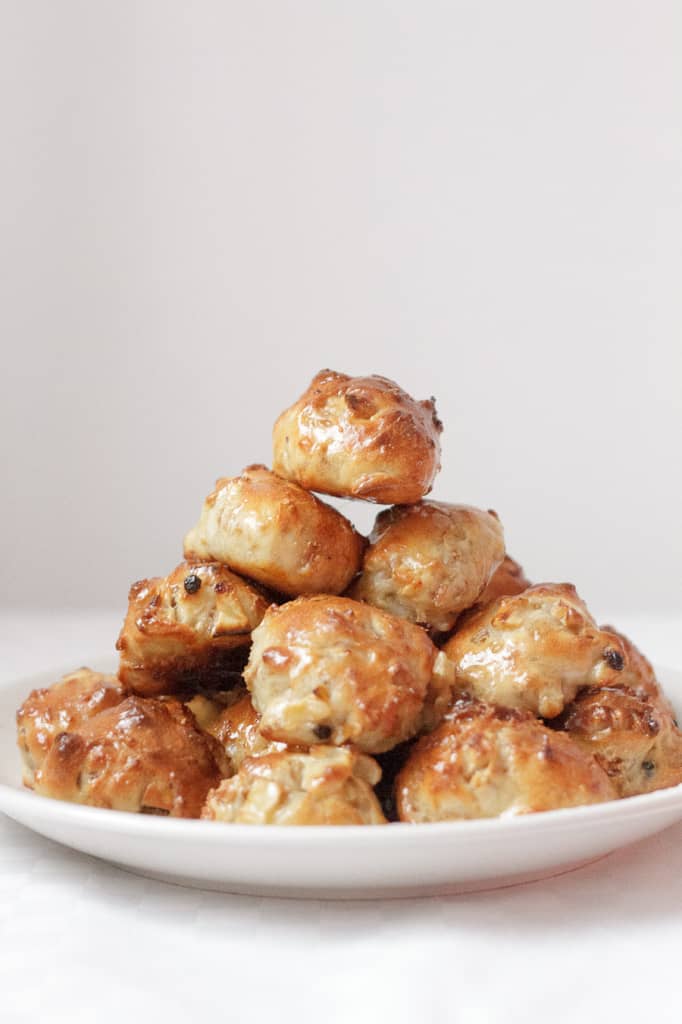 With Hanukkah starting next week, I have been dreaming up different ways to present to you some of my favourite holiday foods. Today, we are looking at my apple-granola baked Bimuelos - little round dough fritters doused in sweet honey syrup, a particularly delicious Sephardic Hanukkah treat.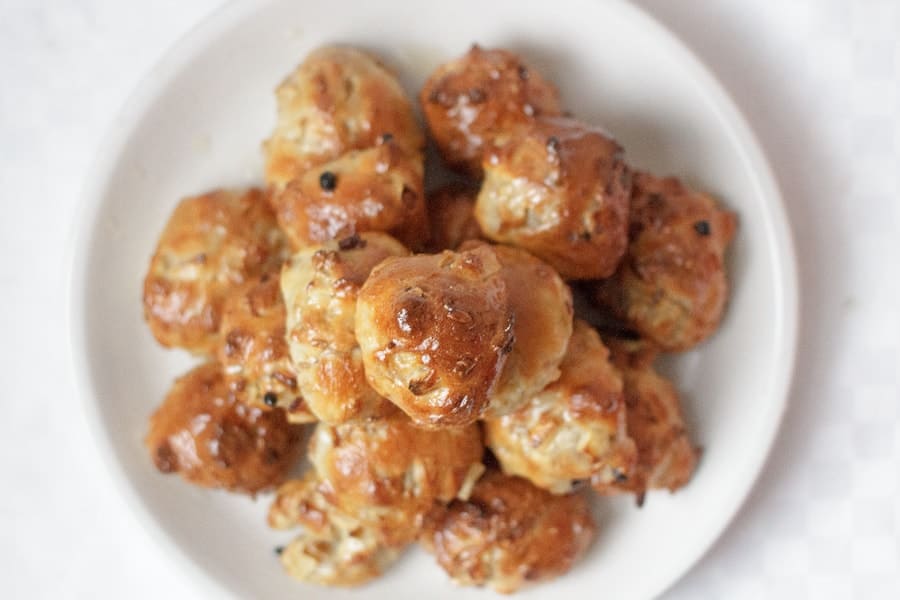 I will admit that with the endless parade of Christmas cookies on display in the blogosphere, I have been feeling a bit self-conscious about Hanukkah. Despite the holiday's intrinsic value as a celebration of miracles and faith in the face of adversity, and the beautiful nightly Hanukkiah-lighting ceremony, I will be the first to admit that Hanukkah lacks the garlands-and-mistletoe WOW factor of Christmas. Also, there just doesn't seem to be as much of an excuse to throw little parties and drink copious amounts of rum-spiked eggnog or cranberry cocktails.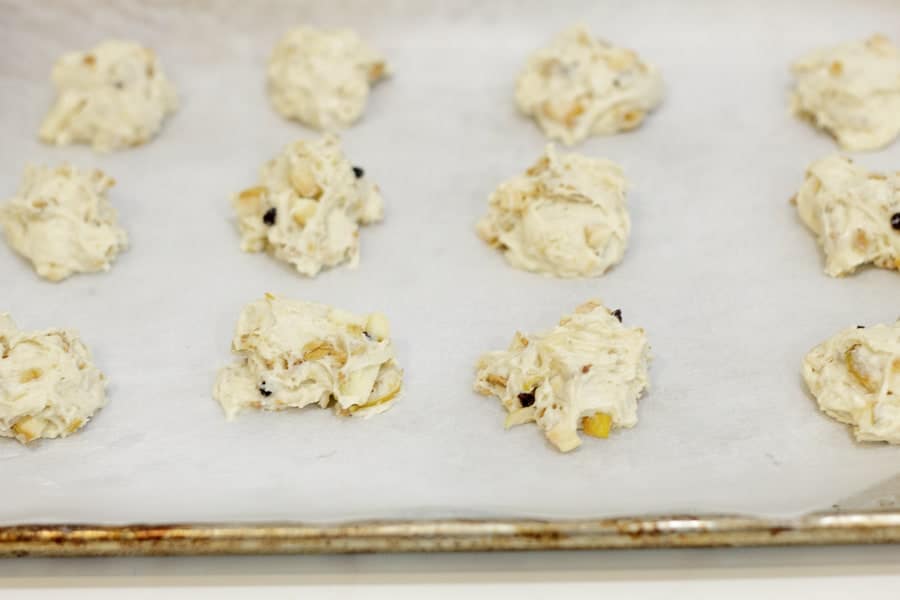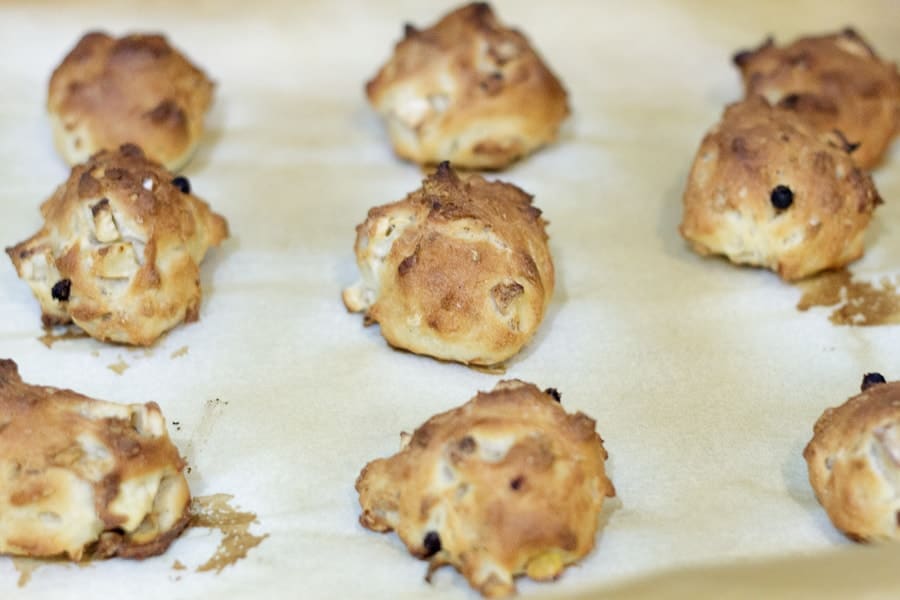 But if there's one thing in which Hanukkah does not lack in any way, it's the food. From crispy, delicate potato latkes pan-fried and served with sour cream and apple sauce, to puffy, jelly or fruit-filled sufganiyot dusted with powdered sugar, there is no shortage of fried treats with which to celebrate the perseverance of the Maccabees in the face of Roman decrees. It's a gluttonous eight-day festival of light, and we love it.
The only problem is, as befitting a holiday that marks the miracle of a little pot of oil lasting eight days, EVERYTHING we eat for Hanukkah is seeping with artery-clogging liquid gold. Hanukkah treats are most often deep-fried, and if we're trying to be healthy, pan-fried with a generous dousing of oil. Otherwise, how else would we be celebrating the miracle of that little pot?
So I tried. For you, I filled a pot with 3-inches of canola oil and tried to tell myself this is all in the name of food blogging. I tried to bring it to the appropriate temperature without smoking it, but without a thermometer, I failed. I tried to make a batter that would hold its form when dropped into a vat of fat, but I couldn't, and my fritters turned into liquid strands of goop swimming in canola. And at the end of the day, I just couldn't excuse putting up a fatty, deep-fried recipe on a blog that aims to adapt to modern food allergies and sensitivities. Even in the name of the holidays, dear reader, I just couldn't do that to you.*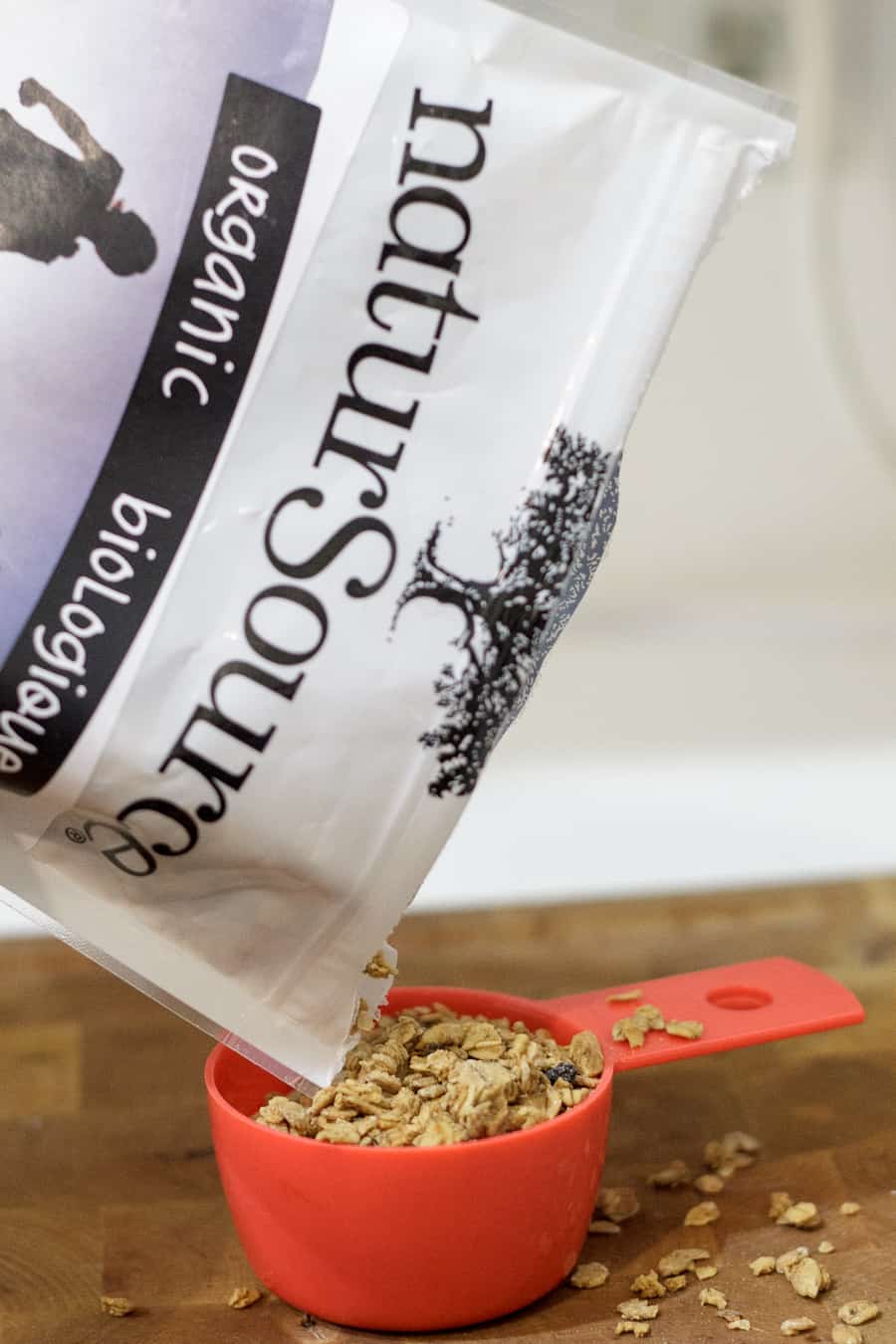 The good news is, my apple-granola baked Bimuelos are no less delicious form the experimentation. Wanting to incorporate healthy oatmeal, dried fruits and nuts into a high-sugar holiday treat, I reached out for my favourite organic Multi Nature granola blend by Natursouce. Studded with all-organic almonds, quinoa flakes, coconut, dried cranberries, sunflower seeds, this granola blend is high in fibre, vitamin E and selenium, a dietary antioxidant. So in essence, it makes the baked Bimuelos I'm about to stuff into my face practically virtuous.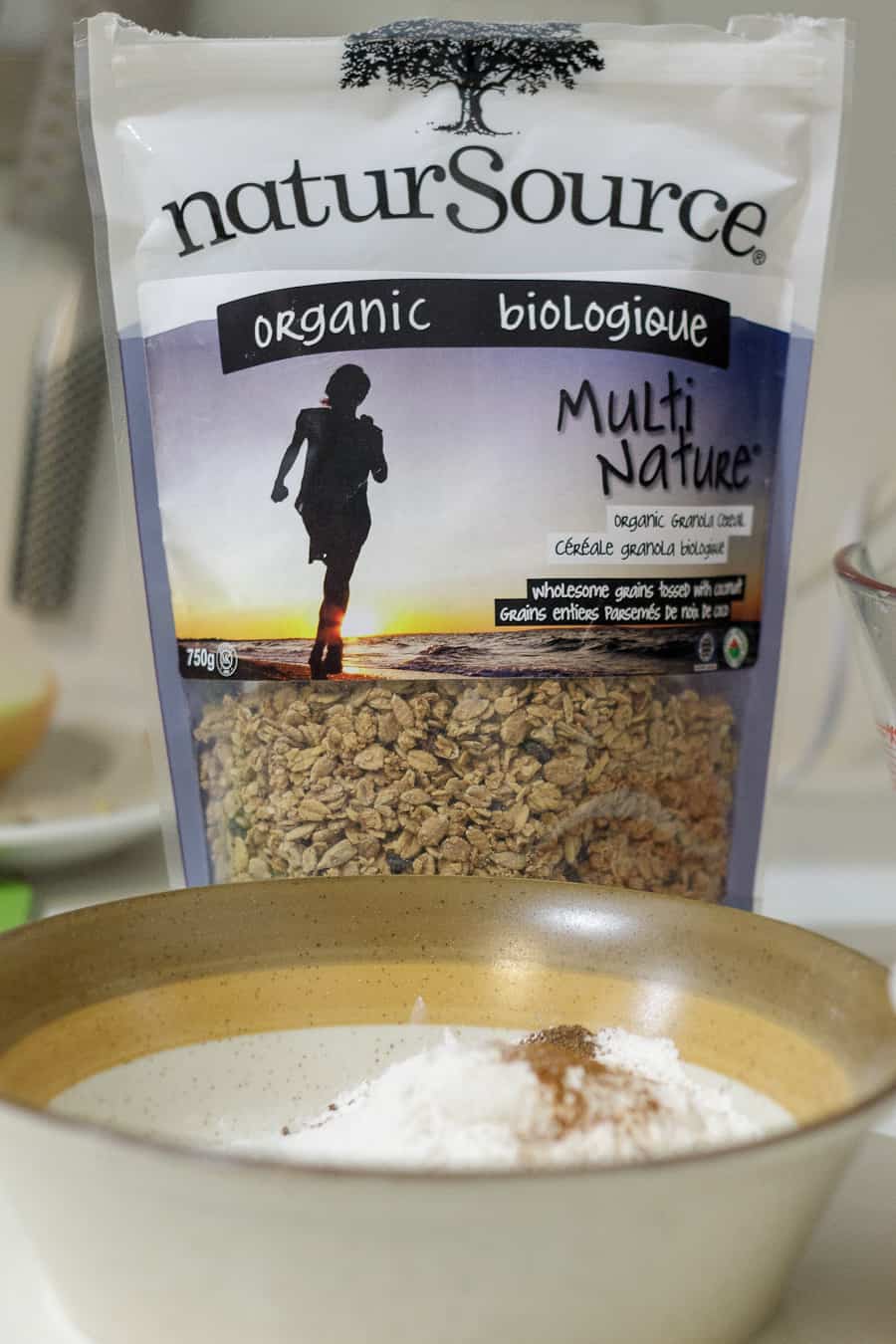 The resulting yeasted puffs of dough are filled with apples and nuts, baked, and then coated in a delicious, golden honey syrup. I like to mound them in a tall pile when serving them at the table, going for that 'wow' factor I love around the holidays. They're best fresh out of the oven, but will keep for a few days after (though all the lovely syrup will just be soaked up). And trust me that when people eat these baked Bimuelos, no one asks for a deep-fried version.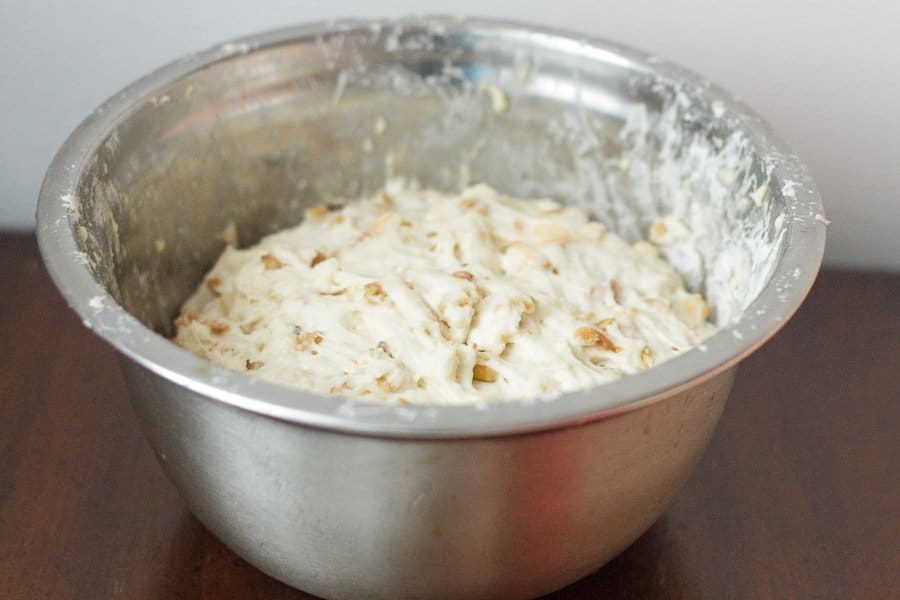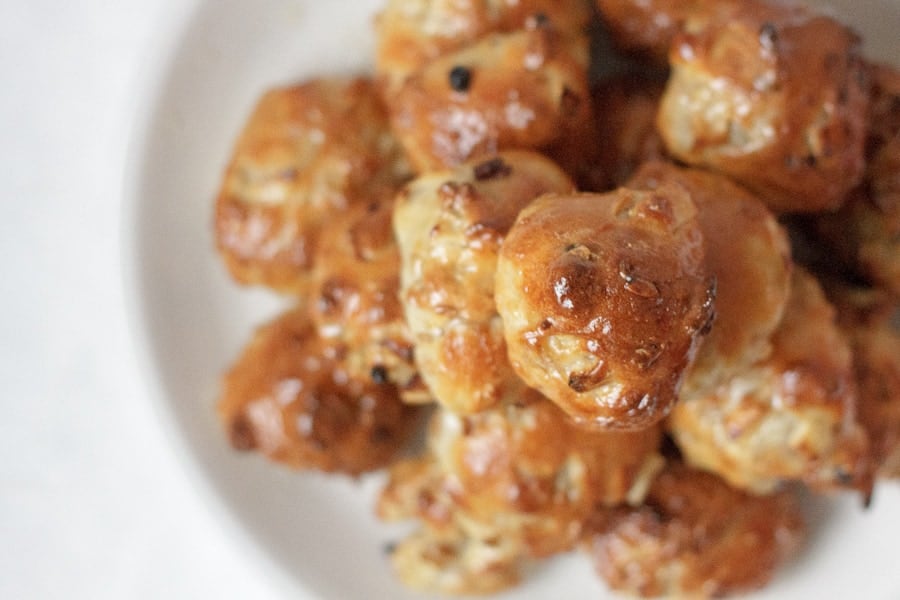 So, I hope that these baked Bimuelos have helped me impress upon you the fact that Hanukkah is a no less glitzy and delicious holiday than Christmas. But then again, anyone who's ever enjoyed eight days of gifts and fried treats would probably agree with me. Maybe we just like the holiday so much that we want to keep it all to ourselves!
I'll be back with another Hanukkah-special recipe on Wednesday! Meanwhile, if you're looking for more Hanukkah treats, why not make my favourite sour cherry-filled sufganiyot, or my simple, vegan and gluten-free potato latkes?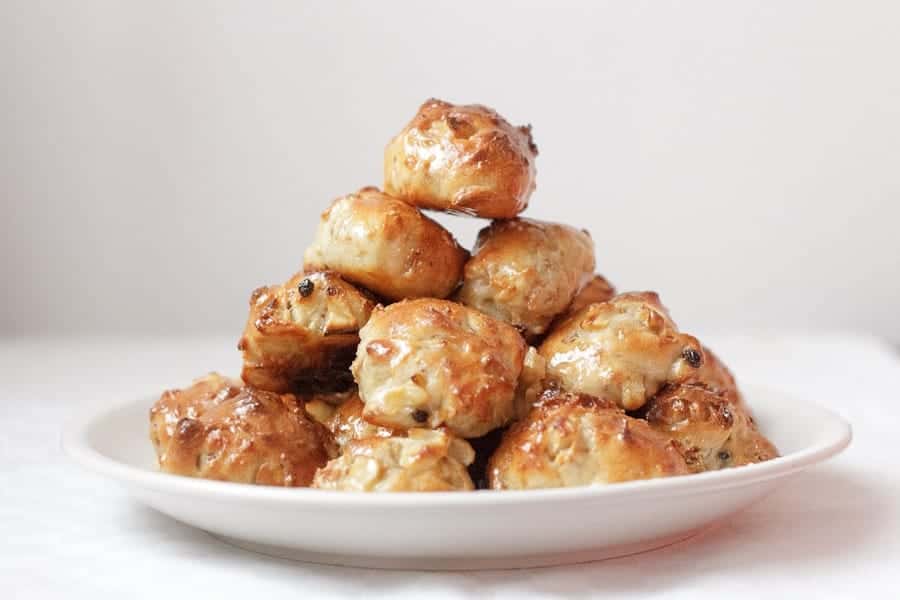 * Don't get me wrong, not all deep-fried food is evil. In fact, if you drop carefully-constructed pieces of vegetable or batter into hot oil, at just the right temperature, and leave them in there only as long as you should, and then dry them on paper towels, chances are that the food you eat will have soaked up less oil than if you shallow-fried it with two tablespoons of the stuff. But I lack the expertise, and I'm afraid the pot will catch on fire in my face. So there - you have my permission to keep eating deep-fried potato chips.
P.S. – This is a sponsored post, but all opinions expressed here are my own. I am proud to support a local, family-owned business whose product I truly appreciate, and I thank you for supporting my sponsors.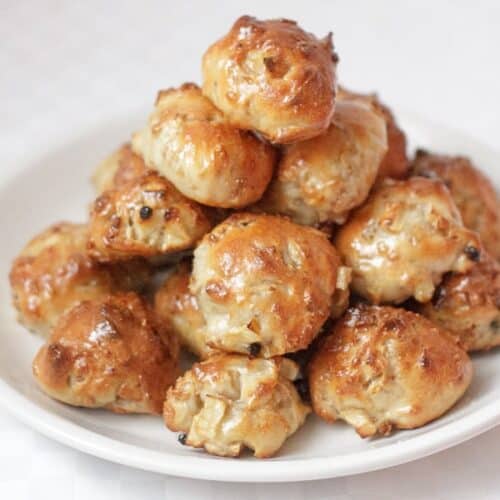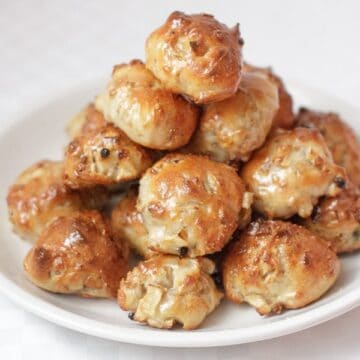 Baked apple-granola Bimuelos
Apple-granola Bimuelos are fritters filled with apples, oatmeal and nuts, baked, and coated in a golden honey syrup - a healthier Hanukkah recipe!
Print
Pin
Ingredients
2 ¼

tsps

active-dry yeast

1

teaspoon

sugar

½

cup

warm water

½

cup

buttermilk

or ½ cup plant-based milk and the juice of ¼ lemon

2

cups

flour

½

cup

Multi Nature granola

1

Honeycrisp apple

chopped

¼

teaspoon

salt

For syrup:

½

cup

sugar

⅓

water

¼

cup

honey
Instructions
In a large bowl, combine yeast, water and 1 teaspoon sugar and whisk together. Let stand for 10 minutes, frothing, until mixture doubles in size.

At the same time, if you don't have ready-made buttermilk, prep your buttermilk by adding lemon juice to plant-based milk.

To bowl with yeast mixture, add flour, granola, chopped apple and salt. Mix to combine, then knead on a floured surface for about five minutes. Return to bowl, cover loosely with a towel or Saran wrap, and let rise for about 1-1.5 hrs, until dough has doubled in volume.

Make syrup: In a medium-sized saucepan, combine sugar, water and honey, stirring just until sugar dissolves. Once the mixture is boiling, reduce heat to medium and cook, uncovered and undisturbed, for 5 more minutes. Set aside and let cool.

Prehead oven to 350F/ 180C. When your dough has doubled, with wet hands, shape dough into small balls (do not fret about the shape too much). Arrange Bimuelos on a parchment paper-covered baking sheet, leaving about an inch of room between them,

Bake at 350F for 12 minutes.

Dip balls into cooled syrup with thongs, turning over to ensure all sides have soaked some delicious honey goodness up. Then remove Bimuelos onto a large plate. Serve immediately.

I like to pile my Bimuelos up like a tower, for extra effect.