This post contains affiliate links – thank you for supporting the brands that help make this blog possible. This barley, kale, and Romano beans soup shines brightly with the flavours of lemon and chipotle powder. Adapted from Molly Watson's Greens and Grains.
There are those cookbooks that sit on your shelf and gather dust; big, hefty volumes that encapsulate your hopes and dreams for your abilities as a cook, inspire your imagination, and serve as glistening eye candy meant to raise the envy of your guests (much like a first edition Don Quixote). Then there are those cookbooks that you keep going back to; smudged and worn around the edges, covered with all matter of unidentifiable substances, these books have been thumbed through and marked so many times, you can no longer remember how it all started. Greens + Grains is one of the latter, and today, you have a chance to get your hands on a copy - and likely rush straight to the kitchen to cook from it, much like I did with this barley, kale and Romano beans soup.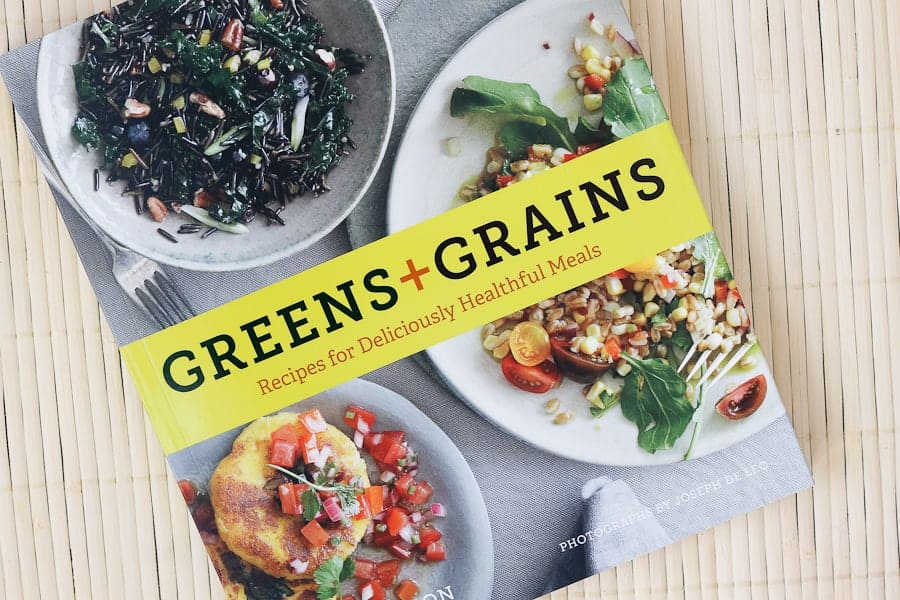 When I first got my hands on Molly Watson's Greens + Grains, I knew right away we were going to become fast friends. The simple paperback binding, the colourful images that celebrate food and not table settings, and the division into the three clear sections of salads, soups and main dishes all told me this book was going to feature heavily in my winter rotation. And judging by the last two weeks, it certainly did.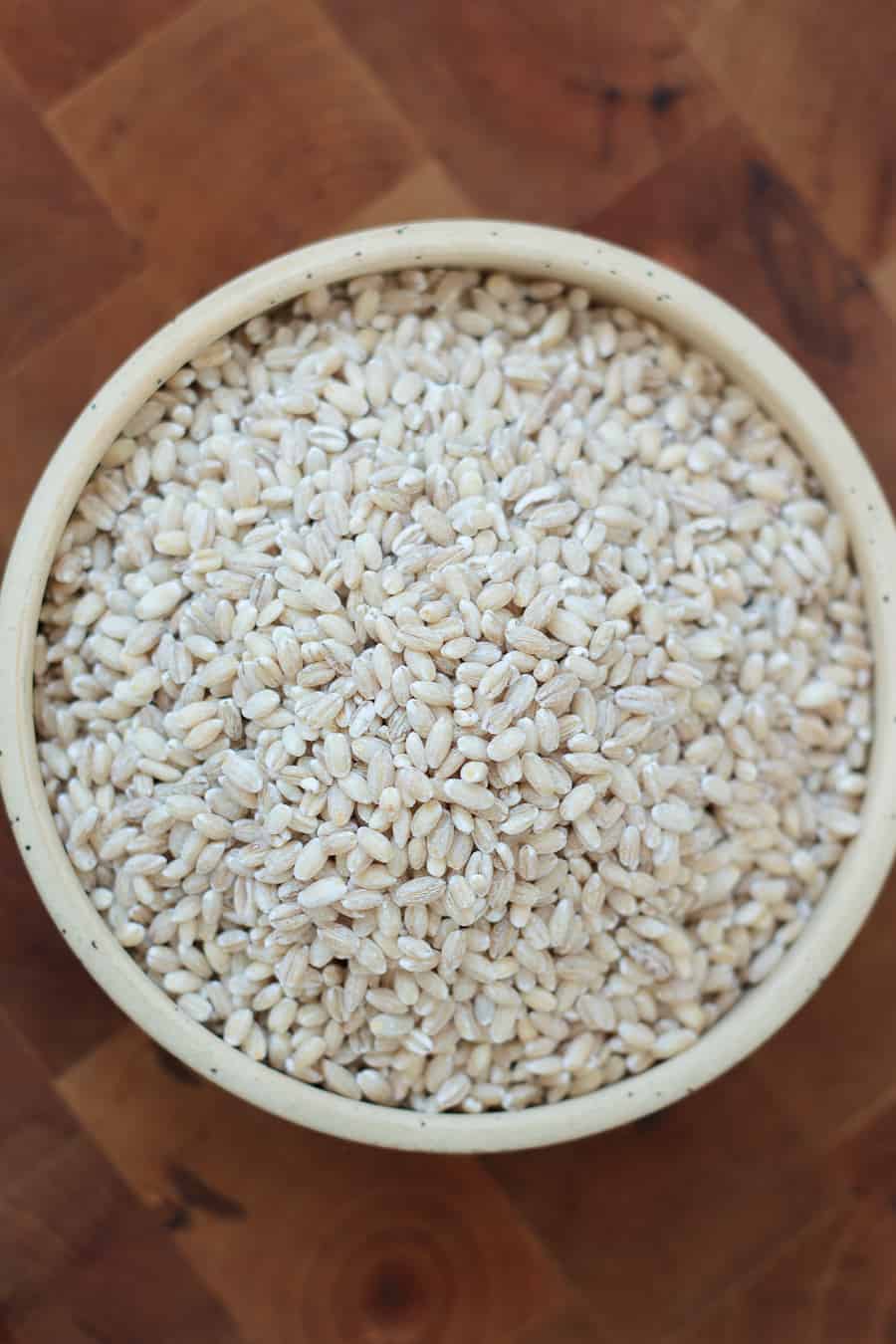 We made this barley, kale and Romano beans soup based on Molly's excellent greens and grains soup template on the first day that we looked through the book. I have bookmarked about 20 other recipes to go through. Greens + Grains has options for meat eaters and pescetarians, though it is almost entirely adaptable for (and in my opinion, heavily geared towards) vegans and vegetarians.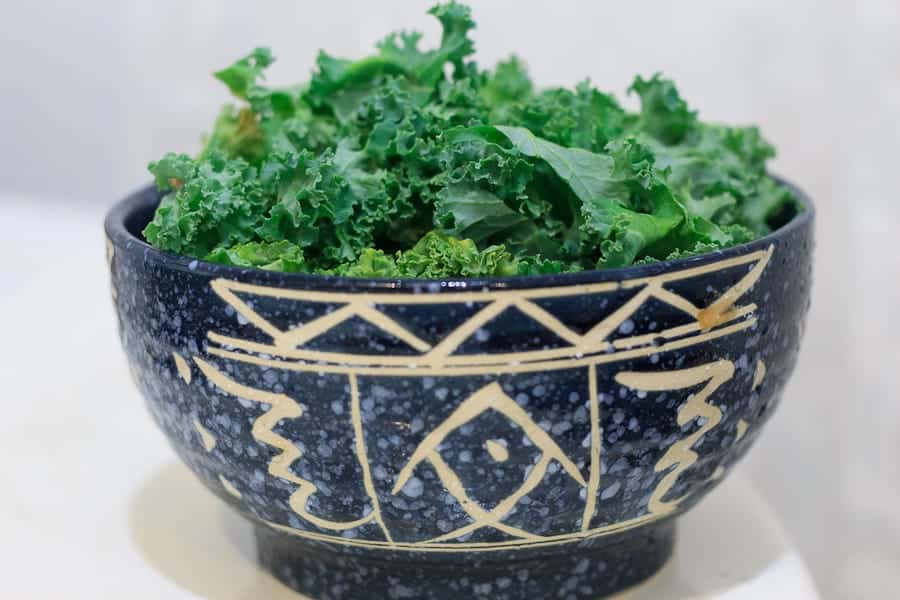 Gluten-free grains are used heavily throughout the book, so being celiac or gluten-intolerant is not a reason to avoid it (but if you're paleo, you definitely can move right along). It's a perfect fall/winter book, though there are some recipes for light salads and intriguing quinoa terrines that would not be remiss on a spring or summer table.
All praise of Greens + Grains aside, let's talk soup. This barley, kale and Romano beans soup was hearty, energizing, and bright with the addition of lemon and chipotle powder. The beans and barley interacted to produce a complete protein, and the soup alone served a delicious and whole meal on dreary work days (as well as sustenance during one extremely long pasta photoshoot!). I am already planning up my next greens and grains soup combination.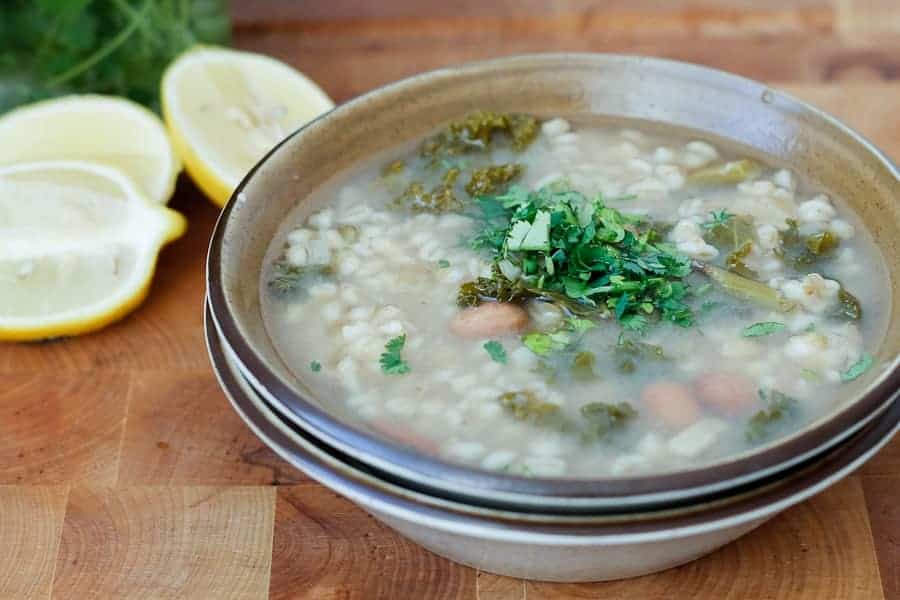 But I'm not just telling you tall tales over here, gloating about this great new cookbook that I have and you don't. No, dear reader, I wouldn't do that to you! Thanks to the generosity of some Canadian book publishers, I happen to have a second (unstained, unmarked, and unthumbed through) copy of Greens + Grains to give away. So without further ado, I present to you my first ever giveaway - and I couldn't think of a more perfect book to start it all up with.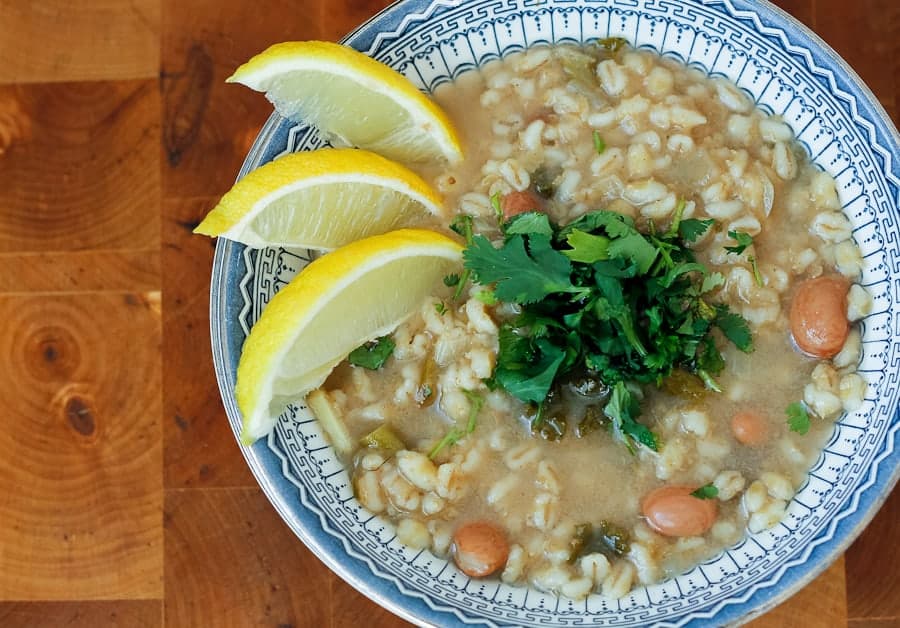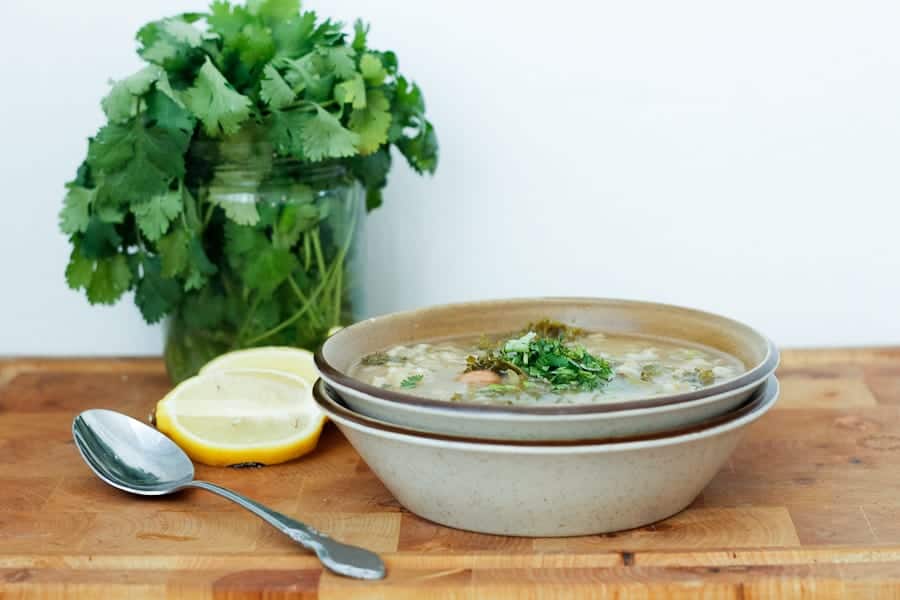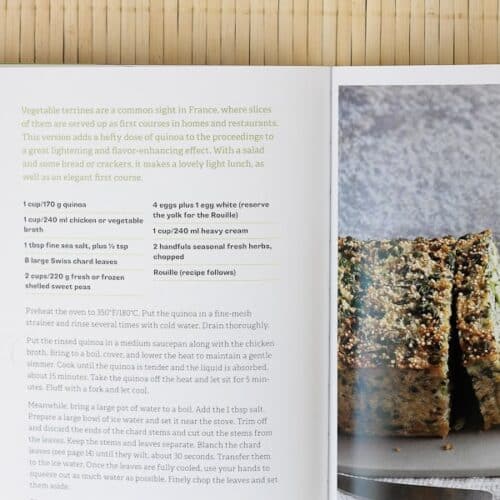 Barley, kale and Romano beans soup, and a Greens + Grains giveaway
Molly Watson provides an excellent template for a greens and grains soup in her book. This was my adaptation based on whatever greens - kale - and grains - barley - I had on hand at the time. I'd say that the lemon and chipotle powder (or smoked paprika) are non-negotiable. Molly recommends cooking the grains separately because they'll cloud the soup, but I didn't.
Print
Pin
Rate
Ingredients
1

cup

180 grams barley (or any other whole grain - quinoa, farro, spelt, wheat berries, or brown rice)

Fine sea salt

10

oz/ 280 grams kale

or other greens

1

onion

1

can

2 cups Romano beans (or any other beans, optional)

3

TBs

extra virgin olive oil

2

garlic cloves

minced

6

cups/ 1.4 L vegetable broth

1

teaspoon

chipotle powder or smoked paprika

Freshly ground pepper

Lemon

I serve a wedge with each bowl
Instructions
If cooking the grains separately: Rinse the grains. Put the grains and 2 teaspoon salt in a medium pot and cover generously with water (barley takes 2.5 cups of water to 1 cup of broth; if cooking barley separately but adding to soup later, use just 2 cups). Bring to a boil, lower heat to maintain a simmer, and cook until the grains are tender to the bite; in the case of barley, this will take 40-50 minutes, but more delicate grains like quinoa will require only 15. Drain and set aside.

If cooking the grains in the soup, proceed according to instructions and add the grains after you've added the broth.

Prep your greens. Cut the stems out of from the kale leaves. Trim the stems and finely chop them, then cut the leaves into thin ribbons; keep the stems and leaves separate (If using greens without thick stems, simply chop them into ribbons).

Chop onion into bite-sized pieces. Mince garlic.

Heat 1 TB of olive oil in a soup pot over med-high heat. Add onion and cook for 5 minutes, until it is beginning to turn transluscent. Add kale stems and cook, stirring frequently, until they're soft, about 5 minutes. Add the garlic and chipotle powder (or smoked paprika) and stir to combine.

Add the broth and grains (if cooking grains in soup, add another 2 cups of water to soup and follow the timelines outlined initially). Once grains are cooked, add the greens, stir to combine, and cook until wilted and tender, about 10 minutes for kale (or 1-2 minutes for spinach, 5 minutes for chard).

Season with salt to taste (I start with 1 TB for a pot of soup, and usually go to 2-3, but I like my salt). Serve warm with a lemon wedge and a grind or two of pepper.
Disclaimer: The book was given to me free of charge as a promotional copy by the Canadian distributor of Chronicle Books, Greens + Grains' publisher. The opinions given here are solely my own.