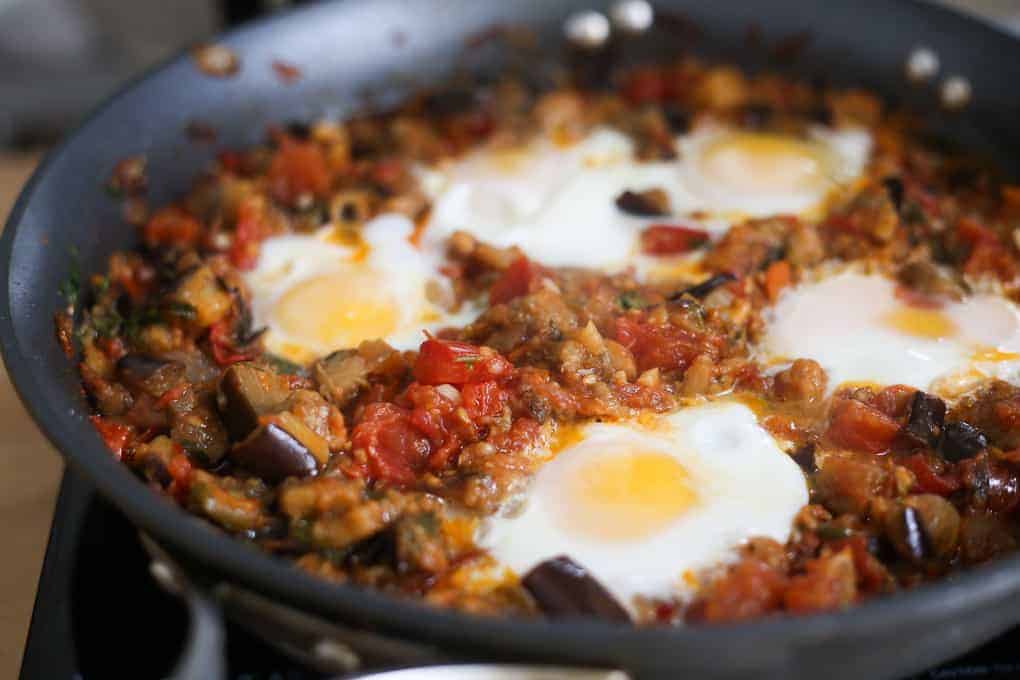 Check out my second video EVER, my eggplant shakshuka video. Thanks to the Federation CJA marketing team for making this possible!
One bright and early morning during each camping trip, I get up and make everyone eggplant shakshuka. While people are just rubbing their eyes and pulling on their sweatpants, I am already up with the birds, sauteing eggplant and tomatoes. As I mince garlic, I am greeted by exclamations of joy and wondrous cries of, "what's that smell?!". As I add in the last bit of parsley and bring out the pan to the table with a flourish, I eagerly await the pairs of eyes who will look at me with admiration and joy.
I admit it, I make everyone eggplant shakshuka because I know that with that dish, I will have won them over completely. But as long as they get a delicious meal out of it, I have yet to hear anyone complain about my motivation.
That's why when it came time to choose the second video I would make for the Montreal Mega Mission, eggplant shakshuka video was a no-brainer. The kind of dish I could cook in my sleep (and have), this breakfast dish is the perfect comfort food: saucy, spicy, filling and as familiar as a warm blanket.
It's the kind of dish I miss while I am away on vacation without access to a dented pan, a Coleman stove or enamel plate. It's the kind of dish that would be at home at any brunch table, but that tastes even better when allowed to burn just a bit on a rickety stove in the woods, flat out in the middle of nowhere.
It's the kind of dish that once you make it, you'll keep going back to over and over again.
It's the kind of dish you simply can't get out of your mind.
Would you agree? What do you think of my eggplant shakshuka video?
(get the recipe for eggplant shakshuka here)
FULL DISCLOSURE: I made the videos as part of the Montreal Mega Mission promotional drive for my employer, Federation CJA. I received no additional financial compensation, nor was I asked to post these on my blog. I am sharing my work with you because I am immensely proud of it – and you can always count on me to be straight and honest with you guys! To learn more about the Mega Mission and to see the first video I made, of Israeli rugelach, check out my post here.