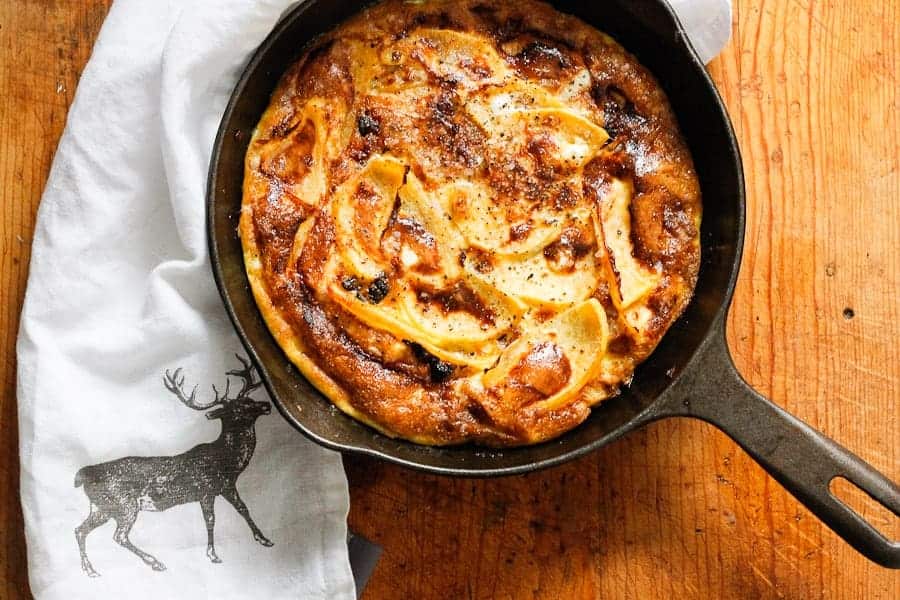 This holiday, I haven't gotten to make pierogies with G's mom. In fact, I've barely gotten to cook much at all. Most of the time, we just ate leftovers from an incredible Christmas meal, sampled some of the food in Winnipeg's finest new restaurants (the city actually has a pretty lively resto scene!), and even ordered pizza in a couple of times. But there were some cinnamon buns (recipe coming soon), and, for a brunch on one of the mornings, this breakfast rutabaga rosti. And truth be told, I haven't missed it all that much.
I don't know if I've shared this with you in the past, dear reader, but I have a fairly sizeable problem with anxiety. And sitting and doing nothing, even under the guise of resting, is usually a surefire way to provoke a suffocating, all-encompassing, paralyzing sense of dread. I would be sitting there, with everyone relaxed around me, and my fingers would be twitching with untyped sentences, my mind racing with unexpressed thoughts, my mouth crimping to hold in the unexpressed words. Unless I was asleep, rest was rarely very relaxing for me.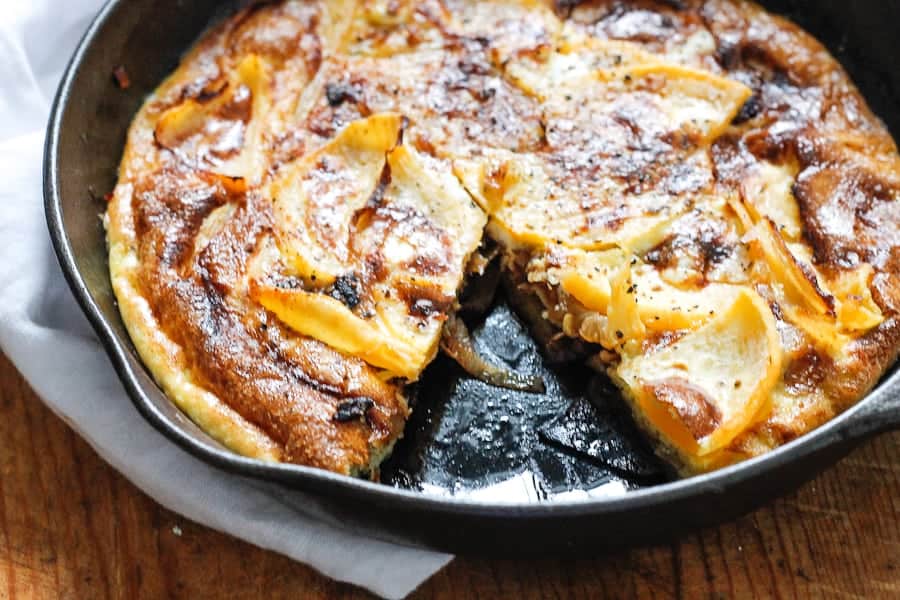 But I have been making conscious efforts to do things differently. For the past year, I've done little exercises of inactivity, where I unplug, sit and read, or even just lie in bed with G and clear my mind. It's been a lot more difficult than it should be, but I'm making small progress.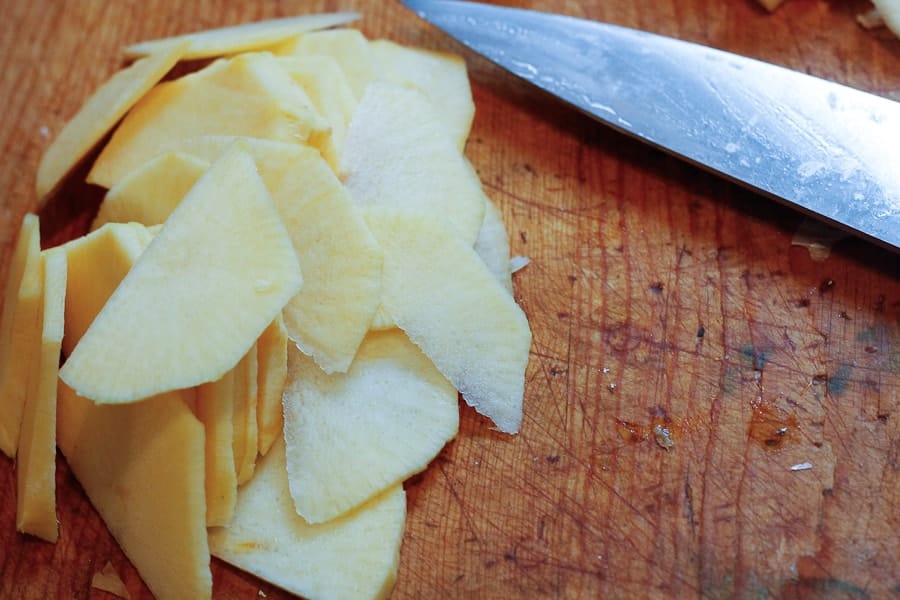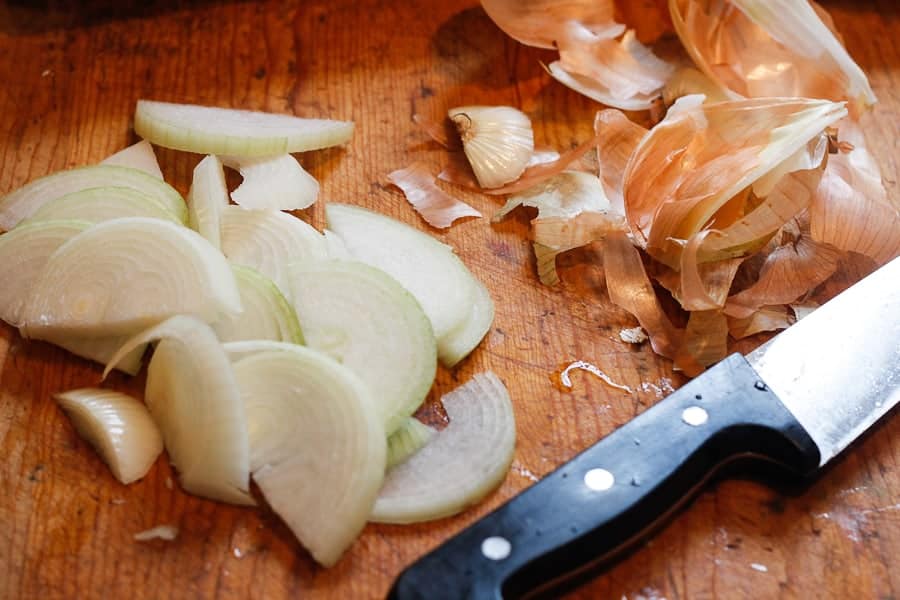 And so this holiday, taking time away from the stove and the camera has felt nice. I've also gone on a work hiatus from my day job and another freelance position, and I don't know if anyone misses me. As I expected, it's definitely been stressful, as visions of falling behind and not getting shit done and losing everything I've ever worked for have clouded my brain more than once. My self-esteem has even taken a severe beating, battling the feeling that my efforts aren't as needed as I thought. But again, I'm barreling through the assignment of inactivity.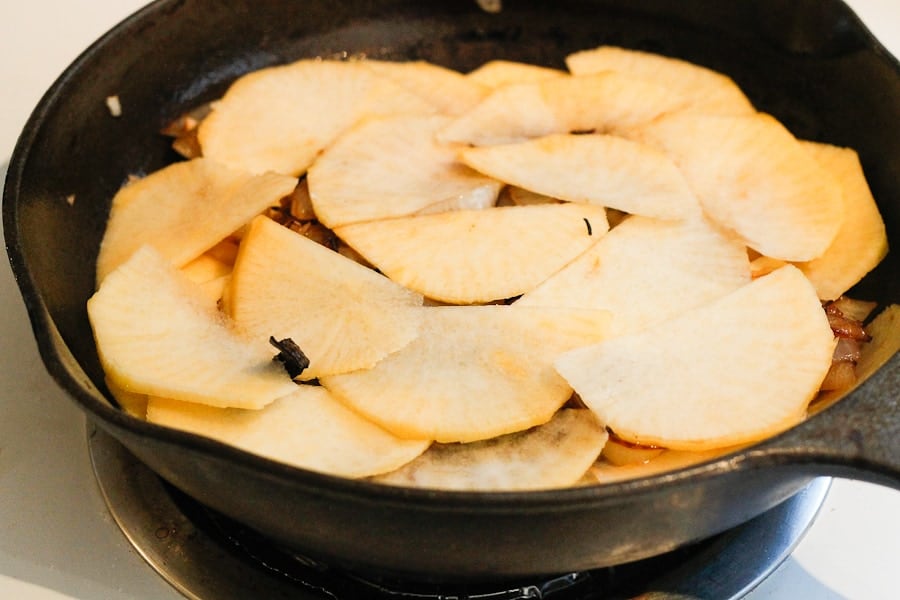 But I could stay inactive long enough to keep this rutabaga rösti away from you. Rösti (or röschti) is a traditional Swiss dish of fried potatoes that is served not just for breakfast, but as side with pretty much anything. One day last year, I had the idea of using up an abandoned rutabaga in a variation of a beautiful rosti recipe I saw online. But I didn't feel like grating the root, and instead I sliced it really thinly and layered it with onion. Once the whole thing caramelized, I decided it needed a boost of protein to be a complete meal... And with the addition of three eggs, my breakfast rutabaga rösti was born.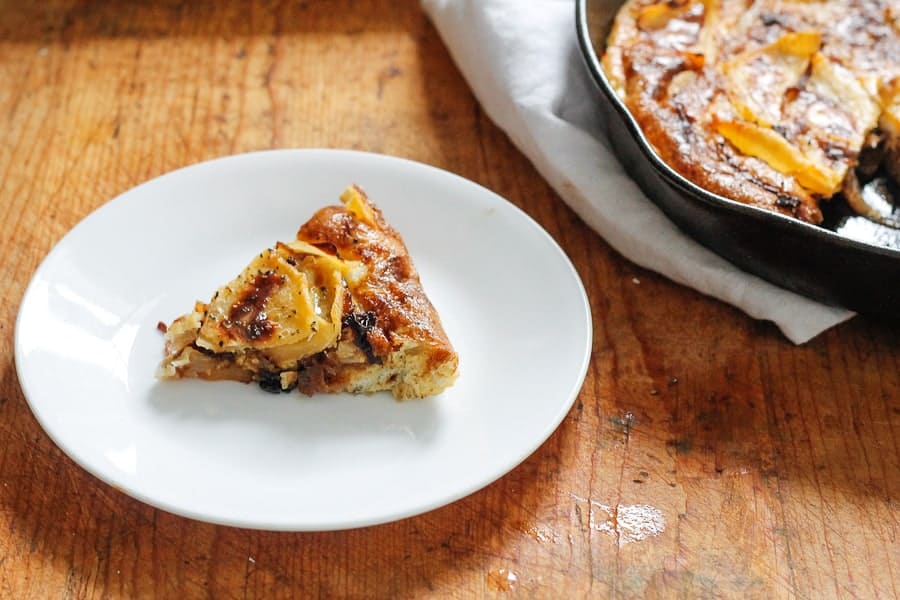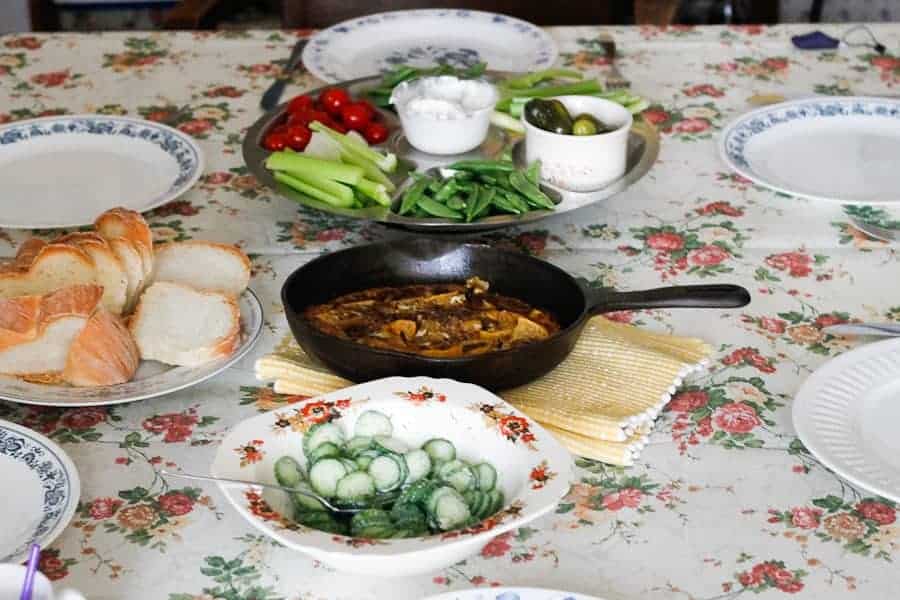 It's got a deep, rich flavour of caramelized vegetables, and the satisfying feeling that can only come from eating eggs and potatoes (at least for me). This time, we ate it with some vegetables and dip and G's father's signature cucumber salad. We all sat around a table in mid-day, broke bread and talked. Afterwards, we played games with the baby in the living room. I fell asleep on G's shoulder while everyone was just sitting around and talking, and I didn't even mind the sounds, the lights, or the thoughts. I eventually woke up only because a particularly persistent baby kept putting books in my lap for me to read to him. It was a perfect afternoon of food, talk and play.
And I finally managed to rest.
Accompanying Dishes
Serve rutabaga rosti with vegetarian breakfast sausage and McDonalds Breakfast Sauce for a true savory treat.
Tried and loved this recipe? Please leave a 5-star review below! Your reviews mean a lot to me, so if you've got any questions, please let me know in a comment.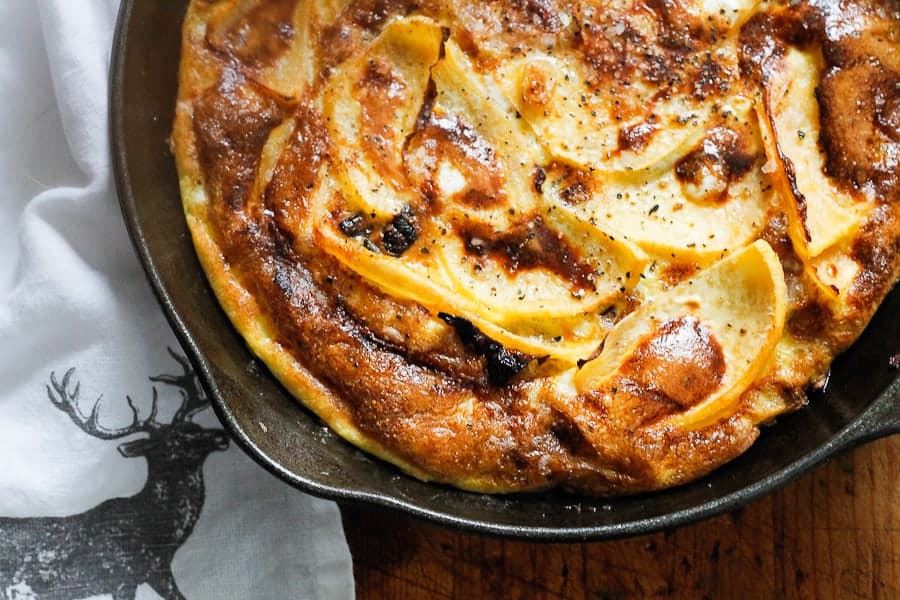 Recipe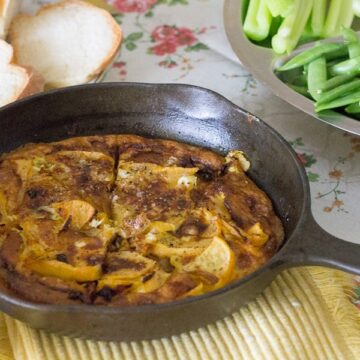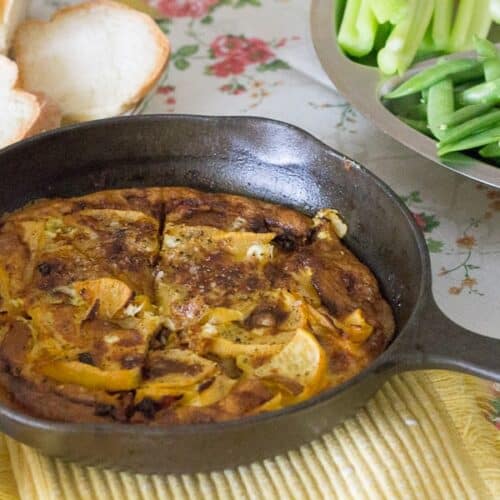 Breakfast Rutabaga Rösti
Perfectly-caramelized onions join with thinly sliced rutabagas for a delectable spin on a traditional Swiss dish, and the whole thing gets coated with eggs for a perfectly nutritious and cheap breakfast. This serves anywhere from two to four people (six with other sides), depending on the size of your rutabaga. I serve it with a salad.
Ingredients
2

tablespoons

Earth Balance or other vegan margarine

or butter

1

tablespoon

olive oil

1

rutabaga

1

onion

3

eggs

coarse kosher salt and freshly ground pepper

to taste
Instructions
Peel your rutabaga and slice it into thin crescent slices. Slice the onion thinly as well.

Preheat an oven-safe pan to medium heat (I like a heavy le creuset or a cast iron pan for this). Add margarine/butter and oil, and when it's melted add the onion slices. Let onions saute for 10 minutes, until they have turned golden and begun to brown. Remove onions into a small bowl.

Layer rutabaga slices in the pan in one layer, then top with caramelized onions, and then finish with another layer of rutabaga slices (I don't like to go for more than two layers, because then the rutabaga slices in the middle don't caramelize; use two pans if need be). Cover with a lid and cook for 10-15 mins on medium heat, until rutabaga slices in the bottom have browned and the slices in the middle have steamed through.

Preheat oven to 375F on the grill setting.

Once the rutabagas in the bottom are nice and brown, pour three whisked eggs on the rosti - but make sure the rutabaga is very brown before doing so, because the caramelization is the best part. Transfer dish to the oven and cook for about 5 minutes, checking often, until the eggs have set and browned a bit in the top.

Sprinkle with salt and pepper and serve with a side salad.
Tried this recipe?
Comment + Rate Below!
Connect on Instagram!
Find us @immigrantstable