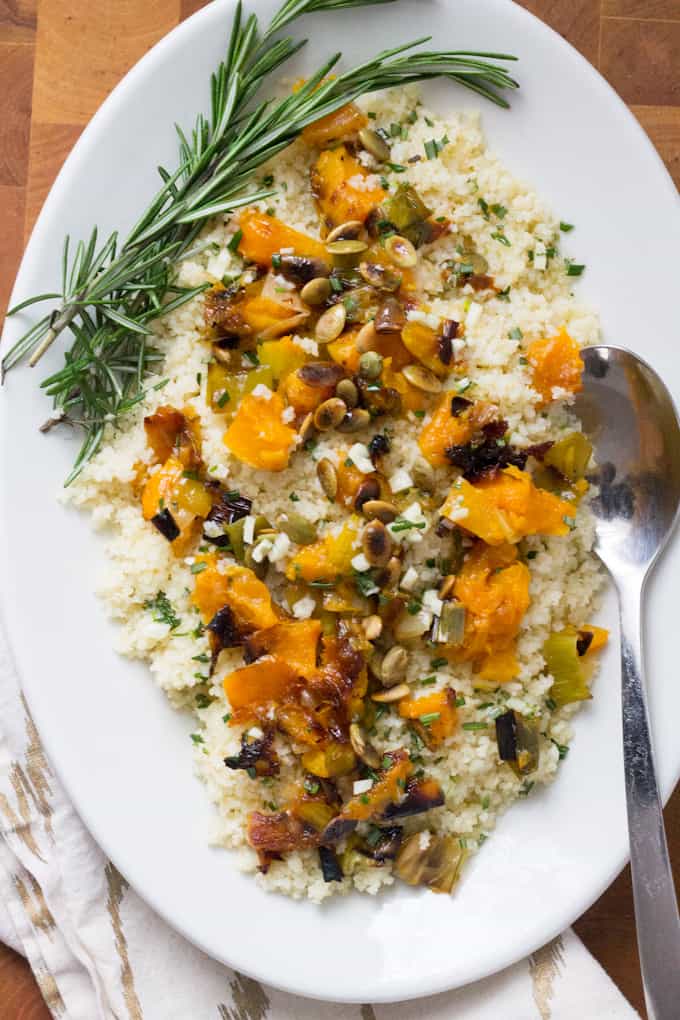 There are those dishes that you make intuitively, when you come home starving and can't even be bothered to think of what to eat. For some, it's long strands of pasta, covered in luscious red sauce; for others, it's scrambled eggs, thrown into a firey hot pan with everything but the kitchen sink. For those who shall be left unnamed (*cough*G*cough*), it's frozen pizza from a box. For me, that dish I make without even thinking is a grain salad. And this bulgur salad with roasted butternut squash and leeks is possibly the cream of the crop when it comes to dishes you make on auto-pilot: it's creamy and luscious, fragrant with rosemary and garlic, and oh-so-satisfying when it hits your belly.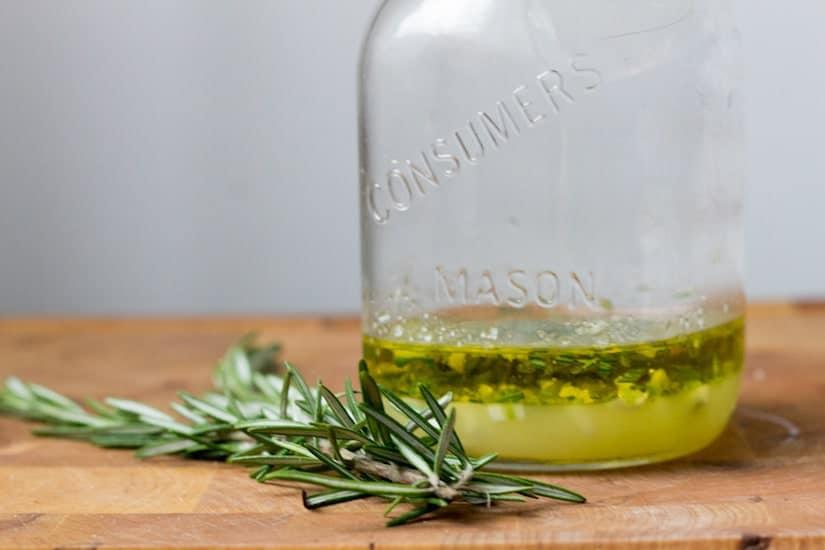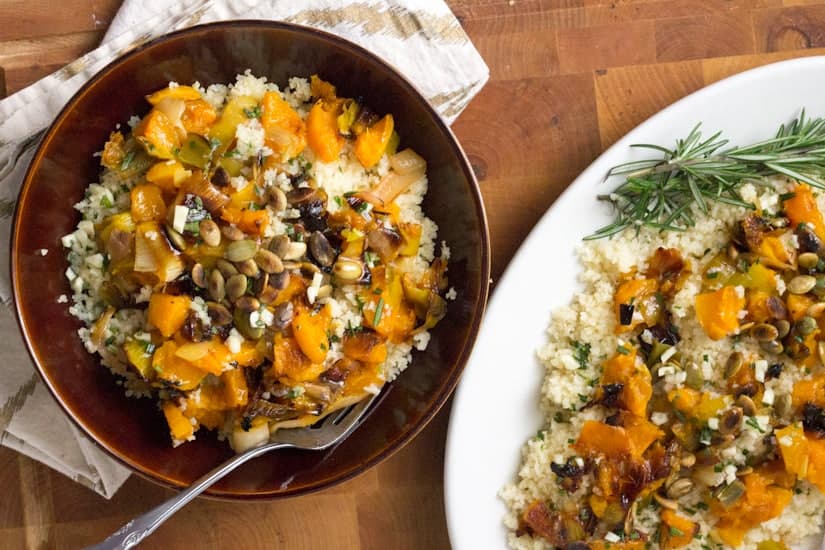 The beauty of a bulgur salad is that it comes together quickly. Bulgur requires no cooking; instead, you just soak the grains in boiling water for 10 minutes, trying to stop yourself from fluffing them too prematurely (or you'll end with sticky bulgur).
While this is happening, you roast the rest of the ingredients: lovely fall leeks and cubes of orange butternut squash, drizzled with just a bit of oil to encourage that beautiful caramelization. You put the whole thing in the oven for 20-30 minutes, and make the simple rosemary-garlic-oil-lemon juice dressing. If you're feeling ambitious, toast some pumpkin seeds while you're at it.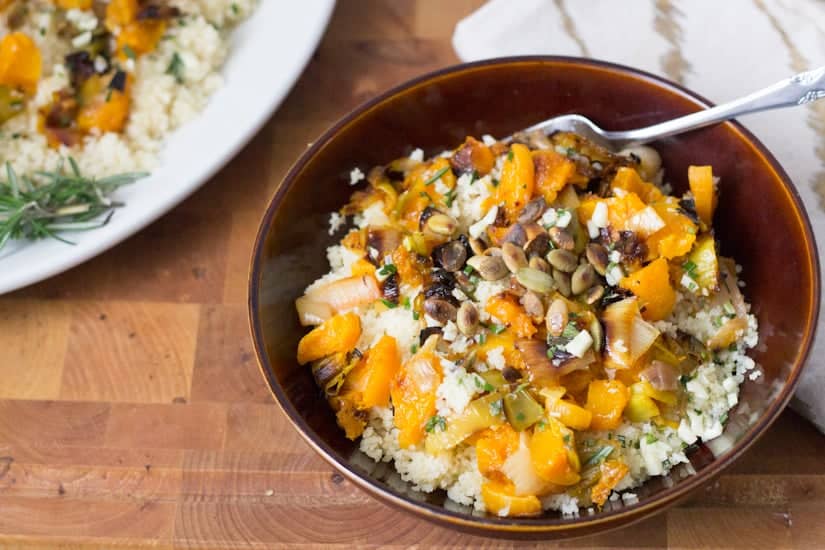 By the time the squash and leeks have finished cooking, your whole house smells like Thanksgiving: warm and inviting. Your stomach is already growling, but that's just in time - all you need to do now is top the bulgur with the squash, dress it all with the sauce, and dig in!
This bulgur salad is my auto-pilot dish. What's yours?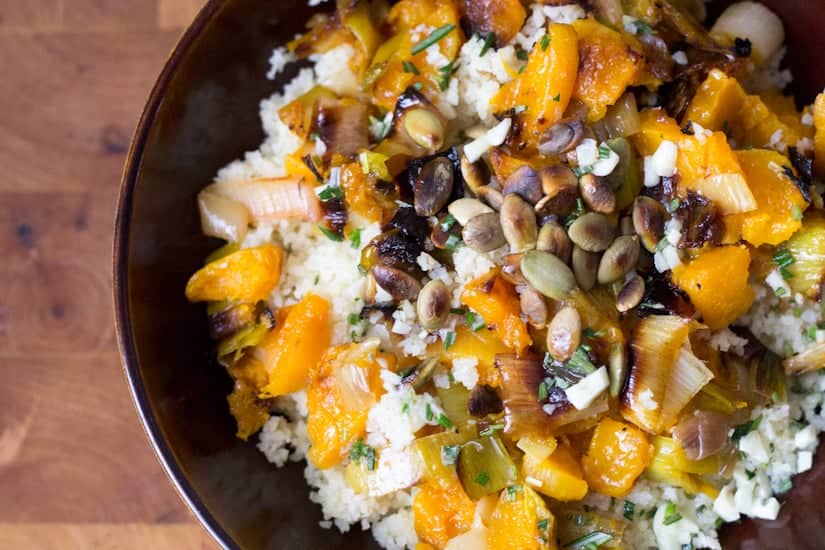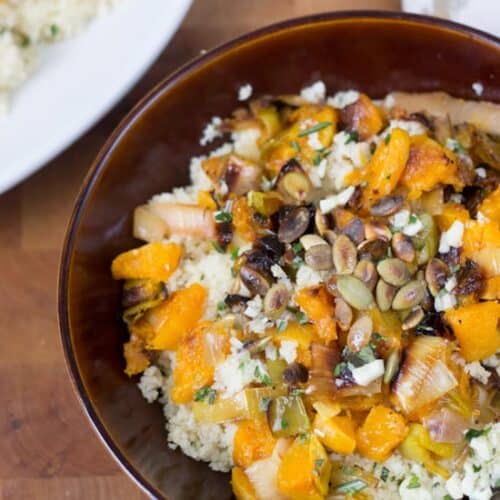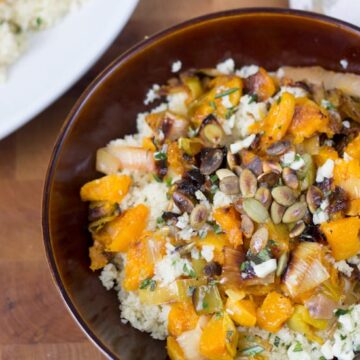 Bulgur salad with roasted butternut squash and leeks
This bulgur salad with roasted butternut squash and leeks is the best weeknight dish: creamy and luscious, fragrant with rosemary and garlic, and oh-so satisfying. #vegan and easy to put together!
Print
Pin
Ingredients
1.5

cups

boiling water

1

cup

bulgur or couscous

2

cups

butternut squash

cubed

1

leek

green parts trimmed

4

TB

lemon juice

7

TBs

olive oil

2

garlic cloves

minced

1

branch of rosemary

minced very finely

1

teaspoon

salt

¼

cup

of pumpkin seeds

toasted

⅛

cup

nutritional yeast or parmesan cheese

grated or shaved (optional)
Instructions
Preheat oven to 375F.

Prepare and trim squash and leeks - peel squash and cube into 1-inch cubes. Cut off the green parts of the leek, and slice leek in half, and then into crescent strips. Let strips float in a bowl of water to ensure all grit is washed away.

Cover a baking sheet with tinfoil. Arrange squash and leeks on baking sheet, drizzling them with 1 TB of olive oil. Bake for 20-30 minutes, until squash and leeks have browned. Let cool a bit.

Meanwhile, prepare bulgur or couscous. To prepare quick-cooking grains, boil water and pour on top of grains. Salt with ½ teaspoon of salt, cover and let stand for 10 minutes. Fluff with a fork - the grains should be separated and plump.

Toast pumpkin seeds on a medium-hot pan for about five minutes, keeping a close eye on them and stirring occasionally.

Prepare dressing: mix remaining olive oil, lemon juice, minced garlic and rosemary in a jar, and shake to emulsify.

To arrange salad, pour grains into a wide bowl. Top with squash, leeks and pumpkin seeds, and drizzle with sauce. Optional: Sprinkle nutritional yeast or parmesan cheese on top.

Serve immediately, though this salad can also keep covered in the fridge for up to a week.