Standing with my back against the wall, all I could feel was cold sweat trickling down my back. My mouth felt dry - parched, really, and my hands were clammy. And through it all, I was smiling like an idiot, my mouth hurting from the strain of keeping my mouth locked into place.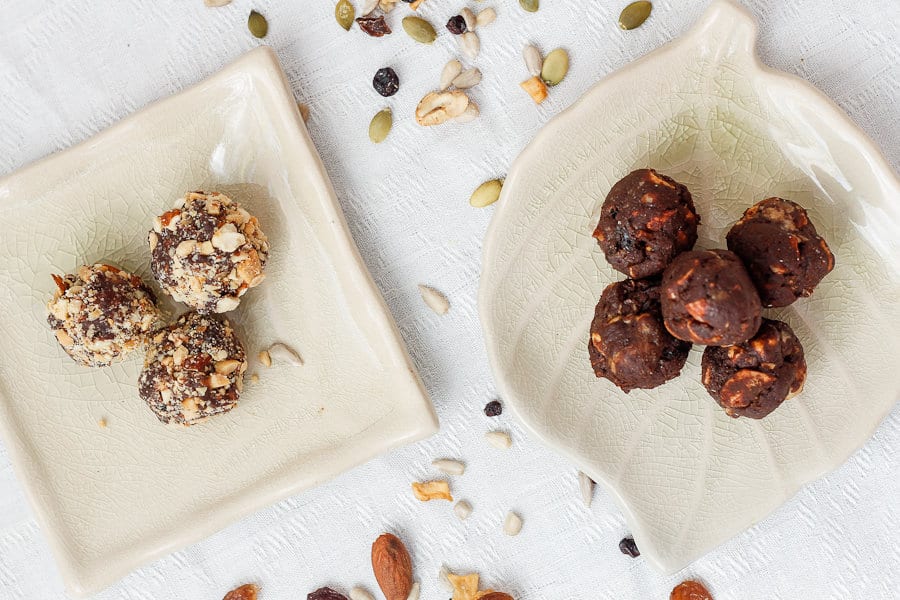 Finally, a well-meaning mother must have sent her kid over in my direction. A sweet and bubbly girl, she started talking to me, and I was grateful to reciprocate, words finally tumbling out of my mouth like an avalanche. She invited me to play, but not before reaching out to a plate and grabbing a dark, nut-encrusted sphere. Following her lead, afraid to mess this up, after waiting for so long, I also took one of the large spheres to my mouth. I bit into it hesitantly, but immediately, enjoyment spread across my face - the taste was sweet, creamy, rich and chocolatey; it was a delight to the senses. Happily clutching my chocolate ball, I bounded after my new friend.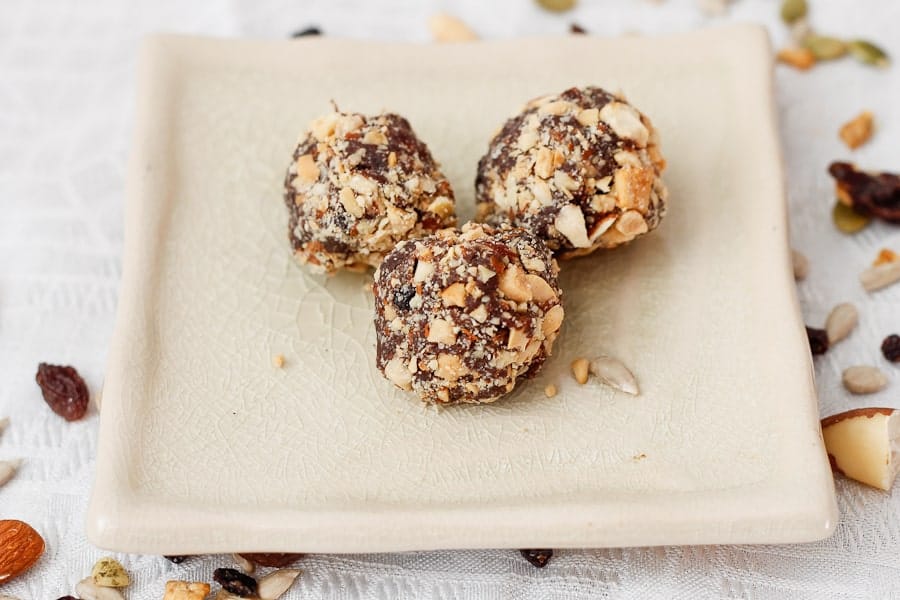 Every kid in Israel knows and loves chocolate balls ("kadurey shokolad"), or chocolate rum balls, as some people refer to them. They are delicious, rich confections, more similar to North America's cake pops than anything else, though they are nothing like that, either. A simple mix of chocolate, cocoa powder, milky biscuits, butter, sugar and sometimes nuts and rum extract, they are packed full with flavour... but also calories, fat, and processed ingredients from the store-bought cookies.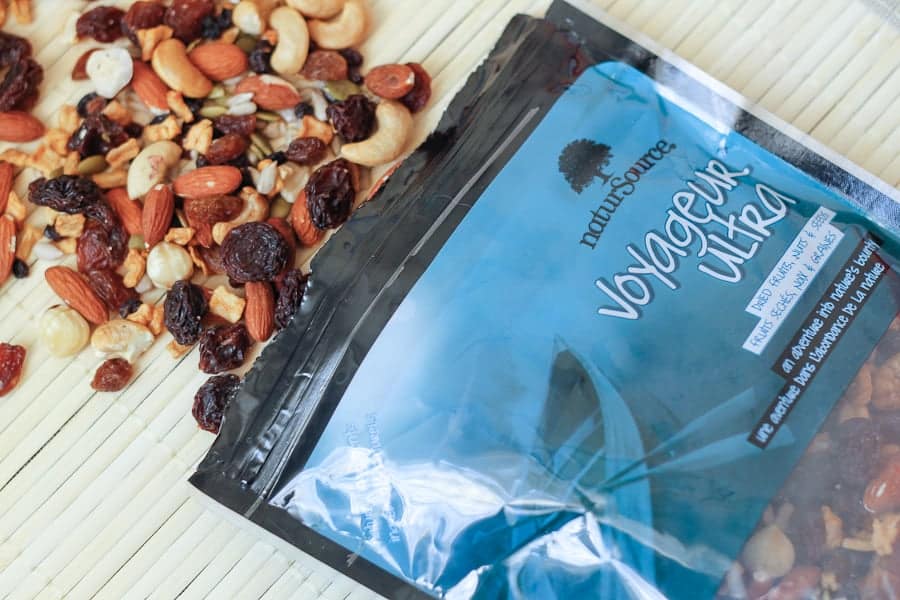 So when local Quebec company NaturSource sent me a package of their Voyageur Ultra trail mix, I knew I wanted to make portable energy snacks that would bring to mind the chocolate balls of my youth, but lack the fat, processed sugar and overall unhealthy factor. A few trials and errors later (whereby I kept adding more cocoa powder, tasting, and deciding this batch is waaay better than the last), these chocolate nut energy balls were born.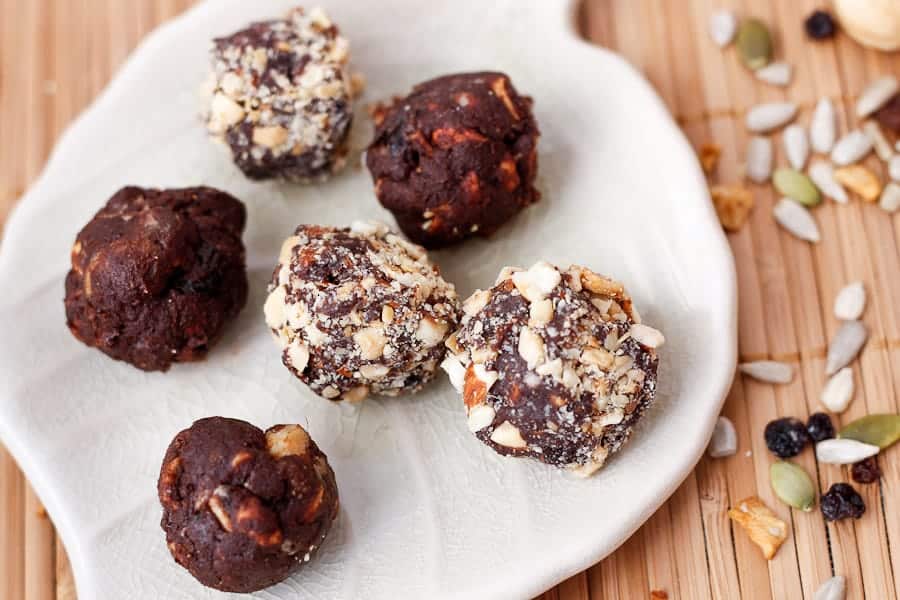 Full of dates, cocoa powder, and the dry fruits and nuts of the Voyageur Ultra trail mix, these are truly snacks you can feel good about (and they take less than 30 minutes to make!). They are vegan, raw, paleo, and free of processed sugars. Formed into small balls, which is how I like them, they look like delicate truffles, and can be rolled in more cocoa powder, nuts, sesame seeds, or shredded coconut for an impressive, portable and fairly filling treat. You can make them ahead of time, and keep some in the freezer - as long as they're separated, they'll be easy to grab and go.
I tried to keep these as natural as possible, firstly in order to up the energy and health factor, and then in order to highlight the beautiful taste of the Voyageur Ultra trail mix. In truth, I ate most of the bag just as it is, grabbing handfuls as I was cooking, feeding the cat, or sitting at my desk. I am a bit of a trail mix snob (most of them are too sweet and fairly processed for my liking), but the unique balance of dry roasted cashews, almonds, hazelnuts, Brazil nuts, and sweet, dried apples and currants was really hitting the spot for me.
I'm fairly certain that if I had grabbed a handful of these as a shy kid at my first birthday party in Israel, I wouldn't have been disappointed - but I probably would have had a lot more energy to take on the day!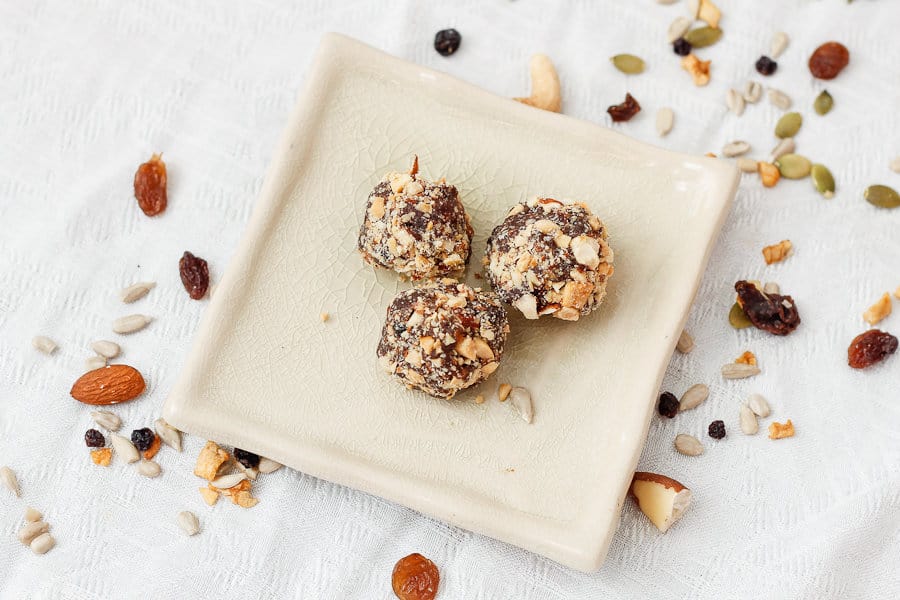 And now, for the link round-up. Have a great weekend, everyone!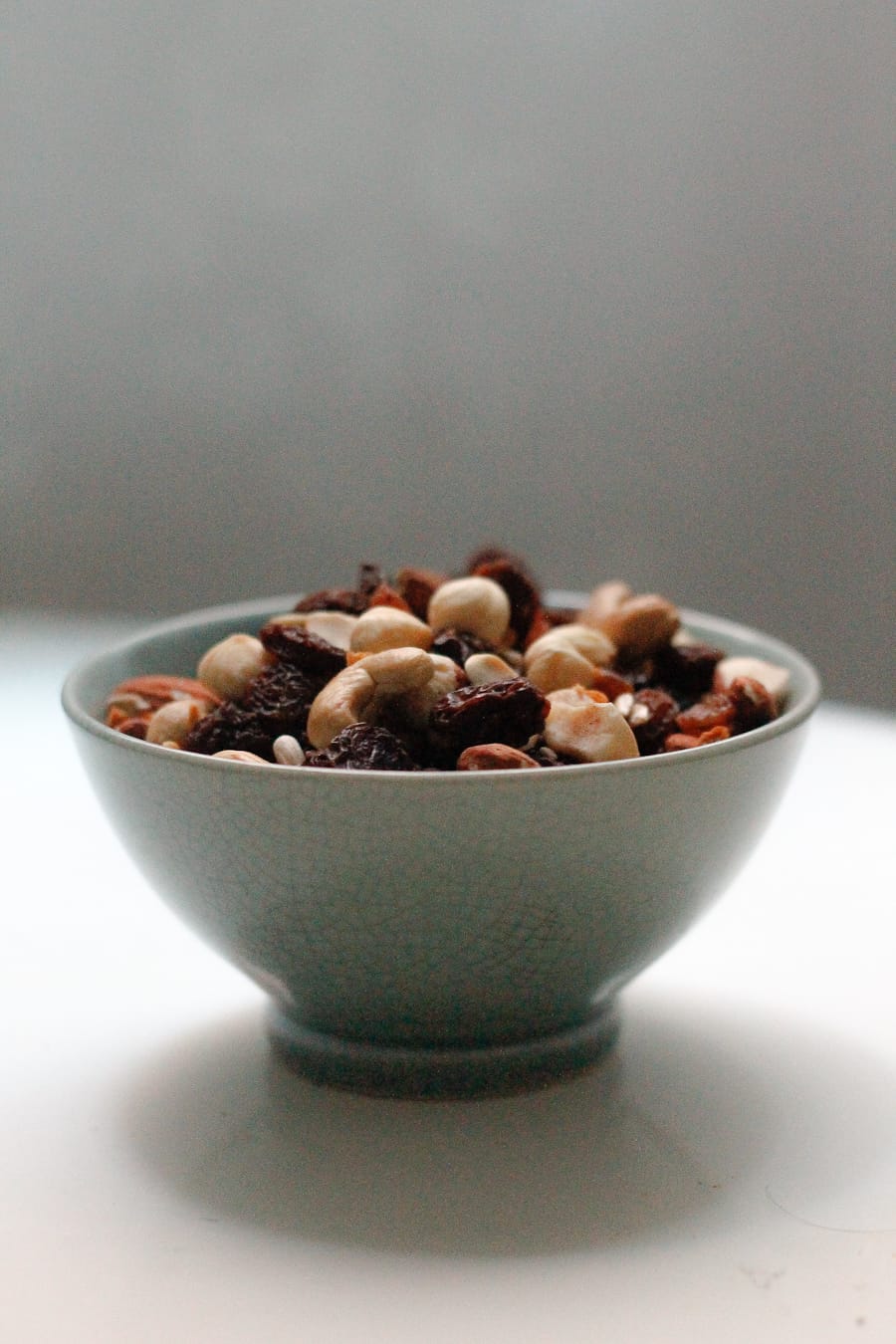 P.S. - Though NaturSource sent me the Voyageur Ultra trail mix as a promotion, I received no further monetary compensation for this recipe (though I will be submitting it into a competition that they are holding!). All opinions expressed here are my own, and I am proud to support a local, family-owned business whose product I truly appreciate.
Tried and loved this recipe? Please leave a 5-star review below! Your reviews mean a lot to me, so if you've got any questions, please let me know in a comment.
Recipe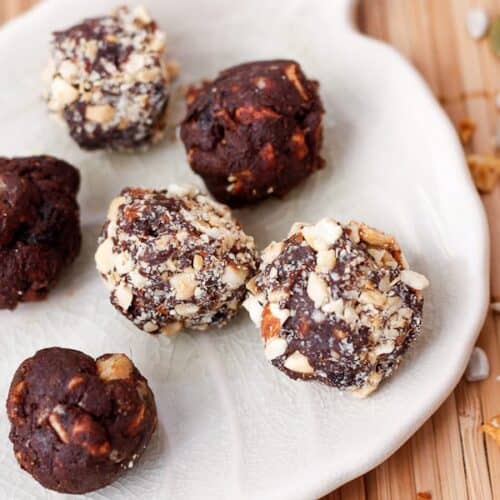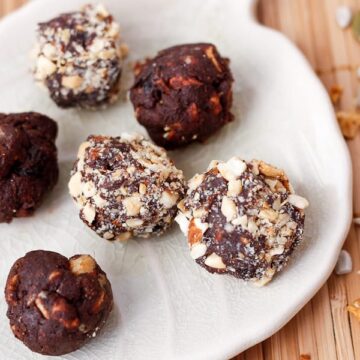 Chocolate nut energy balls
Full of dates, cocoa powder, and dry fruits and nuts, these are snacks you can feel good about (and they take less than 30 minutes to make!). Vegan, raw, paleo, and free of grains and processed sugars.
Ingredients
7

Mejdool dates

2

TBs

lemon juice

2

TBs

tahini

I imagine coconut oil would also work here

1

cup

of Voyageur Ultra nut mixture

chopped (or a mix of almonds, pecans, cashews, walnuts or any other nuts of your choice)

4

TBs

cocoa powder

1

teaspoon

vanilla extract

a sprinkle of sea salt

+ 4 TBs finely crushed nuts or 2 TBs sesame seeds

cocoa powder or shredded coconut, for covering
Instructions
Soak dates in hot water for 10 minutes, to soften. Remove flesh from pit, and tear into pieces (discard pit). Chop nuts into small pieces (I like to put them in a plastic bag and hit them with a mullet or a rolling pin. They more you hit, the finer the pieces).

In a bowl, mix dates, lemon juice, tahini and nuts, mashing everything with a fork. Add in cocoa powder, vanilla extract and sea salt, and stir well to combine. Taste - if you feel like you want a more chocolatey flavour, add a bit more cocoa.

With wet hands, form mixture into balls (small balls are what I prefer, and they work well as healthy truffles; bigger balls are more substantial energy treats). Roll in crushed nuts, sesame seeds, cocoa powder or shredded coconut.

These chocolate nut energy balls will keep in the fridge for a week, and in the freezer for a lot more.
Tried this recipe?
Comment + Rate Below!
Connect on Instagram!
Find us @immigrantstable