We are sitting at a long table with a glass surface and rickety metal legs, mismatched place mats marking our eating, denoting a hierarchy long forgotten and never fully acknowledged. My dad is pouring out the wine, a young gewürztraminer meant to please everyone's palettes, which begins to bead into condensation the moment it hits the glass. My grandmother is bickering with her sister, a woman whose large personality is barely matched by her girth, over whose cold fish with peppers recipe is better. And to the din of argument and clinking glasses, exasperated sighs and quiet laughter, my mother brings out the piece de resistance – a tray overladen with bowls of cold Bulgarian soup, the only cure for overheated spirits on a blistering summer's day.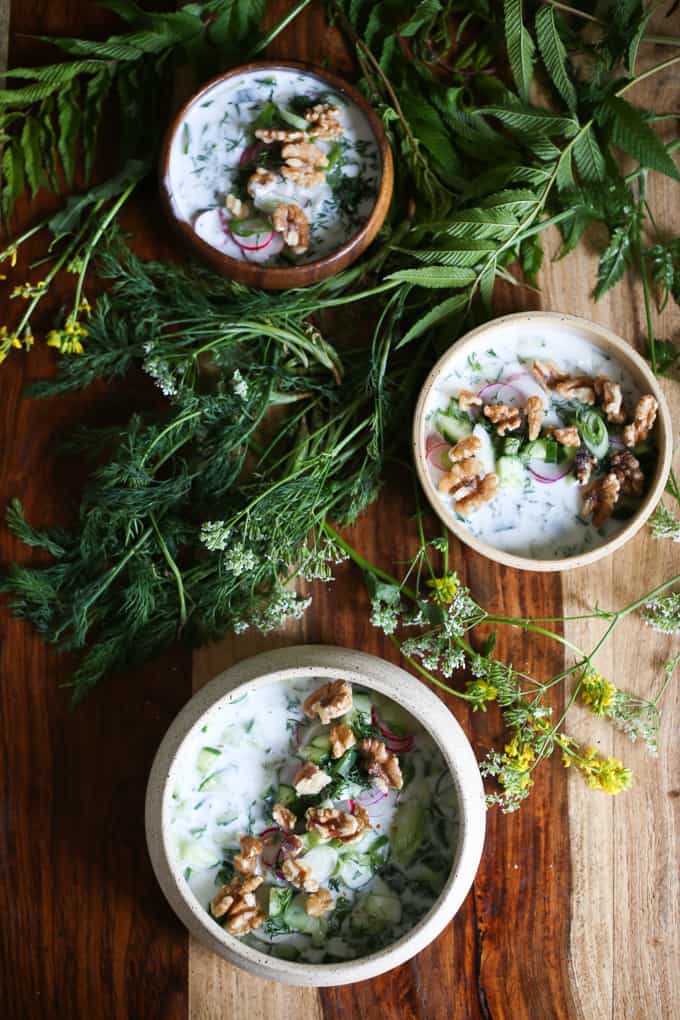 In truth, cold Bulgarian soups never came ready in bowls. It's a dish that invites customization, encouraging each person to experiment with flavours and toppings and build the soup of their dreams. It's a dish that tells you to throw conventions – that soup must be hot, that soup requires time to sit and meld flavours, that soup is a dish made for winter comfort – to the wind, introducing you to a new world instead.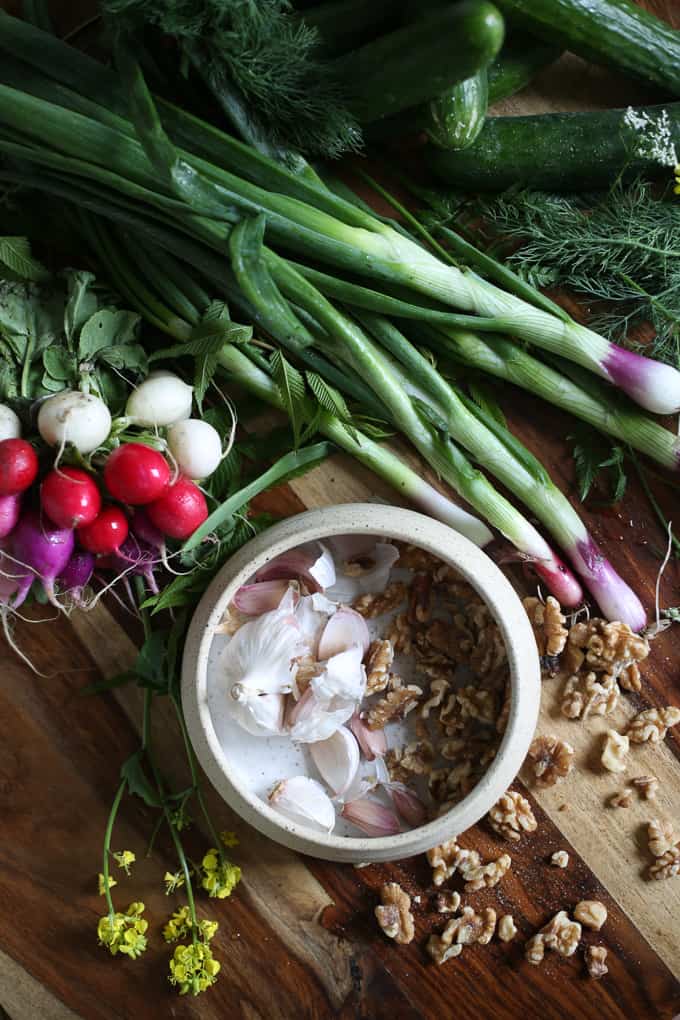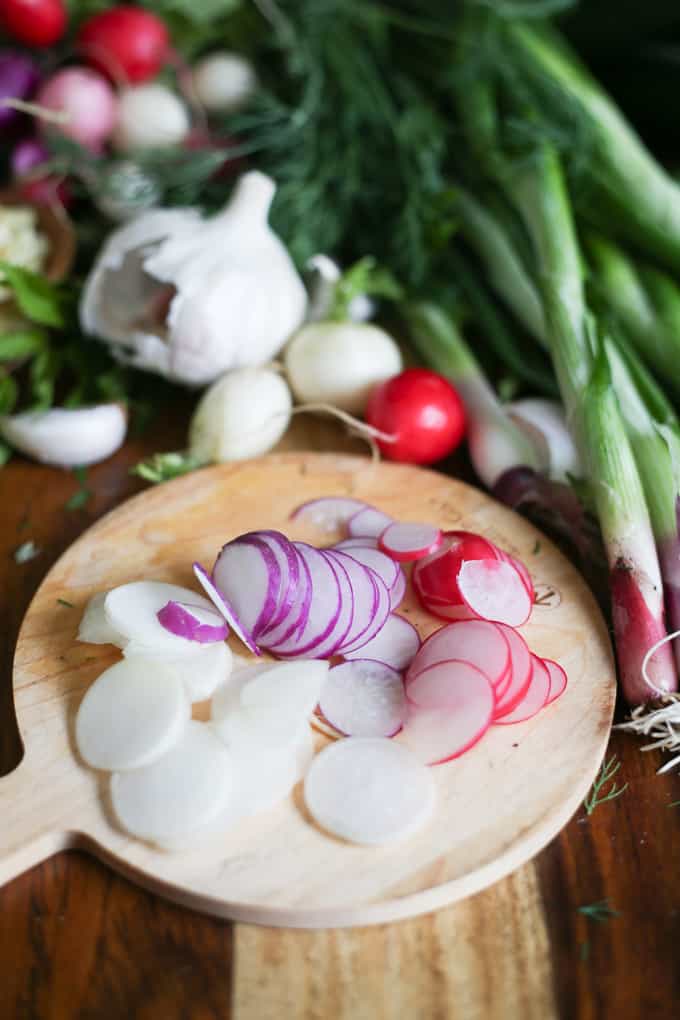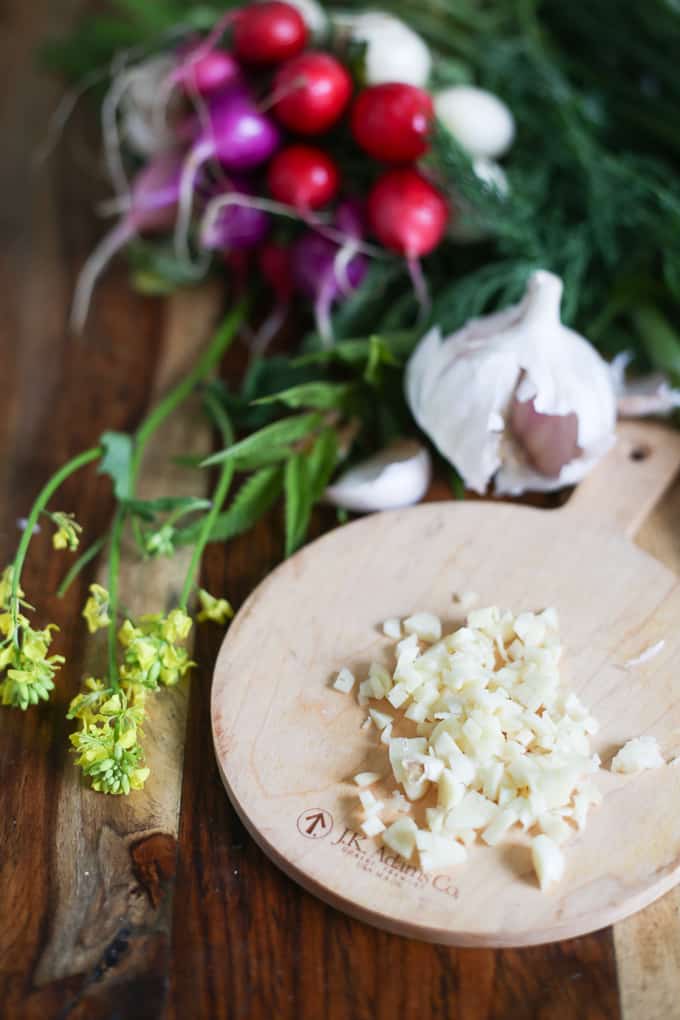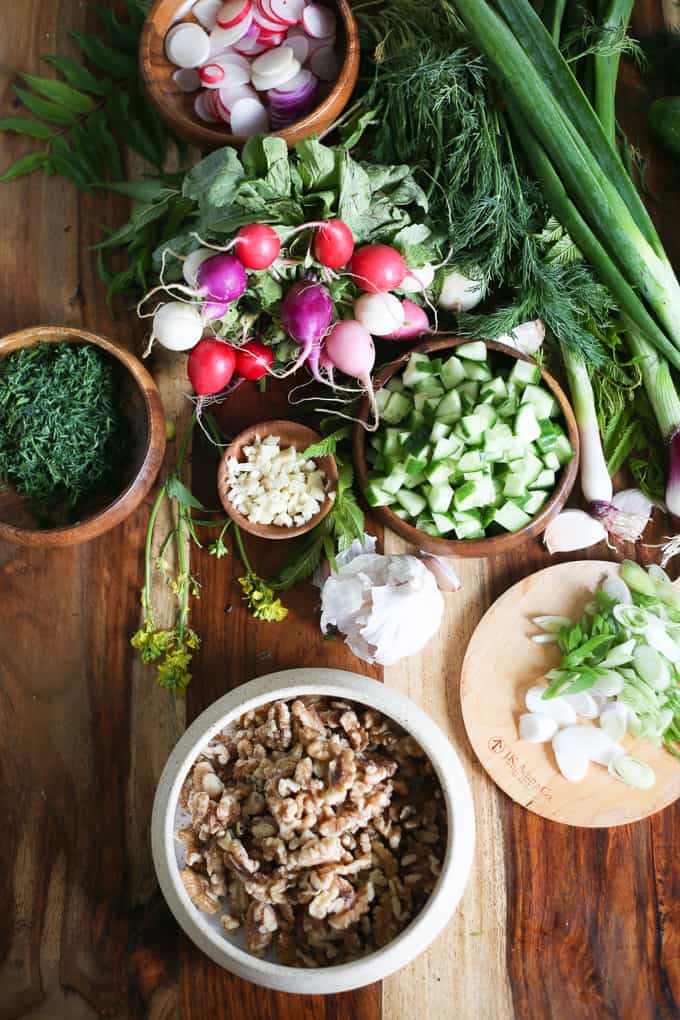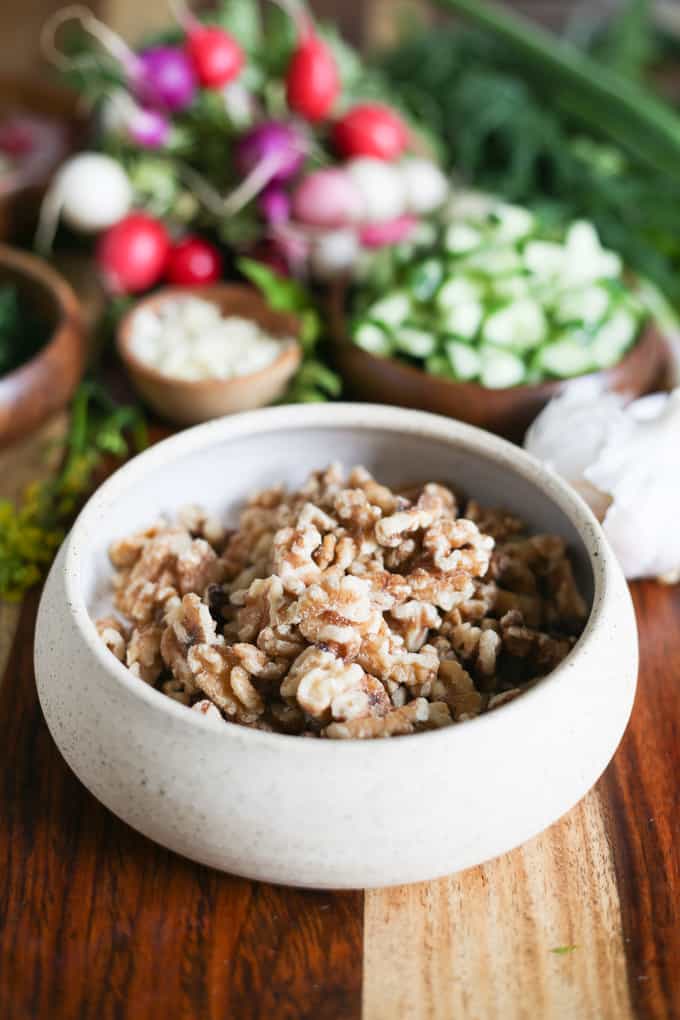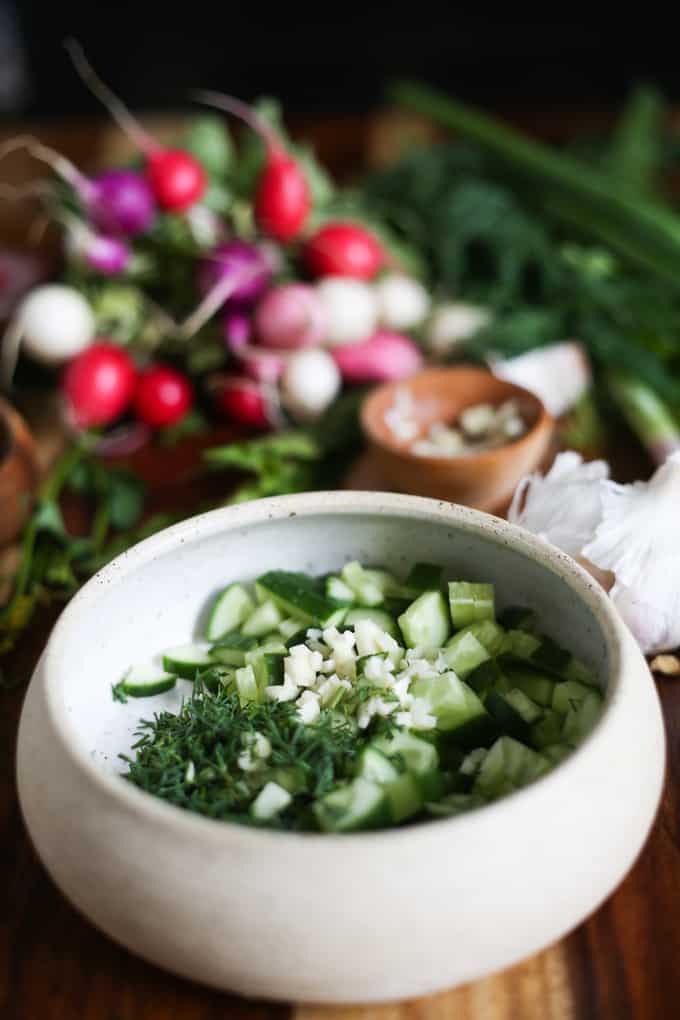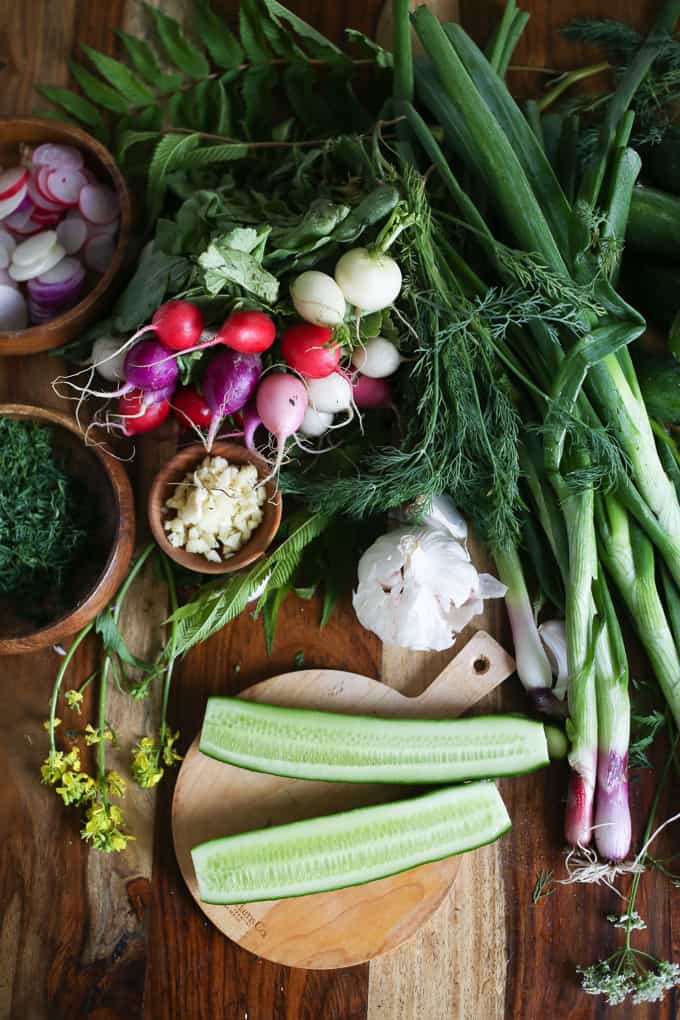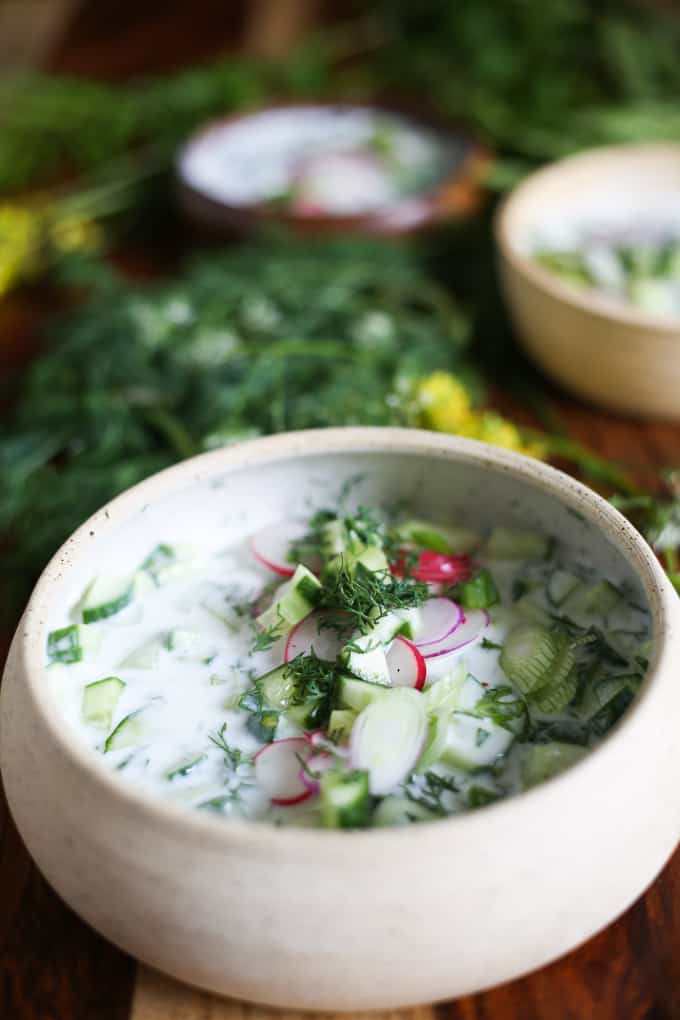 Cold Bulgarian soup works like this:
You take an empty bowl.
You fill half your bowl with finely cubed cucumbers, chopped purple onions and a smattering of finely minced garlic.
You slowly pour in cold kefir, letting it fill your bowl ¾ of the way to brim.
To gild the lily and take cold Bulgarian soup to the next level, you top your bowl with any combination of the following ingredients:

Fresh dill
Thinly sliced radishes
Scallions
Walnuts
Feta (preferably, Bulgarian)
Sea salt
Freshly ground black or white pepper

You add some cold ice cubes to boot.
You grab a large silver spoon, and go to town.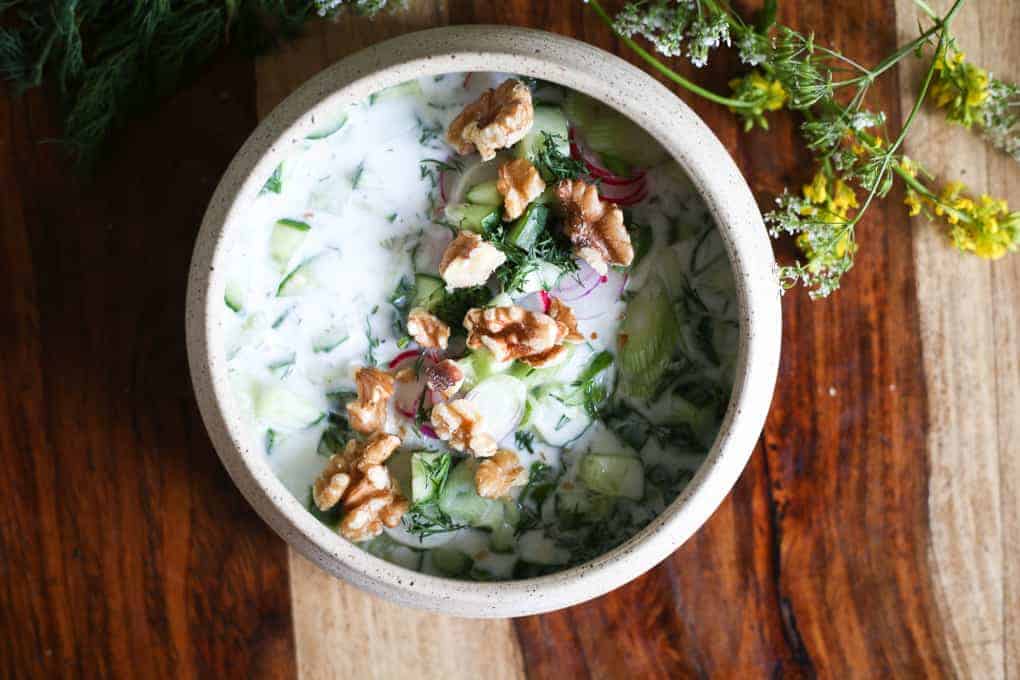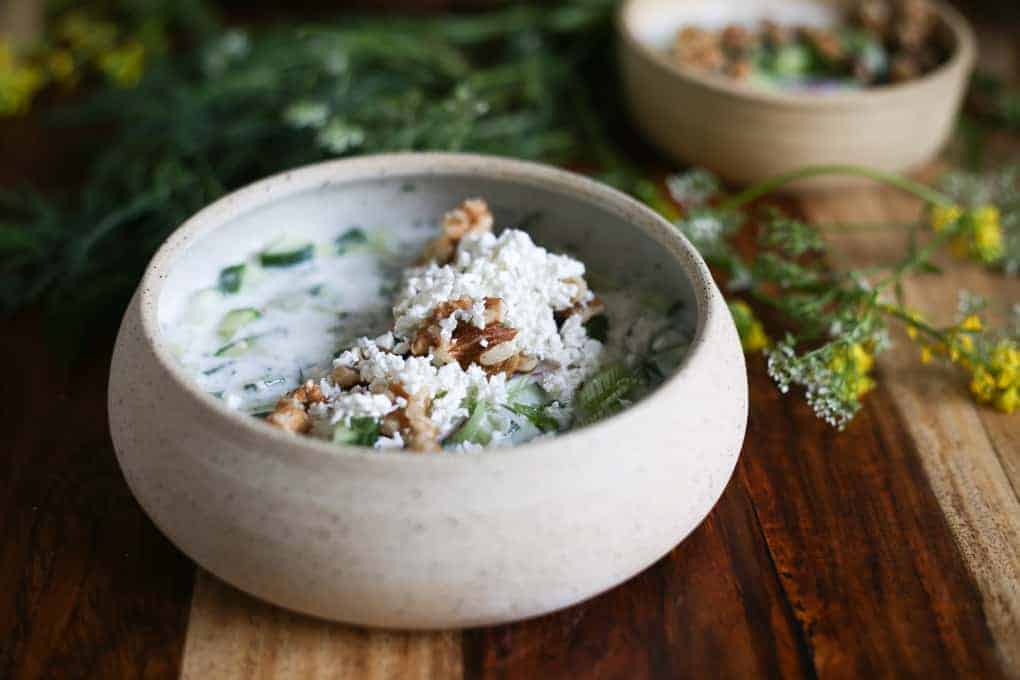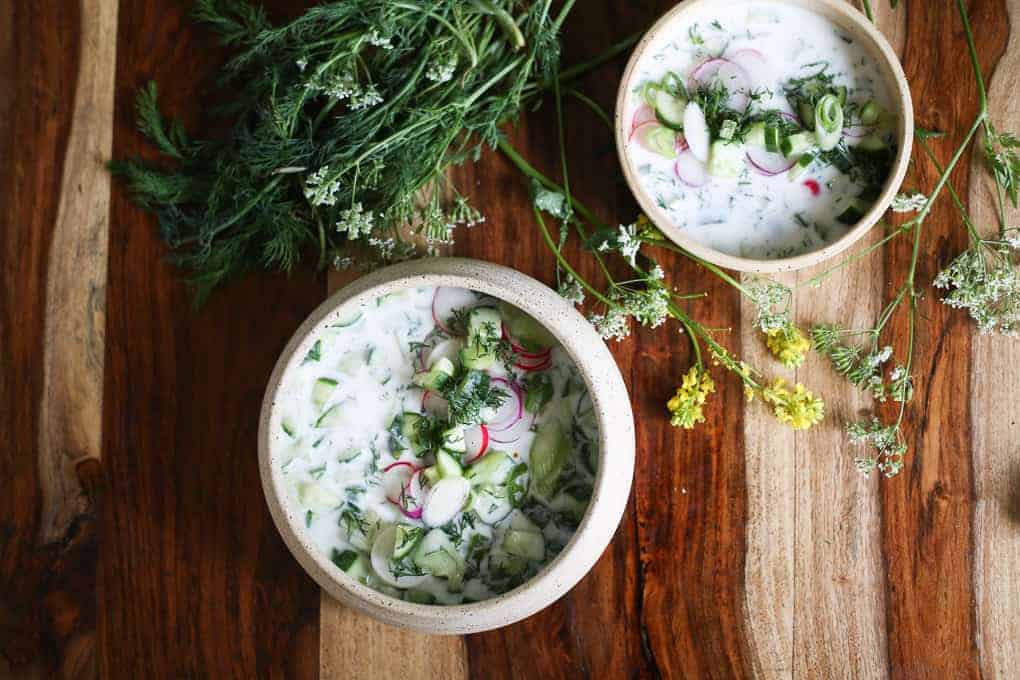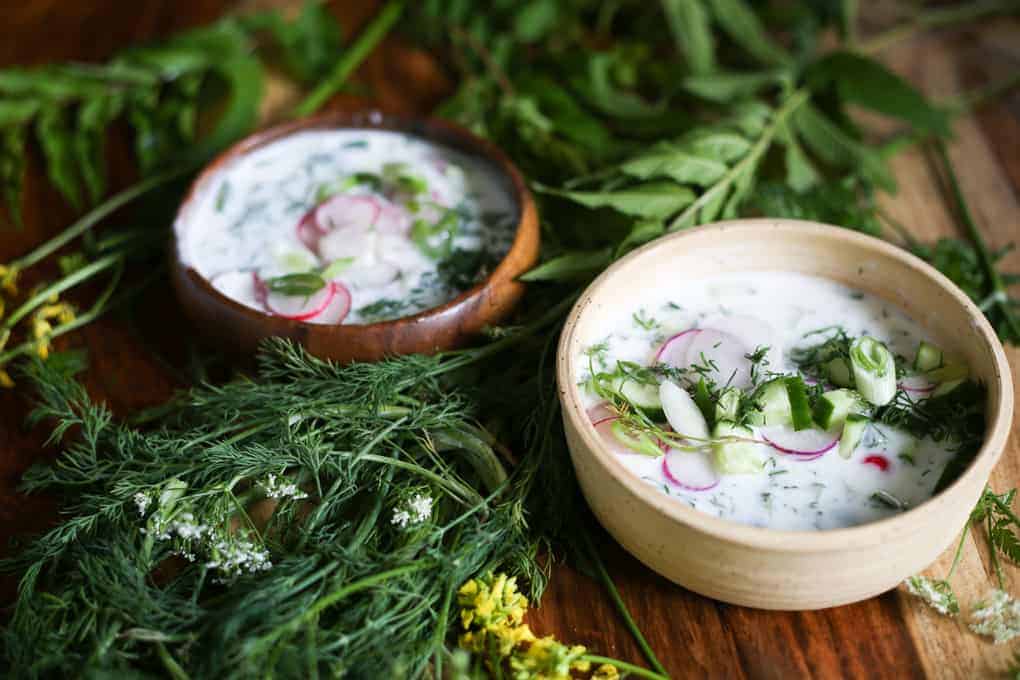 Growing up, cold Bulgarian soup was a must in our family on summer days, eaten al fresco amidst raised voices and chirping birds. It's a dish meant to calm the spirits, bring some coolness to your body, and liven up your soul. But above all else, cold Bulgarian soup is a dish that is best shared with other people, eaten in camaraderie around a long table with a glass surface and rickety metal legs.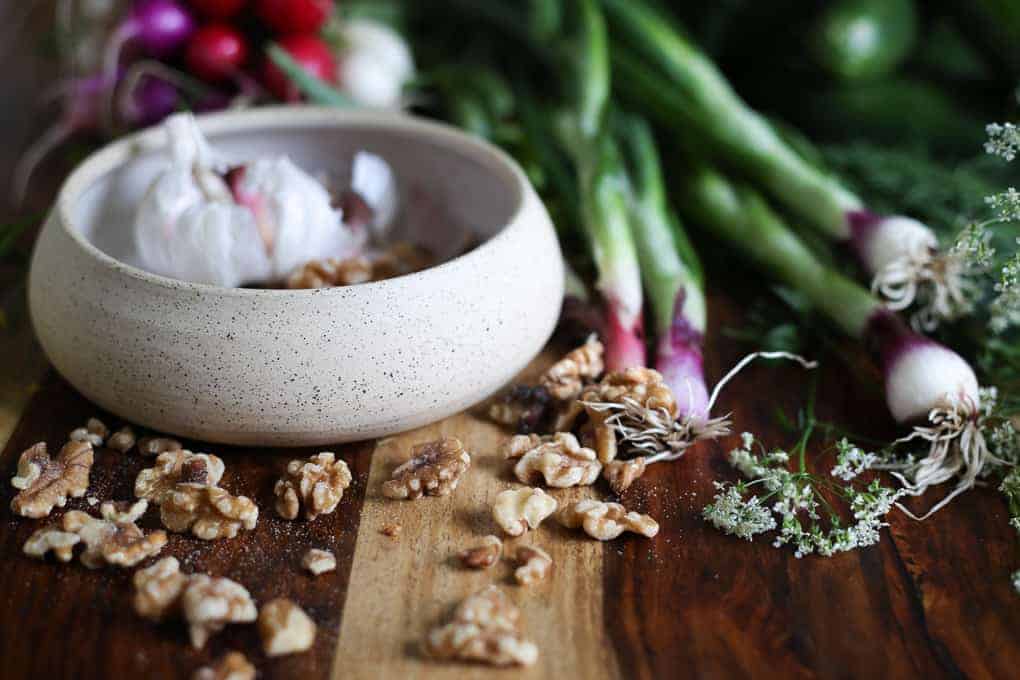 The bowl used in this photoshoot is a unique piece handmade by Montreal-based Orlin Stoyanov (who also happens to be Bulgarian!). To learn more of Orlin's work, to pick up some of his pieces or to inquire about ceramic classes in Montreal, check out his Facebook profile or WordPress blog. I received no monetary compensation for using his work in my post – I am proud to support local producers and brands whose products I truly love.
To stay on top of what I'm eating and cooking these days, follow At the Immigrant's Table on Facebook, Instagram, Pinterest, Bloglovin', or Twitter, subscribe to my mailing list, or contact me about advertising and becoming a sponsor. If you make one of my recipes, don't forget to tag it #immigrantstable @immigrantstable!
Tried and loved this recipe? Please leave a 5-star review below! Your reviews mean a lot to me, so if you've got any questions, please let me know in a comment.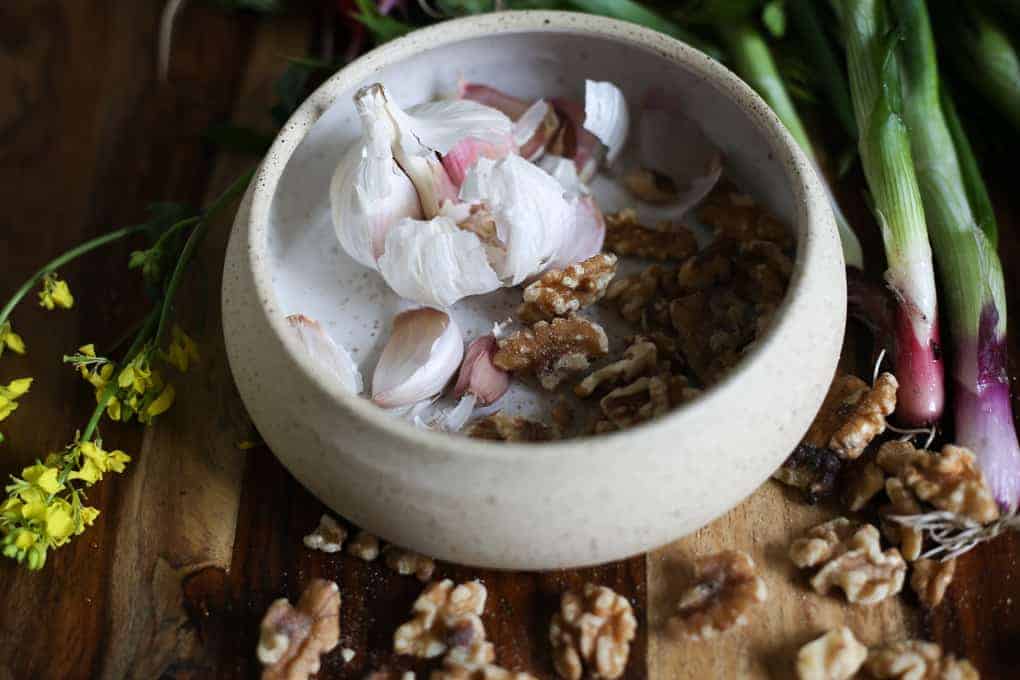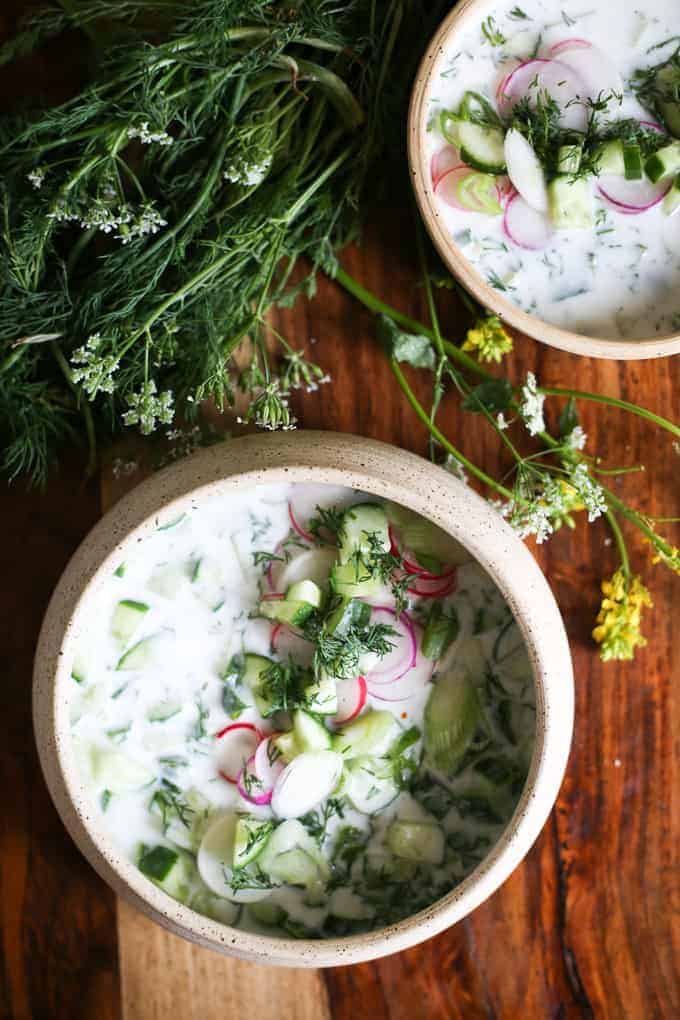 Recipe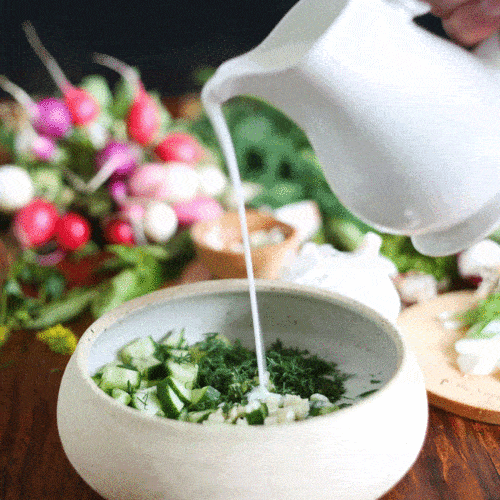 Cold Bulgarian soup with kefir, cucumbers, dill, walnuts and feta
This cold Bulgarian soup is a god-send on a hot summer's day. A perfectly balanced, sharp and creamy mix of kefir, cucumbers, dill, walnuts and feta.
Ingredients
4

garlic cloves

peeled and minced

4

Persian cucumbers

diced finely

¼

purple onion

diced finely

½

cup

shelled walnuts

finely chopped

3

cups

kefir

or 2 cups Greek yogurt diluted with ice-cold water

1

TB

walnut or extra virgin olive oil
Toppings (choose any or all of the following):
4

radishes

sliced finely

1

bunch dill

chopped finely

2

scallions

sliced into rings

2

tablespoons

lemon juice

¼

cup

feta or Bulgarian cheese

Ice cubes

Salt

to taste

Freshly ground pepper

to taste
Instructions
Serve bowls with 1 ½ finely chopped cucumbers, purple onion and garlic divided between them.

Top with kefir, or diluted Greek yogurt, until bowl is ¾ full.

Top with the garnishes of your choice and ice cubes, and season with salt and pepper.

Serve immediately
Tried this recipe?
Comment + Rate Below!
Connect on Instagram!
Find us @immigrantstable