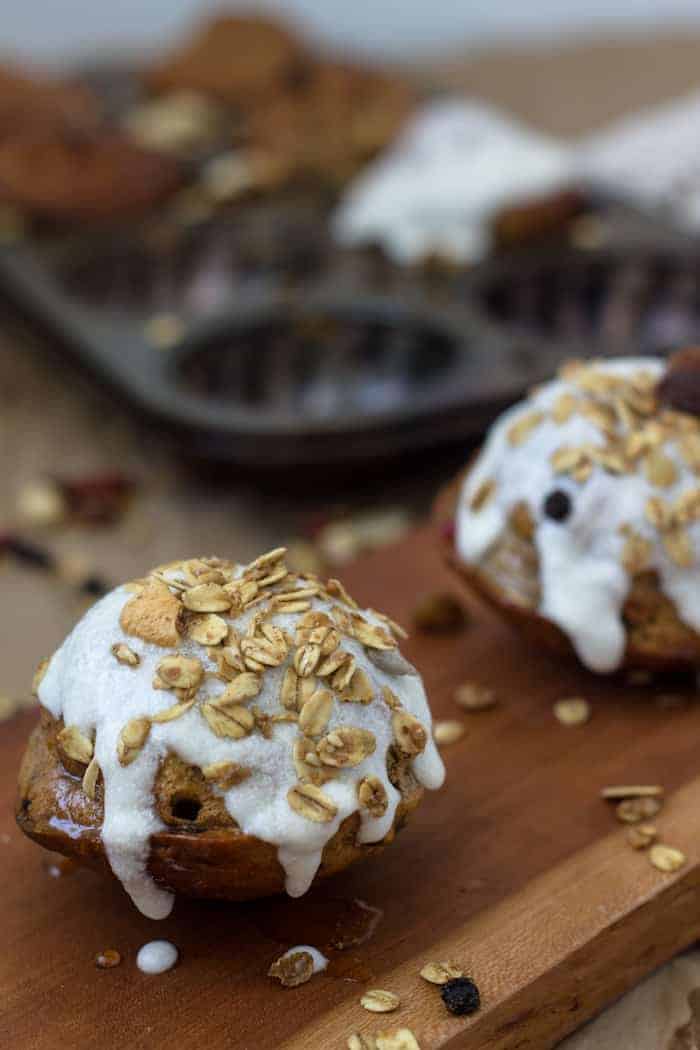 Planting a tree for Tu B'Shevat is a strange experience. First, you clutch that little seedling in your hands, cupping its bag delicately, protecting it from the elements or passing-by birds. Then you dig a little hole in the ground; most likely, as you're only nine-years-old, the hole would have been started for you, and all you have to do is just symbolically throw some soil out with your gloved hands. Then you nestle that tree in, gingerly covering the roots with more heaped dirt and soil and manure, pieces of dry grass intermingled with little pebbles. When the tree is sitting securely in the earth, hugged by a little hill, you step back to admire your handiwork: your tree, one among many, sitting in little rows as far as the eye can see, with hundreds of children just like you admiring their own seedlings. And then you step back and eat some dried fruit, or a cookie. Or maybe, if you're lucky, you eat these dried fruit and granola muffins with a honey-yogurt glaze, because really, they're so much better than a stale cookie.
| | |
| --- | --- |
| | |
| | |
| --- | --- |
| | |
That's what Tu B'Shevat was like for children in Israel. Year after year, you would be dragged out to some tiny hill in the forest, asked to battle the wind or sun, and plant a tree. Rejuvenating the land and honouring nature, the whole thing was just a glorified mini field trip... But we loved it nonetheless. There was something different about that moment, as you stood back and saw that ONE tree that you had planted springing from the ground, the only thing you have brought to life as of yet hopefully taking hold. It was a stark reminder of the beginning and end of it all, the importance of nature to the life cycle, and of our place in it: as nurturers, creators, life-bringers.
As you can tell, I've always loved Tu B'Shevat.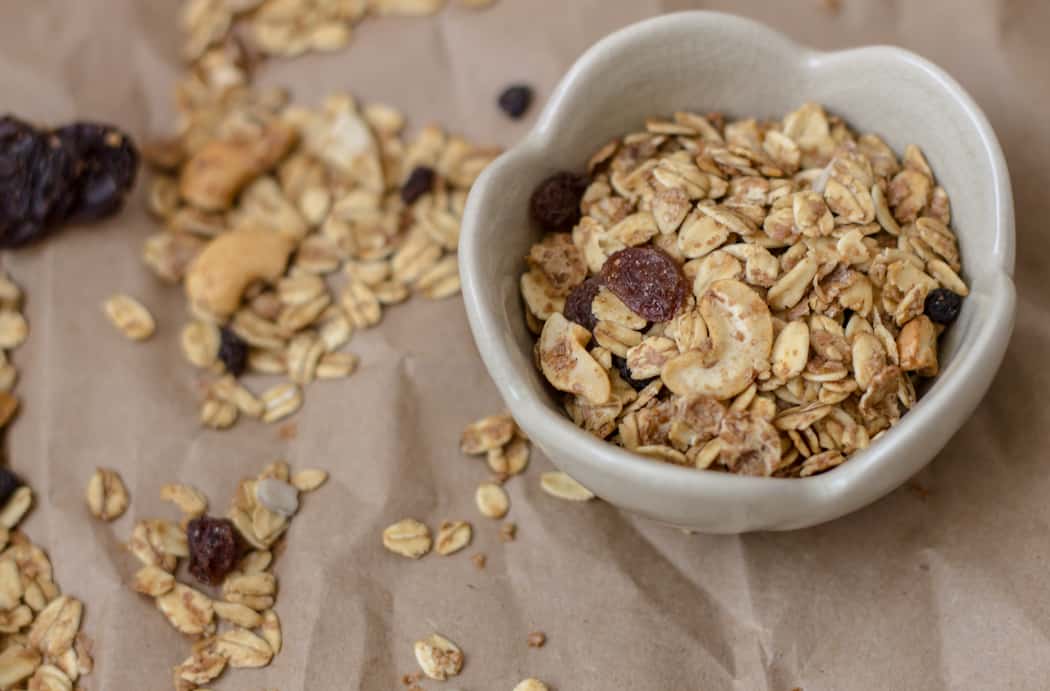 And then I grew up. Tu B'Shevat fell by the wayside, along with Barbie dolls and my hatred of cauliflower and the ability to find joy in puddles. We no longer went to plant trees in the forest, the whole school piling into a bus on this one single day and driving towards the unknown, along with hundreds of other schools all across the country. We no longer shared that experience with thousands like us.
Instead, we sat in our classrooms and studied algebra, or we stood in neat rows during a military row-call, or we went to a job we barely liked, or we hung out with our friends, drinking lazy mimosas in a Parisian park. We spent our Tu B'Shevat like everyone else, doing nothing of note. The trees still got planted; those were just other children doing the planting.
And then last week, something changed. I went with a group of other Russian Jews to the park, and we tried some cross-country skiing (well, they skied, while I tried). It was lovely and peaceful and cold and so, so, so quiet. And so, we did a little Tu B'Shevat ceremony out there on Mount Royal. Surrounded by trees that usually see very different ceremonies*, we shared wine and stories of things that grew beyond our expectations, of experiences that surprised us, of things we nurtured into being.
And for just a moment, I felt like a kid again. Though I hadn't planted a tree, I did get to mark the occasion with other like-minded people. I got to experience the joy of sharing that moment in nature with others. And I got to step outside.
So it was a good Tu B'Shevat ceremony in my books.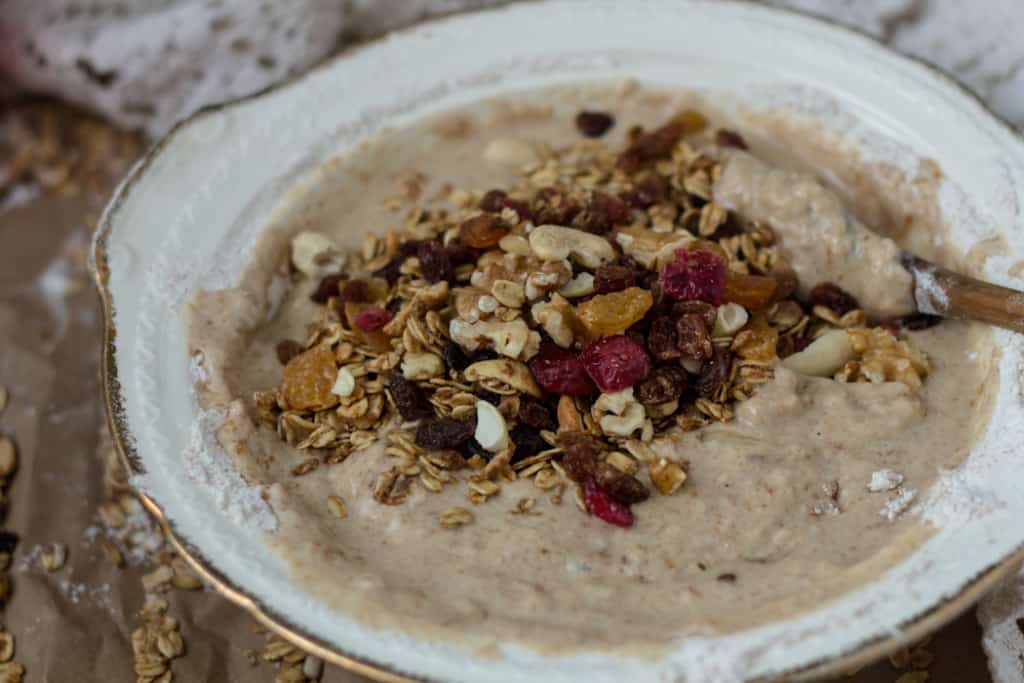 This year, Tu B'Shevat eve falls on a Tuesday. So tomorrow, while the rest of the world goes off to work and runs errands and goes on with their lives, Jews the world over will be eating dried fruit and nuts, and thinking about trees. And if you're going to be one of them, or if you're just looking for a nice snack to bring to work or eat along with coffee on the weekends, I encourage you to give these dried fruit and granola muffins a spin.
These muffins are juicy and just a tad sweet, bursting with healthy Natursource cinnamon raision granola and assorted dried fruit. Rich in whole grains, cashews, raisins, currants and sunflower seeds, this granola blends seamlessly with the wholesome flavours of Tu B'Shevat. Plus, these dried fruit and granola muffins are virtually fat-free, with applesauce used instead of oil or butter. They're delicious AND good for you!
But if what you're looking for isn't just wholesome goodness, then trust me - you want this honey-yogurt glaze in your life. Without it, these muffins are delicious and soft, packed full of nutrients and a great breakfast on the go. But with just a dollop of this beautiful sauce, these dried fruit and granola muffins become something else entirely, a perfect little treat for an afternoon tea, or a dessert for a party.
So do yourself a favour and make these dried fruit and granola muffins. Ladle on the honey-yogurt glaze. And tomorrow, take a lunch away from your desk, shut off your phone, and take a breather outside. Whether you celebrate Tu B'Shevat or not, take a moment to think of nature, and things around us that start small, but often turn out much larger than we expected.
Hope you have a sweet week - and happy Tu B'Shevat!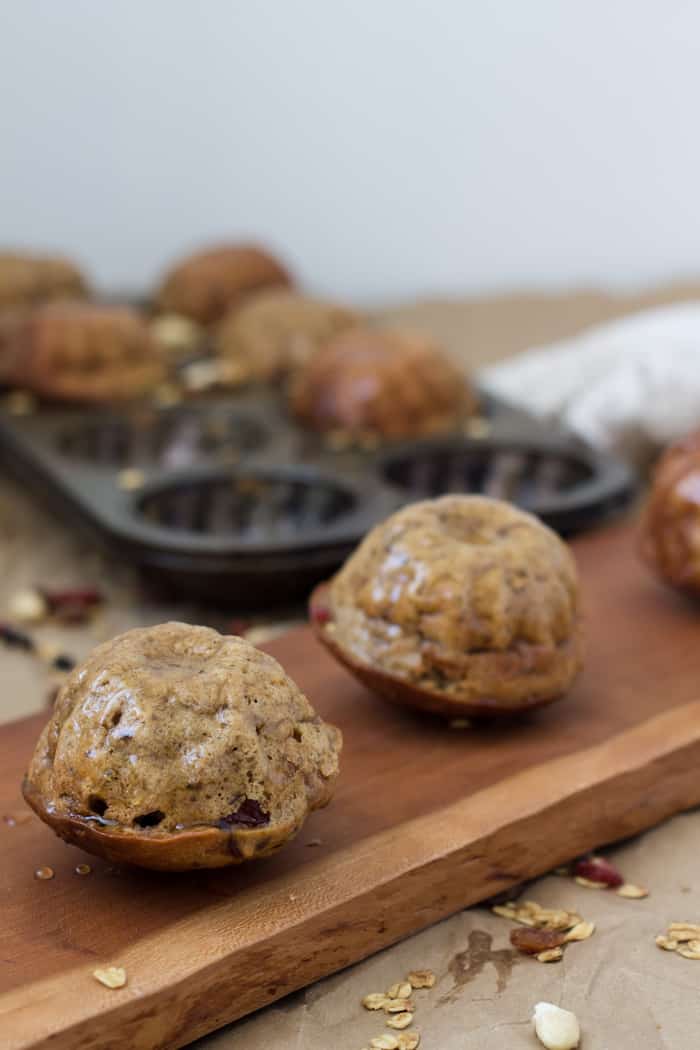 * Fun Fact: Mount Royal park is a known gay cruising spot and in the 1950s, all the trees were cut down to discourage "immoral liaisons".
P.S. – This is a sponsored post, but all opinions expressed here are my own. I am proud to support a local, family-owned business whose product I truly appreciate, and I thank you for supporting my sponsors.
Liked this post? Share it with your friends! For more At the Immigrant's Table, follow me on Facebook, Instagram, Pinterest, Bloglovin', or Twitter, subscribe to my mailing list, or contact me about advertising and becoming a sponsor. If you make one of my recipes, don't forget to tag it #immigrantstable @immigrantstable!
Tried and loved this recipe? Please leave a 5-star review below! Your reviews mean a lot to me, so if you've got any questions, please let me know in a comment.
Recipe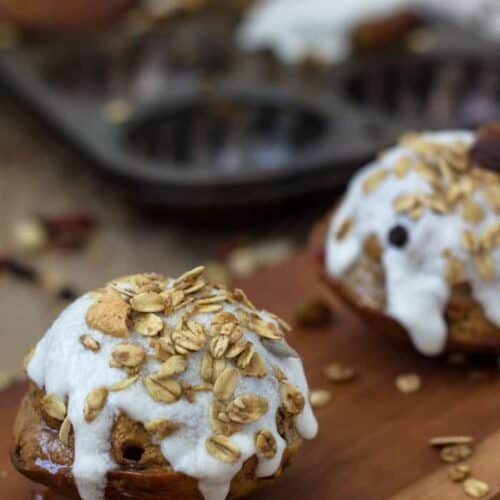 Dried fruit and granola muffins with a honey-yogurt glaze
These muffins are juicy and just a tad sweet, bursting with healthy cinnamon raision granola and assorted dried fruit. They are virtually fat-free, with applesauce used instead of oil or butter. But they become something much more decadent once you drizzle on that optional-but-recommended honey-yogurt glaze.
Ingredients
dry:

1.5

cups

187 grams whole wheat flour

½

cup

62 grams all-purpose flour

1

teaspoon

baking powder

½

cup

100 gram brown sugar

2

tsps

ground cinnamon

wet:

1

cup

250 grams almond milk

2

large eggs

¾

cup

125 grams apple sauce

filling:

½

cup

dried fruits and nuts of your choice

I used a mix of cranberries, raisins, pistachios, and walnuts, but any dried fruit you have on hand will work

½

cup

cinnamon raisin granola

plus more for sprinkling on top of glaze (if using)

honey-yogurt glaze

optional:

¼

cup

of Earth Balance

or butter

⅛

cup

of honey

⅛

cup

of yogurt

1-1.5

cups

of powdered sugar
Instructions
Preheat an oven to 350F.

In a medium-sized bowl, mix dry ingredients. Mix wet ingredients separately in a large bowl. Add dry ingredients to wet. Add granola and dry fruit mixture, and stir just enough to combine.

Oil muffin form and bake muffins for 30 minutes, until a knife inserted in the middle comes out dry. Serve with a pat of butter or coconut oil.

Optional: if making honey-yogurt glaze, cream together ¼ cup of Earth Balance with ⅛ cup of honey and ⅛ cup of yogurt. Gradually whisk in 1-1.5 cups of powdered sugar, until glaze stiffens and peaks are formed. Top each muffins with honey-yogurt glaze and more granola.
Tried this recipe?
Comment + Rate Below!
Connect on Instagram!
Find us @immigrantstable