The perfect winter self-care date with myself starts with a generous cheese board, ends with gluten-free white chocolate lava cakes with raspberries, and is replete with as much red wine as you want.
The selection of reds from Woodbridge by Robert Mondavi Wines makes pairing your perfect winter self-care night with the perfect sip all the easier.
This post was sponsored by Woodbridge by Robert Mondavi Wines; Please drink responsibly.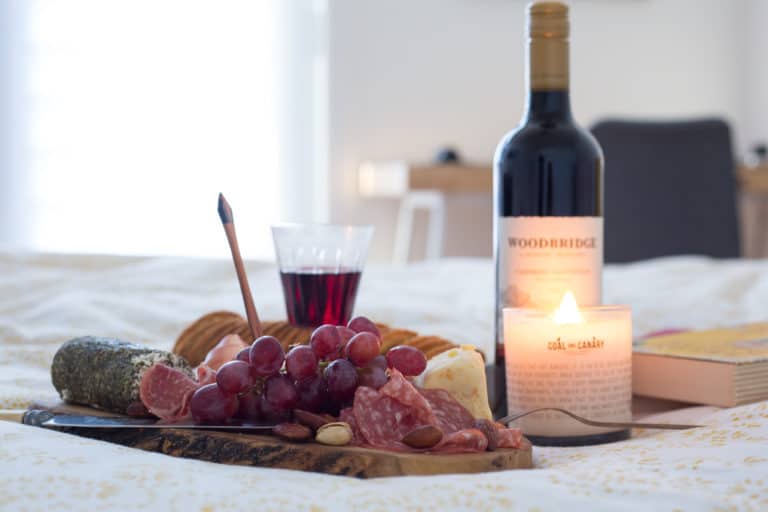 Today, I'd like to ask you out on a date. A real date, with all the fixings: candlelight, deep red wine, and a rich dessert. We'll have some soft music, if that's your thing, or we can watch a romantic movie. We'll rub ourselves with fragrant body oils when it's all done, and sigh into a picture-perfect, soft-as-clouds bed with snacks. And the best part? You'll be the only person there.
Every winter, I take a few self-care nights. The harsh winds of Montreal take their toll on my skin, and the early evenings make staying outside past 5pm a real drag. A few times each winter, when the sun sets and the moon reflects off the piles of snow on my porch, I kiss my husband goodbye and retreat into a cocoon of winter self-care.
To me, winter self care involves good food, wine and relaxation. A rejuvenating face mask that opens up all your pores; A hot, lengthy bubble bath, full of Epsom salts; a few scented candles, filling the room with their soft glow and comforting fragrance; a grazing meal that requires one hand to eat and can be taken from bath to bed in one fluid move; a yummy dessert like my gluten-free white chocolate lava cakes with raspberries; and most importantly, a glass bottle of good red wine in my hand.
And I can't think of a better way to spend a winter night.
Here are my steps for a perfect night of winter-self care:
First off, pour yourself a big glass of red wine. I like to start with a Cabernet Sauvignon from Woodbridge by Robert Mondavi Wines. Woodbridge by Robert Mondavi Wines feature bright fruit flavours and smooth finishes that were crafted to be paired with food. Their Cabernet Sauvignon is an easily drinkable wine with flavours of berries and chocolate, and the perfect precursor for getting you all nice and mellow.
Light a few scented candles. My favourite candles have wooden wicks, like this one from Manitoba (they ship internationally!). Even if you don't like the smell, just changing from artificial light to the soft glow of a fire will do wonders for your tired eyes.
Channel your best ghost face. You should stock up on face masks in advance, or a package of Dead Sea mud. I periodically buy these ones from Ebay, and always have one on the ready for when I want to give my pores a pampering treatment.
Fill a tub with hot water, bubbles, and Epsom salts. Make sure you get it just right: it's going to be your home for the next hour.
Get new sheets on the bed ready for when you come out.
Choose your entertainment: a few magazines, a good book, or a laptop balanced securely on a toilet seat for a perfect movie-watching opportunity.
Before you put on that mask, think backwards and start with dessert. I like to invest my only "working time" on these winter self-care night into making a decadent, luscious dessert that will make me feel like a princess, and my ooey-gooey gluten-free white chocolate lava cakes with raspberries fit the bill perfectly on most nights (recipe below).
For dinner, assemble the perfect cheese board. To pair with the full-bodied Woodbridge by Robert Mondavi Wines Merlot, my favourite red, I chose a platter of three cheeses (a soft goat cheese with herbs, a crumbly aged Wensleydale cheese, and a mild cheddar); a few hearty Italian deli meats; red grapes, to match the wine; and salty nuts like pistachios and smoked almonds. The Merlot, like the rest of the Woodbbridge by Robert Mondavi Wines classics, is fruit-forward, smooth and balanced, making it an ideal for everyday enjoyment with cheeses and meats. Other options for your platter would include fresh cherries, sundried tomatoes, an aged cheddar or goat tomme cheese, and a few aged sausages. Serve with crackers or one small fork.
When everything is ready and the dessert is assembled (but not cooked), get into that bath. Put on a face mask and let yourself relax, fully. Play music, or watch that movie you prepared. Graze on your beautiful platter, sipping that Merlot like you've got nowhere better to be. Because the truth is, you don't - you are your own best company in this dreary winter season.
If someone else is home for you, ask them to throw those gluten-free white chocolate lava cakes into the oven to cook. They'll need 15-18 minutes only, so time it right. If short on time, just make this easy 3-ingredient mug cake in minutes!
Otherwise, when you're done soaking, don on your thickest bathrobe and slippers, and make your way to the kitchen to throw it in yourself. Smell the aroma, and rest a bit.
When the gluten-free white chocolate lava cakes are ready, take them out of the oven and throw on some fresh berries. Open a bottle of the Woodbridge by Robert Mondavi Wines rich, fruit-forward Pinot Noir, and go to bed.
Eat your dessert in bed with a big glass of Pinot Noir and a good book, and don't even worry about those spills - because you're worth it (in the interests of full disclosure, I will admit that one duvet cover was harmed in the making of this post.... But we learned that Tide is great for red wine stains, so let's chuck this to a learning experience).
So next time you have an empty evening in winter, don't reach for that social calendar. Instead, get a few bottles of Woodbridge by Robert Mondavi Wines red, bake a batch of these gluten-free white chocolate lava cakes with raspberries, and book yourself a night of winter self-care. I promise: it'll be the best date you've ever had.
For more recipes, serving tips and to check out the wine pairing app that provides recommendations of what wine to serve with your food, check out the Woodbridge by Robert Mondavi Wines website.
I received product and monetary compensation in exchange for this post. However, I am proud to only work with those companies whose products I truly love. And as always, all opinions expressed here are my own; you can always expect me to be honest with you guys!
Tried and loved this recipe? Please leave a 5-star review below! Your reviews mean a lot to me, so if you've got any questions, please let me know in a comment.
Recipe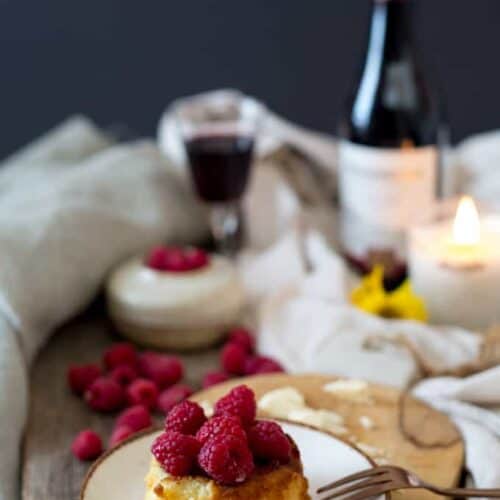 Gluten-free white chocolate lava cakes with raspberries
These golden gluten-free white chocolate lava cakes with raspberries are sweet, airy, and full of wonderful jammy goodness. Make them for the ultimate winter treat.
Ingredients
WHITE CHOCOLATE LAVA CAKES:
136

g

butter

170

g

white choc

100

g

sugar

21

g

tapioca flour

75

g

cornstarch

4

eggs
RASPBERRY FILLING:
4

tablespoons

raspberry jam

100

g

white chocolate

Fresh raspberries

for decoration
Instructions
Heat the oven to 350F/180C.

In a small bowl, heat the raspberry jam in the microwave for one minute.

Add the white chocolate and stir until smooth and no lumps remain. Freeze one hour.

In a separate small bowl, melt the butter in the microwave. Place remaining white chocolate in a large bowl, and pour melted butter over it. Stir until well combined.

Add the sugar and stir.

Add eggs gradually, whisking after each one.

Finally, mix in tapioca flour and cornstarch and fold briefly, just until combined into a uniform mixture.

Coat the inside of each individual ramekin mold or a muffin pan indent with butter. Add one teaspoon of corn starch, swirling the mold to coat its insides completely. Discard excess flour.


Fill your ramekins about three-quarters full with batter, then add a tablespoon of your frozen raspberry-chocolate mixture. Fill to the top with remaining batter. Bake in a preheated oven for 15-18 minutes, until the lava cakes are no longer jiggly in the middle.

Run a knife along the edges of the ramekin or individual muffin cups to loosen. Invert onto a plate. Top with fresh raspberries.

Serve immediately, and enjoy with a glass of Woodbridge by Robert Mondavi Wines Pinot Noir.
Tried this recipe?
Comment + Rate Below!
Connect on Instagram!
Find us @immigrantstable