Vegan grapefruit ginger cupcakes are moist vegan cupcakes with grapefruit zest, juice and candied ginger, with a citrusy frosting.
During our early days in Israel, my parents went through many strange jobs. As money wasn't exactly flowing in while they were going through the medical re-accreditation process, they had to find other ways to make ends meet.
For my pediatrician mother, this entailed washing floors, working as a home care aide, and even working on the assembly line in an ice cream factory. My father, a slender 6'2 , bespectacled man, dug canals, guarded shopping malls, and fulfilled several other duties before finally landing a coveted spot on the intern roster of a local hospital.
My mother's stint at the ice cream factory involved free popsicles, and so my sister and I had cried when she eventually quit. Her arguments that the work was mundane, the hours long, and she was starting to have back and wrist issues fell on deaf ears when it came to a seven- and a three-year-old.
But our favourite job of my parents' was definitely our father's time working as a watchman at a citrus orchard, the ubiquitous Israeli pardes.
Every night during the winter months, my father would put on several layers of clothing, a rare occurrence given Israeli weather. Jeans would go on top of long-johns, a sweater would cover a long-sleeved shirt, and a scarf would wrap around his neck, pulling in the collar of his jacket.
We would watch the ceremony with bated breath, enchanted, oblivious to his tiredness and frustration at having to go to his second job of the day and spend a night in the cold air, all alone with his thoughts.
All we cared about was that our father was protecting the pardes, honouring our favourite winter fruits, and helping Israel sustain one of its most important national products. We were proud of our father, the pardes watchman.
And we were most proud of the citrus bounty he would bring home in the mornings.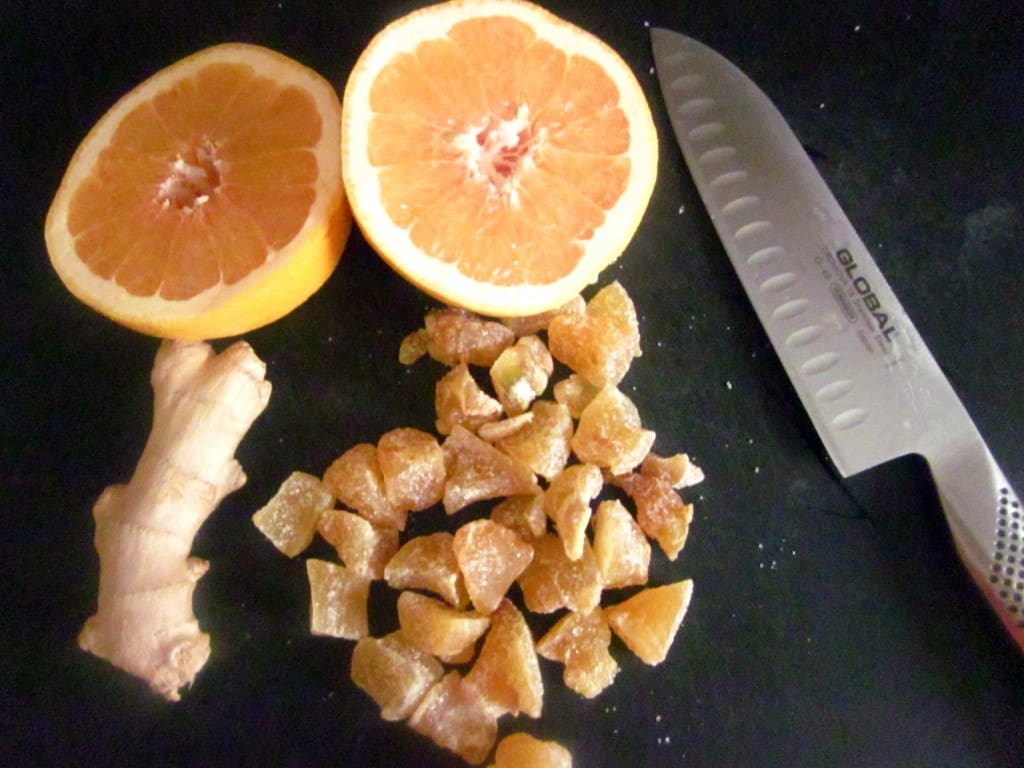 Because really, the best part about my father's job was not the nighttime ceremony of getting dressed, but his return in the early morning.
I would wake up as he quietly opened the door, unsuccessfully trying to prevent the old hinges from screeching. As I tiptoed into the kitchen, my father would just be unwinding the scarf from his neck and hanging up his tuque and jacket.
I would greet him, sleepy eyed and disoriented, and lean in for a kiss. And as my lips grazed the stubble on my father's cheek, I would take in the sharp smell of the cold night air, his aftershave, and citrus peel.
After a bone-chilling hug, I would stumble into the kitchen and grab a big, taut, juicy orange from the full supermarket bag my dad had plonked on the counter.
My dad would sometimes help me peel it, removing the top and making deep cuts into the skin of the orange, taking care not to bruise the delicate flesh.
And as a I took a bite from my favourite winter fruit, watching my dad depart into the bedroom to grab a nap before his next job, I would think that there is no better job in the world than to be a citrus orchard watchman.
When I was a kid grapefruits were low on the totem pole of citrus, only slightly above clementines, which I always hated. They needed to be tempered with so much sugar that they were often not worth it, a fussy fruit for an impatient child.
I only grew to appreciate them later in life, as an adult, when a former boyfriend would eat a grapefruit sprinkled with brown sugar daily, digging into each half with a spoon, slowly taking the time to dig out each pink or yellow morsel of fruit. I found the process annoying and endearing at the same time.
And I would occasionally steal a bite.
And now, I love grapefruits. This grown-up version of a vegan cupcake dresses them up with a tart glaze and a few chunks of crystallized, sugary and spicy ginger. It's a celebration of the natural bitter edge of grapefruits and the heat of ginger, tempered with sugar and vegan frosting.
Adapted from a recipe from The Joy of Cooking, these cupcakes are incredibly easy to make. They're festive enough for a party, but healthy enough for an afternoon snack alongside coffee. I just wouldn't recommend bring them to a children's party.
ED: This recipe was shared on Food Foto Gallery! If you're ever in a loss of what to cook for dinner tonight, this site has got you covered.
Tried and loved this recipe? Please leave a 5-star review below! Your reviews mean a lot to me, so if you've got any questions, please let me know in a comment.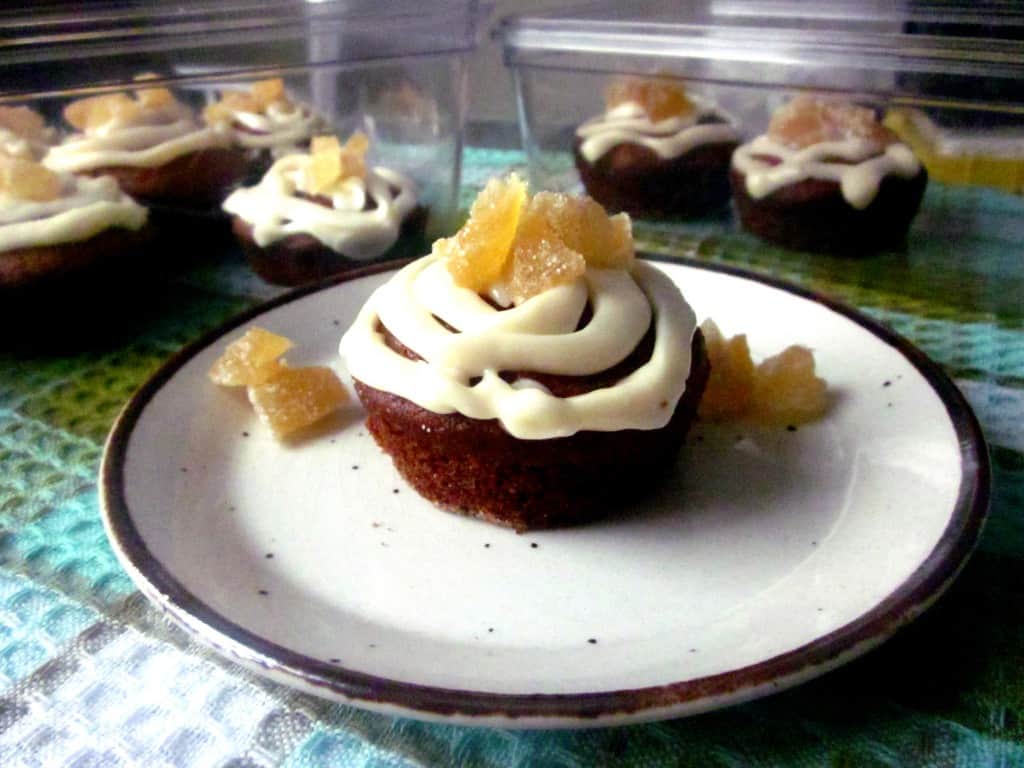 Recipe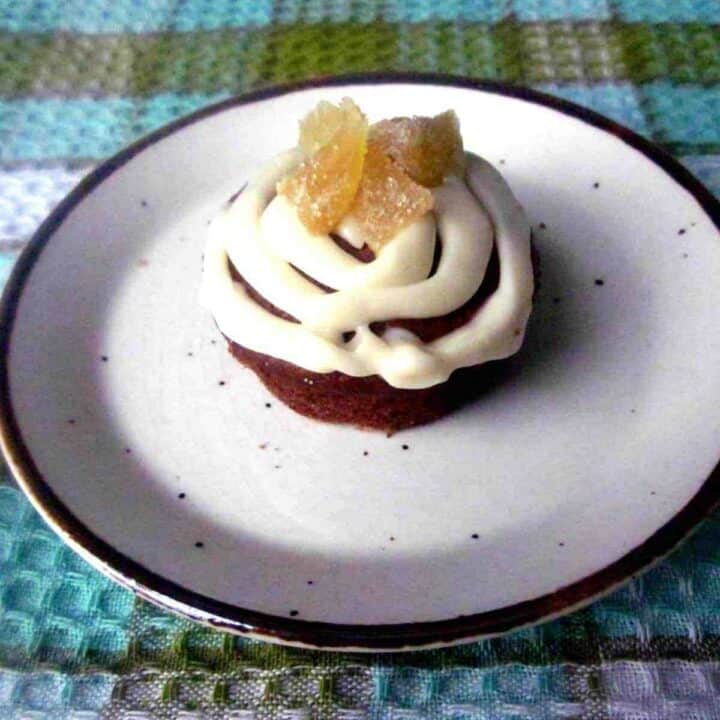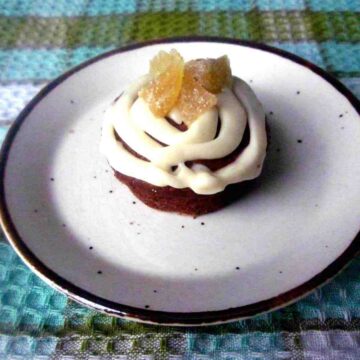 Grapefruit and candied ginger cupcakes
A moist vegan cupcake with grapefruit zest, juice and bits of crystallized ginger, adorned with a citrusy glaze. Feel free to substitute orange for the grapefruits, though I love the combination of grapefruit with ginger.
Ingredients
¾

cup

all purpose flour

¾

cup

whole wheat flour

¾

cup

sugar

1

teaspoon

baking soda

½

teaspoon

salt

1

cup

grapefruit juice

½

cup

vegetable oil

or ¼ cup apple puree or mashed banana and ¼ cup of vegetable oil (I find this cake can be less oily)

1

tablespoon

grated grapefruit zest

1

tablespoon

cider vinegar

1

teaspoon

vanilla

½

cup

crystallized candied ginger

chopped
For the frosting:
3

tbs

vegan margarine spread

preferably earth balance

½

cup

icing sugar

2

Tbs

of grapefruit juice

1

teaspoon

of lemon juice

¼

cup

crystallized candied ginger

for topping
Instructions
Preheat oven to 350. Slightly oil a muffin pan.

Combine flours, sugar, baking soda and salt, and whisk thoroughly.

Add in remaining ingredients, folding in a ½ cup of chopped crystallized ginger. Stir until smooth.

Scrape the batter into the muffin molds and spread evenly. Bake until toothpick inserted into the center comes out clean, 20-25 minutes (start checking at 20). Let cool on cooling rack.

While muffins are cooling, mix the frosting. Whisk the vegan margarine with the icing sugar, adding the grapefruit and lemon juice slowly. Let frosting rest in the fridge for 10 mins.

Fill a sandwich bag with frosting and make a small hall. Remove muffins from pan and arrange on a platter or baking sheet. Pipe filling out of bag onto muffins. Top each muffin with a few pieces of roughly chopped crystallized ginger.
Nutrition
Calories:
240
kcal
Carbohydrates:
38
g
Protein:
2
g
Fat:
9
g
Saturated Fat:
7
g
Sodium:
191
mg
Potassium:
71
mg
Fiber:
1
g
Sugar:
27
g
Vitamin C:
7
mg
Calcium:
5
mg
Iron:
1
mg
Tried this recipe?
Comment + Rate Below!
Connect on Instagram!
Find us @immigrantstable