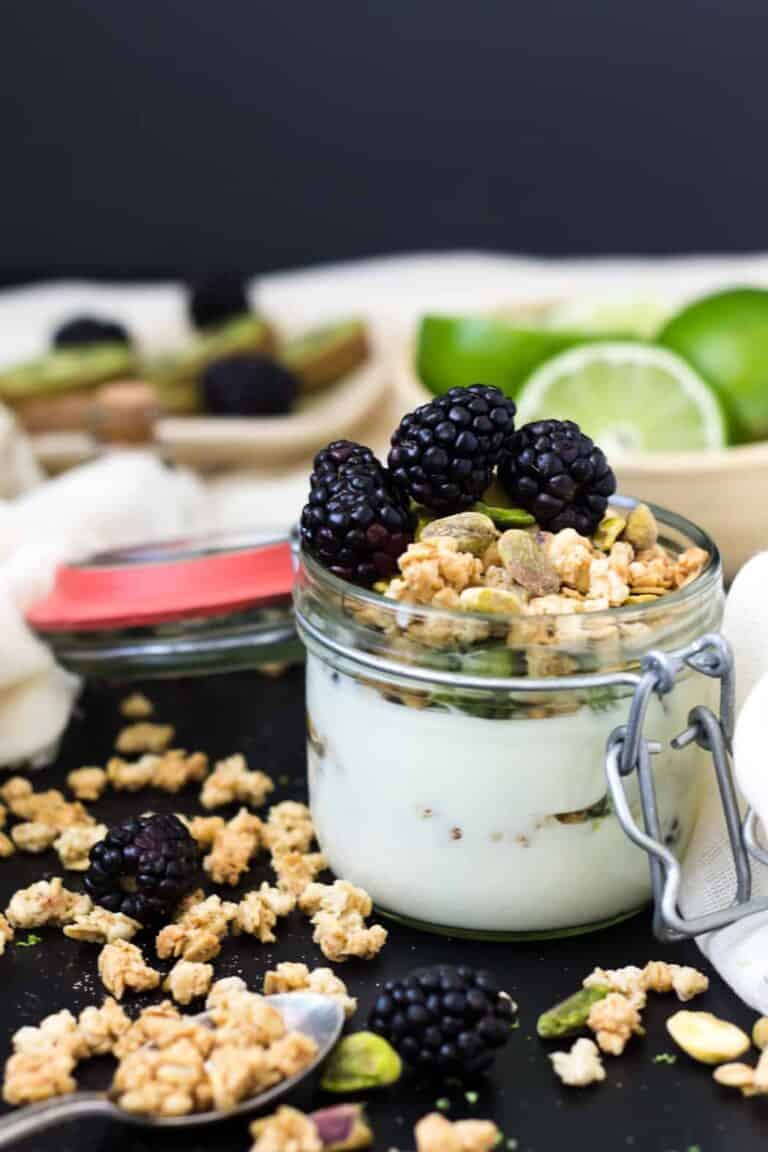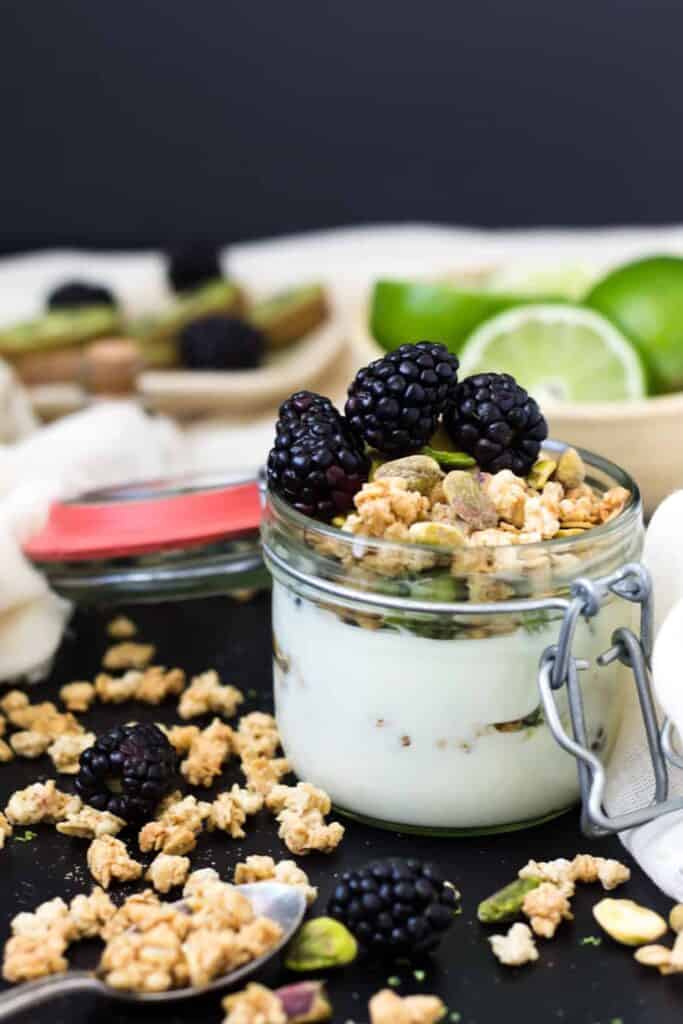 Lately, I have become addicted to yogurt. Whether it's my simple, good-for-your-gut lactose-free yogurt, high fat, locally made Greek yogurt, or luscious organic kefir from the corner store, I can't seem to get enough of that tangy white goop. I have it for brunch topped with Unsweetened Bliss granola, for an afternoon snack with chia seeds, raspberries and honey, or in salad dressing on top of crispy kale and pepitas. But my favourite way to eat yogurt has become this kiwi, lime and blackberry yogurt parfait. And now, I think it's high time that it became yours as well.
Yogurt parfaits are genius because they provide such an easy way to get all of your nutrients on the go. With a little bit of whole grain granola, fruit and no added sweeteners, yogurt parfaits provide with calcium, vitamin C, complex carbohydrates from whole grains, protein, good fat and a whole lot of extras - depending on what fruit you pair it up with.
In this kiwi, lime and blackberry yogurt parfait with granola and pistachios, you get the whole kaboodle, and it tastes ah-ma-zing. Like, 'better than your grandmother's cake' amazing. Let's break it down for you:
kiwis have iron and oodles of Vitamin C
blackberries are rich in bioflavonoids, even more Vitamin C, and the highest antioxidant levels of all fruits
lime is high in, you've guessed it, Vitamin C, and are good for your skin
pistachios are storehouses of protein, good fats, and minerals, mono-unsaturated fatty acids like oleic acid and antioxidants, and, even more importantly for vegetarians, several forms of Vitamin B.
And finally, the granola - I like to use NaturSource's Vanilla Granola in this kiwi, lime and blackberry yogurt parfait. An artisanal blend, this granola tastes faintly of the sweetest, most fragrant vanilla beans imaginable, accentuated with just a touch of honey. Each serving has 33g of whole grain from Canadian oats, brown rice flour and barley malt flour, and it's honestly one of the nicest granolas that I've ever tried. It's mellow, fragrant, and just a little bit sweet, and it pairs beautifully with the tang of the kiwi and lime, the butteriness of the pistachios, and the richness of the blackberries.
Not bad for something that looks suspiciously like dessert, no??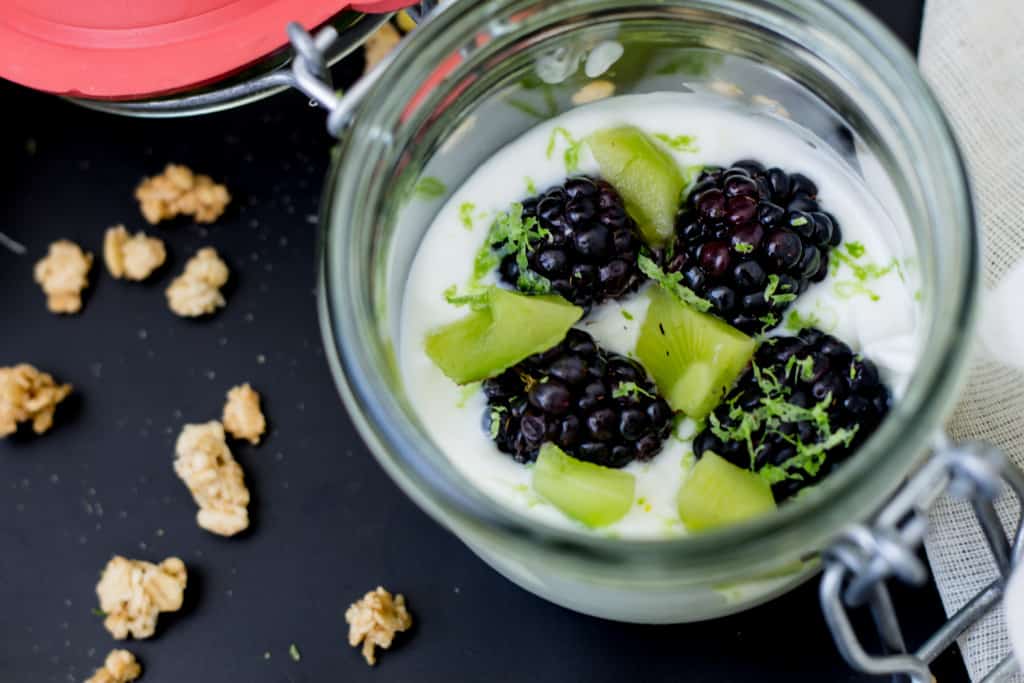 For a dish that takes less than 10 minutes to throw together (five, if we're being honest), it makes for a portable meal that will make you smile because it's so pretty. And we all know that's what REALLY matters in yogurt parfait in the end.
So treat yourself to this kiwi, lime and blackberry yogurt parfait with granola and pistachios. Whether it's your lunch, breakfast, or just mid-afternoon snack, you should feel no guilt when eating this gorgeous dish.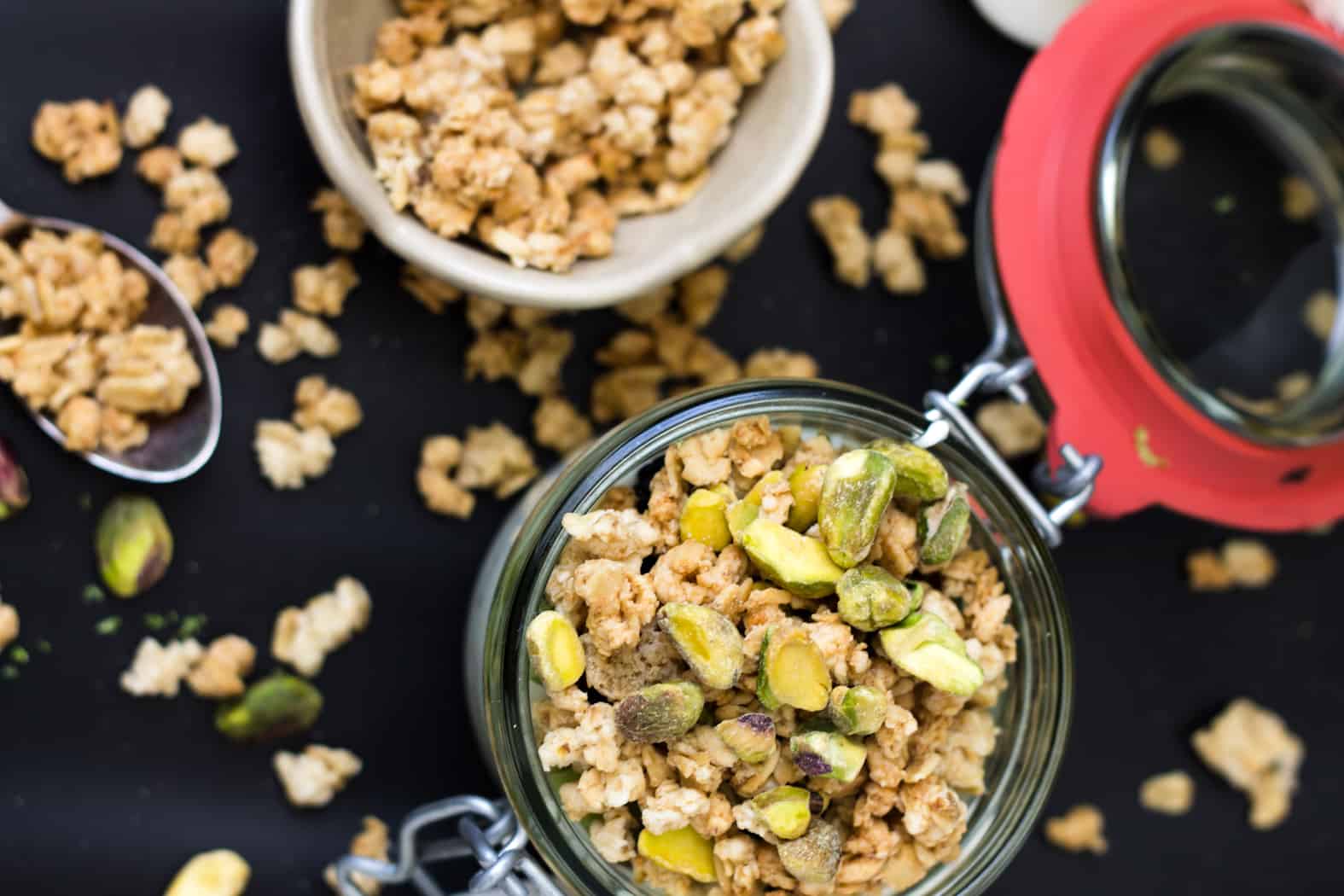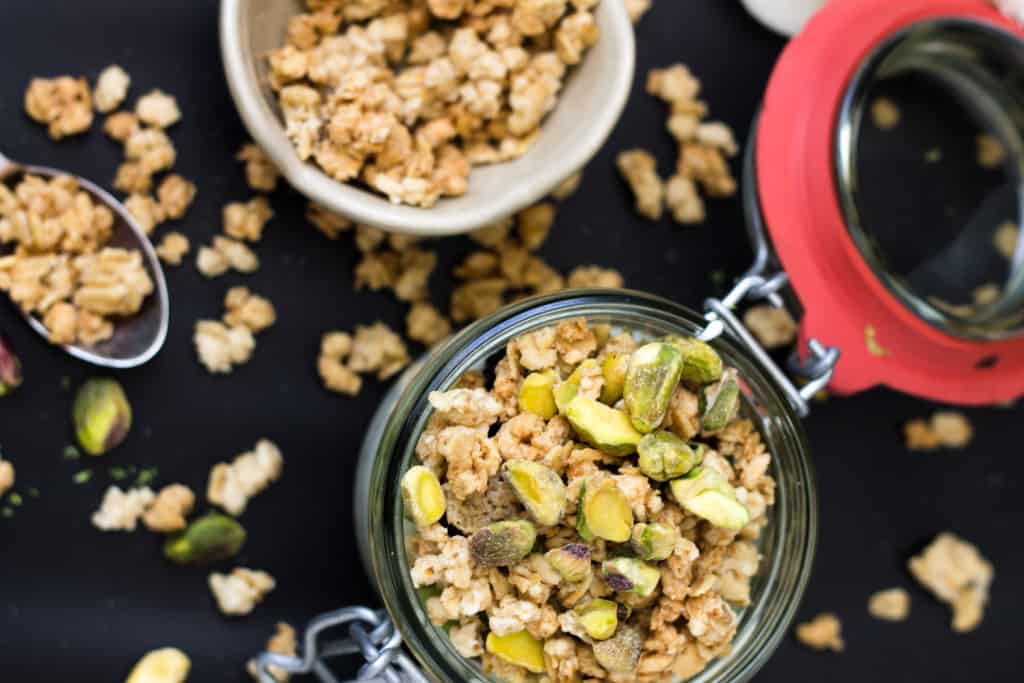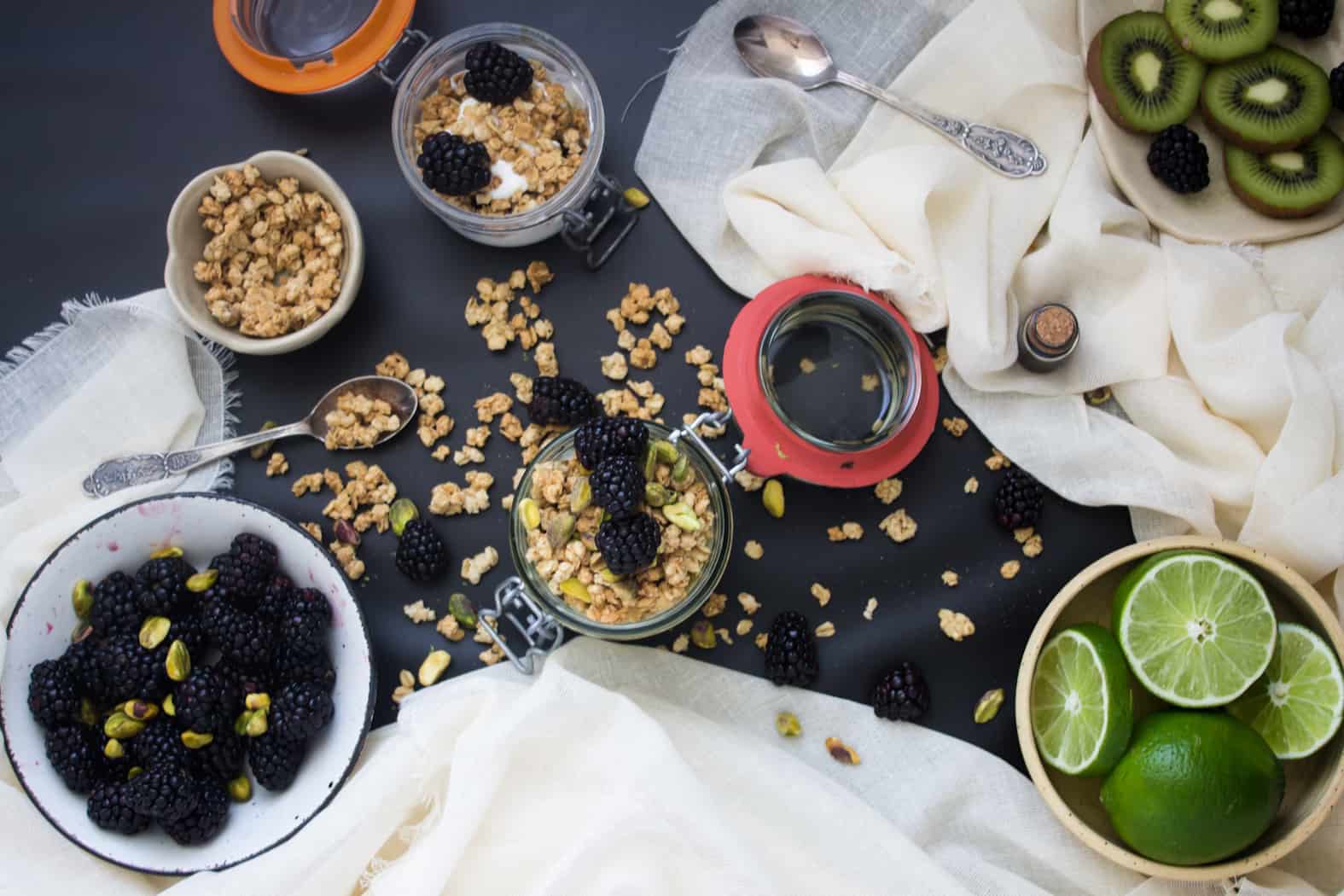 P.S. – This is a sponsored post, but all opinions expressed here are my own. I am proud to support a local, family-owned business whose product I truly appreciate, and I thank you for supporting my sponsors.
Liked this post? Share it with your friends! For more At the Immigrant's Table, follow me on Facebook, Instagram, Pinterest, Bloglovin', or Twitter, subscribe to my mailing list, or contact me about advertising and becoming a sponsor. If you make one of my recipes, don't forget to tag it #immigrantstable @immigrantstable!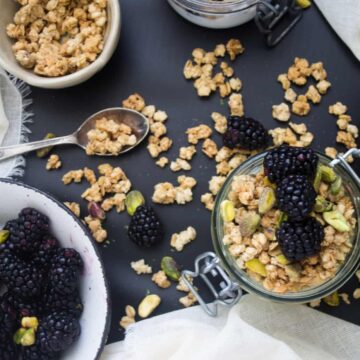 Kiwi, lime and blackberry yogurt parfait with granola and pistachios
Tangy and sweet, tart and crunchy, this kiwi, lime and blackberry yogurt parfait provides a great breakfast, lunch or snack that looks like dessert.
Print
Pin
Rate
Ingredients
½

cup

blackberries

1

kiwi

peeled and chopped (you can also keep the peel on if the kiwi is organic and washed very well - that's where a lot of the nutrients are)

the juice and zest of one quarter of a lime

2

TBs

yogurt per layer

1

TB

vanilla granola per layer

2

TBs

pistachios

chopped finely
Instructions
Gently mix ½ cup blackberries, 1 kiwi and the juice and lime zest in a small bowl. If you've got the time, you can let berries macerate for 10 minutes, but this is not obligatory. Layer yogurt, berry and kiwi mixture with granola and pistachios in alternating layers until you've filled your container ¾ of the way. Top the rest with the remaining berry kiwi mixture, and sprinkle some granola and pistachios on top.