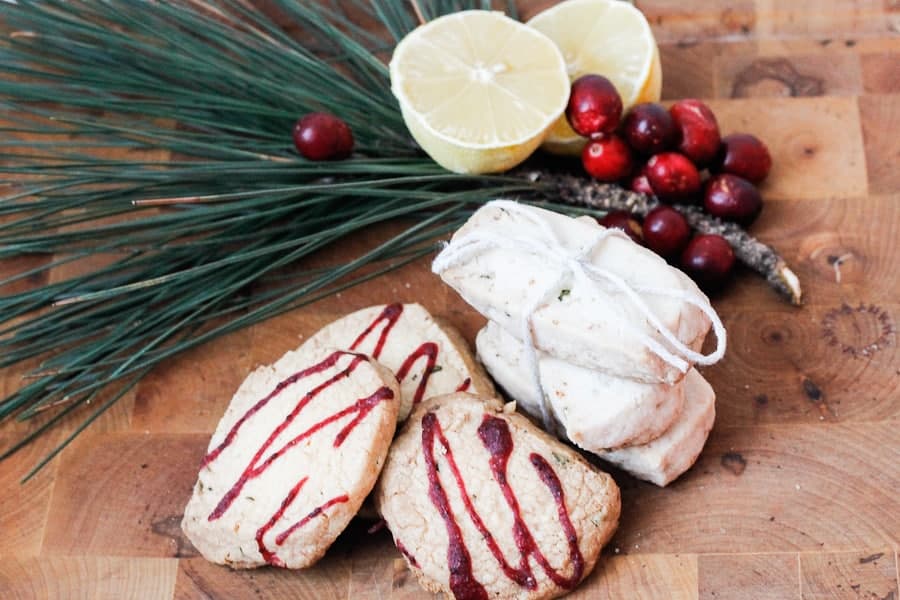 Each Christmas, there would be a triple-tiered, emerald-green cookie tray passed around the room at G's parents' home. Its smell often preceded it: chocolate, cinnamon, sugar and nutmeg mixed with the unmistakable scent of butter. Filled with Nanaimo bars, gingerbread cookies, chocolate-marshmallow balls and orange jellies, it was a testament to generations of family recipes, and days spent rolling dough and cutting cookies at the kitchen counter. But unlike their snazzy cousins, which tempt with promises of creamy innards and rich spices, each year my heart sings for only one cookie - the humble shortbread. Today, I'd like to open my week of cookie recipes with my favourite, a take on a recipe passed down from G's grandmother - a lemon rosemary shortbread cookie. And in my world, you can eat shortbread cookies that are vegan and gluten-free - who could ask for more?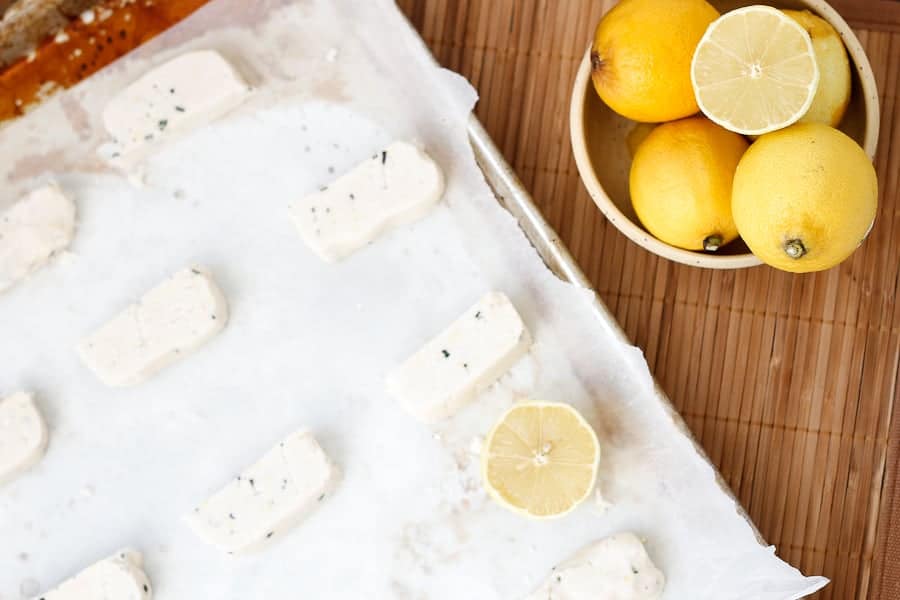 G's mother spends the weeks leading up to Christmas shackled up to the kitchen. Cookies are not the only thing that she produces. She also piles on the British fruitcakes, soaked in so much rum that I would worry about feeding them to small children (but I make sure to send my parents about a pound of them each year). She hand-rolls pierogies for six people, a thankless task that bends her back and hurts her wrists, not to mention takes countless hours (I have a perverse love for making pierogies, and hope to join her in the job this year, as we've done in years past). She bakes bread, glorious and yeasted, and braids it into the shape of a crown for Ukrainian Christmas. And all throughout, she somehow finds time for this thing called a full-time job.
I honestly have no idea how she does it. These days, I am finding it hard to even find time to wash my hair, let alone bake 10,000 Christmas cookies. I am anxiously looking forward to next week, and the ten glorious days I will spend in Winnipeg, eating, drinking, baking, cooking, writing, and visiting friends. I am starting to feel like that vacation is what gives me strength to continue - and G's mom's shortbread cookies are a great part of that motivator.
The only problem with her cookies, which have been baked the same way for years, is their incredibly high quotient of butter. You see, as somehow who is lactose-intolerant, I have gotten used to reading the adjective 'buttery' as 'diarrhetic' (TMI, I know). Christmas can actually be the most painful time of the year for me, when everyone keeps on passing around the delicious, creamy goodness that is cheese, cake, shortbread, mushroom sauce. And I'm sure I'm not alone in this. For those of us who are lactose-intolerant, Christmas is a time of pain.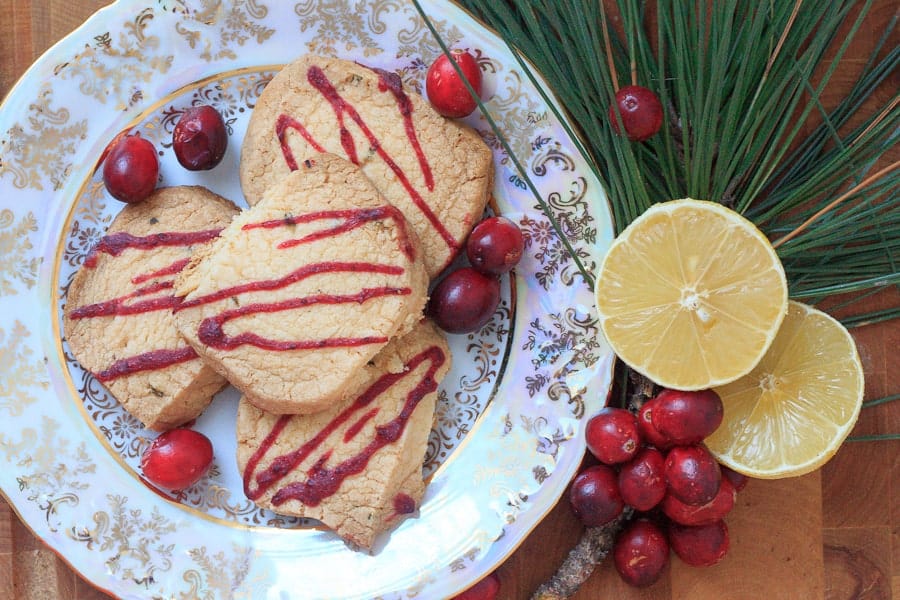 Yet in the eyes of many, it is precisely butter that makes shortbread cookies so scrumptious, their texture so pleasing, and their taste so rich. Would shortbread cookies made with anything but the best butter and flour still taste good?
I'm happy to report that yes, they absolutely would.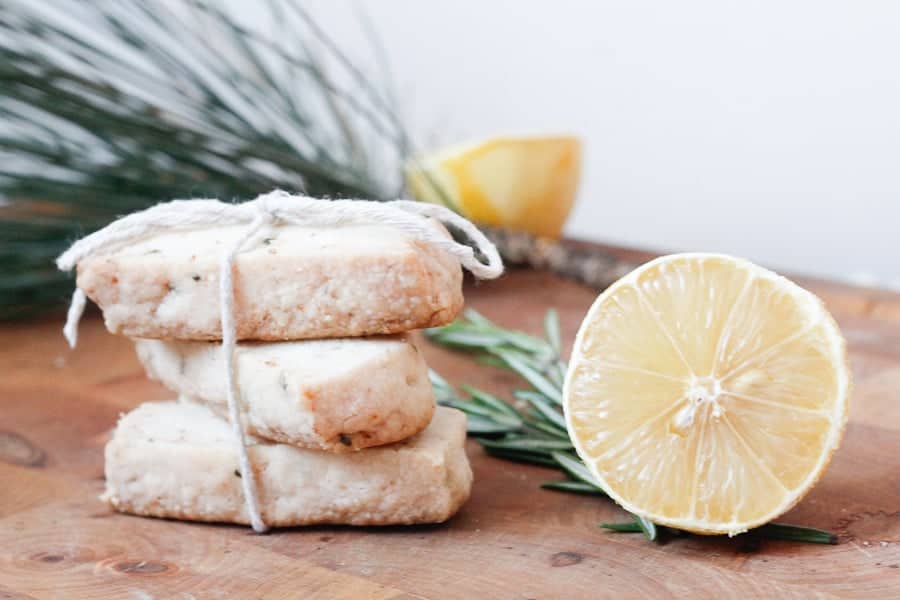 In honour of Christmas, I decided to try my hand at making G's family's shortbread cookies vegan and gluten-free, and a bit more user-friendly. But not before I infused them with my some of my favourite winter flavours: lemon, rosemary and cranberries. I'm happy to report that the resulting lemon rosemary shortbread cookies are just as scrumptious and texturally-pleasing as their full butter, white flour counterparts. Food allergies 1, haters 0.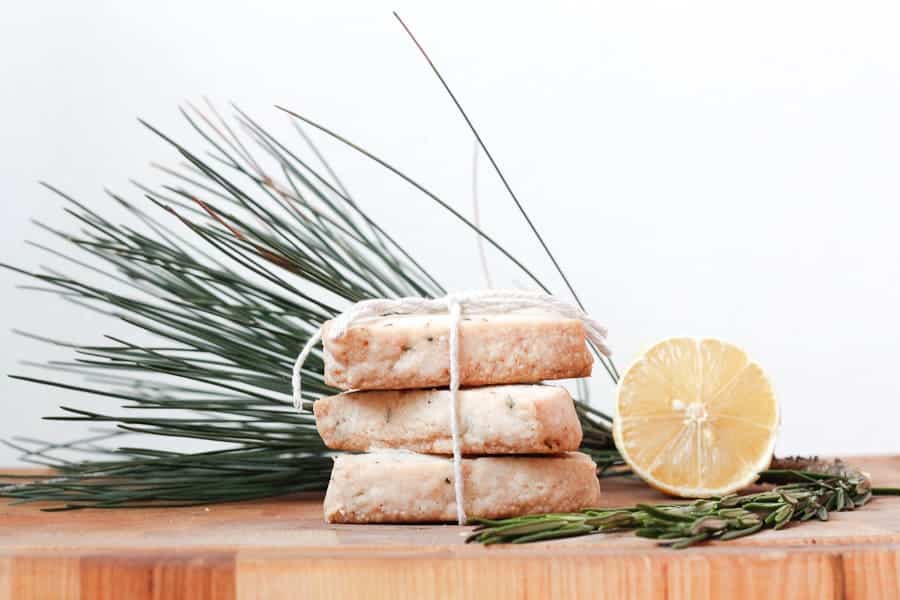 Whether you choose to go with the vegan or gluten-free version of these lemon rosemary cookies, or try to combine both (I haven't done it, but I imagine they would be just as successful), I am certain you won't be disappointed. Whether you suffer from food intolerances, have friends who are vegan or celiac, or just want a great holiday cookie option that happens to be a bit kinder on the body and stomach, these rosemary lemon shortbread cookies are for you.
The vegan version, made with coconut oil, is a bit more creamy than the traditional, somewhat-dry shortbread of your youth, while the gluten-free version is made with butter and still has that golden colour and traditional texture, with none of the harmful gluten. We've been eating them by the handful, which is hard because the cookies are quite big and my hands are quite small and I can't fit as many cookies as I'd like into my mouth all in one go.
Hope you like them! Tune in on Wednesday to see what I've done with another Christmas cookie favourite - the gingerbread.
Tried and loved this recipe? Please leave a 5-star review below! Your reviews mean a lot to me, so if you've got any questions, please let me know in a comment.
Pin for Later!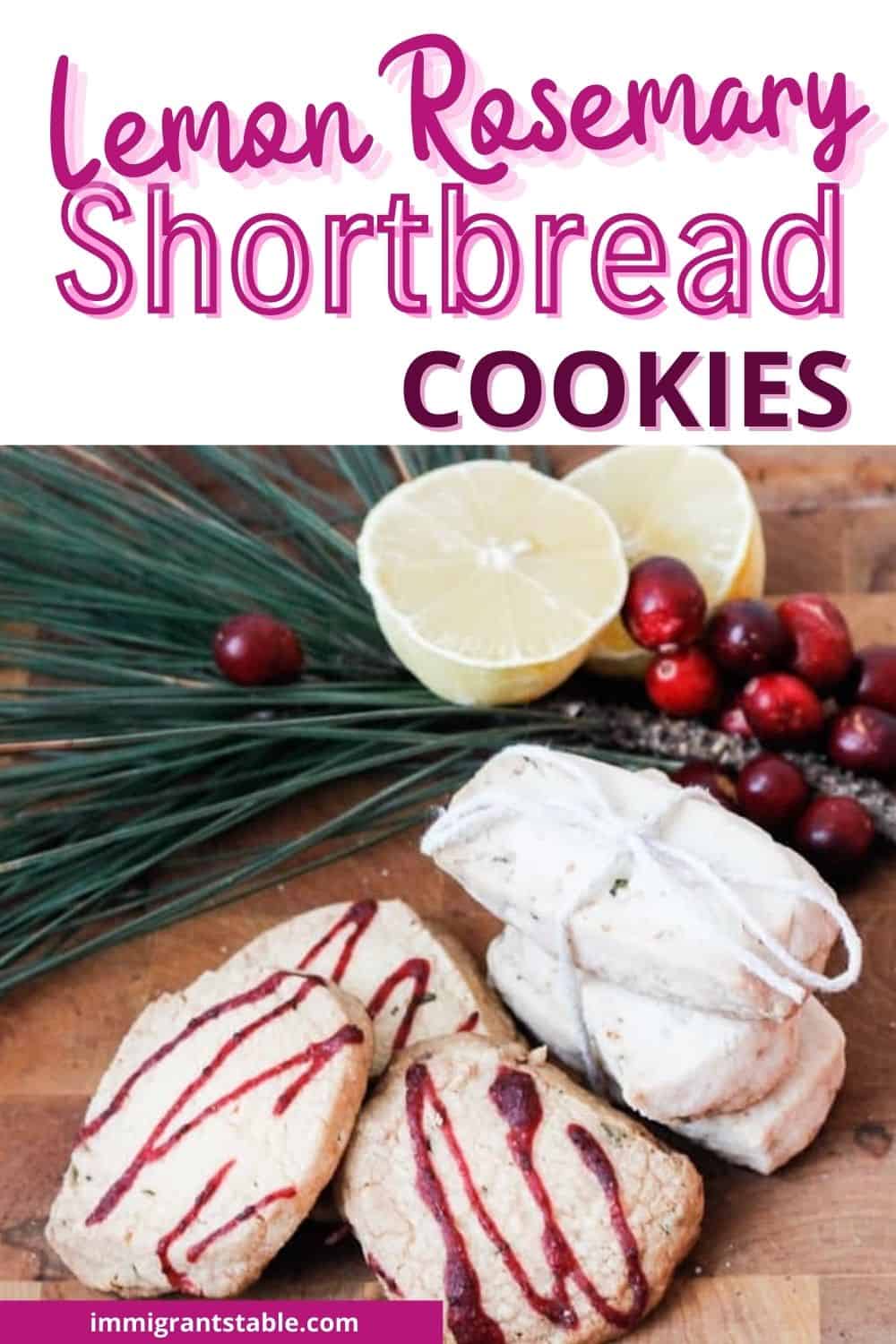 Recipe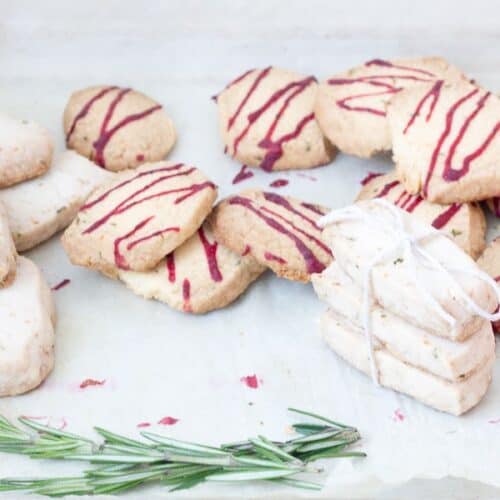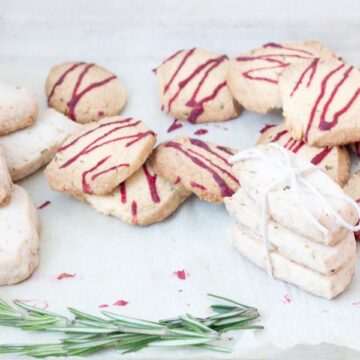 Lemon rosemary shortbread cookies (gluten-free/ vegan)
These lemon rosemary shortbread cookies are just as delicious and texturally-pleasing when made vegan or gluten-free as their all butter, white-flour counterparts. Drizzled with a bit of cranberry coulis, they're officially the best holiday cookies ever.
Ingredients
Vegan lemon rosemary shortbread cookies:
½

lb

coconut oil

1

cup

icing sugar

2

cups

flour

Zest of a whole lemon

preferably organic

1

rosemary twig

chopped very finely
GF lemon rosemary shortbread cookies:
½

lb

butter

1

cup

icing sugar

2

cups

gluten-free flour blend

I used the Irresistibles-brand blend, which I love

Zest of a whole lemon

preferably organic

1

rosemary twig

chopped very finely
Cranberry coulis:
1

cup

fresh or frozen cranberries

¼

cup

sugar

½

cup

water
Instructions
Preheat oven to 300F.

Prepare cranberry coulis if using - mix all sauce ingredients together in a saucepan. Bring to a boil, then turn off heat immediately. Let cool for a bit, then blend until smooth (make sauce as smooth as possible).

To make cookies, combine coconut oil/ butter and icing sugar in a large bowl, cutting them with a pastry cutter or two knives. Add flour / gluten-free flour, lemon zest and rosemary, and cut with a pastry cutter/ two knives until mixture looks like pea-sized crumbs. Pour mixture out onto a well-floured surface, and knead until it comes together easily.

Shape into a log, and cut into 1/inch sized pieces. Handle the vegan cookies with care - they're a bit more fragile. Arrange on a waxed paper, with a bit of space between the cookies (the butter ones will puff up; the vegan ones not so much).

Bake at 300 15-20 minutes. Drizzle with cranberry coulis when out of the oven.
Tried this recipe?
Comment + Rate Below!
Connect on Instagram!
Find us @immigrantstable